The week at a glance
As it turned out, the final plea in last week's review — longing for the arrival of warmer weather and a smattering of exceedingly rare vagrants — turned out to be (at least partly) prophetic. Not only did the temperature rise in to the mid-twenties by the end of the period, but an inland county weighed in with one of the most outstanding records of the 21st century so far…
That outstanding record related to the arrival of a pristine Cream-coloured Courser — seemingly a first-summer due to moult limit in the primaries — to England's highest 18-hole golf course atop Bradnor Hill (Herefs), just a stone's throw from the Welsh border. Identified late in the evening on Sunday 20th, news was eventually broadcast on Bird News Extra at 22:40 (read the full account here). Fast-movers had already made it to the site by 04:00 the following morning and, much to their delight, found the bedraggled-looking bird still present in the clearing mist. As the temperature rose throughout the day, it quickly perked up and began to feed actively, entertaining visitors to the site until dusk. It remained throughout Tuesday, but at around 11:40 on Wednesday 23rd, it suddenly decided to fly off high to the southwest, and had not returned by dusk. Interestingly, a post on the RSPB website suggests that the bird had been present since at least Friday 18th, for a "uniform, pale brown wader" was apparently seen on the very same fairway. For those unable to make it over to Herefordshire, there is hope that a combination of a distinctive bird and plenty of publicity may help with relocation somewhere else in the southwest.

Cream-coloured Courser, Bradnor Hill, Herefordshire (Photo: Carl Day)

Cream-coloured Courser: the outer two primaries appear browner and more worn/pointed than the rest — a feature pointing to the bird being a first-summer. (Photo: Kev Joynes)
Although not quite on a par (no pun intended) with the courser, a singing male Baillon's Crake heard at dusk at Malltraeth Marsh (Anglesey) on 22nd can still be considered a very big bird these days, despite recent (brief) records from East Yorkshire in October 2009 and Wexford earlier this spring. The bird was still in song from around 20:30 on 23rd, and became more vocal as dusk fell. It will be interesting to see how easy it proves to see, however. Knocked down the pecking order was a brief White-throated Sparrow in a garden at Broadford, Skye 20th. It might have drawn a few keen listers northwest had it lingered, although a succession of easily-gettable individuals over the past ten years has devalued this charming Nearctic species somewhat. Either way, it's nice to know that the recent low pressure systems appear to have had some effect, assuming it didn't spend the winter on this side of the Atlantic.
It seems like it's been a long time coming, but news was finally broadcast this week that Great White Egrets have bred on the Somerset Levels, with an 'Egret Watch' being set up at Shapwick Heath NNR to observe the birds. Behavioural changes around the nest strongly suggest that the pair now have young; hopefully the weather stays kind and they are able to fledge successfully. What next for this fantastic reserve, in light of this and the recent Little Bitterns, surely Glossy Ibis is next in line. Further details regarding the egrets can be found here.
In Clyde, the drake Blue-winged Teal remained in residence at Bridgend Farm Pool throughout the week, and perhaps looks set for an extended stay here. Lothian's Surf Scoter moved to Gullane on 20th, and the drake King Eider could, entirely predictably, be found lazing around on the Ythan Estuary (Aberdeens) throughout. Breaking the monotony of Scotland's grip on wildfowl records, an immature drake King (Prince?) Eider was an excellent find off Portnoo (Donegal) on 18th-19th. White-billed Divers were reduced to birds at West Burra (Shetland) on 19th and still off Herston, South Ronaldsay (Orkney) to 20th.

King Eider, Ythan Estuary, Aberdeenshire (Photo: Brian Burnett)
Somerset's Squacco Heron only just scraped in to this week's review, last being noted at Blagdon Lake on 17th. A new flush of Night Herons involved birds at Ranworth Broad (Norfolk) and Waltham Brooks (W Sussex) on 18th, the latter presumably accounting for a bird at nearby Pulborough Brooks on 23rd. A first-summer was also at Slade Reservoirs (Devon) 21st, although the only Purple Herons were single birds on Tresco (Scilly) on 19th and Amwell Gravel Pits (Herts) on 23rd. New Cattle Egrets were at Old Wolverton (Bucks) on 19th-21st and northwest of Bantry (Cork) on 23rd, while around half a dozen Great White Egrets were seen in addition to those at Shapwick. Eight Glossy Ibis included new birds in at Moore (Cheshire) and on the Exe Estuary (Devon), while the four at Marloes Mere (Pembs) had reduced to two by the end of the week.

Squacco Heron, Blagdon Lake, Somerset & Bristol (Photo: Gary Thoburn)
Four White Storks — remnant of the 'Worcestershire Nine' — had another abortive attempt at leaving for France off Portland (Dorset) on 23rd, later being seen flying east along the coast over Overcombe. Threes over Broughton Down (Hants) on 17th and Dawlish Warren (Devon) on 21st presumably related to the same birds. Other White Storks included the lingering bird at West Moor (Somerset) to 19th, which was later seen at West Knapp on 20th and over Taunton on 22nd, and several records of overflying individuals scattered around the Home Counties to the north and west of London.
Way up in the northwest, the male Snowy Owl continued to perform admirably in the Greinetobht/Solas area of North Uist, although there were messages suggesting some irresponsible individuals were chasing it round the machair. The only Pallid Harrier concerned the remaining first-summer male at Patrington Haven (E Yorks) to 18th, although an upsurge in Black Kite records saw at least six reported from Scilly, Cornwall, Devon, the Isle of Wight, West Sussex and Norfolk. Three Red-footed Falcons included a lingering first-summer male at Jubilee River (Bucks) on 21st-22nd, although females at Sleaford (Lincs) and Wisbech (Norfolk) failed to hang around. With a healthy influx apparently occurring in France, perhaps we can expect more in the continuing anticyclonic conditions.

Snowy Owl, Greinetobht, N.Uist, Outer Hebrides (Photo: Chas Moonie)

Black Kite, Afton, Isle of Wight (Photo: Russell Wynn)
The long-staying Greater Yellowlegs was still at Loch of Strathbeg (Aberdeens) throughout the week, while a Long-billed Dowitcher at The Gearagh (Cork) on 18th continued a strong spring for the species. Lincolnshire's Black-winged Stilt was still at Frampton Marsh to 18th only, and what may have been the same bird was seen flying over Needingworth Quarry Lakes (Cambs) on 22nd. The female Red-necked Phalarope still at Slimbridge (Glos) on 17th was presumably the same as that at Coombe Hill Meadows on 18th-21st, while another was seen in Stinky Bay, Benbecula (Outer Hebrides) on 21st. Cork scored two American Golden Plovers — at the Old Head of Kinsale on 17th and Ballycotton on 22nd — while a third was again at Tacumshin (Wexford) on 20th.

Red-necked Phalarope, Slimbridge WWT, Gloucestershire (Photo: James Lees)
The male Kentish Plover remained on mudflats off Holy Island (Northumbs) to 19th, with the adult White-rumped Sandpiper also there to 21st. Both could prove elusive. Following last week's mini-influx of Pectoral Sandpipers, an impressive three birds were found in the Londonderry (southwest) corner of Lough Beg on 20th, with two remaining until the following day. A fourth bird was still at Kilcoole (Wicklow) to 19th, with the Buckenham Marshes (Norfolk) individual also still there the same day. In a quiet year for the species, just 20 or so Temminck's Stints were present in groups of no more than three this week while, in contrast, an exceptional 25 Curlew Sandpipers were at Frampton Marsh on 18th — this is the largest spring count reported on Bird News Extra since its introduction in 2000!

White-rumped Sandpiper, Holy Island, Northumberland (Photo: E Barnes)
A first-summer Bonaparte's Gull at Cross Ness (London) on 19th-23rd was a superb find and, essentially being a county first, attracted keen listers from all four corners of the capital. Just one Ring-billed Gull — a first-summer at Timoleague (Cork) on 17th — was noted, while the Forster's Tern again paid regular visits to East End Pool at Tacumshin throughout the week.

Bonaparte's Gull, Cross Ness, Greater London (Photo: James Lowen)
For the first time in 2012, Bee-eater records were both widespread and plentiful. The largest flock concerned six in Northdown Park, Margate (Kent) briefly on 21st, with at least 15 others noted as far north as East Yorkshire, where two at Kilnsea on 17th worked their way westwards to Sunk Island throughout the day. Other popular birds included one in the Cley and Glandford area (Norfolk) between 18th and 21st.

European Bee-eater, Strumble Head, Pembrokeshire (Photo: Richard Stonier)
With a continuing easterly airflow, it proved to be a productive week for drift migrants. Leading the way were Red-backed Shrikes, with at least 25 scattered along the east coast between Suffolk and Shetland. Most were males, with a peak count of seven on Fair Isle on 22nd. Also prominent were Red-spotted Bluethroats, with at least a dozen including three females on the Isle of May (Fife) on 19th, and singing males in the notable locations of Doxey Marshes (Staffs) on 20th and Tory Island (Donegal) on 20th-21st.

Red-spotted Bluethroat, Doxey Marshes, Staffordshire (Photo: Andy Straw)
Also bound for Northern and Eastern Europe were Thrush Nightingales on Fair Isle and the Isle of May, with five Red-breasted Flycatchers including a lingering bird at Warham Greens (Norfolk) on 20th-22nd. Double-figures of Icterine Warblers included four on Fair Isle on 22nd, although Wryneck numbers dropped below 10. Three Marsh Warblers arrived on the Isle of May, Scarborough (N Yorks) and North Warren (Suffolk), all on 23rd. Four Hoopoes occurred between Lydd (Kent) and Fair Isle, while the 64 reports of Golden Orioles received at Bird News Extra included up to four together on St. Mary's (Scilly).

Icterine Warbler, Flamborough Head, East Yorkshire (Photo: Lee Johnson)
Further eastern excitement was provided by a splendid first-summer male Citrine Wagtail at Thornwick Bay (E Yorks) on 19th-20th, while rare pipits were represented by Red-throateds at Scourie (Highland) on 18th and St. Mary's (Scilly) on 19th-21st, while a Tawny was on the beach at Worthing (W Sussex) for a few minutes during the morning of 20th and a probable Richard's was on South Ronaldsay on 23rd. Two Short-toed Larks were on Scilly and another graced Fair Isle, while a couple of reports of male Siberian Stonechats from Norfolk remained unconfirmed.

Citrine Wagtail, Thornwick Bay, East Yorkshire (Photo: Dave Mansell)
After a superb early May for the species, it was inevitable to see a reduction in Red-rumped Swallows this week. Nevertheless, six birds were reported, including the Grafham Water (Cambs) bird again there on 18th after an absence of six days. A individual present at Tacumshin (Wexford) throughout the week coupled with the Forster's Tern for an unusual double-act, while another reached Fair Isle on 22nd.

Red-rumped Swallow, Tacumshin, Wexford (Photo: Tom Shevlin)
Right on cue, a couple of singing male Great Reed Warblers were located. The first was at Weston-super-Mare sewage works (Somerset) from 19th, with another audible at Radipole Lake (Dorset) from 22nd although, true to form, both were easier to hear than see. The Savi's Warbler was still singing at Strumpshaw Fen (Norfolk) throughout the week, being most reliable during the early mornings. A second individual was at Wilstone Reservoir (Herts) on 20th-21st. London's Melodious Warbler remained at Leyton to 18th, with another singing on St. Mary's (Scilly) the following day. Three Scottish Subalpine Warblers included a male Eastern on Whalsay (Shetland) on 21st, with a female also on the archipelago at Pool of Virkie the following day. The third, another female, was trapped and ringed at Mire Loch (Borders) on 20th, while the sole English record stemmed from Weybourne (Norfolk) the same day.

Great Reed Warbler, Weston-super-Mare SW, Somerset & Bristol (Photo: Dave Perrett)
Additional southern overshoots included Woodchat Shrike numbers finally pushing in to double figures for the first time this spring. In addition to a minimum of five on Scilly throughout the week, four further birds were noted along the south coast between Land's End (Cornwall) and Martin Down (Hants). The latter turned out to be the Keyhaven bird of the previous week and, quite remarkably, was relocated by its original finder! Away from the south coast, a further bird was reported at Tenby (Pembs) on 17th.

Woodchat Shrike, Martin Down NNR, Hampshire (Photo: Mike Trew)
In Suffolk, the female Serin continued to associate with Linnets at Landguard Nature Reserve to 21st — rarely has a Serin lingered so long in recent years. Another was at Fauvic (Jersey) on 20th. Eight Common Rosefinches were predominately on Shetland, although a singing male in Princetown (Devon) on 23rd was a welcome exception. Scilly scored a Little Bunting on St. Mary's on 19th-20th, while a male Rustic Bunting reported at Filey on 21st mirrored a lingering bird there in 2011 — might it be the same bird? Just two Ortolans this week concerned a new bird on Holy Island (Northumbs) on 20th, with another still at Skaw, Whalsay (Shetland) to 18th.
Photo of the Week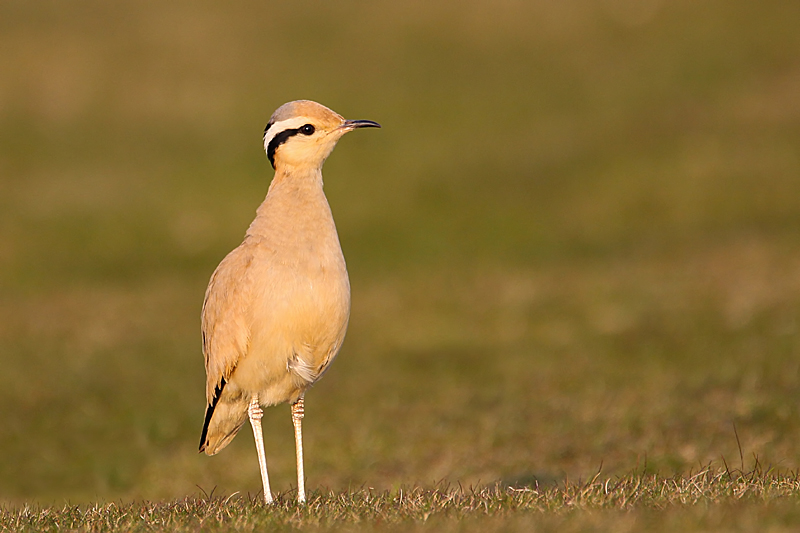 Cream-coloured Courser, Bradnor Hill, Herefordshire (Photo: Dave Barnes)
As a mega-rarity in the UK and a handsome bird to boot, a Cream-coloured Courser will always draw an appreciative crowd. The bird at Bradnor Hill (Herefs) this week is no exception, and some excellent images have been captured by the visiting photographers. With such a collection of high-quality images to choose from, it's difficult to pick just one to feature in our weekly photo review. In the end, though, the combination of technical and artistic merit swung the choice in favour of Dave Barnes' glorious portrait shot. Warm, late-evening sunlight front-lighting the bird makes the sandy plumage positively glow against the smooth grassy background. Good pose, off-centre placement and a nice catch-light in the eye complete the aesthetics, while sharp detail in the head, legs and feathers gives a quality feel to the finished product. This is the kind of image that ensures other birders and photographers will be reaching for their car keys!
Other notable photos

Snowy Owl, Greinetobht, N.Uist, Outer Hebrides (Photo: Chas Moonie)

Hobby, North Warren RSPB, Suffolk (Photo: Tony Belsham)

Whinchat, undisclosed site, Powys (Photo: Dave Perrett)

Penduline Tit, Hungary (Photo: Eduardo Balogh)

Lesser Kestrel, Spain (Photo: Garth Peacock)

Common Redstart, undisclosed site, Worcestershire (Photo: Carl Day)

Reed Warbler, Kirkby on Bain GPs, Lincolnshire (Photo: Russ Telfer)

Short-eared Owl, undisclosed site, Lothian (Photo: Mike Thrower)

Nightingale, undisclosed site, Suffolk (Photo: Kev Joynes)

Garden Warbler, undisclosed site, Powys (Photo: Stuart Wright)

Red-backed Shrike, Greece (Photo: Rob Smith)

Blackcap, Spital, Cheshire (Photo: Steve Round)

Tawny Owl, undisclosed site, Norfolk (Photo: Graham Brownlow)

Great Crested Grebe, Bewl Water, East Sussex (Photo: Will Rawles)