The week at a glance
The two star birds of the year were both rather more amenable this week. The Oriental Turtle Dove continued to be seen in gardens around Chipping Norton (Oxfordshire) all week, with access to kitchens and back gardens granted by many residents. The novelty held for most of the week, though access was restricted at times, but the bird could still be seen from elsewhere in the town. As ever, a few enterprising kids took to selling cakes and drinks (and pizza!) and by Saturday had raised £223 for the RSPB and Chipping Norton Lido. With several hundred birders seeing the bird from the kitchen window of Steve Aker at £5 a time, the work of BirdLife Malta will receive a serious boost: watch this space for more news.

Oriental (Rufous) Turtle Dove, Chipping Norton, Oxfordshire (Photo: Chris Turner)
The adult Slaty-backed Gull continued to wander around the less salubrious sites of east London and Essex this week. It remained at Rainham Marshes (London) on 17th, showing reasonably well at times, but went missing on 18th. The next day it was back at Rainham before wandering off east, later being refound at Pitsea Landfill (Essex) in the late morning and at Vange Marshes (Essex) in the afternoon. It was then back at Rainham on 20th and briefly on 22nd.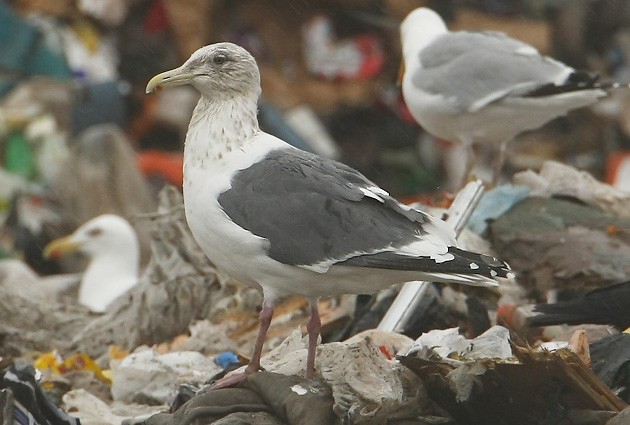 Slaty-backed Gull, Pitsea, Essex (Photo: Steve Arlow)

Slaty-backed Gull, Pitsea Landfill, Essex (Film: Waderwatcher).
Another gull arousing interest was a first-winter Thayer's Gull at Rossaveal (Co Galway) on 19th–20th. There was a fair amount of discussion around the bird as, despite its looking good plumage-wise, some felt the size wasn't quite right. The fish factory here is a magnet for gulls at times, and the Thayer's was sharing the site with an adult American Herring Gull, two third-winter Glaucous Gulls, a juvenile Iceland Gull and an adult Little Gull.

Thayer's Gull, Rossaveal, Galway (Photo: Dermot Breen)

Thayer's Gull, Rossaveal, Galway (Film: dbreen10).
The only Pacific Diver reported this week was the Cornish bird, off Penzance and Marazion (Cornwall) for most of the week, though it was again pretty distant. Elsewhere, the American Coot remained at Termoncarragh Loch (Co Mayo) and the House Crow was still in Cobh (Co Cork).
There were no reports of Snow Geese this week, though a couple of Ross's Geese were reported. One was on Halvergate Marshes (Norfolk) on 21st–23rd and one again commuted between Rockcliffe Marsh (Cumbria) and Caerlaverock (Dumfries & Galloway) on 20th–23rd. Just three Black Brants remained, though they must be thinking of moving on soon: the long-stayer at Ferrybridge (Dorset), and others at Fishbourne (West Sussex) on 17th and Wallasea Island (Essex) on 20th–21st.
The adult Red-breasted Goose was again at Pennington and Keyhaven Marshes (Hampshire) to at least 20th, though it has now been seen to be wearing a single red ring. This is presumably the same bird as at Hayling Island and Black Point in October 2010. In Jersey, another bird also remained at Goose Green, reported on 21st. The Richardson's Canada Geese remained at Lissadell (Co Sligo) and nearby, at Raghly, was a Taverner's Canada Goose on 20th. Another Richardson's was also still on Islay (Argyll) to at least 20th, seen at Loch Gruinart and Neriby.
There was a changearound in Ferruginous Ducks this week. The female at Cockshoot Broad (Norfolk) was last seen on 19th, with another or the same then at Oulton Broad (Suffolk) on 21st–22nd. After we featured the Cowpen Bewley (Cleveland) Ring-necked Duck as Bird of the Week last week, it seems it may now have left — it was last seen on 18th — so our timing was perfect. Others remained at Jameson Road Landfill Site (Lancashire) to 18th and Lough Cowey (Co Down) to 21st and the drake at Carrowmore Lake (Co Mayo) was reported on 20th, and may now have been present for almost a year. There was also just one new bird, at Milltown (Co Cavan) on 17th.
The only new Green-winged Teal was at Delvin (Co Westmeath) on 22nd, with at least three others remaining, at Bowesfield Marsh (Cleveland) to 20th, Loch of Strathbeg (Aberdeenshire) to 21st and Tacumshin (Co Wexford) to 20th. Also in Ireland, the female Blue-winged Teal was still at Bull Island (Co Dublin) on 20th. A very popular drake American Wigeon was at Rushy Common (Oxfordshire) from 17th to at least 21st, just the fourth record for the county. Elsewhere, the drake also remained at Rutland Water through the week.

American Wigeon, Rushy Common, Oxfordshire (Photo: Jd)
Regular Lesser Scaup reported this week were at Slimbridge (Gloucestershire) and Dozmary Pool (Cornwall), and in Glamorgan the female was again at Eglwys Nunydd Reservoir on 17th and the drake at Cosmeston Lakes on 18th.

Lesser Scaup, Slimbridge WWT, Gloucestershire (Photo: Mike Smith)
The female Surf Scoter was still off Dawlish Warren (Dorset) this week, as was the adult drake off Ruddon's Point (Fife). Co Clare continued to see various birds, with two off Doonbeg Golf Course on 21st and a drake off Ballyvaughan on 19th and a female there on 22nd–23rd. Another first-winter drake King Eider was in Shetland this week, seen from the ferry in Bluemull Sound on 17th and 22nd. The Sound also held up to four birds showing characteristics of Northern Eider.

Surf Scoter, Dawlish Warren NNR, Devon (Photo: Andy Johnson)

King Eider, Bluemull Sound, Shetland (Photo: Brydon Thomason)

King Eider and Northern Eider (Nearctic race borealis), Bluemull Sound, Shetland (Photo: Brydon Thomason)
Smew continue to be rather widespread, with birds in all regions apart from the far north. Furthest north were two redheads at Loch of Strathbeg (Aberdeenshire) on 20th, furthest west was a drake at Drumgay Lough (Co Fermanagh) on 19th–20th and furthest south(west) was a redhead still at Bowling Green Marsh (Dorset) to 20th. Notable counts were from expected sites, with 18 at Dungeness (Kent) and 15 at Rutland Water.

Smew, Kirkby on Bain GPs, Lincolnshire (Photo: Trevor Gunby)
The week's only shearwater was a Manx past Portland Bill (Dorset) on 17th.
Up to six Great White Egrets can still be seen at Ham Wall, coming in to roost on 17th and 20th. Other singletons remained at Minsmere (Suffolk), Hoveringham (Nottinghamshire) and Kirkby on Bain (Lincolnshire), with new birds reported over Madeley (Staffordshire) on 20th, Gosberton (Lincolnshire) on 20th and Garmouth (Moray & Nairn) on 22nd, and one touching down at Sandwich Bay (Kent) on 22nd.
The Cattle Egret at Alderholt (Dorset) was joined by a second bird this week, both present all week. In the southwest, one also remained at St Winnow (Cornwall) to at least 19th with one at New Bridge (Devon) on 17th–23rd. Elsewhere, one was still at Rue des Houges (Guernsey) to 22nd and three were reported with cattle at Newton Solney (Derbyshire) on 22nd.
Content continues after advertisements

Cattle Egret, Alderholt, Dorset (Photo: Jd)
Groups of Spoonbills were reported from seven coastal sites, with up to nine at Arne (Dorset) and six at Wrafton (Devon). Of escape interest, the Greater Flamingo remained at Welney (Norfolk) all week, and its colour ring (blue M30) confirmed it was the female bird that had escaped from Marwell Wildlife Park (Hampshire) on 30th December 2010.

Greater Flamingo, Welney WWT, Norfolk (Photo: Willie)
The regular Rough-legged Buzzards remained in Lincolnshire, Durham and Shetland, with three also still in Norfolk. The only "new" bird was just one of the Lincolnshire birds wandering, seen at Hemingsby on 18th. After an absence of a fortnight, the White-tailed Eagle put in another appearance in Hampshire, photographed at Old Basing on 23rd. It was very distant, but did seem to be genuine.

White-tailed Eagle, Old Basing, Hampshire (Photo: Keith Betton)
There was another good showing of Northern Harriers this week, with the juvenile male still at Thornham and Titchwell (Norfolk) and another seen again at Barvas, Lewis (Outer Hebrides) on 20th–23rd. There was then a further report of one at Broad Lough (Co Wicklow) on 17th. Other raptor news included the possible Tundra Peregrine still at Walmsley Sanctuary (Cornwall) on 18th and the grey-morph female Gyr Falcon still at Drumguish (Highland) on 18th.
The only wader of note was the Long-billed Dowitcher in Dorset that moved from Poole Park, where the Ring-billed Gull remained, to Lodmoor for the week. Ireland saw the lion's share of other Ring-billed Gulls, though, with birds at seven sites, including two together at Cuskinny Marsh (Co Cork), Nimmo's Pier (Co Galway) and Sligo (Co Sligo). All others were regular birds, at Gosport (Hampshire), Westcliff-on-Sea (Essex), Sands Lane Gravel Pit (West Yorkshire) and an adult again in the roost at Llyn-y-Fran Reservoir (Pembrokeshire) on 17th, last seen on 23rd January.

Ring-billed Gull, Limerick, Limerick (Photo: James Hayes)
Glaucous Gulls were reported from at least 23 sites across the country, including a second-winter and a juvenile at Youghal (Co Cork) on 20th. As usual there were more Iceland Gulls, with reports from as many as 28 sites. There were two juveniles at Tory Island (Co Donegal) on 19th and an adult and two juveniles at Killybegs (Co Donegal) on 19th–20th.

Glaucous Gull, Rossaveal, Galway (Photo: Dermot Breen)
One bird giving everyone the runaround was a first-winter American Herring Gull at Hoylake (Cheshire) on 19th, refound, albeit briefly, at Seaforth (Lancashire) the next day. It was then back on the sea at Hoylake over high tide on 21st and dropped back into Seaforth for just 20 minutes on 22nd. This bird has possibly been around the Wirral for a while now, and was also seen at Meols recently. There was also a good run of records of Kumlien's Gulls, with first-winters reported from Sligo (Co Sligo) to 22nd, Richmond Bank (Cheshire) on 17th and Carcroft (South Yorkshire) on 22nd. There was also a third-winter in the harbour at Lerwick (Shetland) on 20th, with two Icelands and a Glaucous Gull, and an adult at Chew Valley Lake (Somerset) on 21st. We also received a late report of a first-winter at Monks House (Northumberland) on 15th.

Kumlien's Gull, Carcroft, South Yorkshire (Photo: Justin Carr)

Kumlien's Gull, Lerwick, Mainland, Shetland (Photo: Hugh Harrop)
In a week packed with interesting gulls, there were two Bonaparte's Gulls in Ireland, an adult in Cobh (Co Cork) again to 20th and a first-winter at Sligo (Co Sligo) on 20th.

Bonaparte's Gull, Cobh, Cork (Photo: Ronan McLaughlin)
Passerine interest was again swamped by non-passerine, but there were still enough birds to keep birders happy. Flocks of Shore Larks were fewer and further between this week. Three birds remained on the beach at Reculver (Kent), with 10 at Cley Marshes (Norfolk) and an impressive 23 appearing on Havergate Island (Suffolk) on 21st–22nd. The lone bird also stayed put at Warton near Carnforth (Lancashire) to at least 19th. Contrastingly early spring migrants on 23rd included a Wheatear at Portland (Dorset) and single Sand Martins at Shapwick Heath (Somerset) and Exeter (Devon).
Flocks of Waxwings are still being reported from central Scotland to the south coast, though they were still missing in the west. There were just two reports in Wales, of 20 at Hope (Clwyd) on 17th and one at Bangor (Gwynedd) on 20th, and across the Irish Sea the largest flock was of 35 at Carrickfergus (Co Antrim) on 22nd. In the southwest, the only record was of one in a private garden in Helston (Cornwall) on 17th. Elsewhere, the highest count was of 160 in Coventry (West Midlands) on 19th.

Waxwing, Old Moor RSPB (Dearne Valley), South Yorkshire (Photo: Jayne Mair)
There were still very good numbers of Great Grey Shrikes across the country, with a real cluster of records in Hampshire (seven sites) and Dorset (three sites). There were five in Wales and just two in Scotland, at Carron Valley Reservoir (Clyde) to 17th and Drumguish (Highland) to 18th. The two Penduline Tits were again at Rainham Marshes (London) on 17th (where had they been for the last 10 days?) and the same day also saw one again at Dungeness (Kent). This bird was ringed and may well be the same as that seen at Dungeness in late October and early December 2010. It may, of course, have been present all winter, but if so it is remarkably good at evading optics.

Penduline Tit, Dungeness RSPB, Kent (Photo: Mike Hook)
The first-winter Rose-coloured Starling was in Penzance (Cornwall) to at least 22nd, and two Coues' Arctic Redpolls were reported from Rainton Meadows (Durham) on 20th, with 50 Mealy Redpolls. There was also another, with up to 70 Mealy Redpolls and just 30 Lesser Redpolls, at Allerthorpe Common (East Yorkshire) on 22nd–23rd.
Lapland Buntings were reported from eight coastal sites, though in much smaller groups now. The peak count was just five at Frampton Marsh (Lincolnshire). There was also one inland record, of a bird at Steeple Bumstead (Essex) on 22nd. In West Yorkshire, the three Snow Buntings remained at Baildon Moor to at least 22nd. One last bunting of note was a Rustic Bunting seen by one observer at Biggleswade (Bedfordshire) on 18th. This was in the same area as up to 500 Corn Buntings, which were equally worth going to see.
There was just a single report of the Northern Long-tailed Tits at Dymchurch (Kent), with three on 22nd. Other notable races included the Central Asian Lesser Whitethroat, still at Drogheda (Co Louth) all week, and reports of Northern Jackdaws included three at Bothal Pond (Northumberland) on 18th–20th and two at Howth (Co Dublin) on 18th.
Photo of the Week: 17th–23rd February 2011

Barn Owl, Chouet, Guernsey (Photo: Chris Bale)
With so many stunningly detailed owl photos being uploaded to BirdGuides, it's hard to take one that stands out from the crowd. In fact, some of the world's leading wildlife photographers now take the view that there are so many good photos of so many creatures that the only option is to go for photos that are 'different', rather than 'better'. Chris Bale's beautifully atmospheric image of a Barn Owl hunting at sunset shows how productive this approach can be. Firstly, including the sun in the image instantly sets it apart from 99.99% of bird images. Doing so isn't usually possible or advisable but, when the sun is dimmed as it sets, there is a very brief window of opportunity to use it as a compositional element. Obviously, you then need a co-operative subject in the same general direction, which is where the combination of luck and skill really comes into play. With a well-thought-out composition, Chris placed the sun off-centre at the very bottom of the frame, making the most of the owl flying into the frame in front of a backdrop of warm tones graduating down to the natural vegetation. The result is a magical and memorable image.
Other notable photos

Pied Kingfisher, Gambia (Photo: Dave Williams)

Swallow, Spain (Photo: Steve Fletcher)

Brent Goose, Bull Island, Dublin (Photo: Ian Dickey)

Teal, Mere Sands Wood LWT, Lancashire (Photo: Brian Rafferty)

Short-eared Owl, undisclosed site, Lincolnshire (Photo: Karen Summers)

Bullfinch, Spital, Cheshire (Photo: Steve Round)

Red Kite, Gigrin Farm, Powys (Photo: Tonyf)

Sparrowhawk, Forest of Dean, Gloucestershire (Photo: Lewis Thomson)

Common Crossbill, undisclosed site, Clwyd (Photo: Richard Steel)

Hawfinch, Romania (Photo: Jamie Macarthur)

Siskin, Wayoh Reservoir, Lancashire (Photo: John Barlow)

Common Sandpiper, Holes Bay, Dorset (Photo: Simon Johnson)

Marsh Tit, Earls Barton GPs, Northamptonshire (Photo: John Betts)

Lesser Redpoll, Hadleigh, Suffolk (Photo: Kit Day)

Mandarin Duck, Llandrindod Wells, Powys (Photo: Kev Joynes)

Black Redstart, Seaton Hole, Devon (Photo: Ian Seward)