The week at a glance

Black Lark, Winterton Dunes NNR, Norfolk (Photo: Peter Simpson)

Black Lark, Winterton Dunes NNR, Norfolk (Photo: Mike Lawrence)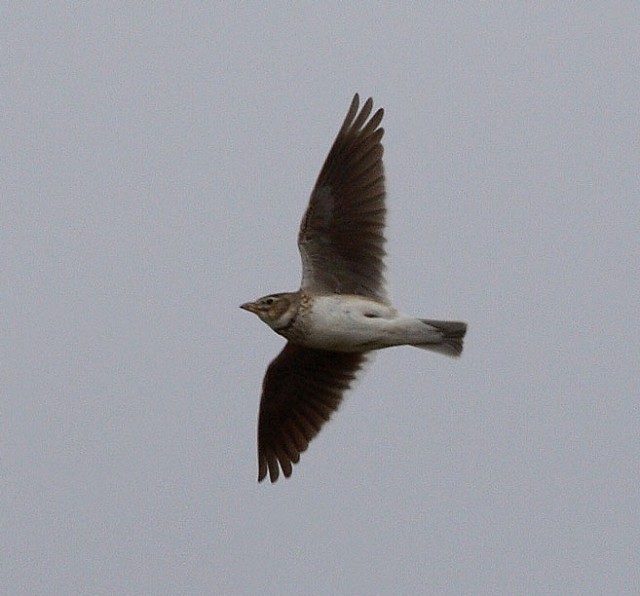 Calandra Lark, Fair Isle, Shetland (Photo: Mark Breaks)

Little Crake, Exminster Marshes RSPB, Devon (Photo: Marcus Conway)
With the weekend news full of a Welshman's Stateside boxing triumph, it seems fitting to take some pugilistic analogies and point them squarely in the direction of April 2008. The month opened up with a few tentative rarity jabs (Ireland's Whiskered Tern and Cornwall's Black-winged Stilts) swiftly followed by a couple of very tasty upper-cuts (the Kentish Junco and Devonian Little Crake) which led, this week, to a dazzling 1-2 knockout combination of both Black and Calandra Larks. Wow! What a double that is...
No doubts then about the pick of the bunch - the bird of the spring so far (and conceivably the bird of the spring full stop) was Norfolk's first, and Britain's third, Black Lark, a super male found during the afternoon of 20th in the North Dunes at Winterton. The bird remained in place, calling and occasionally sub-singing, until 7.02 am the following morning, when it managed to melt away from its small crowd of admirers and couldn't be relocated by the gathering crowd of latecomers. As a diurnal migrant, this always seemed to be one of the most likely scenarios - a night's rest, an early feeding session and then away, despite the wishes of many.... It seems incredible to think that there are now three of these Steppe-dwellers on the British List, but maybe this is a sign of things to come. With two birds in just under five years, those who've missed out so far can take heart that more may appear, and sooner rather than later. The coverage that was given to the dunes on 21st saw Winterton momentarily transformed into a Broadland version of Arizona's famous Patagonia Rest Stop - with Wryneck and Hoopoe being found along with a report of a male Subalpine Warbler. Also on 20th, a Calandra Lark was found on Fair Isle (Shetland), and was still present there until 22nd. This species has been seen on Shetland twice inside the past twelve months and this is the fourth Calandra Lark to be recorded on Fair Isle itself. Fair Isle has also laid claim to one of Britain's three Bimaculated Lark record and, with 32 years on the clock since the last one, it is high time another one made an appearance. Back in Norfolk, a "ringtail" Pallid Harrier was reported at Heacham, and then at nearby Snettisham Coastal Park on 18th. Sadly, the bird didn't linger for more than an hour or so, before heading off north. Rather more obliging was the male Little Crake that was still to be seen in the dykes and ditches around Exminster Marshes RSPB (Devon) from 17th-23rd. further to the southwest, on St. Mary's (Scilly), a Wilson's Snipe was again seen on Lower Moors on 17th, while another winter-long mega was still present this week, the drake Barrow's Goldeneye remaining at Quoile Pondage (Co. Down) to 22nd at least.
It was another good week this week for White-billed Divers. At least one adult remained on Loch Ewe, near Poolewe (Highland) to 22nd, with two more in Highland, at Gruinard Bay, also on 20th. On 17th, a White-billed Diver was seen again at the north end of North Ronaldsay, while on the Outer Hebrides at least one was seen around Harris on 18th and on Lewis at least two birds were noted to 22nd. Single Balearic Shearwaters flew past Hope's Nose (Devon) on 17th and 18th, while a dozen Pomarine Skuas were noted in England (from Kent to Cornwall) with four birds passing Hurst Spit (Hampshire) on 20th. In Ireland, eight Pomarine Skuas flew past Helvick Head (Co. Waterford) on 23rd. A single Little Auk was seen in the Sound of Harris (Outer Hebrides) on 19th.

Cattle Egret, Tamerton Foliot, Devon (Photo: Phil Stidwill)
Up to 14 Cattle Egrets remained around Drift Reservoir (Cornwall) this week, with some of these presumably appearing at nearby Chysauster from 20th-23rd, where numbers climbed up to 16. Also in Cornwall, 11 birds were seen at Gwithian on 19th. In Devon, several birds remained in the north and south of the county. Five birds could still be found at Tamerton Foliot to 22nd at least, with three at Ernesettle on 23rd. Up to five birds moved between Penhill, Bickington and Fremington to 22nd. Another Cattle Egret was still near Newton Abbot on 23rd, while another loner was still in East Devon, on the Otter Estuary, on 16th. A single was at Lytchett Bay (Dorset) from 19th-22nd, with one still at St. Leonard's Grange (Hampshire) on 19th, while in West Sussex, two birds were at Applesham Farm (West Sussex) on 22nd. In East Sussex, a single bird was seen at Rye on 20th. The long-staying bird at Higher Poynton (Cheshire) was still present to 17th, as was the bird at William Girling Reservoir (London). In Gloucestershire, two birds were at Slimbridge WWT from 18th-23rd, while the bird at Tal-y-Bont (Ceredigion) was still present to 18th. On 20th, a Cattle Egret was at Hoylake (Cheshire) and stayed to 23rd. In Ireland, a single bird was at Waterville (Co. Kerry) on 22nd and four birds were seen at Johnstown Castle (Co. Wexford) on 23rd.

Spoonbill, Blacktoft Sands RSPB, East Yorkshire (Photo: Ian Scott)

Common Crane, Longdon Marsh, Worcestershire (Photo: Oliver Wadsworth)

Purple Heron, Sandwich Bay, Kent (Photo: (gadget))
This week saw a Great White Egret arrive at Loch of Strathbeg (Aberdeenshire) on 21st, with a second bird present on 22nd, and both birds remained to 23rd. Also on 22nd, a Great White Egret was found on Calf of Man (Isle of Man) and one flew east, along the Thames, at Greenhithe (Kent) on the same date. Up to 18 Spoonbills were reported this week, from Lancashire to Scilly, with maxima of four at Isley Marsh (Devon) on 17th-19th and Minsmere RSPB (Suffolk) on 22nd. In Lancashire, the Glossy Ibis remained at Warton Marsh (Lancashire) to 23rd, while a minimum of 26 Common Cranes were seen around the country and included singles in Cleveland and North Yorkshire, Orkney, Kent and Norfolk. A Common Crane was seen on Fair Isle (Shetland) on 17th, with it or another at Mousa, on Mainland Shetland, the same day. Still on Shetland, on 19th, two birds were seen at Bakkasetter, Mainland with, presumably, the same two appearing on Unst on 23rd. Two birds were seen around various sites in South Yorkshire on 18th-19th, while three were seen over Walsall (West Midlands) on 19th, then at Longdon Marsh (Worcestershire) on 20th-21st, near Gloucester (Gloucestershire) on 22nd and then, later the same day, at Tyttenhanger GP (Hertfordshire), these birds departing the following day. On 21st, three birds were seen at March Farmers (Cambridgeshire), while five birds were seen over Hornsea Mere (East Yorkshire) on 22nd. Also on 22nd, six Cranes were at Redcastle (Highland) with two present on 23rd. Up to three White Storks were noted this week: one was seen over Darwen (Lancashire) on 17th, with others seen over Shibdon (Co. Durham) on 19th and Week St. Mary (Cornwall) on 20th. The immature Night Heron was seen again at Far Ings NR (Lincolnshire) on 19th, while the probable American Night Heron was again at Mere Sands Wood LWT (Lancashire) on 21st (over a month since the bird was last reported). Adult Purple Herons were at Windmill Farm NR (Cornwall) to 19th, followed by it, or another, at Breage (Cornwall) on 20th. Also on 20th, an adult was at Sandwich Bay (Kent), while another flew south over Spurn (East Yorkshire) on 23rd.

Lesser Scaup, Blair Drummond, Forth (Photo: John Nadin)

Green-winged Teal, Hook-with-Warsash LNR, Hampshire (Photo: Steve Copsey)
Two adult Ross's Geese were still putting off their northward passage. In Perth & Kinross, one was at Vane Farm RSPB on 17th, with it (or another) at Kinross on the same day. In Lancashire, the bird at Pilling Lane End was still present to 22nd. Two white Snow Geese flew over Nanjizal (Cornwall) on 17th and were then seen, on 19th, at Mullion. The first-winter remained at Skinburness to 21st. The only Black Brant of the week was at Cley Marshes NWT on 22nd. In Wales, the female Black Duck was still at Marloes Mere (Pembrokeshire) on 22nd-23rd. A drake American Wigeon was seen at Rother Valley Country Park (South Yorkshire) on 23rd, while at least eight or nine Green-winged Teal could still be found this week. One was still present at Eyebrook Reservoir (Leicestershire) until 20th, while one or two birds were still in Northumberland, at Hauxley and Druridge Bay on 17th, with the latter site entertaining a bird until 23rd. The bird at Spurn (East Yorkshire) was still present to 22nd, and the long-staying individual at Marshside RSPB (Lancashire) lingered to 23rd. Two new birds appeared on 22nd, at Hook-with-Warsash (Hampshire) and Wheldrake Ings (North Yorkshire). On 23rd, the drake Green-winged Teal at Loch Gruinart RSPB, Islay (Argyll) was seen again, a fortnight or so having elapsed since it was last reported. In Ireland, a drake Green-winged Teal was at Shannon Airport Lagoons (Co. Clare) on 20th. Two drake Lesser Scaup were noted over the past seven days, at Blair Drummond (Forth) to 17th and Siblyback Reservoir (Cornwall) on 19th (presumably having moved from nearby Dozmary Pool). Just one male and one female Ring-necked Duck managed to make it to the penultimate week of April: the duck at Stithians Reservoir (Cornwall) was present from 17th-19th and the drake was again on Loch of Tingwall, Mainland (Shetland) on 21st. Two first-winter drake King Eiders were still on offer this week, around the Taw/Torridge Estuary (Devon) to 22nd and off North Ronaldsay (Orkney) to 18th. In Ayrshire, the adult drake King Eider was still off Girvan to 22nd, while the only Surf Scoters of the week were a drake off Ruddon's Point (Fife) and one off Waterville (Co. Kerry), both on 22nd.

Gyr Falcon, Balranald RSPB, N.Uist, Outer Hebrides (Photo: Terry Fountain)

Black Kite, Boyton, Suffolk (Photo: Sean Nixon)
A white Gyr was seen at Balranald RSPB, North Uist (Outer Hebrides) on the morning of 22nd, reappearing later in the day at Knockintorran. In Norfolk, the Rough-legged Buzzard lingered around Holkham Pines, Burnham Overy Dunes and Scolt Head Island from 19th-21st. Eight English counties hosted Black Kites this week, with five birds seen on 20th alone. In Norfolk, singles were reported from Horsey on 17th, Aldeby on 20th and Cromer on 21st. Next door in Suffolk, singles were over Dunwich Cliffs on 20th, again at Boyton Marshes on 21st-22nd and at Benacre on 22nd. Other Black Kites on 20th were at Pyrford (Surrey), West Charleton (Devon) and over The Fleet, Portland and Lodmoor RSPB (Dorset). Singles were also reported at Thrapston (Northamptonshire) on 18th, Earlswood Lakes (Warwickshire) and Weston (Cheshire) on 21st. In Ireland, a Black Kite was seen at Redcross (Co. Wicklow) on 22nd.

Spotted Sandpiper, Lisvane Reservoir, Glamorgan (Photo: Kev Joynes)

Lesser Yellowlegs, Sidlesham Ferry, West Sussex (Photo: Dorian Mason)
Two Dotterel were on Islay (Argyll) on 17th, and the bird at Tacumshin (Co. Wexford) remained to 19th. Four birds were seen at Trecastle (Powys) on 20th, when one was also noted at Garreg Lwyd (Carmarthenshire), with one seen at the same site on 23rd too. On 22nd, three female Dotterel were seen at Foel-fras (Gwynedd/Conwy), with two seen at Harrington Airfield (Northamptonshire) the following day. A spottyish first-winter Spotted Sandpiper remained at Lisvane Reservoir (Glamorgan) from 17th-22nd, while a Long-billed Dowitcher was seen at Shannon Airport Lagoons (Co. Clare) on 20th (having last been seen at the same site on October 5th last year). At least two Lesser Yellowlegs arrived in England this week: at Sidlesham Ferry (West Sussex) from 18th-22nd, and another at Earith (Cambridgeshire) from 19th-21st (with perhaps the same bird then being re-found at Swine Moor (East Yorkshire) on 22nd, and still present on 23rd). The first-winter Kentish Plover remained at South Ford, South Uist (Outer Hebrides) to 20th.

Bonaparte's Gull, South Uist, Outer Hebrides (Photo: Terry Fountain)

Ross's Gull, Lytham St. Annes, Lancashire (Photo: Richard Steel)

Iceland Gull, St. Mary's, Isles of Scilly (Photo: Martin Goodey)
The Franklin's Gull found last week in Warwickshire and originally reported as an adult was actually a second-summer and was, therefore, presumably the bird seen previously in Somerset and Gloucestershire. The bird roosted at Draycote Water from 17th-21st. There were three adult Bonaparte's Gulls this week: one remained at Peninerine, South Uist (Outer Hebrides) from 18th-21st, while at Thurso (Highland), one was present on the river on 19th-20th. The third bird of the week was seen at Dingle (Co. Kerry) from 21st-23rd. In Lancashire, the adult Ross's Gull seen on March 31st made a surprise reappearance this week, spending 17th-23rd at sites around the edge of the Ribble Estuary, mainly at Fairhaven Lake, Lytham St. Anne's. Quite what the bird was up to in the intervening three weeks is anyone's guess, but it had presumably been present in the area the whole time. Three or four Caspian Gulls included a second-summer at the London Wetlands Centre WWT on 18th and 22nd, a first-summer at Minsmere RSPB (Suffolk) on 19th and a third-summer at Paxton Pits NR (Cambridgeshire) on 20th. There were only four Ring-billed Gulls to report this week, with first-winters still at Dale (Pembrokeshire) and Lamby (Glamorgan), an adult was at Loch Sandray, North Uist (Outer Hebrides) on 22nd-23rd, with another at Lough Donnell (Co. Clare) on the same date. In County Galway, the juvenile American Herring Gull remained at Nimmo's Pier between 18th and 22nd. Only 16 Glaucous Gulls were noted this week, including two birds in Norfolk, while Iceland Gulls numbered around 44 birds, including four still on St. Mary's (Scilly) to 22nd and four birds at Nimmo's Pier (Co. Galway) on 21st.

Hoopoe, Ruan Lanihorne, Cornwall (Photo: Brian Mellow)
Content continues after advertisements
It has been a terrific week for Hoopoes with 25 or more recorded, including 10 on 17th alone. Six birds were seen in Cornwall (including one at another contender for this week's Patagonia Rest Stop Award, Windmill Farm NR), six birds in Ireland, with three of those on Cape Clear Island (Co. Cork) on 17th. All Hoopoes are of note, but of particular interest where singles on Ramsey Island (Pembrokeshire) on 18th-23rd and on the Isle of May (Fife) on 21st-23rd. There was no Black-bellied Dipper this week, but last week's bird on Fair Isle was actually a new arrival, and not the wintering bird as reported last week. A Red-rumped Swallow flew over Marske-by-the-Sea (Cleveland) on 23rd, while a Snowy Owl was seen at Blacksod, on the Mullet (Co. Mayo) on 18th.
Waxwings (unsurprisingly) struggled to break in to double figures as the spring continues to push winter well and truly to one side. Six birds remained in Aberdeen to 19th, while four birds could still be seen in Bingley (West Yorkshire) in the early part of the week. The first Short-toed Larks of the spring arrived this week; one was found on Tresco (Scilly) on 19th and stayed to 22nd. Two birds were discovered on 22nd, one on Fair Isle (Shetland), and another at a "private site" in Wales. The Fair Isle bird was still present on 23rd. At Dawdon Blast Beach (Co. Durham) a small "short-toed" Lark was seen on 21st, but despite observers noting a well-streaked breast, it appears that it could be another to file as "one that got away". On St. Agnes (Scilly), a probable Blyth's Pipit was seen near Porth Killier on 23rd, a rare bird at any time of the year, but even more so in spring.

Pallas's Warbler, St. Agnes, Cornwall (Photo: Mike Barker)
Not one, not two, but three singing male Pallas's Warblers for the review this week. The bird at Swallow Pond (Northumberland) stayed from 17th-19th, while new birds were discovered at Frampton-on-Severn (Gloucestershire) on 19th (and still present to 21st) and at St. Agnes (Cornwall) on 21st-22nd. A grand total of four for the month has to be a record.... In Ireland, a male Subalpine Warbler was very tidy find out on Hook Head (Co. Wexford) on 20th-21st, while an adult male Red-breasted Flycatcher on Cape Clear Island (Co. Cork) on 19th was the island's first spring record (and arrived on the same day as the Cape's very first Great Spotted Woodpecker). The following day, an adult male Red-breasted Flycatcher was on the Old Head of Kinsale (Co. Cork) - the same bird perhaps?
At least 10 Wrynecks arrived this week, including two in Norfolk on 21st and notable singles were seen on Ramsey Island (Pembrokeshire), North Ronaldsay (Orkney) and Coll (Argyll) with inland records from Wiltshire and Cambridgeshire. A dozen or so Great Grey Shrikes were still around and about this week. One was seen at Scaling Dam Reservoir (Cleveland) on 17th-22nd, two birds were seen in Moray, while long-stayers remained in Gloucestershire, Nottinghamshire and Norfolk. A couple of brief Serins were noted on 22nd; one appeared at St. Catherine's Point (Isle of Wight) and the other was noted at Felixstowe (Suffolk), both birds being seen to fly in off the sea. Finally this week, two Little Buntings were seen; one at Old Head of Kinsale (Co. Cork) on 21st was an excellent spring record for both county and country, with the other bird making a brief appearance in the Observatory garden at Dungeness (Kent) on 23rd.

Ring Ouzel, Tyttenhanger GPs, Hertfordshire (Photo: Richard Jones)
Photo of the Week

Ross's Gull, Lytham St. Annes, Lancashire (Photo: Steve Round)
Over the last few years, gulls have become increasingly popular among birders, to the extent that some 'gull-watchers' have pretty much lost interest in other bird species. An unusually southerly appearance of a Ross's Gull in Lancashire must therefore have attracted a fair number of admirers. Photographing gulls, though, can be quite a challenge. In overcast conditions they can appear dull but, in direct sunlight, their white or pale plumage can cause incorrect exposure, losing all tonal detail. Steve Round's portrait of the Lytham St. Anne's bird shows how it should be done. Capturing the full range of tones and hues (including the pinkish underparts), Steve has created an image that really does justice to this dainty species. It's just one of those images that makes you wish you were there!
Other notable photos

Pheasant, undisclosed site, Cheshire (Photo: Richard Steel)

Chiffchaff, Turkey (European) (Photo: Rudi Debruyne)

Swallow, undisclosed site, Lancashire (Photo: Sue Tranter)

Bullfinch, Spital, Cheshire (Photo: Steve Round)

Yellow Wagtail, Shustoke Reservoir, Warwickshire (Photo: Dave Hutton)

Green Bee-eater, Oman (Photo: Dave & Pete Hall)

Grey Partridge, Shobdon, Herefordshire (Photo: Chris Grady)

Song Thrush, Wigan, Manchester, Greater (Photo: David Cookson)

Black-necked Grebe, undisclosed site, Lincolnshire (Photo: Dean Eades)

Wren, Red Rocks, Cheshire (Photo: Richard Steel)

Lapwing, Belfast Lough RSPB, Antrim (Photo: Craig Nash)

Robin, Pulborough Brooks RSPB, West Sussex (Photo: Howard Kearley)

Northern Wheatear, Covenham Reservoir, Lincolnshire (Photo: Nick Clayton)

Shoveler, Summer Leys LNR, Northamptonshire (Photo: Richard Bedford)

Spotted Sandpiper, Lisvane Reservoir, Glamorgan (Photo: Kev Joynes)

Ring Ouzel, Minsmere RSPB, Suffolk (Photo: Andrew Madgwick)

Mute Swan, Marazion, Cornwall (Photo: Brian Mellow)