The week at a glance
It may now be approaching the end of June but the spring's sensational run of mega-rarities continued in fine fashion. One of these was an utterly unexpected Eyebrowed Thrush photographed at Symbister, Whalsay, Shetland. It was first reported on Sunday, and initially there was a little confusion about when it had been seen, but it soon transpired that the photographs from which it had been identified had been taken on Saturday 20th. The only report on the Solstice itself concerned a 'possible' in flight. Alas the bird was not seen again, and it becomes the third untwitchable Eyebrowed Thrush seen in the Northern Isles in four years. It is, incidentally, the first of its kind to be seen in Britain in June (though there are two late May records).
The other headline was Nearctic in origin, although, given the convincing description given of a bird just a kilometre or so away on 2 June, may not have been a new arrival. The Cedar Waxwing at Old Town on St Mary's, Scilly, showed just a couple of times in the late morning and early afternoon on 19th before vanishing into the ether once more. Even if this is the same bird as that reported over two weeks ago, it's still the third this spring — an unprecedented influx to go along with the recent Catharus thrush showing.

Cedar Waxwing, St Mary's, Isles of Scilly (Photo: Martin Goodey)
Content continues after advertisements

Cedar Waxwing, St Mary's, Isles of Scilly (Photo: Robin Mawer)
After proving a complete nightmare for the first few days of its stay, Bardsey Island's Cretzschmar's Bunting acted in a saintly manner up to Saturday evening, when it was last seen. It intermittently showed well on a small seeded patch at the lighthouse compound and almost all of the several hundred who visited the island throughout last week were treated to excellent views. Following the bird's overnight bunk there were a few unfortunate boatloads of Father's Day dippers, but this was really the only blemish on an otherwise perfect twitch — on behalf of everyone who visited the island over the bunting's 11-day stay, a big thank you must go to Steve and Emma Stansfield and their team on the island, as well as to boatman Colin Evans. Another unprecedented Welsh island twitch ends up a resounding success!

Cretzschmar's Bunting, Bardsey Island, Gwynedd (Photo: Ben Porter)
In West Sussex the Hudsonian Whimbrel continues to show on and off at Pagham Harbour and, rather like the Cumbrian bird in 2007, looks set to spend the summer in the area. It was even joined by a smart Terek Sandpiper on 21–22nd, treating visitors to an impressive double act from two very different parts of the world. After a blank May, this is the first Terek Sand to be seen in Britain this year.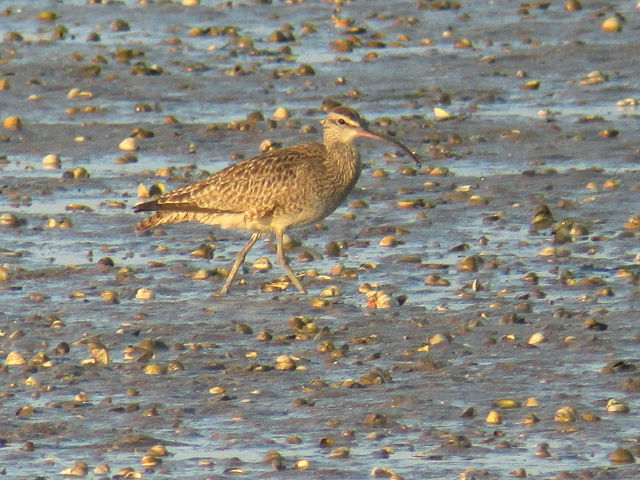 Hudsonian Whimbrel, Church Norton, West Sussex (Photo: Andy Johnson)

Terek Sandpiper, Church Norton, West Sussex (Photo: Jason Ward)
A drake King Eider was in Spey Bay, Moray/Nairn, on 20th following the last report of the Ythan Estuary bird on 19th; the female was also still on Unst on 22nd. The White-billed Diver was also still at Esha Ness, Shetland, on 17th, and a drake Surf Scoter flew north past Long Nab, N Yorks, on 23rd among a widespread and large movement of Common Scoter along the east coast. The drake Ring-necked Duck became more reliable at Blacktoft Sands, E Yorks, as the week wore on, showing daily. Unusual for June, the Glamorgan Lesser Scaup was reported back in Cardiff Bay on 18th, but couldn't be found the following day. A female American Wigeon remained at Rigifa Pool, Aberdeenshire, to 21st and drakes were on Tresco, Scilly, and Loch Bee, South Uist — a female reported at the former site looks more like a Eurasian Wigeon from the available photos. An apparent parvipes Canada Goose was at Loch Stiapavat, Lewis, on 21–22nd.

Ring-necked Duck, Blacktoft Sands RSPB, East Yorkshire (Photo: Gary Flakes)

American Wigeon, Rigifa Pool, Aberdeenshire (Photo: John Nadin)
A Squacco Heron called in at Saltholme RSPB, Cleveland, for just a day on 18th, and the Little Bittern continued to advertise itself at Lakenheath Fen, Suffolk, to at least 17th. Scilly's Purple Heron remained on St Mary's to 20th, while a first-summer showed well at times at Kenfig Pool, Glamorgan, from 19th. An impressive 18 Great White Egrets counted at Ham Wall, Somerset, at dawn on 18th are an indicator of the rude health of this burgeoning population; other counts included four at Scotney Gravel Pits, Kent, on 18th and three past Ilfracombe, Devon, on 22nd. A Glossy Ibis was again at Tramore, Co Waterford, on 20th.

Squacco Heron, Saltholme RSPB, Cleveland (Photo: Arto Maatta)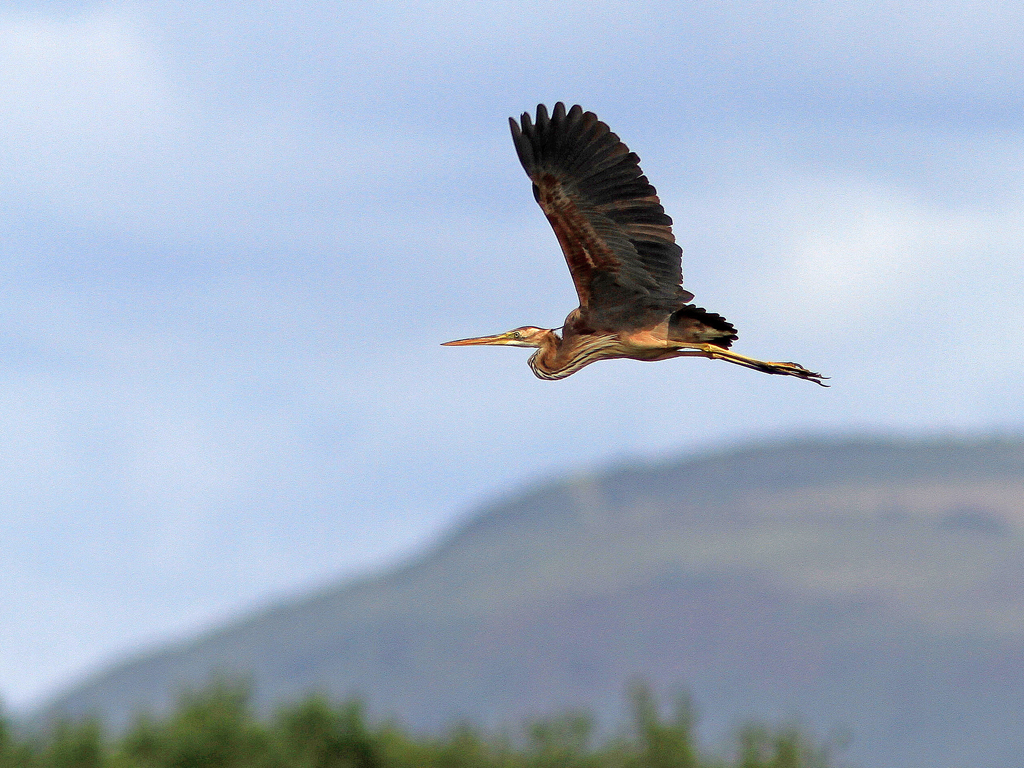 Purple Heron, Kenfig NNR, Glamorgan (Photo: Cliff Woodhead)
The only birds of prey of note this week were Black Kites at Walland Marsh, Kent, on 17–18th and over Ossett, W Yorks, on 22nd.
Hampshire's Greater Yellowlegs lingered yet another week at Titchfield Haven, and may well be around for some time to come. Last week's White-rumped Sandpiper was still at Cley Marshes, Norfolk, to 21st in addition to further possibles seen briefly in Norfolk and Suffolk. Temminck's Stints were at North Cave Wetlands, E Yorks, on 18th, briefly at Saltholme, Cleveland, on 21st and at Loch Leven, Perth/Kinross, on 23rd. Eight Red-necked Phalaropes included inland birds at Old Moor, S Yorks, on 20th and Mickle Mere, Suffolk, from 22nd, as well as records from Lincolnshire, East Yorkshire, Lancashire, Northumberland, Aberdeenshire and Orkney.

Greater Yellowlegs, Titchfield Haven NNR, Hampshire (Photo: Tom Hines)
First-summer Ring-billed Gulls remained on the Hayle Estuary, Cornwall, and at Tralee, Co Kerry, with a second-summer found at Ororsay, Barra, on 20th. A gorgeous adult Franklin's Gull at Lough Beg, Co Londonderry, from 22nd could well be the bird seen the previous week in Galway Bay. Last week's Bonaparte's Gull remained on St Kilda, Outer Hebrides, to 21st, while photos emerged of a first-summer American Herring Gull present on the island for a few days around 12th until it fell victim to one of the local Great Skuas, which was observed feasting on its corpse. Another Bonaparte's — an adult — was on the Oare Marshes, Kent, from 20th and is presumably the returning bird that was present as a first-summer from May–August 2013 and again from July–September last year. A Gull-billed Tern on Birsay, Orkney, from 20–22nd was the only rare tern of the week.

Bonaparte's Gull, Oare Marshes NR, Kent (Photo: Jason Ward)

American Herring Gull, St Kilda, Outer Hebrides (Photo: Peter Stronach)

American Herring Gull, St Kilda, Outer Hebrides (Photo: Peter Stronach)
Another great week for European Bee-eaters included tens over Minsmere, Suffolk, on 19th and at Glynde, E Sussex, on 22nd, which could feasibly have been the same flock. At the latter site they lingered throughout the evening and roosted overnight, before heading off north early on 23rd. Three on Barra on 18th became an impressive minimum of five on 20–21st. Three were still touring the Isles of Scilly to 18th, while on 17th twos were over Hauxley and East Chevington, Northumberland, and Braunton Burrows, Devon. Singletons were reported from Suffolk, Norfolk, Lincolnshire and Durham.

European Bee-eater, Glynde, East Sussex (Photo: Jake Gearty)
Eurasian Hoopoe records came from Ballyalia Lake, Co Clare, on 17th and High Newton-by-the-Sea, Northumberland, on 21st. With breeding birds absent from Breckland again, the only Golden Orioles on offer were birds at Portland, Dorset, on 19th and Fair Isle on 22nd. A Red-rumped Swallow was at Burnham Overy, Norfolk, on 17th, and a Tawny Pipit record came from near Seaford Head, E Sussex, on 21st.
A subalpine warbler was present for a couple of days on North Ronaldsay, Orkney, from 20th and was trapped and ringed during its stay; photos suggest that it was more likely a Western rather than Moltoni's. The long-staying Great Reed Warbler was at Baltasound, Unst, throughout the week, as was the singing Melodious Warbler near Hampton in Arden, W Mids. Two Icterine Warblers were on North Ronaldsay on 19th, with one still there the following day; another was on Fetlar on 18th. North Ron also had two Marsh Warblers on 20th; Fair Isle and Unst also produced Marsh Warblers, and the singing bird continued at Narborough, Norfolk, all week.

Melodious Warbler, Marsh Lane NR, West Midlands (Photo: Jaz)
A Woodchat Shrike was at Sandwith, Cumbria, on 19th, and a male Red-backed Shrike was at Deal, Kent, the same day. The latter was one of four seen, the other three all being on the Northern Isles. A Red-breasted Flycatcher briefly sang at Portland Bird Observatory early on 21st but quickly moved on. Rose-coloured Starlings included a bird at Cotgrave, Notts, on 18th and two on the Outer Hebrides. The only Common Rosefinch report came from Fair Isle on 17th, while a Rustic Bunting was a brief visitor to Sumburgh quarry, Shetland, on 21st.

Red-breasted Flycatcher, Portland, Dorset (Recording: Martin Cade)

Rose-coloured Starling, Cotgrave, Nottinghamshire (Photo: Lynne Demaine)
Western Palearctic news
Proceedings were a little quieter around the region this week although both the Bateleur and Lappet-faced Vulture lingered in Israel. Unfortunately the vulture had to be taken into care at the end of the weekend as it was severely underweight, and it will be rehabilitated at Carmel Hai Bar vulture centre.
The Oriental Cuckoo continued to sing at Sotkamo, Finland, and was trapped, ringed and released on Monday. Finland also boasted its fifth Cretzschmar's Bunting at Ulkokrunni on 18th, while a White-winged Lark was at Båtsfjord, Finnmark, Norway, on 17th. The Black-browed Albatross returned to Heligoland, Germany, sporadically from 18–20th.

Oriental Cuckoo, Finland (Photos: Roni Väisänen/Avescapes)
Belated news concerned a Western Reef Egret at Parma, Italy, and further back, Belgium's first Moustached Warbler was apparently trapped and ringed in Flemish Brabant on 7 June.
Photo of the Week, 17–23 June
Our Photo of the Week section has moved! This week's can be found here.