The week at a glance
Last week's Royal Tern did what British and Irish Royal Terns often seem to do — fly off before it could be widely twitched, and then subsequently relocate to somewhere miles away. Seen shortly after dawn on 16th as it flew out to sea, it did not return to Co Mayo's Roonagh Lough but a week later resurfaced at Beale Strand, Co Kerry — a site that held an Elegant Tern for almost two weeks in September 2013. Might this be the big chance birders have been waiting for?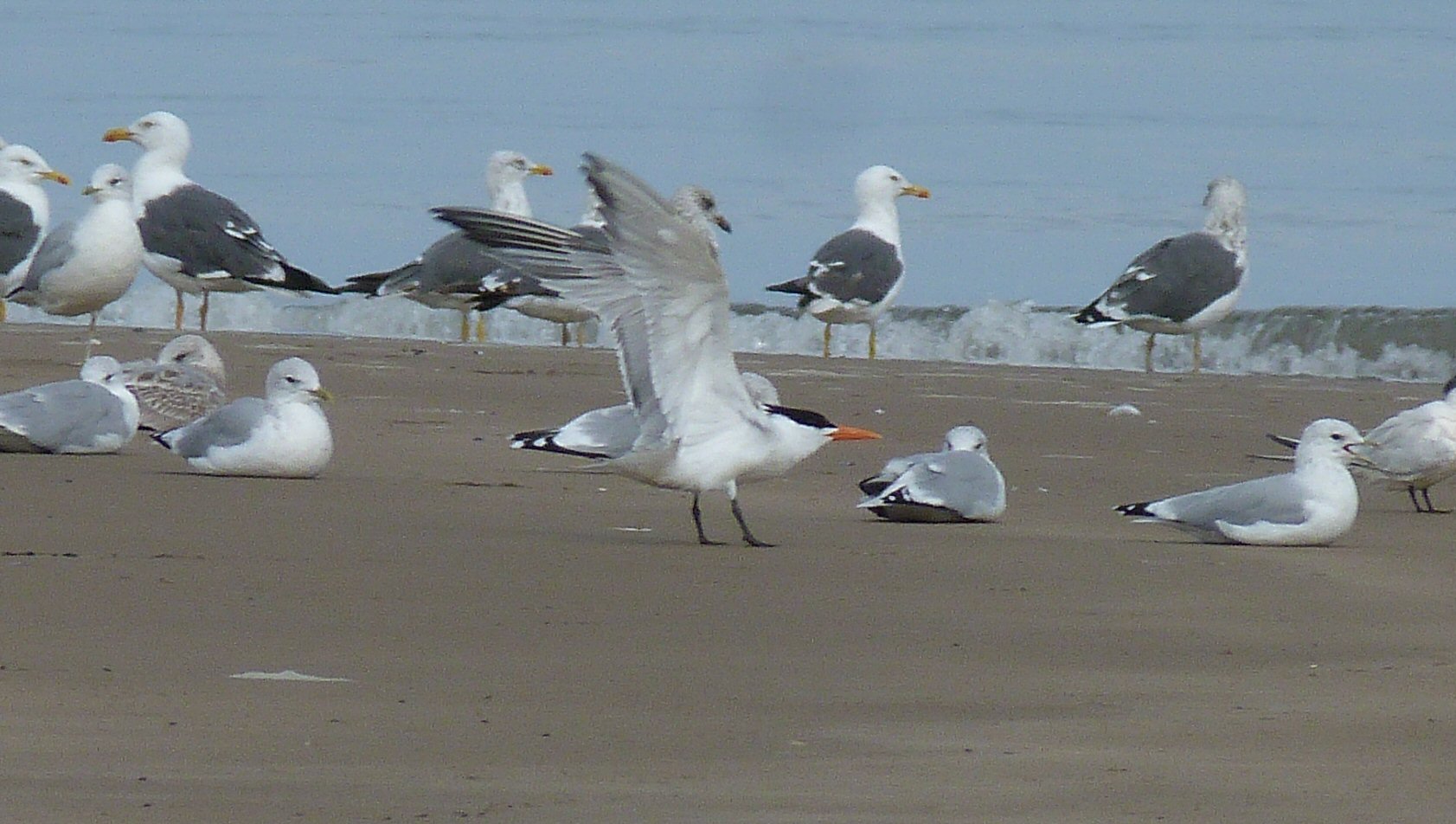 Royal Tern, Beale Strand, Kerry (Photo: Davey Farrar)
Other seabirds did feature among the week's highlights, not least the Black-browed Albatross that flew close inshore past Prawle Point, Devon, at 08:15 on Friday morning. Unfortunately this bird wasn't picked up anywhere else, though one suspects it might be the roving bird seen around North Sea coasts in recent summers.
A photo emerged on Facebook this week depicting an immature Brown Booby sitting on a fishing trawler. The image had apparently been taken just a couple of miles off Dingle, Co Kerry, on 13th and the bird is reported to have spent the night on the ship. No sign since, though...
Other excitement concerned the Swinhoe's Storm-petrel again singing in the early hours of 23rd on Fair Isle, and a possible Sooty Tern distantly past Hilbre Island, Cheshire, on 18th, while the Hudsonian Whimbrel continued in Cornwall and the American White-winged Scoter did the same in Aberdeenshire.
A spell of weather conducive to the arrival of drift migrants on the east coast didn't disappoint, with no fewer than 15 Greenish Warblers arriving between Norfolk (where there were two on Blakeney Point on 18th) and the Northern Isles — Orkney claimed four and Shetland three — the only exceptions being an elusive bird at Portland, Dorset, on 22nd and another at Porthgwarra, Cornwall, on 23rd. A slightly higher tally of Icterine Warblers (20+) occupied a similar geographical spread to the week's Greenish, although the most confiding of the bunch was actually the bird on St Mary's, Scilly, which delighted all-comers to The Garrison throughout the week.

Greenish Warbler, Fair Isle, Shetland (Photo: Lee Gregory)

Icterine Warbler, Scilly pelagic, Isles of Scilly (Photo: Ephraim Perfect)
The season's first Barred Warbler arrived at Spurn, E Yorks, on 17th and was followed by at least a further seven either in North Yorkshire, Northumberland, Orkney or Shetland. Eight Red-backed Shrikes also arrived, though they showed a more southerly bias to the other drift migrants with records from Kent, Essex, Norfolk and, on 23rd, Pembrokeshire. The first Common Rosefinches of the season reached Unst on 20th and Fetlar on 22nd, while an early Richard's Pipit was at Spurn on 23rd. Wryneck was the most numerous of the week's drift migrants, with around 30 reported nationwide; of these a lingering bird at Weybourne, Norfolk, from 20th was probably the most seen by birders.

Red-backed Shrike, Walmer, Kent (Photo: Steve Ray)

Wryneck, Fair Isle, Shetland (Photo: Lee Gregory)
The first Booted Warbler of the year was the arguable highlight of this respectable August arrival, gracing Fetlar on 22nd. Another followed at Porthgwarra, Cornwall, the following day. Western Bonelli's Warblers are always popular if accessible, but that couldn't be said for the bird trapped on Bardsey Island, Gwynedd, on 17th, which disappeared shortly after release.

Booted Warbler, Aith, Fetlar, Shetland (Photo: Brydon Thomason)
A lingering European Bee-eater gave birders the run-around at Minsmere and Dunwich Heath, Suffolk, on 18–19th, while a Hoopoe was twitchable for an afternoon only at Barkingside, London, on 18th. A Marsh Warbler graced Baltasound, Unst, on 23rd, and a Citrine Wagtail pitched down at Bardsey Island, Gwynedd, briefly on 17th, with another at Lissagriffin, Co Cork, on 23rd. Ortolans were at Kilnsea, E Yorks, and Skokholm, Pembrokeshire, on 17th, over St Agnes, Scilly, on 23rd and, most unusually, on a vessel at sea some 40 miles north-east of Peterhead, Aberdeenshire, on 19th. Following one at the classic location of Portland, Dorset, on 16th, at least one Melodious Warbler was recorded on St Agnes, Scilly, with another at Beachy Head, E Sussex, on 23rd.
Seawatching also picked up considerably this week, with a good run of Fea's-type Petrel records in south-west Ireland. Presumably the same bird flew past Galley Head, Co Cork, on the morning of 19th, with another possible past the Old Head of Kinsale that day and a third site in the county — Cape Clear — getting in on the action on 21st. One was so close inshore as it passed Bridges of Ross, Co Clare, on the morning of 20th that it allowed for impressive land-based photos to be taken, while another was reported past Port Eynon Point, Glamorgan, on 21st.

Fea's Petrel, Bridges of Ross, Clare (Photo: Aidan G. Kelly)
Bridges of Ross also boasted four Wilson's Storm-petrels throughout the morning of 20th, with fours from Scilly pelagics on 20th and 22nd. Three were reported past Pendeen, Cornwall, on 21st. Sabine's Gull numbers are gradually beginning to pick up, with 12 past Bridges of Ross on 20th and a notable record of a bird on the beach at Morecambe, Lancs, on 21st. Long-tailed Skuas are also starting to show up, and the juvenile devouring an Oystercatcher on the beach at Ainsdale, Lancs, on 21st looked an absolute stunner. Good totals of 350 Great and 341 Cory's Shearwaters were logged past Galley Head on 19th and, although the Saturday morning at Porthgwarra, Cornwall, didn't really live up to expectations, the 137 Cory's past by late morning must still have been an enjoyable sight.

Wilson's Storm Petrel, Scilly pelagic, Isles of Scilly (Photo: Joe Pender)

Sabine's Gull, Scilly pelagic, Isles of Scilly (Photo: Richard Stonier)

Cory's Shearwater, Scilly pelagic, Isles of Scilly (Photo: Ephraim Perfect)

Great Shearwater, at sea, Isles of Scilly (Photo: Jim Almond)

Long-tailed Skua, Ribble Estuary, Lancashire (Photo: John Tymon)
Last week's Solitary Sandpiper at Cloghaun Lough, Co Clare, wasn't seen past mid-morning on 20th, though the Least Sandpiper was still there on 21st. The Spotted Sandpiper was last noted at Dunbar, Lothian, on 21st, with the Northumberland bird still at Hauxley on 18th and Tiree's juvenile performing beautifully to at least 19th.

Solitary Sandpiper, Cloghaun Loch, Clare (Photo: John N Murphy)

Spotted Sandpiper, Dunbar, Lothian (Photo: Dennis Morrison)

Spotted Sandpiper, Tiree, Argyll (Photo: Jim Dickson)
Tacumshin was up to its usual rarity-producing tricks, a Terek Sandpiper found there on 21st representing the site's second record in four years. A juvenile American Golden Plover at Ring Marsh, Co Wexford, on 21st was a spectacularly early date for a youngster; this was presumably the individual found flying around Tacumshin later that day. A Lesser Yellowlegs at Tacumshin on 19–20th was one of six seen this week; other Irish records came from Dublin, Kerry and Cork while an excellent inland record concerned a bird at Blithfield Reservoir, Staffs, on 20th. Another was at Vange Marsh, Essex, from 22nd.

Terek Sandpiper, Tacumshin, Wexford (Photo: Paul Kelly)

Lesser Yellowlegs, Tacumshin, Wexford (Photo: Paul Kelly)
The first juvenile Baird's Sandpiper of the season arrived at Braebuster, Orkney, on 17th but was soon pushed off by a marauding Great Skua. A juvenile Semipalmated Sandpiper was on South Uist on 19–20th, and an adult was still in Ballinskelligs Bay, Co Kerry. The White-rumped Sandpiper continued to perform well at Nigg Bay, Aberdeenshire, to 21st, while another arrived at Amble, Northumberland, the same day. One was also at Cley, Norfolk, on 17th and a further adult was at Banks Marsh, Lancs, on 23rd. Pectoral Sandpipers were in short supply, with just a single bird — that at Tophill Low, E Yorks — present to 21st. Tacumshin claimed its third Red-necked Phalarope, a moulting adult this time, on 20th. A Temminck's Stint was at Greatham Creek, Cleveland, on 17–18th and was followed by further records at Rainham Marshes, London, from 22nd and Whisby, Lincs, on 23rd.

White-rumped Sandpiper, Amble, Northumberland (Photo: Jonathan Farooqi (Age 15))

Temminck's Stint, Whisby Nature Park, Lincolnshire (Photo: Ben Ward)
Shorebird-wise, it was really all about one species: Curlew Sandpiper. An impressive influx occurred from 19th when an eastward-moving front collided with south-easterly airflow across the North Sea. Big numbers began to drop in at east-coast sites with counts into the thirties, forties and even fifties appearing at classic locations such as Cley and Titchwell marshes, Norfolk. It was Lincolnshire's Frampton Marsh, though, that wiped the floor, with a total of 143 on 21st rising to 243+ on 22nd and an amazing 258 on 23rd.

Curlew Sandpiper, Flamborough Head, East Yorkshire (Photo: Andy Hood)
@RSPBbirders @TheBirdfair And here's a flock of that 45 @Lincsbirding @BirdGuides @waderquest @BillyBloodworm pic.twitter.com/036hA6XNyZ

— Toby Collett (@BoyWonderBirder) August 19, 2016
Aside from the usual post-breeding build-up of Garganey at sites across Britain, the only wildfowl news was the continuing Ring-necked Duck on Loch of Bosquoy, Orkney, on 21st and another drake on Fair Isle on 23rd — the latter is just the second island record after the first in October 1978.
The presence of a juvenile Little Bittern at Marston Vale Millennium Country Park, Beds, on 20th raises hopes that the species might have bred successfully somewhere in the country. This represents the first modern-day record for the county (the only accepted record is of a bird shot in 1894) so, for those local birders that connected, it could prove quite a blocker. The juvenile Purple Heron continued on Otmoor, Oxon, all week, while another briefly visited Brandon Marsh, Warks, on 17th. Two Cattle Egrets were on the Nene Washes, Cambs, from 18–21st, with a third new bird at Slimbridge, Glos, on 21st; others remained in Co Wexford and Lancashire.
White Stork 'Z1213' again flew over Hampton Bishop, Herefordshire, on 17th, while there was a report of a Black Stork in fields near Stradbroke, Suffolk, on 22nd for a short period of time (another was on Alderney on 17th). For the second week running Glossy Ibises were reported from nine sites, these including two still at Ham Wall, Somerset, and a bird in London at King George V Reservoir to 21st. The Dalmatian Pelican continues to chill out at Restronguet Creek, Cornwall.
News that Devon's Bonaparte's Gull had returned to Dawlish Warren on 20th was welcome, and the Kent bird was still at Oare Marshes on 23rd. The first juvenile White-winged Black Tern of the season arrived at Watermead Country Park, Leics, on 21st and lingered there until early the following morning before departing south. The Forster's Tern was still in Co Louth this week, frequenting Soldier's Point to 22nd.

Bonaparte's Gull, Oare Marshes NR, Kent (Photo: Brian Anderson)
A Spotted Crake continued to show well at North Cave Wetlands, E Yorks, all week.

Spotted Crake, North Cave Wetlands YWT, East Yorkshire (Photo: Paul Leafe)
Western Palearctic news
What was potentially Belgium's third Steppe Eagle flew over Charleroi on 18th, with presumably the same bird in Nordrhein-Westfalen, Germany, the following day. Just the second Eleonora's Falcon for the Netherlands, a dark-morph adult bearing a satellite transmitter, was photographed at Perkpolder, Zeeland, on 19th.
Sweden's fifth Melodious Warbler was trapped and ringed at Ottenby, while a moulting adult Stilt Sandpiper at Børaunen, Rogaland, Norway, on 23rd is just the seventh for Norway. Switzerland boasted its first Saker on 22nd — a bird was photographed migrating south at Simplon.
Yet another Western Swamphen was found well out of range in eastern France, while two Spotted Sandpipers were recorded in Finistère and the Pied-billed Grebe continued in the Camargue. Dutch highlights included Black-winged Kite and Sociable Lapwing, both found on 23rd.

Pied-billed Grebe, France (Video: Alain Fossé)
Content continues after advertisements