The week at a glance
American Yellow Warblers in Dorset and Co Cork
Two Barolo Shearwaters seen in Ireland
American White-winged Scoter still in Aberdeenshire
Brown Booby takes inland route through The Netherlands and Germany
Content continues after advertisements
There were signs this week that the pace of autumn migration was beginning to pick up, albeit not in the conventional way that many would expect in the third week of August. Instead of being graced by Icterine Warblers, Red-backed Shrikes and Pied Flycatchers from the east, the remnants of Hurricane Earl deposited two fantastic waifs from the other side of the Atlantic to begin the season with a bang.
The birds in question were both American Yellow Warblers, a species that has a habit of turning up early on our shores – albeit not quite this early, the previous records being birds on 24 August (in 1992 and 2008). Rather like in 2008, when two turned up in Co Cork in quick succession, both of this week's birds were found on the same day (21st). Even more coincidentally, it was Mizen Head that claimed the first – neighbouring Three Castles Head hosted one of the 2008 birds, that individual favouring gardens just three kilometres away from this week's bird. The second was arguably more significant – while the Mizen bird was undeniably a brilliant find, it represents the third for Co Cork, but this week's second individual, at Portland Bill, was a first for the entirety of England. Unfortunately the Portland bird didn't feel the need to linger and had disappeared by the morning of 22nd – quite surprising for a freshly arrived Nearctic passerine, which often linger a few days to recuperate before moving on. However, the Co Cork bird was still there on 23rd.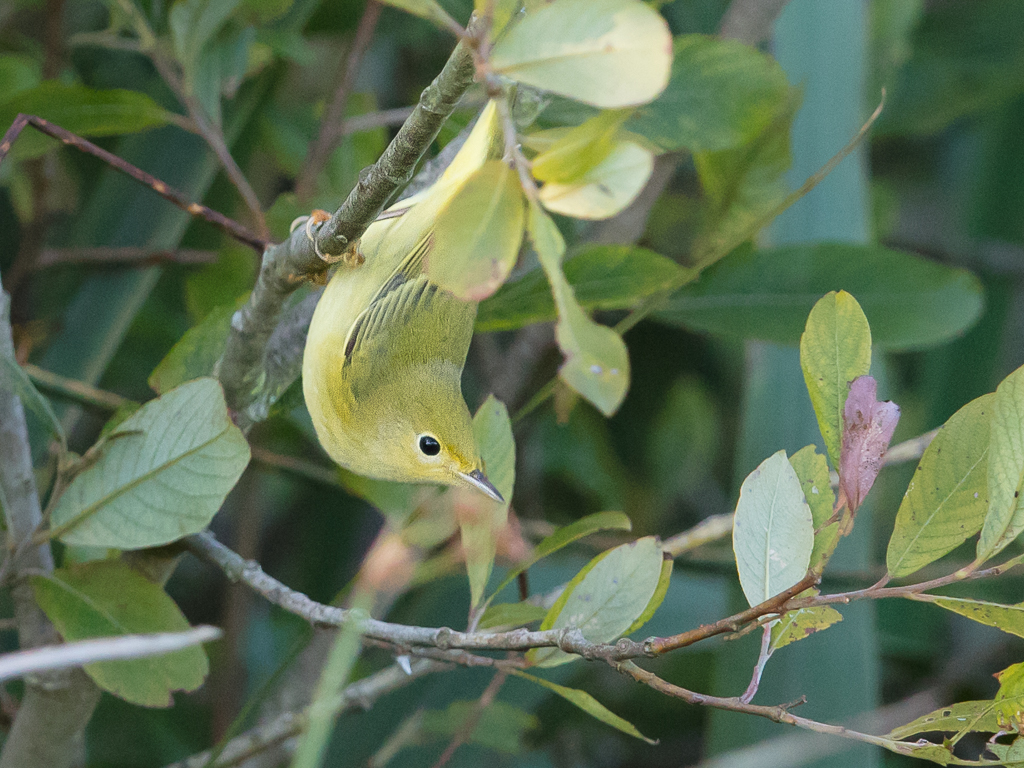 American Yellow Warbler, Portland, Dorset (Tim White).
Other than that both the 2008 birds lingered for several days, the comparisons between then and now are striking. That autumn turned out to be an excellent one for 'Yanks' – think Little Blue Heron, American Redstart, Scarlet Tanager, Alder Flycatcher and Philadelphia Vireo later in the autumn, not to mention the Northern Waterthrush on Cape Clear in late August. After last year's Sibe-fest, it'd be great to follow it up with a memorable autumn from the west …
Birders were teased a little this week, firstly by a report of an American Robin at Stronachlachar, Forth – although the claim, which was accompanied by a rather fine photograph, was quickly sniffed out as a hoax. Elsewhere a grey stint at Nosterfield, North Yorks, was identified as either a Semipalmated or Western Sandpiper (probably the latter) after palmations were purportedly seen in images. It turned out that these "palmations" in fact consisted of mud and that the bird was a Little Stint after all, just as initial opinion had favoured.

Little Stint, Nosterfield, North Yorkshire (Chris Downes).
Otherwise, seawatching dominated the headlines. A Barolo Shearwater flew past Hook Head, Co Wexford, on 16th, with another seen by numerous observers gathered at Bridges of Ross, Co Clare, mid-morning on 18th. A Fea's-type Petrel from a pelagic out of Falmouth, Cornwall, mid-afternoon on 20th was presumably the same bird also seen flying past nearby Chynhalls Point that day. Another Fea's-type flew past Brandon Point, Co Kerry, on 18th. Wilson's Storm Petrels once again showed a distinct south-westerly bias with the Scilly pelagics continuing an unbroken run of sightings this week, peak counts including 10+ on 20th – that day also producing eight from a pelagic out of Baltimore, Co Cork. Three flew past Brandon Point, Co Kerry, on 18th with eight past Bridges of Ross that day (and a further three there on 19th). Birds were also seen from pelagic trips out of Penzance and Falmouth.

Fea's-type Petrel, at sea off Falmouth, Cornwall (Brian Thompson).
Large shearwater totals seem to have waned a little, but there's no doubt both Cory's and Great Shearwaters remain around our coasts in better-than-average numbers. Increasing numbers of Sabine's Gull included double figures past Bridges of Ross on 18th, where there were also a handful of Long-tailed Skuas.

Cory's Shearwater, Scilly pelagic (Ray Hall).
The American White-winged Scoter was still off Murcar, Aberdeenshire, to 19th alongside up to two Surf Scoters. The only other Surf Scoter was a drake in Lunan Bay, Angus, on 20th. A drake Ferruginous Duck was at Hesketh Out Marsh, Lancs, from 13-16th and the female King Eider hung on in Ceredigion, but significant wildfowl news was otherwise lacking – although that was no surprise for mid-August.
Just when we thought it had packed up and headed south for the winter, this summer's well-watched Caspian Tern, bearing its diagnostic red ring, reappeared. It was first picked up at Hickling Broad, Norfolk, on 16th – a full 12 days after its last appearance in Derbyshire. It then spent the remainder of the week commuting between Hickling and Breydon Water, seemingly roosting at the latter site while roving the Broads during the day and regularly dropping in at Hickling.

Map showing the red-ringed Caspian Tern's exploits this summer. First seen in Glamorgan on 25 June, it has since visited (in chronological order) Carmarthenshire, Northamptonshire, Carmarthenshire, Lincolnshire, West Yorkshire, Carmarthenshire, West Yorkshire, Derbyshire and Norfolk.
Reappearing once again was the American Royal Tern, which was on Guernsey on 16th. The adult Forster's Tern stayed at Soldier's Point, Co Louth, over the weekend and the long-staying White-winged Tern appeared again on North Ronaldsay, Orkney, on 19th. Another adult commuted between Hayling Island, Hants, and Medmerry, West Sussex, on 17th. The juvenile also continued on the Exe Estuary, Devon, to 21st. Black Terns were reported in increasing (but far from exceptional) numbers, while the Little Gull roost at Hornsea Mere, East Yorks, peaked at 6,800 on 20th.

White-winged Tern, Medmerry RSPB, West Sussex (Simon Smith).
The Long-billed Dowitcher/Bonaparte's Gull combo remained on offer at Kent's Oare Marshes throughout the week, and a couple of Black-winged Stilts hung on at Cliffe Pools. One of the week's better finds was a nice adult Laughing Gull on the beach at Streedagh, Co Sligo – discovered on 18th, it was still there on 22nd. The Bonaparte's Gull was last seen at Brownsea Island, Dorset, on 16th.

Bonaparte's Gull, Oare Marshes, Kent (Mick Temple).
Always a seminal moment in the autumn, the first juvenile Nearctic shorebirds of the season appeared this week – all Pectoral Sandpipers. A youngster on St Mary's, Scilly, on 19th was joined by a second on 21st, while others were seen on Vatersay, Outer Hebrides, Tiree, Argyll, and at Farlington Marshes, Hants, with a couple in Co Wexford. The latter county also hosted a Buff-breasted Sandpiper at the classic locality of Tacumshin on 19-20th, while another remained on North Ronaldsay. The White-rumped Sandpiper was still at Druridge Pools, Northumberland, to 19th, with another briefly at Gibraltar Point, Lincs, on 22nd.

Pectoral Sandpiper, Frampton Marsh, Lincs (Chris Orders).
Other shorebirds included a smattering of Temminck's Stints – birds lingered at Stanwick Pits, Northants, and Hollesley Marshes, Suffolk, while two graced West Canvey Marsh, Essex, on the evening of 18th. Two juvenile Red-necked Phalaropes remained on Fair Isle, while another arrived at Kilnsea, East Yorkshire, on 21st.
A Spotted Crake was at Wanlip Meadows, Leics, on 20-21st, with others at Frampton Marsh, Lincs, on 21st, Upton Warren, Worcs, on 19-20th and Druridge Pools, Northumberland, from 18th.

Spotted Crake, Druridge Pools, Northumberland (Jonathan Farooqi).
Western Cattle Egrets were again at around 20 sites, including five at Stockland Marsh, Somerset, on 21st. A juvenile Purple Heron arrived at Leighton Moss, Lancs, on 18th and lingered thereafter, often showing very well. A Black-crowned Night Heron was at Saltholme, Cleveland, on 19th and another at Claydon Lakes, Bucks, on 22nd. A third was seen over Hickling Broad, Norfolk, late evening on 16th, while the long stayer remained in Shrewsbury and a juvenile was again seen at Westhay Moor, Somerset. Up to seven Glossy Ibises remained around Cornwall's Camel Estuary, with single birds still in Norfolk, Essex and Somerset. A White Stork was at Lavenham, Suffolk, from 18-20th and others were seen in Wiltshire and Devon.

Purple Heron, Leighton Moss, Lancashire (Martyn Jones).
Highlight among the passerines was a male Western Bonelli's Warbler at Easington, East Yorkshire, on 16-17th, which occasionally burst into song. The first Aquatic Warbler of the autumn was trapped at Cuckmere Haven, East Sussex, on 16th and was followed by a report of another at Titchfield Haven, Hants, on 21st.

Western Bonelli's Warbler, Easington, East Yorkshire (Frank Moffatt).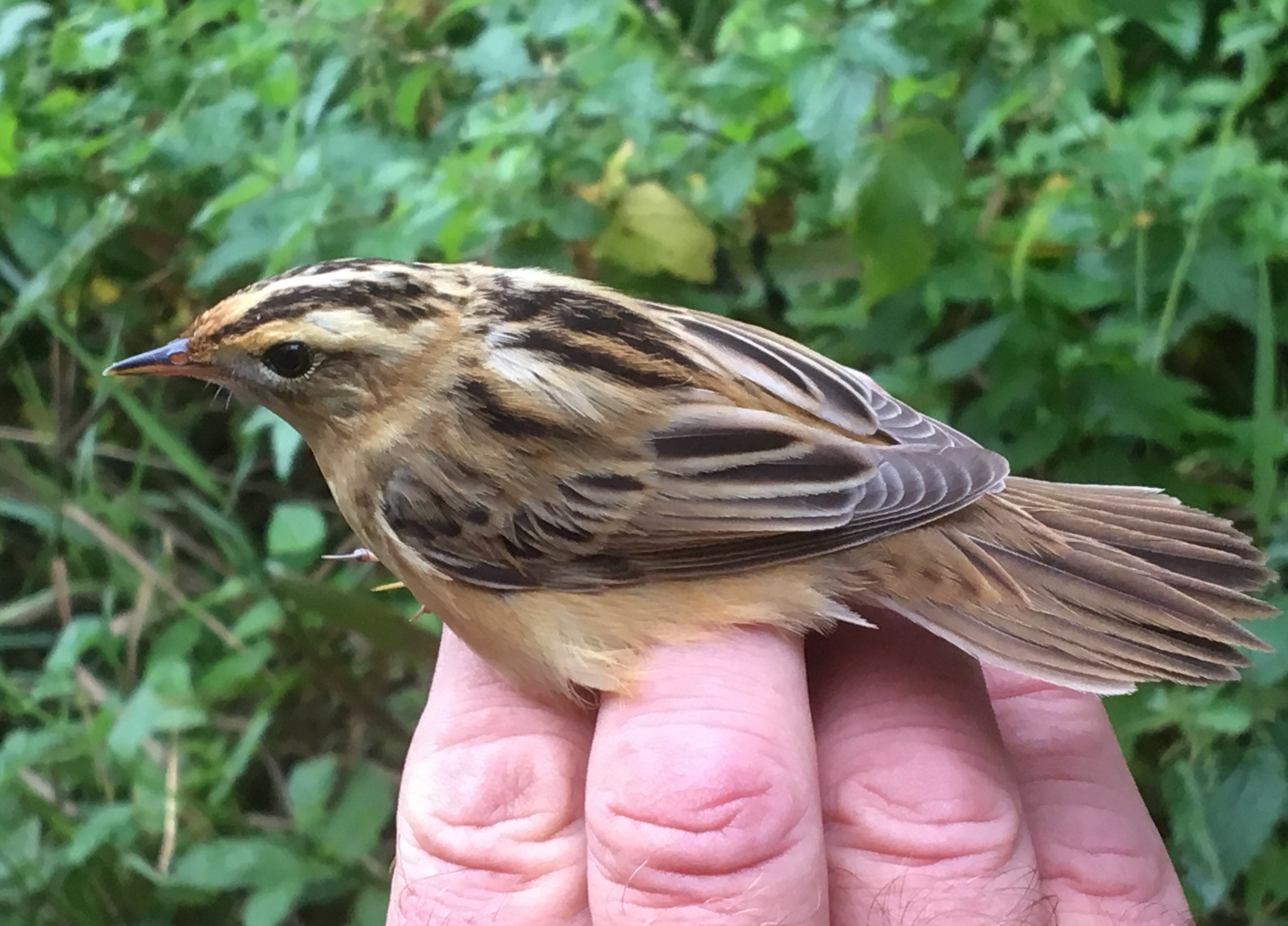 Aquatic Warbler, Cuckmere Haven, East Sussex (Jacob Everitt).
The seven European Bee-eaters were evidently on the way south as they pitched up near Bayford, Herts, late on 16th, roosted overnight and proved twitchable for under two hours after news broke on 17th – here's hoping that they'll be back for a more successful breeding attempt next year. A Hoopoe popped up at Orcombe Point, Devon, on 17th and lingered to 21st. A juvenile Bluethroat trapped and ringed at Lakenheath Fen, Suffolk, on 22nd was a curiously early autumn record. A juvenile Rosy Starling arrived at Kilnsea, East Yorkshire, on 20th and lingered thereafter; an adult also appeared at Kilkee, Co Clare, on 22nd. The first juvenile Red-backed Shrike of the autumn turned up at Hampstead Heath, London, on 22nd and an Icterine Warbler was reported at Burnham Overy Dunes on 17th. Melodious Warblers were on Skomer, Pembs, on 17th, Guernsey on 21st and Nanjizal, Cornwall, on 22nd. Finally, an Ortolan Bunting was sound recorded as it flew over Portland, Dorset, overnight on 21st/22nd.

Hoopoe, Orcombe Point, Devon (Ian Bollen).
Western Palearctic news
By far the most outstanding occurrence of the week was the adult Brown Booby tracked inland at three sites in The Netherlands and Germany. First seen flying north-east along the River Lek near Utrecht in the morning, the bird was then seen moving along the same trajectory a few hours later just over the German border near Hoogstede. Then, a few hours later, it was picked up once again as it briefly dropped in at a lake by the River Weser on the south side of Bremen, before flying off once more. So far it's not been seen again – at the trajectory it was on, it would have hit the Baltic, but perhaps it turned northwards and made for the North Sea? Either way, this bird was once again pushing the boundaries of what we consider possible, and must be one of this year's stand-out vagrants regionwide.

The Brown Booby's path through the Netherlands and Germany, showing a strikingly direct route.
The Snowy Egret and Grey-tailed Tattler continued on Terceira, Azores, with a Bridled Tern also recorded on the island for a few days – a rare bird in the archipelago. A Black-winged Kite remained on show near Overschild, Netherlands, all week (it surely can't be long before we get one here?), while other news included the continuing Bateleur and Pink-backed Pelican in Israel plus the Black-browed Albatross back again at Sylt, Germany, on 19-20th. Finally, Estonia's second Black-winged Pratincole was at Lahe on 22nd.