The week at a glance
In the end, last week did more than enough to cement its place in the pantheon of decent weeks in October. There was a Western Palearctic first here, an Irish first (and Western P mega to boot) there, with a fine supporting cast of outstanding rarities to complement them. This week, well, lots of great birds were (still) on offer but it was a little on the quiet side. This was emphasised by not one but two juvenile Caspian Plovers (in Norway and the Netherlands), a Northern Parula in Brittany (whatever happened to them here?), while the Azores enjoyed one of its very best Nearctic autumns ever, rapidly emerging as the 51st state of the Union (but it's almost halfway there anyway).
The Booted Warbler reported in Nanquidno valley (Cornwall) for a couple of days at the end of last week seems to have been re-identified this week as the Duchy's first-ever Sykes's Warbler and (with a lack of humdingers to mount a challenge) it takes top billing for the "tricky" third week of the month. This relatively "new" species remains desperately rare here, with just 10 accepted records, the last two birds (on Shetland and Orkney) in the autumn of 2003. (There was, of course, one at Sumburgh last September, but that bird has yet to be accepted.) The second Eastern Olivaceous Warbler of the autumn was found on Stronsay (Orkney) on 14th (news was out on 15th) and this will be, if accepted, a first for Orkney and only the fifth record for Scotland. The most recent was on Shetland in August 2002.
With a lack of Class-A megas finding their way to us, it falls to a Pallas's Grasshopper Warbler on Foula (Shetland) to fly the flag for the best new arrival of this week. Found on the morning of 21st, this was only the second of the year, following one on St. Kilda on the 4th of this month. Shetland has now recorded around 35 of these famed skulkers, compared to 10 or so elsewhere in Britain and Ireland.
The first-winter Brown Shrike entertained a wealth of birders throughout the week at Staines Moor (Surrey) - at least 2000 people made their way around the M25 to pop in and enjoy this superb bird, which lingered throughout the week. Rather fewer folk made the journey to take a peek at the first-winter Taiga Flycatcher at The Gloup on Yell (Shetland), which was still present to 17th. In Cork, the [[American Buff-bellied Pipit at Clahane Strand may be set for a winter's worth of balmy Irish weather, remaining to 21st. A bird that has already notched up a significant stop-over is the Zitting Cisticola in Kent. After no mention for over a fortnight, it was seen again in the scrub at Pegwell Bay on 18th - where does it go in between? Out at sea, a Little Shearwater was seen from a pelagic in the Western Approaches on 14th and a Black-browed Albatross was reported from Scotland, flying north past Fife Ness on 17th.

Brown Shrike, Staines Moor, Surrey (Photo: Rob Smith)

Brown Shrike, Staines Moor, Surrey (Photo: Paul Bowyer)
A presumed Fea's Petrel was seen distantly from St. John's Point (Co. Down) on 18th. The two observers, both with experience of the species, watched the bird for a couple of minutes as it headed south, and thought that the "grey gadfly" in front of them fitted Fea's best. Another Fea's flew close inshore past Budleigh Salterton (Devon) on 20th. On 17th, a Great Shearwater flew past Flamborough Head (East Yorkshire) and a Cory's Shearwater was seen from a boat, some 10km south of Baltimore (Co. Cork) on the same day. Three or four Balearic Shearwaters were seen off the coast of north Norfolk in stormy weather on 16th and one was seen off Scilly the previous day.
Ten or so Long-tailed Skuas were seen from assorted east-coast seawatching spots from Norfolk to East Yorkshire on 16th, including three off Sheringham, while the total of around 60-70 Pomarine Skuas comprised largely ones, twos, threes or fours, save for 24 seen at Cut End (Lincolnshire) on the afternoon of 16th. Three Grey Phalaropes were seen from a boat in Tiree (Argyll) on 16th and a first-winter bird at Thornham and then Titchwell (Norfolk) proved particularly popular over the weekend of 17th-18th. Another Grey Phalarope was around Bardsey Island (Gwynedd) on 20th. Single Sabine's Gulls were noted in Kent, Norfolk and Lincolnshire on 16th-17th and the adult was still performing along the prom at Cobh (Co. Cork) until 19th at least. A juvenile Sabine's Gull was at Dalgety (Fife) on 20th. Little Auks reached double figures for the first time this autumn, with six heading north from Loch of Strathbeg (Aberdeenshire) on 16th the week's highest count.

Sabine's Gull, Cobh, Cork (Photo: Graham Clarke)

Grey Phalarope, Bardsey Island, Gwynedd (Photo: Steve Stansfield)
Nine Glossy Ibises remained at Ballyferriter (Co. Kerry) to 15th and "new sites" on the "GI's Grand Tour" were Lydney Lakes, Hempstead, Slimbridge and Frampton-upon-Severn (Gloucestershire) - presumably just one bird involved on 15th-16th, Middleton Lakes (Warwickshire) on 17th-20th (up to three different birds seen in three days here) Willington GPs (Derbyshire) on 18th (perhaps a Warwickshire bird?) and Gibraltar Point (Lincolnshire) on 19th. One of the Warwickshire birds took a short flight across the Staffordshire border on 19th, dropping in at Drayton Basset pits. Elsewhere, five birds were again on Catcott Lows (Somerset) on 16th and two were again at Dungeness (Kent) on 18th-20th, while singles lingered in Aberdeenshire, Wexford, Northumberland, Cambridgeshire, Kent and Suffolk (one seen at Minsmere on 18th was the first in the county for eight days, so may have been a new arrival).

Glossy Ibis, Loch of Strathbeg RSPB, Aberdeenshire (Photo: Bob Humphreys)
In Cornwall, a Cattle Egret was seen at Church Cove, Lizard on 15th (and was said to have been present for several days before that). Across on St. Mary's (Scilly), a Cattle Egret was a new arrival on 18th and further new singles were at Angle Bay (Pembrokeshire) and between Tralee and Blennerville (Co. Kerry) on 19th. Otherwise it was, again, very much a case of "as you were" for the rest of the records this week. At least two (presumably four) lingered in Hampshire (at Pennington Marshes and also at Oxey Marsh) while three were still in the Frampton-upon-Severn area. In Somerset, three Cattle Egrets were at Meare Heath, another was at Tadhill, and in Kent one remained at Dungeness.

Cattle Egret, Angle Bay, Pembrokeshire (Photo: Richard Crossen)
After the monster overload of Great White Egrets last week, this week was a rather more sedate affair in terms of all things alba. Or so it seemed. A flock of five birds was seen at the south end of Brandon Pools (Warwickshire) on the morning of 16th and were presumably part of the upsurge of numbers noted on the near-continent in the past fortnight or so (which obviously accounted for the flocks in Norfolk and on Jersey last week). Two birds remained at Leighton Moss (Lancashire) to 17th while singles were still in Somerset, Hampshire, Kent, Suffolk, and Cumbria. New individuals were noted in the Sound of Islay (Argyll) and at Littleport (Cambridgeshire) on 16th, Shingle Street (Suffolk) on 17th (though this may well be the county's roaming bird), Holkham Freshmarsh (Norfolk) on 18th, Moulton Marsh (Lincolnshire) on 19th, Boddington Reservoir (Northamptonshire) on 20th-21st. The early-morning departure of this last bird may have then taken it to the Croft Pasture LRWT reserve in Leicestershire.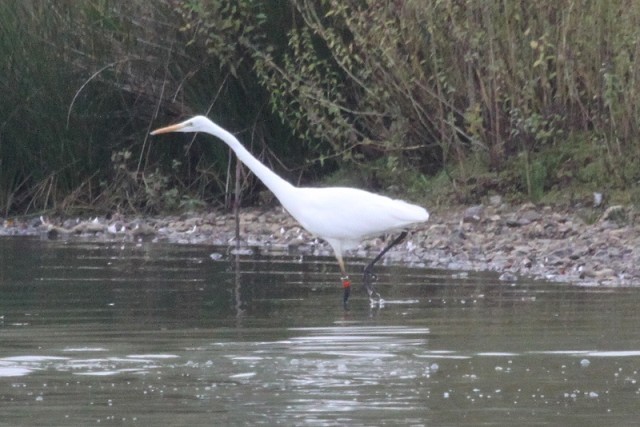 Great White Egret, Blashford Lakes HWT, Hampshire (Photo: Steve Carey)
There were plenty of Spoonbills to play with this week: at least 14 birds were still in and around the Poole Harbour area of Dorset during the week and several other multiple groups were also recorded. Four birds were seen on Samson (Scilly) on 15th, while in Cornwall, six were on the Hayle Estuary and four were at Wacker Quay on the same date. Six were seen heading towards Dinham Flats in the north of the county on 19th. In Dorset, five Spoonbills were at Lodmoor (Dorset) on 21st. Three birds remained at Abberton Reservoir (Essex) at the start of the week and three birds were again at Timoleague (Co. Cork) on 16th with a third trio still at Isley Marsh (Devon) to 18th. Further singles, and doubles, were seen in Somerset, West Sussex, Pembrokeshire and Cork. The only Common Cranes reported this week were three over Hellesdon near Norwich (Norfolk) and one over Atherstone (Warwickshire) on 17th, while seven were seen over Buxton and then Scarning (Norfolk) on 20th.

Spoonbill, Timoleague, Cork (Photo: Sean Cronin)
In County Durham, a Black Stork spent the afternoon of 16th around the Bishop Middleham area, the second county record within the past 14 months, but more remarkable still was the juvenile Little Bittern photographed at Cossington Meadows (Leicestershire) on 19th - only the fourth record for the county and the first since 1954.
A single Spotted Crake remained at Pennington Marshes (Hampshire) to 15th, while one at Skaw, on Unst (Shetland) on 16th was the first around any of the islands for over four years. On Scilly, a Spotted Crake was seen on the Abbey Pool, Tresco on 20th.

Spotted Crake, Skaw, Unst, Shetland (Photo: Mike Pennington)
In Lothian, the white Snow Goose remained at Aberlady Bay until 16th, and one was then seen at three sites around Northumberland on 17th-18th (with a trip to Cleveland on 17th - that bird, heading south, could have been a different bird of course). Two white Snow Geese were with Pink-footed Geese at Longside (Aberdeenshire) on 19th and a single white bird appeared in Norfolk, near Brancaster, on 20th. A blue Snow Goose was with Greylag Geese at Skelbo, around Loch Fleet (Highland) on 18th (seen again at Golspie on 20th-21st). On Islay, the Richardson's Canada Goose was still at Loch Gruinart until 18th at least. Black Brants were noted on The Fleet, near Langton Herring (Dorset) on 15th-18th, at Sandy Point (Hampshire) on 15th, and at Leigh-on-Sea (Essex) and Wells-next-the-Sea (Norfolk), both on 17th. Three Brants were seen on The Fleet in the middle of the week.

Snow Goose, Brancaster, Norfolk (Photo: Penny Clarke)
Two drake Green-winged Teal were noted this week: at Kinneil Lagoon (Forth) on 15th-21st and at Cley Marshes (Norfolk) on 18th-21st. Drake American Wigeon remained at The Gearagh (Co. Cork) and Castle Loch (Dumfries & Galloway) this week, while the female (or possible female) was still on the Hayle Estuary until 17th at least.
Single drake Lesser Scaup were still to be found at Cardiff Bay (Glamorgan) until 18th and Draycote Water (Warwickshire) throughout the week. The list of Ring-necked Ducks consisted entirely of familiar birds, all of them drakes: at Blagdon Lake (Somerset), Foxcote Reservoir (Buckinghamshire), Westport Lake (Staffordshire), Loch of Tingwall (Shetland) and The Gearagh (Cork). The drake Ferruginous Duck remained at Chew Valley Lake (Somerset) until 21st.

Lesser Scaup, Cardiff Bay, Glamorgan (Photo: Richard G. Smith)
The eclipse drake King Eider was still at Cut End (Lincolnshire) between 15th and 18th. Single drake Surf Scoters were seen in the Sound of Taransay (Outer Hebrides) on 16th, in Inganess Bay (Orkney) on 17th, in Lunan Bay (Angus) on 18th and off Bressay (Shetland) on 19th.
A Black Kite flew north over Ramsey Marsh (Essex) on 15th, while in Suffolk, on 18th, three Rough-legged Buzzards were reported together at Mutford. A single bird was reported at Holkham Freshmarsh on 15th and, on 19th, one was seen at Crudgington (Shropshire) with a probable reported from the Black Isle (Highland) the same day.
An adult and juvenile American Golden Plover were found at Rahasane Turlough (Co. Galway) on the afternoon of 18th, following a juvenile at Carrahane Strand (Co. Kerry) on 16th - these three were the only new birds of the week. Elsewhere, single juveniles remained at Guardbridge (Fife), Boddam (Shetland) and Inchydoney Bay (Co. Cork) and an adult lingered at Baleshare, North Uist (Outer Hebrides). On 20th, two juveniles were noted at Grindigar (Orkney).

American Golden Plover, Eden Estuary, Fife (Photo: Willie McBay)
In Cheshire, the two juvenile Long-billed Dowitchers were at Inner Marsh Farm from 15th-17th. On 19th, two juveniles appeared at Connah's Quay NR (Clwyd), where they remained until 21st. In Lancashire, two juveniles were at Banks Marsh on 15th and 18th (with one there intermittently in between) and on 21st, two birds spent an afternoon hour or so at Marshside. The same county saw another juvenile remain at Cockersand Abbey, also to 21st, and on the Outer Hebrides, at Howmore on South Uist, a juvenile Long-billed Dowitcher was seen again on 15th.

Long-billed Dowitcher, Cockersand Abbey, Lancashire (Photo: Pc)
The juvenile Spotted Sandpiper on Mainland Shetland was still around Garths Ness until 18th at least, while the adult White-rumped Sandpiper at Abberton Reservoir remained in place from 15th-18th at least. Six Pectoral Sandpipers included inland birds in Nottinghamshire and Leicestershire and a couple of birds in Northumberland (the final birds of the sextet were in Lancashire and on Shetland). The now resident Lesser Yellowlegs was still at Aberlady Bay, and a new bird was found at Leam Lough (Co. Mayo) on 15th and remained to 21st. The only other wader of note this week was the Temminck's Stint at Vane Farm (Perth & Kinross) on 15th.

Pectoral Sandpiper, Holywell Pond, Northumberland (Photo: Jack Bucknall (aged 13))

Lesser Yellowlegs, Aberlady Bay, Lothian (Photo: Mike Thrower)
The adult Azorean Atlantic Gull remained around the pits and tips of Didcot (Oxfordshire) to 21st and the dinky adult Baltic Gull was seen again there on 19th. The Franklin's Gull seen last week (on 13th) at Loch of Tankerness (Orkney) reappeared at Mill Sand on 16th. Second-winter Ring-billed Gulls were out in force this week: two were at Belmullet (Co. Mayo) on 19th, another was at Quilty (Co. Clare) on 16th and one was seen on Bryher (Scilly) the same day. The regular second-winter at Helston Loe Pool (Cornwall) was seen throughout the week. In Hampshire, the adult Ring-billed Gull returned to Walpole Park, Gosport for its seventh winter on 20th, while the week ended with two new birds at Annagh Head (Co. Mayo) on 21st (including the inevitable second-winter).
Three Iceland Gulls and five Glaucous Gulls were seen this week, including singles of the latter in Kent and West Yorkshire. Eighteen Caspian Gulls were reported this week, including three birds together in Oxfordshire, at Sutton Courtenay Landfill Site, on 19th. Adults were seen in London, Surrey, Northamptonshire, Leicestershire (two birds), Staffordshire and the West Midlands, second-winters were in Norfolk and Somerset, and first-winters were seen in London, Kent, Norfolk, Northamptonshire and South Yorkshire (again at Redmires Reservoir, on 18th). In County Louth, the adult Forster's Tern remained at Cruisetown Strand until 19th at least.

Forster's Tern, Cruisetown Strand, Louth (Photo: Gerry O Neill)
A Citrine Wagtail appeared on North Ronaldsay (Orkney) on 18th. On 15th, an Olive-backed Pipit was seen at Great Notley CP (Essex) - although the news didn't make its way out until 17th - and Shetland popped in with another OBP on 20th, seen at Geosetter. A Red-throated Pipit was seen around St. Mary's (Scilly) on 15th-16th (with a heard-only record on 20th) and another was at Marshside (Lancashire) on 20th. The Scillies also hosted three or four of the week's Richard's Pipits. Three birds were at Land's End (Cornwall) on 17th and two remained around the Farnes (Northumberland) all week. Two more were seen at Holkham (Norfolk) on 15th while a bird at South Gare (Cleveland) was debated for a day or two as a possible Blyth's Pipit. Singles were seen on Out Skerries (Shetland) on 15th, at Loch of Strathbeg on 17th, at Galley Head (Co. Cork) on 18th, at Virkie (Shetland) on 19th, and at Rossall Point (Lancashire) and Berrow (Somerset) on 21st.
A Siberian Stonechat was found on Fair Isle (Shetland) on 15th - the first in Britain this year. The Short-toed Lark in Norfolk remained at West Runton until 18th and another was on North Ronaldsay the following day. Earlier in the week, on 16th, another Short-toed Lark was seen on Fair Isle. A single Waxwing was seen at Flamborough Head (East Yorkshire) on 18th; another was at Altens (Aberdeenshire) on 19th, when four were at Livingston (Lothian).
A Hoopoe was still around Soldier's Point (Anglesey) to 15th, on 16th another was seen at Brightstone (Isle of Wight), and the third Hoopoe of the week was at Lismore (Co. Waterford) on 18th. A Bee-eater was seen on wires in a private garden in Sudbury (Suffolk) on 17th. There were three Wrynecks on three islands, and all of them a Scilly island, this week: Tresco, St. Agnes and St. Mary's hosted one each from 15th-19th.

Wryneck, St. Mary's, Isles of Scilly (Photo: Joe Pender)
After an impressive tally on Shetland over the past fortnight, numbers of Bluethroats fell away to just three there this week, one on Mainland at Quendale on 15th, another on Fair Isle on 16th, and the third at Brough, Whalsay on 18th. Two more were seen during the week away from Shetland: one was at Hartlepool Headland (Cleveland) on 17th and another was on North Ronaldsay on 17th-19th.

Bluethroat, Brough, Whalsay, Shetland (Photo: Jason Atkinson)
Red-flanked Bluetails have become an expected (but always much admired) annual autumn arrival, barely warranting vagrant status nowadays. Each year that passes reflects the continuing westward range expansion and population increase of this beautiful little bird. The popular individual found at Minsmere (Suffolk) last week remained until 21st, the bird at Sandgarth on Shetland was reported as still being present on 15th, when another was seen at Quendale. Also on 15th, a Red-flanked Bluetail was trapped and ringed at Whitburn Coastal Park (Co. Durham) and this was followed by two Bluetails at Spurn (East Yorkshire) on 17th, two individuals trapped on consecutive days (and the Observatory website also mentions the possibility of a third bird). One of the Spurn birds remained to 19th, and the East-Yorkshire double-act mirrored this week's events at Heist in Belgium, where there were also two Bluetails.

Red-flanked Bluetail, Minsmere RSPB, Suffolk (Photo: Jon Evans)
In Norfolk, the first-winter female Pied Wheatear was at Horsey until 15th. On 19th, a first-winter female was found near Shingle Street (Suffolk), inviting the thought that it could be the same bird dropping down the coast.

Pied Wheatear, Shingle Street, Suffolk (Photo: Rob Wilson)
Ten Great Grey Shrikes were noted during the week, two of them (birds at Holme in Norfolk and Thorne Moors in South Yorkshire) remnants from previous weeks. One was seen at East Claydon (Buckinghamshire) on 16th and then four birds were found on 18th: in the Itchen Valley (Hampshire), at Grove Ferry (Kent), Seething (Norfolk) and Lower Neuadd Reservoir (Powys). On 19th, Great Grey Shrikes were at Ditchford GPs (Northamptonshire) and Scarborough (North Yorkshire), and on 20th another appeared briefly at St Margaret's at Cliffe (Kent).

Great Grey Shrike, Scarborough, North Yorkshire (Photo: Steve Race)
The fourth Blyth's Reed Warbler for Ireland was found on Achill Island (Co. Mayo) on 15th. The bird was initially thought to be an Eastern Olivaceous Warbler, but on viewing his video evidence of the rather elusive bird, the finder decided a mistake had been made (how refreshing is that!). However, the bird's call was (crucially) noted and identification as a Blyth's Reed Warbler followed. Ireland's other records were on Cape Clear Island in October 2006, and at Mizen Head and the Mullet Peninsula in October 2007.
The 15th proved to be a busy day for warblers: Norfolk's third Paddyfield Warbler was trapped and ringed at Snettisham Coastal Park, but was enjoyed only by the ringer and invited guests - much to the frustration (and consternation) of many local birders - while on Shetland a leftover Lanceolated Warbler was still on Out Skerries. An Icterine Warbler was found at North Loch Eynort, North Uist (Outer Hebrides) on 20th, and the same date saw a Melodious Warbler appear on St. Agnes (Scilly). Confusingly though, an Icterine Warbler was reported in the same area on the same day, but only on the following day…
Half a dozen Barred Warblers this week included two birds on Orkney (on Hoy and at Stromness, on Mainland) with singles spaced sporadically along the North Sea coast, in Northumberland, East Yorkshire, Lincolnshire and Norfolk.

Barred Warbler, Wroot, Lincolnshire (Photo: Lee Adcock)
The Western Bonelli's Warbler was still being seen in gardens near Bigton (Shetland) between 15th and 18th, and another was trapped and ringed on the Calf of Man on 15th, remaining to 17th. This was only the second confirmed bonelli on the island; the first (also on the Calf of Man) was seen back in September 1988 (and a Bonelli's Warbler sp. was present there in September 1992). Two Radde's Warblers were on Scilly during the week (on St. Martins and St. Mary's) and one was trapped at Kilnsea (East Yorkshire) on 17th. 2009's first Dusky Warbler was found at Skateraw (Lothian) on 15th.

Radde's Warbler, St. Martin's, Isles of Scilly (Photo: Rik Addison)
The long-staying Arctic Warbler remained on Cape Clear Island (Co. Cork) from 15th-18th, while an excellent discovery was made in Staffordshire on 15th, one seen at Newcastle-under-Lyme during the early morning (with no further sign later though). If accepted, this will be the county's second record of this attractive Phylloscopus - the first spent four September days at Blithfield Reservoir in 1993. Also on 15th, an Arctic Warbler was on Out Skerries.

Arctic Warbler, Cape Clear, Cork (Photo: Eric Dempsey)
Around 100 Yellow-browed Warblers were recorded during the week, with a remarkable 24 birds found in County Cork on 15th including 10 birds each for Mizen Head and Cape Clear, three at Garinish Point and one on Sherkin Island. Ten birds were seen in Cornwall, half a dozen were on Scilly and the east coast saw a further six for Lincolnshire and at least eight in Norfolk. The latter county was also host to a very elusive Pallas's Warbler, at East Runton on 18th-19th. The second Pallas's Warbler of the week was found at Collieston (Aberdeenshire) on 21st.

Yellow-browed Warbler, Nanquidno Valley, Cornwall (Photo: Steve Davies)
Three Red-breasted Flycatchers were seen on Scilly this week (on St. Agnes, Tresco and St. Mary's) and two were seen along the north Norfolk coast, at Sheringham and between Warham Greens and Stiffkey. On 15th one was at Whitburn, and this was followed by singles on Orkney and Shetland.

Red-breasted Flycatcher, St. Mary's, Isles of Scilly (Photo: Martin Goodey)
Four of the week's Rose-coloured Starlings comprised two single birds on two different island groups, hundreds of miles apart. On Orkney, a juvenile was at Finstown, Mainland on 18th and an adult was at Shapinsay from 15th-19th. Down on Scilly, single juveniles were seen on Bryher to 18th and St. Agnes to 21st. On the mainland, a juvenile Rose-coloured Starling was at St. Ives (Cornwall) on 20th-21st.
A Rustic Bunting and a Little Bunting were on Fair Isle on 16th. Further Little Buntings appeared on St. Martin's and St. Mary's (Scilly), on Cape Clear Island, and at Kilbaha (Co. Clare). Late Ortolan Buntings were seen near Auchmithie (Angus) on 17th and at the Pool of Virkie (Shetland) on 19th. Three or four single Common Rosefinches were on Scilly during the week (on Tresco, St. Agnes and probably two on St. Mary's) while there were singles for Lewis (Outer Hebrides) and Out Skerries, both on 16th.

Little Bunting, Cape Clear, Cork (Photo: Eric Dempsey)
As with one or two other species that have been seen in good number over the past two or three weeks, Hornemann's Arctic Redpolls this week could muster rather fewer birds than of late. Only four birds could be managed this week, three of them on Shetland, with two birds still at Saxa Vord on Unst on 16th-17th and another at Sandgarth 18th. The week's other snowball was lingering on North Ronaldsay (Orkney) to 17th.
The first-winter Blackpoll Warbler was still at Garinish Point, in County Cork, until 18th and the second of the autumn was found on Fair Isle on 15th-16th. This was the second record for the island and the fourth for Shetland as a whole, with 18 years separating the two most recent records - Fair Isle's first was seen on 30th September 1991.

Blackpoll Warbler, Fair Isle, Shetland (Photo: Micky Maher)
(with thanks to Eric Dempsey for additional information on the status of Blyth's Reed Warblers in Ireland)
Photo of the Week

Sparrowhawk, Summer Leys LNR, Northamptonshire (Photo: Ben the plumber)
Summer Leys Nature Reserve in Northamptonshire is well covered by a small group of accomplished bird photographers, and so has been the source of many excellent images, including our first ever Photo of the Year in 2006. This week, two of these photographers captured a series of images as a Sparrowhawk flew low over still water in warm, late-afternoon light. Our pick of the series was taken by 'Ben the Plumber', and shows both the hawk and its reflection in the water, its wings only a few inches from the surface. Any bird photographer would love to see a scene like this, but very few would have captured it in such a great composition
Other notable photos

Starling, Kensington Gardens, Greater London (Photo: Fraser Simpson)

Bar-tailed Godwit, Ainsdale, Lancashire (Photo: Marcus Conway)

Sparrowhawk, Llandrindod Wells, Powys (Photo: Kev Joynes)

Common Buzzard, Polliwilline, Argyll (Photo: Jimmy MacDonald)

Barn Owl, Parkgate Marsh/Gayton Sands RSPB, Cheshire (Photo: Jim Almond)

Tawny Owl, Hethersett, Norfolk (Photo: Nigel Pye)

Coal Tit, undisclosed site, Lancashire (Photo: Paul Hargreaves)

Rook, Mold, Clwyd (Photo: Richard Steel)

Black-tailed Godwit, Cley Marshes NWT, Norfolk (Photo: Amanda Hayes)

Greenshank, Leighton Moss RSPB, Lancashire (Photo: Steve Round)

Siskin, Chamber's Farm Wood NR, Lincolnshire (Photo: Nick Clayton)

Lesser Whitethroat, Holy Island, Northumberland (Photo: Colin Pears)

Wryneck, Hope Point, Kent (Photo: Steve Ashton)

Great Grey Shrike, Scarborough, North Yorkshire (Photo: Steve Race)

Shore Lark, Felixstowe Ferry, Suffolk (Photo: Jon Evans)

Knot, Holme next the Sea, Norfolk (Photo: Richard Crossen)

Pink-footed Goose, Martin Mere WWT, Lancashire (Photo: David Cookson)