The week at a glance
A beautifully warm and sunny weekend saw many areas register their warmest temperatures of the year and, with a south-easterly airflow developing, it turned out to be a respectable week with a good selection of typical mid-May species arriving nationwide. However, it wasn't a near-continental vagrant that took the headlines — rather one of the world's rarest seabirds …
Niall Keogh has been part of a team routinely carrying out survey work from vessels off Ireland's west coast for some time now, seeing no shortage of great wildlife but, until this week at least, lacking that really 'big' find. Recent geolocator studies have demonstrated that Bermuda Petrels — or 'Cahows' — may visit the seas between Biscay and south-west Ireland during April and May but, until now, there had been no sight records. Then, on Monday evening, Niall very excitedly announced the following on his Twitter feed:
BERMUDA PETREL seen from R.V. Celtic Voyager over Porcupine Bank c170nm WNW of Slea Head, Co. Kerry at 17:56pm today
As it transpired, the team aboard the Celtic Voyager had enjoyed some fabulous views as the bird cruised south-west past the vessel and some excellent photos had been taken (reproduced below with kind permission).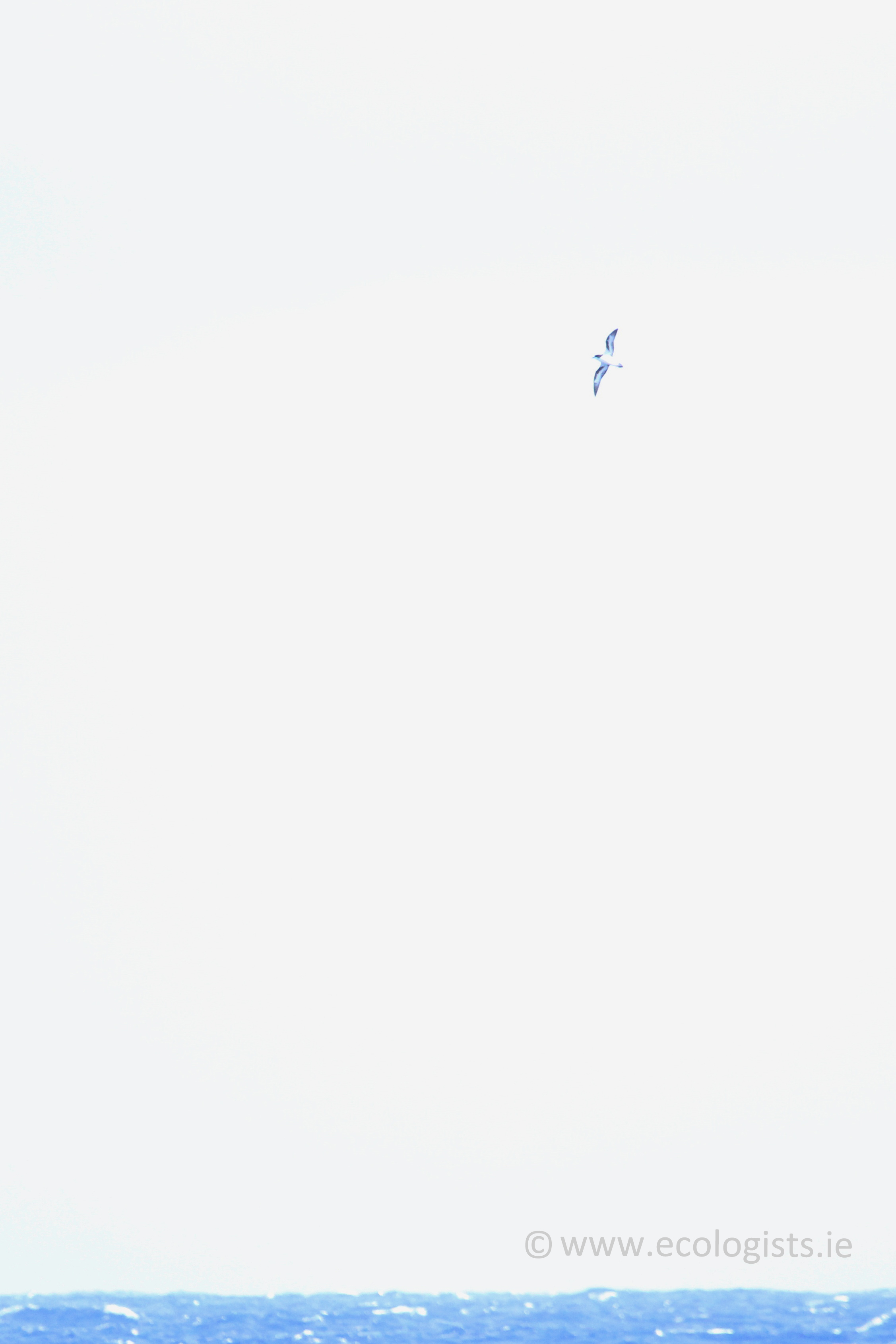 Bermuda Petrel, at sea, Kerry (Photo: Ryan Wilson-Parr)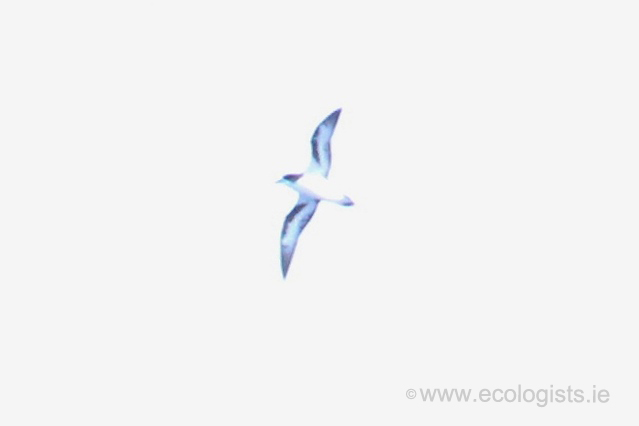 Bermuda Petrel, at sea, Kerry (Photo: Ryan Wilson-Parr)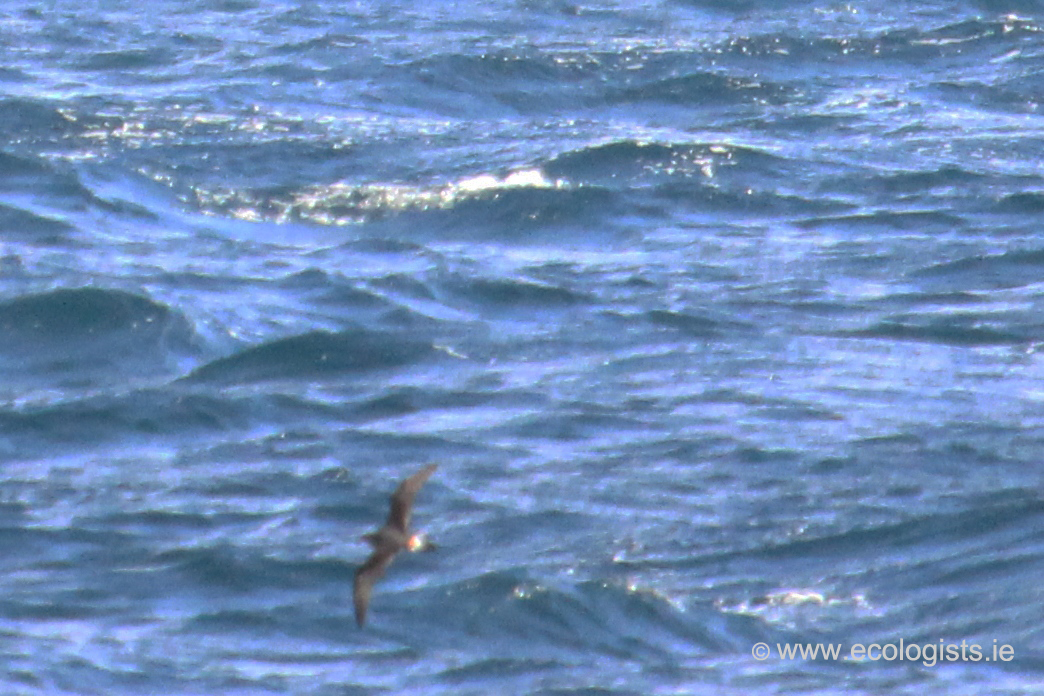 Bermuda Petrel, at sea, Kerry (Photo: Ryan Wilson-Parr)
Naturally, this is the first Irish record of Cahow — not surprising given that no more than 500 or so mature individuals are thought to survive — but this is a huge step in the understanding of this remarkable species' ecology. Cahows are already known to feed as far north as the seas off Newfoundland and, as alluded to previously, have been proven to come very close to Irish waters via geolocators. These devices have also demonstrated that the species routinely enters Azorean waters, where there is a record of a bird on Ilhéu da Vila, Santa Maria in November 2002 which went on to reappear in November 2003 and December 2006 (photos here). Given that the Cahow's gradually recovering population is a modern-day conservation success story, perhaps we can look forward to more records in the NE Atlantic in the future.
Meanwhile, up on Fair Isle, the male Caspian Stonechat registered another week on the island, though the Hermit Thrush was last seen on 16th. The island's first Glossy Ibis flew around for a while on 16th before heading off south — presumably it was the long-staying North Ronaldsay bird — while last week's male Western Subalpine Warbler was joined by a female, and a Short-toed Lark was seen on 19th. Plenty more can be found on the Fair Isle Warden's blog.
One of the week's highlights was a Terek Sandpiper at Covenham Reservoir (Lincs). Found late evening on 19th, it was still present the following day and showed exceptionally well throughout — it's been a long, long time since there was such a confiding individual of this species. It was actually a great week for northbound shorebirds: another Terek spent the day on Amble Marshes (Cornwall) on 16th and the year's first Broad-billed Sandpiper was briefly at Alkborough Flats (Lincs) on 16th. Nearctic representatives included gloriously conditioned Spotted Sandpipers at Skaw, Unst (Shetland) on 15th-16th and Hatfield Moors (S Yorks) on 18th, and a new Lesser Yellowlegs at Daliburgh, South Uist (Outer Hebrides) on 17th in addition to the Cornish bird last seen at Windmill Farm on 14th. A smart Buff-breasted Sandpiper chose Westray (Orkney) to stage at over 16-18th, while Pectoral Sandpipers were on North Ronaldsay on 17th, and at Middleton Lakes (Staffs) and John Bennett Nature Reserve (Worcs) from 18th.

Terek Sandpiper, Covenham Reservoir, Lincolnshire (Photo: Graham Catley)

Terek Sandpiper, Covenham Reservoir, Lincolnshire (Photo: Lee Johnson)

Spotted Sandpiper, Potteric Carr YWT, South Yorkshire (Photo: Harry Murphy)

Spotted Sandpiper, Skaw, Unst, Shetland (Photo: Robbie Brookes)

Buff-breasted Sandpiper, Westray, Orkney (Photo: Russell Wynn)

Lesser Yellowlegs, Daliburgh, S.Uist, Outer Hebrides (Photo: Yvonne Benting)
From a little closer to home, a male Kentish Plover was brief at Dawlish Warren (Devon) on 15th and a female Red-necked Phalarope called in at North Cave Wetlands (E Yorks) on 18-19th. Temminck's Stint numbers increased exponentially, with several twos, threes and a four (the latter at Cley Marshes on 20th) predominately in eastern areas. It was very much another great week for Black-winged Stilts — though keeping tabs on numbers is quite difficult due to propensity of birds to wander, we can nevertheless speculate! Two at Dungeness (Kent) on 14th were later seen at Scotney Gravel Pits and are presumably those subsequently present at Bracklesham (W Sussex) from 17th; also in Kent, four were at Cliffe Pools on 15th with three on 18th and two subsequently, while two at Elmley Marshes on 16th were reduced to one by 19th. Two were at Willow Tree Fen (Lincs) — a site which hosted a bird back in April 2012 — on 15th-16th, and may well have been the two latterly at Summer Leys (Northants) on 18th. Two were also touring Cambridgeshire early on, often joining up with the red colour-ringed escape!

Red-necked Phalarope, North Cave Wetlands YWT, East Yorkshire (Photo: Jon Worthington)

Black-winged Stilt, Summer Leys LNR, Northamptonshire (Photo: Antony Taylor)
A classic May species is White-winged Black Tern and, with a hefty movement taking place in Denmark on Friday, it was no great surprise to see a handful of records across Britain and Ireland. Twos were at Tory Island (Donegal) on 15th, Elton Reservoir (Manchester) on 17th and at Balranald, North Uist (Outer Hebrides) on 20th — some, if not all, of these records might relate to the same birds. Singles were also in the Gloucestershire section of the Cotswold Water Park on 19th and at Welney (Norfolk) on 20th. An adult Bonaparte's Gull didn't stay for long at Bowling Green Marsh (Devon) on 14th, while the week's only Ring-billed Gulls were a couple of first-summers knocking around the north side of Dublin Bay.
Content continues after advertisements

White-winged Black Tern, Elton Reservoir, Greater Manchester (Photo: John Tymon)

White-winged Black Tern, Elton Reservoir, Greater Manchester (Photo: rezMole)
We might now be in the second half of May, but there's still plenty of scarce wildfowl on offer: a Black Brant remained at Levington Creek (Suffolk) until at least 17th, while drake Ring-necked Ducks were at Neumann's Flash (Cheshire) and Lough Derg (Tipperary) on 15th, and Inch Island Lake (Donegal) on 20th. A drake Green-winged Teal was at Balnakeil (Highland) on 14th, and three drake American Wigeon were also in Scotland: still on Tiree, and at Loch of Strathbeg (Aberdeens) from 15-17th and Loch Stiapavat, Lewis from 17-19th. The latter site also bagged a Stone Curlew on 18th, which was another first for the Outer Hebrides. A rather familiar scene was developing on the Aberdeenshire coastline, with the drake King Eider still on the Ythan Estuary and two drake Surf Scoters off Blackdog from 17th constituting the first reports from there this summer.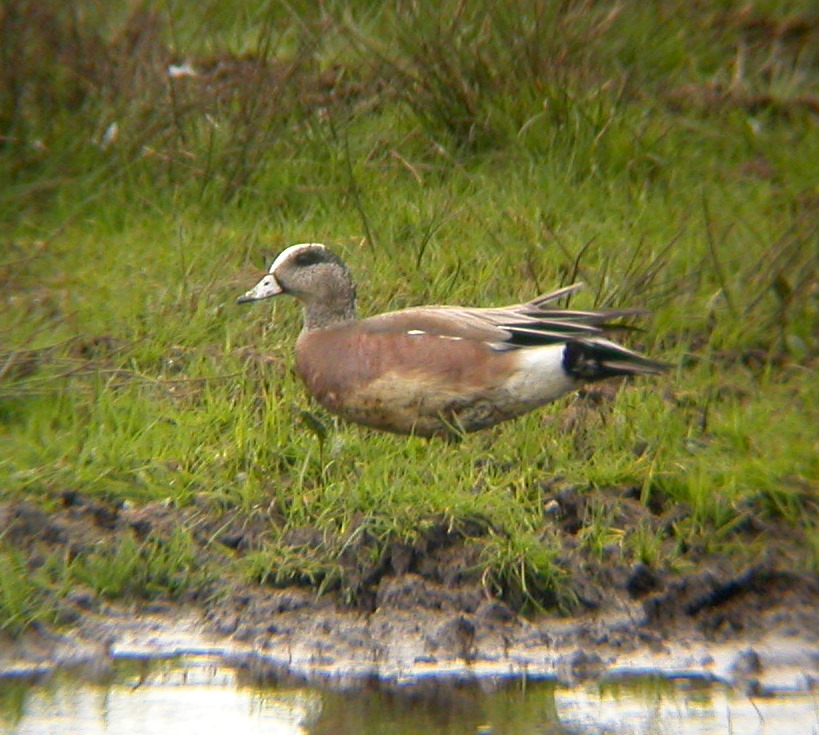 American Wigeon, Tiree, Argyll (Photo: John Bowler)
Scarce herons remained just that, with a Purple Heron still on St Mary's (Scilly) on 14th and Cattle Egrets still at Wall Common (Somerset) and Tacumshin (Wexford, two). A Black Stork was tracked along the Conwy coastline between Deganwy and Colwyn Bay during the evening of 20th. A respectable scattering of Spoonbills and Great White Egrets remain.

Great White Egret, Polmont, Forth (Photo: Dennis Morrison)
With pressure building and temperatures rising, it was no great surprise that birds of prey came to the fore. A good week for Black Kites saw several reported among the high numbers of Red Kites (70+) in west Cornwall early in the week. With three in the Land's End/St Buryan/Sennen area on 15th, four were subsequently reported from Polgigga on 16th and there were further reports over Penzance on 16th and Clodgy Point, St Ives, on 17th. One also remained on Scilly, last being seen over Bryher and St Martin's on 16th, and another over Skomer (Pembs) on 16th was later seen at Martin's Haven. Hampshire did well with birds over Winchester on 16th, Acres Down on 17th and Miles Hill on 18th; Kent produced birds over Bockhill on 18th and in-off at Little Farthlinghoe on 19th. Others were over Lakenheath (Suffolk) on 17th, Thursley Common (Surrey) on 18th, Jennycliff Bay (Devon) on 20th and Sheringham then Cromer (Norfolk) also on the latter date. Red-footed Falcons also began to appear, with a first-summer male on St Mary's (Scilly) on 17-18th the only to linger. Fly-overs involved females at Kenton Hills (Suffolk) on 17th and Hatfield Moors (S Yorks) on 19th, while a male drifted north over Winterton (Norfolk) on 19th.

Red-footed Falcon, St Mary's, Isles of Scilly (Photo: Robin Mawer)
Unsurprisingly, Bee-eaters enjoyed their best week of the year with nine, possibly more, touring Scilly on 16th — a succession of reports included nine over St Martin's and four on St Mary's. Five were over Birling Gap then Beachy Head (E Sussex) early on 20th, while three were at St David's Head (Pembs) on 17th and twos were over Winterton (Norfolk) and Amberley Wild Brooks (W Sussex) on 18th. Singles were over Polgigga (Cornwall) on 16th, Dungeness (Kent) on 17th and 19th, Felixstowe (Suffolk) on 17th and Acres Down (Hants) on 18th.
Hoopoes were at Holkham Freshmarsh (Norfolk) and Postbridge (Devon) on 16th, Rye Harbour (E Sussex) on 18th, the delightfully named village of Waterfall (Cork) on 19th and in private gardens at Storrington (W Sussex) on 19-20th; Wrynecks were scarcer with a bird on North Ronaldsay on 18th and a lingering bird at Boddam (Shetland) from 16th.

Wryneck, Boddam, Mainland, Shetland (Photo: James Wood)
The only Red-rumped Swallow to linger more than a day was that at Burrafirth, Unst, on 18-19th; others were brief at Porthgwarra (Cornwall) on 17th, Strangford village (Down) and Cambourne (Cornwall) on 18th, and Loch of Hillwell (Shetland) on 20th. A Tawny Pipit was near the Skern at Northam Burrows (Devon) on 18th, while a Red-throated Pipit was briefly on Staple Island on the Farnes (Northumbs) during the afternoon of 20th. Lundy (Devon) hosted a Short-toed Lark on 18th, and a handful of Bluethroats were at Flamborough Head (E Yorks) on 15th, Skaw, Whalsay on 19-20th and the Farne Islands on the latter date. A significant west coast record came from the Royal Troon Golf Course (Ayrshire) on 18th.
New Great Reed Warblers were singing at Walberswick (Suffolk) early on 16th and on the Nene Washes (Cambs) on 18th, in addition to the Slimbridge bird which was last noted on 14th. The year's first Blyth's Reed Warbler was at the entirely typical location of Quendale (Shetland) on 19th. In County Cork, the male Sardinian Warbler was still on Dursey Island on 14th, while a series of Subalpine Warbler records included two males trapped at the Calf of Man on 14th, a female briefly on Skokholm (Pembs) on 15th, and males on Bryher (Scilly) on 16th and at Spurn (E Yorks) on 20th. A female Eastern Subalpine Warbler was trapped on Bardsey Island (Gwynedd) on 16th.

Subalpine Warbler, Spurn YWT, East Yorkshire (Photo: Tony Dixon)
At least one Woodchat was seen on St Mary's (Scilly) during the week, with records on 18th and 20th. A male Red-backed Shrike was a slight surprise inland at Lakenheath Fen (Suffolk) on 19th, with more typical records concerning a male at The Gloup (Orkney) from 19th and a female on Fair Isle — the latter the island's first of the year. Earlier in the week, the Serin was still at Gibraltar Point (Lincs) on 14th, while belated news concerned a young male Common Rosefinch trapped in Nanjizal Valley (Cornwall) on 16th. A Little Bunting was at Boddam (Shetland) on 16th and a male Ortolan was at Saltash (Cornwall) on 17th. One Two-barred Crossbill continued to be reported from Lynford Arboretum (Norfolk), but it is not clear whether this relates to the contentious bird or not.

Red-backed Shrike, The Gloup, Mainland, Orkney (Photo: Ian Cunningham)

Red-backed Shrike, Lakenheath (Hockwold) Fen, Suffolk (Photo: Neil Rolph)
Photo of the Week

White-winged Black Tern, Elton Reservoir, Greater Manchester (Photo: John Tymon)
Steve Young comments: "The two White-winged Black Terns at Elton Reservoir were popular among BirdGuides contributors this week and we had quite a few images submitted, but this shot by John Tymon has that little something extra that made it my Photo of the Week. With wings and tail fully spread showing all the plumage detail, this is a great identification photo, while the freshly caught fly adds to the impact of this superb image. As well as the photographer's skill and a fast shutter speed it is the lighting that has given this shot further impact; try and imagine it taken on a dull day with a grey sky background and no highlight in the eye. It would still have been a good photo, but when everything comes together and you take advantage of it as John has done that's when you can have a winning shot."
Other notable images

Grey Wagtail, undisclosed site, Shropshire (Photo: John Fielding)

Common Tern, Balearic Islands (Photo: Joe)

Sedge Warbler, Marshside, Lancashire (Photo: Leonard Poxon)

Pied Flycatcher, undisclosed site, Powys (Photo: Mr Clive Daelman)

Puffin, Skomer, Pembrokeshire (Photo: Katie Horrocks)

Swallow, undisclosed site, Leicestershire and Rutland (Photo: Paul Riddle)

Marsh Harrier, Lakenheath (Hockwold) Fen, Suffolk (Photo: Tim James)

Wren, Tomintoul, Highland (Photo: Mark Ranner)

Great Crested Grebe, Chew Valley Lake, Somerset & Bristol (Photo: Roger Weeks)

Bee-eater, Greece (Photo: Lee Amery)

Hoopoe, Balearic Islands (Photo: Phil Slade)