The week at a glance
The only major rarity remaining this week was the drake Black Scoter off Murcar Golf Course and Blackdog (Aberdeenshire) to 20th, present amongst 2,000 Common Scoters and four drake Surf Scoters.
The only Ruddy Shelducks reported were a female at Grafham Water (Cambs) on 16th–17th and two at Rutland Water all week, and two Red-breasted Geese at Abberton Reservoir (Essex) on 15th–20th were of more obvious feral origin. Slightly more genuine was an eclipse drake American Wigeon at Freiston Shore (Lincs) on 15th–18th. The drake Ferruginous Duck remained at Blagdon Lake (Somerset) all week, and the female was also reported from Minsmere (Suffolk) on and off. Others were also at East Holme (Dorset) on 14th and one belatedly reported from Aberlady Bay (Lothian) on 13th.

American Wigeon, Freiston Shore RSPB, Lincolnshire (Photo: Russell Hayes)
As low-pressure systems continued to sweep across the Atlantic, conditions again looked good for seawatching in the southwest, but the numbers of birds didn't compare to previous weeks. The peak count of Cory's Shearwaters was 107 past St Agnes (Scilly) on 18th, with 32 past Porthgwarra (Cornwall) on the same day and 'dozens' past Carrigilihy Lake (Cork) on 16th. Elsewhere, small numbers were seen past Widemouth Bay and Pendeen (Cornwall), Strumble Head (Pembrokeshire), Carnsore Point (Wexford), Cape Clear (Cork) and Malin Head (Donegal). There were also four Great Shearwaters in Co Clare: one past Clogher Head on 16th, two past Bridges of Ross on 16th and another the next day. Bridges of Ross also recorded a Wilson's Storm-petrel and 60 Sooty Shearwaters on 16th and an adult Sabine's Gull on 17th. Other Sooty Shearwater counts included 45 past Kilcummin Head (Mayo) on 17th, 22 past Malin Head on 18th, 21 past Pendeen on 17th and 11 past North Ronaldsay (Orkney) on 20th. There were three Sabine's Gulls past Brandon Point (Kerry) on 17th, and singletons past Seven Heads (Cork) on 15th, Kilcummin Head (Mayo) on 17th and Staffin Bay, Skye (Highland) on 18th. The Scilly pelagic also found yet another Wilson's Storm-petrel on 20th, along with a Grey Phalarope and five Sooty Shearwaters.

Sabine's Gull, Staffin Bay, Skye, Highland (Photo: Nick Davies)
One of the roaming Sacred Ibis of unknown origin was reported this week, at Ogston Reservoir (Derbys) on 18th. The only Night Heron reported was a new bird, at Grays (Essex) on 19th. The Great White Egrets remained at Dungeness (Kent) to at least 16th and National Wetlands Centre (Carmarthenshire) to 17th, with the regular colour-ringed bird again at Sturminster Marshall (Dorset) on 18th–20th and one over Rutland Water on 19th. There was again just one Cattle Egret, an adult at Pagham Harbour (West Sussex) on 16th–19th.
The various family parties of Spoonbills at Cley Marshes (Norfolk) numbered up to 16 this week, the only double-figure count. The furthest north remained at Montrose Basin (Angus & Dundee) whilst one also remained at Killongford (Waterford). Inland birds included two still at Fairburn Ings (West Yorks) and one at Rutland Water.

Spoonbill, Gibraltar Point NNR, Lincolnshire (Photo: Paul Neale)
On the raptor front, the juvenile White-tailed Eagle remained around Ruckland (Lincs) all week and there was just one Black Kite, over Beddington Sewage Farm (London) on 15th.
The two Pacific Golden Plovers, a male and female/first-summer, remained at Myroe Levels (Londonderry) all week, along with a Pectoral Sandpiper on 20th. A probable summer-plumaged Pacific Golden Plover at Hayle (Cornwall) on 19th was confirmed the next morning, but proved elusive for the rest of the day. The Marsh Sandpiper remained at Blacktoft Sands (East Yorks) all week, with the site also boasting two Wood Sandpipers, 10 Green Sandpipers, 15 Spotted Redshanks, two Spoonbills and an eclipse drake Garganey.

Marsh Sandpiper, Blacktoft Sands RSPB, East Yorkshire (Photo: Justin Carr)
Content continues after advertisements

Marsh Sandpiper, Blacktoft Sands RSPB, East Yorkshire (Video: FoghornsBirdingVideo)

Wood Sandpiper, Fleet Pond, Hampshire (Photo: Gary Loader)
Following one at Hauxley in May, Northumberland saw its second Terek Sandpiper of the year, roosting with Lapwings at Holywell Pond briefly on the afternoon on 19th. The northeast also scored with an adult White-rumped Sandpiper at Saltholme (Cleveland) on the evening of 20th.

White-rumped Sandpiper, Saltholme, Cleveland (video: BoyWonderBirding)
Also notable was the Spotted Sandpiper that remained at Rutland Water all week; sometimes distant views meant some resorted to climbing the fence, only to be caught by CCTV cameras in place to protect the site's breeding Ospreys. There was also a second adult Spotted Sandpiper, at Lady's Island Lake (Wexford) on 17th–18th, just the fourth for the county following birds in 2004, 2006 and 2009. The Pectoral Sandpiper remained at Holland Haven (Essex) to 17th, with others at Loch of Strathbeg (Aberdeenshire) on 19th–20th, and others at Freiston Shore (Lincs) and Scaling Dam Reservoir (Cleveland), and one reported from Cresswell Pond (Northumberland), on 20th. The only Temminck's Stint reported was at Gibraltar Point (Lincs) on 18th–19th and the only non-pelagic Grey Phalarope was at Hunterston Sands (Ayrshire) on 20th.

Spotted Sandpiper, Rutland Water, Leicestershire and Rutland (Photo: Richard Pegler)
Scarce passage wader numbers continued to build at some sites; peak species counts included 43 Green Sandpipers at Cantley Beet Factory (Norfolk) on 19th, a notable 21 at William Girling Reservoir (London) on 16th, 14 Greenshanks on the Eden Estuary (Fife) on 15th and 18 Common Sandpipers at Carsington Water (Derbys) on 18th. Elmley Marshes (Kent) also held up to 19 Spotted Redshanks and 19 Green Sandpipers. One wader slipping through the net was an unidentified pratincole over Sawley (Derbys) on 14th.
With the Dungeness bird now departed, the only Glaucous Gulls were the second-summer at Budleigh Salterton (Devon) all week and an immature at Ardilea (Down) on 19th. The only Iceland Gull was at Scalloway (Shetland) on 16th. First-summer Bonaparte's Gulls remained on the Exe estuary to at least 19th and again on Berneray (Outer Hebrides) on 18th–19th, and there was just one Ring-billed Gull, a first-summer at Ballycastle (Antrim) on 18th. The unusual appearance of adult Little Gulls in East Yorkshire continued, with the 16th seeing up to 650 off Barmston, 1,140 on the sea off Hornsea, 650 on Hornsea Mere, and 500 off Spurn. The 17th saw 2070 south past Hornsea and an incredible 3060 past on 18th, all heading south. Further south, there were reports of 34 off Sizewell (Suffolk) on 20th, again mostly adults.
The adult White-winged Black Tern that was on North Ronaldsay (Orkney) to at least 10th headed north this week, seen hawking insects over the fields of Fair Isle on 16th: just the third record for the island. Photos of the two birds did seem to show some differences, but these appeared to be quite subtle and this is presumably the same bird. Also of note was another report of a/the eastern Common Tern of the race longipennis, at Pakefield (Suffolk) on 14th.
With no Bee-eaters to report, the only spring-like migrants were a single Alpine Swift at Calf of Man Bird Observatory on 18th and Red-rumped Swallows at Weir Wood Reservoir (Essex) for 10 minutes on 17th and at Loch of Hillwell (Shetland) on 19th–20th. Initially thought to be an Icterine Warbler, a Melodious Warbler was at Dungeness (Kent) on 20th and the singing Western Bonelli's Warbler also remained at Arnfield Reservoir (Derbys) all week.
Two of the original eight Bearded Tits were again at Tacumshin (Wexford), reported on 18th. The adult Rose-coloured Starling remained at Ardnave, Islay (Argyll) to 17th and there was just one migrant Golden Oriole, at Runcton (West Sussex) on 15th. The rather drab singing male Common Rosefinch continued to do so at Melbourn (Cambs) all week. Lastly, the male Black-headed Bunting remained on Fair Isle to at least 16th.

Common Rosefinch, Melbourn, Cambridgeshire (Photo: Garth Peacock)
Photo of the Week: 14th–20th July

Lesser Grey Shrike, St. Justinian, Pembrokeshire (Photo: Rob Cross)
Over the last year, bird photographer Rob Cross has uploaded a great collection of images of the birdlife of Devon and South Wales. Rob has a good eye for an image and consistently produces well-lit and well-composed shots of engagingly posed birds. As a result, he has already had a dozen Notable images and can now add to those his first Photo of the Week. The arrival of a Lesser Grey Shrike in Pembrokeshire gave Rob the opportunity to apply the techniques he'd honed on his local birds to something much rarer. By all accounts, this was not an easy bird to photograph but, with patience, Rob finally managed to capture this excellent portrait, proving once again that photos of rarities don't always have to be just record shots.

White-tailed Eagle, Loch na Keal, Mull, Argyll (Photo: Marcus Conway - ebirder)

Osprey, Aviemore, Highland (Photo: Jamie MacArthur)

Sand Martin, Seahouses, Northumberland (Photo: Mark Skipper)

Ortolan Bunting, Greece (Photo: Eduardo Balogh)

Grey Heron, Regent's Park, Greater London (Photo: Ben Andrew)

Red-footed Falcon, Hungary (Photo: Mick Southcott)

Jay, Spital, Cheshire (Photo: Steve Round)

Skylark, Poland (Photo: Rudi Debruyne)

Reed Warbler, undisclosed site, Essex (Photo: Pixellence)

Whinchat, undisclosed site, Powys (Photo: Karen Summers)

European Roller, Hungary (Photo: Peter Beesley)

Great White Egret, United States (Photo: Derek Watt)

Siskin, Bwlch Nant-yr-Arian, Ceredigion (Photo: Kev Joynes)

Green Woodpecker, Stocker's Lake, Hertfordshire (Photo: Tom Hines)

Spoonbill, Gibraltar Point NNR, Lincolnshire (Photo: Paul Neale)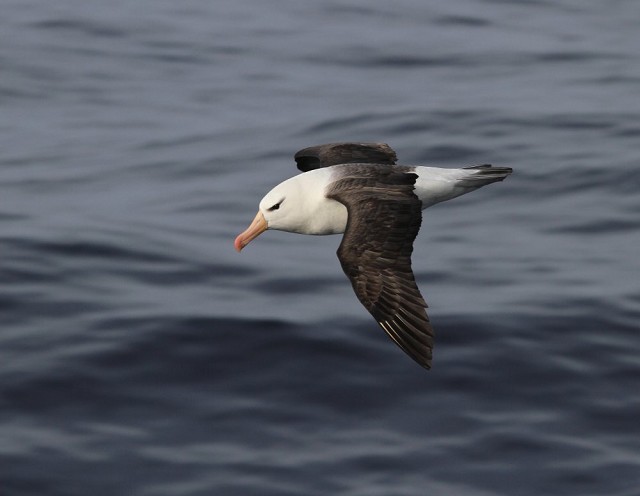 Black-browed Albatross, South Georgia (Photo: Steve Copsey)

Pacific Golden Plover, Myroe Levels, Londonderry (Photo: Derek Charles)