The week at a glance
On the whole, it proved a quieter week with a more relaxed pace about the birding — good for the health if you're a manic twitcher, yes, but frustrating for those who rely on mid-September living up to its billing as one of the peak times of the birding year. That said, the week had its share of incident and, despite the almost unbroken westerly airflow, there was enough on offer to keep the majority of birders interested.
Top billing must go to the Great Snipe found at Kilnsea (E Yorks) late on Saturday 14th and lingering there until Monday. So often elusive, this species tends to be frustratingly tricky to see on British shores, so this latest bird will linger long in the memory of those fortunate enough to see it over the two days it was truly available to all. Seeing a Great Snipe out in the open is one thing, but seeing one probing around on someone's driveway, totally unconcerned by the presence of man, is quite another. And that's exactly what our fearless little friend did throughout Sunday and Monday, often making its way through the assembled crowd and routinely approaching within inches of birders' feet!

Great Snipe, Kilnsea, East Yorkshire (Photo: Martin Standley)

Great Snipe, Kilnsea, East Yorkshire (Photo: Jason Ward)

Great Snipe, Kilnsea, East Yorkshire (Photo: Sam Viles)
While the species is often flushed only at close range, the acute lack of fear showed by the Kilnsea bird is unique, at least in a British context. However, subsequent research has found that these fearless young birds are occasionally encountered in Scandinavia. Unfortunately, the Yorkshire bird failed to survive Monday night, being picked up dead, and somewhat mauled, early on Tuesday morning — alas, its courageous (and ultimately reckless) nature had evidently led it into serious trouble with a local predator, thought likely to be a cat.

A particularly showy Great Snipe in Helsinki, Finland, September 2005 (Photo: Mika Bruun).
Meanwhile, the week's other main talking point caused head-scratching over in County Kerry. Found on Friday 13th, an orange-billed tern, most resembling an Elegant Tern, took up residence in the far north-west of the county, where it commuted between Beale and Killelton at the mouth of the Shannon estuary. There have been a number of convincing claims of Elegant Tern in Britain and Ireland over the years, with the islands' two rarities committees taking opposing stances — the IRBC have accepted five previous records, the most recent in County Meath in 2005, while the BOU takes an ultimately more cautious approach and accepted none (yet).

orange-billed tern sp, Beale Strand, Kerry (Photo: Davey)

Orange-billed tern sp., Beale Strand, Kerry (Photo: Davey)
'Orange-billed' terns have been a source of great debate among Western European birders in recent times. The likelihood of hybrids seems to be very real — DNA testing of a bird from north-west France that looked for all intents and purposes to be a genuine Elegant Tern suggested it was a hybrid with Sandwich Tern, so it appears that phenotypical variation may well render all but the most extreme of Elegant Terns unacceptable, at least in a Western European context. Furthermore, the presence of another pair of so-called 'pseudo-Elegants' nesting in Spain has raised further eyebrows, and it seems that these hybrids are now commoner in our region that the real thing. Just how many Elegant Terns have reached Western Europe is unclear, although we can be sure that they have made it here in the past. It will be interesting to see what the IRBC decides on this latest occurrence.

Male presumed Elegant x Sandwich Tern, France, 12th June 2007. DNA provisionally suggests that this bird is of hybrid origin (Photo: Julien Gernigon).

Male presumed Elegant x Sandwich Tern, France, 27th July 2007. The same bird as above, it was ringed at Banc d'Arguin in southwest France in June 2007 (Photo: Julien Gernigon).
Britain and Ireland were braced for stormy conditions over the weekend but, though the weather didn't fail, the resultant seawatching was perhaps not as memorable as some may have hoped. That said, no fewer than four Fea's-type Petrels were recorded on 15th: birds were seen in western Ireland off Mizen Head (Cork), Brandon Point (Kerry) and the Bridges of Ross (Clare), with a significant Irish Sea record concerning one past Bardsey Island (Gwynedd). Bardsey also laid claim to a probable Barolo Shearwater past on 15th, with another passing Deelick Point (Kerry) that day. Also on 15th, Mizen logged a Wilson's Storm-petrel, with others passing Bridges of Ross on 17th and two past Kilcummin Head (Mayo) on 18th. Big westerlies in September are notorious for producing good counts of Leach's Storm-petrels and this week was no exception: over 100 passed Hilbre Island (Cheshire) on 17th, with smaller numbers seen from the usual sites in Lancashire, Cheshire and North Wales over the surrounding days. A count of 76 was also made off Kilcummin Head (Mayo) on 18th. Grey Phalaropes also took a bit of a battering and, while there was no major wreck nationwide, small numbers of storm-driven birds were noted in southwest England, western Ireland and northwest Scotland. Long-tailed Skuas and Sabine's Gulls also featured, though not in any exceptional numbers — for example, the peak count of the latter was 26 past the Bridges of Ross on 15th.

Grey Phalarope, Machrihanish (village), Argyll (Photo: Eddie Maguire)

Sabine's Gull, Scilly pelagic, Isles of Scilly (Photo: Joe Pender)
Despite no doubt being rather windswept throughout the week, the adult Pied-billed Grebe — now fading into a more mundane winter plumage — remained on Achill Island (Mayo) throughout the week, as did the ever-present drake Black Duck. Altogether more surprising was the arrival of two, then three, juvenile Blue-winged Teals inland at Boultham Mere (Lincs) from 16th onwards — undoubtedly one of the discoveries of the week, particularly given the eastern location. Elsewhere, the drake remained at Frankfield Loch (Clyde) to 16th at least. The Lesser Scaup was still in Greater Manchester to 17th, as were the two Ferruginous Ducks at Chew Valley Lake. A further Ferruginous — a female — was reported on Lough Ree (Roscommon) on 14th. Two new drake Ring-necked Ducks arrived during the week: on Shetland (Loch of Spiggie 15th, Loch of Clickimin 16th) and in Aberdeenshire (Meikle Loch 15th), joining the long-staying Lothian bird. Staying in Scotland, the drake King Eider returned to Burghead (Moray) on 18th.

Blue-winged Teal, Boultham Mere, Lincolnshire (Photo: Dave Roberts)

Blue-winged Teal, Boultham Mere, Lincolnshire (Photo: Russell Hayes)

Lesser Scaup, Pennington Flash CP, Greater Manchester (Photo: John Tymon)
A scant showing of rare herons comprised the Cattle Egret still at Tetney Lock (Lincs) to 17th and the Glossy Ibis still frequenting Meare Heath (Somerset) throughout; a number of Great White Egrets also remained there, while up to three were also still at Minsmere (Suffolk). A slight reduction in Spotted Crakes saw half a dozen recorded, with new birds in central Bedford on 15th–18th and at Seaton Marshes (Devon) on the latter date, in addition to lingering birds in Kent, Ceredigion and Warwickshire.

Cattle Egret, Tetney Lock (village), Lincolnshire (Photo: Paul Thomas)

Great White Egret, Wicken Fen NT, Cambridgeshire (Photo: Willie)

Glossy Ibis, Meare Heath, Somerset & Bristol (Photo: Jeff Hazell)

Spotted Crake, Seaton Marshes, Devon (Photo: Joe Stockwell)
Content continues after advertisements
It wasn't a vintage week for Nearctic waders, but decent numbers were still on offer. Headlining the pack was a probable Semipalmated Plover seen in flight and, crucially, heard to call a number of times as it flew through Loch of Mey (Highland) with a group of Snipe during the afternoon of 12th. A showy first-winter Wilson's Phalarope was an excellent find at Cley Marshes (Norfolk) from 16th, while the County Londonderry bird remained on Lough Beg to 15th. New Lesser Yellowlegs included a confiding bird near Exeter (Devon) from 12th, with further birds at West Canvey Marsh (Essex) on 17th and Wexford Wildfowl Reserve on 18th in addition to the familiar Carmarthenshire bird.

Wilson's Phalarope, Cley Marshes NWT, Norfolk (Photo: Ian Clarke)

Lesser Yellowlegs, Exeter, Devon (Photo: Tony Hovell)

Lesser Yellowlegs, Canvey Island, Essex (Photo: James Lowen)

Lesser Yellowlegs, Pool of Virkie, Mainland, Shetland (Photo: Rob Fray)
American Golden Plovers included a very impressive group of five adults on the Myroe Levels (L'derry) on 14th–15th, with three still there on 16th. Two adults were at Lady's Island Lake on 15th, presumably some of the birds recently seen at nearby Tacumshin — two adults were still there on 13th with a juvenile on 14th. Further adults were on Fair Isle (Shetland) on 12th, at Corragaun Lough (Mayo) on 14th, Hermitage (Louth) on 15th, Portnaluchaig (Highland) on 15th–18th, Kilkee (Clare) on 15th–17th and on Sanday (Orkney) on 18th. A further adult remained on Tiree (Argyll) throughout.

American Golden Plover, Portnaluchaig, Highland (Photo: Graeme Risdon)
An adult Semipalmated Sandpiper remained on Beale Strand (Kerry) throughout the week, with a second there on 13th giving impressive support to the contentious tern. Two were still at Tacumshin early on, with one still on 16th; others were still on Tiree on 12th and sporadically again at Dungeness (Kent) throughout. The adult White-rumped Sandpiper remained at Davidstow Airfield (Cornwall) to 13th and was then at Crowdy Reservoir on 14th. New juvenile Baird's Sandpipers were at Ross Strand (Mayo) on 15th–17th and on the Rogerstown then Swords Estuaries (Dublin) on 13th–14th, in addition to the two still on South Uist on 14th.

Baird's Sandpiper, Stoneybridge, S.Uist, Outer Hebrides (Photo: Steve)
A slight reduction in Pectoral Sandpiper numbers saw just under 40 recorded; threes were at Titchwell (Norfolk) on 13th and still at Tacumshin (Wexford) on 16th; two juveniles graced North Ronaldsay (Orkney) midweek with another pair mobile around the Idle Valley (Notts). Birds were otherwise spread right across Britain and Ireland, with the Outer Hebrides laying claim to several birds. Fifteen Buff-breasted Sandpipers seen nationwide included a dozen new birds: twos were on the Myroe Levels (L'derry) and West Burra (Orkney) while other new birds typically showed a westward bias as the southwest of England, western Ireland and northwest Scotland claimed the majority. Just to remind everyone that we are in the Palearctic and not North America, the Temminck's Stint was still at Letham Pools (Fife) on 14th.

Pectoral Sandpiper, Rumworth Lodge Reservoir, Greater Manchester (Photo: Ivan Ellison)
The Isles of Scilly laid claim to an early first-winter Bonaparte's Gull flying past St. Mary's on 15th, with presumably the same bird later relocated on St. Martin's on 18th. An adult was again at Teignmouth (Devon) from 16th, while birds from earlier in the summer also reappeared: at Heysham (Lancs) from 16th and at Whitburn (Durham) on 14th. An adult Ring-billed Gull was an excellent record at Nosterfield (N Yorks) on 12th and again from 17th; further birds included adults at Cuskinny Marsh (Cork) and on the Myroe Levels (L'derry), and a second-winter at Quilty (Clare). A juvenile White-winged Black Tern was at Swineham Gravel Pits (Dorset) on 15th–16th though not widely twitchable, while another graced Tacumshin on 18th.

Bonaparte's Gull, Whitburn, Durham (Photo: Derek.C)
"Will it ever leave?" is the question surrounding Fair Isle's Western Subalpine Warbler, which remained to at least 16th. The Western Bonelli's Warbler was still near Virkie (Shetland) on 14th, with Arctic Warblers at Baltasound, Unst on 12th and Fair Isle on 13th in addition to an Irish bird on Dursey Island (Cork) on 13th. Testament to the westerly airflow, just a couple of Barred Warblers were in East Yorkshire and on the Isle of May (Fife). Icterine Warblers were similarly scarce: two were on Scilly and another was on the Farne Islands (Northumberland), while a Melodious Warbler popped up on Bardsey Island (Gwynedd) on 18th. A Greenish Warbler graced the Great Orme (Conwy) on 14th, while an unexpected and excellent find in a mist-net on the Salisbury Plain (Wilts) on 13th was an adult Great Reed Warbler — such occurrences make one wonder how many rarities pass through inland sites undetected. Despite the westerlies, the first batch of Yellow-browed Warblers managed to sneak in: there were two in Kent on 15th and as many as ten in the Northern Isles on 17th–18th. As soon as that east wind blows, expect the floodgates to open...

Melodious Warbler, Bardsey Island, Gwynedd (Photo: Ben Porter)
A first-winter Lesser Grey Shrike was a nice find between Leiston and Sizewell (Suffolk) on 15th, and remained to the end of the week. Perhaps fifteen Red-backed Shrikes were mainly juveniles, and included particularly showy birds at Thorpeness (Suffolk) and West Canvey Marsh (Essex). Of note, an adult female was at Walsey Hills (Norfolk) from 14th.

Lesser Grey Shrike, Aldringham, Suffolk (Photo: Nick Appleton)

Red-backed Shrike, Thorpeness, Suffolk (Photo: John Richardson)

Red-backed Shrike, West Canvey Marsh RSPB, Essex (Photo: Brian Anderson)
Another new Two-barred Crossbill, a juvenile, was reported briefly from Grindon Lough (Northumberland) on 14th. Meanwhile, at least six remained at Broomhead Reservoir (S Yorks) and a renaissance in sightings at Lynford Arboretum (Norfolk) seemed to suggest that at least five birds have been seen there recently: an adult female and four moulting juveniles, including a rather extensively pinkish-red male.

Two-barred Crossbill, Lynford Arboretum, Norfolk (Photo: Ken C)
The only Red-breasted Flycatcher of the week was on the Farne Islands on 12th, while 56 reports of Wryneck were disseminated on Bird News Extra throughout the week. As is so often the case, the majority of Common Rosefinches were in the Northern Isles, and included twos on Out Skerries and Valyie, Unst (both Shetland) as well as North Ronaldsay. Notable records included birds on Mizen Head (Cork) on 15th and Bardsey Island (Gwynedd) on 18th. A handful of Rose-coloured Starlings involved juveniles on St. Agnes (Scilly), at Caister (Norfolk) on 14th–18th, Hornsea (E Yorks) on 15th and Dawlish Warren (Devon) on 18th. A Little Bunting was on Foula (Shetland) on 18th and an Ortolan was at Dungeness on 15th.

Rose-coloured Starling, Caister-on-Sea, Norfolk (Photo: David Rounce)
Further miscellaneous passerine records included a Red-rumped Swallow at Middlebere (Dorset) on 14th, the Citrine Wagtail still at Marazion (Cornwall) on 16th, a Tawny Pipit at Rodden (Dorset) on 14th, and Bluethroats at Sullom Voe (Shetland) and on North Ronaldsay.
Photo of the Week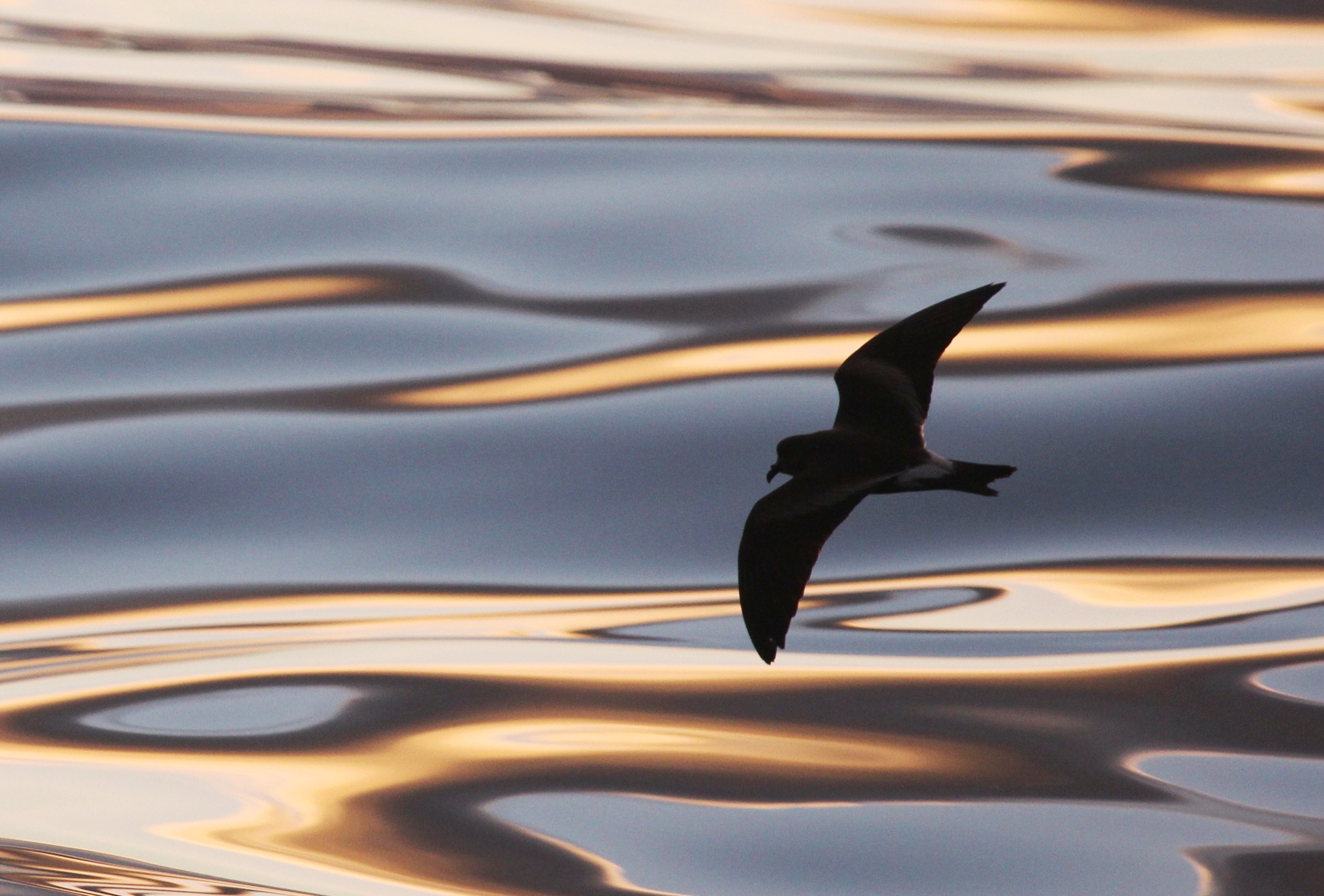 Leach's Storm-petrel, Gairloch, Highland (Photo: Nick Davies)
Nick Davies is an experienced naturalist and seafarer operating bird- and whale-watching cruises out of Gairloch in north-west Scotland. Over the last couple of years, Nick has uploaded dozens of photos of the pelagic species he has encountered in the rich Hebridean waters. This week, a further photo opportunity arose as a Leach's Storm-petrel flew close alongside his boat. In fact, Nick commented that he wishes the bird had "flown down the other side of the boat so it wasn't in the sun". In our opinion, though, the resulting contre-jour photo depicting the silhouetted bird against the glorious reflections on the glassy sea makes for a wonderfully atmospheric image. The contrasting colours and graceful curves of the reflections coupled with the perfect level of detail in the well-positioned petrel create a harmonious composition that rewards extended viewing. Congratulations to Nick on his first Photo of the Week.

Dunlin, Titchwell RSPB, Norfolk (Photo: Carl Wright)

Great Snipe, Kilnsea, East Yorkshire (Photo: Anthony Bentley)

Red-backed Shrike, West Canvey Marsh RSPB, Essex (Photo: Brian Anderson)

Whinchat, Shingle Street, Suffolk (Photo: John Richardson)

Spotted Crake, Oare Marshes NR, Kent (Photo: Ian Curran)

White-rumped Sandpiper, Davidstow Airfield, Cornwall (Photo: Dave Barnes)

Lesser Scaup, Pennington Flash CP, Greater Manchester (Photo: John Tymon)

Lesser Yellowlegs, Exeter, Devon (Photo: Charlie Fleming)

Greater Flamingo, Malta (Photo: Raymond Galea)