The week at a glance
With birders having become accustomed to warm and settled Aprils in recent years, a dose of the more traditional combination of sunny spells and sharp showers was a refreshing change this week, bringing temporary relief to many southern and eastern areas from encroaching drought. However, it was another quiet week for birds, although Arctic Tern passage exploded in to life in the later part of the week.
The rarest arrival of the week was the drake Black Scoter found off Portmahomack (Highland) during the morning of 18th. A glut of records in northeast England and Scotland over the past twelve months means it is very tempting to suggest that this is the same individual as that last seen off Blackdog (Aberdeenshire) in October. However, with considerable turnover in numbers of northbound seaduck at Portmahomack in recent weeks, this latest individual could easily have come from somewhere different altogether. A drake Surf Scoter was also off there on 18th.
Following its disappearance at the end of last week, many believed the Lincolnshire Thayer's Gull to have moved on. However, it was back on 17th, flying south over Saxby All Saints early in the morning before pitching up briefly in its favoured field at Elsham, where it was again seen briefly a couple of times on 18th. Some seem to be worrying about the rather long-billed appearance of this bird, although thayeri tends to average a more robust (and longer) bill than that found in Iceland and Kumlien's Gulls. It will be interesting to see how long it stays.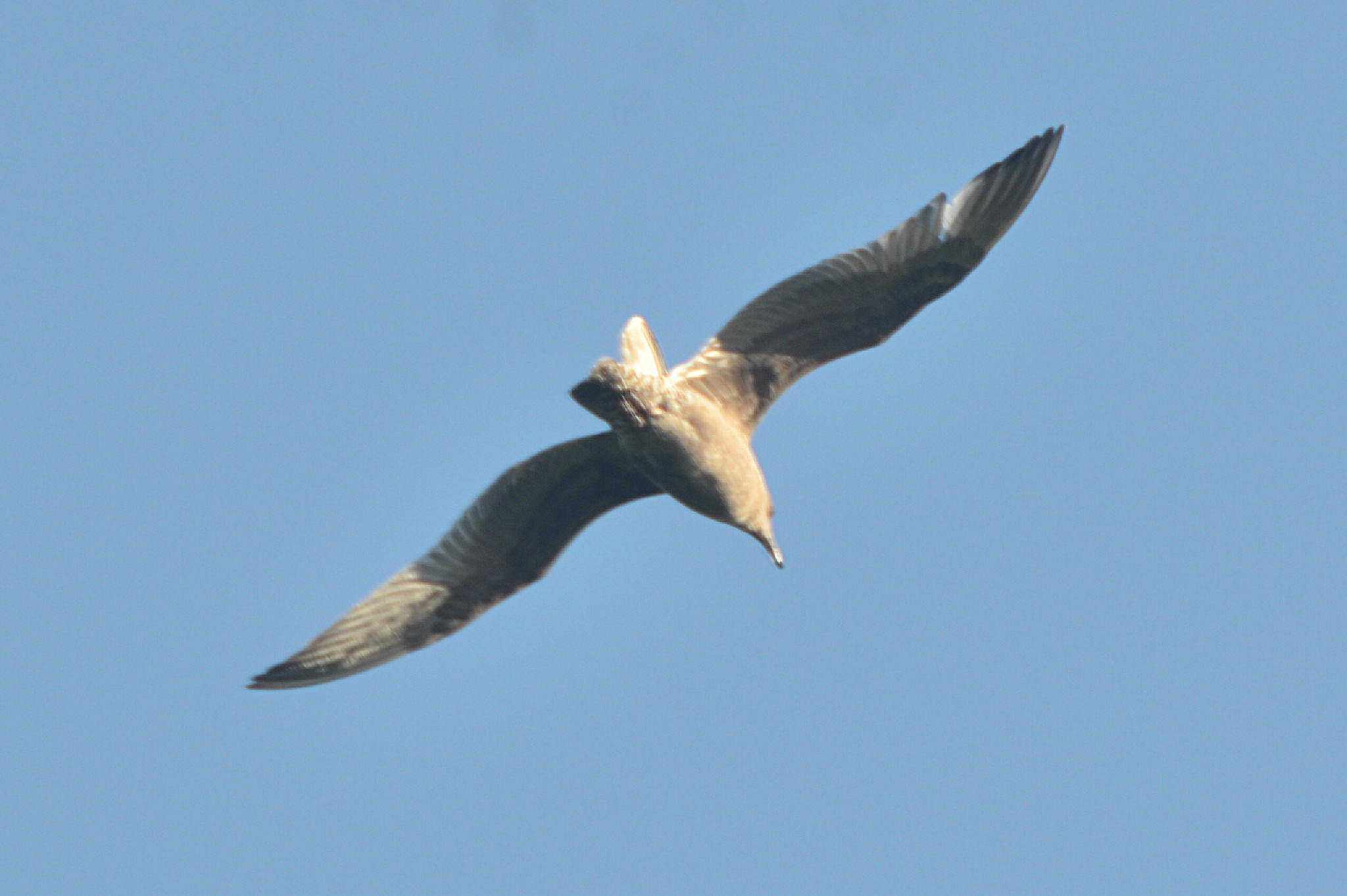 Thayer's Gull in flight, Elsham, Lincolnshire (Photo: Andy Hood)
Rather predictable was the continued presence of the Northern Waterthrush on St. Mary's (Scilly), which was seen again on 12th and 16th. We've been predicting its imminent departure for a good few weeks now, but it still shows no sign of going anywhere. A cold-toned snipe species seen at Lower Moors on 12th was initially reported as the Wilson's Snipe, but this was later overturned in favour of its being 'just' a greyish Common.
The Richardson's Canada Goose was still at Loch Gruinart, Islay (Argyll) to 16th, while another was with northbound Barnacle Geese at Malacleit, N. Uist (Outer Hebrides) briefly on 15th. Despite several thousand Barnacles still around the Solway, neither the Ross's nor Red-breasted Goose were reported this week. Over in Northern Ireland, the sole remaining Black Brant was again at Lurgan Green (Louth) on 14th–15th.
In what has been a good early spring for the species, the drake Blue-winged Teal was still with its Shoveler escort at Ham Wall (Somerset) on 12th only, along with an apparent hybrid drake Blue-winged (or Cinnamon) Teal × Shoveler that has frequented the area for some time. Up in Clyde, the drake remained at Gilmourton to 16th, while the female at Amble Marshes (Cornwall) was still there the same day. Finally, another hybrid drake Blue-winged Teal × Shoveler was at Lakenheath Fen (Suffolk) on 15th.

Blue-winged Teal, Shoveler and hybrid, Ham Wall RSPB, Somerset & Bristol (Photo: James Packer)

Blue-winged Teal, Gilmourton, Clyde (Photo: D Abraham)
Spring usually witnesses a fresh pulse of northbound Green-winged Teal, although just two of the eleven drakes reported were new birds: a drake was at Loch a' Phuill, Tiree (Argyll) on 16th and another was at the Mecca that is Chew Valley Lake (Somerset) from 17th. Remaining birds included four Scottish birds still on Fair Isle (Shetland), on Loch Gruinart, Islay (Argyll), at Loch of Strathbeg (Aberdeenshire) and at Caerlaverock (Dumf & Gall). Irish drakes remained at Tacumshin (Wexford), Quoile Pondage (Down) and Lough Beg (L'derry), while English birds were still Dorman's Pool (Cleveland) and Titchfield Haven (Hants).

Green-winged Teal, Chew Valley Lake, Somerset & Bristol (Photo: Chris Stone)
A drake Ring-necked Duck was at Barton Broad (Norfolk) on 16th. Others remained at Dungeness (Kent) to 12th, West Ashby (Lincs) to 13th and Stithians Reservoir (Cornwall) all week, with the female again at Blaxton (S Yorks) on 15th. The female Ferruginous Duck continued to show well at Langford Lakes (Wilts) to 15th, and the drake Lesser Scaup did the same at Cosmeston Lakes (Glamorgan) to 17th.

Ring-necked Duck, West Ashby, Lincolnshire (Photo: Russ Telfer)
The resplendent drake King Eider continued to prolong its stay on the Ythan Estuary (Aberdeenshire) for much of the week, where it could be found at the river mouth with its commoner cousins. In addition to that off Portmahomack, the drake Surf Scoter remained in Largo Bay (Fife) to 16th, and a female was new off Balbriggan (Dublin) for one day only on 15th. In Highland, a White-billed Diver was new off Mellon Udrigle on 16th with the Boor bird present to 13th only. Further individuals were off Burghead (Moray/Nairn) on 12th and 18th, and Portsoy (Aberdeenshire) throughout.

King Eider, Ythan Estuary, Aberdeenshire (Photo: John Anderson)
Given the often elusive nature of the species, the adult Night Heron seen flying over Bosistow, Polgigga (Cornwall) on 15th could easily be one of those seen in the area in late March. Also making a reappearance was Waterford's Purple Heron, again in the marsh between Seafield and Bunmahon on 17th after an absence of more than two weeks. A further probable was reported flying up the Exe Estuary (Devon) on 12th. Two Cattle Egrets remained at Bannow Bay (Wexford) to 16th, with birds again at Lytchett Bay (Dorset) on 13th and Chigborough Lakes (Essex) on 14th–15th. A fifth individual was found at Walmsley Sanctuary (Cornwall) on 13th–15th at least. No more than half a dozen Great White Egrets were seen.

Cattle Egret, Bannow Bay, Wexford (Photo: Paul Kelly)
An ultimately confusing set of White Stork records across the north of England probably relate to one wandering bird, although two or more could easily be involved. One flew over Pleasley Pit (Derbys) on 12th, with perhaps the same bird at Rodley (W Yorks) the following day. One drifted over several sites in Greater Manchester and Lancashire during 14th, and was then seen over Alston Reservoirs (Lancs) and Tebay (Cumbria) on 15th before being back in Manchester airspace on 17th. Furthermore, there was a belated report of two together by the River Humber at Hessle (E Yorks) on 11th — where are they all coming from?! What may realistically be the only wild bird was seen over Grove Ferry (Kent) on 17th.
Eleven Glossy Ibises were noted during the week, the only multiple count again being the three still at Marloes Mere (Pembrokeshire). New birds were reported over Alvaston (Derbys) on 13th and Ormesby Broad (Norfolk) the same day, with a third at Arnside (Cumbria) on 18th. Others were still in Dorset, Essex, Suffolk, Lancashire and Cleveland, with the Aird an Rùnair (Outer Hebrides) bird also still there on 17th.
Content continues after advertisements

Glossy Ibis, Aird an Rùnair, N.Uist, Outer Hebrides (Photo: Steve Duffield)
One of the best finds of the week concerned a second-calendar-year Pallid Harrier flying west over Belvide Reservoir (Staffs) during the afternoon of 14th. Needless to say, this was the first county record and a superb find for the dedicated patchers who work the site tirelessly. A couple of ringtail Montagu's Harriers were seen in Cornwall and Norfolk, while around eight Rough-legged Buzzards included one at Glenealy (Wicklow) on 16th. A Black Kite drifted over Spittal (Pembrokeshire) on 18th, with another northwest over Denbury (Devon) on 13th and a third reported over Kings Langley (Herts) the following day.
A Black-winged Stilt at Standlake (Oxon) on 12th represented the first county record since 1993, although it did not linger long: negative news the following day was confirmed when it turned up at Rutland Water during the early afternoon, becoming the first county record since 1987! If that wasn't enough, the same bird departed north that evening, only to turn up at the exciting new Willow Tree Fen reserve in Lincolnshire during the morning of 14th, where it has remained since. But, there is a further twist: comparison of photographs appears to show that this is the same bird that was present at Tacumshin (Wexford) to 10th, meaning that it made a movement of some 420km eastwards over the five days it took to reach Lincolnshire! Not to be forgotten, the rather gorgeous male remained at Abbotsbury (Dorset) all week.

Black-winged Stilt, Abbotsbury, Dorset (Photo: John Stanton)

Black-winged Stilt, Willow Tree Fen LWT, Lincolnshire (Photo: Russell Hayes)
Things otherwise remained unchanged on the wader front. The Greater Yellowlegs was still at Loch of Strathbeg (Aberdeenshire) all week, as was the Spotted Sandpiper at Chew Valley Lake and the Pectoral Sandpiper at Dundonald Camp (Ayrshire). Two Long-billed Dowitchers remained at Meare Heath, with two again seen at The Cull (Wexford) on 15th and the Welsh individual still at Kidwelly (Carmarthenshire) the same day. A further bird was belatedly reported from Abbotsbury (Dorset) on 12th.
Eight Ring-billed Gulls included a couple of adults on Broadmeadows Estuary, Swords (Dublin) on 14th, with others remaining in Sligo (2), Waterford, Down and Carmarthenshire. Iceland Gulls continued to shrink back northwards, with numbers much reduced everywhere. While it is easy to be blasé about the 16 in Stornoway Harbour, Lewis (Outer Hebrides) on 12th, it is worth remembering that during the past couple of winters this would have been a very good count!
As the week progressed, Arctic Tern numbers slowly built as the traditional northward push through the Midlands began in earnest. By the end of the week, groups of up to 40 were widespread at traditional waterbodies across the heart of England, with Attenborough (Notts) claiming an exceptional 80 during the afternoon of 18th. Associated with this were small numbers of Little Gulls, Sandwich and Little Terns in addition to the first Black Terns of the year in Worcestershire, Staffordshire and Kent. Strong onshore winds produced the first Pomarine Skua past Portland (Dorset) on 18th along with good numbers of Great and Arctic Skuas seen at most south-coast seawatching locales, and one or two of the latter also seen at inland sites.
All five of the new Hoopoes found this week proved difficult to pin down, with brief birds at Durlston Country Park (Dorset) and Slimbridge (Glos) on 13th, Salwarpe (Worcs) on 15th, Sandwich Bay (Kent) on 17th and Loddiswell (Devon) on 18th. In Norfolk, the lingering individual was still commuting between the dunes at Horsey and Waxham to 16th. A Wryneck was in a Cam (Glos) garden on 17th. Dorset's Richard's Pipit was again noted at Wyke Regis on 15th, while Burton Mere Wetlands (Cheshire) chipped in with a very good candidate for an Ashy-headed Wagtail (cinereocapilla) on 18th.

Apparent Ashy-headed Wagtail, Burton Mere Wetlands RSPB, Cheshire (Photo: Bradinho)
One of the week's most memorable features was the remarkable passage of Ring Ouzels noted at many inland sites: literally hundreds of birds were found right across the heart of the nation, either on their own or in small gangs. With them came some rather more sizeable concentrations: in Norfolk, up 20 were at Syderstone Common during the week, and 11 were at The Hangs on 12th. Buckinghamshire also scored heavily, with 13 at Ivinghoe Beacon and 12 at Quainton Hill being the top counts, and up to 11 at Pegsdon Hills in neighbouring Bedfordshire. Associated with this was a strong passage of Redstarts through the interior of Britain, with smaller numbers of Pied Flycatchers also being found.

Ring Ouzel, undisclosed site, West Sussex (Photo: Adrian)
A possible Iberian Chiffchaff at Apuldram (W Sussex) on 17th was apparently giving a song spot-on for the species when first found, although recordings and photos from later in the day suggest that it is just a Chiffchaff giving aberrant song — the jury remains out. Just one Siberian Chiffchaff remained, in Dublin to 15th. Meanwhile, in Worcestershire, the Yellow-browed Warbler was again seen at Warndon on 15th–16th.

Iberian Chiffchaff or Chiffchaff, Apuldram, West Sussex (Photo: Dorian Mason)
Just 15 or so Great Grey Shrikes remain in residence, with twos still in Cross Inn Forest (Ceredigion) and at Thursley Common (Surrey). Four Scottish records came from Montreathmont Forest (Angus & Dundee), Loch Ashie (Highland), and Wester Quarff and Fair Isle (Shetland). The Rose-coloured Starling at Hordle (Hants) was still around and singing to 16th at least, and is finally starting to look at bit more colourful.

Rose-coloured Starling, Hordle, Hampshire (Photo: Lee cooper)
East Anglia once again dominated Serin records: the male was still singing in Lowestoft (Suffolk) early on 12th but spontaneously flew away later that morning, never to return. Another was again at Waxham (Norfolk) on 14th, while a second Norfolk record came from Heacham on 16th. There was also a belated report of two in Sheepcote Valley (E Sussex) on 11th. Finally, the Little Bunting was still coming the seeded area near the water treatment works at South Milton Ley (Devon) to 17th.
Photo of the Week

Bullfinch, undisclosed site, Shropshire (Photo: John Fielding)
Over the last four years, Shropshire-based bird photographer John Fielding has uploaded over 300 high-quality images from his local sites and foreign trips, many of which have featured in our weekly Notable Images. Finally, we're pleased to be able to award John his first Photo of the Week with his sumptuous portrait of a Bullfinch feeding amongst greengage blossom. Looking right at the camera with a blossom in his bill, this brilliant red male bird stands out from the plain muted background. Timing this well-composed shot with both blossom and bird in peak condition has resulted in a perfect image of springtime.
Other notable photos

Dotterel, Carnbee, Fife (Photo: John Anderson)

Blue Rock Thrush, Malta (Photo: Natalino Fenech)

Skylark, undisclosed site, Gwent (Photo: Tom Melton)

Common Crossbill, Upper Hollesley Common, Suffolk (Photo: Chris Mayne)

Dipper, undisclosed site, Devon (Photo: Rob Cross)

Ring Ouzel, Leasowe, Cheshire (Photo: Steve Round)

Linnet, Titchwell RSPB, Norfolk (Photo: Stuart Andrews)

Siskin, Alwinton, Northumberland (Photo: David Cookson)

Swallow, Oare Marshes NR, Kent (Photo: Mick Southcott)

White Wagtail, undisclosed site, Gloucestershire (Photo: Lewis Thomson)

Barbary Falcon, Israel (Photo: Dave Barnes)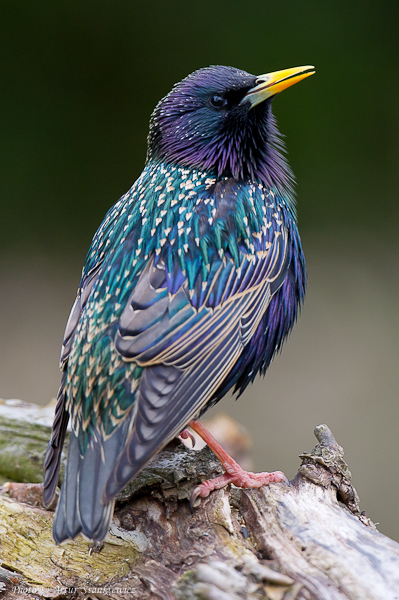 Starling, Poland (Photo: Artur Stankiewicz)

Chiffchaff, Fen Drayton Lakes RSPB, Cambridgeshire (Photo: Garth Peacock)

Great Spotted Woodpecker, Laurieston, Dumfries & Galloway (Photo: Chas Moonie)

Grey Heron, Cley Marshes NWT, Norfolk (Photo: Chris Cook)