The week at a glance
Another reasonably busy week passed, with news output peaking on Saturday when we put out over 600 messages — a fantastic result for mid-January. The primary reason for this is of course the continuing southward push of Waxwings and, although we carried slightly fewer reports of the species than last week, over 550 records was impressive.
Birds have now reached as far south as Devon (though we received no records from Cornwall) and sizeable flocks are now springing up across the Midlands and, for the first time this winter, in Ireland too (200+ were in Dublin on 12th).

Waxwing, Warrington, Cheshire (Photo: John Tymon)
Content continues after advertisements
Find of the week was a female Black-throated Thrush favouring fields at Adwick Washlands, S Yorks, on 15th. It proved elusive thereafter, popping up only briefly in the morning of 16th but was still there on Tuesday. This is the ninth of its species to appear in Britain since the start of the autumn, a truly impressive total that may swell yet further before spring. Interestingly, all but one of this autumn/winter's birds have been females.

Black-throated Thrush, Adwick Washlands RSPB (Dearne Valley), South Yorkshire (Photo: Mick Hemingway)
Somewhat reassuring news (albeit slightly frustrating for those who'd made the effort to travel for it) came from the DNA re-test on the now-famous 'Dungeness stonechat'. As anticipated, the bird is indeed a European Stonechat after all — it turns out that there had been a mix-up in samples with DNA from the Spurn bird of last autumn (which was stejnegeri) mistakenly thought to be, and tested as, the Dungeness bird. For all those birders who are now doubting DNA as a reliable source for bird identification, it's well worth reinforcing that this mistake came about via human error, rather than an unsound scientific method. We all make mistakes from time to time and the right outcome has at least now been reached. Incidentally, the pale stonechat at Richmond Park, London, was also proven to be a European Stonechat.

European Stonechat, Richmond Park, Greater London (Photo: Tony Duckett)
Both of December's star thrushes remain in situ. The Blue Rock Thrush continues to retch on a regular basis yet is still managing to survive the worst a British winter can throw at it in Stow-on-the-Wold, Glos. Meanwhile the Dusky Thrush seems well settled in fields around Beeley, Derbyshire.

Blue Rock Thrush, Stow-on-the-Wold, Gloucestershire (Photo: Louie Horleston)

Dusky Thrush, Beeley, Derbyshire (Photo: Philip John Parsons)
The Eastern Black Redstarts were still in Cornwall to 15th and Cleveland to 17th; it was great to hear that the Skinningrove bird in particular, which will have had to bear the brunt of the bitter conditions, made it through the week. Cornwall also continued to host the Pacific Diver and Hudsonian Whimbrel, the American Coot remained on the Outer Hebrides and the Killdeer continued on Shetland — after a day of no sign on 14th, it reappeared from 15th.

Eastern Black Redstart, Skinningrove, Cleveland (Photo: Graham Harden)
At least one Richardson's Cackling Goose continued on Islay, Argyll, while a large Canada Goose seen at Flitcham, Norfolk, on 16th could well be the recent Todd's seen in the area. Though there was no sign of last week's Red-breasted Goose in Lancashire, news of an adult Lesser White-fronted Goose with a small Eurasian White-front flock at Foulness Island, Essex, on 15th more than made up for it. Unfortunately this area is largely inaccessible and a large-scale twitch seems unlikely. Black Brants were reported from Dorset (2), Essex (2) and East Yorkshire.
The King Eider was still off Mullaghmore, Co Sligo, on 11th and another was found off St Combs, Aberdeenshire, on 17th, while two Surf Scoters were discovered off Laytown, Co Meath, on 14th. The first-winter Surfer was last seen at Rutland Water on 11th, with further birds in Lothian, Fife, Shetland and Counties Kerry and Donegal. The continued presence of the Black Scoter off Goswick, Northumberland, was welcome and, judging by the photo below, the bird has been showing fairly well.

Black Scoter, Goswick, Northumberland (Photo: John Nadin)
The Hooded Merganser seems settled at Barr Loch, Clyde — it was there all week. The only confirmed Lesser Scaup was the usual drake in Cornwall, though a probable was again reported at Slapton Ley, Devon — it seems poor views are hampering confirmation. A total of 13 Ring-necked Ducks included three together at Garryhesta, Co Cork, on 15th. Norfolk's two Ferruginous Ducks remained: the female was still at Malthouse Broad on 11th and the drake stayed at Holme all week.

Ring-necked Duck, Carlingwark Loch, Dumfries & Galloway (Photo: Daniel Gornall)
Scotland again claimed the bulk (seven of nine) of American Wigeon this week, the exceptions being in Devon and Cornwall. Fifteen drake Green-winged Teal were spread a little more evenly, these including new drakes at Malin Head, Co Donegal, on 12th and at North Cave Wetlands, E Yorks, from 14th as well as two drakes reported at Venus Pool, Shropshire, on 11th.
Though there were no reports of North Ronaldsay's Northern Harrier, the Pallid Harrier continued to perform at Welwick Saltmarsh, E Yorks, to 14th. The Snowy Owl was still performing well on Eday, Orkney, on 11th. Last week's male Rough-legged Buzzard near Thorney, Cambs, had seemingly moved to Wisbech by 14th — it was the only of its kind reported this week.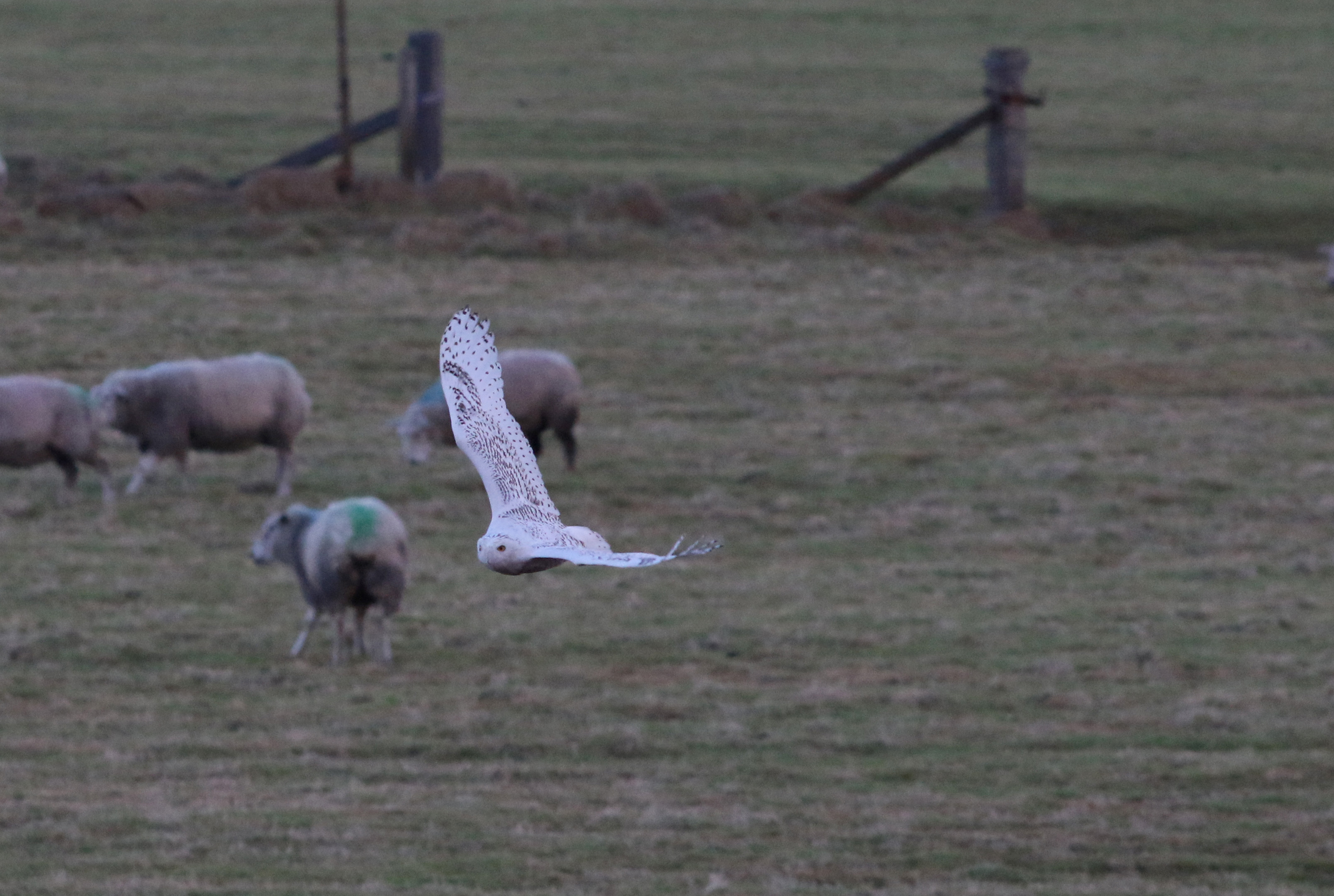 Snowy Owl, Eday, Orkney (Photo: George Gay)
A slight reduction in Cattle Egret reports saw birds reported from 30 sites. Up to 11 continued to roost on Cornwall's Gannel Estuary, with 10 in the county at Helston on 15–16th. Smaller flocks were present elsewhere and included five still near Malltraeth, Anglesey. Sample counts from Ireland included nine near Carrigaline, Co Cork, and six at Tomhaggard, Co Wexford. Two Glossy Ibises continued at Ham Wall, Somerset, with a third at West Mersea, Essex.

Cattle Egret, Iken, Suffolk (Photo: Scott Mayson)
Both the Long-billed Dowitcher at Tacumshin, Co Wexford, and the Lesser Yellowlegs at Lytchett Bay, Dorset, continued throughout the week, but shorebird news was otherwise lacking.

Lesser Yellowlegs, Lytchett Bay, Dorset (Photo: Ian Ballam)
Once again the sole Bonaparte's Gull on show was that in the Dawlish Warren area of Devon. Ring-billed Gull reports came from 18 sites and included a peak count of three at Nimmo's Pier, Co Galway, and in the Tralee/Blennerville area, Co Kerry. The Forster's Tern was also seen at Nimmo's Pier on 14th.

Ring-billed Gull, Strathclyde Loch, Clyde (Photo: Dave Grant)
It was a fantastic week for Glaucous Gulls, with at least 130 sites recording the species but the number of birds seen likely at least double (perhaps even treble) that. The vast majority involved in the influx were juveniles, and multiple counts came from right along the North Sea coast following the northerly blast in the first few days of the review period. Peak counts included 17 at Killybegs, Co Donegal, on 15th and at least 12 at Baleshare, N Uist, on 17th. Iceland Gulls were a little less numerous (compare Killybegs' 17 Glaucs to just two Iceland, for example) but were nevertheless reported from 85 sites, with perhaps up to 150 birds involved. Kumlien's Gulls, however, are conspicuous by their absence.

Glaucous Gull, North Shields, Northumberland (Photo: Gary Smith)

Iceland Gull, North Shields, Northumberland (Photo: Frank Golding)
The week's weather was hardly vintage for passerine-watching and the only Richard's Pipit was again the mobile bird at Arlingham, Glos. The Rose-coloured Starlings remained at their respective wintering sites in West Sussex and Dorset, as did the Desert Wheatear at Thurlestone, Devon. The Pallas's Warbler at Kessingland, Suffolk, was last reported on 12th. Yellow-browed Warbler reports from 17 sites included twos in Devon at Totnes and Clennon Valley Lakes as well as at Ponsanooth, Cornwall. The male European Serin was again singing at Tide Mills, E Sussex, on 16th. The Little Bunting continued at Knettishall, Suffolk, to 14th, while Great Grey Shrike reports came from just 11 sites.

Rose-coloured Starling, Crawley, West Sussex (Photo: Mark Leitch)

Great Grey Shrike, Waltham Brooks SWT, West Sussex (Photo: Mick Temple)
In other news, it was sad to see the mighty Cley Marshes, Norfolk, underwater again this week. While many coastal areas in East Anglia escaped a predicted storm surge, Cley (and Salthouse) was once again inundated — it'll be interesting to see what the fallout from this is.
Western Palearctic news
Arguably the highlight of the week was the reappearance of the adult Ivory Gull in Germany, this time on the mainland near Westerhaver, from 15th. It was well twitched. A third Basalt Wheatear of the winter was discovered in Israel, this time near Ovda on 17th.

Ivory Gull, Germany (Photo: Felix Timmermann)
Bulgaria's first Ring-billed Gull was a spectacular discovery at a landfill site near Plovdiv on 15th. News from north-west Spain concerned the return of the Thayer's Gull to San Cibrao for its 10th winter during the week, while, on the opposite side of the country, the Sociable Lapwing remained near Deltebre. Big find of the week in the Netherlands was a male Eastern Black Redstart at Barendrecht, Zuid-Holland, from 14th. In the Azores an apparent juvenile Thayer's Gull was found at Lajes, Flores, on 17th, while the two Wood Ducks remained at Sete Cidades, São Miguel.

Wood Ducks, Azores (Photo: Gerby Michielsen)

Apparent Thayer's Gull (left), Azores (Photo: Andre Vieira)
The Spanish Imperial Eagle continued in Tuscany, Italy, until at least 15th, while the Pacific Golden Plover remained on the shores of Lake Como. Denmark's Siberian Accentor continued at Hirtshals and at least one remained at a feeding station in Turku, Finland. Finland also claimed a Pine Bunting at Uusikaupunki on 14th. The American White-winged Scoter was again off Keflavík, Iceland, late last week.