The week at a glance
You can't help but love September. One day it's great seawatching and mega petrels, the next it's drift migrants and vagrants nudging towards the highest order. The emphasis shifted from westerly gales and storms to largely clear skies, with gentle north to northeast winds: great conditions for birders to get out, enjoy the sunshine and try and unearth a cracker or two. Needless to say though, despite a continued burst of northeasterly winds that should have suited any number of vagrants from mainland Europe, it was firstly the Nearctic and then the North Pacific that provided two pulsating megas, one of them an incredible first.

Tufted Puffin, Oare Marshes NR, Kent (Photo: Murray Wright)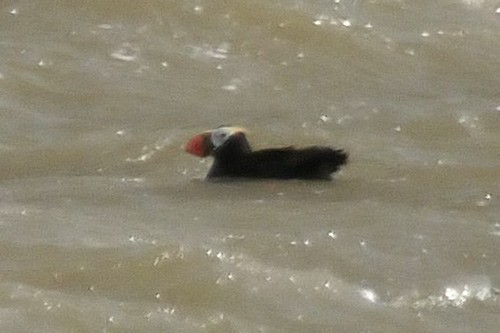 Tufted Puffin, Oare Marshes NR, Kent (Photo: Murray Wright)
Following in the wing-flaps of two other rather astonishing oceanic sensations in the past 20 years (Devon's Ancient and Long-billed Murrelets) came the adult Tufted Puffin seen at Oare Marshes reserve, along the Swale Estuary, in Kent, on the morning of 16th. It still seems almost impossible to take in the words "Tufted Puffin in Kent", but there they were and there it was, albeit only for 20 spine-tingling, extraordinary minutes for seven of the country's most envied birders. A stunning creature, still resplendent with bleached blond head plumes, the bird plonked itself down on the estuary (just 75 yards offshore) soon after a group of Arctic Skuas caught the finders' eyes. Images were quickly captured. One can only begin to imagine the dizzying euphoria as this truly momentous British birding moment began to unfold. After 15 minutes, the bird lifted off, landing again quickly. Five minutes later, another flight, this time rather stronger, and the bird hurried west and was lost to view. Despite some diligent searches, there was no further sign of the bird by dusk, but there is a sneaky feeling amongst some that it will oblige again soon. It also seems as though the bird was first seen, some half an hour earlier, flying past Herne Bay, the lone observer there reporting an all-black auk with a large orange-red bill. Unable to put a name to it, it was only later in the day that the penny dropped after hearing about the Oare bird. The aforementioned Murrelets, along with two (or perhaps three) Glaucous-winged Gulls and at least three recent Pacific Divers, certainly suggest that something is happening in the Arctic oceans — new flyways must be opening up and funnelling (from time to time) some exceptional vagrants our way. Whatever next?
It's hard to imagine anything trumping the next bird in a weekly review, but the Tufted Puffin will see off anything this year, next year or for any number of years to come. So, it's off to far-flung St. Kilda, the destination for Britain's third (and Scotland's second) Blackburnian Warbler. The bird was found around the Village on 12th and was still present there on 13th–14th. The remote outpost has yet to be cracked by any twitcher and it would seem that this glorious Dendroica won't be changing anything on that score. This is another American wood-warbler notched up by an island that can already boast Tennessee Warbler (September 1995) and Hooded Warbler (September 1992), neither of which managed to pleasure the travelling hardcore lister. The only other records of this most snazzy of "wants" came from Skomer, in October 1961, and Fair Isle, in October 1988. (The Welsh bird was accepted after the Fair Isle individual, so became the first British record.) For the first American passerine of the autumn, Blackburnian Warbler is certainly one heck of an act to follow.
Also this week on St. Kilda, a probable Northern Harrier was seen around Hirta on 13th. The status on the British list of this distinctive form has had a rather controversial history: the much-discussed bird at Cley in the late 1950s was long touted as being a Marsh Hawk (a much nicer name than the rather sterile Northern Harrier), and it took nearly 25 years to accept the multi-observed bird on Scilly, in the classic American autumn of 1982. A curious-looking bird on Orkney last autumn hinted at Marsh Hawk (its identity seems to remain unresolved) so it will be interesting to see exactly what the Hebrides bird looked like. As for specific status, well, a paper suggesting exciting developments is in preparation, so the split seems inevitable. Another grand candidate for impending armchair birders' joy, Hudsonian Whimbrel, was another star Hebridean turn this week: a juvenile arrived on the machair at Bornish, South Uist on 12th. This distinctive dark-rumped species-in-waiting is still ultra-rare but is being found with greater regularity here as observers become more familiar with the identification criteria.
Birders working Mizen Head (County Cork) on 10th managed to discover the county's (and country's) fourth Eastern Olivaceous Warbler. The bird frequented the pines in the main garden around the Head and showed well from time to time, and remained to 11th. All four Cork records have arrived in September: the first was out on Dursey Island in 1977 and was followed by single birds on Cape Clear Island in 1999 and 2006. Another Eastern Olivaceous Warbler was reported from Stronsay (Orkney) on 14th. As well as vagrants from southeastern Europe, another visitor from the west appeared in the form of a juvenile Stilt Sandpiper on the Isle of Man, seen briefly near Langness on 10th. (This was the second for the island, with both appearing within the last twelve months.) As the week drew to a close, there was belated news of a Red-billed Tropicbird, seen by a French birder off the coast of County Cork roughly 15 miles (25 km) or so out from Old Head of Kinsale on 8th September. In a normal week, this Irish first would have had a rather higher profile, but this wasn't a normal week.
Several Glossy Ibises were still to be found in five English, two Welsh and a single Irish county during the week. The largest group remained in Cambridgeshire: seven were seen flying near Earith on 11th, roosting later the same day near Sutton Gault, and they remained in the general area until 16th. Elsewhere, two birds were seen in flight over Minsmere (Suffolk) on 10th with another Suffolk bird at Boyton Marshes until 16th. In Kent, a juvenile was at Stodmarsh on the morning of 11th but may have then moved to Oare Marshes later the same day, where it remained to the following day. In Somerset, a Glossy Ibis was still at Chew Valley Lake on 10th–11th and one flew over near Digswell (Hertfordshire) on 11th. Wales claimed singles on 13th, at the Welsh Wetland Centre (Pembrokeshire) and on the beach at Kidwelly (Carmarthenshire), with another near Cilgerran on the Pembrokeshire/Ceredigion border on 15th. In Wexford, five birds reappeared at Killag on 11th (a dozen there on 1st September led the way for the invasion that has followed) and four were at Tacumshin on 15th. The colour-ringed birds seen during this new invasion in Ireland and Wales are known to have originated from the same colony, on the Coto Donana, as the bird seen in Lincolnshire last year.

Glossy Ibis, Boyton Marshes, Suffolk (Photo: Mark Bicknell)

Glossy Ibis, Boyton Marshes, Suffolk (Photo: Jon Evans)
Calmer weather ensured a rather quieter week than of late for fans of all things pelagic. Single Cory's Shearwaters were seen off Sheringham (Norfolk) on 10th (one had been seen the previous day off Wick in the Highlands), and on 13th single Cory's flew past Southwold (Suffolk) and Freiston Shore (Lincolnshire). Further singles followed off the coasts of Norfolk, North and East Yorkshire, Northumberland and Orkney later in the week. On 13th, single Great Shearwaters were noted off Flamborough Head (East Yorkshire), Butt of Lewis (Outer Hebrides) and Clogher Head (Co. Louth). The following day, two were seen off Flamborough, with singles passing Spurn and, later in the day, Whitburn (Co. Durham) and North Ronaldsay (Orkney). Further ones and two followed to the end of the week, including one off Sheringham and Cley (Norfolk) on 15th. Not surprisingly, it was a quiet week for Balearic Shearwaters (with just over 70 noted, compared to 500+ last week). 26 off Porthgwarra (Cornwall) on 10th was the largest group of the week (with eight off Blakeney Point in Norfolk on 13th also of note, possibly a county high total).
After comfortably reaching the 100 mark last week, Sabine's Gulls this week made it into double figures, initially thanks to four groups of three birds: the first trio were seen off Canvey Island (Essex) on 11th and on 13th, and three birds were also reported off Sheringham and Titchwell (Norfolk) and Hartlepool Headland (Cleveland). These threesomes were trumped by four off Shell Ness (Kent) on 14th and an inland bird at Blenheim Palace (Oxfordshire) on 15th–16th proved popular too. Some 30 Long-tailed Skuas were seen during the week, including five off Flamborough Head on 15th, while double figures were reached in Kent, including two adults off Dungeness on 13th. Two were seen off the Suffolk coast, at Southwold, the following day. Pomarine Skuas crept into double figures until a one-off count of 48 came in from Freiston Shore (including a lingering flock of 22 for two hours) on 13th. Further Lincolnshire flocks followed: 17 off Chapel Point and 19 off the mouth of the River Witham. Grey Phalaropes could manage just two (singles off Scilly and the Hebrides). In Norfolk, a Little Auk was reported off Holme on 10th and three more were seen from St. Mary's Island (Northumberland) on 13th, with two more off the same county's coast on both 14th and 16th.

Sabine's Gull, Gedintailor, Skye, Highland (Photo: Martin Benson)

Pomarine Skua, Staffin Bay, Skye, Highland (Photo: Martin)
In Hampshire, the long-staying Cattle Egret was still on Keyhaven Marshes from 10th–16th and one was again at Frampton-on-Severn and Slimbridge (Gloucestershire) on 13th–16th. In West Sussex, one appeared on Pagham Harbour on 11th. Lingering Great White Egrets remained at Meare Heath and Chard Reservoir (Somerset) and Denge Marsh (Kent) while singles at Marshside (Lancashire) and the Welsh Wetlands Centre's Teifi Marshes (Pembrokeshire) were both new on 10th. On 12th, two Great White Egrets were seen at Cut End (Lincolnshire) — could they be the two birds seen for several weeks in Cambridgeshire? Well, perhaps not, as one was again at Over Fen on 13th. On 14th another Great White Egret appeared, this one on Otmoor in Oxfordshire, while the bird at Blashford Lakes (Hampshire) was seen again on the same date. The final bird of the week was at Costessy (Norfolk) on 16th. Fourteen Spoonbills were still at Orford Ness (Suffolk) on 12th, while five were in Poole Harbour in Dorset on 11th. Single birds were seen in Devon and Essex (at Isley Marsh and Abberton Reservoir). The only Common Cranes reported this week were three birds at Welney (Norfolk) and at least 25 more lurking at the opposite end of the same county. The obliging juvenile Purple Heron was still near Rednal (Shropshire) until 10th and another was seen to fly in off the sea at Southwold on the same date. At the end of the review period, another Purple Heron was seen "in off", this one at Porthgwarra (Cornwall) on 16th.

Cattle Egret, Keyhaven Marshes, Hampshire (Photo: Graham Cox)

Spoonbill, Cley Marshes NWT, Norfolk (Photo: Richard Bedford)

Purple Heron, Rednal, Shropshire (Photo: Jim Almond)
Spotted Crakes remained at Walmsley Sanctuary (Cornwall), Greylake (Somerset), Dungeness (Kent) and in the Dearne Valley (South Yorkshire), with two birds reported from Greylake on 12th. In Devon, at Bradiford Water, a Spotted Crake was seen briefly on 10th (after one had been seen there at the end of August). On 13th, single Spotted Crakes were seen at Porth Hellick Pool, St. Mary's (Scilly) and at the WWT Wetlands Centre in London, with two birds seen at the Welsh Wetlands Centre on the same date. Still in Wales, a Corncrake was picked up off the road at Strumble Head on 10th, and was released the following day. Another was seen on North Uist (Outer Hebrides) on 14th while one at Goldsithney (Cornwall) on 15th managed to avoid the blades of a local combine harvester but then couldn't avoid the talons of a local Buzzard.

Spotted Crake, Edderthorpe Flash (Dearne Valley), South Yorkshire (Photo: Mark Coates)
There was a quirky little "first" on South Uist this week: a group of three Blue-winged Teals was seen at Howmore on 14th. Several "twos" have been recorded over the years, but there has never been a multiple of three in Britain or Ireland before (although Alderney in the Channel Islands can boast the same feat, three birds seen on Mannez Pond on 19th September 1983). A female Blue-winged Teal was seen on Bull Island (Co. Dublin) on 11th and 16th (the fifth year in a row that the species has been seen at this site) and one was seen again in Hampshire, at Titchfield Haven, on 16th.

Blue-winged Teal, Howmore, S.Uist, Outer Hebrides (Photo: Steve Duffield)

Blue-winged Teal, Howmore, S.Uist, Outer Hebrides (Photo: Steve Duffield)
A drake Black Duck was at the Walmsley Sanctuary (Cornwall) on 16th and an eclipse drake American Wigeon appeared at Sonning Eye GP (Oxfordshire) from 13th. Single drake Ferruginous Ducks remained at Pitsford Reservoir (Northamptonshire), Chew Valley Lake (Somerset) and, on 13th, at Calvert Lakes (Buckinghamshire). The presumed Ring-necked Duck was still on Westport Lake (Staffordshire) until 14th. On Shetland, the drake Lesser Scaup was still on Loch of Benston, Mainland on 16th.

Black Duck, Walmsley Sanctuary (MEMBERS ONLY), Cornwall (Photo: Colin Selway)

American Wigeon, Sonning Eye GP, Oxfordshire (Photo: Adam Hartley)
A drake Surf Scoter remained off the coast of Carnoustie (Angus) to 11th and the popular brown drake King Eider was still at the mouth of the River Witham (Lincolnshire) from 10th–16th. The female Hooded Merganser was at Saltholme Pools (Cleveland) to 13th while the male at Radipole Lake (Dorset) reappeared in the news on 10th (presumably he'd never been away).

King Eider, Cut End, Lincolnshire (Photo: Graham Catley)
A fine male Snowy Owl was seen on Lewis (Outer Hebrides) on 12th–15th and a female was out on Tory Island (Co. Donegal) on the same day (although it is supposed to have been present since June). An adult grey-morph Gyrfalcon was seen at Warsett Hill (North Yorkshire) on 12th, a tough one to get through a committee — they tend to prefer white ones. Last week's Cornish Black Kite continued to roam around the far west of the county during the first few days of the week (presumably heading across Mount's Bay sometime on 12th or 13th, it was seen over Helston on the latter date) while, next door in Devon, a Black Kite was seen at Dawlish Warren on 11th. Another Black Kite was reported from Lincolnshire on 13th. At least 35 migrant Honey Buzzards were seen countrywide this week (one year on from the massive invasion). Seven seen together over Pagham Harbour in West Sussex (on 12th) and four just north of Holt in Norfolk (on 11th) the largest groups noted. Two Rough-legged Buzzards were also reported this week, both on 13th: at Buxton (Derbyshire) and Borehamwood (Hertfordshire).
Content continues after advertisements

Snowy Owl, Tory Island, Donegal (Photo: Derek Charles)

Black Kite, Polgigga, Cornwall (Photo: anon)
Wader-watchers in County Kerry tend to find rarities from the Nearctic at this time of year, so a juvenile Terek Sandpiper at Barrow Harbour on 10th–14th would have been a rather pleasant surprise. This bird aside, it was very much a case of continued dominance from the Americans — new Long-billed Dowitchers were seen at Howmore, South Uist (Outer Hebrides) on 12th, Ballo Reservoir (Fife) on 13th–16th and Lough Beg (Co. Antrim) on 14th. The same island was still playing host to a Baird's Sandpiper until 12th at least and further leftovers remained at Marazion and Davidstow (Cornwall) and Black Rock Strand (Co. Kerry). A bird on the Alaw Estuary (Anglesey) on 15th may have been the bird seen on the island last week. In Essex, a White-rumped Sandpiper was found at Abberton Reservoir on 12th, remaining to 16th. A second White-rumped Sandpiper was found at Sandymount Strand (Co. Dublin) on 14th and this bird too remained to 16th. A flock of five Buff-breasted Sandpipers (and five Pectoral Sandpipers too!) was at Forgotten Corner, Tacumshin (Co. Wexford) from 13th; two birds were still on the golf course on St. Mary's (Scilly) until 14th with two more still in west Cornwall, around Polgigga, early in the week. Singles remained at Butt of Lewis and Loch Bornish, South Uist (Outer Hebrides) and West Burra, Mainland (Shetland) during the week, while on 12th another Shetland Buff-breasted Sandpiper appeared on Whalsay, with a second bird there on 13th–14th. Also on 14th, a juvenile was found at Kilcoole (Co. Wicklow), joined by a second on 15th. As if their haul wasn't good enough, St. Kilda birders popped in a Buff-breast on 16th.

Baird's Sandpiper, Davidstow Airfield, Cornwall (Photo: Swoptics@hotmail.Com)

White-rumped Sandpiper, Sandymount, Dublin (Photo: Eric Dempsey)

Buff-breasted Sandpiper, St. Mary's, Isles of Scilly (Photo: Martin Goodey)
The wader hotspot of the week was plainly Bornish on South Uist — an adult American Golden Plover was present on 13th (perhaps the bird seen at West Gerinish early in the week and on Loch Bee at the end of it?). In Derry, last week's bird remained at Myroe Levels to 13th (when a Buff-breasted Sandpiper appeared too). Another new American Goldie was found at Barrapol, Tiree (Argyll) on 14th. The long-staying Lesser Yellowlegs was still at Aberlady Bay (Lothian) to 13th and another Scottish bird was at Loch of Strathbeg (Aberdeenshire) on 16th. The third Lesser Yellowlegs of the week put in a brief appearance on St. Mary's (Scilly) on 10th. Aside from the flock of five at Tacumshin, a further dozen or so Pectoral Sandpipers were seen during the week, including inland birds in Cambridgeshire, Warwickshire and South Yorkshire, with two birds at Inner Marsh Farm (Cheshire) on 13th. Two Dotterel were at Garreg Lwyd (Carmarthenshire) on 10th and singles were noted in Norfolk, Shetland, Cork and Wexford (at Blakeney Point, Fair Isle, Old Head of Kinsale and Tacumshin respectively) elsewhere in the week. A juvenile Red-necked Phalarope moved along the north Norfolk coast from 12th–14th: the bird started at Stiffkey Fen on 12th, moving to Cley Marshes on 13th and then to Kelling Quags on 14th (appearing back at Cley on 15th). Also on 14th, another juvenile Red-necked Phalarope was seen at Hornsea Mere (East Yorkshire).

Pectoral Sandpiper, Draycote Water, Warwickshire (Photo: Max Silverman)

Red-necked Phalarope, Kelling, Norfolk (Photo: Jamie Wells)
On Orkney, the Franklin's Gull reappeared on Deerness on 10th after a month or more of not being seen. Across on the Outer Hebrides, on Barra, an adult Laughing Gull was seen at Eoligarry on 13th. Adult Ring-billed Gulls were at Millbrook (Cornwall), Westcliff-on-Sea (Essex) and Black Rock Strand (Co. Kerry). A second-summer was at Sandymount Strand on 14th (with an Iceland Gull and 50 Roseate Terns for good measure), and what was maybe the same bird was again at North Bull Island on 16th. A Glaucous Gull was still at Port Nis, Lewis (Outer Hebrides) until 13th. A first-summer Caspian Gull was at Aldeby tip (Norfolk) on 11th, the second-winter was again at Paxton Pits (Cambridgeshire) on 13th, a juvenile was at Farmoor Reservoir (Oxfordshire) on 14th and a first-winter was at Calvert Lakes on 15th, with an adult at Draycote Water (Warwickshire) the same day. In Ireland, a Caspian Tern was noted offshore from Hermitage (Co. Louth) on 15th.

Ring-billed Gull, Westcliff-on-Sea, Essex (Photo: Mark Coventry)
A first-winter Citrine Wagtail arrived on St. Mary's (Scilly) on 10th, remaining at Porth Hellick Pool until 11th. Perhaps the same bird was then seen on 14th at Carn Friars. Ireland's third Citrine Wagtail within the space of six days was found at Corragaun Lough, Killadoon (Co. Mayo) on 13th (the second record for the county) and the same date saw one appear on Hirta, St. Kilda. A possible Black-headed Wagtail was seen at two sites in the far west of Cornwall on 15th and the same part of the world saw a Tawny Pipit arrive at Land's End on 13th, with another appear on Deerness (Orkney) the same day. The first Richard's Pipits of the autumn made an appearance this week, also on 13th, when single birds were seen at Flamborough Head and Mont Heuralt (Guernsey), with another on the Lizard (Cornwall) on 15th. A Red-throated Pipit was a brief visitor to Spurn on 16th.

Citrine Wagtail, Corragaun Lough, Mayo (Photo: Dermot Breen)

Richard's Pipit, Mont Herault, Guernsey (Photo: M Lawlor)
At least a dozen Wrynecks were noted, with two birds at Land's End to 12th at least, and others reported from Scilly to Orkney (with one on Bardsey Island in Gwynedd on 10th–11th). On 14th, two Bluethroats were found on Fair Isle (Shetland) and another was on Brownman Island in the Farnes (Northumberland). On Scilly, a Red-rumped Swallow was seen over St. Mary's on 13th. A Golden Oriole at Witherslack (Cumbria) on 12th–13th was only the third confirmed county record of the decade. Another was seen at Galley Head (Co. Cork) on 14th — a site that seemed to be full of quality rarities this week — with another on Yell (Shetland) on 15th.

Golden Oriole, Camb, Yell, Shetland (Photo: Dougie Preston)
A Lesser Grey Shrike appeared at Trimley Marshes (Suffolk) on 14th and a juvenile Woodchat Shrike was at Nanquidno (Cornwall) on 15th–16th. There were at least eight Red-backed Shrikes noted this week, two of them last week's leftovers — single birds still on Stromness, Mainland (Orkney) and St. Mary's (Scilly) until 10th, with new arrivals on Fair Isle and at Spurn on 14th with another (one or two) at the latter site on 16th. Further singles on the final date were also at Sandwich Bay (Kent), Evie, Mainland (Orkney) and Scalloway, Mainland (Shetland).
Some super drift conditions on 11th produced two Booted Warblers, one at Channerwick, Mainland (Shetland) and the other on Blakeney Point (Norfolk) — the latter the second record for the site and the first in autumn. The week's third Booted Warbler was found at Spurn (East Yorkshire) on 12th and remained to 14th at least. At least four Icterine Warblers were found along the north Norfolk coast on 10th–11th, with singles also in Essex (at Holland Haven CP), Shetland (at Geosetter), St. Kilda (Outer Hebrides) and Cork (at Galley Head). The only confirmed Melodious Warblers of the week were at Porthgwarra on 13th–16th and on Bryher (Scilly) on 15th.

Booted Warbler, Channerwick, Mainland, Shetland (Photo: Steve Minton)
An Aquatic Warbler was at Dawlish Warren (Devon) on the morning of 10th, but failed to show later in the day. A presumed first-winter Marsh Warbler spent 10th–11th at Slimbridge (Gloucestershire).
September's second Arctic Warbler was seen on Fair Isle on 16th, while five Greenish Warblers included two on 11th, at Flamborough Head and Dead Man's Wood, Sheringham (Norfolk) — the latter bird suppressed — with others following in Scarborough (North Yorkshire) on 12th–13th, Gibraltar Point (Lincolnshire) and Cape Clear Island (Co. Cork) on 13th. Gibraltar Point also hosted the autumn's first Yellow-browed Warblers — two birds there on 12th were followed by two on Shetland on 14th and singles at Spurn and Holy Island on 15th, and Fair Isle on 16th. While Yellow-browed Warblers in early to mid-September are now the norm, a mid-September Pallas's Warbler is certainly not! One at Badbury Rings (Dorset) on 16th must be one of the earliest ever autumn arrivals surely?

Yellow-browed Warbler, Scatness, Mainland, Shetland (Photo: Steve Minton)
It was a decent week for Barred Warbler this week, with up to 30 birds reported. Three were on Stronsay (Orkney) on 14th and there were two birds each for Fair Isle and Out Skerries (Shetland) on 13th, North Ronaldsay on 14th and Holy Island on 15th. One also made it to Bru, Lewis (Outer Hebrides) on 10th and Balephuil, Tiree (Argyll) on 16th. The majority of the others peppered the east coast from Norfolk northwards, including at least two in East Yorkshire and a trapped, ringed and released bird at Whitburn Coastal Park (Co. Durham) on 12th. On the Calf of Man, a Subalpine Warbler was seen on 15th (along with an Icterine Warbler).

Barred Warbler, Spurn, East Yorkshire (Photo: Jason Kenny)
Two Red-breasted Flycatchers were found on Blakeney Point on 11th and further Norfolk birds were at Walsey Hills, also on 11th, briefly at Warham Greens on 12th with up to three birds around Wells and East Hills on 15th–16th. Two birds were seen in Lincolnshire (at Gibraltar Point and Wolla Bank on 12th and 14th) and singles were at Bornish on South Uist (it doesn't just attract rare shorebirds...!) on 13th, Thorpeness and Landguard (Suffolk) on 14th and Holy Island (Northumberland) and Dungeness (Kent) on 15th. One was at Spurn at the end of the week.

Red-breasted Flycatcher, Landguard NR, Suffolk (Photo: Bill Plumb)
A Black-headed or Red-headed Bunting was found at Galley Head in County Cork on 11th, reappearing on 13th–14th. Opinion seems to favour the bird being a Black-headed Bunting at the moment, but the identification of first-winters can be on the tricky side of tough. A definite Black-headed Bunting was on Brownsman Island in the Farnes on 14th, but had departed overnight so no twitch could ensue. A Little Bunting arrived on Fair Isle on 14th. Four British mainland Ortolan Buntings were seen on 11th–14th (at Spurn, on Tresco, White Nothe in Dorset and Lizard Point in Cornwall). On the Channel Islands, a single Ortolan was at Pleinmont (Guernsey) on 12th with two birds on the same day at Noirmont Point (Jersey).
Juvenile Rose-coloured Starlings were at Tittensor (Staffordshire) from 10th–16th at least, Sheepcote Valley (East Sussex) on 11th–12th and, again, at Trewellard (Cornwall). Another Cornish bird was in Torpoint on 15th–16th (and had been present for a week or so prior to this), with one in neighbouring Devon, at Wembury, on 16th. A Common Rosefinch was at Gibraltar Point on 11th, while on Fair Isle two birds were seen on 10th. On 14th, single Rosefinches were on the Farnes and at Grutness, Mainland (Shetland). In Dorset, a juvenile Serin was at West Bexington on 12th.

Rose-coloured Starling, Tittensor, Staffordshire (Photo: Neil)
Photo of the Week

Tufted Duck, Cley Marshes NWT, Norfolk (Photo: Amanda Hayes)
Female Tufted Ducks are relatively plain birds that are commonplace in the UK. It is therefore quite a challenge to create a high-impact photograph of them. This week, Amanda Hayes has achieved this with a high-speed capture taken at the instant of touch-down, the pin-sharp bird perfectly frozen only a couple of millimetres above its reflection in calm water. This action shot has great lighting and tones but, most of all, a wonderful pose and composition, the horizontal line of the head and neck intersecting with the powerful vertical formed by the swept-back wings and fanned tail, plus the trailing feet and their reflection. The result is an unusual combination of harmony and tension.

Sanderling, Filey, North Yorkshire (Photo: Marcus Conway)

Buff-breasted Sandpiper, United States (Photo: Kit Day)

Lapwing, East Walton, Norfolk (Photo: Stephen Durrant)

Australian Pelican, Australia (Photo: Paul Hillion)

Sparrowhawk, Warrington, Cheshire (Photo: Carol Mitchell-Lisle)

Little Egret, Leighton Moss RSPB, Lancashire (Photo: Jackie Moreton)

Grey Heron, Alkborough Flats, Lincolnshire (Photo: Graham Catley)

Pectoral Sandpiper, Draycote Water, Warwickshire (Photo: Dave Hutton)

Pied Wagtail, Welford Reservoir, Northamptonshire (Photo: Douglas McFarlane)

Sanderling, Stinky Bay, Benbecula, Outer Hebrides (Photo: Pauline Greenhalgh)

White-necked Jacobin, Trinidad and Tobago (Photo: Robin Edwards)

Reed Bunting, Minsmere RSPB, Suffolk (Photo: Jon Evans)

Goldfinch, Hythe, Kent (Photo: Brian Harper)

Mute Swan, Blashford Lakes HWT, Hampshire (Photo: Trik)