The week at a glance
Two sightings of an adult Black-browed Albatross at Bempton Cliffs, East Yorks, this week give birders hope that the famous North Sea bird of recent summers, which has previously spent much of its time in German waters, has finally discovered the delights of an English seabird colony. Bempton has long been touted as a likely place for this beast to pitch up and the bird's presence offshore there on 13th and 16th certainly suggests that it's at least mildly enthused by this particular stretch of the Yorkshire coastline. The big question is, of course, will it allow itself to be truly twitchable here? Fingers crossed! Incidentally there was late news of an (the?) albatross past Berwick-upon-Tweed on 4th.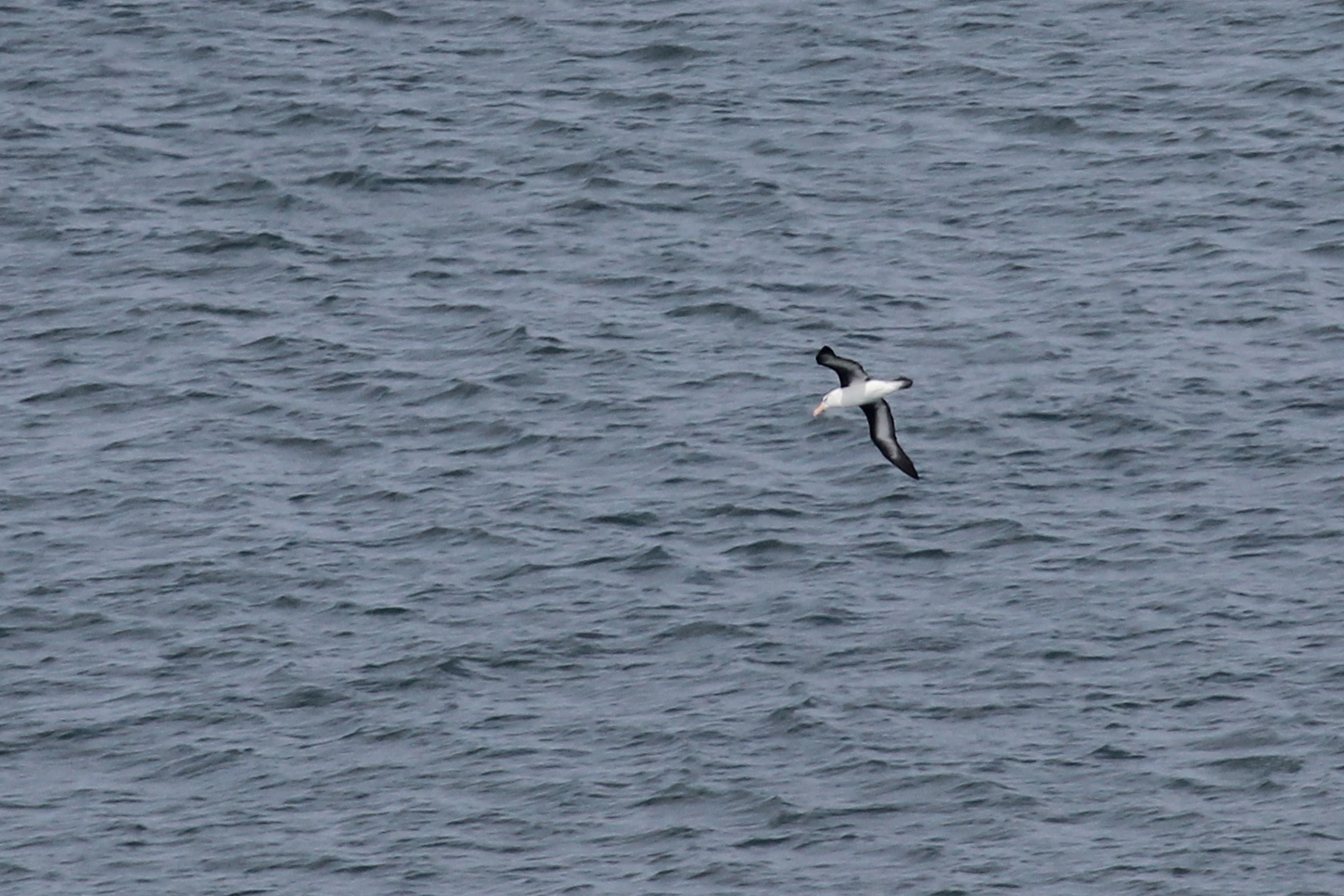 Black-browed Albatross, Bempton Cliffs RSPB, East Yorkshire (Photo: Joe Fryer)
After over three months hugging the coasts of Guernsey, it appears that the American Royal Tern is finally on the move. It was seen at Longis Bay, Alderney, on 15th before flying off to the north — might the south coast of Britain be its next stop? Here's hoping so, as a confirmed American Royal would be a huge hit on British shores.
Many will remember the pristine male Baltimore Oriole at John O' Groats in late May 2007, not for the crowds it drew (it was untwitchable, with news breaking after the event) but for the massively gripping images that accompanied the reports. At the time it represented just the third spring record for Britain, with the previous two occurrences as long ago as 1968 (Cornwall) and 1970 (Pembrokeshire). This week, Ireland was treated to its first spring Baltimore Oriole on Tory Island, Co Donegal — an isle which, strangely, has a quite poor track record with American passerines despite its apparently excellent geographical position. Though not the shiny adult male that the John O' Groats bird was, this was a super find and gripping tick for island resident Anton Meenan on 15th. However, the bird proved a one-day wonder, with no sign at all on Tuesday.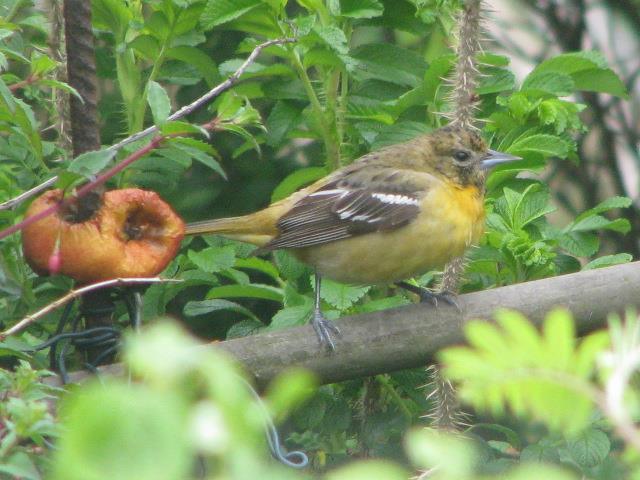 Baltimore Oriole, Tory Island, Donegal (Photo: Anton Meenan)
Moving from one Icterid to another, the Red-winged Blackbird continued to show well on North Ronaldsay, Orkney, until Sunday. However, this potential Western Palearctic first brought its prolonged stay to an end with the start of the working week — there was no sign on Monday 15th.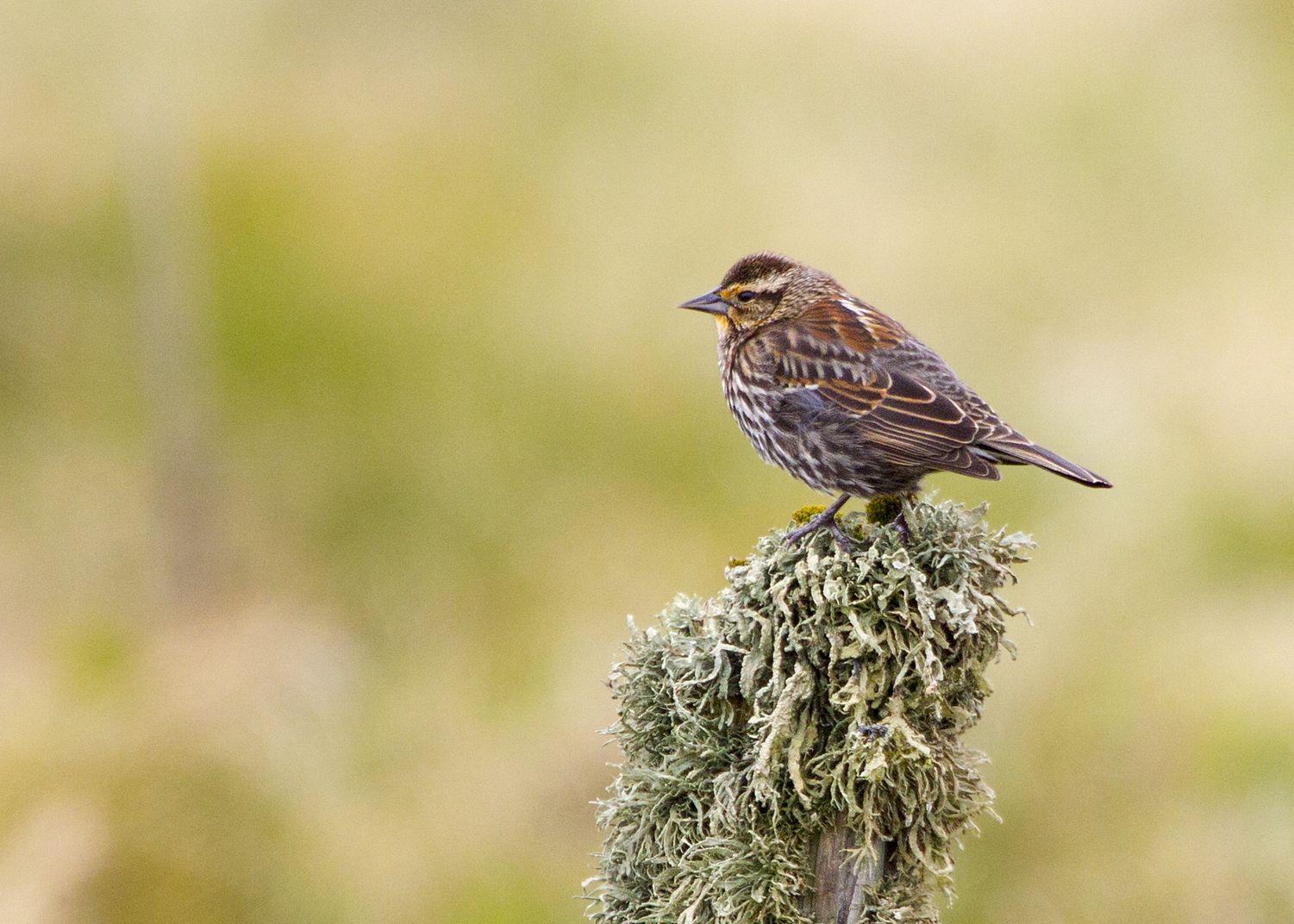 Red-winged Blackbird, North Ronaldsay, Orkney (Photo: David Monticelli)
It was an otherwise reasonable week, although news output volumes continue to decrease — this is fairly typical as we go into the second half of May, unless we're treated to east/south-east winds and the east coast is dripping in classic late-spring migrants such as Red-backed Shrike, Icterine Warbler and Red-spotted Bluethroat. Even though the Northern Isles were treated to a brief spell of winds from the right directions, not a single of the former two species were recorded this week. Bluethroats, on the other hand, showed up in reasonable numbers with Shetland claiming the majority — for example, threes were logged on Fair Isle and the Isle of Noss. There were also a few records of the species from Orkney, but the exception was a fine male at Adwick Washlands, South Yorks, on 14th. Alas news only came out two days later and local birders were unable to enjoy this brief visitor.
Grey-headed Wagtails and Eurasian Wrynecks showed up in reasonable, if unexceptional, numbers this week. A total of six Eurasian Hoopoes included birds as far north as Co Down and Shetland; a bird at Long Nab, North Yorks, on 11–12th was one of precious few to be gettable for birders this spring. Golden Oriole becomes ever-more difficult to catch up with in Britain and just three were seen this week, including a well-watched bird at Portland Bill, Dorset, on 16th — another great bird for this hot-spot, which is enjoying a fine spring. European Bee-eaters were noted at 10 sites, including a bird lingering just long enough to be twitched at Cemlyn Bay, Anglesey, on 14th. A European Serin lingered on the Farne Islands, Northumberland, on 12–13th; another was at Flamborough Head, East Yorks, on 13th with further records from East Sussex and Cornwall (2).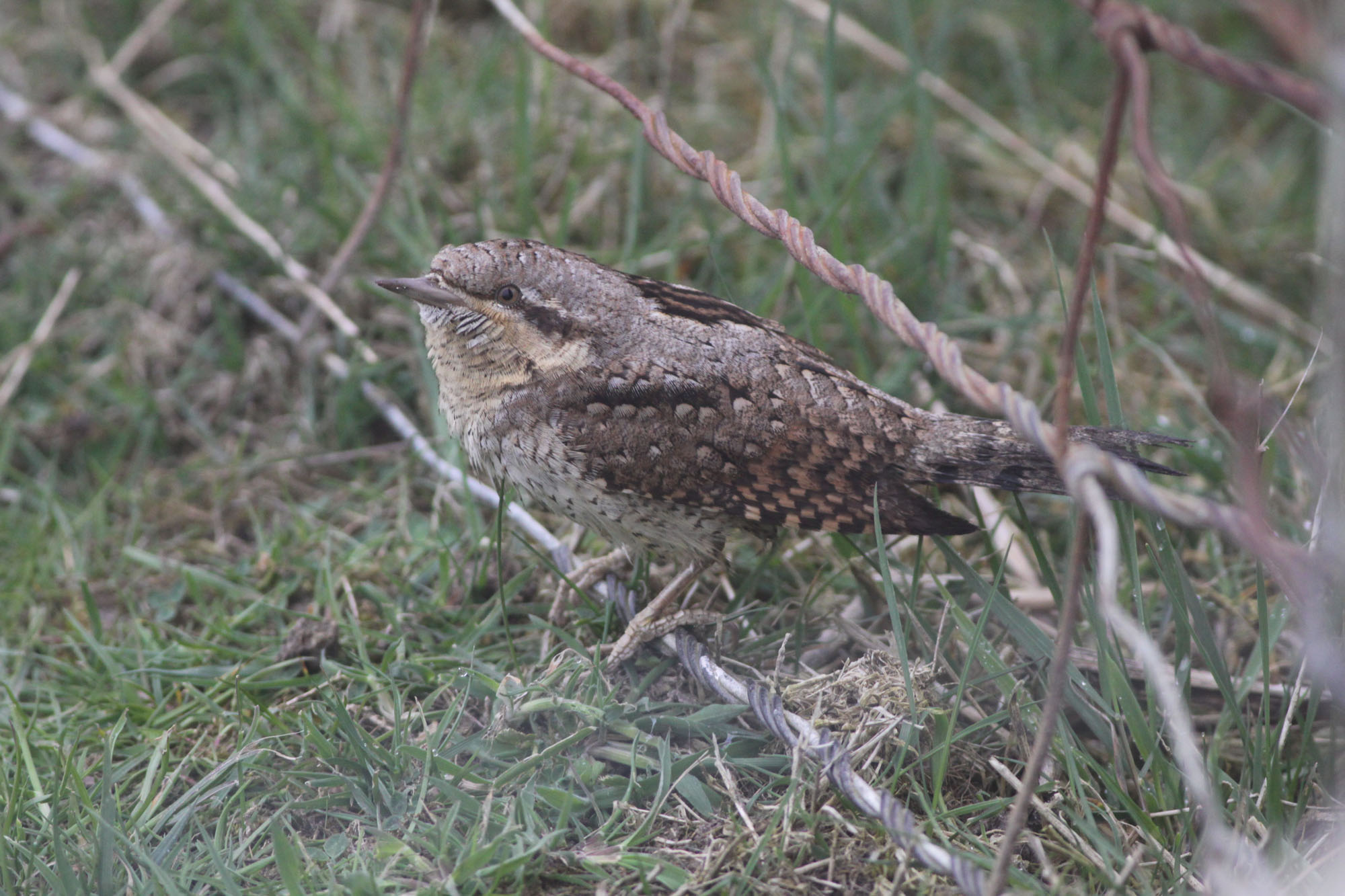 Wryneck, Fair Isle, Shetland (Photo: David Parnaby)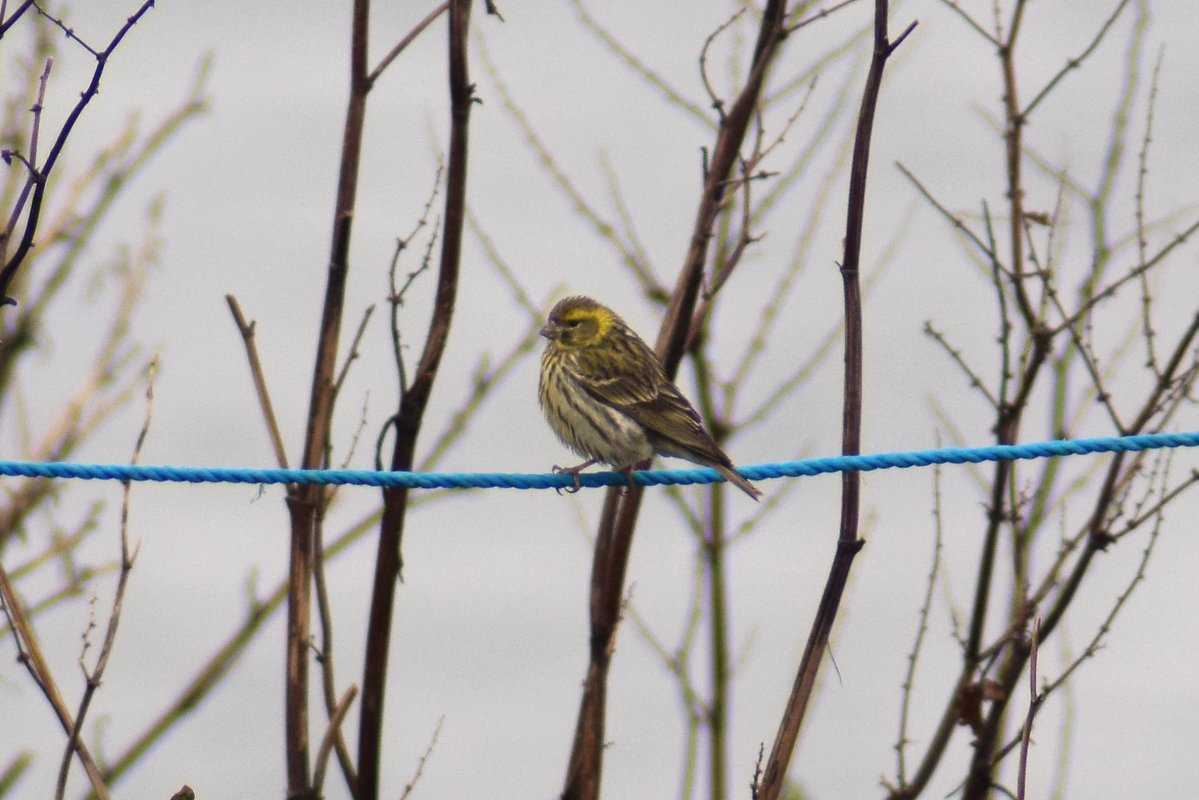 Serin, Farne Islands, Northumberland (Photo: James Crymble)
A decent showing of three Tawny Pipits included a well-twitched bird at Weybourne, Norfolk, on 10th, followed by singles over Martin's Haven, Pembrokeshire, on 11th and at Long Nab, North Yorks, on 16th. Northumberland's Short-toed Lark remained at Catton to 14th, while another lingered on Unst and a third was located at Cogden Beach, Dorset, on 16th. Two Woodchat Shrikes were found on 12th: at Dungeness, Kent, and Wrangaton, Devon, though it was only the latter that hung around (to 14th). Red-rumped Swallows were noted at 11 sites, including a lingering bird at Kirkwall, Orkney, from 11–14th, a showy bird at Marazion, Cornwall, on 12–13th and two at Druridge Pools, Northumberland, on 15th.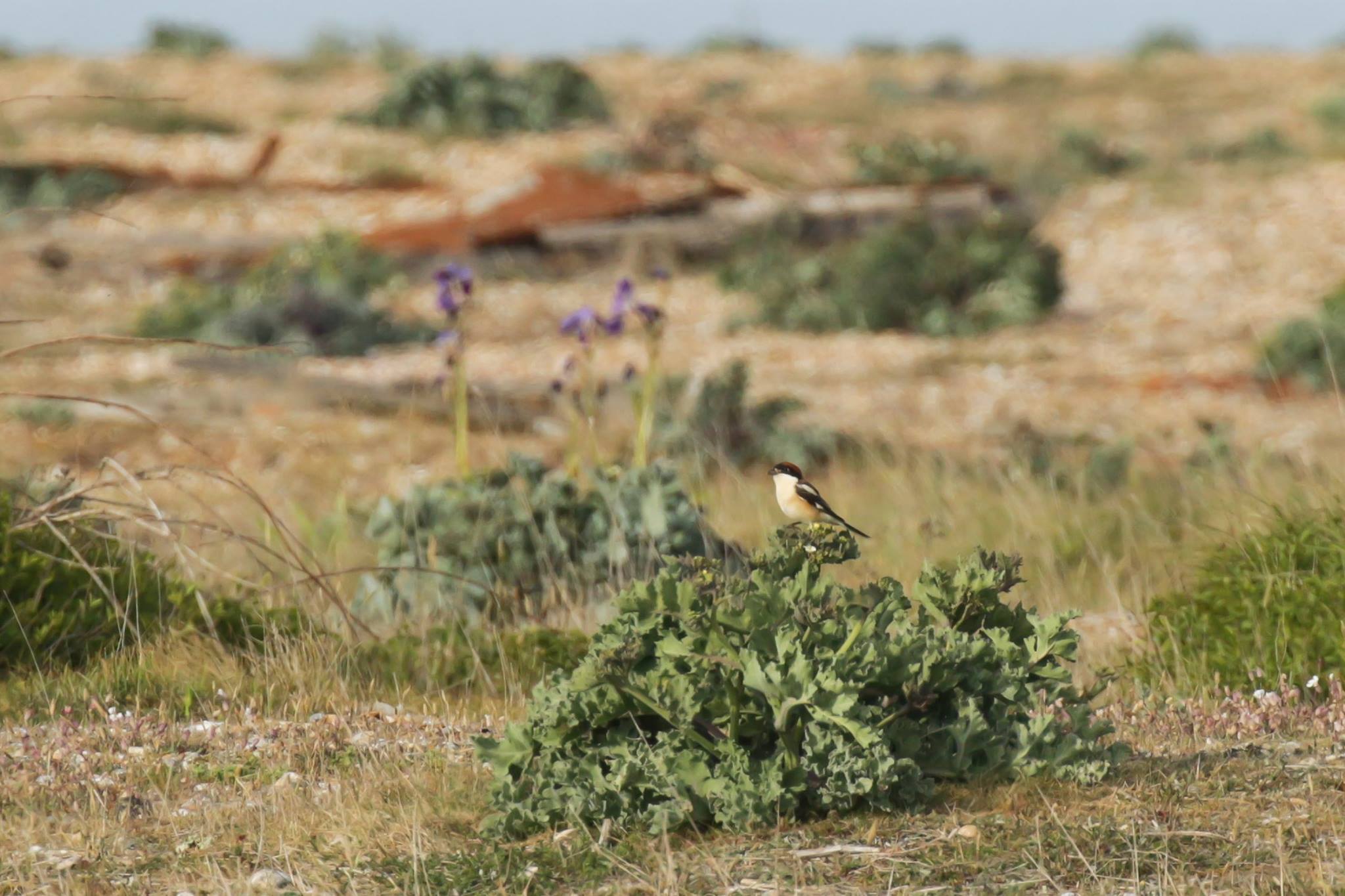 Woodchat Shrike, Dungeness NNR, Kent (Photo: Lee Gregory)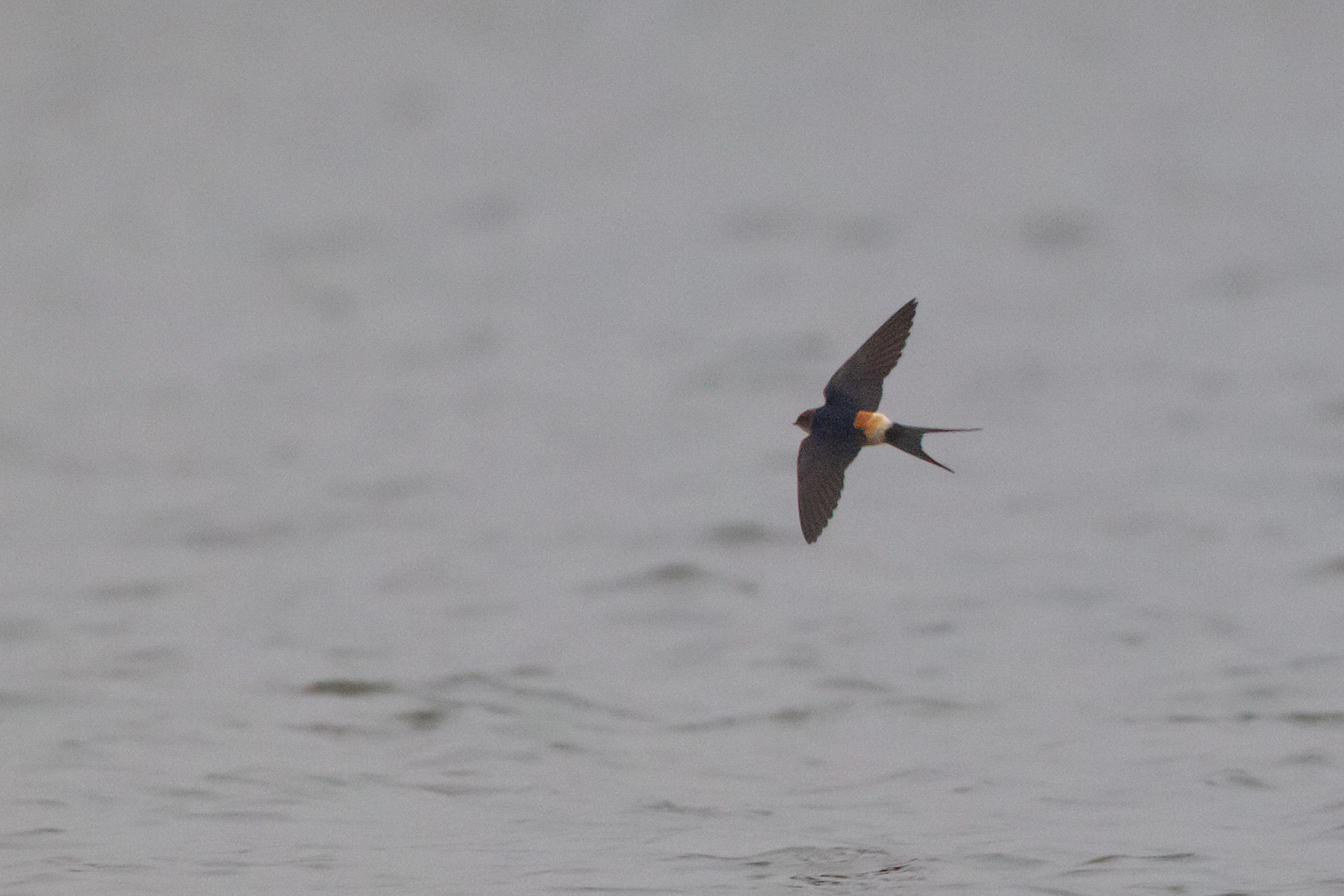 Red-rumped Swallow, Kirkwall, Mainland, Orkney (Photo: David Monticelli)
A gorgeous male Red-breasted Flycatcher on the Isle of May, Fife, on 12–13th was found to be wearing a Swedish ring. Others were on Sanday, Orkney, and North Uist. A Red-throated Pipit flew over Nanjizal, Cornwall, on 11th. Male Eastern Subalpine Warblers graced the Isle of May on 12th, Lundy, Devon, on 13th and Dawlish Warren, Devon, on 14th with a female albistriata at Scatness, Shetland, on 10th and further female 'subalpine warblers' at Red Rocks, Cheshire, on 10th and Great Orme, Conwy, on 14th. A male Iberian Chiffchaff advertised itself at Walsey Hills, Norfolk, on 16th while Savi's Warblers continued to do the same on territory in Norfolk and Suffolk. A Great Reed Warbler singing for the day at Nunnery Lakes, Norfolk, on 11th was greatly appreciated by all at BTO head office — it represents the first BB rarity for the site and was very well received.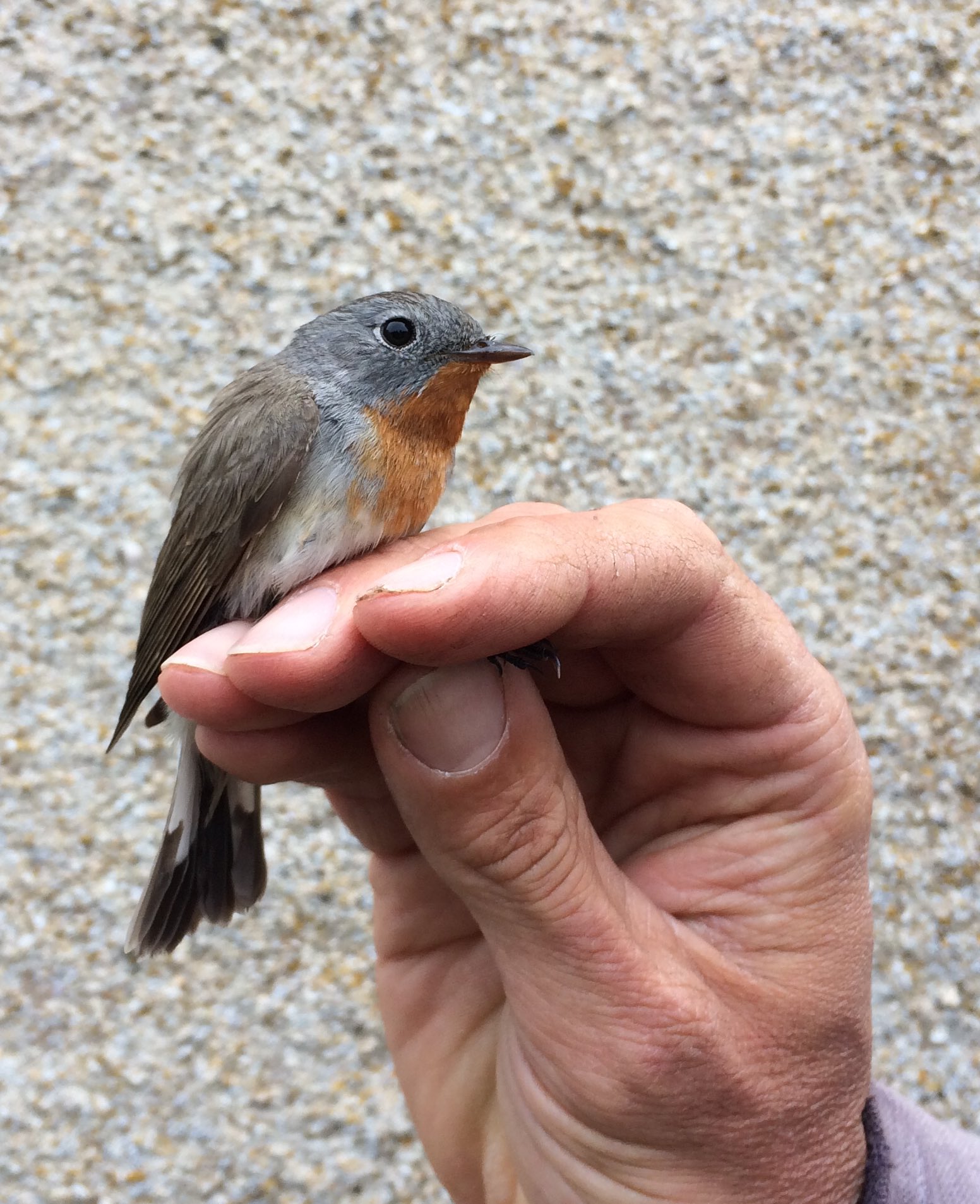 Red-breasted Flycatcher, Isle of May, Fife (Photo: Will Scott)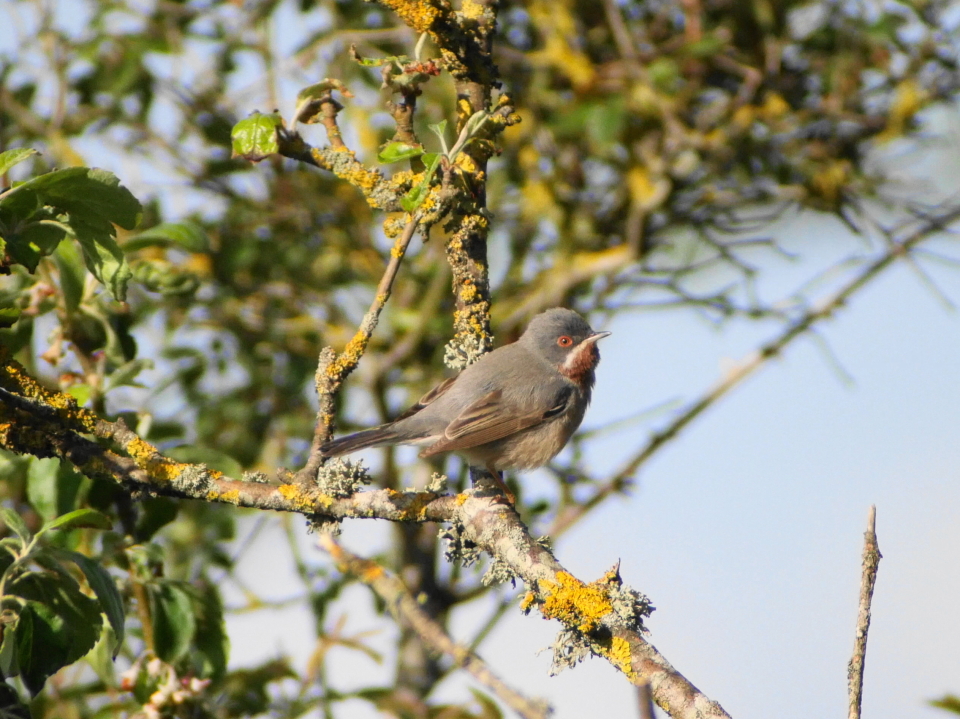 Eastern Subalpine Warbler, Dawlish Warren NNR, Devon (Photo: David Boult)
It's fascinating (if a little disconcerting) that northbound 'Sibes' have been almost as expected around our coasts so far this spring, and the trend continued with a brief Richard's Pipit at Fleetwood, Lancs, on 10th, a Little Bunting lingering on Fair Isle, a Dusky Warbler on Tory Island, Co Donegal, on 13th and Yellow-browed Warblers in Norfolk (2) and Northumberland. It would be inaccurate to describe Citrine Wagtail as a true 'Sibe' these days, but a female showing extremely well at Lynemouth Flash, Northumberland, on 12–13th was nonetheless very well received.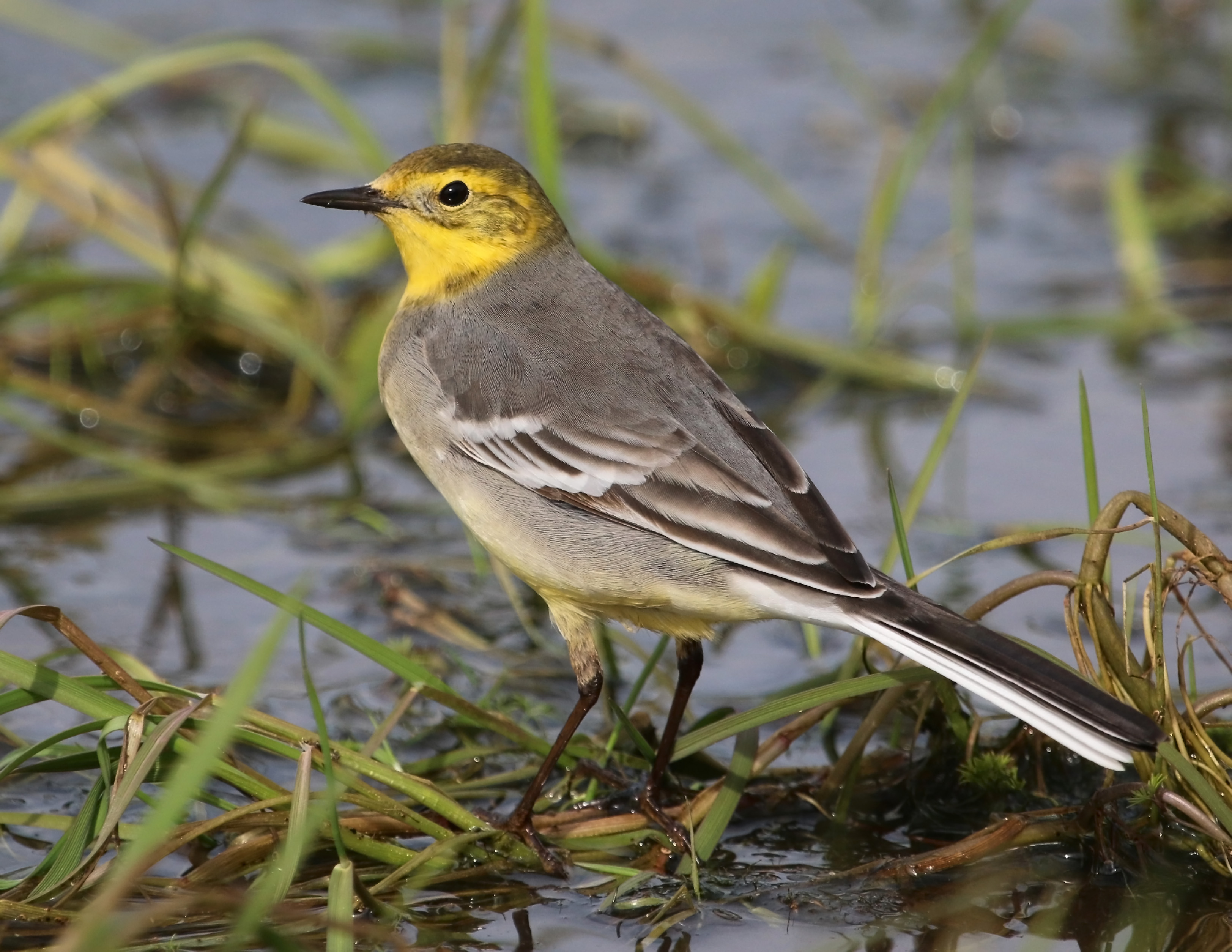 Citrine Wagtail, Lynemouth Flash, Northumberland (Photo: Andy Mould)
It seems entirely possible that the Black Stork photographed over Kyle of Tongue, Highland, on 12th was the bird seen flying east over Rathlin Island, Co Antrim, the previous day — this in turn is presumably the bird seen in Co Sligo in late April. A White Stork was near Elveden, Suffolk, from 11–13th with it or another over Chesham, Bucks, on 16th as well as the usual array of escapes in east Norfolk. There were six reports of Purple Heron this week, making for a refreshing change to the overall paucity of news of this species this spring. Birds lingered at Kenfig Pool, Glamorgan, from 13th and near Tresilian, Cornwall, all week, while a bird at Netherfield, Notts, lingered just long enough for quick-moving local birders to get it. The Little Bittern remained all week on St Mary's, Scilly, where there was also a Night Heron. Singles of the latter continued in Shrewsbury, Shropshire, and on Barra, Outer Hebrides. Six Glossy Ibises were noted, including lingering Scottish birds in Aberdeenshire and Angus.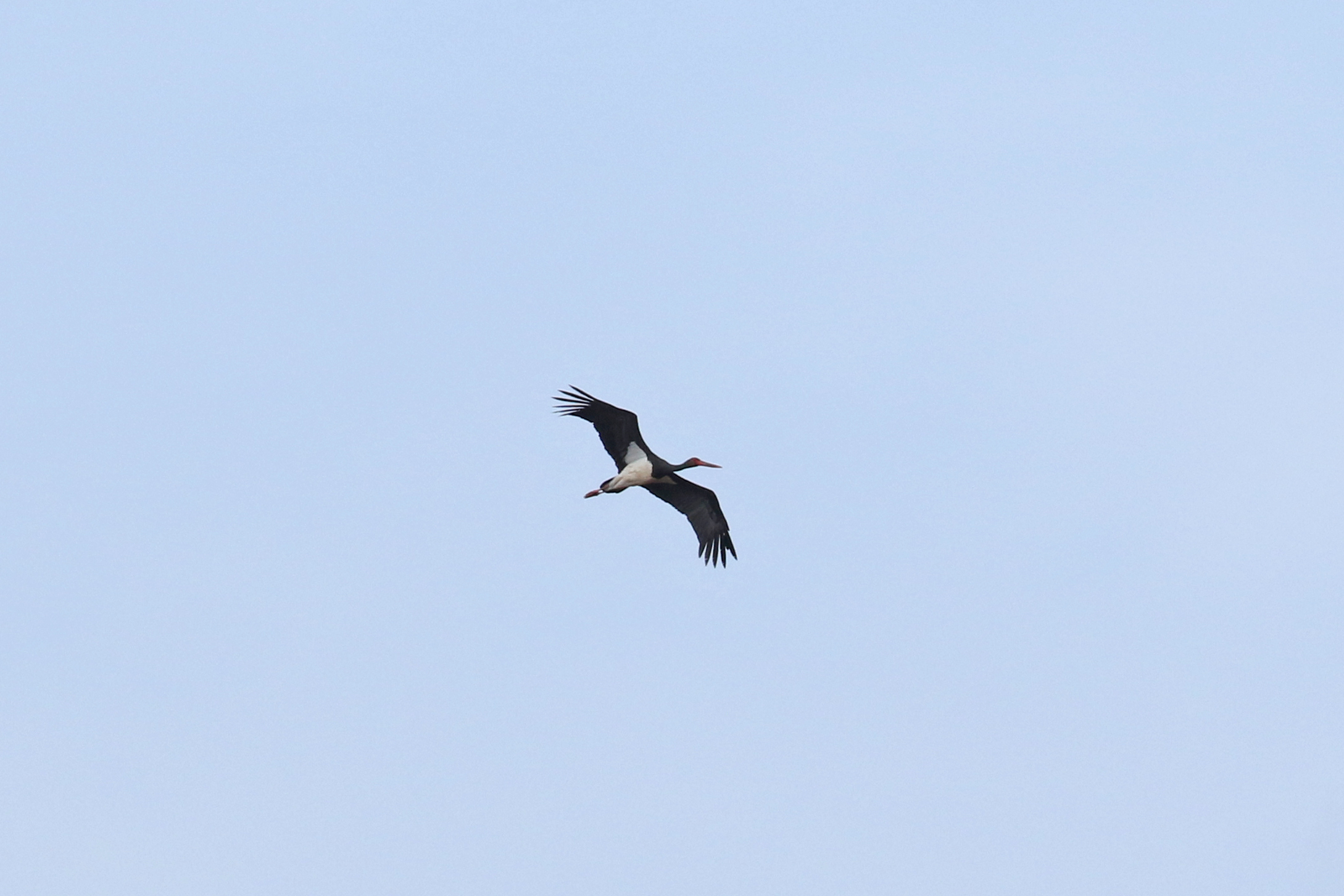 Black Stork, Kyle of Tongue, Highland (Photo: Andy Livermore)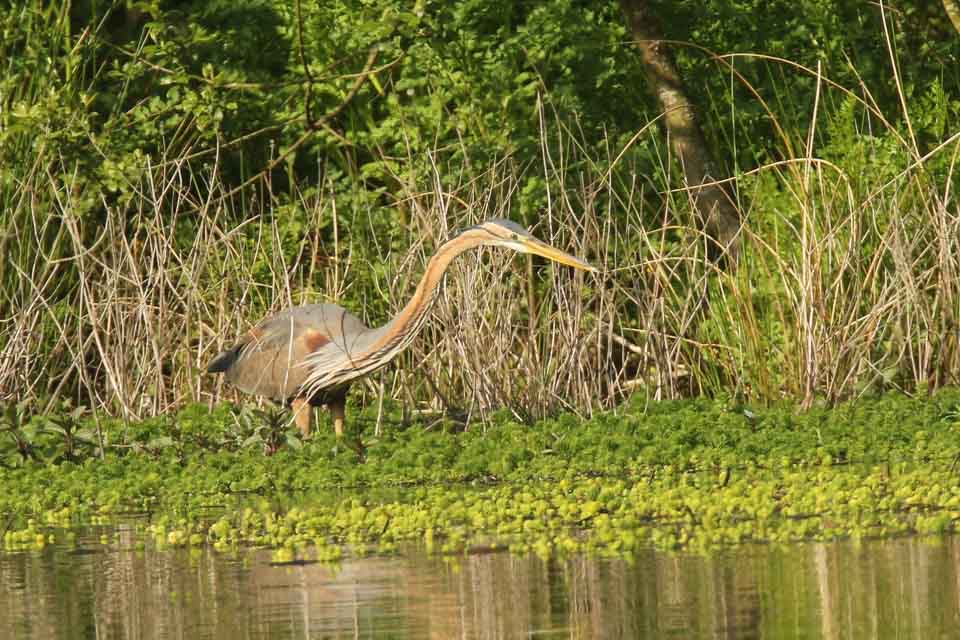 Purple Heron, Probus, Cornwall (Photo: Brian Field)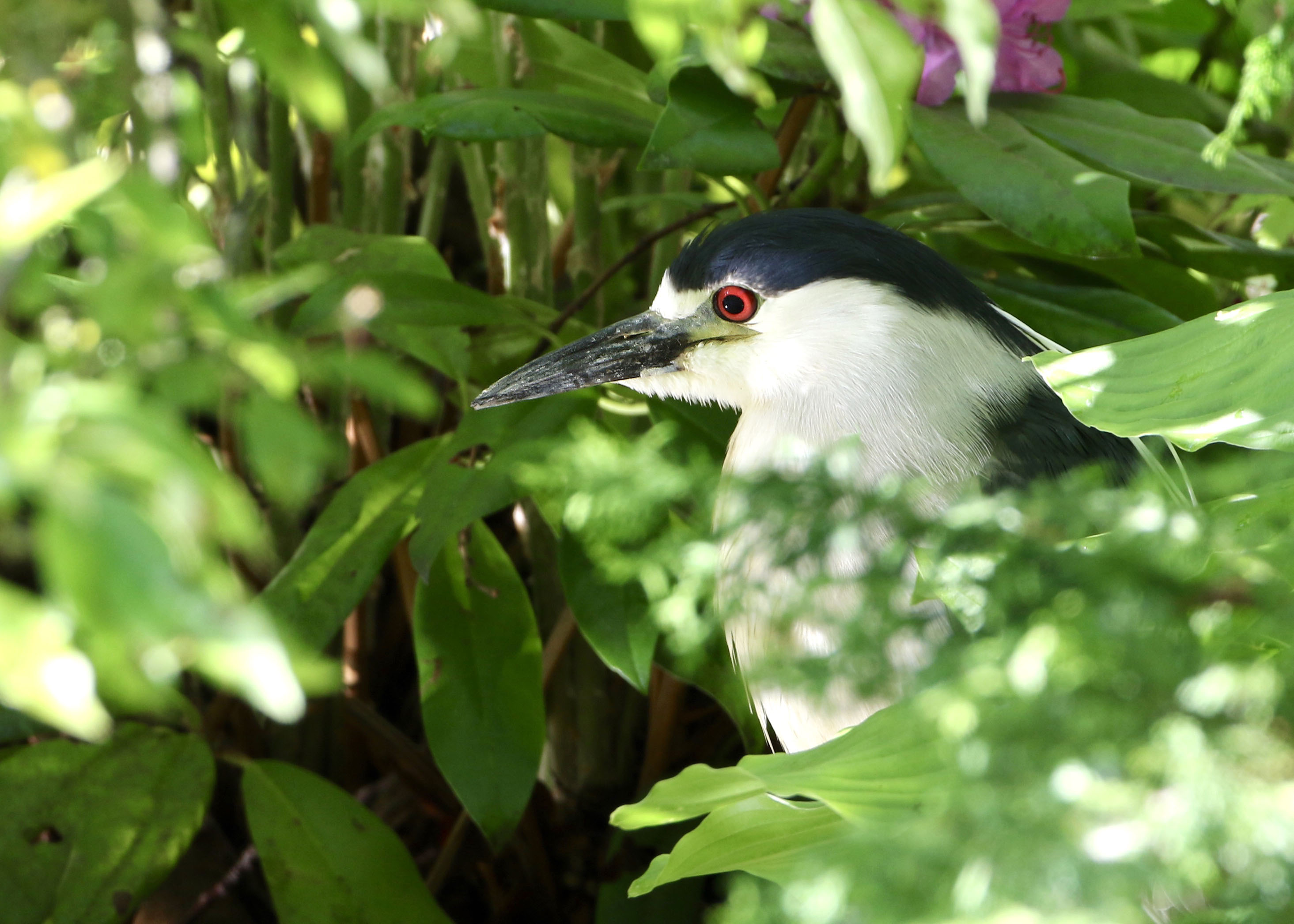 Night Heron, Shrewsbury, Shropshire (Photo: Andy Payne)
Just a single Green-winged Teal was seen (on South Uist) and the American Black Duck held on at Strontian, Highland. Ring-necked Ducks were at a couple of sites in Highland Scotland, with another at Tollesbury Wick, Essex, on 16th. Two White-billed Divers were off Tory Island, Co Donegal, on 10th and singles were off Moray, Shetland and South Uist. The Pied-billed Grebe was also still on show at Loch Feorlin, Argyll.
The immature White-tailed Eagle was at Snape, Suffolk, on 11th before flying over Bintree Mill and Foulsham, Norfolk, on 14th. Another strong showing of Red-footed Falcons saw a dozen sites register the species this week, including a male and female together over Carlton Marshes, Suffolk, on 10th. Most were brief affairs, but a gorgeous male at Strumble Head, Pembrokeshire, from 11–13th and another at Thorne Moors, South Yorks, from 14th lingered long enough to be twitched. Last week's female at Fen Drayton, Cambs, showed on and off to 14th, with other females in Norfolk and West Sussex. Just the third Montagu's Harrier for Northern Ireland, a male, was at Lough Beg on 16th, while many will be hoping the male at Sunk Island, East Yorks, on 13th finds the female at nearby Blacktoft. The displaying Pallid Harrier was still near Dunsop Bridge, Lancs, to at least 14th.

Red-footed Falcon, Strumble Head, Pembrokeshire (Photo: Jeff Slocombe)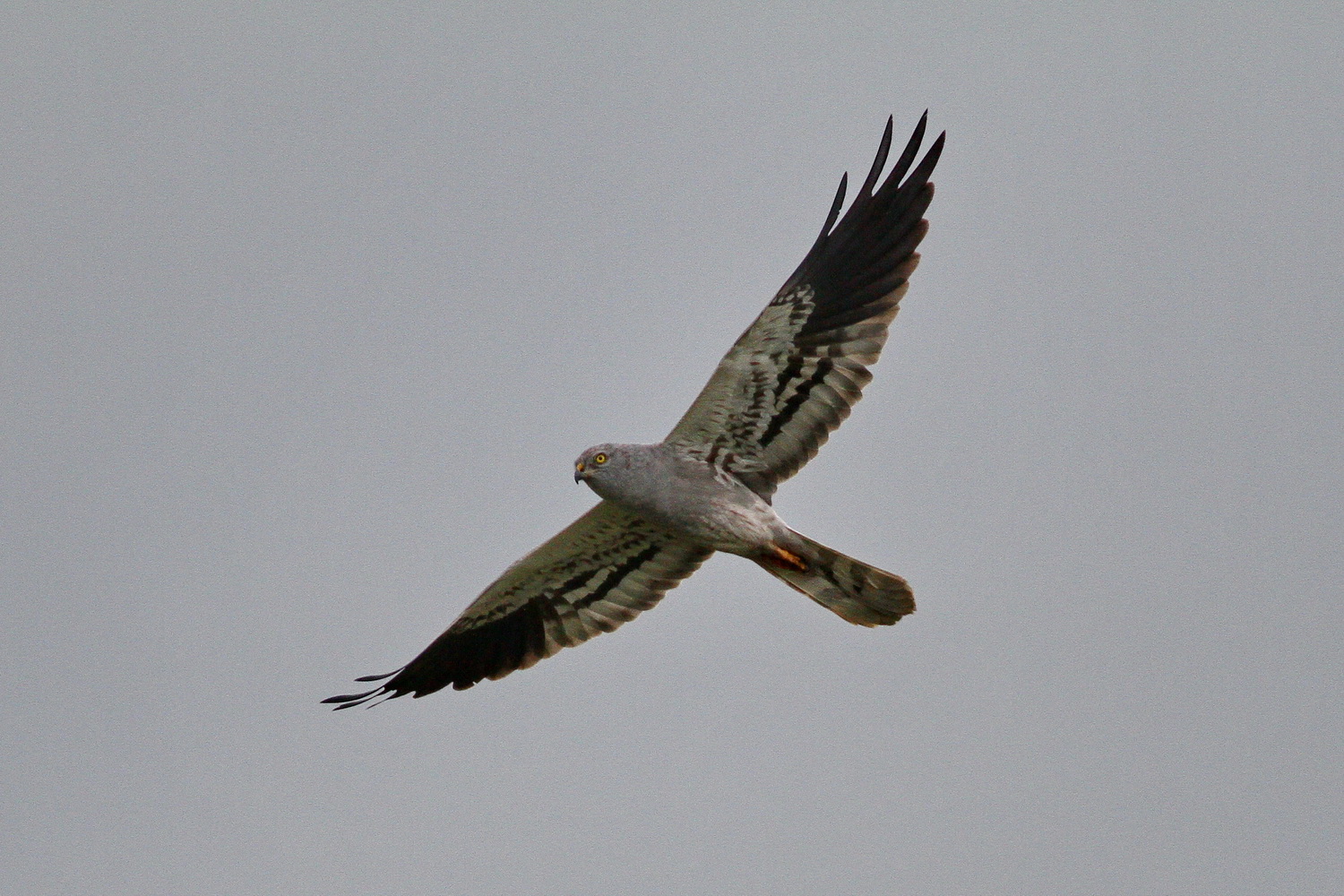 Montagu's Harrier, Sunk Island, East Yorkshire (Photo: Richard Willison)
Two rather delightful Spotted Sandpipers appeared this week and, unusually for spring, both lingered for longer than a day. One was at Buttermere, Cumbria, from 13th and the other at the Spotted Sand hot-spot of Belvide Reservoir, Staffs. The occurrence of a Broad-billed Sandpiper at the wader hot-spot of Frampton Marsh, Lincs, seemed a near-inevitability this month and one duly popped in on 14th. Pectoral Sandpipers were at Lough Beg, Co Londonderry, on 10th and Musselburgh, Lothian, on 15–16th. Spring Semipalmated Sandpipers are generally few and far between, and it could well be that adults at Balnakeil, Highland, from 12–14th and on Unst, Shetland, on 16th are one and the same.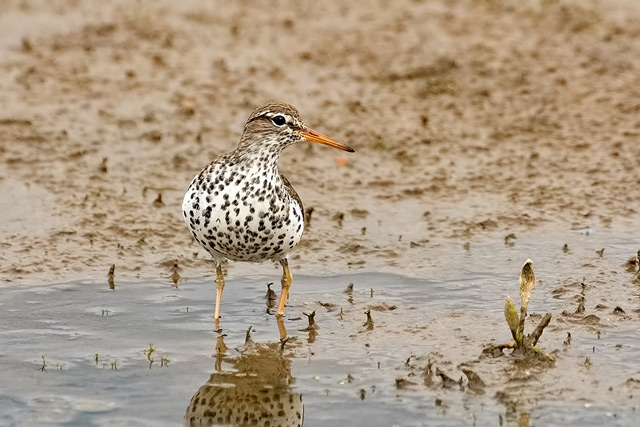 Spotted Sandpiper, Belvide Reservoir (permit only), Staffordshire (Photo: Derek Lees)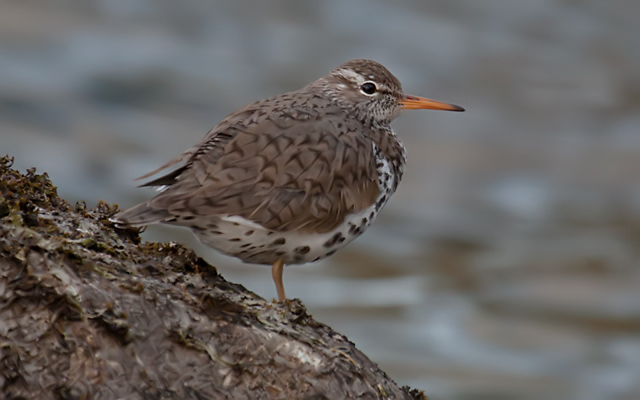 Spotted Sandpiper, Buttermere, Cumbria (Photo: Darren Robson)
The Collared Pratincole on Fair Isle from 14th represents just the second island record, the first coming in 1971. Thanks to its conspicuous tags, the male Kentish Plover on Berneray, Outer Hebrides, on 15th was identifiable as that seen in Co Wexford in mid-April. Another, a female, was briefly at Sennen Cove, Cornwall, on 14th. Away from more expected areas, notable Black-winged Stilt records involved pairs at Rainham Marshes, London, and Blacktoft Sands, E Yorks, on 10th as well as Standlake, Oxon, on 12th.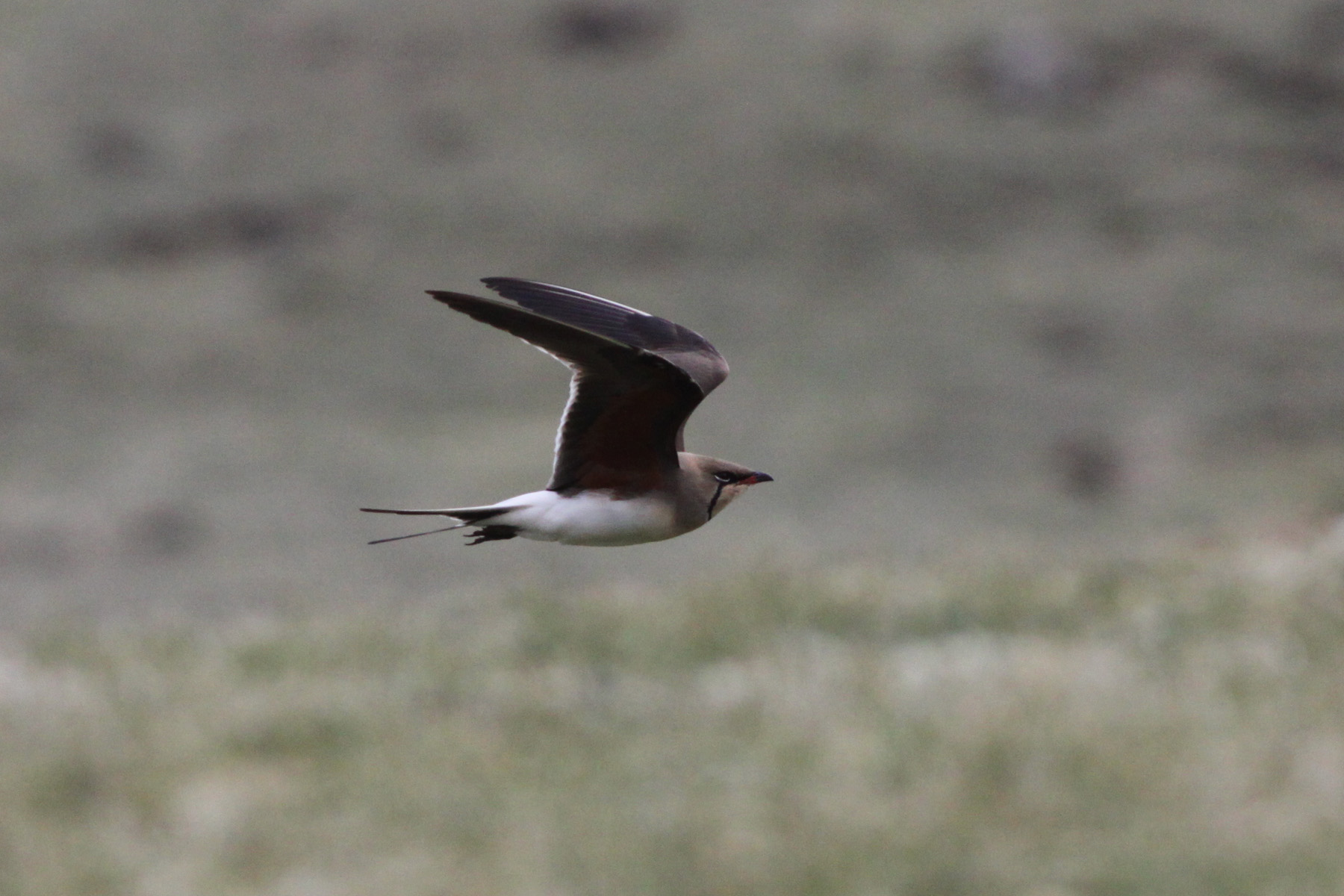 Collared Pratincole, Fair Isle, Shetland (Photo: David Parnaby)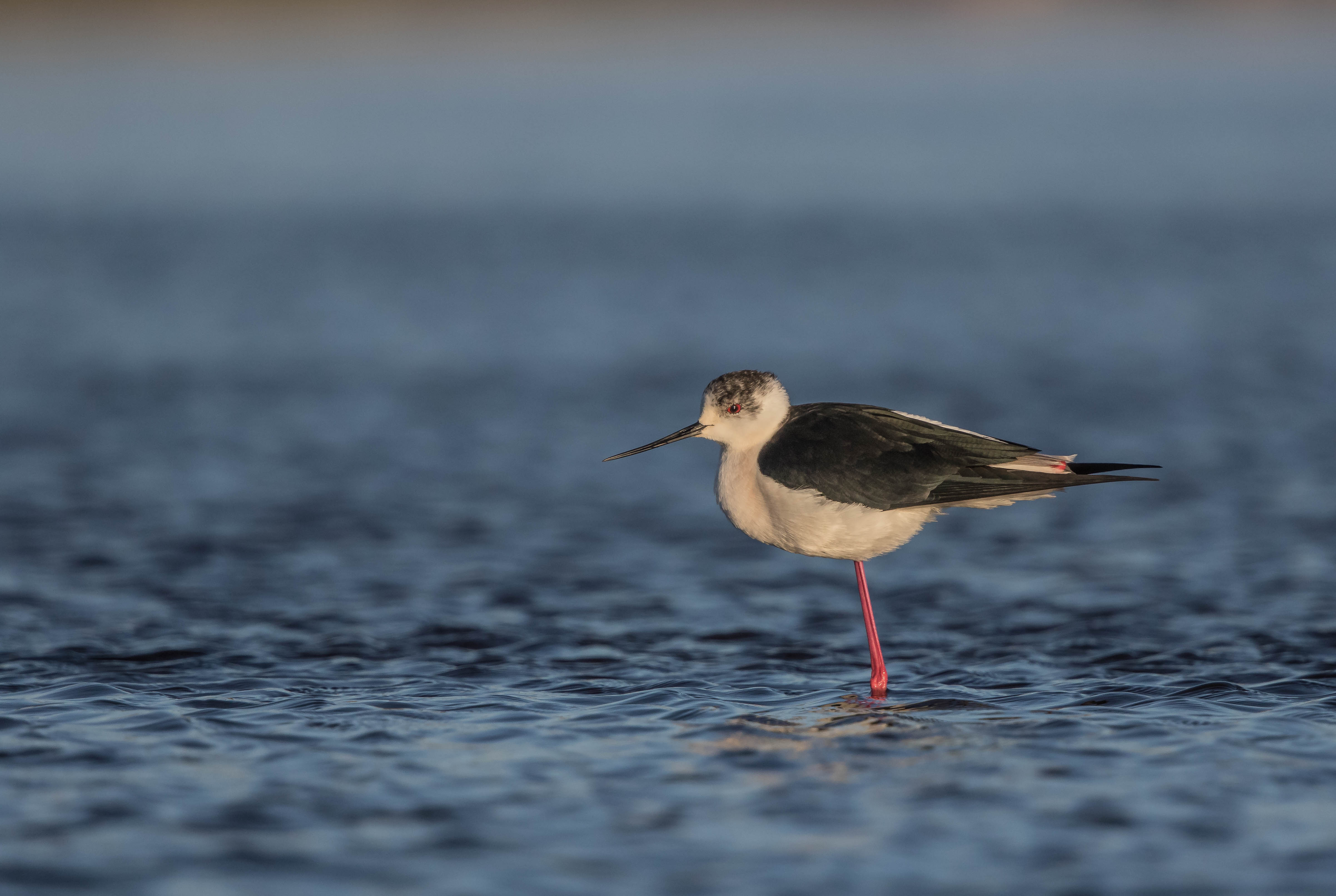 Black-winged Stilt, La Claire Mare, Guernsey (Photo: Dan scott)
Both surprising and impressive was the fact that the Gull-billed Tern first seen briefly at Ouse Washes and then flying over Burwell Fen a short while later on 15th was the first record for Cambridgeshire. No doubt county listers will be galled that it didn't linger. A White-winged Black Tern was off the Co Antrim shore of Lough Beg on 11–12th and another was reported at Rainham Marshes, London, on 14th. A first-summer Bonaparte's Gull at Creekmouth, London, on 14th was latterly seen either there or at Crossness to 16th and represents the fourth of its species seen along this stretch of the river in recent years. Elsewhere Hampshire's bird was seen again at Blashford Lakes. Immature Ring-billed Gulls lingered in Highland, Shetland, Ceredigion and Co Kerry.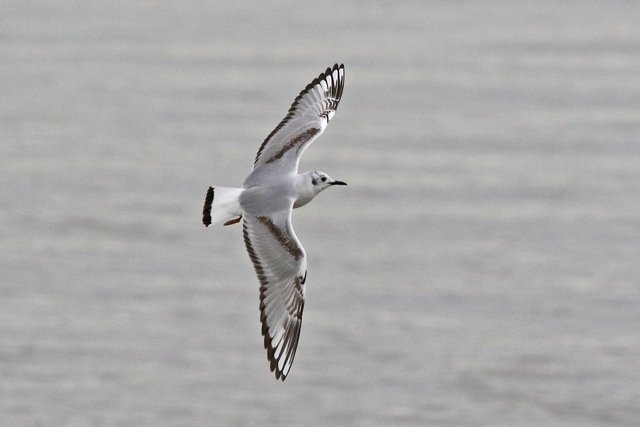 Bonaparte's Gull, Crossness, Greater London (Photo: Richard Bonser)
There's no real sign yet that Outer Hebridean skua passage is getting going, although a trickle of Long-tailed Skuas past North Uist in the latter half of the week just about helped would-be skua-watchers retain their patience. Much more significant in a spring context was the adult seen at several sites between Hill Head, Hants, and Eastbourne, East Sussex, on 11th. Respectable numbers of Pomarine Skuas were also seen along the south coast between Devon and Kent, with smaller numbers off southern Ireland and western Scotland.
Western Palearctic news
Sweden was on fine form this week with the country's second Oriental Pratincole showing well at Bottorp, Småland, from 14th and an amazing double-act on the island of Svenska Högarna, off Stockholm, on 14th in the form of a drake American White-winged Scoter and a male Dark-eyed Junco. Both are national firsts; though there are a couple of previous 'White-winged Scoter' records, this is the first confirmed deglandi.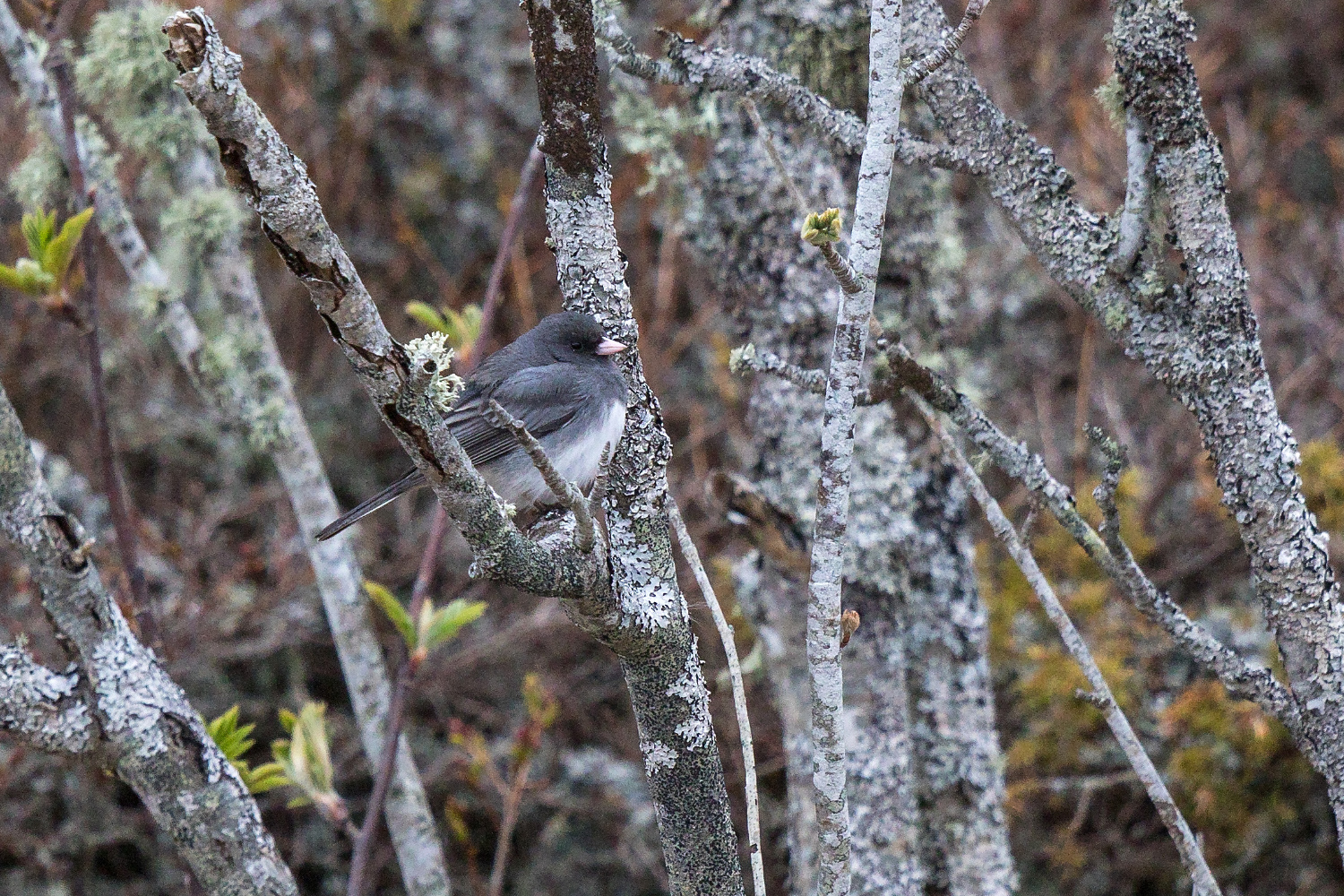 Dark-eyed Junco, Sweden (Photo: Erik Wahlgren)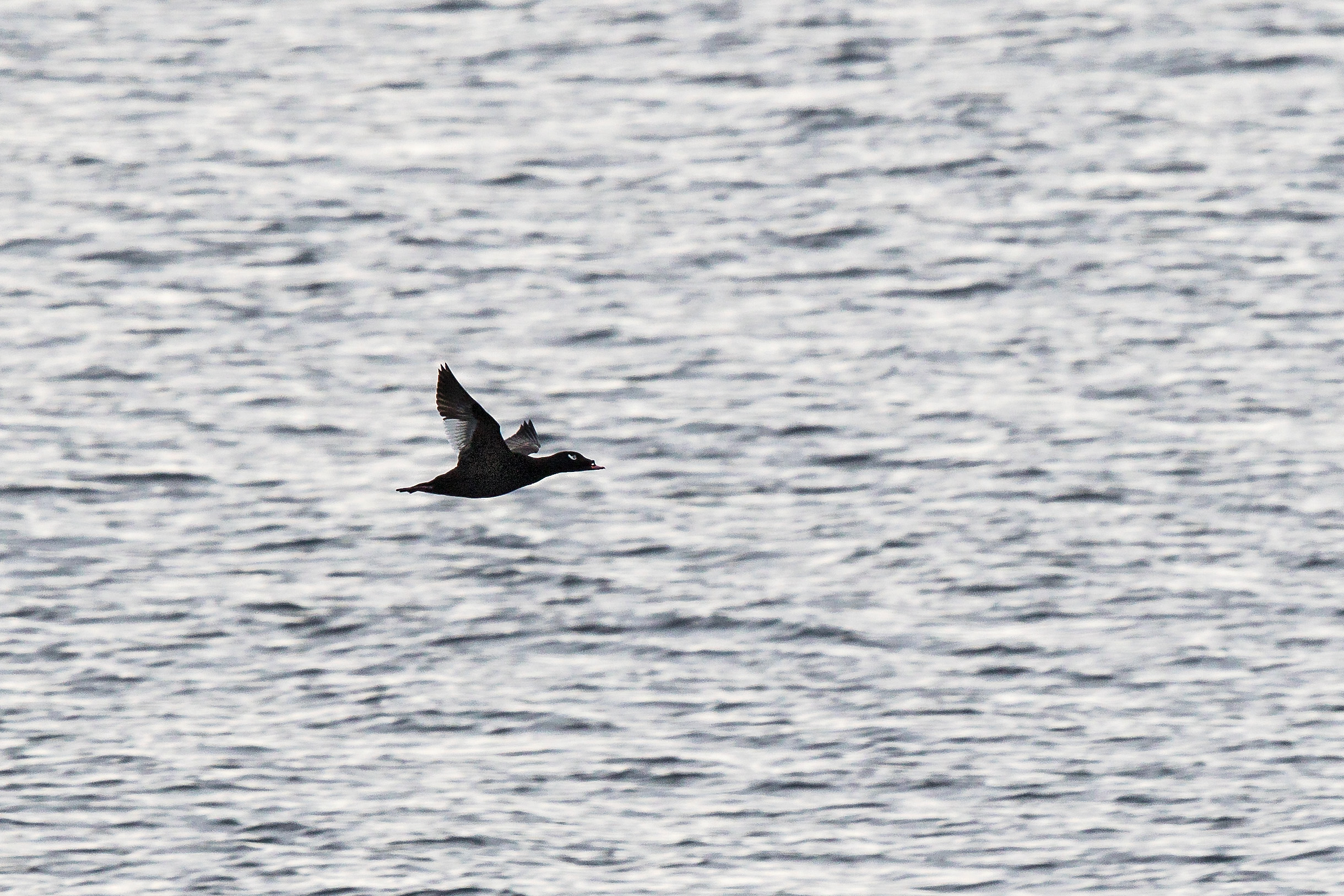 American White-winged Scoter, Sweden (Photo: Erik Wahlgren)
A drake Stejneger's Scoter was at Hamina, Finland, on 14th and the country's sixth Lesser Yellowlegs was at Lohja on 15th. A Sooty Tern was among the famous tern colony at Banc d'Arguin, Gironde, France, on 11th but hasn't been seen there since (an Elegant Tern has also returned there). A Cream-coloured Courser was on Corsica on 15th. An immature Lammergeier was seen at several sites in the Netherlands on 13th and was last noted in Groningen. Also in the country, a Dark-eyed Junco was seen at Bergen. Neighbouring Belgium had its second Long-legged Buzzard at Rutten on 16th.
In the Azores a quite stunning male Indigo Bunting was at Lajes, Flores, on 13th, having been present for a week. A Snowy Egret at Madalena, Pico, on 12–13th could well be the bird seen on Flores last autumn. Elsewhere a Bateleur was over Reyhaniya, Israel, on 15th while a group of five Dotterel in Lithuania's Šilute District represented just the seventh national record. The Black-browed Albatross was still on Sylt, Germany, on 10–11th but has, of course, since relocated to the British side of the North Sea.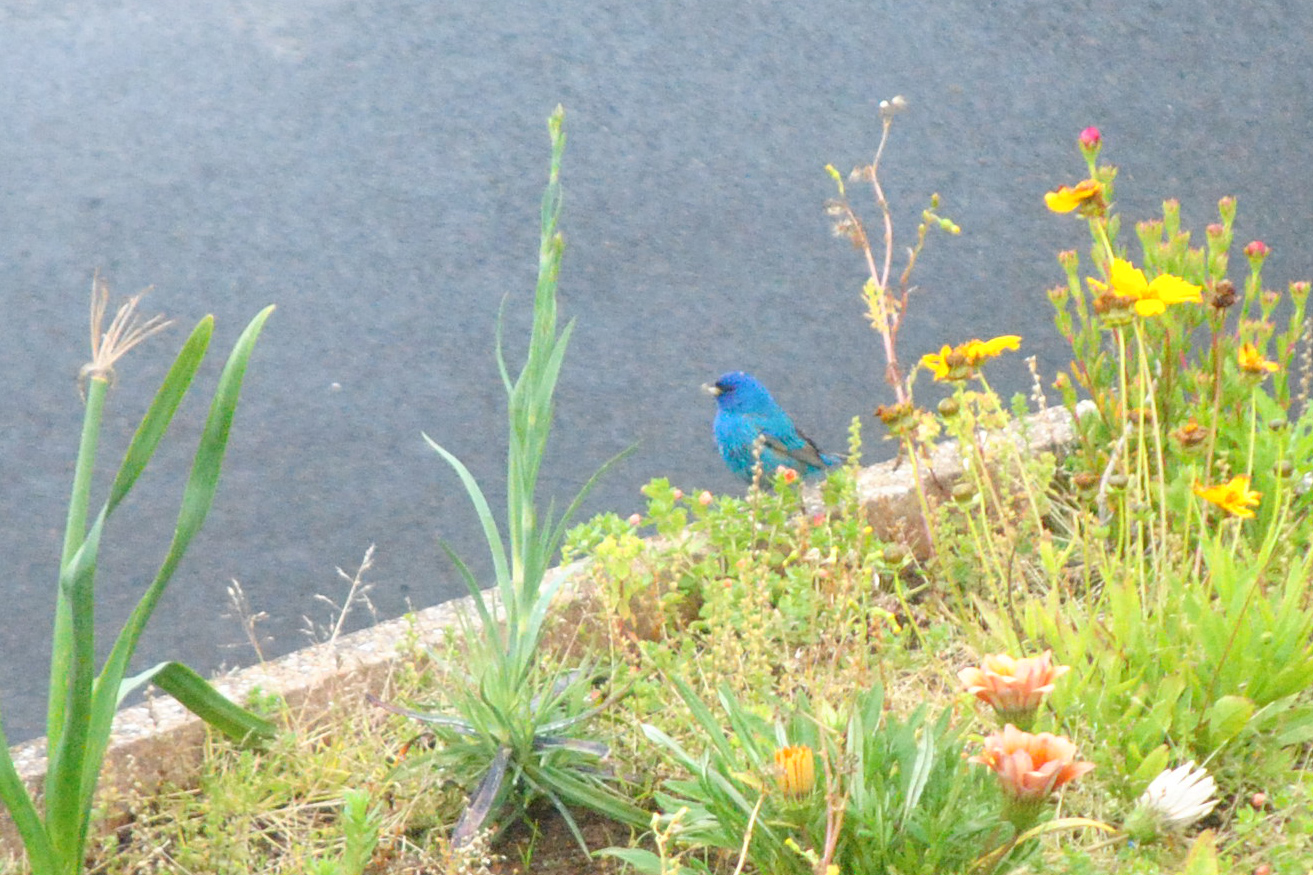 Indigo Bunting, Azores (Photo: Dora Nicolau)