The week at a glance
June rarely fails to impress, but what a week we've just had! Spring migration may have all but ceased but, in typical June style, the apparent lack of movement had little relevance to the appearance of further extremely desirable rarities. As such, it proved quite a frenetic week with some twitchers covering rather a lot of miles. As for the reference to a dearth of passage, it's worth noting that 'autumn' appears to be on us already as the first returning Green Sandpipers and Spotted Redshanks were reported this week. June really can be quite a fickle month …
Headline bird was the dashing male Cretzschmar's Bunting found on Bardsey Island, Gwynedd, during the morning of 10th. Seen for no more than a few minutes it soon disappeared, leaving the Observatory staff empty-handed. With no sign throughout 11th many had assumed it had gone, and thus its reappearance on 12th was a genuine surprise; again it proved startlingly difficult to pin down and, although more on the island connected, it soon vanished again. Despite an extensive search by up to 30 birders on Saturday it could not be found, and so news that it was present at the island's lighthouse compound early on Sunday was again unexpected. Fortunately that morning signalled a significant change as the bird was far better behaved and, for the first time, proved twitchable to boat-loads of birders from the mainland throughout the day.

Cretzschmar's Bunting, Bardsey Island, Gwynedd (Photo: Ben Porter)
With seed laid down within the lighthouse compound, the bunting became a regular fix there until the end of the review period, showing on and off and also singing regularly. It was successfully twitched by several boatloads on both Monday and Tuesday (boatman Colin Evans deserves a special mention for his fantastic work), while the twitch was expertly marshalled by warden Steve Stansfield and team on Bardsey. Top marks all round!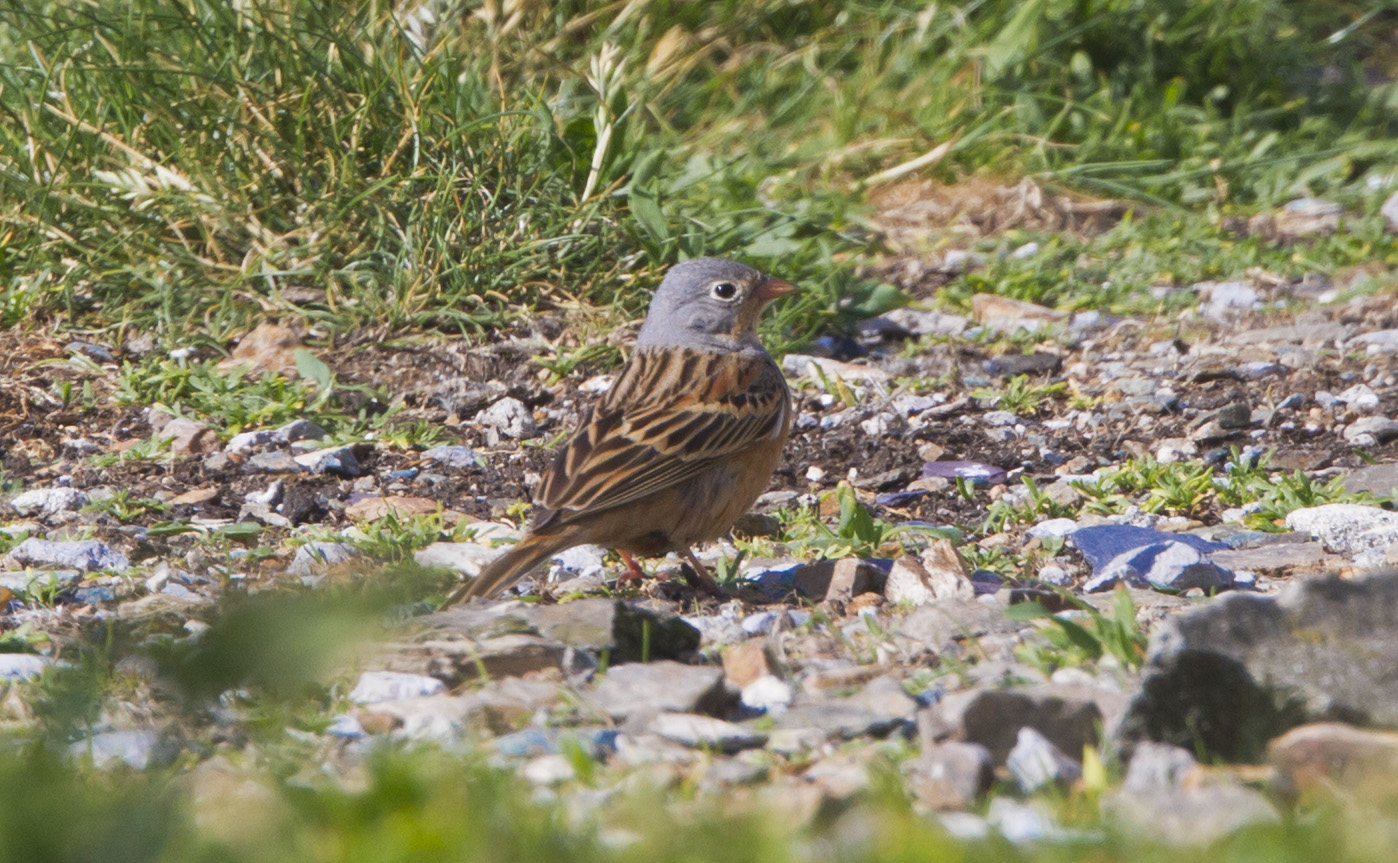 Cretzschmar's Bunting, Bardsey Island, Gwynedd (Photo: Steve Stansfield)
You'd be forgiven for thinking that Cedar Waxwing was anything but an extreme rarity after this week's two records. Admittedly one of these related to last week, with a waxwing seen and photographed by a non-birder near Kilrush, Co Clare, on 3-4th identified as Cedar from photos. The second was found on Tiree, Argyll, on 10th but although there was no delay in news being broadcast, the bird was evidently on the move and had disappeared by the afternoon; it wasn't seen again.
Present for just a day, the Eastern Black-eared Wheatear at Acres Down, Hampshire, on 13th will constitute many birders' highlight of the week (and perhaps even spring). Though a bird lingered on the Isles of Scilly for several days in October 2010, a twitchable mainland Black-eared Wheatear was long overdue — this is the first since a male at Porthgwarra in March 2002! Incidentally, this bird appears to be the male recorded in the Netherlands on Wednesday 10th, roughly 450 km ENE of Acres Down.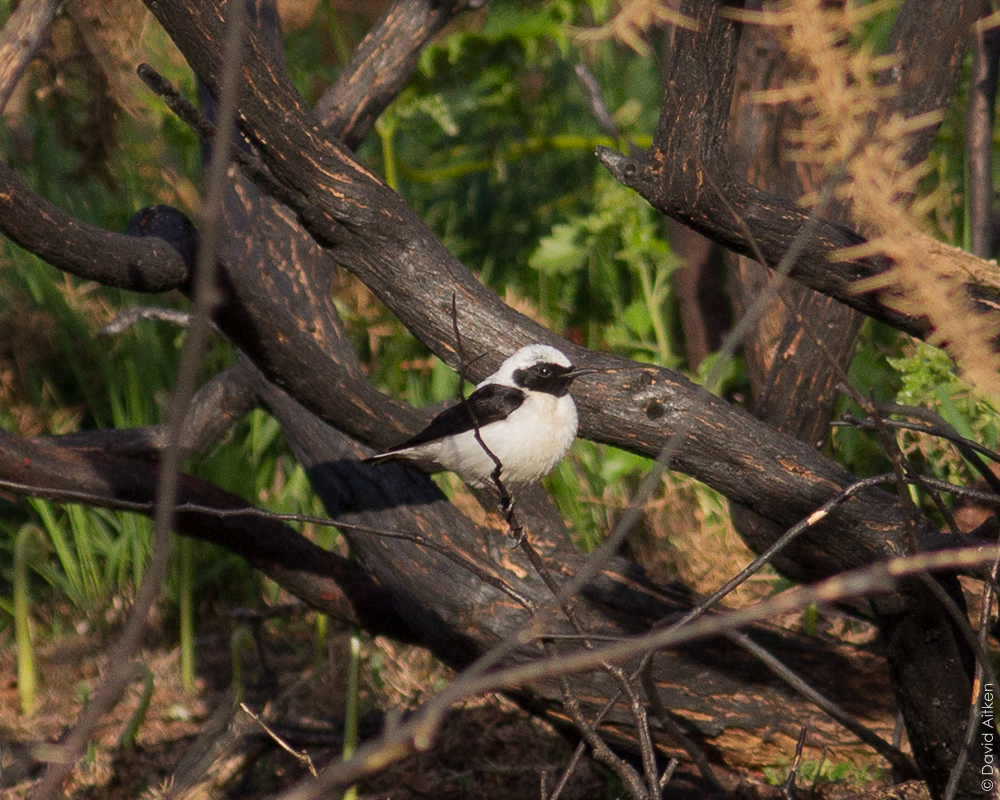 Eastern Black-eared Wheatear, Acres Down, Hampshire (Photo: David Aitken)

Eastern Black-eared Wheatear, Acres Down, Hampshire (Photo: Paul Rowe)
After its discovery last Tuesday, West Sussex's Hudsonian Whimbrel stayed faithful to Pagham Harbour throughout the week. Generally viewable from the Church Norton side, it could occasionally prove tricky as tides ebbed and flowed, but afforded good views to most. In neighbouring Hampshire the Greater Yellowlegs shows no signs of moving on from its adopted home at Titchfield Haven, Hampshire, and Tuesday was the 157th day since its initial discovery back in January.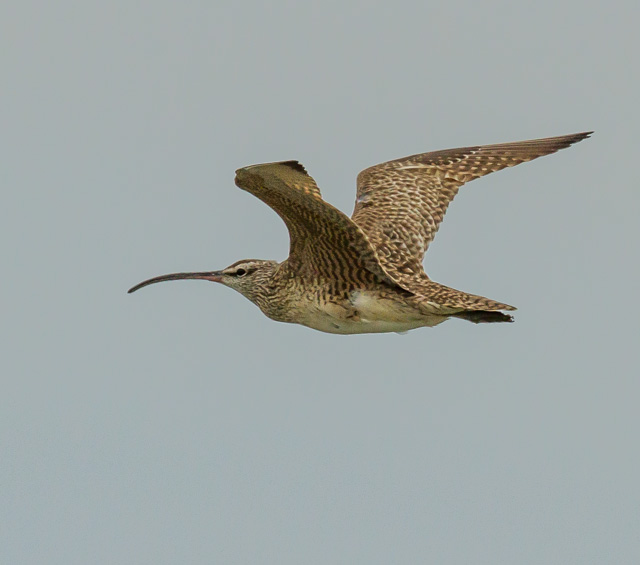 Hudsonian Whimbrel, Church Norton, West Sussex (Photo: Jon Worthington)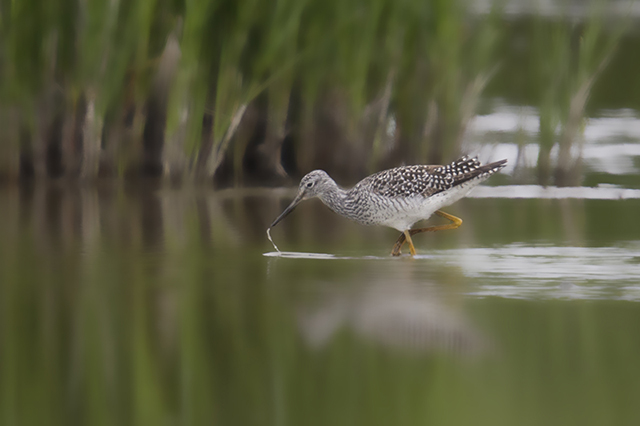 Greater Yellowlegs, Titchfield, Hampshire (Photo: Neil Hughes)
The long-staying Swainson's Thrush was last seen on Skokholm, Pembs, on 10th but another was then found at Houbie on Fetlar, Shetland, on 16th. A showing of two Swainson's in spring is unprecedented and another feather in 2015's already outstanding cap. What sounded very much like the spring's third Dark-eyed Junco was independently (and convincingly) described by two non-birding locals at Treen, Cornwall, on 13-14th, though a subsequent search proved fruitless. Two further possible Short-toed Eagle reports came in, both from Dorset: over Hurn on 10th and Winkton on 15th. Will this bird ever be pinned down and positively identified?
A pair of American Wigeon arrived on Tresco, Scilly, on 14th, with the female still there on 16th; the female was also still in Aberdeenshire at Rigifa Pool. In Derbyshire the Green-winged Teal was still at Carr Vale on 14th and a drake Ring-necked Duck was noted at Blacktoft Sands, E Yorks, on 11th and 16th. Further north the drake King Eider remained on the Ythan Estuary, Aberdeenshire, and the female was still on Unst, Shetland. Last week's White-billed Diver also remained at Esha Ness to 15th.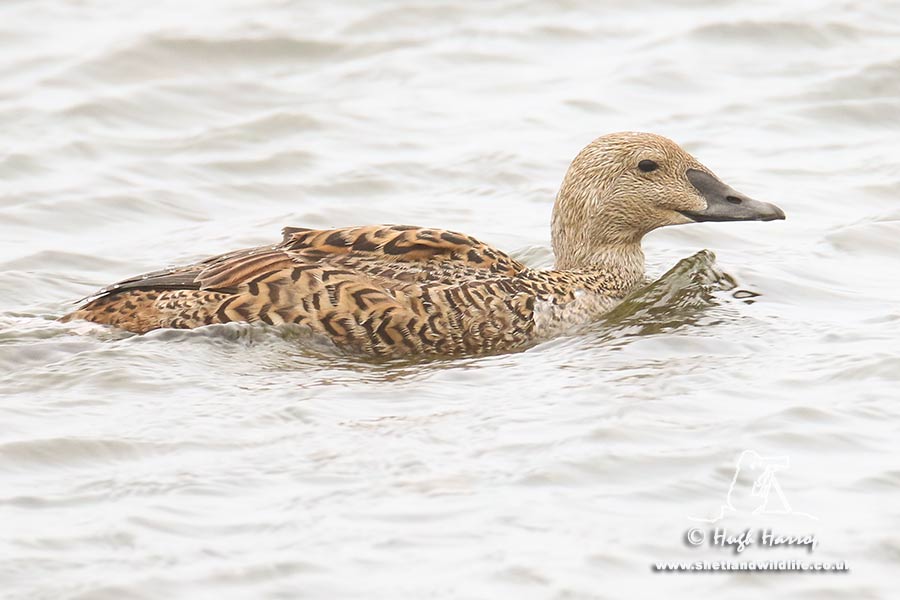 King Eider, Baltasound, Unst, Shetland (Photo: Hugh Harrop)
The Squacco Heron was last seen at Marazion, Cornwall, on 10th while Lakenheath's Little Bittern was not reported beyond 11th. A Night Heron was still knocking about at Ham Wall, Somerset, on 15th, while a Purple Heron arrived on St Mary's, Scilly, on 14th and was seen on St Agnes two days later. A Cattle Egret was in Kent at Hersden on 13th while fly-over Black Storks were at Shareshill, Staffs, on 10th and South Raynham/Narborough, Norfolk, on 12th.
Red-footed Falcons haven't been as numerous as we'd hoped given the westward influx seen in May; a male drifted over Church Norton, W Sussex, on 12th, with another over Kettering, Northants, that day. Warwickshire claimed both Black Kite sightings: over Piccadilly on 10th and Dordon the following day. Continuing the fly-over theme, a Snowy Owl was observed doing just that over Lough Mask, Co Mayo, on 12th.
The elusive Collared Pratincole remained at Lakenheath, Suffolk, to 11th, while a Long-billed Dowitcher was new in at The Cull, Co Wexford, on 12th — it was later at nearby Tacumshin on 14th. The Broad-billed Sandpiper was last seen at Frampton on 12th, as was the White-rumped Sandpiper. Another White-rump was at Cley from 12th and a couple of Temminck's Stints were found on 16th: at Thornwick Pool, E Yorks, and Castle Island, Northumb. Red-necked Phalarope numbers began to tail off, but around 10 were reported. Of note were birds at Langford Lowfields, Notts, on 10th and Grindon Lough, Northumb, from 12-15th, in addition to the female again at Slimbridge on 15th.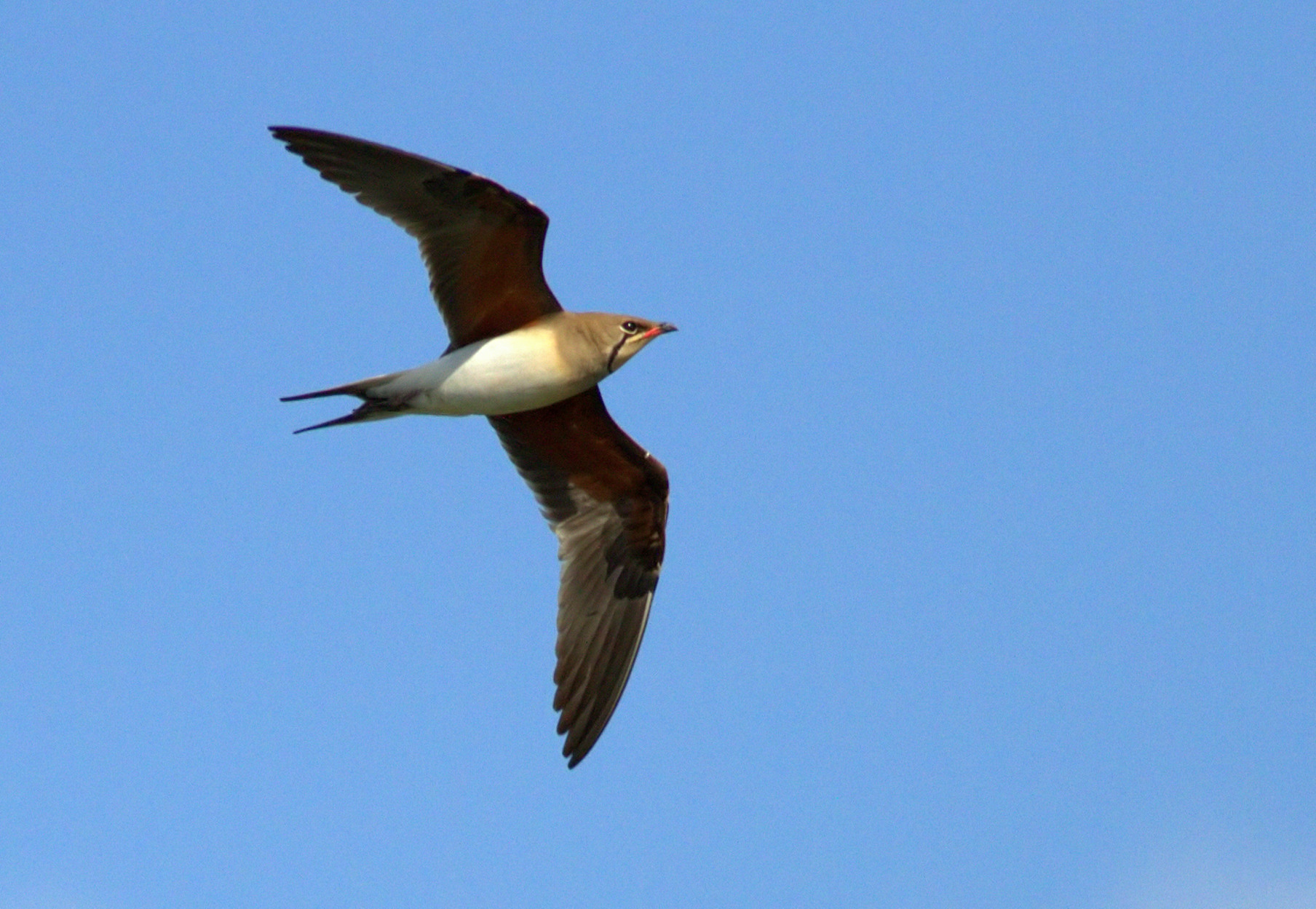 Collared Pratincole, Lakenheath Fen RSPB, Suffolk (Photo: Neil Rolph)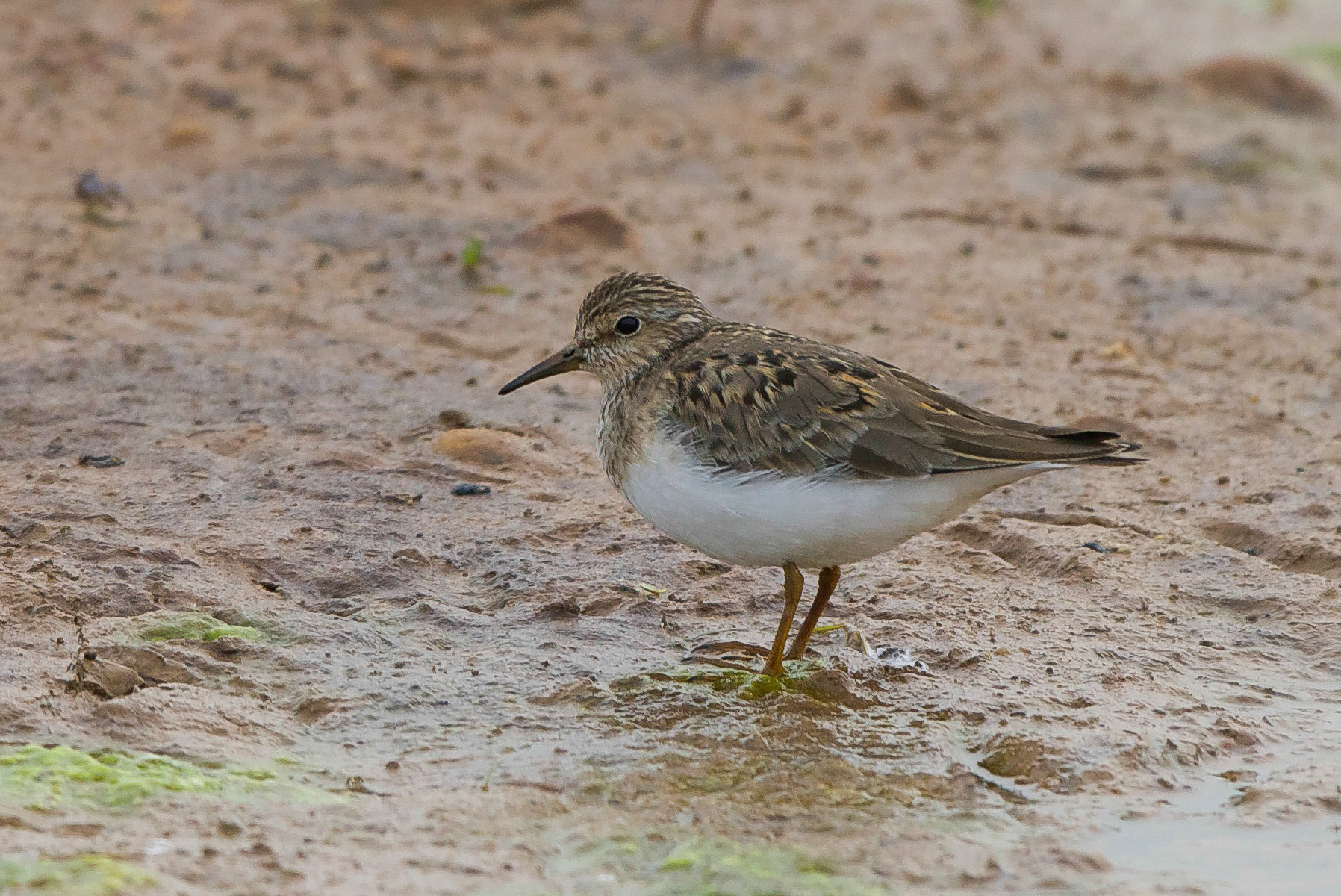 Temminck's Stint, Thornwick Bay, East Yorkshire (Photo: Martin Standley)
In East Yorkshire a smart Laughing Gull was seen in the Beacon Ponds/Kilnsea Wetlands area early morning on 13th and again briefly again on 14th; later that day what was presumably the same bird was then seen flying by in Norfolk at Cley and Blakeney Point, with a belated report of it at Salthouse duckpond just prior to this no doubt galling for Cley regulars. An adult Franklin's Gull was at Rusheen Bay, Co Galway, on 13th, while a smart adult Bonaparte's Gull was at Skaw, Unst, on 11th. The following day a first-summer Bonaparte's was found on St Kilda, Outer Hebrides. First-summer Ring-billed Gulls remained put in Cornwall and Co Clare. A Gull-billed Tern proved extremely hard to pin down at Idle Valley, Notts, for just an hour or two on 11th but presumably the same bird was a little better behaved when it pitched up at Old Moor, S Yorks, on 16th. A White-winged Black Tern popped in to Blithfield Reservoir, Staffs, for the day on 15th.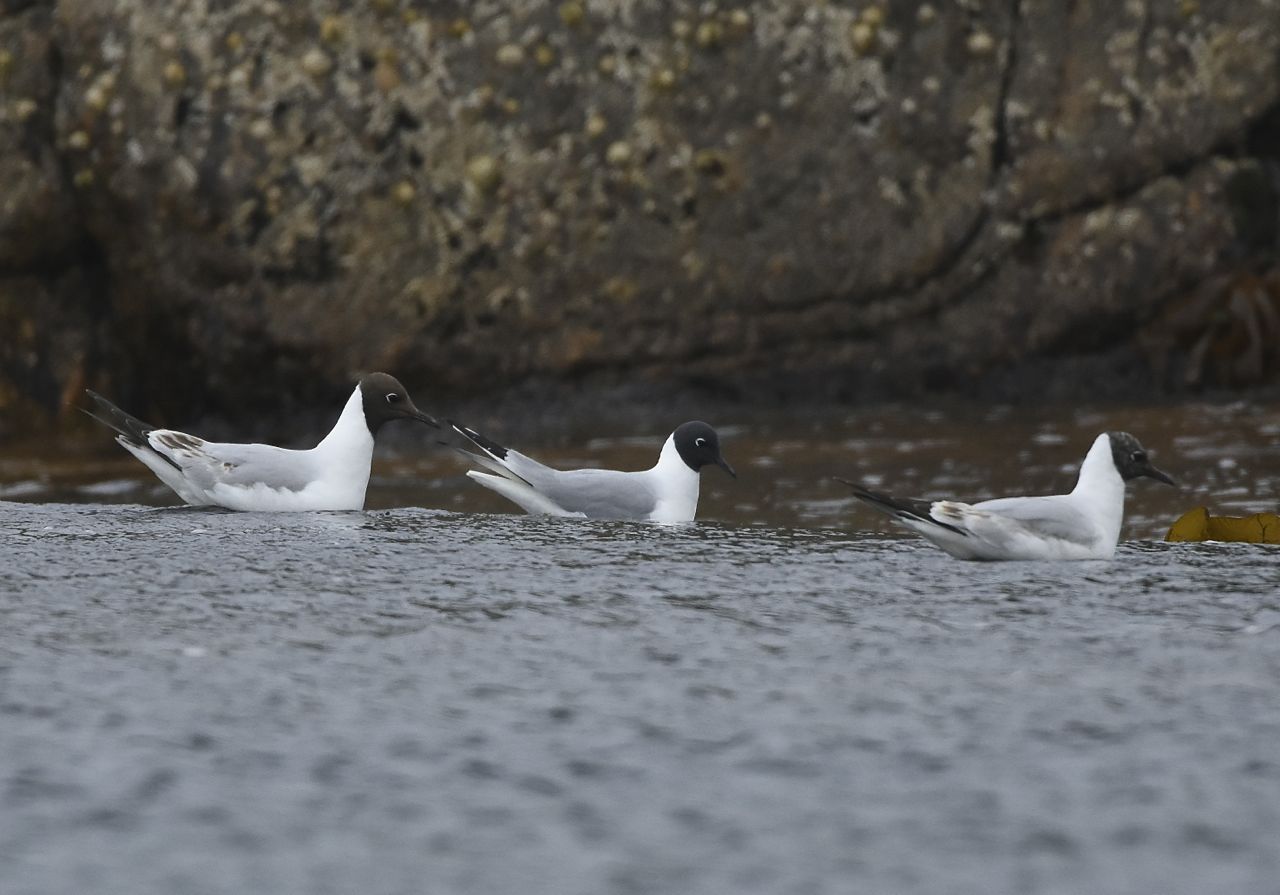 Bonaparte's Gull, Skaw, Unst, Shetland (Photo: Roger Ridley)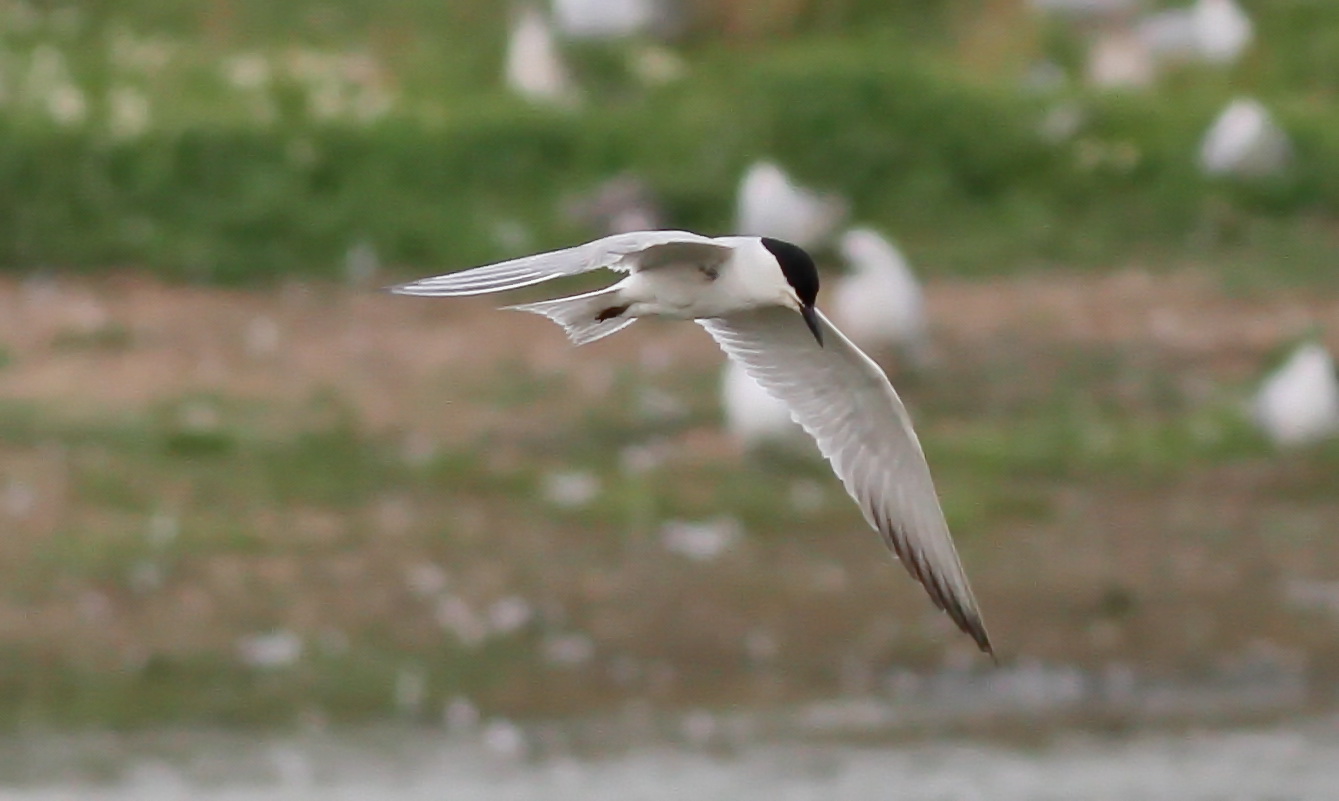 Gull-billed Tern, Old Moor RSPB (Dearne Valley), South Yorkshire (Photo: Richard Willison)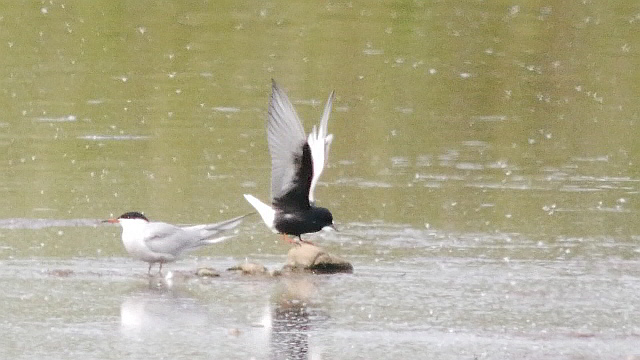 White-winged Black Tern, Blithfield Reservoir, Staffordshire (Photo: Alan Shaw)
A Eurasian Hoopoe on the cricket pitch at Polgigga, Cornwall, from 13-15th could well have been the bird last seen there back in April; other reports came from Kent, Suffolk and Co Clare. Golden Orioles were reported from Gloucestershire, Wiltshire, Kent, Norfolk, Lincolnshire, Argyll and Shetland, while it was another great week for European Bee-eater records. In total we carried 35 reports of the species during the week, with some impressive counts — not least the 11 which flew south past Bempton Cliffs, E Yorks, on 16th and the 10 north-west over Tetney, Lincs, the same day. In fact the Yorkshire coastline was particularly prosperous with five over Sammy's Point on 10th and a sixth at Flamborough Head that day, another single at Kilnsea on 13th and a further record from Sunk Island on 15th. Six were still at Woolley, Somerset, on 10th but haven't been reported since; three were on Bryher, Scilly, on 14th and two at Canna, Highland, on 10th.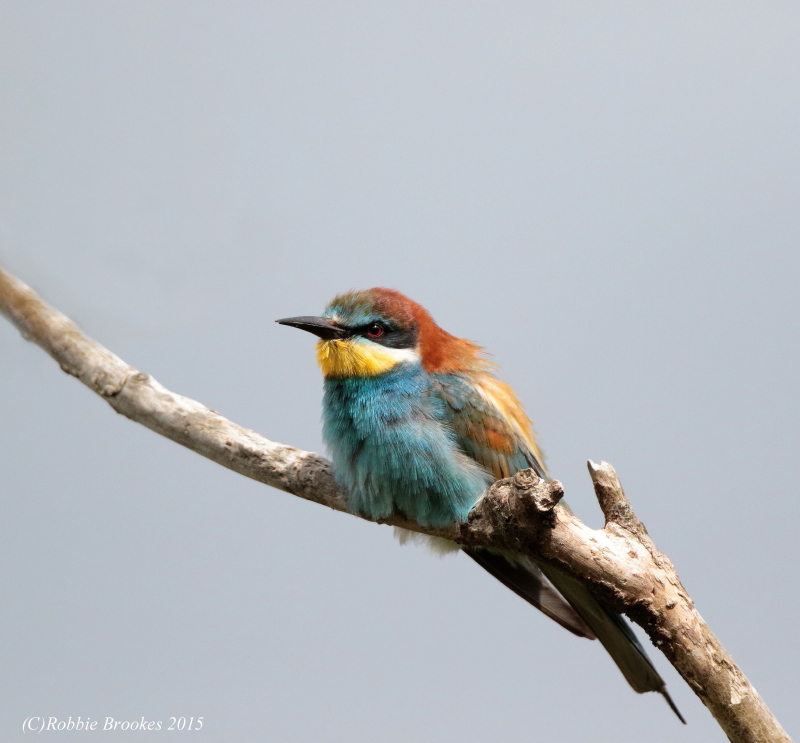 European Bee-eater, Halligarth, Unst, Shetland (Photo: Robbie Brookes)
Blakeney Point had a fine week with a smart Paddyfield Warbler in the Long Hills area from 11-14th, a Blyth's Reed Warbler on 13-14th, a Short-toed Lark on 10th and a Greenish Warbler on 11th. Another Blyth's Reed sang at Holland Haven, Essex, throughout 12th but was frighteningly elusive; Greenish Warblers included new birds on Skomer, Pembs, on 12th and at Flamborough Head on 15th, in addition to the male still singing on St Martin's, Scilly, on 11th. A possible Iberian Chiffchaff was reported from Scarborough, N Yorks, on 16th, while the Great Reed Warbler was still crashing around in vegetation at Baltasound, Unst, to 14th.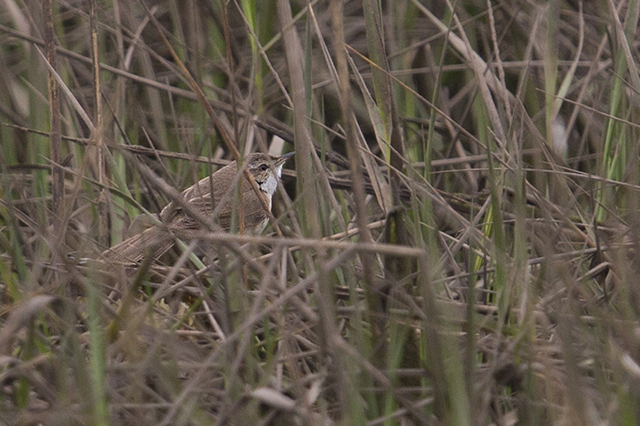 Paddyfield Warbler, Blakeney Point, Norfolk (Photo: Neil Hughes)

Blyth's Reed Warbler, Blakeney Point, Norfolk (Photo: David H Hatton)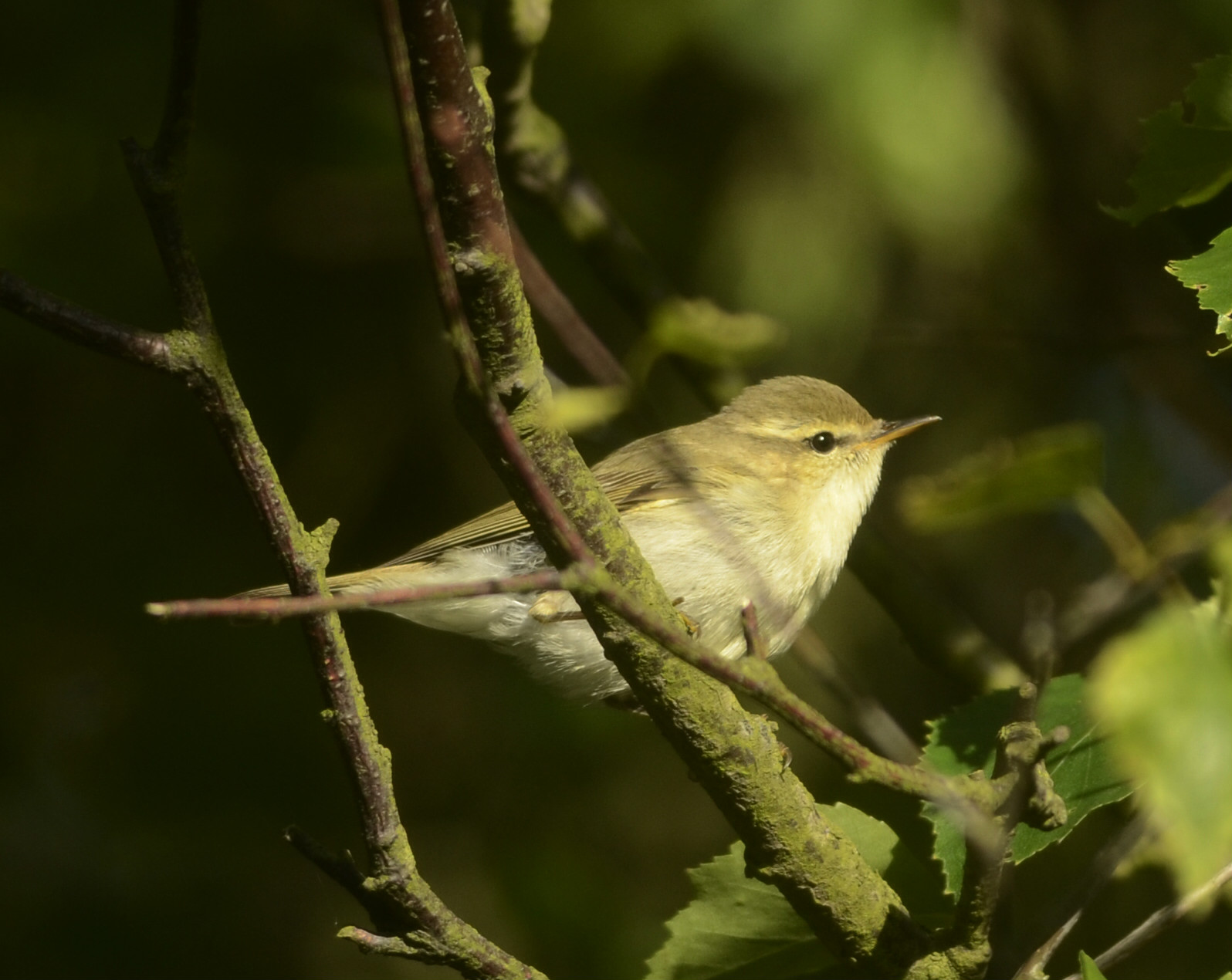 Greenish Warbler, Flamborough Head, East Yorkshire (Photo: Andy Hood)
Characteristically late migrants, it was no great surprise to see several new Marsh Warblers found this week with at least eight recorded. A singing male continued to entertain at Narborough, Norfolk, throughout the week, while other notable songsters included a bird inland at King's Meads, Herts, on 11th. Just two Icterine Warblers were seen, in Aberdeenshire and on Fetlar, but it was a singing Melodious Warbler in the West Midlands that stole the show this week. Not far from Hampton in Arden, the bird was discovered on 11th and showed very well there throughout the week, providing many with a fantastic county tick and also giving birders a rare opportunity to appreciate this species in full song. Another sang in the Observatory garden at Portland, Dorset, early on 16th but quickly disappeared.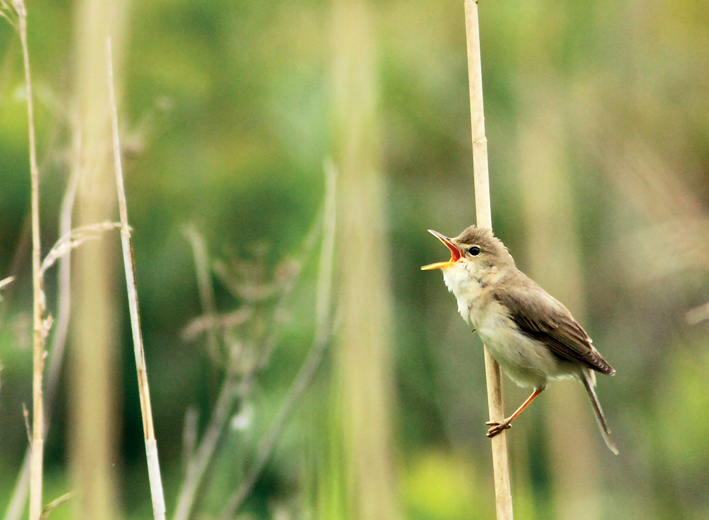 Marsh Warbler, Narborough, Norfolk (Photo: Penny Clarke)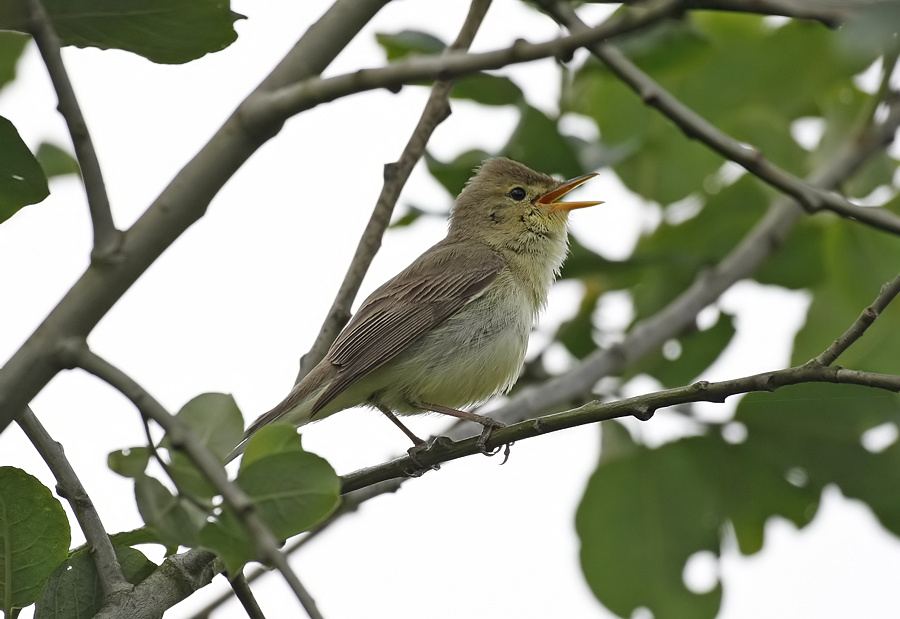 Melodious Warbler, Marsh Lane NR, West Midlands (Photo: Dave Hutton)
A male Black-headed Bunting turned up in a garden at Saundersfoot, Pembs, on 10th, not all that far from last week's bird on Skomer. Unfortunately it wasn't seen again. Woodchat Shrikes were at Porthcothan, Cornwall, on 16th and Dunstanburgh Castle, Northumbs, on 11th, while around 10 Red-backed Shrikes were recorded, including a male on Dursey Island, Co Cork, on 10th and two in Norfolk on 13th. A dozen Common Rosefinches were spread far and wide, including the continuing male at Radipole Lake, Dorset, to 13th and other notable records from Ambleside, Cumbria, on 13-14th and Melvich, Highland, from 12-14th. A European Serin was at Portland on 10th, with another at Hope Point, Kent, on 14th; three were on Jersey on 16th. Finally, a Red-rumped Swallow showed up at Mizen Head, Co Cork, on 12th.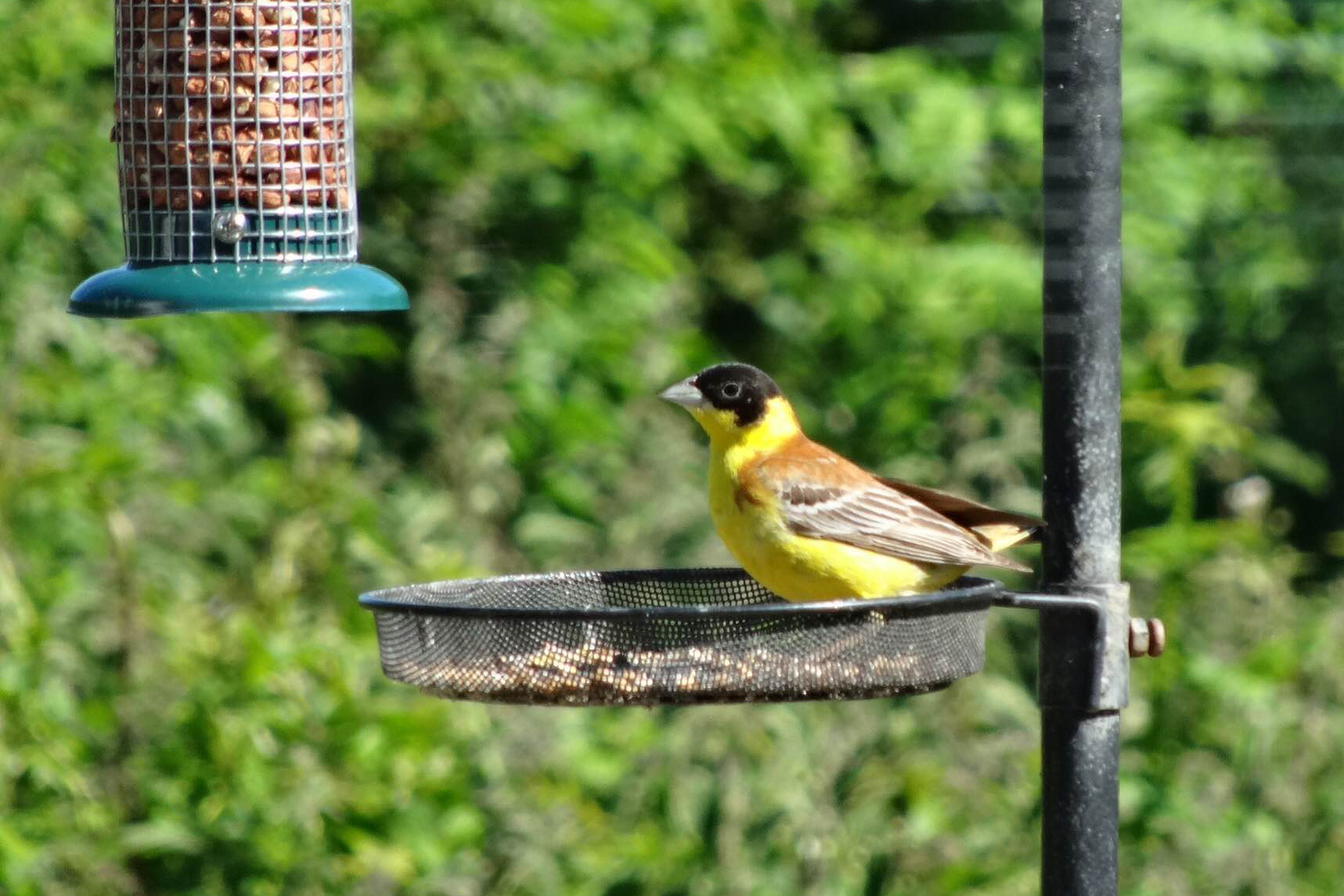 Black-headed Bunting, Saundersfoot, Pembrokeshire (Photo: Debbie Lowe)
Western Palearctic news
A singing male Oriental Cuckoo at Sotkamo, Finland, from 14th is a fantastic record and gives hope that, one day, we might hope for one in Britain — you can listen to a couple of recordings of the bird singing here. Other notable records included a male Spectacled Warbler holding territory in Baden-Württemberg, Germany, early in the week and the aforementioned Eastern Black-eared Wheatear in Zuid-Holland prior to its appearance in Hampshire. In Iceland the returning drake American White-winged Scoter was again at Keflavík on 13th, while the somewhat intermittent Black-browed Albatross reappeared on Heligoland, Germany, on 11th and 14-15th.
As well as the continuing Bateleur near Gal'on, Israel boasted its first Lappet-faced Vulture since 2001 when an immature was found at Carmel Hai Bar Reserve, south of Haifa, on 13th. No doubt a legacy of last week's massive movement in the south-west of England, the Azores' eighth and ninth Red Kites were recorded on Terceira and Corvo on 16th, the latter a particularly impressive record — next stop America?!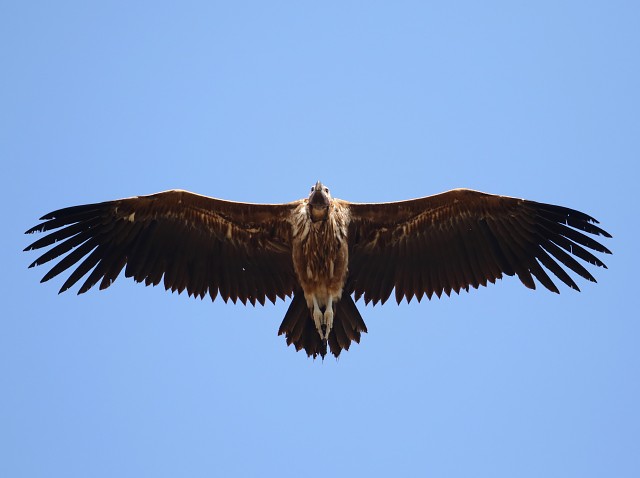 Lappet-faced Vulture, Israel (Photo: Ezra Hadad)
Photo of the Week, 10–16 June
Our Photo of the Week section has moved! This week's can be found here.