After a spluttering midsummer week last week, the spring it feels we were largely deprived of roared into life with a bang during the last seven days. The new mega alert chimed no less than five times, each seemingly rarer than the last. It might have been a safe bet to suggest cool Atlantic winds would put paid to any late surprises, but the oft-repeated trope 'the big one travels alone' couldn't have been truer this week …
On Holy Island, Northumberland, a strange-looking Sylvia warbler, thought initially to be a female-type Subalpine when found on the morning of 15th, miraculously morphed into an Asian Desert Warbler later that evening. A tense wait for those not within striking distance that night, the bird – a singing male – was thankfully still in place the following day, in turn putting to bed the 20-year wait for a twitchable individual. It is still a remarkably rare bird in Britain with just a dozen records, half of which came in a crazy five-year spell in the late '80s and early '90s. Aside from a single-observer record in Kent in November 2012, we have to look back as far as the turn of the century for another example, when one spent five hot spring days basking in the Spurn recording area in May 2000, undoubtedly making the Holy Island individual a rarity to get the millennials panicking.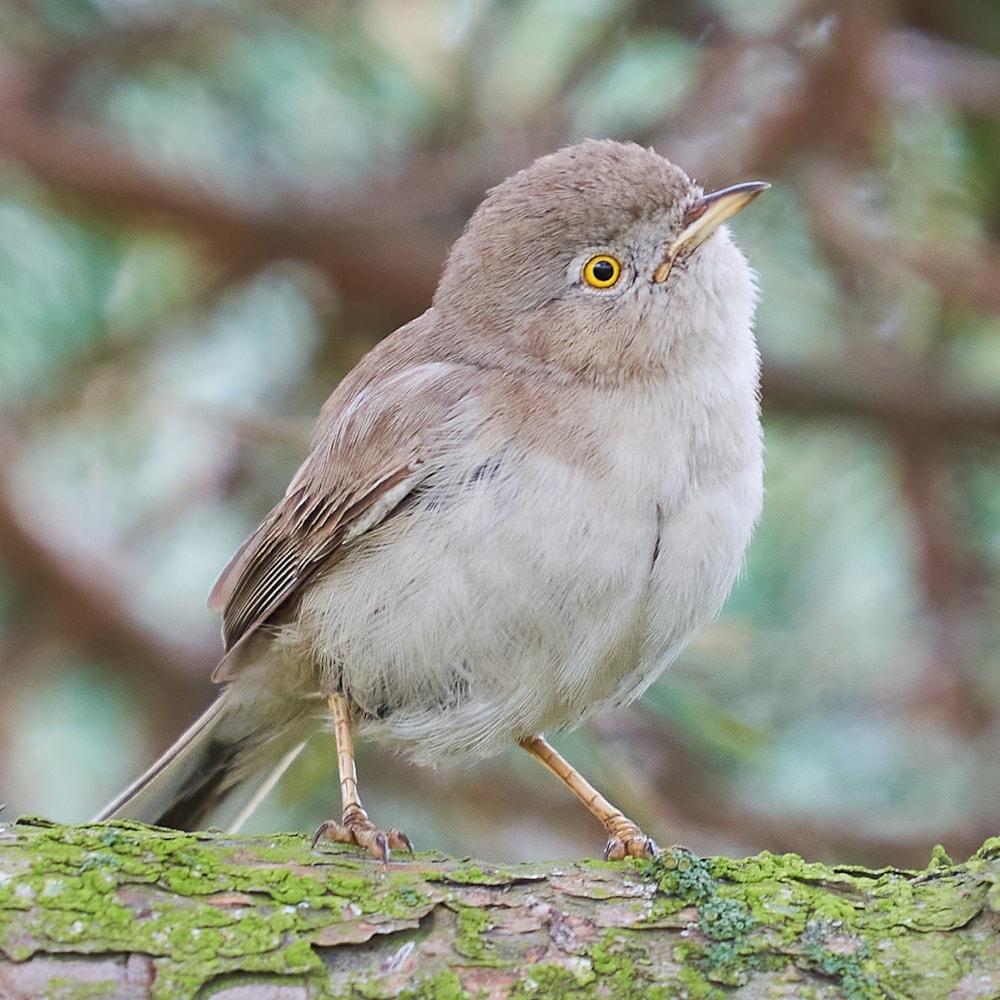 Asian Desert Warbler, Holy Island, Northumberland (John Forbes).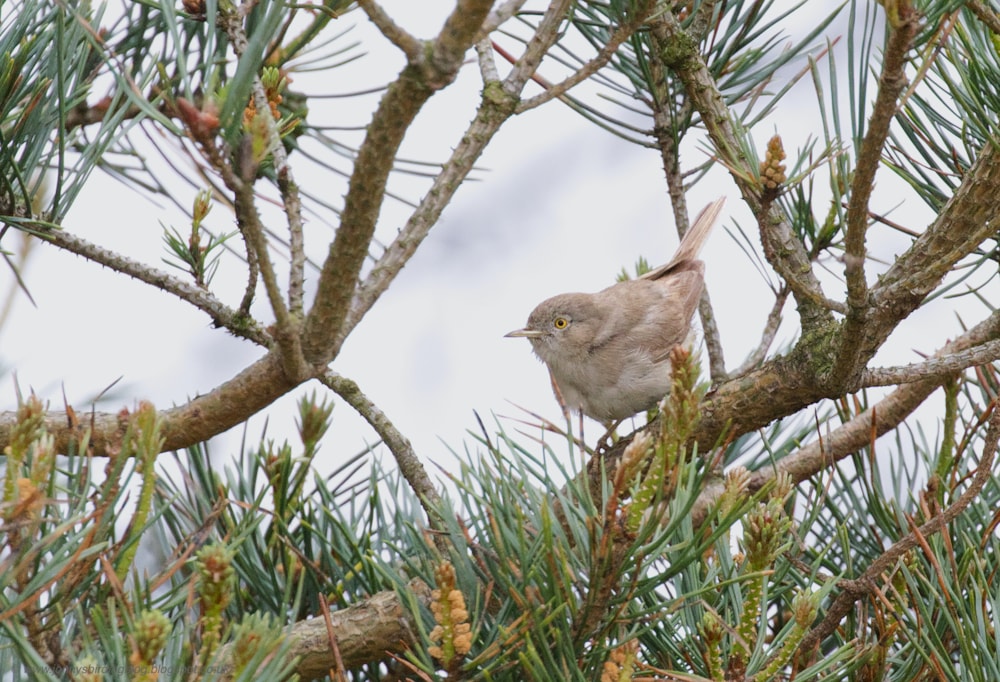 Asian Desert Warbler, Holy Island, Northumberland (Jonathan Farooqi).
A candidate female Cayenne Tern looked rather at home in the Sandwich Tern colony at Lady's Island Lake, Co Wexford, from 12th. Currently treated as a subspecies of Cabot's Tern that ranges from the Caribbean down to eastern South America, this would be the first Cayenne for the Western Palearctic were it to be proven. It is diminutive in stature – tiny, in fact – with a mustard-yellow, black-stained bill shorter and stouter than the nearby Sandwiches. This may make it a reasonable match for a Caribbean individual (they become gradually bigger and longer-billed in the south, as well adopting a Southern Hemipshere moult pattern), although quite how one would definitively rule out a runt Sandwich Tern or even a hybrid is something to ponder over the coming weeks. DNA is likely required. The taxon has been claimed once before, at Anglesey's Cemlyn Bay in 2006, although that one was similarly controversial and ended up in the 'probable hybrid' camp.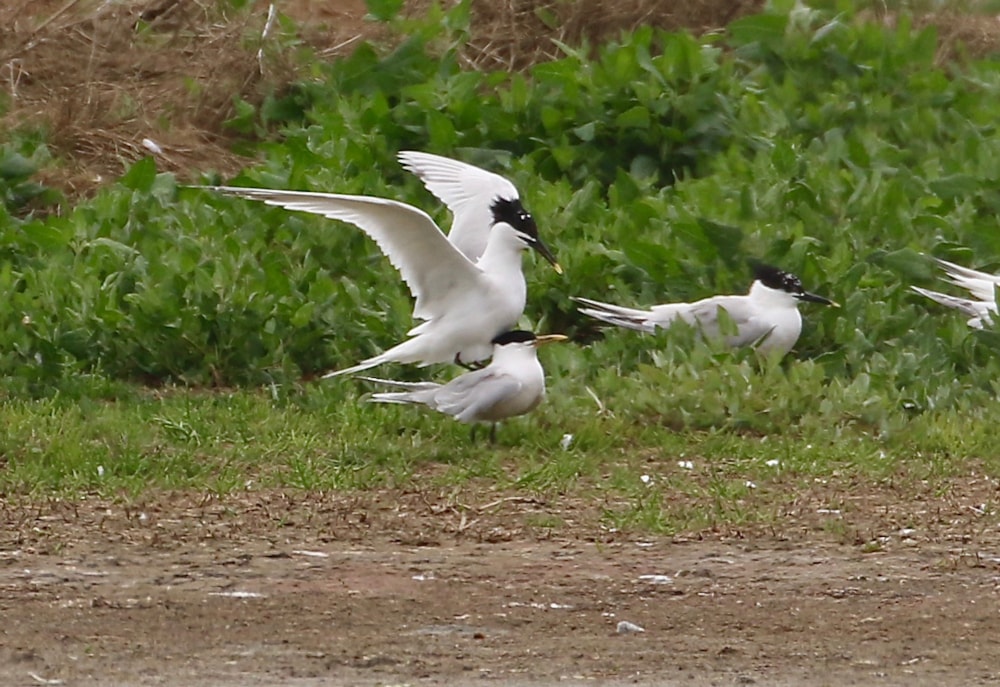 Putative Cayenne Tern with Sandwich Tern, Lady's Island Lake, Wexford (Victor Caschera).
Funnily enough, Cemlyn made the headlines this week for another mega-rare tern – Sunday saw an adult Sooty Tern briefly scout the famous lagoon. Immediately, most will remember the summering individual of 2005, which spent a couple of weeks at the exact same spot. However, this one has so far proved all too brief, last seen heading out to sea not long after being found. Presumably this is the same bird as 2018 and 2019 returning once more? It is, of course, worth noting that COVID-19 measures are currently rather different in Wales and a five-mile travel limit applies. Were it to reappear, it would remain off-limits to most until restrictions lift …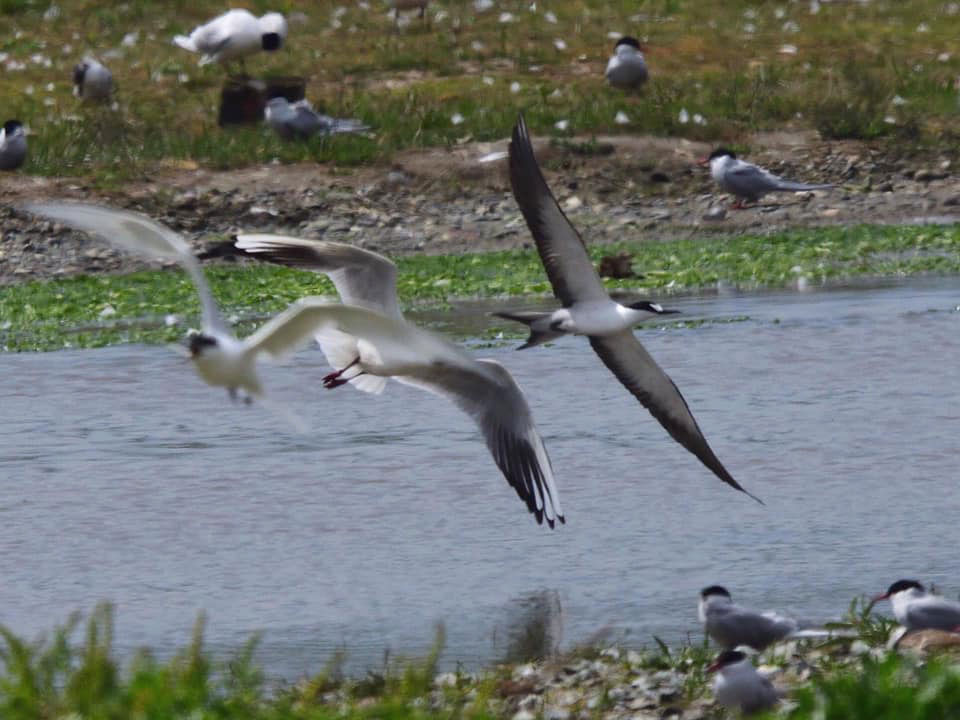 Sooty Tern, Cemlyn, Anglesey (Ian Jones).
A Green Warbler on Fair Isle right at the end of the week provided another reason for the mega alert to sound. Positively glowing in the June sunshine and showing a strong lemon-yellow wash to almost the entirety of its underparts, there were no doubts about this one. The upturn in records of this species in recent years is nothing short of eye-opening, yet the wait for a truly twitchable record rolls on. Aside from the standout Phyllosc, Fair Isle had an excellent week. The River Warbler was still around on 10th and was followed by an elusive Thrush Nightingale on 13-14th.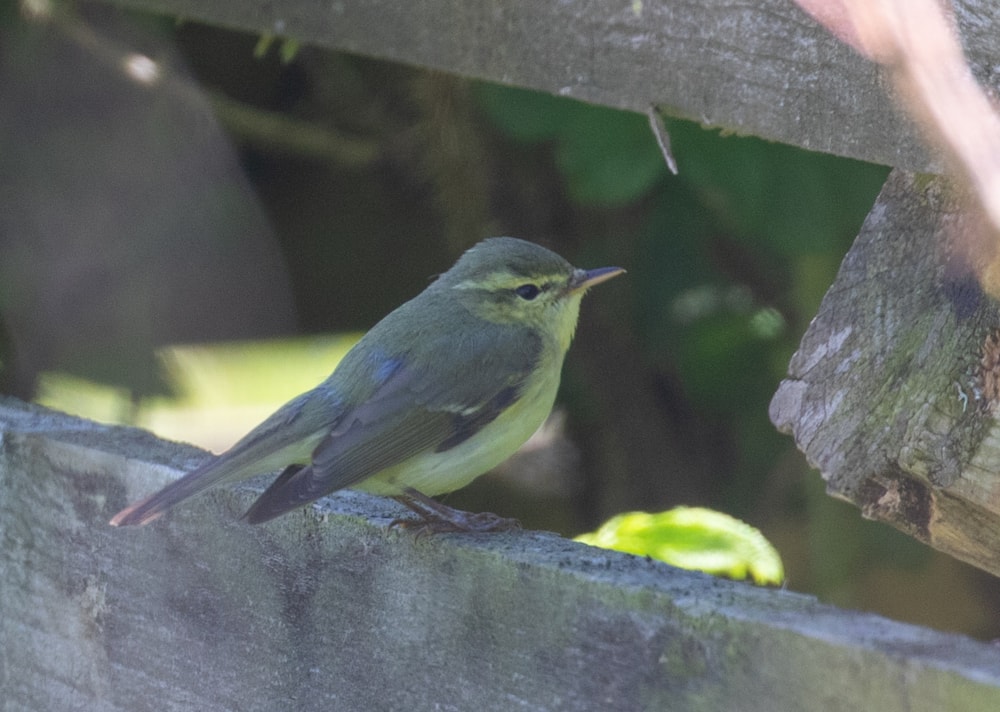 Green Warbler, Fair Isle, Shetland (Daniel Gornall).
What appeared to be a strong candidate for a White-rumped Swift hawked over South Tonbridge, Kent, on 13th. Described as smaller and slimmer winged than the nearby Common Swifts, and possessing a white rump, it definitely felt worthy of a search – but sadly proved very brief. At the opposite end of Britain, a likely Dark-breasted Barn Owl was photographed over Stonehaven, Aberdeenshire, on the evening of 11th.
The first Fea's-type Petrel of the year was spied from RV Celtic Explorer off the Co Cork coast on 14th. After disappearing for a few days, the Swedish-ringed Caspian Tern reappeared at Potter Heigham Marshes, Norfolk, from 13th. Another brief Caspian Tern was at Chew Valley Lake, Somerset, on Friday morning. In Surrey, the county's second Bonaparte's Gull – and first since 1983 – stole the local headlines at Queen Elizabeth II Reservoir on Tuesday afternoon, though sadly it was a brief visit. The Oare Marshes adult was last reported on 10th. The returning Co Galway Forster's Tern reappeared at Inishroo on 14th.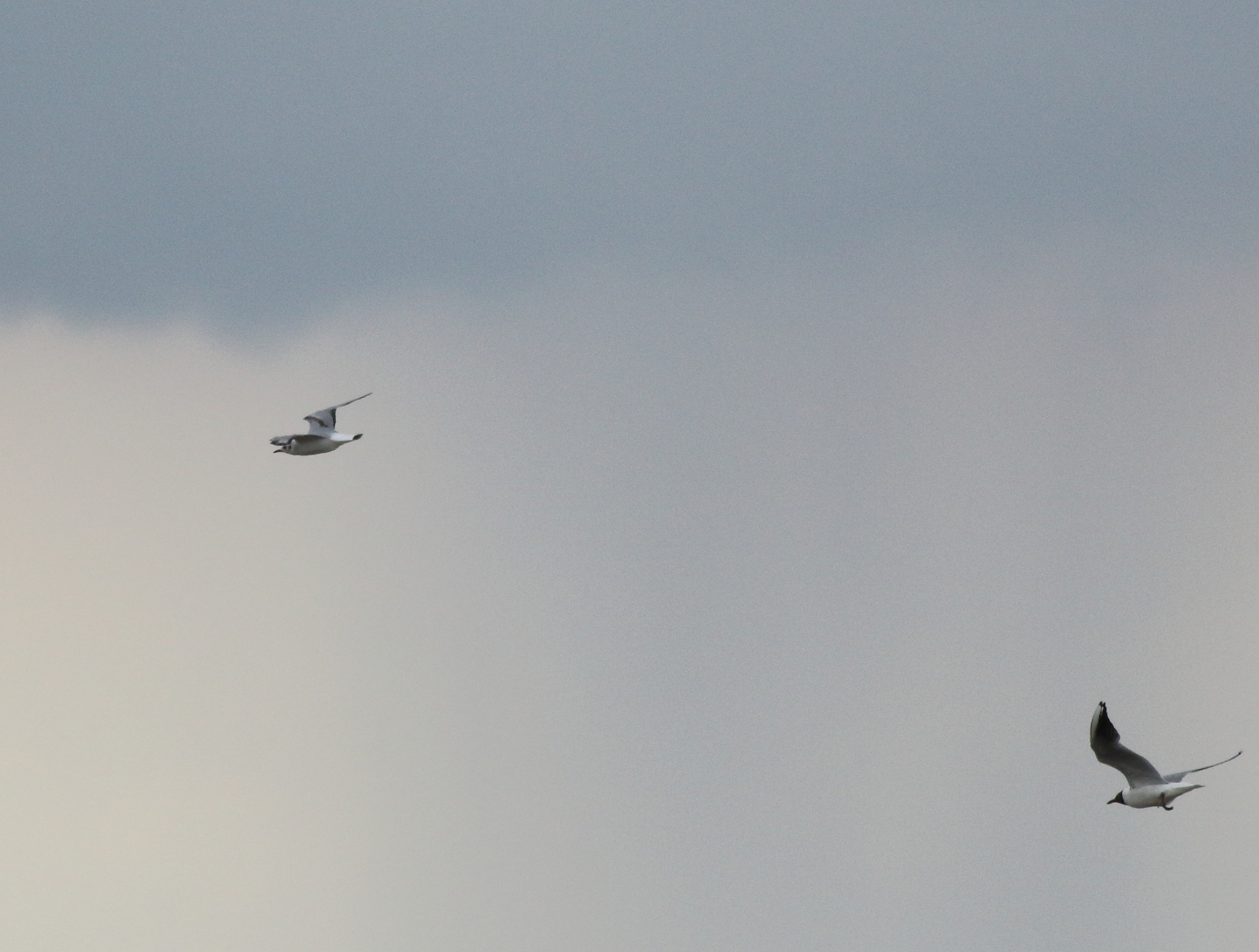 Bonaparte's Gull, Queen Elizabeth II Reservoir, Surrey (Dave Harris).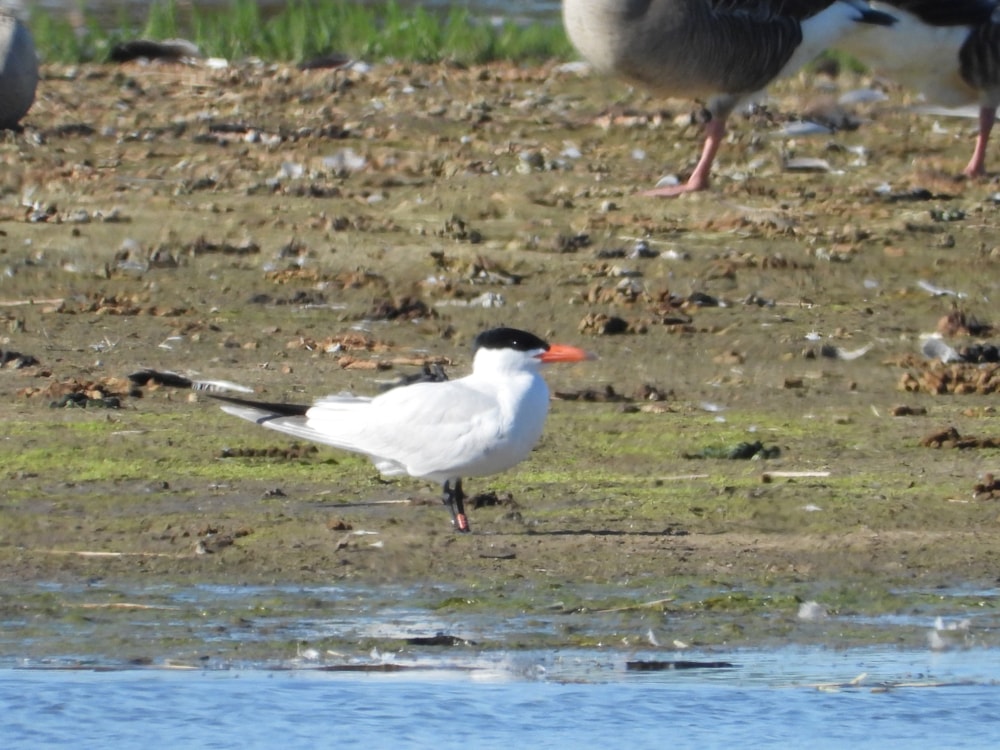 Caspian Tern, Potter Heigham Marshes, Norfolk (Matthew Mellor).
A singing male Rustic Bunting was briefly at Polgigga on 13th. Elsewhere, buzzing Savi's Warblers remained steadfast at three sites: North Warren RSPB, Suffolk; Scatness, Shetland; and Thorpe St Andrew, Norfolk. The Iberian Chiffchaff was still at Minsmere, Suffolk, throughout, with a female Subalpine Warbler on Foula from 15th.
This week saw belated news of a sprightly Broad-billed Sandpiper at Musselburgh Lagoons, on 10-11th, with a brief female Kentish Plover at Weston, Hampshire, on 11th. The confusing Blue-winged Teal candidate at Castle Island, Northumberland, wasn't seen beyond 11th, but the North Uist Lesser Scaup remained on its favourite loch throughout. A Black Stork – this year's first – flew over Haverthwaite, Cumbria, on 14th, later seen over Grange-over-Sands that same afternoon.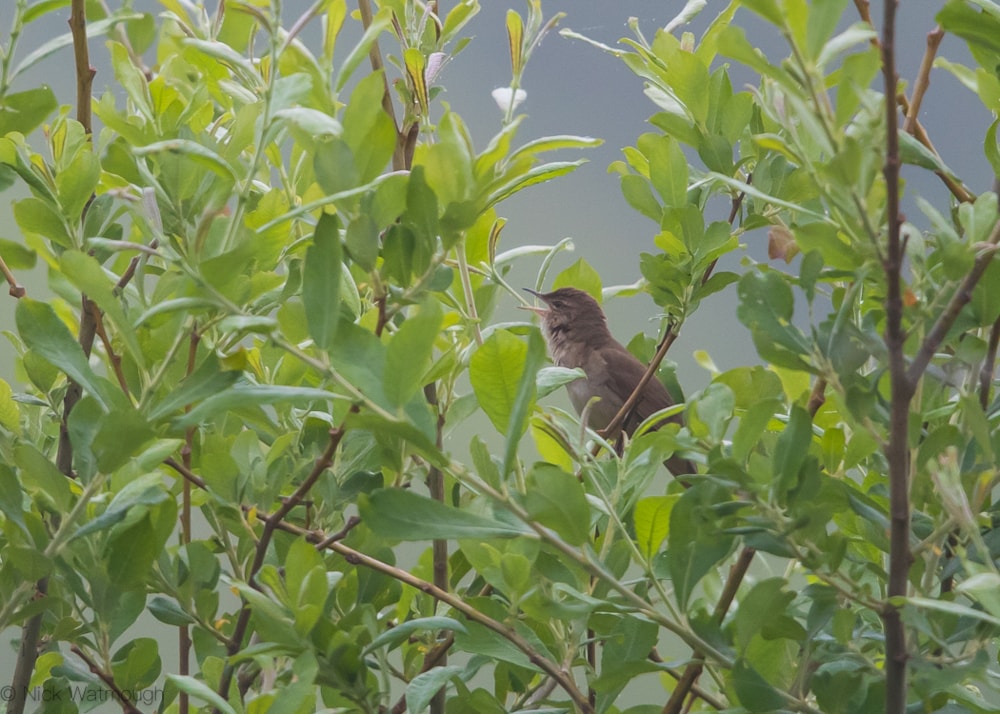 Savi's Warbler, Thorpe, Norfolk (Nick Watmough).
Scottish mainland
Mainland Scottish highlights included a singing European Serin in a garden at Collieston, Aberdeenshire, on 15-16th, singing Blyth's Reed Warblers at Sibster, Caithness, on 14th and on the River Don in Aberdeen from 14-16th. At least nine Rosy Starlings remained in the week, with Aberdeenshire claiming three (at Kineff, Rosehearty and Cruden Bay), plus two in Caithness and singles at Fort William, Highland, on 15th, Forres, Moray & Nairn, on 16th, Redford, Angus & Dundee, from 12th and another greeting the returning wardens on the Isle of May, Fife.
Common Rosefinches were at Auchenbrae, Aberdeenshire, on 10th and on the Isle of May, Fife. The island also produced Marsh Warbler, Icterine Warbler and Grey-headed Wagtail. Several further Marsh Warblers were noted, with at least three in Aberdeenshire and another at Mire Loch, Borders.
Red-breasted Flycatchers were on Tiree, Argyll, on 12th and at Mire Loch, Borders on 13th. A European Turtle Dove was a very good local record at Elgin, Moray & Nairn.
Northern Isles and the Hebrides
Hebridean news reflected the national picture this week, with three key species making the news: Blyth's Reed Warbler (on Barra on 11th, the second of the spring), Marsh Warbler (at South Glendale, South Uist, on 13th) and Rosy Starling (singles at at Aird Uig, Lewis, and Aird, Benebecula).
Lingerers from last week around Orkney included the male Citrine Wagtail on Papa Westray on 10th at least and the male Woodchat Shrike at The Shunan, Mainland, until 11th. Three Rosy Starlings were noted from Deerness, a well-watched individual was at Bay of Skaill and there a late report of one on Stronsay last week. Marsh Warblers were in the Kirkwall area on 14th and on North Ronaldsay, where a Common Rosefinch was also seen. A European Honey Buzzard flew over Papa Westray on 11th and an adult Long-tailed Skua was seen at Bay of Skaill.
The new Assistant Wardens finally arrived safely on Fair Isle last week, and were straight in on the action. We're sure all of our readers will join us in wishing them luck for the forthcoming season – not that they seem to need it all that much, as evidenced by the plentiful quality birds churned out this week! Two or three Blyth's Reed, a couple of Marsh and single Greenish Warblers, along with the continued presence of the singing male Citrine Wagtail, two Red-backed Shrikes and a Red-breasted Flycatcher (all that before you mention the crippling views of Killer Whales) made for a fun June week on the famous isle.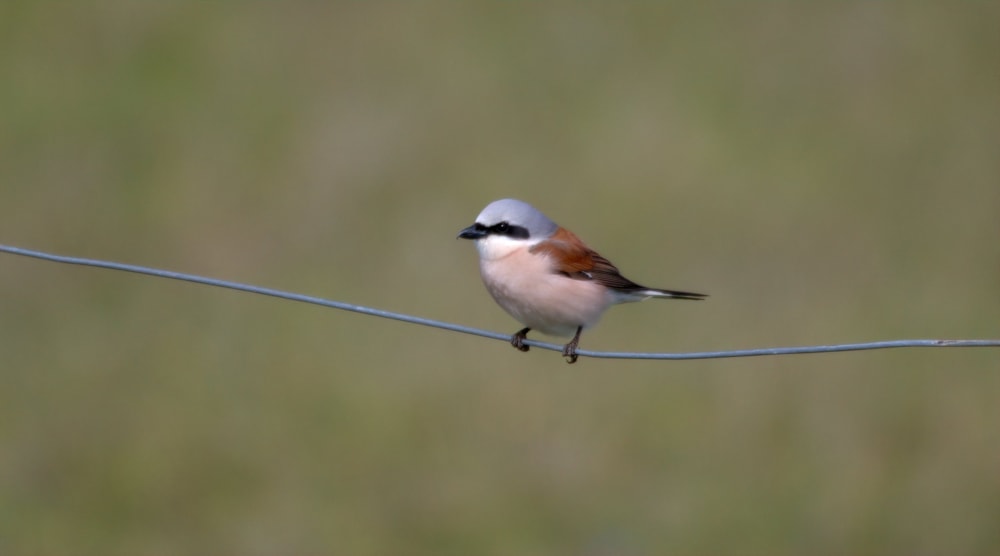 Red-backed Shrike, Fair Isle, Shetland (Alex Penn).
A rare spring Barred Warbler on Foula was only the third June record for the archipelago this century. The island also recorded Blyth's Reed Warbler, Rosy Starling and Marsh Warbler. A Greenish Warbler was at Baltasound, Unst, from 10th and a Blyth's Reed Warbler was at Quendale. A further six Marsh Warblers were recorded around Shetland in the week, as well as three Rosy Starlings. Other reports of note were a first-summer Ring-billed Gull in the Hillwell area between 11th and 14th, plus a pelagic-going European Bee-eater that appeared on a boat some 88 km north-west of Muckle Flugga on 14th. The long-staying White-billed Diver continued to enjoy its summer stay off Burrafirth, Unst.
North-East England
Asian Desert Warbler aside, blink and you will have missed Northumberland's supporting cast this week. A Rosy Starling was seen briefly by non-birders at Boulmer and a fly-through Alpine Swift passed over the heads of warbler twitchers on the evening of 16th, while a presumed Common Nightingale also seen in flight at the same location. Common Quail were at five sites, with a lingering individual at Boulmer the most reliable, where a late migrant Wood Warbler dropped in on 16th. Both the American Wigeon and Red-necked Phalarope remained at Grindon Lough. Five Eurasian Spoonbills were tracked moving south along the coast between Boulmer and St Mary's Island on 15th.
A male Red-backed Shrike lingered at Burdon Moor, Co Durham, for five days. Coastal migrants included a Marsh Warbler in sight of the gas tanks at Hendon on 15th and a Wood Warbler at Whitburn Coastal Park on 16th. Common Quail were at Jarrow, Burdon Moor and Crook.
In a quiet week in Cleveland, a Great Egret continued to roam between Saltholme RSPB and Dorman's Pool and the five Eurasian Spoonbills from Northumberland supplemented the two already on site at Saltholme RSPB on 15th. Six Roseate Terns were noted passing Hartlepool Headland on 12th.
North-West England
In Cumbria, a Rosy Starling made a guest appearance in the Common Starling flock at South Walney NR and stayed throughout the week. Also here, a Hoopoe was found on 16th and a Hooded Crow was still knocking round. There was a brief Wood Sandpiper at Wedholme Flow on the morning of 16th.
A Purple Heron was reported at Marton Mere, Lancashire on 10th – possibly the immature from earlier this year? Two Eurasian Spoonbills pitched up at Lunt Meadows NR on 13th and one remained until at least 16th. Also at Lunt, a single Curlew Sandpiper was present on 13th and two more on 16th. Two Wood Sandpipers were in the county the previous day
The adult Rosy Starling remained at Frodsham Marsh, Cheshire until 13th, although it proved elusive. To keep observers occupied in the meantime, a first-summer Little Gull hawked over Weaver Bend and a Black Tern was present on 13th. An adult Eurasian Spoonbill was at Neumann's Flash from 10-12th and the regular three were still in the Parkgate Marsh area.
Lincolnshire & Yorkshire
Lincolnshire's headline act was the showy male Blyth's Reed Warbler, singing all week at Far Ings NR and drawing a significant crowd. The county was otherwise fairly quiet, with just a single Common Quail noted, although Black Terns were welcome visitors to Baston & Langtoft Pits (one on 12th, two on 13th) and Deeping Lakes NR (one on 13th).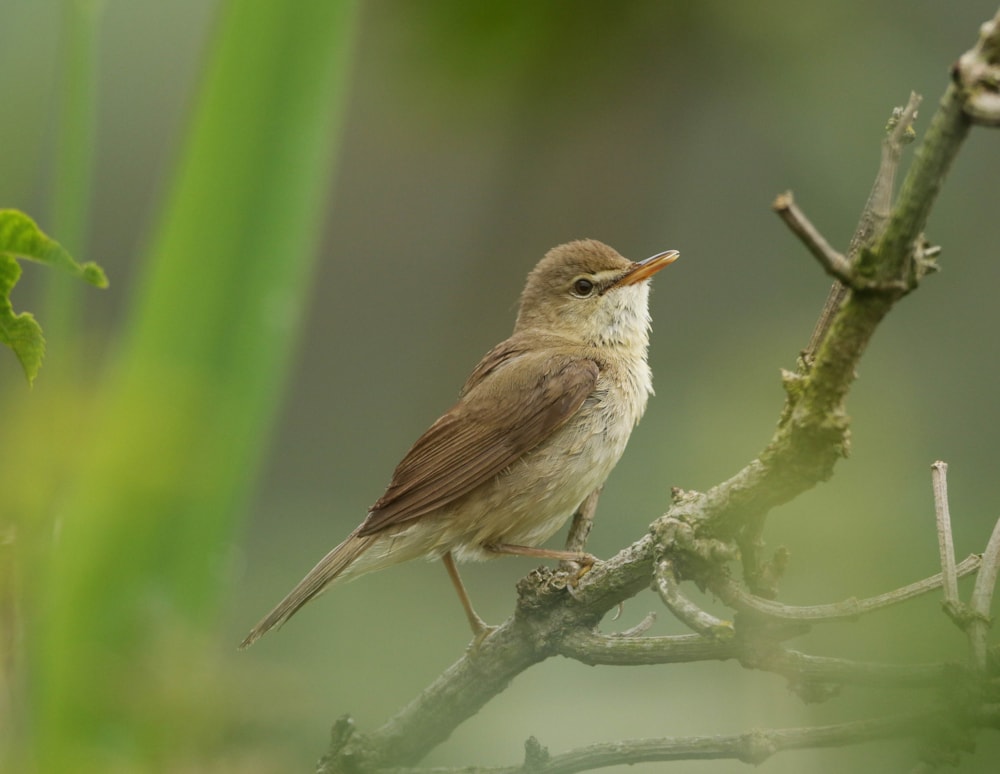 Blyth's Reed Warbler, Far Ings NR, Lincolnshire (Mark Leitch).
The Spurn area proved the place to be on the East Yorkshire coast, boasting no fewer than four different Greenish, two Blyth's Reed and at least one Marsh Warbler, a couple of Red-backed Shrikes, plus a supporting cast of interesting migrants including Redwing and European Nightjar. Meanwhile, Flamborough didn't fare badly either, with singles of Greenish and Marsh Warbler.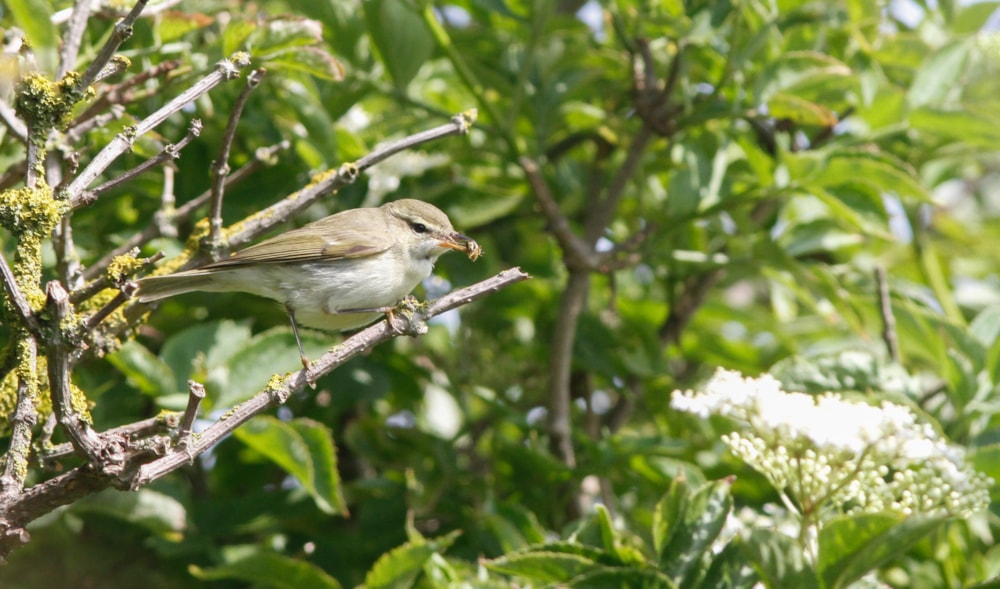 Greenish Warbler, Spurn YWT, East Yorkshire (Jacob Spinks).
Another nightjar came in off the sea at Filey, North Yorkshire, on 12th and bizarrely spent the day roosting on coastal cliffs. A Blyth's Reed Warbler was also there on 13th, while a Marsh Warbler was at Long Nab on 15th. Moving inland, a first-summer female Red-footed Falcon was near Biggin from 15th and the Lesser Yellowlegs remained at Nosterfield LNR.
As many as seven Rosy Starlings were strewn across the county, the most confiding of which was the male at Collingham, West Yorkshire. St Aidan's RSPB scored Red Knot and Little Tern, while there was evidence of a few Common Scoter on the move again.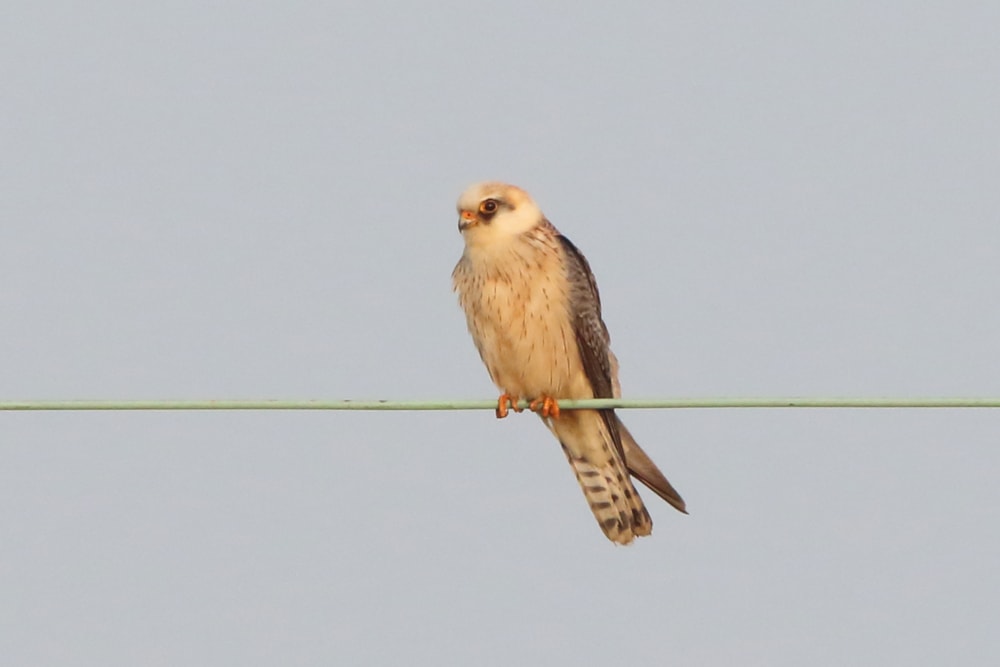 Red-footed Falcon, Sherburn-in-Elmet, North Yorkshire (Craig Storton).
West Midlands
In Staffordshire, at least two Eurasian Spoonbills were frequenting Uttoxeter Quarry throughout the week and a Western Cattle Egret was at Doxey Marshes from 15-16th. An interesting Acrocephalus was found at Whitemoor Haye on the evening of 14th; either Blyth's Reed or Marsh Warbler. Perhaps no huge surprise given the current influx, but an excellent inland find nonetheless. A Black Tern was at Belvide Reservoir on 13th.
Two Black Terns were at Edgbaston Reservoir, West Midlands on 11th. The drake Long-tailed Duck remained ever faithful to Fens Pool NR throughout the week and a Wood Sandpiper was at the same site on 14th.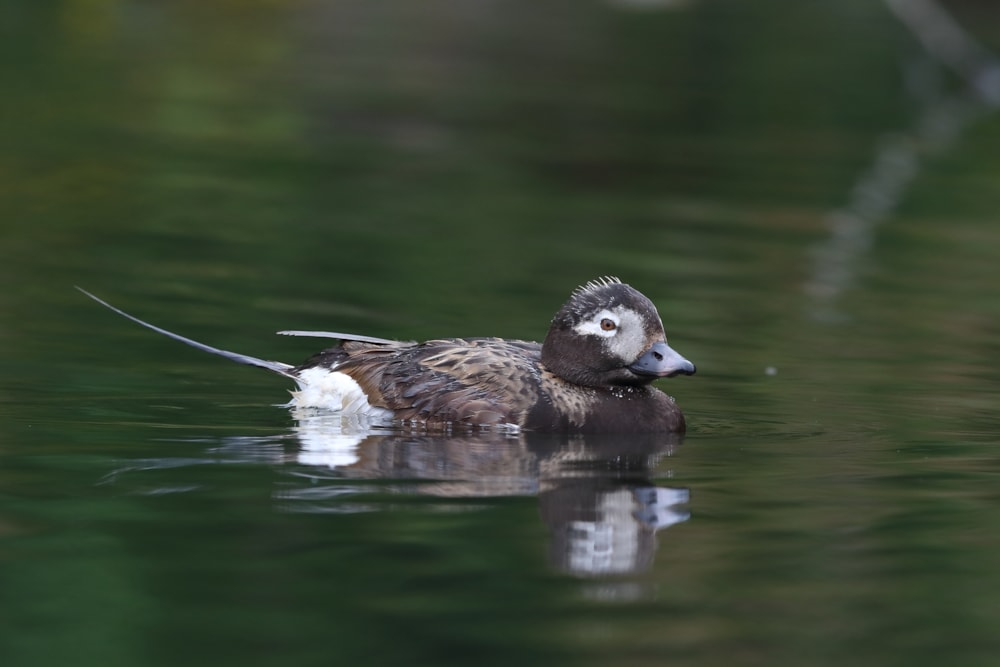 Long-tailed Duck, Amblecote, West Midlands (Chris Cook).
The Glossy Ibis remained at Lower Moor, Worcestershire, despite a one-day hiatus on 15th. On 11th, four Black Terns were picked up at Clifton Pits before being noted at Upper Bittell Reservoir later the same morning. A Wood Sandpiper was at Camp Lane Pools on 14th, while an adult Little Tern was at Draycote Water, Warwickshire, on 11th.
East Midlands
In Northamptonshire, a Common Crane flew north over East Hunsbury on 16th. Two Western Cattle Egrets remained at Stanwick GPs throughout and three Black Terns were at Clifford Hill GPs on 13th, with two remaining the following day.
At least one Eurasian Spoonbill was roaming Nottinghamshire during the week, with birds over Holme Pierrepont on 10th and Attenborough NR on 11th. Slaynes Lane, Mission, continues to produce with a pair of Curlew Sandpipers from 10-12th and the summering drake Smew still.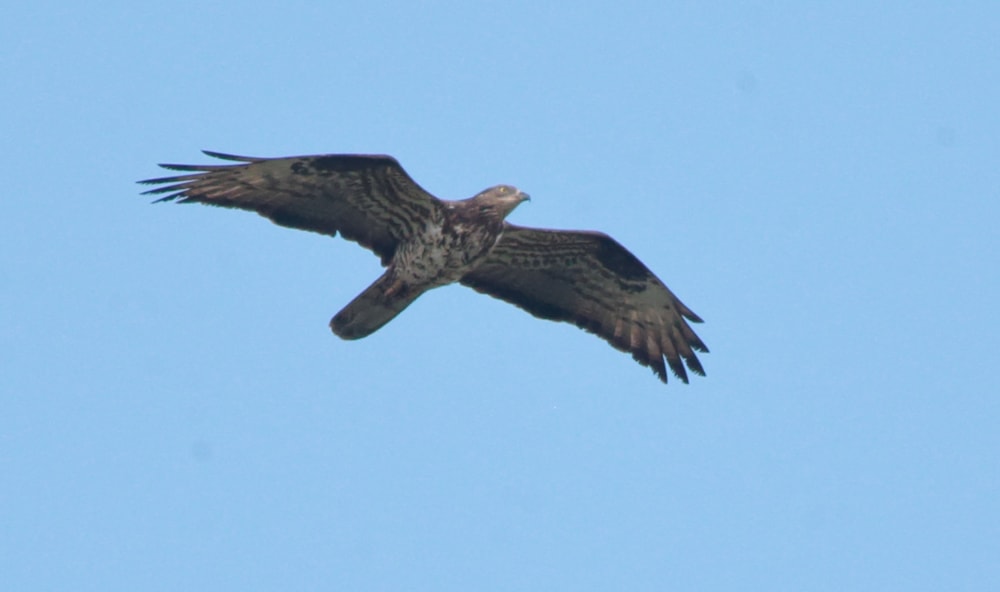 European Honey Buzzard, Welbeck watchpoint, Nottinghamshire (Rob Smith).
An adult Rosy Starling at Lees, Derbyshire, was picked up when a video of a Common Starling flock was uploaded to Twitter. It stayed until 14th but proved elusive. A possible White Stork was picked up distantly from Kings Newton on 10th but there was no further sign. A delightfully showy male Red-necked Phalarope was at Watermead CP, Leicestershire, until 12th and a Little Gull at Stanford Reservoir on 11th.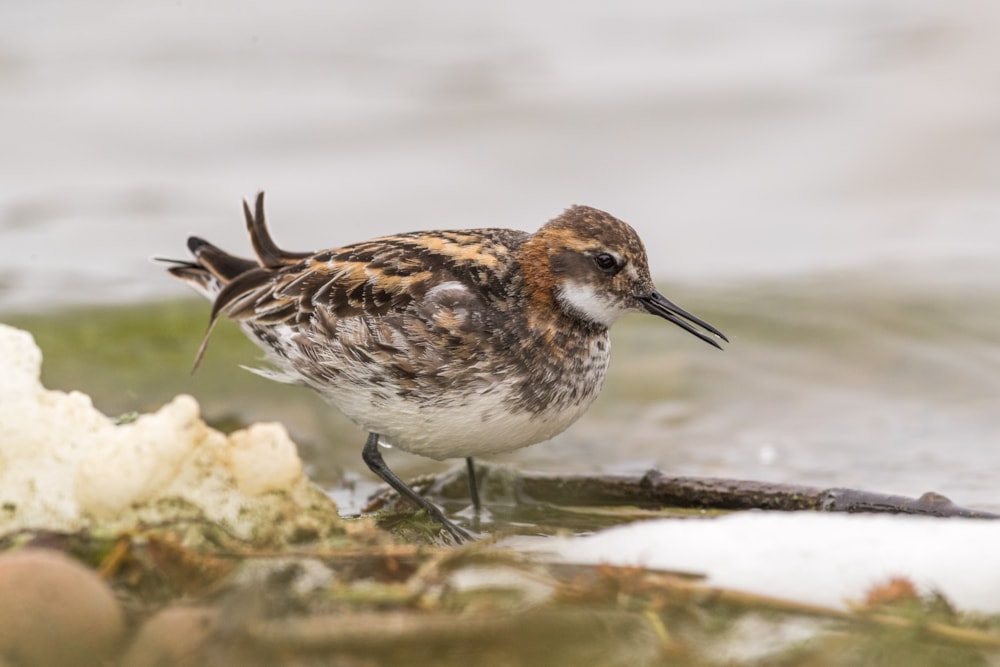 Red-necked Phalarope, Watermead CP, Leicestershire and Rutland (Ian Bollen).
East of England
Norfolk scored three Rosy Starlings this week, with a bird at Sprowston being the most co-operative. The 'Cley Square' proved busy, with a singing Blyth's Reed Warbler at Wiveton on 10th and a Marsh Warbler at Walsey Hills from 13-16th. Migrants were otherwise limited to a couple of Black Redstarts on the coast.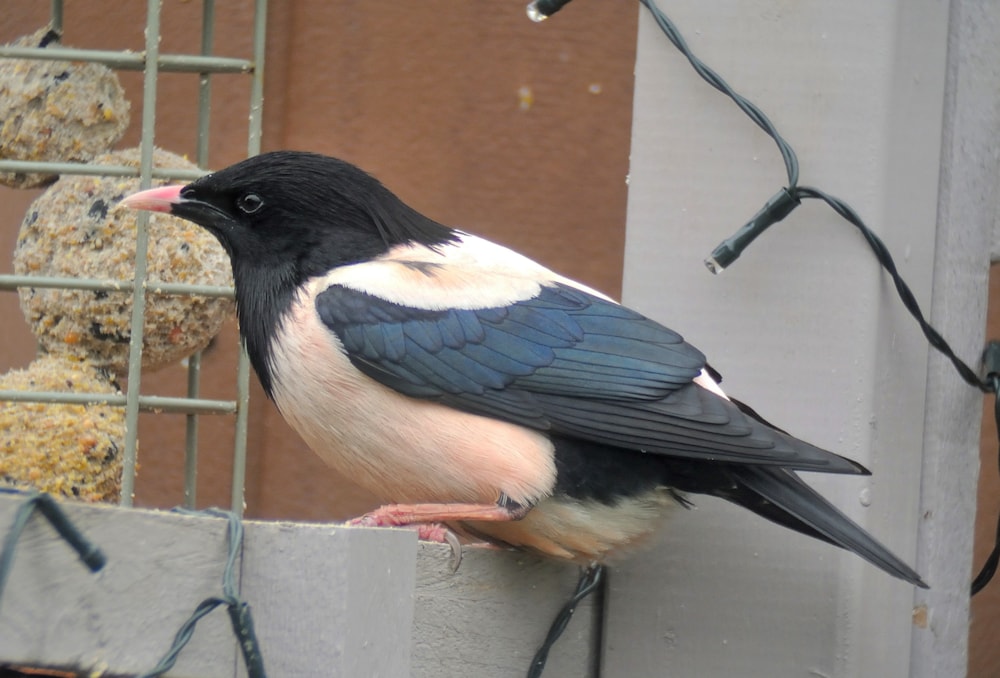 Rosy Starling, Sprowston, Norfolk (Jonathan Theobald).
A Black-winged Stilt proved little more than a flyover at Hollesley Marshes RSPB, Suffolk, on 13th, and a Golden Oriole was heard singing there the following day. In fact, it was a fine week along the county's coast: European Bee-eater and Marsh Warbler at Aldeburgh, Black Kite and Marsh Warbler at Minsmere, Red-backed Shrike at Westleton, Marsh Warbler at Southwold and a Red-footed Falcon at North Warren RSPB were all among the highlights. The county's only Rosy Starling was inland at Mendlesham on 13th.
A European Bee-eater flew over Holland Haven, Essex, on 13th, while the Marsh Warbler performed well at South Benfleet throughout. A Spotted Redshank called in at Tyttenhanger GPs, Herts, on 13-14th, while a Northern Fulmar flew over Baldock on 11th. Could this have been the same bird seen at two Cambridgeshire sites the following day, after being first noted at Paxton Pits on 10th?
Also in Cambs, the Red-footed Falcon remained at Fen Drayton GPs to 15th and Grafham Water attracted both Black and Little Terns. Bedfordshire highlights included Wood Sandpiper, Common Quail and a noc-migged Sandwich Tern.
South-East England
Bird of the week came at Beachy Head, East Sussex, on 16th in the shape of a Blyth's Reed Warbler. Singing near Belle Tout Woods throughout the afternoon until after sundown, this third for Sussex was the first twitchable example of the species in the county and represented a smart find.
Elsewhere in East Sussex, the Black-winged Stilt remained at Rye Harbour, but the Mile Oak Red-footed Falcon wasn't seen beyond 10th. However, just over the border in West Sussex, the Beeding Hill Red-foot continued to be a reliable presence throughout the week. On 16th, a Eurasian Dotterel was an unseasonal record over the North Wall at Pagham Harbour.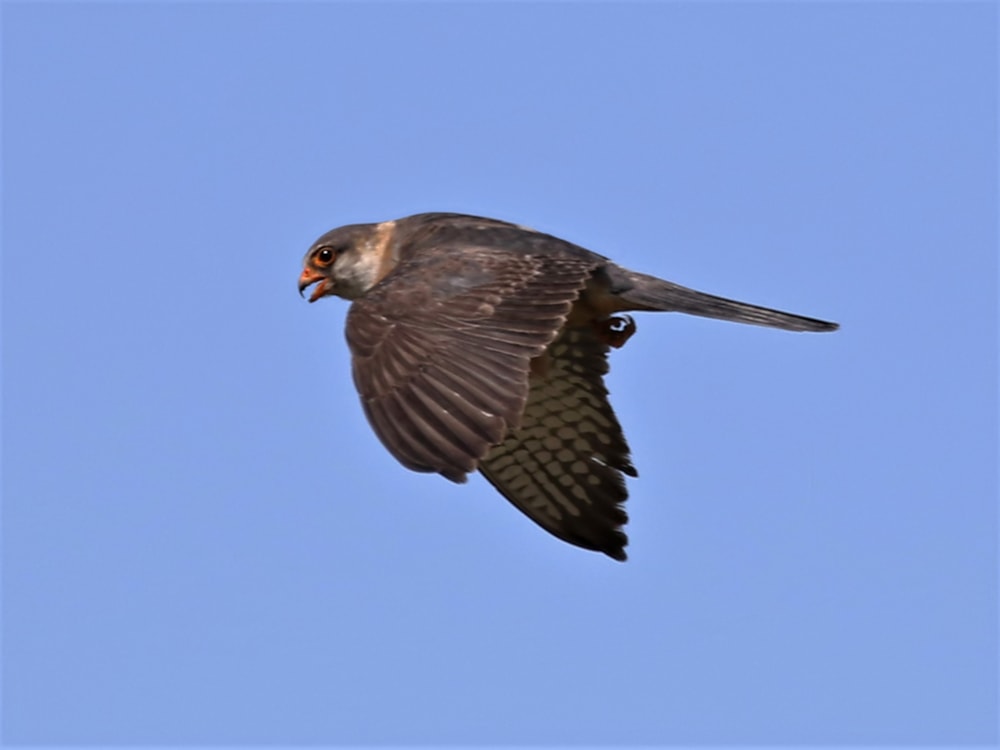 Red-footed Falcon, Beeding Hill, West Sussex (Kevin Campbell).
In Kent, a Rosy Starling was present for two days at Deal from 14th. Two European Bee-eaters were logged – at Faversham on 10th and Sandwich Bay on 13th – and a European Serin was at Hope Point on 13th. South-east Roseate Terns are always of note and one was at Dungeness on 12th, while the curiously continuing Snow Bunting was at Walmer 10th and then Deal from 11-12th. It was a good week for raptors in the county with a notable late arrival of European Honey Buzzards on 13th, with at least seven recorded at coastal sites. No fewer than six locations held Red-footed Falcon, with new individuals at Sandwich Bay on 11th and Westbere GPs on 13th.
London had a quiet week, though a Short-eared Owl at Staines Moor on 13th was notable for the time of year. In Surrey, the county's first twitchable Common Quail for nine years proved popular at Shackleford from 14th until the end of the review period. In Berkshire, a female Garganey was on floods at Eton Wick for two days from 13th, with the eclipse drake lingering throughout at Farmoor Reservoir, Oxfordshire.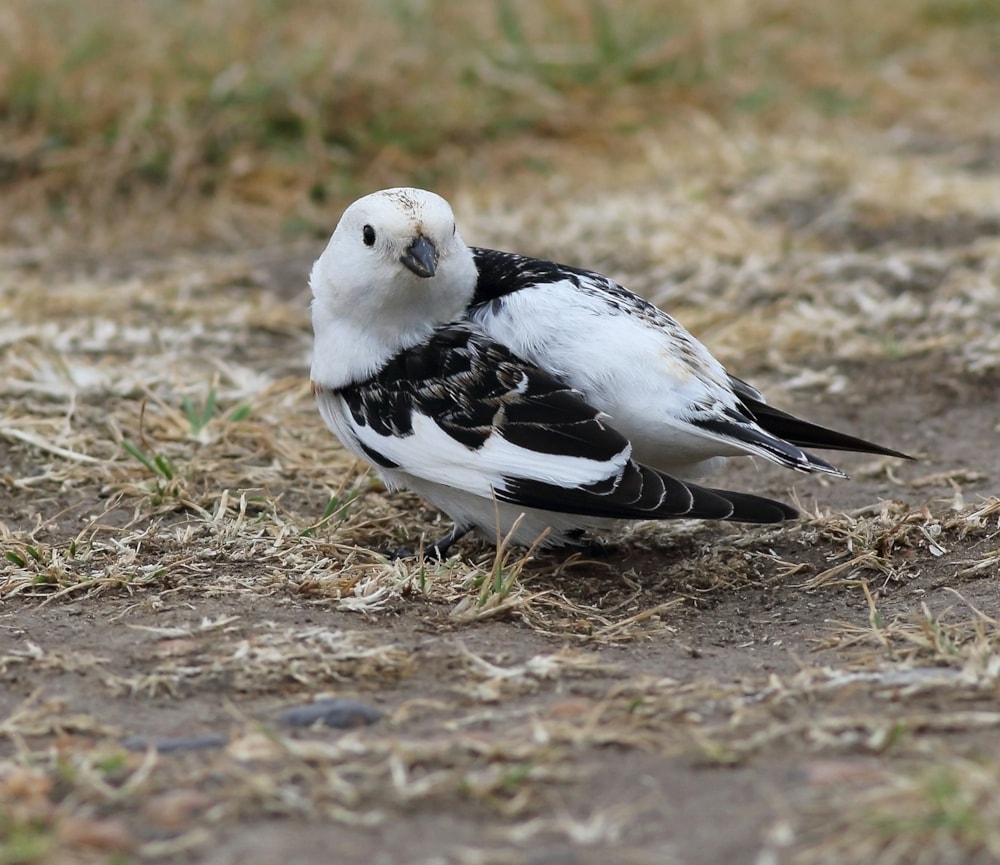 Snow Bunting, Walmer, Kent (Stephen Ray).
There were two records of flyover Red-footed Falcons in Hampshire: females over St Peter's Church in Titchfield on 11th and from the Acres Down viewpoint in the New Forest the following day. A handful of Black Terns were logged, notably two well inland at Fleet Pond on 13th.
On the Isle of Wight, belated news of a Black-crowned Night Heron at Bembridge Ponds on 1st came out on 11th, while the two Acro flavours of the month were present, too – the lingering Marsh Warbler at Bembridge and Blyth's Reed Warbler at Shanklin.
South-West England
Two European Bee-eaters north over Portland, Dorset, on 14th were followed by a delightful male Golden Oriole the following day. A singing Siberian Chiffchaff at Spetisbury on 14th was somewhat lost. The county's Rosy Starling total topped three.
A brief, possible Southern Small White at St Aldhelm's Head on 14th would've been the first British record of this rapidly expanding European species – if the near continent is any indication it may not be too long a wait for another. On the Odonata front as many as five Norfolk Hawkers at Radipole Lake RSPB were a significant find, including a pair in copulation. They represent a first for Dorset, as well as a significant range expansion for a species found no closer than the marshes of Essex and Kent.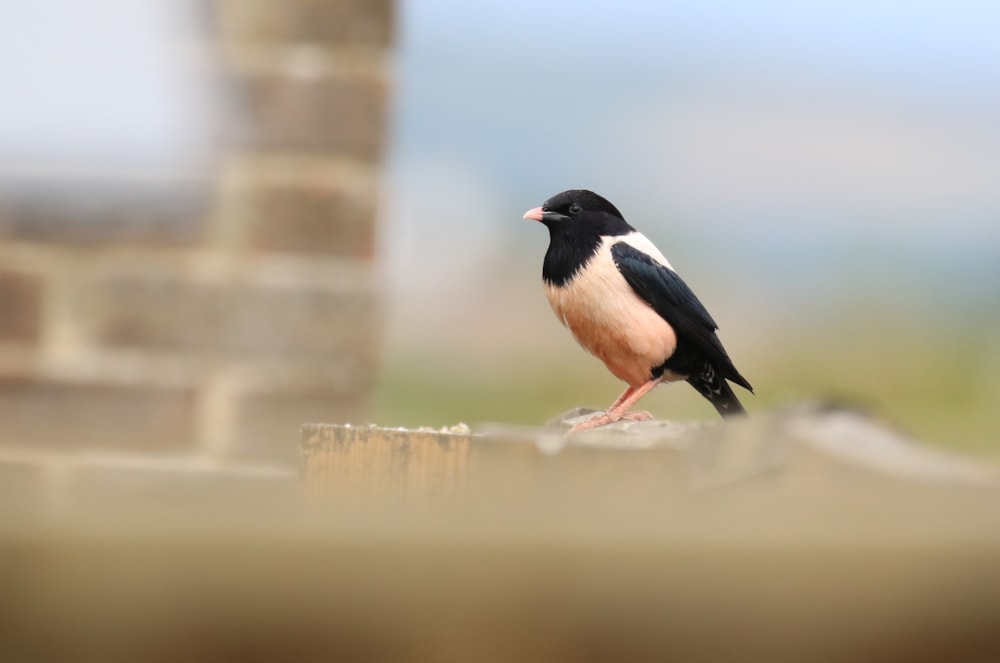 Rosy Starling, Weymouth, Dorset (Ian Wells).
A European Honey Buzzard flew north over Trowbridge, Wilts, on 13th; at least three Common Quail remained at Salisbury Plain. A Hoopoe was the best of the rest in Gloucestershire, photographed near Westerleigh on 14th. Wood Sandpipers were at Slimbridge WWT and Northwick Warth, the former alongside a Ruddy Shelduck. Somerset scored with a Rosy Starling at Whitchurch.
Devon's sole Rosy Starling this week flew north-west over East Prawle on 15th. The Exe Estuary played host to the resident Slavonian Grebe and a Long-tailed Duck. A House Finch at Parkham Ash on 14th is well worth noting, if unlikely to ever go anywhere with the BOURC. A European Bee-eater was near Land's End, Cornwall, on 13th, with a female Red-backed Shrike at Bass Point that evening. The Lizard hosted at least three Rosy Starlings by 16th, with others at St Breward on 5th, St Just and Egloshayle on 13th, and Nanjizal Valley on 14th. On Scilly, St Mary's produced a singing Marsh Warbler on the evening of 13th, with two Rosy Starlings over the St Martin's Daymark the same day. An adult Purple Heron was briefly on Newford Island on 16th.
Wales
There were three Common Rosefinches in the country this week, with Bardsey Island's male still being reported until 14th. Elsewhere, an adult male was frequenting garden feeders at Pant-Y-Sais, Glamorgan, and another was singing at Edern, Gwynedd, on the 14th. A Red-backed Shrike put in a brief appearance at Mafinchltreath Marsh, Anglesey, on 12th and a Roseate Tern was a welcome sight at Cemlyn Bay on 13th.
Two Rosy Starlings were reported, with a cracking adult male on Bardsey on 13th only and one by Rhyl High School on 15th. In Carmarthen, a Black Tern was hawking over Ffos Las Pools on 14th. At least one European Bee-eater was heard between Caswell and Brandy Cove, Glamorgan, the following day.
Ireland
Two Rosy Starlings were seen – one at Lisselan, Co Waterford, and the other on Inishmore, Co Galway. Other tasty late spring treats included a fine hat-trick for Tory Island, Co Donegal, which consisted of Ortolan Bunting, Marsh Warbler and Common Rosefinch. Another Ortolan was reported from the outskirts of Dublin on 13th.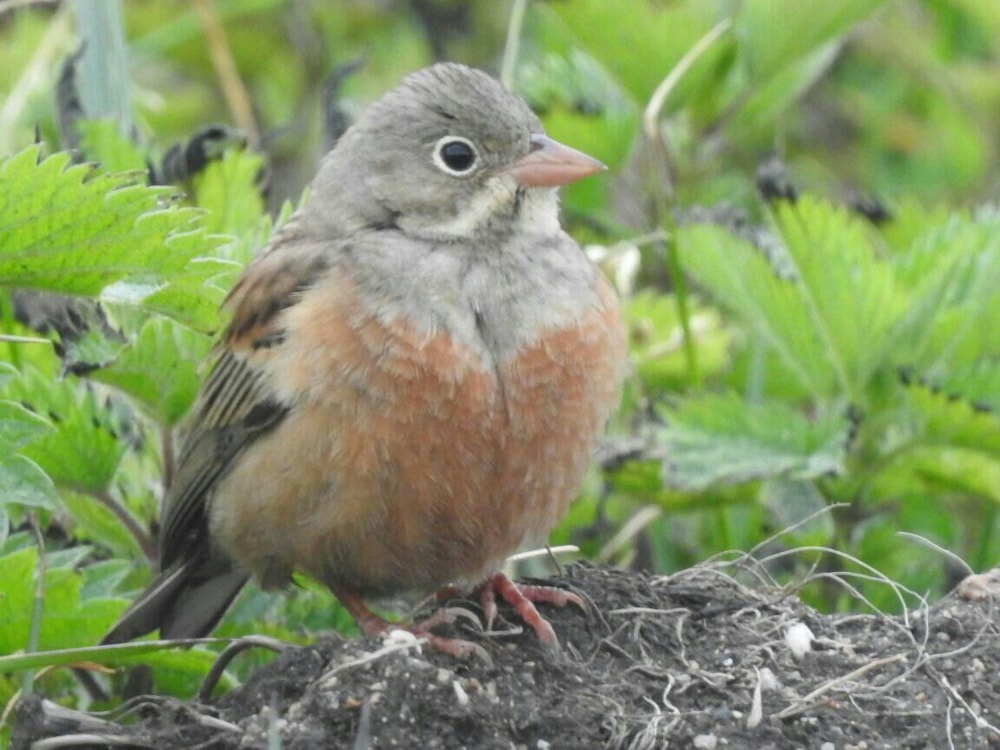 Ortolan Bunting, Tory Island, Donegal (Anton Meenan).
A Woodchat Shrike spent a couple of days near Crosshaven, Co Cork, to 13th, while the Glossy Ibis hung on at Pilmore and a couple of Ruddy Shelduck arrived at Ballycotton on 10th. Meanwhile, the group of six held on at Lurgangreen, Co Louth, throughout.
Unusual tern records included a Roseate inland at Muckrush, Co Galway, on 10th and a Black Tern at Groomsport, Co Down, on 13th.
Western Palearctic
With the last of eight British records now a distant memory at Prawle Point, Devon, way back in August 1980, a syriaca Rufous-tailed Scrub Robin on the outskirts of Oslo, Norway, no doubt raised the pulses of British birders on 11th. Just the second national record, after one in June 1975, it was as popular as another would undoubtedly prove here.
The Rosy Starling quest for world domination this summer showed no signs of abating; one on Pico, Azores, was certainly making strong strides towards the New World on 16th and, unsurprisingly, was a first for the archipelago. A belated Trindade Petrel from 10 April to the north of the Cape Verde archipelago is more than worthy of its place in this review, being just the 14th record for the WP. Elsewhere, a Three-banded Plover was at Israel's HaMa'apil fishponds on 8th.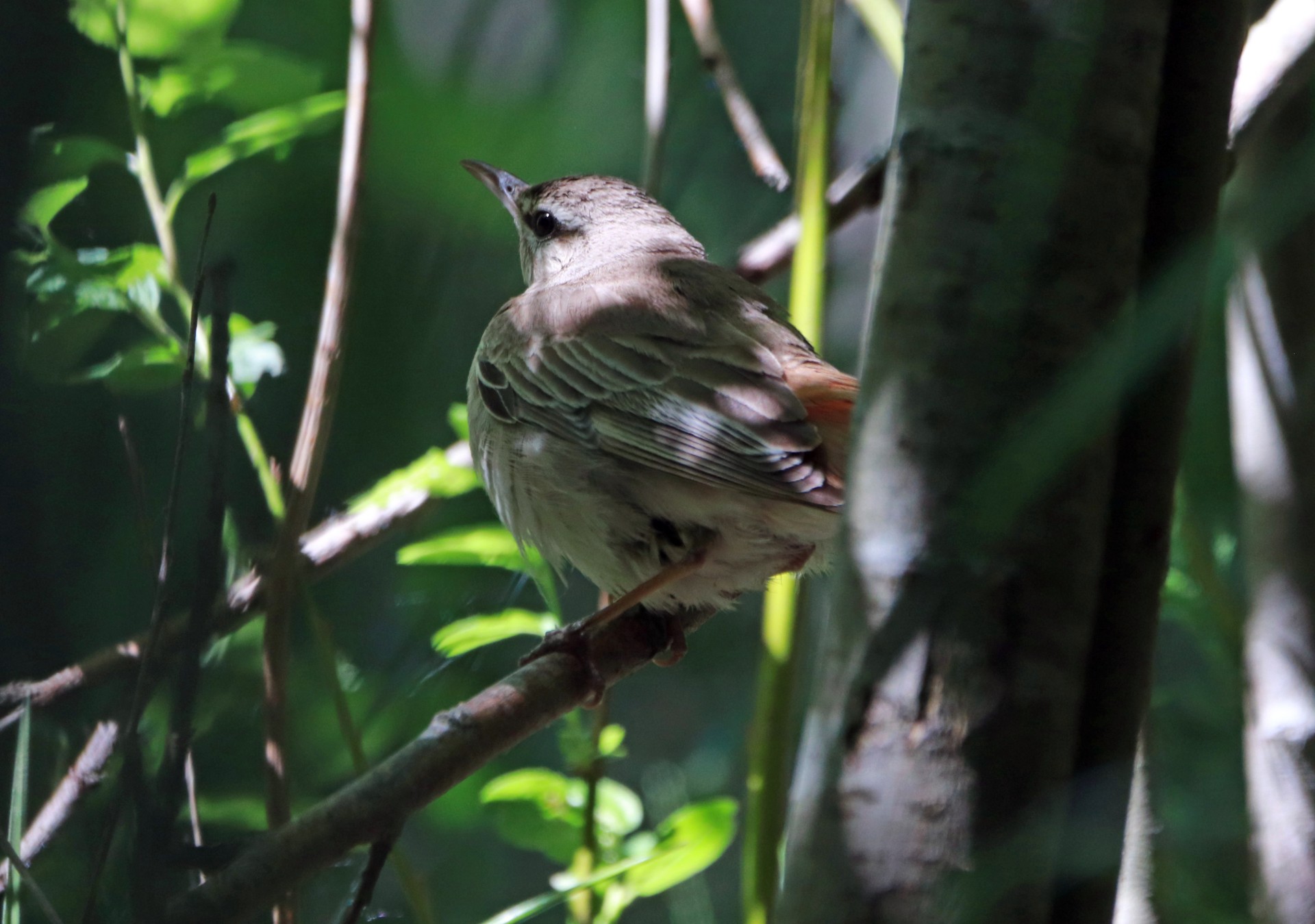 Rufous-tailed Scrub Robin, Oslo, Norway (Simon Rix).
In Sweden, a very lost male Trumpeter Finch was at the harbour of Norrgaddens on 14th – a latitude further north than Shetland! Another British record certainly wouldn't go amiss. Four Lesser Flamingos remained among their larger congeners at Laguna de Fuente de Piedra, the species' breeding site in southern Spain.
A plentiful abundance of Greater Sand Plovers this spring continued with singles at Røst, Norway, and along the River Elbe at Arneburg, Germany. A Sociable Lapwing was nearby at Oranienbaum-Wörlitz on 12th. A Lesser Spotted Eagle headed over Skagen, Denmark, on 16th, while a Common Rock Thrush was at Ebeltoft on 11th. A Collared Pratincole at Matsalu on 15th was just Estonia's third; likewise, a Shikra over Trabzon on 10th represents just the third for Turkey.
The unprecedented year for Green Warblers in north-west Europe continued with one on Texel, The Netherlands, on 10th. Elsewhere, the country saw a pale-morph Booted Eagle near The Hague on 12th and 13th, the Amur Wagtail still in situ, and a male Black-headed Bunting at Oostvoorne on 13th. Another Booted Eagle was over Pesse, Belgium, while a new Polish Pallas's Gull was at Wyspy Zawadowskie on 10th.