The week at a glance
For the first time in a long time, a week passed without any particularly discernible headline birds being discovered. That's not to say it was a week without event, as the Turkestan Shrike seen in the late afternoon of 2nd on St Martin's, Scilly, proved, but there was a definite summery vibe to the week's bird news. One suspects that, outlandish megas aside, we'll have a quiet few weeks from now on.
A drake American Wigeon turned up at Old Moor, S Yorks, on 4th and lingered until the week's end; this is presumably one of the two birds seen in East Yorkshire in late spring. A probable drake Lesser Scaup at Blagdon Lake, Somerset, on 4–5th could well be the Cardiff bird relocating. Late news concerned a female Ring-necked Duck at Portmore Lough, Co Antrim, on 30 June.

American Wigeon, Old Moor RSPB (Dearne Valley), South Yorkshire (Photo: Colin Neale)
Content continues after advertisements
Seawatching was again quiet in such settled conditions, but two Cory's Shearwaters were noted from a Scilly pelagic on 2nd and two early Great Shearwaters passed Galley Head, Co Cork, on 6th. A few Balearic Shearwaters are also beginning to appear off southern coasts.
The Squacco Heron at Southease on 3rd was a fourth for East Sussex and the first twitchable bird in the county for almost 20 years. The male Little Bittern was still singing and showing occasionally at Old Moor, S Yorks, throughout, while two Night Herons (adult and immature) showed sporadically in flight at Ham Wall, Somerset, to 5th at least. Also on the latter reserve was the Purple Heron again on 4th, in addition to multiple Great White Egrets. Away from the Levels nine Great Whites were at Splatt Bridge, Glos, at dusk on 2nd, and what were presumably three of those were at Newport Wetlands, Gwent, the following day. The Glossy Ibis was again in County Waterford on 3rd, while late news concerned a White Stork over Crowthorne, Berks, on 30th.

Squacco Heron, Southease, East Sussex (Photo: Jake Gearty)

Little Bittern, Old Moor RSPB (Dearne Valley), South Yorkshire (Photo: Peter Garrity)
A Terek Sandpiper on the scrapes at Low Newton-by-the-Sea, Northumberland, for little over an hour on the morning of 4th was this week's shorebird highlight, even if brief. In West Sussex the Hudsonian Whimbrel notched up another week at Pagham Harbour, as did the Greater Yellowlegs in neighbouring Hampshire. A summer-plumaged American Golden Plover was on Tresco, Scilly, on 3rd, while a White-rumped Sandpiper pitched down at Beacon Ponds, E Yorks, from 4th. Northumberland's Temminck's Stint continued at Derwent Reservoir to 3rd, and a bird at Vane Farm, Perth & Kinross, on 7th was probably the bird from late June.

Terek Sandpiper, Low Newton-by-the-Sea, Northumberland (Photo: Gary Woodburn)

Hudsonian Whimbrel, Pagham Harbour LNR, West Sussex (Photo: Tony Duckett)
Three Gull-billed Tern records could feasibly refer to the same wide-ranging individual, even if the distances involved are significant. A bird on the Hayle Estuary, Cornwall, on 1st was followed by a record over high tide at Ynys-hir, Ceredigion, the following morning. Then, on 3rd, a bird spent much of the day at Burton Mere Wetlands, Cheshire. A White-winged Black Tern at Middleton Lakes, Warks, on 3rd could well have been the bird at Leighton Moss, Lancs, on 4–5th, while another was at Frampton Marsh, Lincs, from 5th. The Franklin's Gull was still at Lough Beg, Co Londonderry, on 4th and the Bonaparte's Gull was on the Oare Marshes, Kent, to at least 6th. Ring-billed Gulls stayed put in Cornwall and County Kerry.

Gull-billed Tern, Burton Mere Wetlands RSPB, Cheshire (Photo: Zac Hinchcliffe)

White-winged Black Tern, Leighton Moss RSPB, Lancashire (Photo: Frank Golding)

White-winged Black Tern, Frampton Marsh RSPB, Lincolnshire (Photo: Neil Smith)
Ten European Bee-eaters at Leiston, Suffolk, on 5th are presumably the same flock that has been touring eastern England for some time, and happily they lingered long enough to be twitched throughout the afternoon. They then reappeared at nearby Theberton on 7th. Two were over Bavelaw, Lothian, on 2nd, with three at Coleton Fishacre, Devon, on 7th and four on Islay, Argyll, on 1st; singles were reported from Dorset, Hampshire, East Sussex and Lothian. A first-summer male Golden Oriole was at South Glendale, South Uist, on 1st, with an Alpine Swift over Beachy Head, E Sussex, that day and another probable over Cley, Norfolk, on 6th. There was a report of a possible Pacific Swift over King George V Reservoir, London, on 7th but it was not seen again after the initial sighting. Shetland produced a Red-rumped Swallow, over Lerwick on 2nd.

European Bee-eaters, Leiston, Suffolk (Photo: John Richardson)
Fair Isle's Western Subalpine Warbler was last seen on 3rd, and a Marsh Warbler was singing at Carlton Marshes, Suffolk, the same day. The singing Icterine Warbler near Reculver, Kent, was last heard on 1st but the Melodious Warbler near Hampton in Arden, West Mids, continued to hold its territory enthusiastically throughout the week.

Melodious Warbler, Marsh Lane NR, West Midlands (Photo: Dave Hutton)
Aside from the aforementioned Turkestan Shrike on Scilly, the only other shrike reported this week was a female Red-backed on North Ronaldsay on 4th. Nearby Fair Isle claimed a brief Rose-coloured Starling on 2nd, with another on Lewis, Outer Hebrides, on 5th. A Common Rosefinch sang briefly near Portland Bill Bird Observatory early on 7th but soon disappeared.

Common Rosefinch, Portland, Dorset (Recording: Martin Cade)
Western Palearctic news
Something of a surprise was the news that a Yellow-nosed Albatross had been photographed from a whale-watching excursion out of Reykjavík, Iceland, on 1 July. The bird had photobombed Jared Mein's image of a Humpback Whale but was only identified several days later when his uncle, Mike King, realised the offending bird was an albatross! The jury is out on whether this bird is Atlantic or Indian in origin, although the apparent clean head may suggest the latter. Without better images, we may never be sure.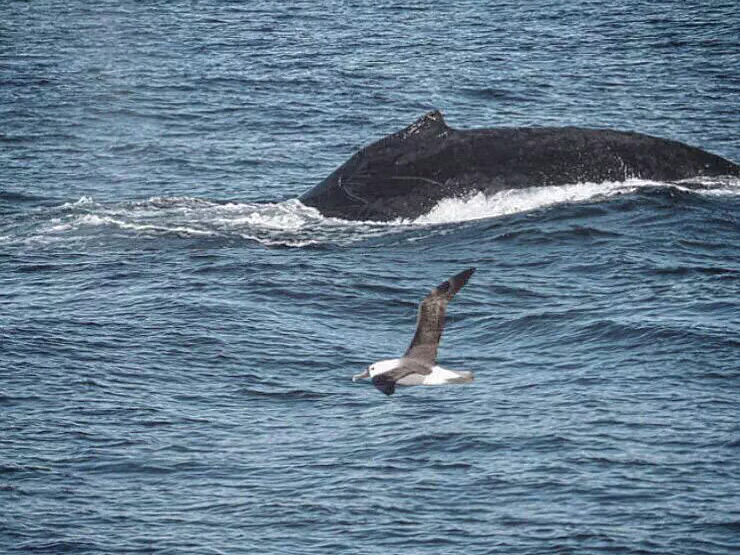 Yellow-nosed Albatross, Iceland (Photo: Jared Mein)
Also causing a stir was more late news surrounding photographs taken by a non-birder. Two images taken in Tórshavn, Faroe Islands, on 24 June astoundingly depicted a female Amur Falcon sitting on the photographer's doorstep (see photos here): tantalisingly close to Britain, and enough to strengthen hope that another might come our way soon.
An adult Masked Booby flew west past Lajes do Pico, Azores, on 4th and late news concerned an immature Red-footed Booby seen at sea off Faial on 18 June. To complete the set, an immature Brown Booby was seen off Cabo Roche, Cádiz, Spain, on 5th. American Golden Plover isn't the rarest of birds in Spain, but it's rare for such a pristine adult, like that at Ria de Villaviciosa, Asturias, this week, to be so well photographed, and so we simply had to share Samuel Langlois' image.

American Golden Plover, Spain (Photo: Samuel Langlois)
In neighbouring Portugal, a Pied Crow was seen at Cabo Espichel, Setúbal, at the end of June.

Pied Crow, Portugal (Photo: Luís Gordinho)
Elsewhere a pale-morph Booted Eagle was photographed in Friesland, Netherlands, on 2nd, while three singing Baillon's Crakes near Rokiškis represented the first record for Lithuania. The Oriental Cuckoo stopped singing at Sotkamo, Finland, after 3rd, while a female Stejneger's Scoter was found at Nesseby, Finnmark, Norway, on 7th. Germany's Black-browed Albatross again returned to Heligoland on 7th.
Insect news
With extremely warm weather and southerly winds creating 'Spanish plume' conditions across Britain and Ireland, it was no great surprise that it proved a fantastic week for migrant Lepidoptera. Steve Nash trapped Britain's second record of The Druid (Aedia funesta) at Swanage, Dorset, overnight on 1st and another was trapped in Southsea, Hants, the following night.

The Druid, Swanage, Dorset (Photo: Steve Nash)
Britain's fourth Ringed Border was trapped in Brede, East Sussex, overnight on 2nd, while a Dusky Marbled Brown in Saltwood, Kent, the previous night may be only the fourth modern British record. Scarce Light Plumes were taken in Dorset and Cornwall, a Spurge Hawkmoth was in Portsmouth, Hampshire, and a Silver-striped Hawkmoth reached Buckinghamshire.
Moving away from moths, a Long-tailed Blue was seen in Exeter, Devon, on 6th, while a Monarch seen flying over Brighton Pier, East Sussex, on 6th was presumably the same as that showing well in the Pavilion Gardens the following day. Red-veined Darters appear to have arrived in strong numbers, with an impressive 30+ at Felbrigg Hall Lake, Norfolk, on 2nd.

Monarch, Brighton, East Sussex (Photo: Bob Eade)
For all the latest sightings of migrant Lepidoptera, visit facebook.com/MigrantLepidoptera or follow @MigrantMothUK on Twitter.