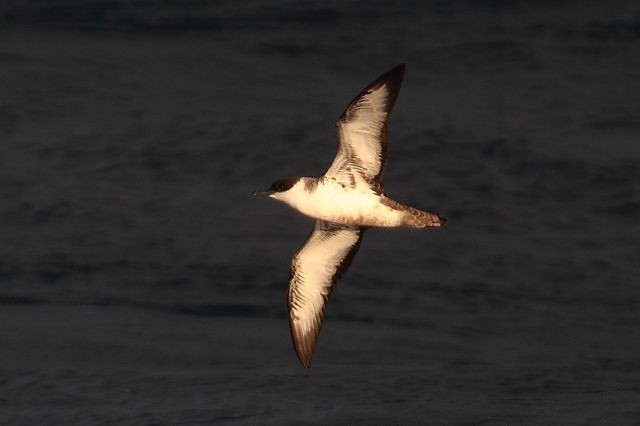 Great Shearwater: More than ten times the Scottish total passed Lewis on one day (photo: Peter Stronach).
The 7,114 Great Shearwaters that passed the Butt of Lewis at the northern end of the Outer Hebrides in eleven hours on September 8th was more than TEN TIMES the total for the whole of Scotland throughout history.
"To put in context the significance of this movement, a count of just 58 passing North Ronaldsay, Orkney, last year was considered 'phenomenal'", said Ron Forrester, secretary of the Scottish Birds Records Committee, after hearing about the record sea watch via BirdGuides.
"That seemed a fair enough description at the time so what is the word that conveys the scale of a movement more than 120 times its size? Heavy movements of Great Shearwaters have been recorded off Cornwall and south-west Ireland in the past but Scotland has never experienced anything remotely like this before. The records show that up to 2004, there had been 165 Scottish records of a total of 547 Great Shearwaters, with 70 six miles north of Coll, Argyll, the largest single number in a day."
Content continues after advertisements
An intense low pressure system centred to the north of Scotland was a key factor in the movement of the shearwaters, which gather in the northern summer off Newfoundland Grand Banks and in Greenland waters. The birds were flying west into the brisk winds circulating around the southern end of the low.
Great Shearwaters nest more than 6,600 miles south of the Butt of Lewis on two of the Tristan da Cunha islands (Nightingale and Inaccessible) and Gough Island almost in mid-Atlantic, between Cape Town, South Africa and Buenos Aires, Argentina.