It was 1st January 2011, and the start of a new year was sufficient motivation for me to venture down to the Hampshire coast for a bit of local seawatching. After standing around for four hours in near freezing temperatures, I was starting to get a bit chilly (despite enjoying a nice feeding movement of Red-throated Divers), so it was time to head back across the New Forest for some lunch.
As I was cycling along a rather featureless country lane between Downton and Hordle, I saw a large brown shape in the middle of a grassy field about 100m away. I initially struggled to identify it as bird or mammal, but as I came to an abrupt halt, it took flight and to my amazement I realised I was looking at an eagle! The huge size, broad wings and plumage identified it as a juvenile White-tailed Eagle, presumably the same bird that had been seen in West Sussex and southeast Hampshire in mid-December.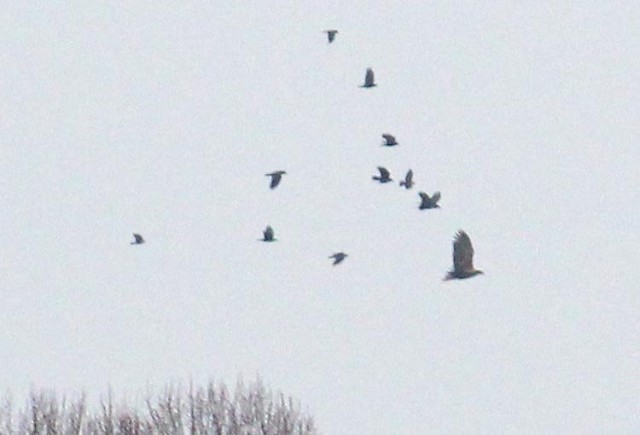 White-tailed Eagle, Hordle, Hampshire (Photo: Russell Wynn)
A comical chase then ensued, with me in pursuit on a mountain bike, juggling binoculars, camera and mobile phone! I managed to get some long-range record shots of the bird during the chase, but after 15 minutes of frantic pedalling I lost sight of it as it headed northwest over a distant line of trees. I put the news out in the hope that other birders in the field on New Year's Day would pick it up, but it wasn't seen again and I assumed that would be the end of the story.
Two days later I received an email from an employee of the local landowner stating that the eagle was still in the Downton area and had been present since 30th December. They had initially identified it as a Golden Eagle and had put out some carrion to encourage it to feed. Therefore, on 4th January, I headed back to the area for a further look and to try to get some better images and video. I soon located the bird at first light, and for the next two hours watched and filmed it while it sat in a dead tree. It then spent an hour or so on short flights ranging up to a kilometre away, but was back in its favourite line of trees by lunchtime.

White-tailed Eagle perched in its favourite tree at Hordle, Hampshire, 4th January 2010.
Film: Russell Wynn.)
This is only the second White-tailed Eagle in Hampshire in the modern era, hot on the heels of one that wintered near Cholderton in 2007/08. After finding Hampshire's first Rustic Bunting in my New Forest garden in March 2010 (less than five miles from the eagle site), I've decided to give up on coastal birding hotspots with pristine habitat and will instead stay close to home.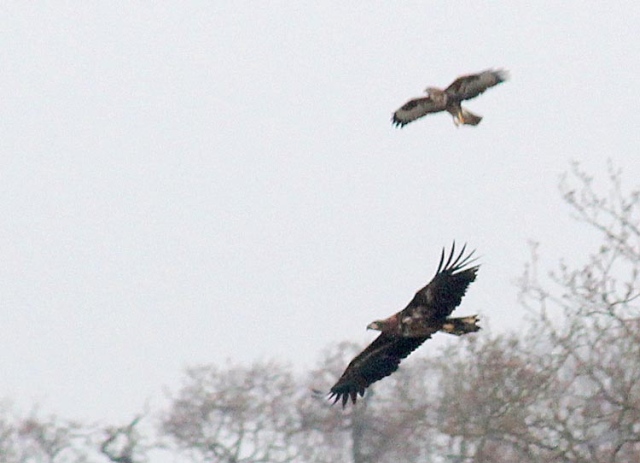 The White-tailed Eagle caused much consternation amongst the local Buzzards (photo: Russell Wynn).
Postscript: The bird is still present at the time of writing and is best viewed from the lane running north from Downton village, at SZ269939. It generally perches in trees along the edge of the stream valley about 300 metres to the west. The landowner has asked visitors to park responsibly on the lane, to view only from the roadside or adjacent public footpath, and not to enter the private woodland where the bird is usually perched. This is particularly important during the coming weekend as there will be a pheasant shoot in the area. Observers should also avoid parking on the busy A337, as this road is a notorious accident black-spot.