Bar the Pacific Diver in Co Tyrone in January and February, 2014 had been an awful year for rarities in the 'north' of Ireland. To compound matters, winter 2014/15 had not started promisingly. I was off for two weeks over Christmas and spent the entire period rarity hunting and, despite my efforts, I had come up with the square root of nothing in terms of genuine rarities.
Of that fortnight I had spent five days at Killybegs in Co Donegal. Despite the high numbers of gulls present offering plenty of promise, my grand total had been four different Iceland Gulls. Though this might sound like a result for a lot of UK birders, it was, by Killybegs' astronomical standard, a miserly total.
Since returning to work on 5 January, I had been keeping a close eye on the weather forecast. A series of storms had been hitting the north-west of Ireland, intensifying during the week of 12th. I didn't think they had originated from far enough north for any big influxes, but anything already out there in the North Atlantic could easily be forced into Killybegs harbour.
With this theory in mind Majella Callaghan and myself planned to head over on Saturday morning and stay for the weekend. However, a cold snap meant we hastened our plans and travelled up after work on Friday. Arriving at Killybegs that evening I was just a little disappointed to find that most of the fishing fleet was evidently out!
On the Saturday morning we had breakfast overlooking the harbour but, even in the half-light, it was obvious gull numbers were very low — we would be in no rush to finish breakfast! The weather forecasters had got it correct: it was Baltic outside with the coldest wind imaginable.
Having driven the small distance from the hotel to the small slipway in the inner harbour, we got out for a scan with the binoculars. Majella had immediately found the gull in question on the offshore wooden jetty though initially said nothing; I'd gotten my 'scope out and checked a few spots before focussing on the third gull along on the jetty and immediately exclaimed: "wowser!"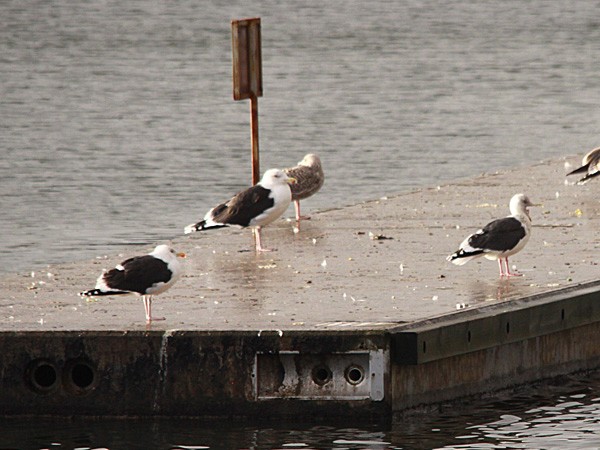 Initial views of the Slaty-backed Gull (right-hand bird) were on an offshore jetty (Photo: Derek Charles).
"It's that third gull in isn't it? I thought it was a funny Lesser Black-backed with pink legs" came Majella's reply. I let her look at it through the 'scope and she asked what I thought it was. My response was "well, it looks like a Slaty-backed Gull!" Of course, progressing from 'a gull that looks like a Slaty-backed' to a firm identification is not a straightforward task.
I despatched Majella for two rounds of pan loaf while I kept an eye on the bird in question, though I was unable to note any other features as it sat down and went to sleep! I had no experience of Slaty-backed Gull and my limited knowledge totalled Chris Gibbins and Paul Hackett's adult in Latvia, the Rainham bird, Tom Cuffe's Galway bird of last winter and photos from Newfoundland by Bruce Mactavish. A few things stuck in my mind: raspberry-pink legs, broad white trailing edge to secondaries, mantle as dark as (if not darker than) Lesser Black-backed Gull and the tell-tale 'string of pearls' in the primaries. Beyond that I hadn't much clue.
When Majella returned we threw half a loaf off the side of the pier and, like clockwork, the gull immediately took off and pitched straight in the middle of the feeding frenzy! Photographing a gull in poor light with an old camera was not an easy job, particularly with the evidently ravenous bird launching itself at every slice! I could see the string of pearls but I couldn't photograph them to ascertain the exact pattern. It took me 15 minutes in the freezing wind and sleet to get the wing in focus and then a heavy shower forced us back to the hotel to take stock, get warm and see what Google had to say!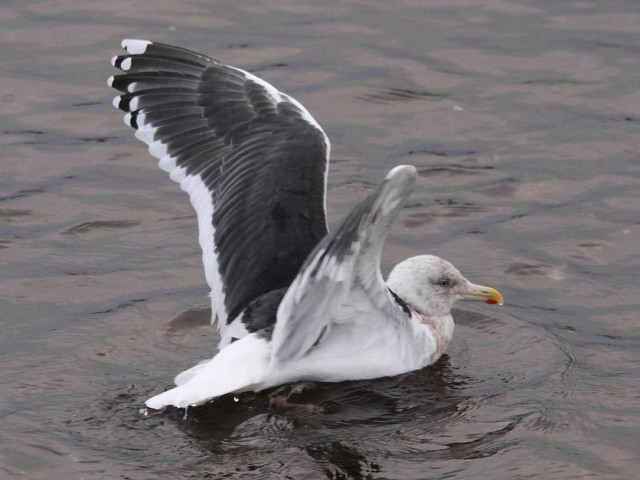 The classic 'string of pearls' on p6–8 is clearly visible in this open wing shot (Photo: Derek Charles).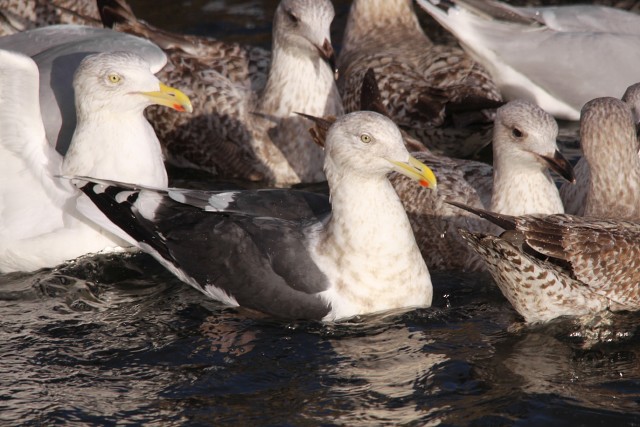 Often pitching right in the middle of the frenzy, the Slaty-backed was evidently quite hungry! (Photo: Derek Charles).
On this occasion Google was kind and I was left thinking that maybe we did after all, as mad as it seemed, have a Slaty-backed Gull. The one thing I wasn't happy with was how pink the legs were — I was expecting a stronger pink but with this caveat I rang a couple of friends and Majella managed to text/email a few back-of-the-camera shots. We headed back out again and found the gull on a nearby roof having a doze. The sun came out briefly and with the sun behind us and the bird on a white(ish) roof the raspberry-pink leg mystery was solved. I rang Dave Allen and texted around that I was happy to put the news out as a probable Slaty-backed Gull. Majella again managed to put a digi-scoped photo she took on Twitter and shortly after Séamus Feeney rang to say that he and the Sligo crew were on their way!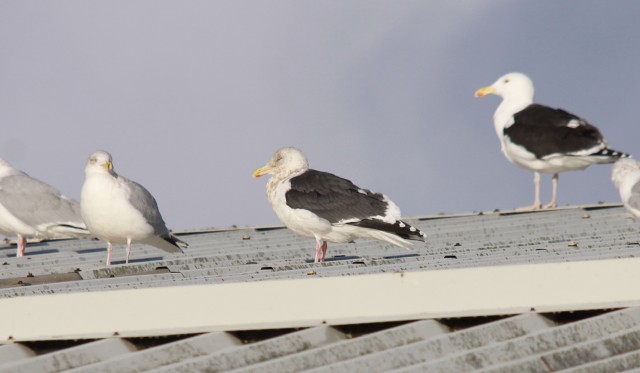 A comparison of the Slaty-backed (centre) with Herring (left) and Great Black-backed (right) Gulls on one of Killybegs' characteristic factory roofs (Photo: Derek Charles).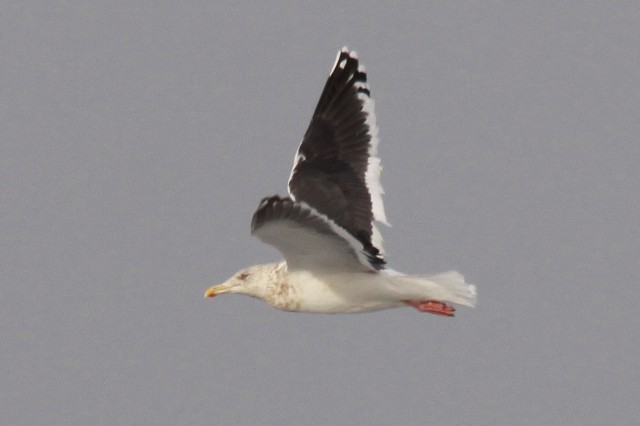 The Slaty-backed in flight — as well as the string of pearls, note the broad white trailing edge to the wing and the raspberry-pink legs (Photo: Derek Charles).
I spent the following 90 minutes feeding the gull no fewer than seven pan loaves, even 'teaching' him to come up on the small jetty by rewarding him with a slice all to himself — which he quickly despatched. I took 700 photos, 600 of which were later deleted!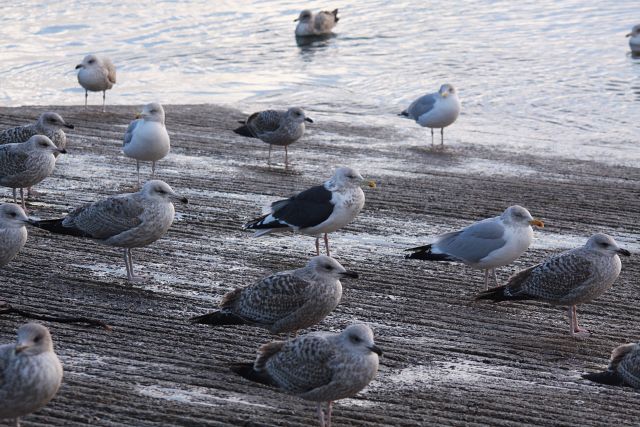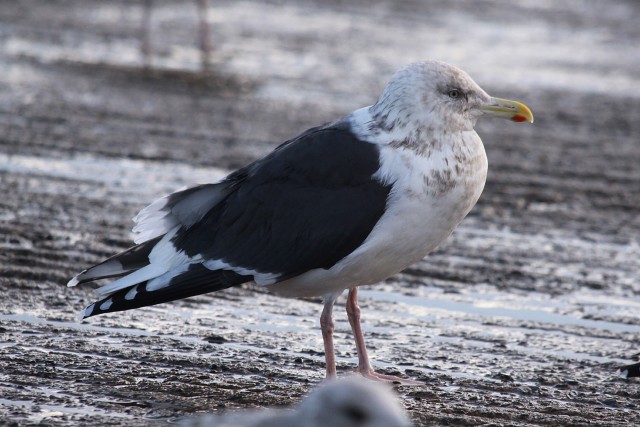 Photos of the Slaty-backed among Herring Gulls on the harbour slipway (Photo: Derek Charles).
Séamus, Paul and Declan arrived in a screech of tyres and couldn't believe the bird was only feet away! Declan had the Gulls book with him and nothing in that put me off the idea it was a Slaty-backed — in fact quite the opposite.
The next morning around twelve Irish birders and a carload from Norfolk had brilliant views of the bird sat on the pier and the jetty before, without warning, it got up of its own accord and flew off strongly up the estuary at around 10 am, never to be seen again (so far, anyway).
If I'm honest, Slaty-backed Gull wasn't high up on the list of gulls I might find at Killybegs but Tom Cuffe's brilliant find in Galway last year kind of jolted us all a little by putting it on the radar. I hope that it is refound somewhere in Ireland and, if not here, then hopefully on a dump in England!
Slaty-backed Gull in the Western Palearctic
Slaty-backed Gull is a relatively new addition to Western Palearctic avifauna, with the first record (in Lithuania) occurring less than seven years ago. Since then there have been several occurrences:
2008 Lithuania: Klaipeda dump 17 November (photos here)
2009 Latvia: Riga dump, 13—18 April (same as Lithuania 2008; photos here)
2011* Britain: Rainham landfill site, London, 13 January and seen intermittently until 26 February; also seen in Essex at Pitsea landfill site on 3 and 19 February and at Hanningfield Reservoir on 6 February
2012 Iceland: Húsavík, 14 May
2012 Finland: Ämmässuo dump, Espoo, 3—4 November (photos here)
2012 Belarus: Hrodna, 26 December — 4 January 2013
2014 Ireland: Galway City, 8 February (see this article)
* The 2011 British record is currently undergoing assessment by the Rarities Committee and thus does not feature on the BOU's British list.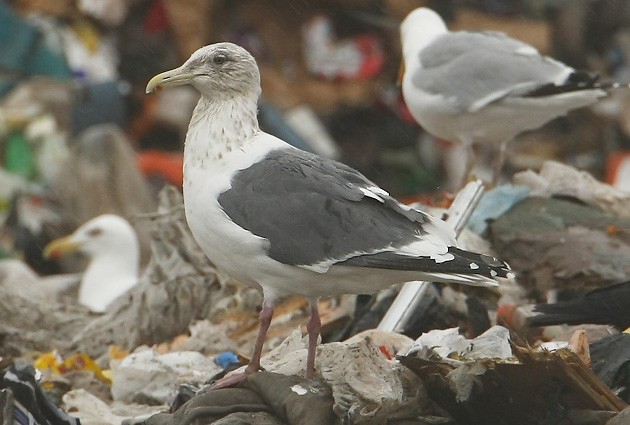 Apparent Slaty-backed Gull, Pitsea, Essex, February 2011 (Photo: Steve Arlow)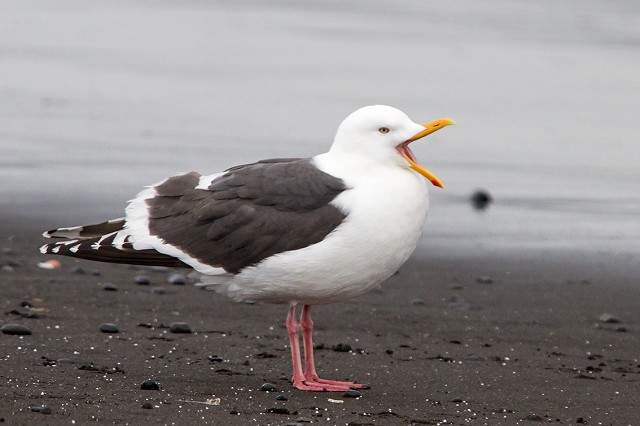 Adult Slaty-backed Gull, Húsavík, Iceland, May 2012 (Photo: Yann Kolbeinsson)

Slaty-backed Gull, Hrodna, Belarus, December 2012 (Video: Dmitry Yakubovich)