I have been making the long drive down from Bromley (in Kent) to Cornwall at least bi-annually, if not more frequently, for almost three decades now. With my brothers I've been lucky enough to share a second home in St Just since I was a kid, and over the years many of my best birding moments have been centred in and around the valleys and headlands of West Penwith. But then living in Bromley can hardly compete — unless you like parakeets!
So I wasn't expecting this August's visit to be so different from many others; I'd last gone down in May, enjoyed a Purple Heron and a European Bee-eater but missed the near long-staying Sardinian Warbler that finally did a bunk the night before we headed west.
Late August is 'seabird season' so I was hoping to reconnect with the larger shearwaters, but also spend some time birding away from the crowds. I work for an NGO in London and since June had been working through a series of exhausting operational challenges — I was definitely looking forward to the break with my family, getting away from it all ... letting the beard grow! In fact I had just told a work colleague that a lighthouse keeper's life was for me, not all this pressure of the rat race.
But my kids are less in love with the outdoor life and definitely all things to do with Cornwall. That's partly because my father's place has no TV or wi-fi; and Penzance High Street hardly keeps a young teenage daughter amused for long. So I am always realistic about the amount of time I actually get to bird, given the needs of a young family.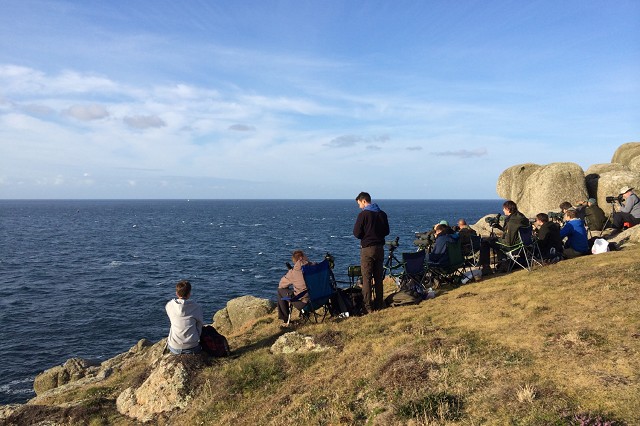 Gwennap Head at Porthgwarra is a famous seawatching destination and has played host to many memorable days over the years (Photo: Josh Jones)
We travelled down on the Monday and I made a beeline for Porthgwarra the next morning. I had a couple of hours before family commitments kicked in. But with a strong southerly blow and heavy rain, visibility was appalling, the scope was getting drenched and with little other than a few Whimbrel overhead, I soon decided to cut my losses and head home. Still, I got to meet Geoff Wyatt, down from Oxfordshire and about-to-be new birding acquaintance. Naturally, the weather quickly improved after I left (!) and Geoff and others had a great day, with good numbers of Cory's, Great and even a possible Yelkouan Shearwater.
So I returned to Porthgwarra on Wednesday morning; this time Geoff had beaten me to the viewpoint and over the next few hours good numbers of Cory's and two Great Shearwaters went past as well as Arctic, Pomarine and Great Skuas and some Sooty and Balearic Shearwaters. It was a good morning's tally for me but since the number of passing birds was starting to tail off by 9.30 am, I slipped away to leave the 'hard core' to keep counting.
With the winds drifting round to the west I thought I would try Pendeen on the Thursday morning. I love Pendeen; I find the light is better and the shearwaters come closer. And it's only five minutes (not 20) from the house. And finally I wanted to find my own birds, not simply watch what others were calling. Sure enough I was the only birder at Pendeen on the Thursday morning and enjoyed better numbers of Sooty and Balearic Shearwaters up until 8.30 am. No surprise, however, that there were no larger shearwaters at Pendeen, yet they were continuing to stream past Geoff and others at Porthgwarra.
So Friday morning arrived and I decided to return to Porthgwarra. Thank God I did!
I was first onto the headland again, arriving just after 6.30 am and a few minutes ahead of James Garside, who had travelled down from South Wales, courtesy of the 'bank of mum and dad' who had apparently insured their car for him to drive. Don't forget to thank your parents, James! Cory's were coming through more or less continuously — almost one a minute — and by 7.30 am we reckoned the count had reached about 50 birds. We'd also had a nice Pomarine Skua, a couple of Bonxies, a few European Storm-petrels and a couple of Sooty Shearwaters by the time Geoff appeared for his fourth all-day stint.
And then it happened! Just after 8 am, I decided to swing the scope right and watch a group of Northern Gannets that were loafing around the Runnel Stone (a buoy about a mile out from the headland that birders use as a marker for calling passing seabirds) when I saw it. I knew instantly that it was a tropicbird. I've seen all three species of tropicbirds on a number of occasions, first in the Caribbean in the early Nineties and then the southern-hemisphere species around various Pacific Islands in 1997 and again in 2013, so as it flew over the Gannets, the unmistakable size, structure, plumage and characteristic flight pattern caused, well, you can probably imagine ... a near cardiac arrest!
And it was this inability to stay calm that almost blew it!
All I could scream was the ubiquitous F-word or version of and "get onto the Runnel Stone now" and then almost immediately afterward "it's over the Runnel Stone now" as the bird powered west at some height. I realised later that I hadn't even said what it was, but the panic in my voice seemed enough for those nearest to me to swing their scopes onto the bird.
I was hoping that Geoff who was sitting directly behind me (and had been calling and identifying most of the good stuff all week) would quickly get onto it which he did, but to my astonishment he then shouted "it's a Sabine's". I was thinking ... what? Is he watching a different bird?
Panic!
I then remember screaming "but look at its tail; look at its [insert expletive if you wish] tail" but the bird was now flying directly away from us and I think Geoff was working only from the wing pattern. Of course, what felt like a lifetime was really only a matter of seconds before the bird, reminiscent of a skua, rose up, semi-stalled and then banked and at that moment I think Geoff and a few others realised the enormity of what they were looking at. Whether it was Geoff or others I am not sure, but I heard birders yell "tropicbird" and of course I realised at that point that I had not even said as much! But then my communication skills were always a weak point.
And then thankfully the tropicbird changed course and started to head towards the land, albeit still west. With a gentle southerly breeze and a little cloud cover punctuating otherwise blue skies, the conditions were fantastic. The tropicbird's plumage literally dazzled in the near-perfect conditions. At this point my language was fairly unrepeatable and I remember shouting, among other things, "can anyone get the bill colour?" and others shouting "Red-billed Tropicbird" and then saying "I am shaking too much to keep the scope still."
The tropicbird then drifted west. Various birders scrambled to their feet to get to the other side of the rocks that were sheltering us, only for someone else to then shout "it's coming back". Amazingly the bird was now returning towards the Runnel Stone, and was perhaps only at two-thirds to four-fifths the distance of the Runnel Stone line and was now even visible with the naked eye. It seemed to investigate and associate with a couple of passing Gannets before coming level with us. But then again it reversed its direction and returned to heading west. This time we lost the bird for good.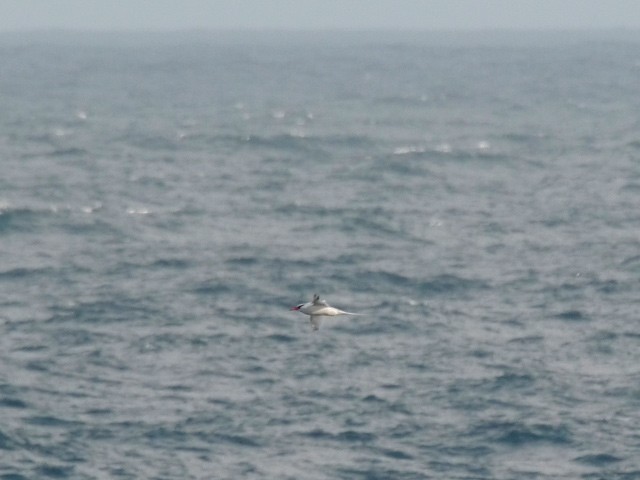 This adult Red-billed Tropicbird was seen and photographed off Pendeen, Cornwall, on 18 August 2013. The fact that Martin's Porthgwarra bird was an immature immediately renders it a different individual (Photo: Tom Whiley).
The bird had effectively performed a complete loop just to the west of the Runnel Stone. I suspect it had originally come in from the west rather than the east, which might explain why no-one had picked it up in the usual viewing arc between the pinnacles and the Runnel Stone.
By now everyone was standing up. Geoff was on the phone; there was a lot of punching the air, incredulity and hugs. Twelve birders from various parts of Britain were now united in a single almost unique birding moment. In all, the tropicbird had shown for around five minutes and every one of the dozen present had seen it well, including a young lad who can hardly have been 10 years old — apologies if I do you an injustice my boy. Still, I remember walking up onto the St Ives headland one early September morning in 1983, when I was not many years older than you, and stumbling across what is still regarded as one of the best seabird wrecks ever. That day cemented in me a birding odyssey that has now spanned more than three decades. I hope 28 August 2015 does the same for you!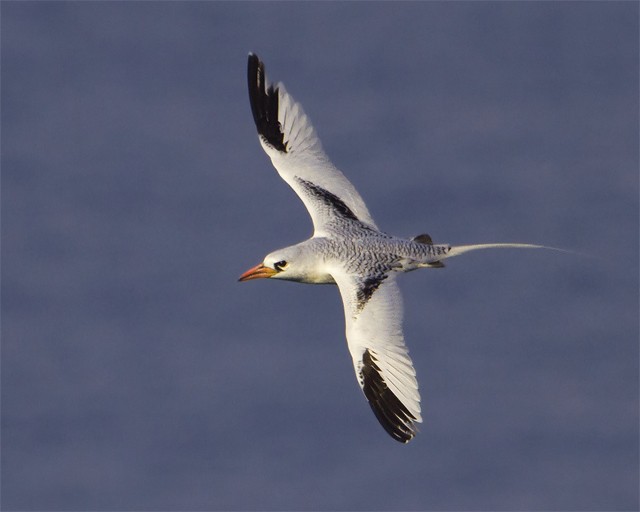 The Porthgwarra Red-billed Tropicbird retained an orangey bill and shorter tail streamers, rather like this immature photographed off Qatar (Photo: Gavin Farnell)
And one more ghost laid to rest. My younger brother, Andy, found Britain's only Yellow-throated Vireo way back in 1990 a few miles north of Porthgwarra, in Kenidjack Valley. As the years rolled on, as the decades passed, I kind of reconciled myself to never emulating that stunning find. Andy now lives in Los Angeles, but regularly returns to the UK and of course makes a beeline for Cornwall. We both now have a reason for smiling as we return to this most beautiful part of the British Isles.
The bird was clearly a Red-billed Tropicbird; probably a sub-adult bird given the shortish streamers projecting beyond the wedge-shaped tail, the grey vermiculations to the upperparts and inner wing, and an orange-coloured bill. Other species of tropicbird could be ruled out by the easily observed wing pattern — the black outer primaries and the black primary coverts creating the Sabine's-like outer-wing markings that had initially confused Geoff (Red-tailed Tropicbird has white outer primaries and White-tailed Tropicbird, a possible but highly unlikely species, has white primary coverts) — and the extensive face mask.
In all, I believe 12 birders were present and all saw the tropicbird. They were as follows: Martin Birch, Geoff Wyatt, James Garside, Malcolm Oxlade, Brian Harrison, Tony Barter, Jeff Burgum, Richard Tyler, Chris Wilkinson, Elizabeth Watts, Francis Harris (and his grandson) — apologies if I have missed out anyone or misspelt your name. I am sure each of you lucky dozen will want, in time, to submit your own write-up of the bird. If you weren't the shaking wreck that I was, you might actually have made some better notes than me!