I live in Marshfield, Gloucestershire, and spend most of my birdwatching time on my local patch. Normally I head north of the village as there is high land there, and in the past we have had all three of the regular harriers, 15 Short-eared Owls two years ago, and Quail are regular in the summer. It's mainly known for its roost of up to 500 Corn Buntings in winter, and dozens of pairs breeding in the summer. It's a wonderful area, with lots of farmland species that are rare elsewhere. Up until yesterday, the best find was in 1989, when a Woodchat Shrike, found by another regular visitor to the patch, Martyn Hayes, spent a Sunday afternoon by Rushmead Farm.
As I hadn't been there for a week or so, I decided to talk a walk down the Shire Valley on Monday afternoon, hoping to add Kingfisher to my patch year list, or else a Water Rail, which I'd seen on the second pond last November. The Shire is a beautiful chalk valley more reminiscent of Derbyshire than the Cotswolds. There was a chilly wind blowing down the valley, and I'd just passed the former farmhouse on my right when I heard five or six high-pitched calls, rather like a Chiffchaff, but higher, I thought. I stopped to hear it again — I often find it easier to pick birds up by call rather than by sight — when a bird perched on a branch ten metres in front of me. I had a look and thought 'Robin', but why had it only got the reddish colour on its flanks? I tried to remember if I'd seen a Robin like that before. It was also flicking its tail which, at this stage, I couldn't see properly. I was thinking "oh well, red flanks, all it needs is a blue tail now!" when it turned around and there was the blue tail! I nearly collapsed; my heart started racing, and I thought "it really is one". I don't take photos, but it was really obvious what it was, so I raced up the hill to ring the two people I'd got the numbers of — Martyn and Jack Willmott — and then waited for them to arrive. The bird moved up and down a little area by the stream, feeding and then returning to a low perch and back again, flicking its tail all the time and allowing me to be quite close. Occasionally it would rest for a few minutes and then start off again.
Thankfully Martyn arrived with his camera, and the results can be seen on his website The Birds of South Gloucestershire. Jack also arrived and before dusk five other people were able to get to the valley. I was happy for the news to get out as it was on a public footpath, and as long as visitors parked on the upper lane off the main road to Tormarton, which is a rat run to the motorway, I was confident that all would be well.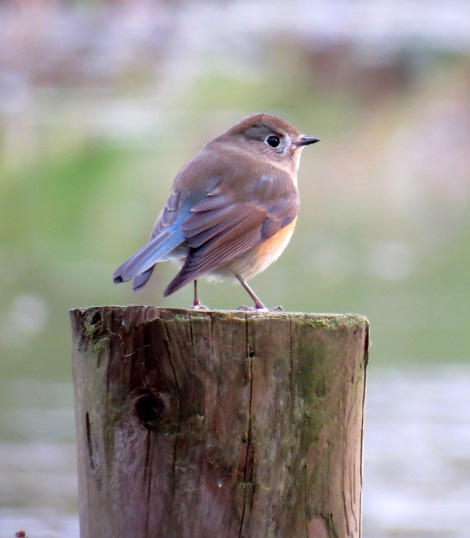 One of Martyn Hayes' first photographs of the bluetail, taken on Monday evening. Plenty more can information can be found at www.thebirdsofsouthgloucestershire.co.uk.
I went along the next morning and found 70 more people than are normally in the valley on a sunny day in February! I was really pleased that everyone was able to get really good views without having to wait around or search, and I believe that over 200 people came during the day, maybe more. I've never felt as I did yesterday while birdwatching: to find your own rarity on your own patch, nothing can beat it!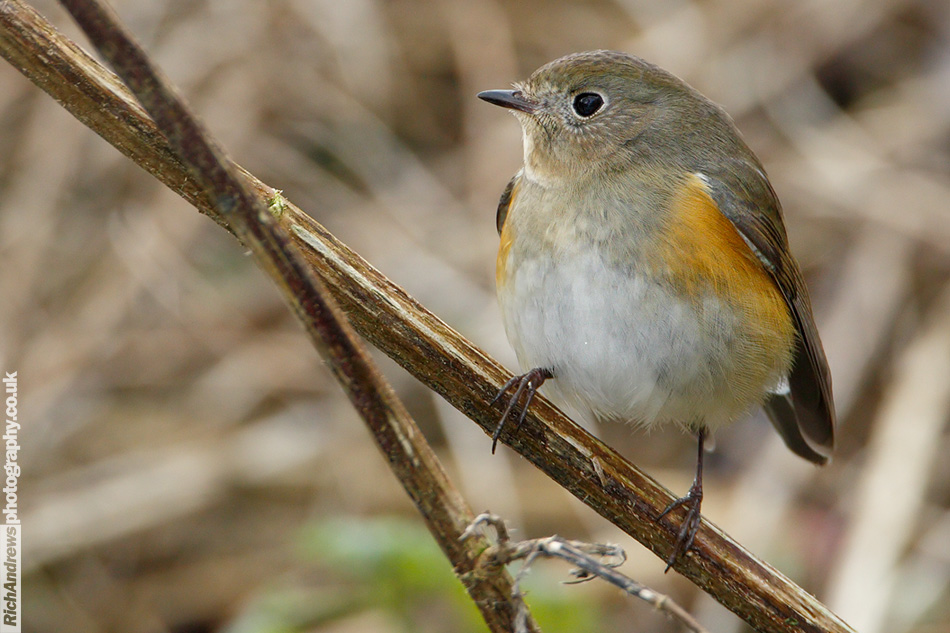 Red-flanked Bluetail, Marshfield (Photo: Rich Andrews)

Red-flanked Bluetail, Marshfield (Photo: Cliff Woodhead)
I've no idea whether the bird I heard was the bluetail or not; I just knew that what I heard was not a call I'd normally hear there, so whatever it was, thanks!
The Red-flanked Bluetail is still present in the Shire Valley today [6th February], and represents the first wintering record in Britain.