It'd been a while since I'd enjoyed the intense adrenaline rush that accompanies a major find. Nowadays the majority of my birding involves either sifting through gulls on the Thames near where I live in west London, or heading to the London Wetland Centre WWT reserve at Barnes, where there is often nothing interesting to look at apart from … more gulls! Rarity potential on my adopted patch tends to range from 'low' to 'non-existent' and if I manage something of the ilk of a Caspian Gull, it's been a successful day.
Week-long breaks to Shetland in the autumns of 2015 and 2016 have brought a series of 'sub-rare' finds — think Pallas's and Blyth's Reed Warblers, Red-backed Shrike and so on — undeniably pleasing, but frankly small fry compared to the long list of mega-rarities the isles have produced in recent years, and in particular last autumn. In fact it's as long ago as my most recent visit (in 2014) to Corvo, Azores, that I really felt the buzz of bumping in to something rare, when a walk in the higher parts of the island produced Rose-breasted Grosbeak, Indigo Bunting and Scarlet Tanager in a memorable hour one October afternoon.
At the end of last year I'd agreed to lead a natural history tour in the Azores in early July 2017. Even though it wasn't a trip geared towards the keenest birder, I find that a year passing without a visit to this magical mid-Atlantic archipelago (2015 the only 'blank' year of the past seven) leaves me feeling a little incomplete, rather like I'm missing out on the fun. As such, ignoring the chance to visit the islands at what would be a new time of year for me, with the prospect of some interesting endemic plants and hopefully a few cetaceans to boot, was much too enticing to ignore, even if the rarity-finding potential was pretty low.
Though you can never totally write off the Azores' ability to produce exciting vagrants at any time of year, the months of June and July are comfortably the quietest across the islands. As such I went with few expectations and explained to the group that, in terms of birdlife, to anticipate anything more than the endemic Azores Bullfinch, resident vagrants such as Pied-billed Grebe and Semipalmated Plover, a few seabirds and the common Macaronesian landbirds was probably a little ambitious.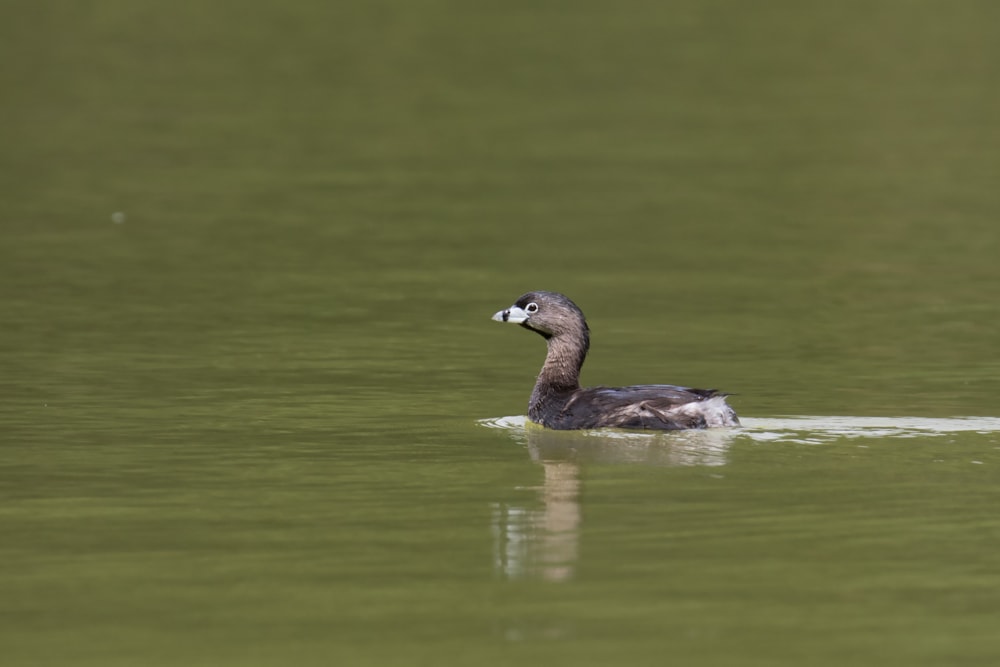 Pied-billed Grebe, Lagoa das Furnas, São Miguel, 3 July 2017 (Josh Jones).
Our first days on São Miguel brought terrific views of the bullfinch and one of the grebes, as well as a peculiar dark egret. The latter has been around for a while now and could be a hybrid Western Reef × Little Egret (or perhaps just an aberrant Little) — little is known about these striking birds, despite their regularity in Spain and elsewhere. We'd flown to Terceira on the Tuesday, but birding had taken a back seat as we soaked up the local flora and learnt about the islands' geology. Exciting whale-watching trips on the Wednesday and Thursday produced brilliant encounters with Fin and Sperm Whales, as well as three species of dolphin, but the weather was too calm for any decent seabird activity and we saw little more than the half-expected Great and Sooty Shearwaters.
And so it wasn't until Friday that we paid homage to the famous Cabo da Praia quarry, on the east side of the island. For any birder visiting the Azores, a visit to the quarry is a must, regardless of time of year. There are always Kentish Plovers to look at and the pools usually hold at least a few non-breeding waders to sift through. As Peter Alfrey's Hudsonian Godwit in July 2007 proved, you can never write the place off, even in mid-summer — in fact it was this very bird I had in mind as we pulled up at the quarry on what had turned out to be a gloriously sunny Friday afternoon. After explaining the ornithological significance of the quarry to the group and highlighting its ability to attract vagrant shorebirds from almost every point of the compass, I made the conscious decision to leave my camera in the jeep, joking that "leaving the camera behind generally means you find something interesting".
The tide was very high in the quarry and the few shorebirds present were roosting in long grass: the ubiquitous Kentish Plovers, a few returning Turnstones and Sanderlings, a couple of Bar-tailed Godwits, a summer-plumaged Dunlin (always notable here), the resident Semipalmated Plover and a uniform-grey bird sat asleep, facing directly towards where we stood. Within seconds it untucked its head and gave a side-on profile — hang on a minute, what's that?! The bill was long, paling towards the base, and the head possessed a strong, off-white supercilium and contrastingly dark lores. My heart started to race a little, but I couldn't see much of the bird and knew that an eastern-type Common Redshank had been seen in the quarry on and off in recent winters, albeit not since March. I had strong suspicions as to what I was looking at — not a redshank — but, having never seen either of the candidate species, I didn't want to blurt it out without better looks.
It was hard to tear my eyes away from the mystery bird but guiding came first and foremost, and I freed up my scope to let the group have a look at the roosting flock, unconvincingly referring to the puzzling wader as an 'interesting redshank'. I started to google images on my phone while trying to recall features and calls from deep in my memory. Seconds later Nicola, who was looking through the scope, exclaimed: "That's not a redshank, it doesn't have red legs!"
Content continues after advertisements
Thoughts of a tattler had been racing through my mind and now Nicola all but confirmed it. A nervous peer down the scope revealed that the bird had stood up and was now in complete profile. No doubt about it: despite the fierce light and intense heat haze, the legs were undeniably yellowish and the bird had a curious shape to it, distinct from any European wader. Crikey!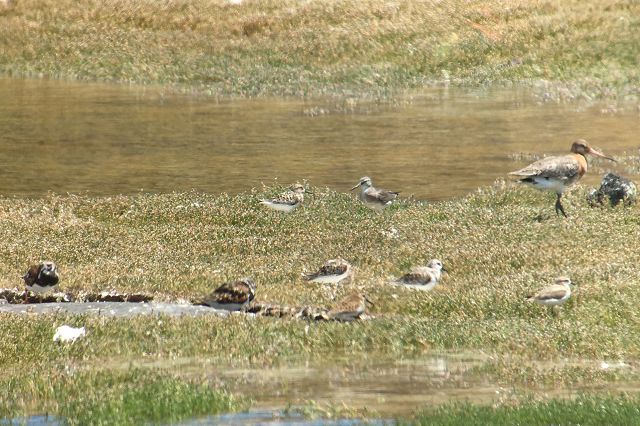 As this phonescoped shot shows, initial views of the tattler (back middle) left a lot to be desired as it shimmered in the heat haze. However, the bird's distinct shape and uniform appearance rang alarm bells. (Photo: Josh Jones)
Utterly shocked, I explained to the group that the bird in question was a tattler and could be one of two very similar species — but either way, it was a seriously rare bird and would be new for the Azores, with Wandering potentially new for Europe. The adrenaline was really flowing by this point but in the presence of guests, I had to suppress my insatiable urge to become over-excited and let off a tirade of expletives — something that would undoubtedly have happened if I was out on my own and birding for leisure! Calmly and almost apologetically, I explained to the group that guiding would have to be temporarily abandoned in an attempt to obtain photos of the bird and hopefully hear it call, a feature that should confirm whether this bird was of East Asian or Western North American origin.
Thankfully Nicola, Jane and Sophie seemed as excited as I was about the tattler and were very accommodating. Over the next hour we enjoyed great views of the bird, and managed to note a range of features including (in flight) the uniform grey upperparts as well as darker grey axillaries. We were also treated to it calling several times — a single, drawn-out note that rose slightly at the end, which confirmed that we were looking at a Grey-tailed Tattler, a first for Portugal and just the fifth occurrence in the Western Palearctic. The pressure was off, although we had to leave just after 16:30 to catch our evening flight back to São Miguel.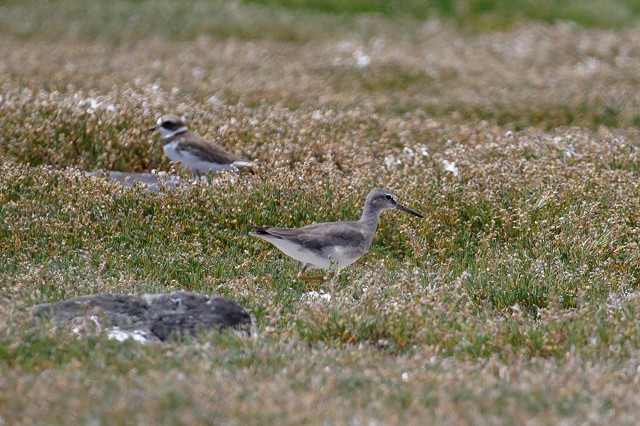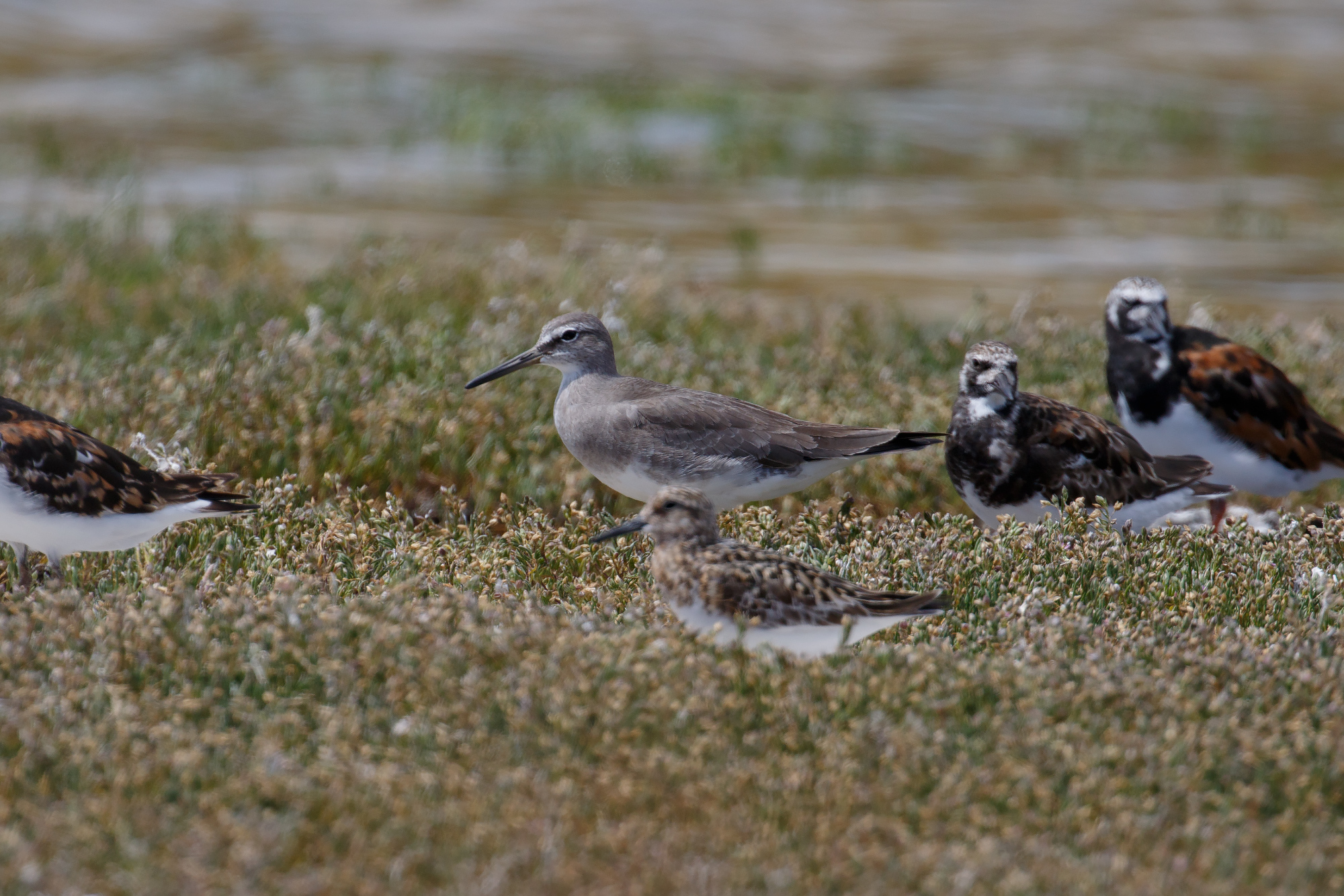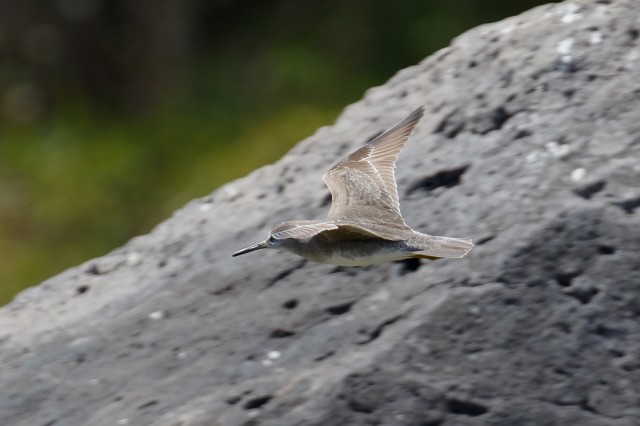 Grey-tailed Tattler, Cabo da Praia, Terceira, 7 July 2017 (Photos: Josh Jones)
Finding a rarity in these circumstances was a new experience for me, and I was fortunate in that I was leading a small (and interested!) party — plus the bird was very obliging. Given we found it little more than two hours before leaving the island altogether, things could have panned out much less favourably with such a tight time frame. In front of clients, I'd had to conceal much of the emotion that follows such a discovery and in fact it was only on settling down in my hotel room in Ponta Delgada that evening, after a whirlwind of an afternoon had subsided, that it really began to sink in how lucky we'd been.
In fact a tattler couldn't have been any more perfect an example of my earlier introduction to Cabo da Praia, having informed the group of the miraculous pulling power that the site possesses. There, right in front of us, in a tiny quarry on a small island dotted in the middle of the North Atlantic, on a hot summer's afternoon when taking a swim seemed a more appropriate activity than birding, was a shorebird that quite literally should have been on the opposite side of the planet. Migratory birds continue to amaze us with their extraordinary feats of vagrancy, and the tattler is the latest on a long list of examples that continually reaffirm the Azores as an irresistible birding destination, even at the quietest times of year.
The Grey-tailed Tattler was again seen at Cabo da Praia on 10 and 15 July.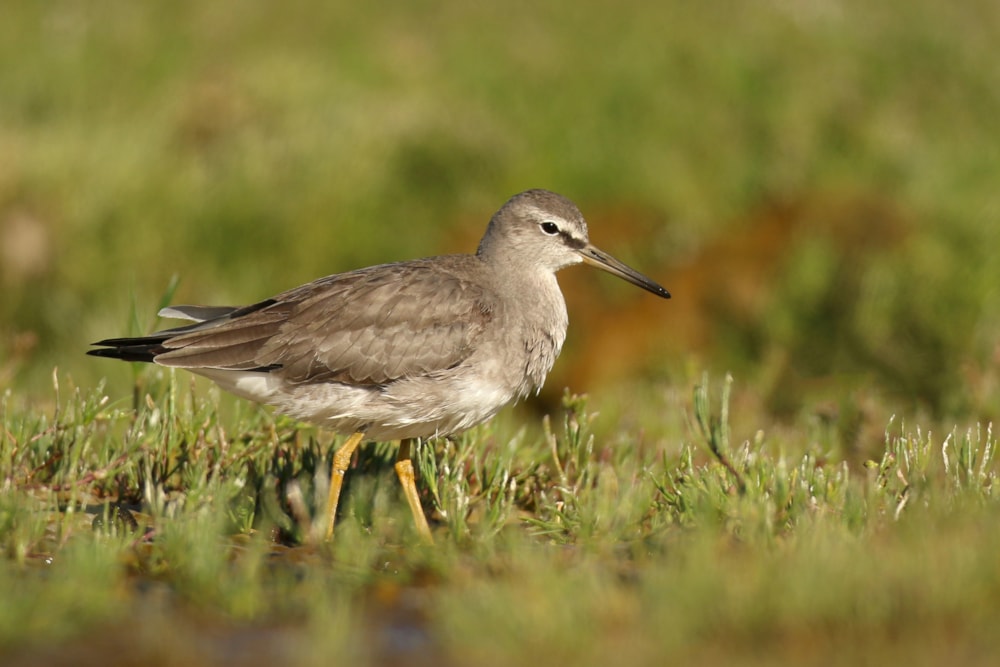 Grey-tailed Tattler, Cabo da Praia, Terceira, 10 July 2017 (Ruben Coelho).