The mind easily wanders on Scilly. The anticipation of a big arrival off the back of warm south-easterlies more often than not ends in disappointment in the opening weeks of spring. All too often, a Northern Wheatear and a couple of Common Chiffchaffs are all I have to show for my efforts. It's at that point that my imagination kicks in: often I daydream about a singing Rüppell's Warbler, or a Wallcreeper on Giant's Castle. It's these prospects that keep me going and I often wondered how my first rarity finder's account would play out if such a scenario came to fruition.
Having finished work on 17 April, and with the family enjoying a day on Bryher, I went birding at Lower Moors. A handful of Willow Warblers and Common Chiffchaffs, as well as a couple of Blackcaps, were flicking around in the sunny corners, indicating that a few new birds were in. As I continued north through Lower Moors a couple of Sand Martins over the reeds momentarily stole my attention but, with water levels high, there was very little birdlife in the main pool area.
I continued along the boardwalk to an open area in the willows when a family of tourists noisily approached. Soon, a harsh call with a raspy quality had me swinging to my right to see what I initially took to be a Yellow Wagtail lifting out of the reeds. All I got on the bird was olive upperparts and a darker head than I would have expected to see on a spring flavissima. It called a further three or four times before sitting up in nearby willows. My attempts to head back down the track to get views of it perched were scuppered by the family who were now blocking the path. Before I could navigate past them, the bird lifted up again and continued south.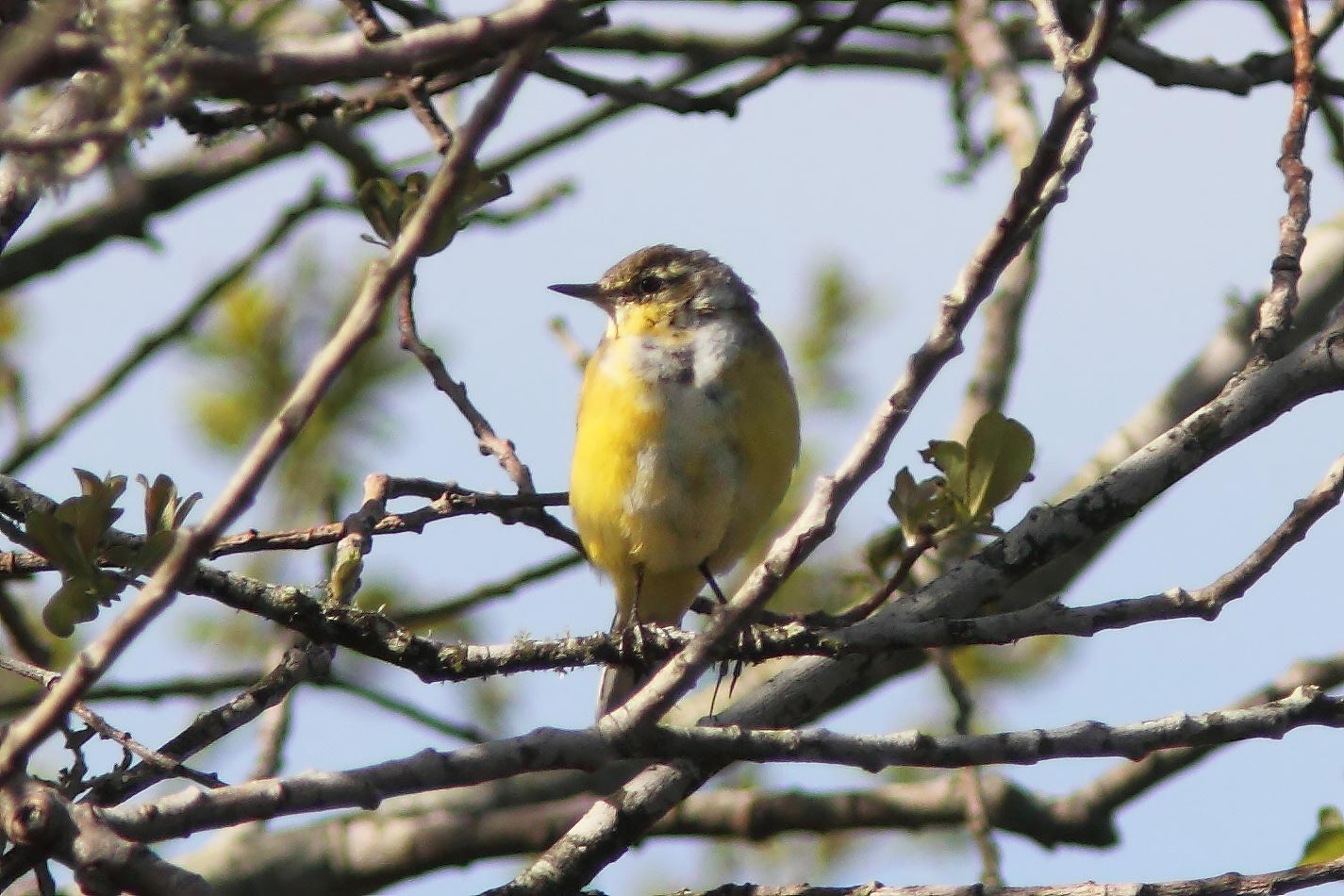 Eastern Yellow Wagtail, St Mary's, Scilly, 17 April 2019. Note the long hindclaw (Scott Reid).
My mind raced as I tried to work out what I'd just seen and heard. I put the news out locally as 'Blue-headed-type Wagtail at Lower Moors. Call noticeably raspy'. Kris Webb was immediately on the phone and we met in the general area the bird had headed towards. After searching for half an hour, we went back to the original location. Kris got there moments before me and the bird was perched up in a willow in full view. With sound recorders running for flight calls, we edged closer, rattling off photos between scrutinising it through binoculars. Then it flew again, giving the raspy call another five times directly overhead, before continuing south and out of sight.
I was still pondering what the bird was when I got home, and decided to listen to the call again. Suddenly, it clicked – the Citrine Wagtail-like call was familiar and in photos I could see a long hind claw: it had to be Eastern Yellow Wagtail! Soon after sharing photos and recordings on Twitter, my theory received confirmation. I spread news locally and others managed to connect with the bird that evening. However, there was no sign the next day.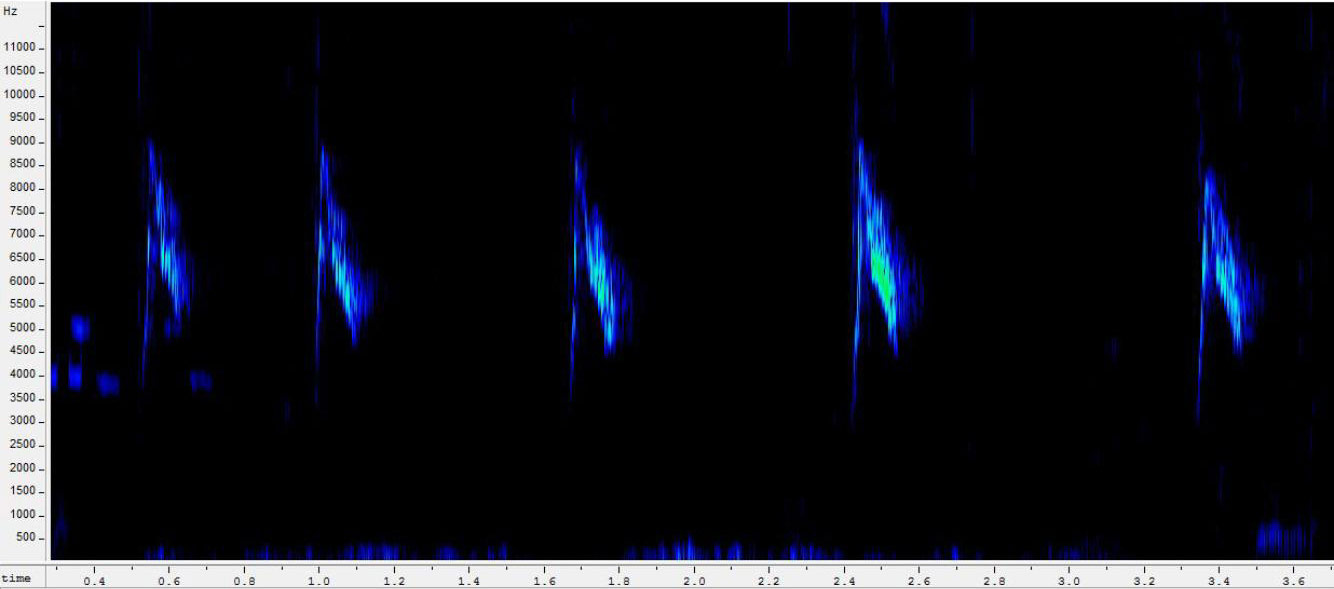 A sonogram showing all five calls of the Scilly wagtail, courtesy of Joost van Bruggen. Each exhibits a seemingly typical call structure for Eastern Yellow Wagtail.
Having established it as an Eastern, the next step was to try and assign it to subspecies. Comparing the sonogram structure to examples of the four subscpecies from the Dutch Birding paper 'Eastern Yellow Wagatails in Europe: Identification and Vocalisations' (Bot et al 2014), the structure of the call appears to best fit M t tschutschensis, or possibly M t taivana. Assuming the bird has completed a much of the moult of its head feathers, the dark olive-green head and yellow in the supercilium would appear to resemble taivana (which is green headed) more than tschutschensis (which is blue headed). However, given that the variation in calls is still poorly understood, that the Scilly bird is clearly still in moult and the photos taken didn't document the bird's plumage in its entirety, this will likely remain unconfirmed.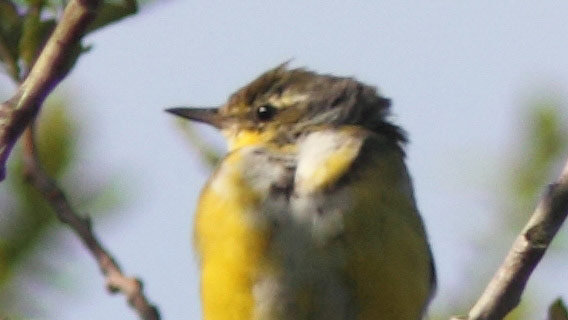 A close-up of the Eastern Yellow Wagtail's head, showing distinctive olive tones to the moulted feathers and yellow in the supercilium, which perhaps suggests ssp taivana (Scott Reid).
So, there I have my first rarity finder's account, one year after moving to these islands: a full-on mega, roughly the eighth for Britain, the first spring record of the species and a first in adult plumage. The debate will continue locally as to whether this bird is in fact the wintering individual last seen at Pelistry on 3 February. However, given it turned up during perfect arrival conditions, was behaving like a migrant and was a one-day-bird, the general feeling is that this was a new migrant making a brief stop on its way north.