The north end of Barra, Outer Hebrides, comprises the township of Eoligarry, which is made up of crofting land, a large wetland marsh and wet pasture fields. Along the roadside there are a few areas of bushes that can give some shelter to migrant birds and the two cemeteries have held good birds in the past. Since nothing seemed to be in the bushes of Castlebay on 29 September 2016, my wife Alison and I decided to go to the very north tip of the island and walk back south along the road through Eoligarry.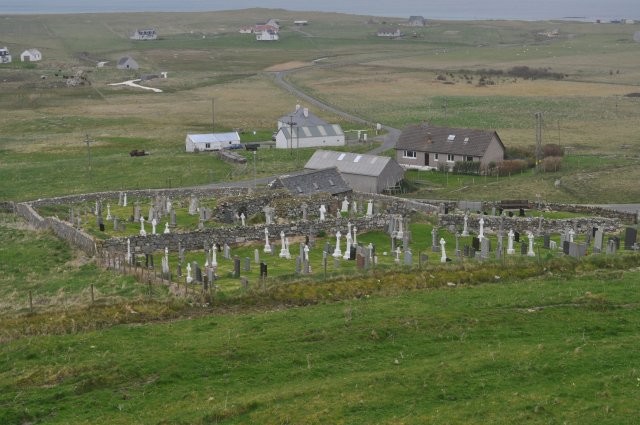 St Barr's Church and churchyard, Eoligarry (Robert Struthers / Creative Commons Licence).
When I got to St Barr's Church, I noticed a thrush-sized bird fly up from a fallow field onto a fencepost about 100 m away. Even at that distance, it caught my interest and a quick scan through the binoculars set my pulse racing.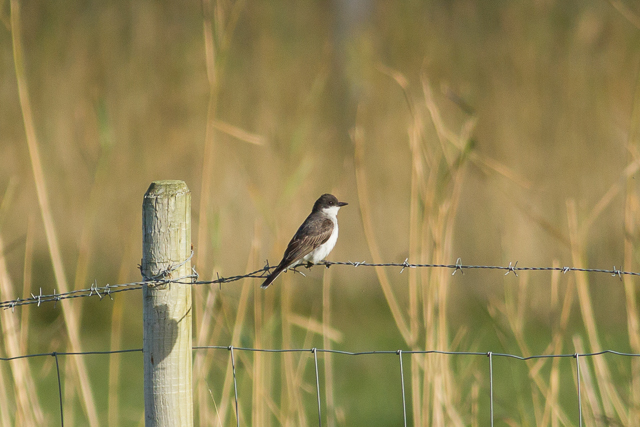 Eastern Kingbird, Barra, Outer Hebrides (David Aitken).
At this point I wasn't sure what it was, but I had a good enough view to know that this was special. Looking somewhat like a giant Pied Flycatcher, this clearly was no ordinary bird. It flew off into a nearby garden and out of sight.
I got Alison onto the location and the bird reappeared soon after, allowing her to take some record shots. My views led me believe that this was either a phoebe or a kingbird. However with little field experience of either, I decided to get the news out quickly to resident birders Ian Ricketts and Bruce Taylor with a garbled message. It can be amazingly difficult to use text when you have just found a mega. The bird reappeared regularly and then slowly moved closer along the fence line.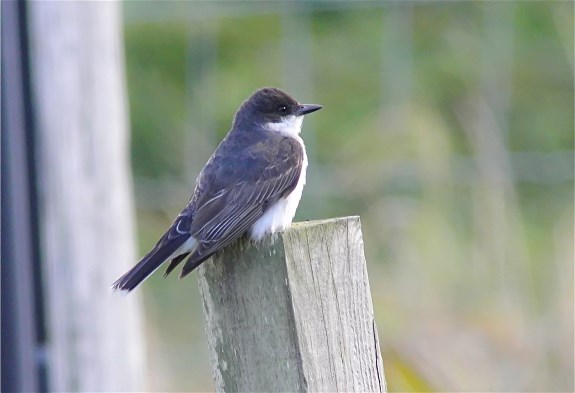 Eastern Kingbird, Eoligarry, Barra, Outer Hebrides (Steve Nuttall).
It looked striking, with its black cap and bright white throat and belly. An off-white chest band was evident, but the most noticeable feature was a white tip to the tail feathers that was particularly obvious when the bird was in flight. It was very active, catching insects much in the manner of a Spotted Flycatcher, and easy to see as it chose prominent perches around the garden and on the outhouses.
By the time Ian arrived, I was confident that this was a kingbird but it was good to get his agreement. Within 10 minutes Bruce had arrived, and within 20 minutes every active birder on Barra had gathered and seen the bird. With all agreed that this was an Eastern Kingbird, news was released via BirdGuides.
Content continues after advertisements
The kingbird was watched for the next two hours until dusk, during which time it was almost constantly in view. The owners of the house were informed about the rarity in their garden and warned of the interest that this might cause should it stick.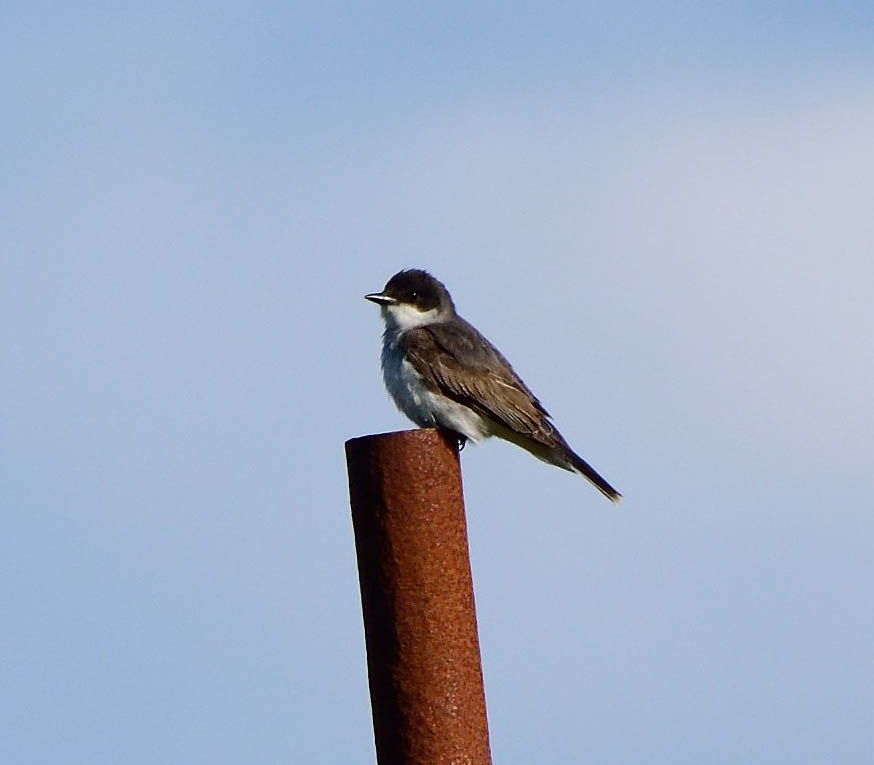 Eastern Kingbird, Eoligarry, Barra, Outer Hebrides (Steve Duffield).
In 2011, I found an Ovenbird in Castlebay but this has now been surpassed by the Eastern Kingbird, and in my 50th birthday year when I am spending an entire month on the island. This bird continues Barra's run of top-notch rarities in the past five years, and with two weeks done, I hope that in the following two weeks there will be more to come.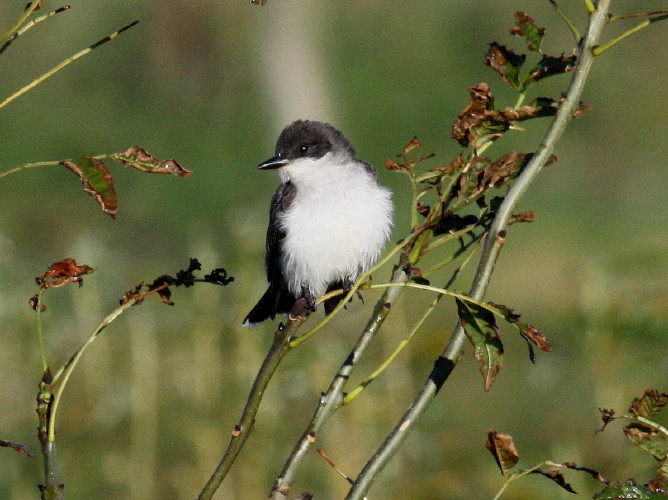 Eastern Kingbird, Bornish, South Uist, Outer Hebrides (Andrew Stevenson).
[Editor's note: the Eastern Kingbird flew off at about 14:50 the following day (Friday 30 September) and was not seen subsequently at Eoligarry. Another, presumed to be the same bird, was found at Bornish on South Uist on the morning of Sunday 2 October but disappeared in the afternoon and has not been relocated at the time of writing.]
STATS & FACTS
First recorded: Inishmore, Co Galway, 5 October 2012.
Previous British records: 0.
Previous Irish records: 2.
Mega rating: *****