In the early afternoon of Sunday 4 December, I was taking photos out of my bedroom window which overlooks the grounds of the Dukes Barn Activity Centre in Beeley, in Derbyshire's beautiful Peak District. Having been laid up and under the weather over the weekend, I was keen to get some shots of the Waxwings that had been reported in the area on the fruit and berry trees, but had to make do with Goldcrest, Blackbird and Starling taken from my bedroom window.
There was also a bird present which I thought might be a Mistle Thrush, knowing it was different to Song Thrush which I had seen the previous day. I took three shots I needed identifying — Starlings in flight, the thrush and a Blackbird — and posted them on the UK Bird Identification forum on Facebook, knowing there were lots of helpful birders willing to give advice there.
The first comment was from Dan Brown: "Er, this is a Dusky Thrush! Where and when was it taken?" "Just this afternoon in Derbyshire," I replied. "Is it in an accessible site? And would it cope with a lot of people?" he shot back. Other comments followed: "Wow!" "OMG" ...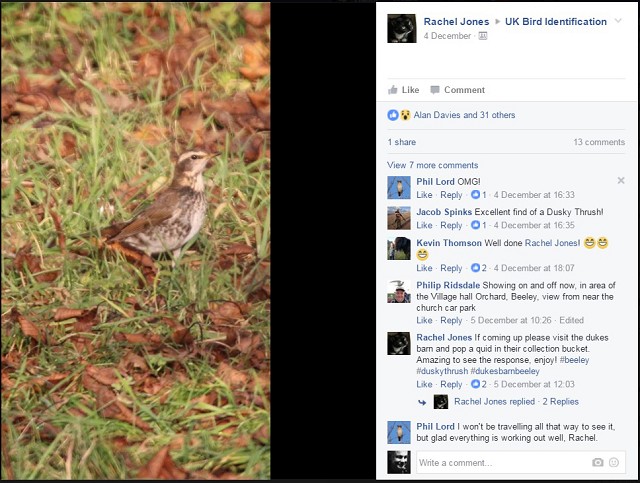 Reaction to Rachel's initial post on the UK Bird Identification group on Facebook.
To be honest, I thought that they were winding me up. It's not unknown on the internet, but it began to dawn on me what I had found. The 'admin' of the Facebook page, Michael Murphy, soon closed down the comments thread and gave me some advice on how to arrange access to the site for the hordes of birders which it became apparent would visit.
I tried to get through to the Chatsworth Estate who are the trustees of the charitable activity centre to make arrangements, but understandably no one was there on a Sunday night. I also contacted the RSPB to help, while Sam Viles from BirdGuides offered advice, but I had to wait until 9 am on the Monday morning to get through to the landowners. By 10 am or so, permission had been granted and staff were available on site, signs had been put up in the village directing birders to the orchard, tea, coffee, mince pies and bacon butties were provided, and a charity collection bucket brought out, which at the time of writing had received about £1,000 for Dukes Barn.
Crowds have been very well behaved, and I begged my boss to take the day off work on Wednesday 7th to get a good look at the bird for myself. The response has been absolutely incredible, and I've been on local radio, in the daily papers and even nationwide on BBC TV.
The best thing, however, has been meeting so many brilliant people, all excited and sharing a common interest in birds. It's been fantastic to see people buzzing and they all seem far removed from the outsider stereotype that birders have.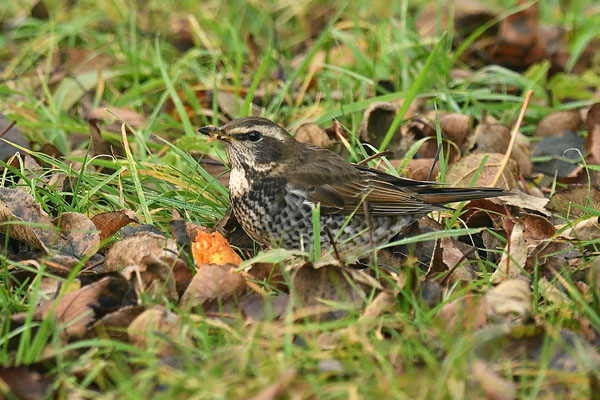 (Photo: Steve Young)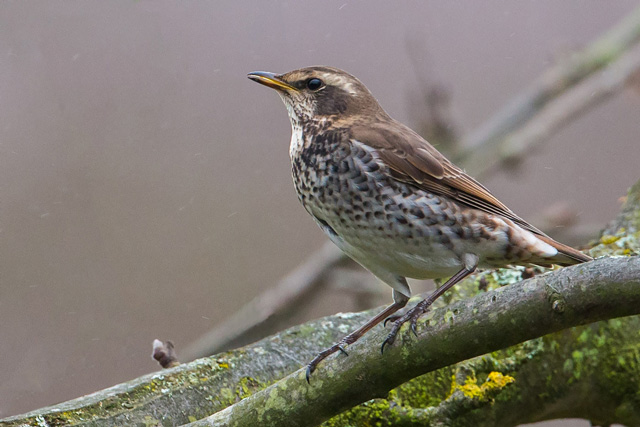 (Photo: Andy Butler)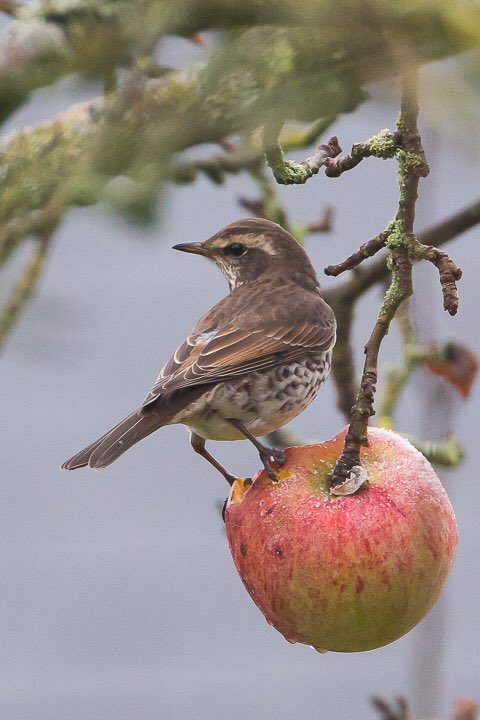 (Video: Alan Shaw)

(Video: Jason Coppock)