Sunday 27th April was the most beautiful day: blue skies, sunshine, a light south-easterly wind and at 12°C, the warmest day of the year so far — perfect for going birding! However, as part of my post-Observatory life, I run a croft and days like these are so few and far between at this time of year on Fair Isle I decided I should really take advantage and do some croft work.
So, it was about 11.30 am and I was in the midst of dosing and feet-trimming my year-old sheep when David Parnaby (the current Observatory Warden) texted me to say there was a female type Red-breasted Flycatcher on the fence at Burkle (my house). That's great — a garden tick! I returned home just before 1pm to see David and a group of Obs staff lying in the grass just across the road from my garden. I scanned the fence-line where they were looking with camera and bins and spotted the RbF. Excellent — I went inside for lunch and added species number 151 to the list on the kitchen wall! Twenty minutes later, I headed back out with my ten-year-old son Ythan and my camera to see if we could see it again. It was still present on the fence so we ventured down to where the Obs crew had been 'sunbathing' and waited for it to come a bit closer, which it duly did. After a few minutes watching, Ythan headed back into the house and I continued to watch the flycatcher.
I had only taken one photo and was just trying to view the uppertail through my bins when in the rough grass below the fence an orange-breasted bird with a grey head hopped briefly into view and disappeared again. The view I had was long enough for me to suspect a male Ortolan. Nice! It appeared again a few moments later and I was pleased to see that it was indeed an orange-breasted bunting with a blue-grey head. However, I was gobsmacked to see that instead of a nice creamy-yellow throat and submoustachial stripe (as in Ortolan), these were reddish-brown — I was watching a Cretzschmar's Bunting!!! Wow!!!!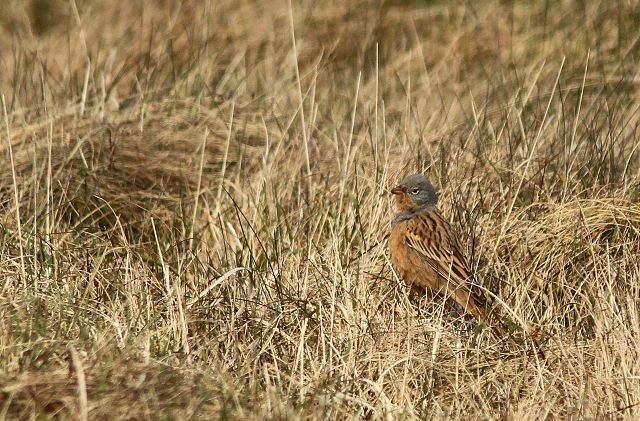 Cretzschmar's Bunting, Fair Isle, 27 April 2014 (Photo: Deryk Shaw).
My heart was racing now. I took a couple of quick record shots, in case it scarpered, then phoned the Obs — interrupting yet another famous FIBO Sunday lunch! Next, I phoned the house and told Ythan to 'come back down — quickly — and bring your bird book'. I took a mental note of the plumage details: blue-grey head, lateral throat stripe and breast with a clear demarcation to rusty orange underparts, stout dirty pink bill, white eyering, broad rusty brown tertial edges, pink legs. Ythan duly arrived and I was delighted to show him my find — just a fifth for Britain, but the third for Fair Isle. He was (nearly) as excited as I was and, while it was out of view, he looked it up in his book and I pointed out the distinguishing features.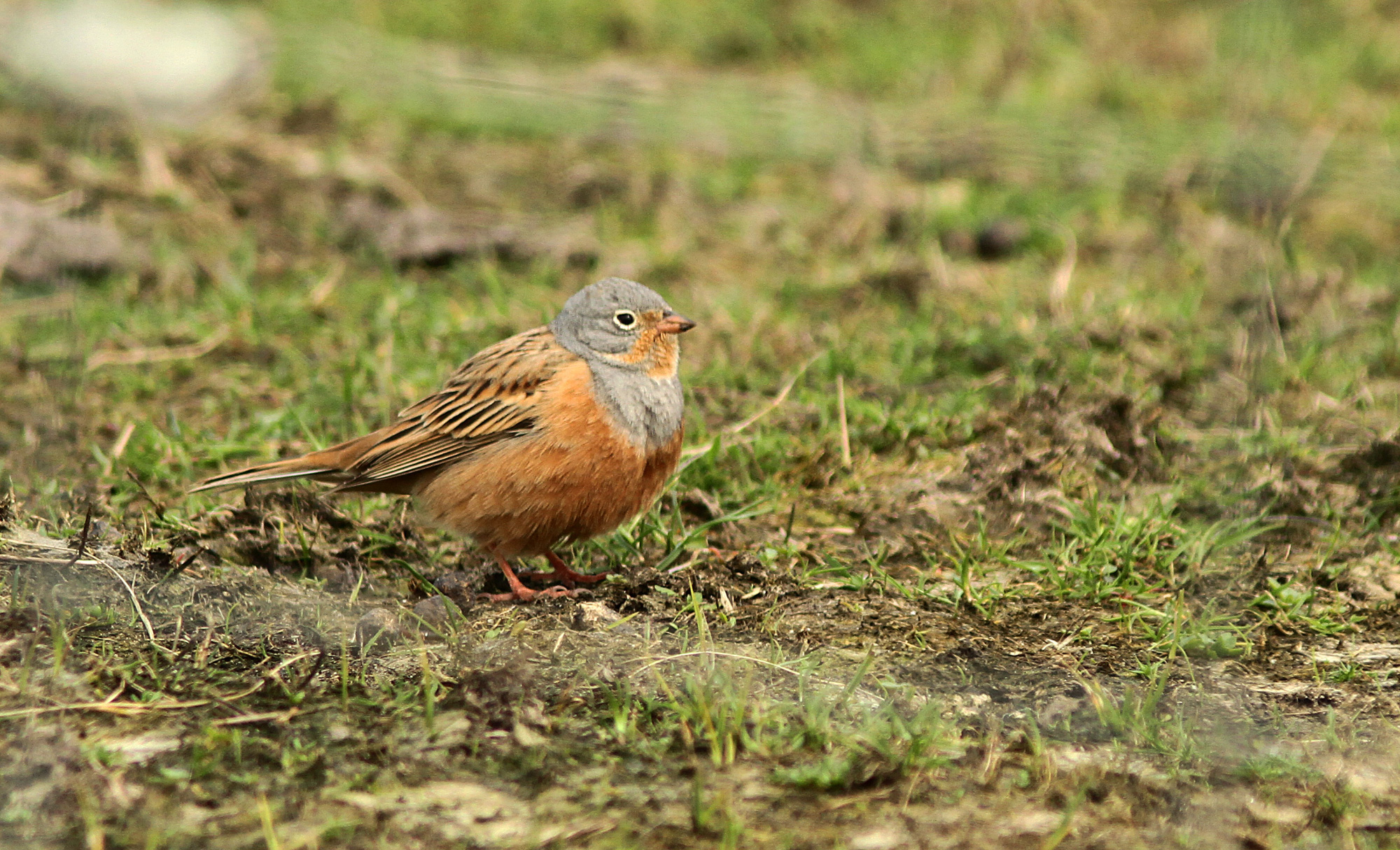 Cretzschmar's Bunting, Fair Isle, 27 April 2014 (Photo: Deryk Shaw).
The bird reappeared and I set about taking photos. It hopped along in the rough grass below the fence, then ventured onto the road verge. I heard a vehicle coming along the road so asked Ythan to stop the car as it came round the corner whilst I continued to try and get some photos. The bird hopped across the road and onto Burkle land — yes! Number 152! Ythan explained to the two local car owners the reason for the traffic stoppage. Fair Islanders are quite used to being stopped for a bird and are always keen to see the latest cause for commotion — many of them have seen a list of birds that would make the most ardent of twitchers weep! Unfortunately, the bird had other ideas and suddenly got up, flew across my lawn, past the bird table and seemed to come down on the far side of the garden. However, by the time we got there it had vanished.
The Obs van arrived but all I could show them were my photos. Suitably gripped, and as more people arrived, the search began. However, despite a thorough search of the south of the isle right up until dusk, the 'only' thing to be found was a Caspian Stonechat — another fifth for Britain and a stunning-looking consolation. Incidentally, this became species number 153 on the Burkle list a couple of days later!

Caspian Stonechat, Fair Isle, 27 April 2014 (Photo: Deryk Shaw).
Fortunately, the bunting was rediscovered the following day and is still present at the time of writing (Wednesday 30th) — so far, two planeloads of twitchers from further south have left very happy.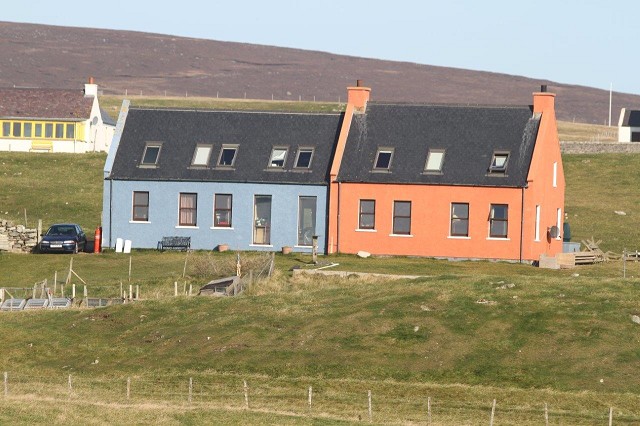 Deryk's Cretzschmar's-coloured house!
Previous records
The Cretzschmar's is the fifth record for Britain following the first two British records on Fair Isle (10th–20th June 1967 & 9th–10th June 1979), the third on Stronsay (14th–18th May 1998) and most recently the only autumn record on North Ronaldsay (19th–21st September 2008). So currently, the scores are Fair Isle 3 — Orkney 2. All hail the magic isle!
The stonechat, found by warden David Parnaby, is also a fifth for Britain. The first was in Cornwall in October 1985, and was followed by a September record from Suffolk in 1993. A male was at Sumburgh Head (Shetland) on 7th May 2006 and, more recently, a long-staying first-winter male graced St Agnes (Scilly) from 17th November — 3rd December 2013.