In early 2014, a White-winged Scoter was identified retrospectively from photos taken from the seawall at Musselburgh Lagoons, Lothian, on Boxing Day 2013. This bird, believed to be a Stejneger's Scoter (and thus a first British record), was never seen again despite the best efforts of Musselburgh birders (more on that bird here). Although it felt like the one that got away at the time, I've been mindful of the possibility of picking out the species while sifting through groups of Velvet Scoter on my local patch ever since.
On 24 March 2018, I was having a quiet day's birding around the lagoons, seeing not much but enjoying the first Common Chiffchaff of the year and watching nest-building Long-tailed Tits. The Forth Estuary at Musselburgh often provides the most productive birding during winter days and the strong easterlies of recent weeks had produced regular Greater Scaup, Black-throated and Great Northern Divers (all rather scarce here). Unfortunately, these same conditions had also produced many moribund Common Guillemots in the Forth. Therefore, I decided to go and check what could be seen off the sea wall.
I set up the scope on the bench near the lagoons and sifted through the regular Long-tailed Duck, Red-throated Divers and Slavonian Grebes. Around 30 Velvet Scoter were dotted about in small groups, including a party of three sleeping drakes quite distant to the west. One of these clearly had a lot of white around the eye, which merited a closer look.
I walked west a couple of hundred metres, fully expecting this effort would only confirm that the low sunlight was exaggerating the white eye markings on a roosting Velvet Scoter. However, on picking-up the bird again, although over 300 m distant, it really did appear to have a very striking white 'tick' running upwards behind the eye. This feature was consistently visible, even when the sun was behind cloud and allowed the bird to be followed after it woke up and began diving.
I was definitely interested by this point, but needed a good look at the bill. This was actually very difficult due to distance, a fairly choppy sea and the bird actively foraging (and often diving immediately on surfacing due to the persistant attentions of a European Herring Gull. However, I managed a few reasonable side-on views that definitely pointed towards White-winged Scoter, mainly thanks to comparisons with the accompanying Velvets.
Structurally, the black 'knob' on the upper mandible was not really visible at that range, but the bill appeared to slope down from the forehead (similar to Common Eider) and was not concave like the Velvets (which showed a clearly distinct bill and 'forehead'). This feature appeared as a far greater extent of black in front of the eye and side of the bill than in Velvet. In addition, the pale part of the bill simply looked off-white and appeared confined to the tip of the bill, clearly demarked from the all-dark base. By contrast, the bill colour was clearly yellow on the Velvets, with this visibly extending back towards the bill base, below the darker part of the upper mandible. When seen in full profile, the scoter had an often-strikingly different jizz to the Velvets, looking longer-headed (due in part to the sloping bill) and more bull-necked.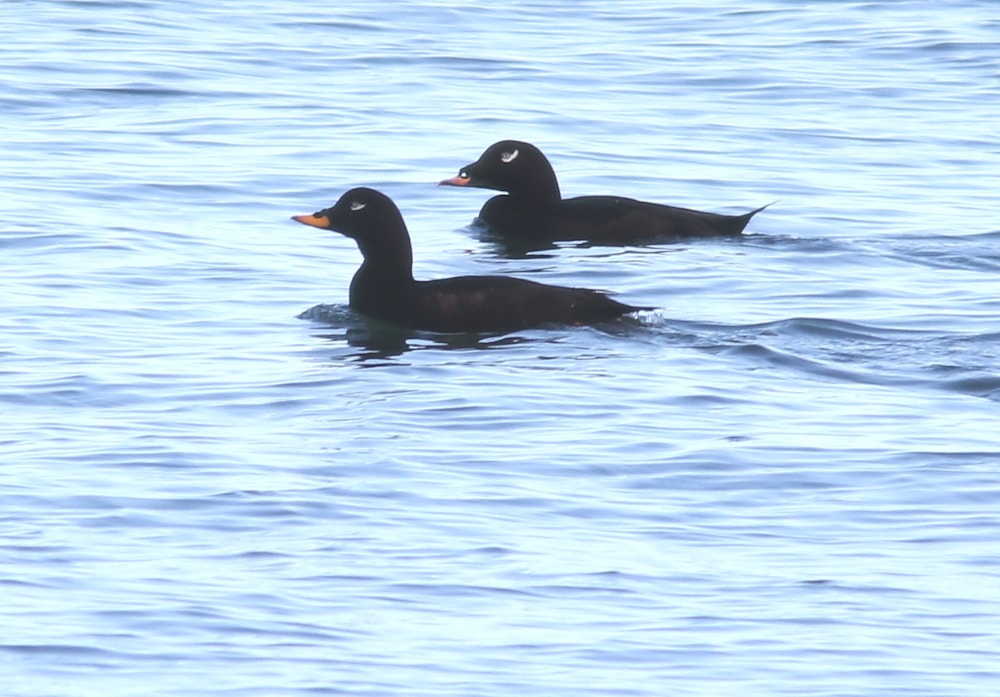 This image illustrates the subtle plumage and structural differences between American White-winged Scoter (top) and Velvet Scoter, particularly in its head and bill shape, its bill pattern/coloration and the more pronounced white 'tick' extending behind the eye (Ian Andrews).
Content continues after advertisements
These features, although difficult to pick out at times, felt an exact match for the Aberdeenshire bird that I had seen in August 2016, and I'm quite sure that if I hadn't seen that Aberdeenshire scoter, I would not have been able to call this bird. Despite this, I was rather cautious about definitively identifying such a rarity and opted to inform the local grapevine for a second opinion, before putting news out more widely (I think that's called 'bottling it'!). Thanks are due to Martin Scott for co-ordinating Lothian's active birders, while I nervously kept track of the bird and attempted in vain to secure some record shots.
Within half an hour, five of Lothian's best birders had arrived and very quickly put me at ease by agreeing that we were looking at a White-winged Scoter. With relief, I put the news out on our local WhatsApp group, knowing that this would quickly go out on the national grapevines. The scoter flock then promptly flew way out into the Forth, thwarting any attempts for birders to score that day. Fortunately, the bird has proven to a long-stayer and obliged many with much closer views – saving me from being lambasted for my caution before putting news out.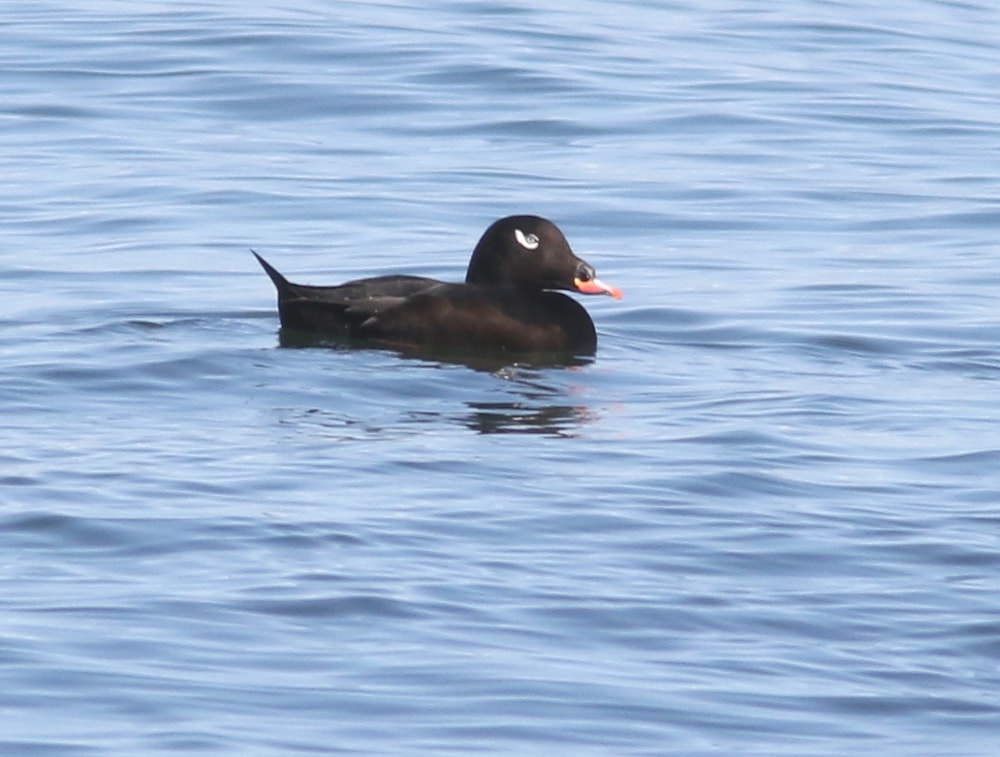 American White-winged Scoter, Musselburgh Lagoons, Lothian, 26 March 2018 (Ian Andrews).
The initial field views did not allow the White-winged Scoter to be assigned to subspecies. However, record shots posted that evening showed enough bill colour and structure to lead to a consensus that this bird was likely to be an American White-winged Scoter (of the form deglandi). This was confirmed over following days as the bird was observed much closer and seen to lack the steep, knobbly bill structure and yellow streak on the lower mandible that are typical of Stejneger's Scoter (stejnegeri). The excellent photographs also showed other subtle features, such as the browner flanks and paler pink legs than Velvet Scoter.
I've spent a lot of time rarity-hunting in Shetland and elsewhere, with modest success. However, this is the rarest bird I've found and is particularly special for being on my local patch (I've even managed to add it to my 'window list', as I live just west of the sea wall). Musselburgh is a great place for birding and will be greatly enhanced by the planned extension of the wader scrapes in the westernmost lagoon. Therefore, Musselburgh is always worth a visit – and there's still the possibility of Stejneger's being found again!
American White-winged Scoter, Musselburgh, Lothian, 30 March 2018 (Video: Jonathan Farooqi).