It was late afternoon on Sunday 2nd December, and I was caught in the middle of a particularly tedious day of Christmas shopping in central London. Feeling a vibration in my pocket, I reached for my phone and was pleasantly surprised to see a Facebook message relaying news of a Red Fox Sparrow in the town of Haapsalu, in western Estonia. Knowing very little about the species other than that it had to be one of the migratory 'red ones' even to be considered as a potential vagrant to Europe, I nonchalantly pocketed my phone and waded back in to the mayhem of Regent Street.
That evening, photos posted on the Internet clearly demonstrated that the bird was indeed a Red Fox Sparrow. This, the highly migratory subspecies that breeds from Newfoundland westwards along the Taiga belt to Alaska and winters south to the southern States, is the only member of the fox sparrow complex likely to occur as a vagrant to Europe. Although this quite considerably strengthened the case for the bird being a genuine vagrant (or at the very least ship-assisted), the possibility of an escaped cagebird is never easily ruled out. Indeed, the species has a chequered history in the Western Palearctic: there are just two previous accepted records from within the region, in Iceland in November 1944 and a two-day Northern Irish bird at Copeland Bird Observatory (Co Down) in early June 1961. Two German records (May 1949 and April 1977) were both considered either escapes or ship-assisted arrivals, while an escaped pink-ringed bird in Denmark in January 2010 was of the non-migratory western taxon unalaschcensis, now split as Sooty Fox Sparrow.
As a birder with a keen interest in Western Palearctic listing, I must admit to feeling quite twitchy at this point, despite the lingering doubts over origin. If the logistics of the trip were straightforward enough and the price not too steep, surely a weekend trip was a possibility? Learning that a team of Finnish birders were planning to visit the site early the following morning, we decided to wait for further information before making any decisions about a possible twitch.
With news forthcoming that the bird was still present and easy to see on Monday and Tuesday, I made tentative plans to fly to Helsinki on the evening of Friday 7th with Richard Bonser and Lee Gregory, returning early on the Sunday morning. Regular ferries operate across the Baltic Sea from Helsinki to Tallinn and back on a daily basis, so a day trip to Estonia is straightforward from the Finnish capital: our plan was to catch the first ferry on the Saturday morning and return on the last ferry back that evening.
Wednesday dawned, and the bird was still present and feeding happily on the 9 kg of bird seed dumped in its favoured spot by generous Estonian birders. Devon birder Ernie Davis expressed his keenness to join us and, that evening, we plucked up the courage to book the flights, ferry and car hire. Once everything was confirmed, the nerves duly set in. Anyone who has booked planes and ferries to Shetland/Scilly/Ireland in advance to twitch birds will be familiar with that ever-present feeling of uncertainty, having placed so much at stake — only this was on a continental scale, not national!
To cut a nervy 48 hours short, Friday soon came around. The bird was still there. Now all we had to do was get there! A relaxed 2½-hour flight saw us landing in the Finnish capital late on Friday evening. Even though it was dark, it was clear that Helsinki was a little colder than back home: snow blanketed the landscape, and a few flakes were still falling as the plane touched down. Our hire car relayed that it was –3°C outside: not cold by Baltic standards, but a stark reminder that winter is rather harsher in this corner of Europe. It was as we drove towards the ferry terminal that we realized just how poor we Brits are at handling the cold. Our hire car was equipped with winter tyres (a legal requirement in Finland as well as several other European countries), and it was remarkable just how well they gripped the road: indeed, driving on snow and ice felt no different to driving on tarmac! We could certainly learn a thing or two from the Finnish example back home.
Our ferry was at 7.30 the following morning, and I was the only one of our team of four not to bother taking my binoculars on deck. This turned out to be a sensible decision, for 'birdable' light was forthcoming only as we docked in Tallinn at 9.30 am! It's easy to forget how far north you are here (on the same latitude as Orkney) and that December days are consequently very short. We received positive news of the bird on our arrival in Tallinn, making the 90-km drive south-west to Haapsalu a little more relaxed than it would otherwise have been. Again, we were mightily impressed with the state of the roads and the journey took very little time at all: we had reached the sparrow site by 11:15 am.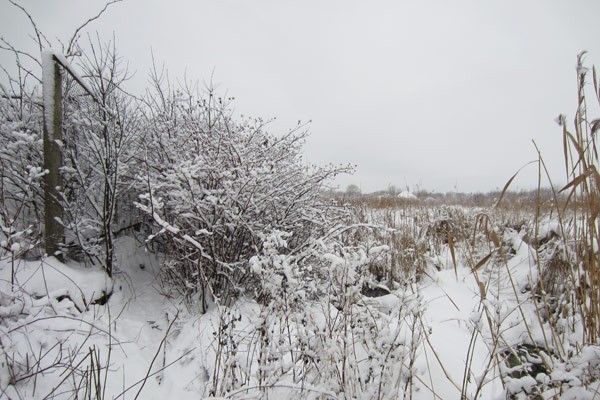 The Red Fox Sparrow site at Haapsalu sewage works: the bird favours a seeded area in the small 'alley' between the fence and bush in this photograph (Photo: Josh Jones).
Although viewing was restricted, the Fox Sparrow went on to show well on and off for the two hours we spent on site, regularly visiting the seeded area by the perimeter fence on the northeast side of the sewage works at N58°56'40.30", E23°33'31.26". A stunning bird, its upperparts were a mix of grey and rusty-red and both the wings and tail were strongly washed with rufous. The greater coverts displayed noticeable white tips, while the white underparts were strongly streaked with red and grey, at its brightest around the white throat. The white eyering contrasted delightfully with the rusty cheeks and grey supercilium, although the feature that struck me most about the bird was its size. I'd read that the species was large, but I wasn't quite expecting it to dwarf the surrounding Great Tits and Robins — it was the size of a Corn Bunting! Its feeding style was also very distinctive — a two-footed jump-kick motion repeated constantly in order to scratch away both snow and leaf litter and expose seeds.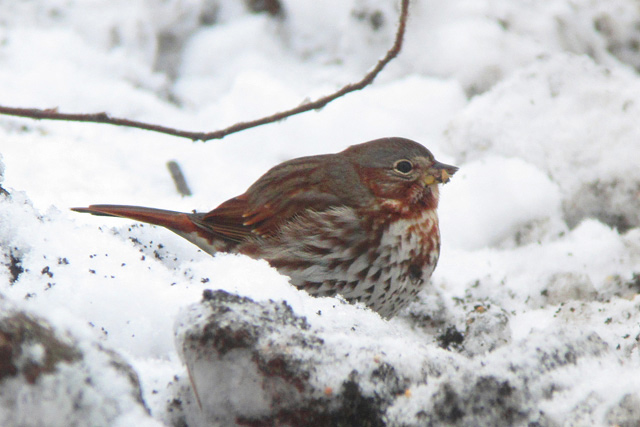 Red Fox Sparrow, Haapsalu, Estonia (Photo: Josh Jones)
Birds were otherwise at a premium in the vicinity, although a juvenile Goshawk afforded excellent 'scope views in the pines east of the sewage works and a handful of Fieldfares 'chacked' overhead, the snow making their underbellies positively glow against the dull grey skies. A Jay loped by, while Hooded Crow was probably the commonest species.
Having had our fill of the sparrow, we consulted Dave Gosney's ever-useful Finding Birds in Estonia, which suggested that the nearby park at Võnnu was a productive area for woodpeckers. As we arrived at the site, the frozen lake and unspoilt snow cover painted an idyllic wintry scene that was emphasised further by the total silence: no cars, no wind, and no people. My personal highlight was a fantastic Black Woodpecker that drifted loftily across the clearing with remarkably deep wing beats, which we initially took to be a crow on size alone! Several Northern Bullfinches trumpeted as they flew around above us, and a flock of 30 Mealy Redpolls fed in roadside birches, while a couple of white-breasted Nuthatches further reminded us that we were a long way from home.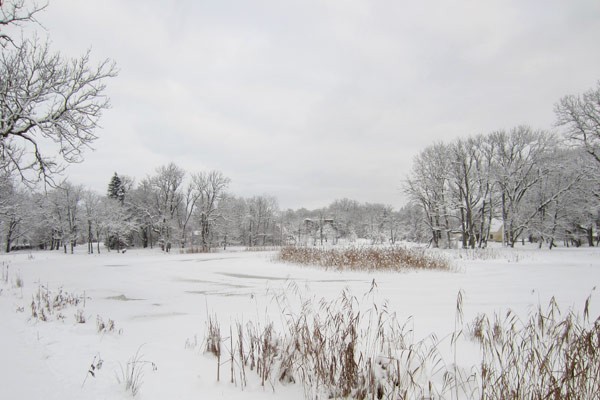 A typical wintry scene at Võnnu Park, Estonia (Photo: Josh Jones)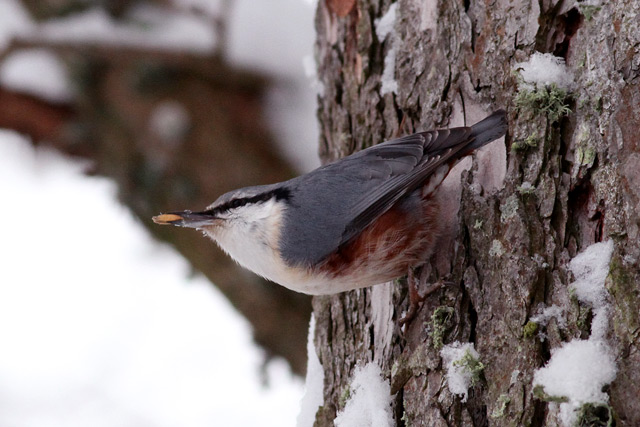 Nuthatch, Võnnu, Estonia (Photo: Richard Bonser)
All too soon, the light was fading and our brief taste of winter birding in Estonia was drawing to a close. The final bird of the day was a Great Spotted Woodpecker that steadfastly refused to turn into the hoped-for White-backed as it busily took apart a pine cone by the roadside. Sure enough, it was dark by a little after 4.15 pm and, with little else to do, we were back in Tallinn by 6 pm. From what we saw of the Estonian capital (mainly the medieval Old Town), it seemed a very quaint and friendly place with excellent local beer — something that several groups of noisy Finns on the boat back to Helsinki later that evening had quite clearly exploited.

Dusk on the road back to Tallinn (Photo: Josh Jones)
After a few hours' sleep in the warmth of Helsinki airport, our early morning flight back to London was upon us in no time. In fact, after landing at Heathrow a little after 9 am, I was home for 10.15 — just 40 hours after leaving! Birds aside, what I've really learned to enjoy about Western Palearctic trips (and twitches!) over the past few years is the fantastic opportunity it affords to visit new places and experience new experiences. This time out, not only had we connected with what is potentially the Western Palearctic's third Red Fox Sparrow but also seen several great back-up birds, taken in some of the Estonian capital's rich culture, marvelled at the snowy 'winter wonderland' scenes found just about everywhere we went, and also enjoyed a ferry trip across the Baltic. Not to mention that I had two new additions to my list of visited countries!
Clichéd perhaps, but it really is amazing what you can fit into a weekend.
Update
The Red Fox Sparrow was still present at Haapsalu sewage works on Thursday 13th December.