The city of Peniche sits on a peninsula on the west side of Portugal, jutting out into the Atlantic. Its swell has long been ridden by the seasoned surfboarder, but the vast numbers of migrating seabirds that cruise above the waves are now beginning to put Peniche on the map with birders too.
Portuguese ornithologists have known its potential for some time, but coverage has been patchy and never matched the observer-hours afforded to classic British sites such as Porthgwarra or Flamborough Head. Swedish birders Erik Hirschfeld and Johan Elmberg met Peniche local Helder Cardoso by chance in 2012 and vowed to change this — how wonderful it would be, they thought, to co-ordinate regular counts at Peniche, investigate the effects of weather conditions on seabird migration and track migration intensity across the autumn season.
Peniche is just an hour and a half's drive north from Lisbon and boasts the potential for just about any migrant seabird you can think of, from divers and gulls to shearwaters, skuas and storm-petrels. Madeiran Storm-petrels and Cory's Shearwaters breed on the nearby Berlengas and the surrounding area offers fruitful birding with the added spice of true vagrant-finding potential. This year saw the inaugural season of the Peniche Seabird Count, and I was lucky enough to get a taste of it.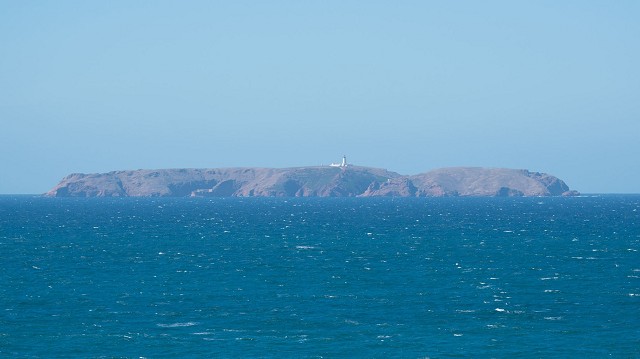 The Berlengas from the mainland (Photo: David Campbell)
My first session counting the seabirds off Cabo Carvoeiro, the project site, was a quiet one according to Helder, but I had to remind him that a steady trickle of Pomarine Skuas and Cory's and Balearic Shearwaters does not come into any reasonable Briton's definition of a slow seawatch. Looking back through the seawatching entries in my notebooks, I found few watches that had translated into so many lines of scrawl as had this introduction to Portuguese seawatching. Admittedly, exiled in Surrey, the chance to scan waves any bigger and saltier than those at the local reservoirs is rare so I was looking forward to a crash course in honing my long-range identification skills. André, a young and zealous Swedish birder, locked onto a skua flying above the horizon at ridiculous range. He and Helder quickly sorted it out as a Pomarine. We finished at the allotted time of 10:15 and I joined Anders and André for a quick search of some fields on the edge of the town, hoping for Little Bustard and Dotterel, which had been seen there very recently. We had no luck, but did see a distant Black-winged Kite and an Iberian Grey Shrike.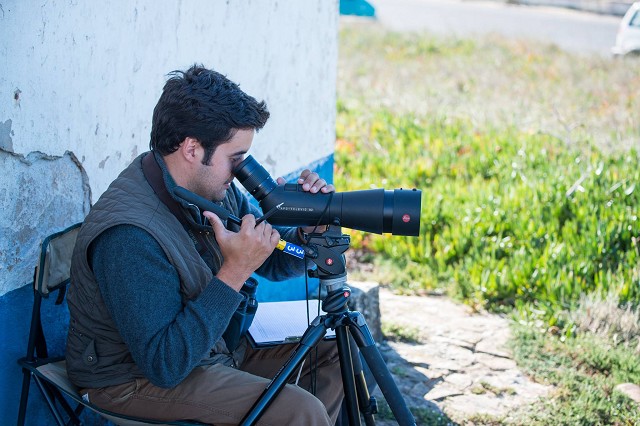 Helder Cardoso seawatching at Peniche (Photo: David Campbell)
After taking some time to recharge, we assembled at the watchpoint once more for the late afternoon/evening count. The wind direction during the morning had been quite favourable, blowing from the north-west, but the speed did not exceed 15km/h. It was evident that, despite the breeze switching to a north-easterly, movement had picked up by the evening, with a decent passage of Cory's, Balearic and Manx Shearwaters. Tuning into the distinct flight action of Grey Phalarope at sea was very satisfying — they fly in such a 'dazed' manner compared to a Calidris. By the end of my first day, we had tallied highlights of 10 Grey Phalaropes, 125 Cory's Shearwaters, 11 Pomarine Skuas, 69 Great Skuas, 15 Arctic Skuas, four Sooty Shearwaters, 98 Balearic Shearwaters, 47 Manx Shearwaters, five Black Terns and 1,033 Northern Gannets. Hopes were high for the next morning.
Winds backed to north-westerly and strengthened slightly but migration intensity had actually faltered slightly for our next session. However, it was still a nice preamble for some birding elsewhere in the area. André and I jumped in Helder's car once we had packed up and we headed for the treatment works on the edge of town which attracted a couple of Pallid Swifts and Red-rumped Swallows. A good start. The fields just behind the pools sported a Black-winged Kite, Iberian Grey Shrike and Crested Larks, but sadly the Bonelli's Eagle reported the day before had skipped town. Helder took us to Poça do Vau, a marsh that marks the historical water limit of the Obidos Lagoons, where a spring visit can yield Little Bittern, Glossy Ibis, Ferruginous Duck, Purple Heron, Savi's and Great Reed Warblers. The lagoons themselves, an idyllic spot both aesthetically and in terms of birding potential, are underwatched but have produced a number of local rarities over the years and are surely a prime location for finding your own Nearctic waders, gulls and terns. Here, André and I laid eyes on our first Greater Flamingos, which were crashing a Spoonbill slumber party. Yet another Black-winged Kite sailed past us, at which point I realised that I will never see too many of these most graceful birds of prey.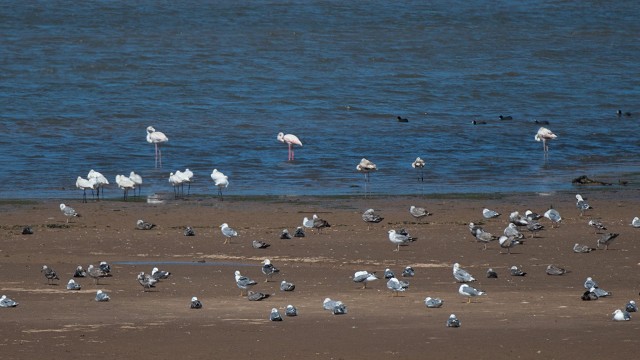 Greater Flamingos and Eurasian Spoonbills were among the roosting species at Obidos (Photo: David Campbell)
We investigated more agricultural fields, where Helder did much of his childhood birding, and several of them were alive with Yellow Wagtails. We hoped for Purple Swamphen at a small roadside marsh where he had discovered a Little Crake in the spring but, no matter how carefully we scanned the reeds, none materalised, although a Bluethroat, a flock of Common Waxbills and a couple of Cattle Egrets made the stop worthwhile. We had only intended to be out exploring for a couple of hours or so but it was soon apparent that we had whiled away much of the day. It was time to dash back to Cabo Carvoeiro.
Even I had to admit after the first hour that we could really do with some fresher onshore winds to stir things up. Helder was about to head towards the shore to photograph some of the closer gannets, which were trickling through at a steady rate. Being charged with the esteemed task of click-counting the southbound gannets, I fixed my gaze back down my eyepiece only to see a thin-winged, snowy white bird with an insanely long set of tail streamers powering its way south. "TROPICBIRD!" I shouted, once I'd gathered my faculties. I knew a tropicbird was good but the volume at which André screamed and Helder's scramble for his camera quickly allowed me to gauge its precise magnitude. In all the panic, I too reached for my camera and fired away towards the bird, hoping for the best. Somehow, it showed up in none of the images but Helder managed to get a few seconds of footage and, wisely, André had savoured the moment by keeping his scope locked on the bird for the duration, something I soon gave myself a kick for not doing.

Red-billed Tropicbird, Peniche, Portugal (Video: Peniche Seabird Count)
Once the bird was out of sight, André produced three bottles of beer, which conveniently happened to be nearby, and we celebrated our unexpected turn of luck. We agreed that we had seen enough to identify it as a Red-billed Tropicbird, especially André, who had soaked up every detail of the bird through his scope and soon found out that the sighting potentially represented the first sight record from land on mainland Portugal! The event came as a timely reminder that birding has the tendency to deliver something utterly sensational even at the quietest moments. It also made me consider whether I should ever actually leave Portugal, as the tropicbird and the White-rumped Swifts from a few days previously had already put my track record of British bird-finding to shame. We finished the day on 97 Cory's Shearwaters, two Black Terns, a European Storm-petrel, 1,337 Northern Gannets, six Grey Phalaropes, seven Sooty Shearwaters, 192 Balearic Shearwaters, 14 Manx Shearwaters, 18 Arctic Skuas, two Pomarine Skuas, 42 Great Skuas, two Little Terns and one Red-billed Tropicbird. Not so bad.
Wednesday saw a noticeable and welcome increase in both Sooty and Manx Shearwaters, mirroring recent observations up the coast in Galicia, north-western Spain. André and I handled all of the recording between us, but thankfully seabird passage was at a manageable level. That's not to say it was quiet, though! A healthy variety of skuas and shearwaters was still on the move. The counts are split into half-hour units of time, and conditions are also carefully recorded, giving a thorough idea of how seabird movements relate to weather. Where appropriate, for instance in skuas, colour morph and age is also noted. One person scribes while another is responsible for click-counting Northern Gannets (and ageing them as juvenile, immature or adult); any other species are shouted out and duplication is avoided by communicating the range of birds and their proximity to agreed landmarks among the team. Roles are regularly swapped and, during busier sessions, additional click-counters (courtesy of Countersales UK) for single species may be used.
I used the time between the counts to explore Peniche itself and enjoyed close views of Black Redstarts, European Serins and Zitting Cisticolas around the town, as well as taking some time out to study loafing lusitanius Yellow-legged Gulls, some first-years of which look confusingly similar to Lesser Black-backed Gull. In the evening Helder joined us again, together with freshly arrived Swedish birder Ingmar. Once again, the later session was livelier, no doubt assisted by the 31km/h north-westerlies, and we enjoyed a couple of quite close Grey Phalaropes and a respectable number of 'Poms'. In all, the day gave us 81 Cory's Shearwaters, nine Black Terns, 944 Northern Gannets, four Grey Phalaropes, 23 Sooty Shearwaters, 96 Balearic Shearwaters, 84 Manx Shearwaters, six Arctic Skuas, nine Pomarine Skuas and 13 Great Skuas.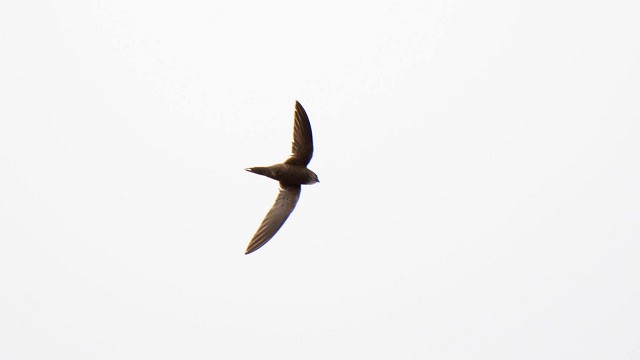 Pallid Swift (Photo: David Campbell)
Thursday, my final day, did not disappoint. The order of the day was Pomarine Skua and Sooty Shearwater, two of my favourite seabirds, and some passed wonderfully close. Others were more distant, but provided a timely personal assessment and proved that my time seawatching in Peniche had given me that extra experience necessary to make more confident calls on long-range skuas. I quickly realised that I would miss partaking in the Peniche Seabird Count, and regretted that I could not stay any longer. I have already started thinking about returning next year, for there is nowhere in Britain that grows your seawatching experience so rapidly in such valuable combination with such a groundbreaking and well-designed project. As a volunteer, you are well looked-after, with accommodation provided by Peniche Municipality and Leica Optics kindly allowing use of their telescopes.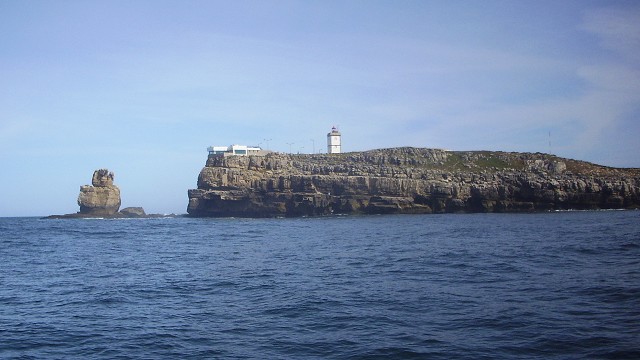 Cabo Carvoeiro — project site of the Peniche Seabird Count (Photo: F Nando/wiki commons)
The first season of the Seabird Count has delivered some staggering results, with rarities including the Red-billed Tropicbird, two Fea's/Zino's Petrels and an unidentified Sooty/Bridled Tern, while big days included 16 September, when 1,401 Balearic and 13,285 Manx Shearwaters were recorded. Astonishing counts of 3,336 Cory's Shearwaters and 21,589 Northern Gannets were made on 27 October and 1 November respectively. The project has been a massive success in its first year and shed so much light on seabird migration off Portugal. With more experience and more volunteers next year, so much more is bound to be learned.