Common Snipe by Robbie Brookes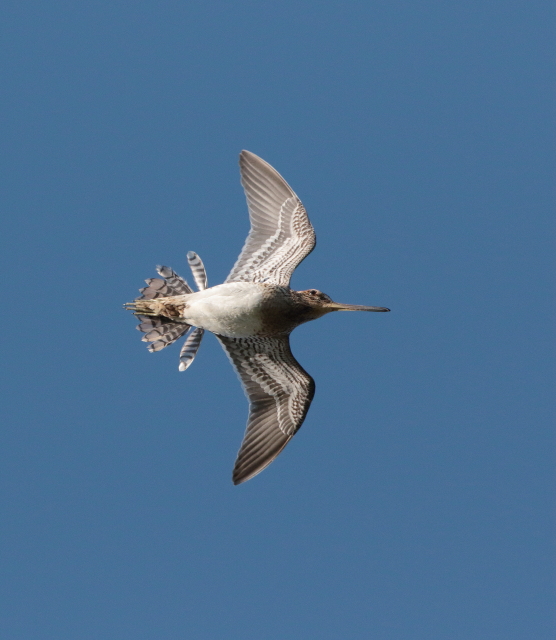 If you've ever tried to photograph the subject of this week's winning photo then you'll know how difficult a shot it is to take. Robbie Brookes has done superbly well to capture this Common Snipe in full-on display, the outer tail feathers spread to make the 'drumming' noise as the air rushes through them.
Only by using a fast shutter speed can the action be captured and Robbie took this image at 1/2500th second, the ISO 1000 setting allowing for that with a 500mm lens giving enough magnification to freeze all the detail in a species which often displays at considerable height.
Content continues after advertisements
Congratulations to Robbie on his winning Photo of the Week.
You can read more on bird photography from Steve Young, including product reviews and a regular Photo Challenge for readers, every month in Birdwatch magazine.
Other notable images

Sedge Warbler, Frampton Marsh RSPB, Lincolnshire (Photo: Peter Garrity)

Little Owl, Wayoh Reservoir, Lancashire (Photo: John Barlow)

Bee-eater, Bulgaria (Photo: Russell Hayes)

Green Woodpecker, Calne, Wiltshire (Photo: Pete Blanchard)

Little Owl, undisclosed site, Suffolk (Photo: Jon Evans)

Guillemot, Farne Islands, Northumberland (Photo: Mark Hope)

Oystercatcher, Minsmere RSPB, Suffolk (Photo: Nick Brown)

Squacco Heron, Romania (Photo: Marc FASOL)

Sparrowhawk with Blackbird, Pentyrch, Glamorgan (Photo: Cliff Woodhead)

Gannet, Hermaness NNR, Unst, Shetland (Photo: Robbie Brookes)

Marsh Harrier, Minsmere RSPB, Suffolk (Photo: Gary Richardson)

Tawny Owl, undisclosed site, Devon (Photo: Steve Hatch)

Black-tailed Godwit, Titchwell RSPB, Norfolk (Photo: Garth Peacock)