Hobby by Jack Barnes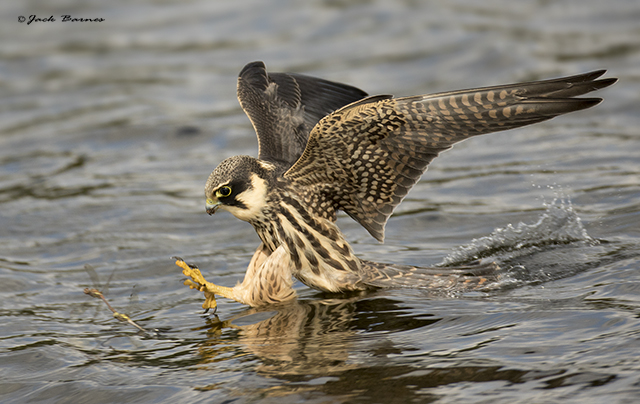 Sometimes you just look at a photo and say "Wow!", and that was my reaction when I first saw this superb image by Jack Barnes of a juvenile Hobby catching dragonflies over (or virtually in) water. This shot has everything: action, behaviour and identification have all combined with good light and great skill from the photographer to produce that something different to make a winning image.
The angle of attack has made for a perfect profile shot as the Hobby stretches out its talons ready to snatch its prey. Using a 500 mm lens wide open at f4, Jack has captured the action beautifully; ISO640 has enabled a 1/6400th second shutter speed to freeze every feather detail.
Content continues after advertisements
Congratulations to Jack on a superb POTW, a worthy winner.
You can read more on bird photography from Steve Young, including product reviews and a regular Photo Challenge for readers, every month in Birdwatch magazine.
Other notable images

Knot, Doonfoot, Ayrshire (Photo: Mark Hope)

Splendid Fairywren, Australia (Photo: Martin)

Moorhen, Slimbridge WWT, Gloucestershire (Photo: Phil Gower)

Pectoral Sandpiper, St. Mary's, Isles of Scilly (Photo: Martin Goodey)

Little Stint, Bowness-on-Solway, Cumbria (Photo: Sam Northwood)

Common Snipe, Venus Pool NR, Shropshire (Photo: Paul Burgess)

Little Egret, Widewater Lagoon, West Sussex (Photo: Howard Kearley)

Buzzard, Gigrin Farm, Powys (Photo: Kath Everitt)

Bearded Tit, undisclosed site, Suffolk (Photo: Jonathan Theobald)

Magpie, Chicksands, Bedfordshire (Photo: Jim P)

Blackcap, Sculthorpe Moor NR, Norfolk (Photo: Andy Thompson)

Southern Double-collared Sunbird, South Africa (Photo: Jamie MacArthur)

Chiffchaff, Shingle Street, Suffolk (Photo: John Richardson)