It's fair to say that spring got going with a bang this year! April boasted some impressive rarities for PWC contestants, such as Hudsonian Godwit and Great Blue Heron, but May will be remembered (or perhaps best forgotten) by many as a month with little return, thanks to dominating cold northerly winds. That being said, hard work and perseverance paid off for some, with many a good bird to be had for those dedicated to the cause or just plain lucky enough to connect.
Spring wader passage provides a fantastic opportunity for patch birders to add some species and bonus points to their scoresheets. The promise of a scarce or rare wader clad in stunning breeding plumes dropping in at any moment leads to close and frequent scrutiny of any waterbody present on the patch. Avocet, Whimbrel, Little Stint, Curlew Sandpiper, Spotted Redshank and Wood Sandpiper were gratefully received by many, along with several Dotterel, a fine showing of Temminck's Stint at a total of seven patches (including four birds at both Druridge Pools and RSPB Rainham Marshes), a trio of Pectoral Sandpipers (one each at Llanelli WWT, Lound and Salford Priors), a Kentish Plover at Steart, a Broad-billed Sandpiper at Southwold and an excellent double act of Black-winged Stilt and White-rumped Sandpiper at Frampton Marsh. National rarities aside, perhaps one of the most appreciated patch waders of the month involved a Sanderling at Lychett Bay, which was a first at that site in 24 years of birding there for Shaun Robson, followed swiftly by a second bird!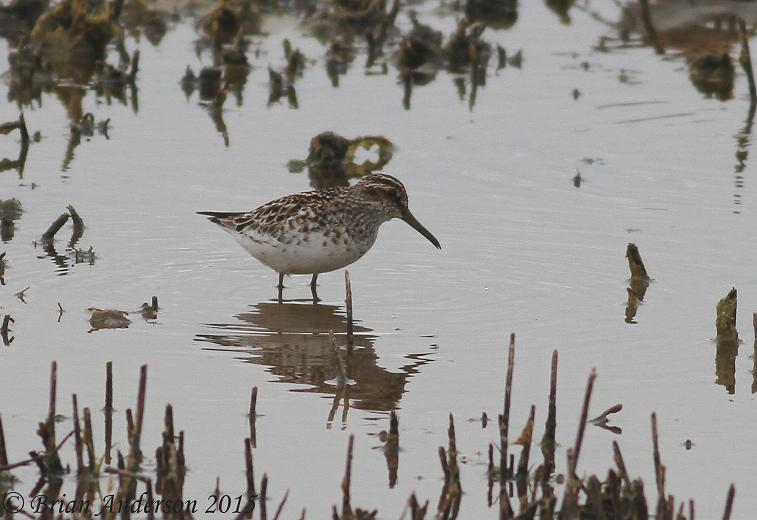 Broad-billed Sandpiper (Photo: Brian Anderson)
Bonaparte's Gull should be on the radar for larid fans in spring; they certainly livened things up for a trio of lucky patch birders, with one each at North Portland, Topsham and Burry Inlet. Little Terns were well represented, noted as patch ticks for many, and a couple of sites were even graced with the presence of the always well received Roseate Tern. From the continent, a Gull-billed Tern made an excellent double at Topsham by Martin Elcoate and White-winged Black Terns delighted patchwork contestants at Paxton Pits and Martin Mere WWT. May wouldn't be complete without some degree of skua passage, and all four species were recorded, albeit in fairly small numbers.
Widespread reports of Garganey came in through the month, while Nearctic wildfowl were represented by a drake Ring-necked Duck found by Des Higgins — an excellent addition to the campus list at University College Dublin — and a parvipes Canada Goose at Baltasound. A curious feature was a total of six patches adding Mandarin to their lists in May, a time when two even made it as far as Iceland. Peak migration time?
Visible-migration enthusiasts logged a good arrival of Ospreys and Marsh Harriers, several reports of Common Cranes, and a well-deserved flyover Rough-legged Buzzard for PWC's own Ryan Irvine at Hembsy. Several patches connected with what must be one of the most sought-after patch birds, Black Stork. Those lucky enough to do so were stationed at Holme Dunes, Nantyffyllon, Frampton Marsh and Freiston Shore (the last two sites presumably involving the same bird). It's a sign of the times that Great White Egret is to be expected from more and more sites in the south, but the first record for the Isle of May was patch bird of the month for Mark Newell, although perhaps not as exhilarating at the group of Orcas that were also seen to sail by.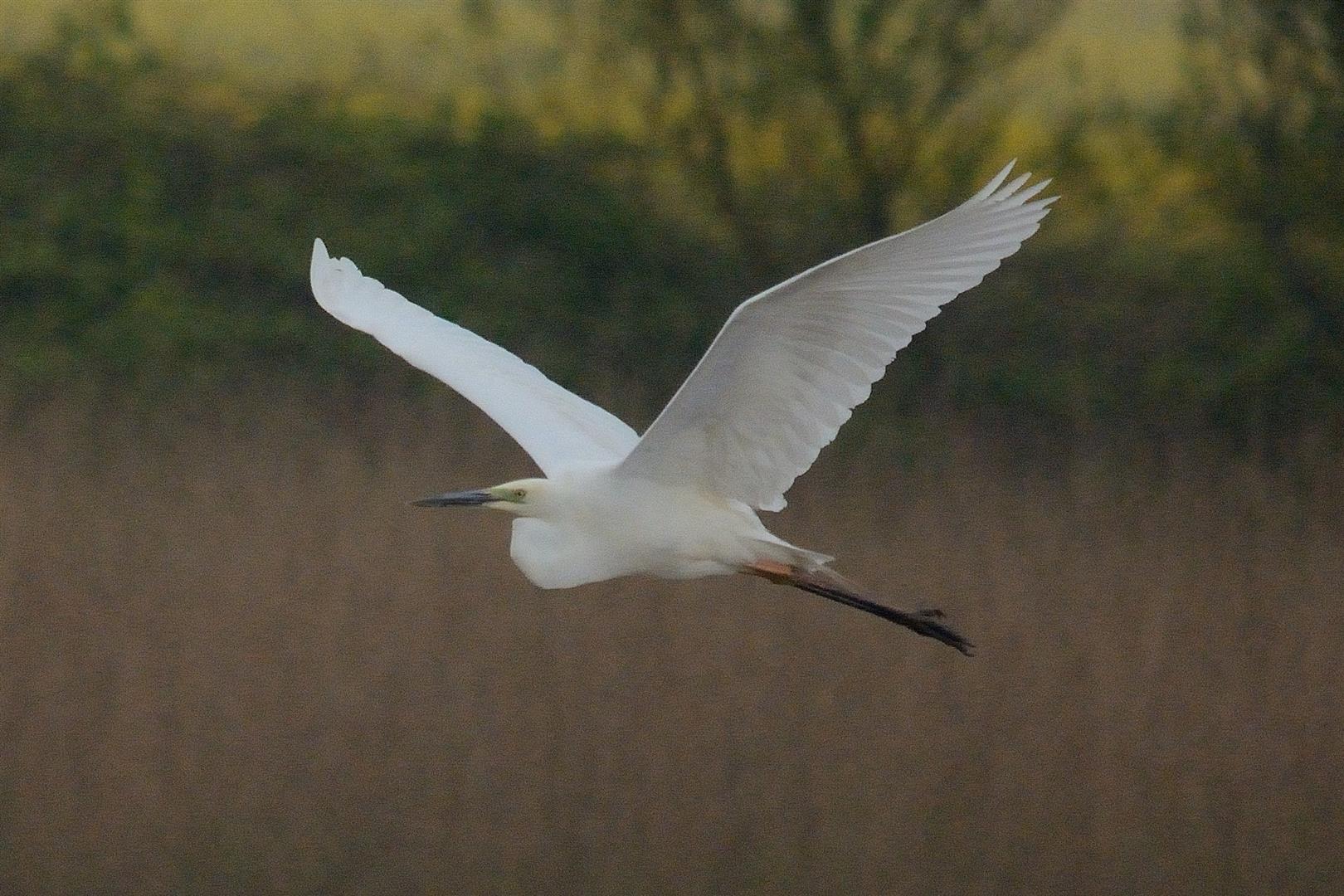 Great White Egret (Photo: Mick Hemingway)
The cold northerly winds that dominated most of May were not exactly conducive to feeding an arrival of scarce or rare passerines, yet several patches still managed to record goodies such as Red-backed Shrike, Grey-headed Wagtail, Serin, Alpine Swift, several European Bee-eaters, Red-rumped Swallow, Hoopoe and a good scattering of Golden Orioles. A fine brace of rarities, in the form of Rustic Bunting and Western Subalpine Warbler, made it onto Mike Pennington's list at Baltasound, while many patch birders were simply happy to report a notable arrival of Spotted Flycatchers during May.
The expected flurry of both common and rarer spring additions to the species and points lists in May allowed for a major shakeup in the comparative league, the heart of PWC. From five patches over 100% in April to a mighty fifteen where the yearly target has already been met is quite some achievement, yet Alison C at LlanfairTH still blazes the trail, coming up on 122% partially thanks to a Red Kite. Nick Robinson scored an Osprey at UEA and moves into second place as the only other contestant above 110%. Elsewhere on the table we see a host of new names climbing the ranks and many more soon to follow as they edge closer to their comparative goal, a fine position to be in with a month to go before halftime at the end of June.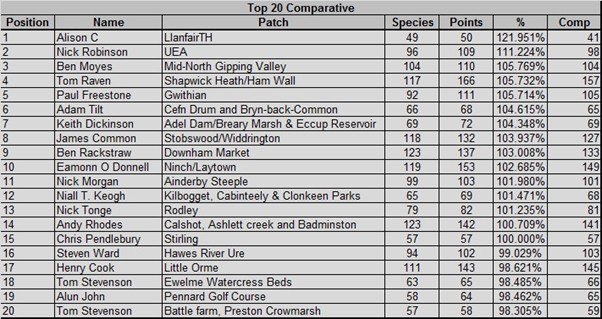 Joe Stockwell was the only contestant above 200 points in April, but now we see no fewer than ten patches in this position by the end of May, with John Bowler at Balephuil now claiming first place thanks to 21 species added in May leaving him on 233 points. Following closely in second is Mick Turton at Easington, while John Badley has done well to climb back up from sixth to third place at Frampton Marsh/Freiston Shore.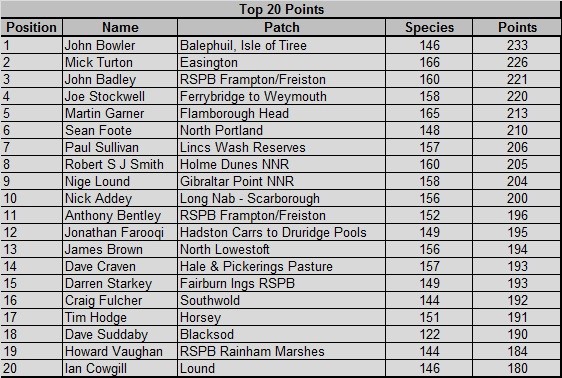 The top spots in the species league have been rearranged in May because of the appearance of Mick Turton, now in first place, boasting a very fine 166 species at Easington, and John Badley in third with 160 species, knocking previous title-holders down the table. A Bee-eater from his garden helped Martin Garner take a close second place to Mick's first with 165 species at Flamborough Head.
Content continues after advertisements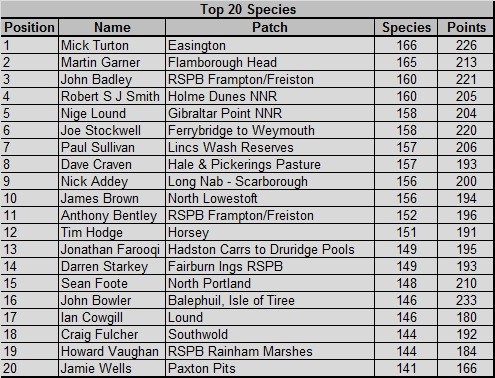 An absence of rarities in May for John Bowler didn't stop him from keeping hold of first place on the Points Per Bird league, where those who are either hard working or lucky enough to find scarce and rares are rewarded with ever-increasing decimal point values! Alpine Swift and Bee-eater helped keep Dave Suddaby in second place at Blacksod where he is the only other contestant to surpass 1.5 PPB. Ilya Maclean sails into third place at Loe Pool where a couple of Night Herons and a Corn Bunting (excellent local bird) were his top finds in May.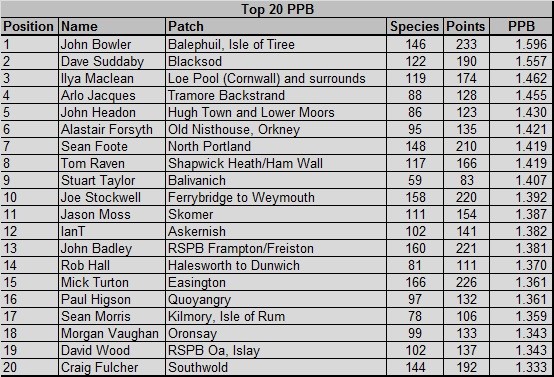 In the hard-working Inland league, nine contestants are at or above the 150-point mark, with Darren Starkey still reigning supreme at Fairburn Ings while Ben Lewis drops to sixth allowing for Ian Cowgill at Lound and Tom Raven at Shapwick Heath/Ham Wall to move up into second and third respectively. Both Pectoral Sandpiper and Temminck's Stint made for some excellent bonus point scores for Ian.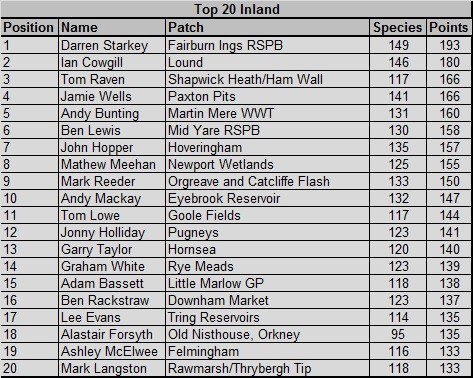 It was stalemate in the Next Generation Birders league during May, with no changes in the top five rankings since April, just consolidating of scores by those present in pole positions. It's good to see both Amy Robjohns at Titchfield Haven and James Common at Stobswood/Widdrington climbing the ranks again, moving up from twelfth to sixth and ninth to seventh respectively. Hopefully there is some more heated competition to come from this league from the end of June onwards.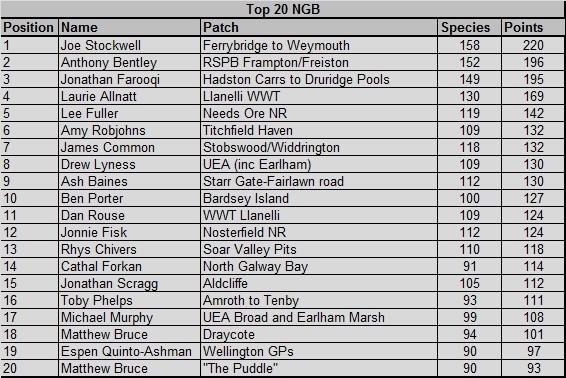 The measure of a patch birder's effort in any given year can be quantified by looking at species lists, points totals, rarities found, etc., but for many it simply comes down to their commitment to record keeping and data collection for science and conservation. In the Top 20 BirdTrack lists table we shine a light on the good deeds of those who do just that. James Common is still leading the charge at Stobswood, from where he has now submitted well over 250 lists for the year, but David Franklin at Norton Common has made an impressive leap since April and now claims second place with 228 lists. It's great to see such enthusiasm for both patch birding and list keeping, with no fewer than fourteen contestants having submitted 150 lists or more.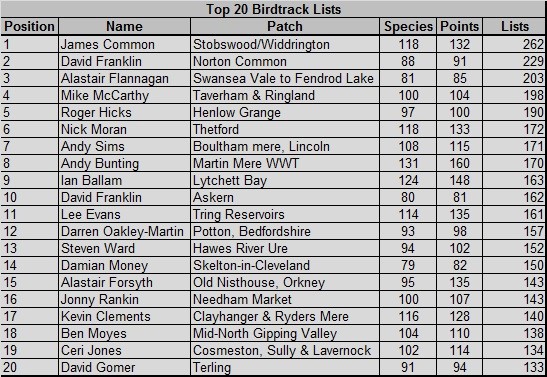 An additional nineteen species added by Nige Lound at Gibraltar Point NNR sees him take first place with 158 species (including finds of Serin and Golden Oriole) and become the first to break the 200-points barrier in the Green league, where patch birders who forgo motorised transport for the good of the environment are celebrated for their efforts. While those occupying third, fourth and fifth place remain the same since April, some movers and shakers further down the table include IanT at Askernish (12th to 7th) and Ben Rackstraw at Downham Market (15th to 9th).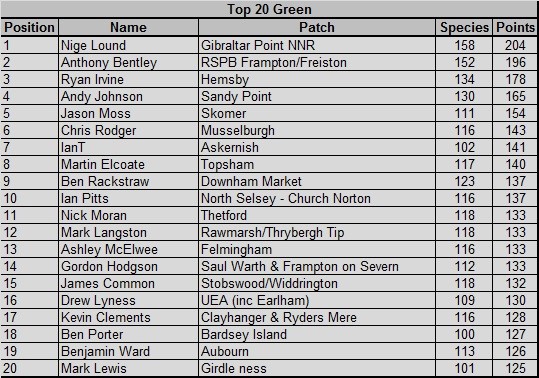 With May over and done with we now enter one of the most interesting months of the year in patch birding. June provides a last chance to gain some advances from the final weeks of spring migration while at the same time it can often hint at autumn by the month's end. While it may not provide patch birders with the biggest monthly list of new additions, it can certainly throw some nice surprises into the mix. We shall see...