March traditionally heralds the beginning of spring, but for many birders it can be almost as barren as February, as strong winds and inclement weather cool the ardour of all but the hardiest migrants. Thankfully the participants in Patchwork Challenge are almost as hardy as these pioneers and get themselves out birding in all weathers. BirdTrack (www.birdtrack.net) data suggested that the arrival dates of migrants were a few days behind the norm but Garganey, Wheatears, Sand Martins and Chiffchaffs were seen on plenty of patches this month.
Undoubted highlight of the month was a quartet of frosty Northern Long-tailed Tits which were found by Rob Rackliffe at Walmer Beach. This distinctive form is deemed worthy of 12 points if found and these guys will potentially be contenders for the Forest Optics best find. The only other rarity noted this month was the returning Forster's Tern in Galway which gave itself up to Niall Keogh.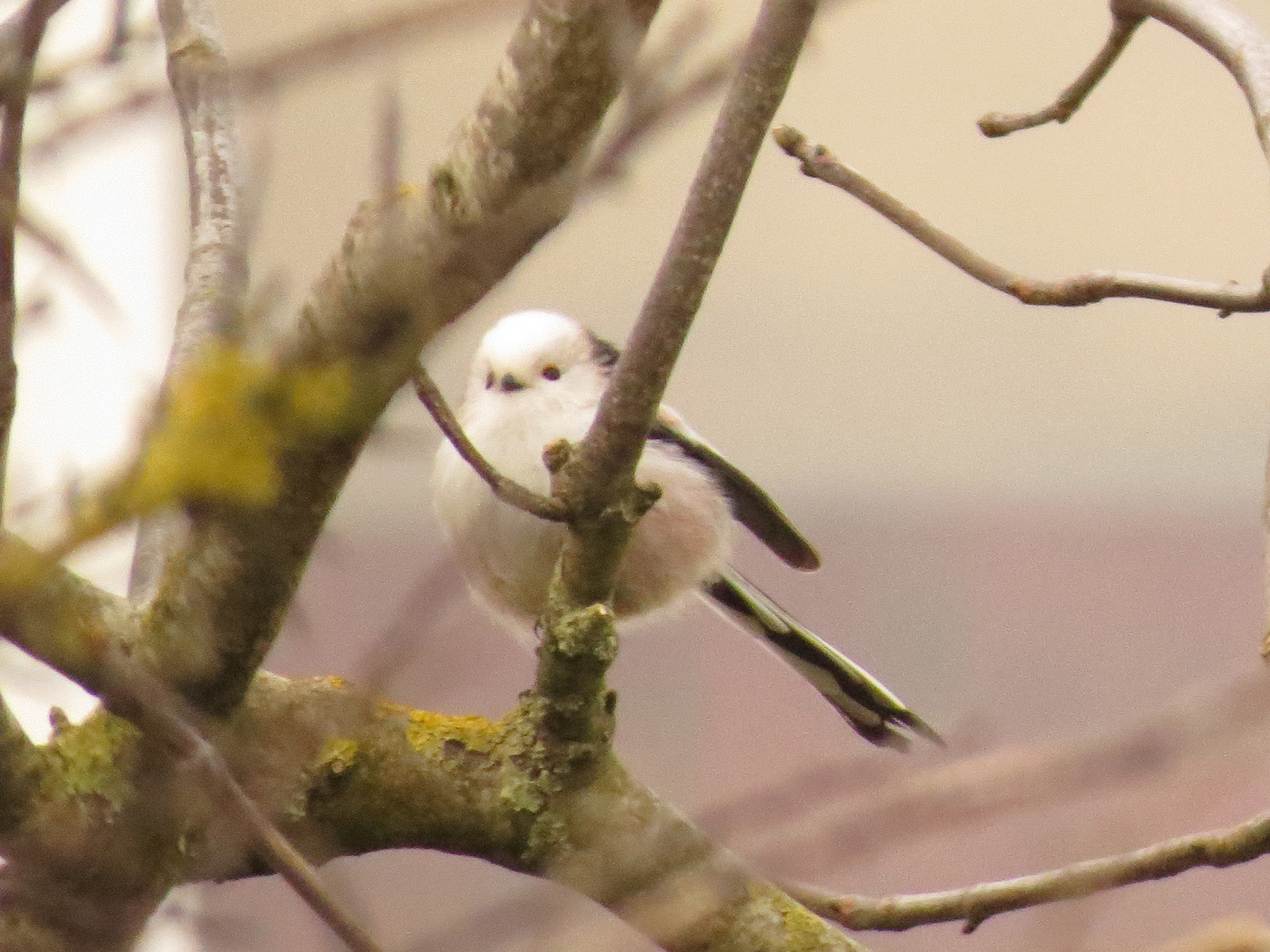 Northern Long-tailed Tit, Beachy Head, East Sussex (Photo: Laurence Pitcher)
There were a good spread of scarcities for March but a distinct lack of White-spotted Bluethroats, Hoopoes or Great Spotted Cuckoos denoted the northern influence that prevented the hoped for movement of migrants. A Green-winged Teal at Croy was joined by a second drake and this got Jonathan Whitehead his finders points for this Yank duck. Further flavours of North America graced Red Rocks and Gosford Bay as Jane Turner and Stephen Welch both registered a drake Surf Scoter. The Glastonbury Ring-necked Duck did the decent thing for Tom Raven and relocated to Ham Wall for his latest dose of bonus points in the Somerset Camargue.

Ring-necked Duck, Ham Wall RSPB, Somerset & Bristol (Photo: John Hansford)
Great White Egrets were found on three patches, Howard Vaughan, Ian Ballam and Matthew Hazleton all claiming the bonus points for this elegant colonist. A brace of Cranes flew over John Hopper's Hoveringham patch to help his cause. On the Hayle estuary one Ring-billed Gull morphed into two for Paul Freestone as he found a second-winter bird. Limited passerine interests was maintained by Siberian Chiffchaffs for Joe Stockwell, Will Scott and Tim Phelps on their respective patches. The final set of bonus points for March go to Gordon Hodgson who discovered a Great Grey Shrike on his Saul Warth patch.
Green-winged Teal were seen on three additional patches, Alan Crossley, John Chapman and Noel Keogh adding this smart duck. Four patches turned up early Garganeys, with birds noted at Paxton Pits, Grimley, Summer Leys and North Portland. The long staying American Wigeon at Grindon Lough was last seen by Paul Massey mid-month before doing a flit.
In Western Scotland, Jim Dickson had a Red-necked Grebe on the Crinan Canal, which was the only record of this smart species this month. Jerry Lanfear, who patches Wicken Fen, had his first Crane for the site and also his first three-point species. Rob Hill at Linford followed the long-legged theme with a Great White Egret, which yielded three points. A Spoonbill was found by Noel Keogh at Tacumshin to ensure this eccentric-looking species features in our round-up. At the Nunnery an immature Shag took up residence, making Nick Moran a happy bunny, especially as his adversary Jonny Rankin's #BeatNick campaign started to hit the buffers.
Early returning Ospreys were intercepted by five lucky patchers, with birds at Tynemouth, Brockholes, Rye Meads, Pitsford Reservoir and Belvide Reservoir. Geoff Morgan, who splits his Liberton East and West patches with his garden, managed to get a garden-ticked Goshawk on both lists by running round the house. That is dedication to the cause! Paul Eele connected with a Rough-legged Buzzard at Titchwell as one of the Norfolk birds roamed the coast.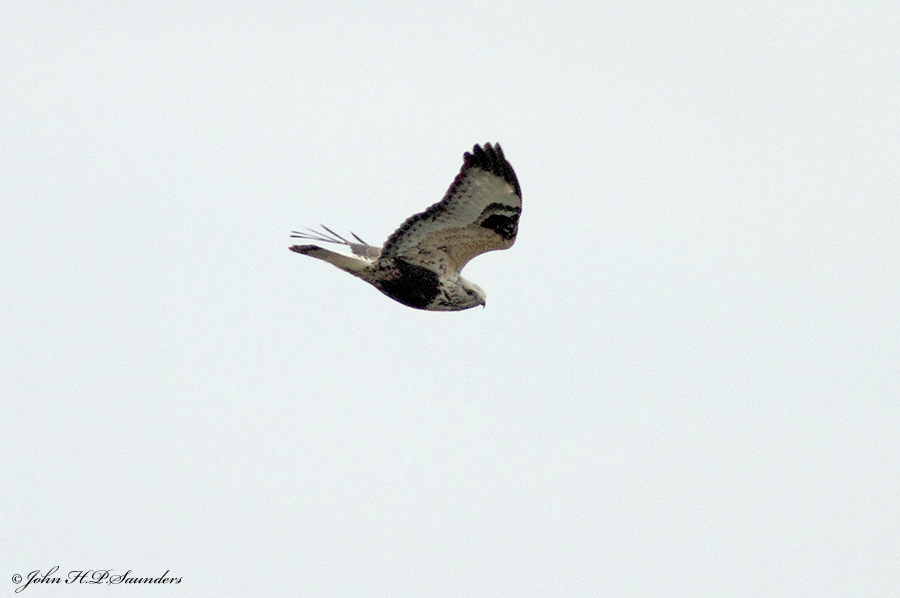 Rough-legged Buzzard, Choseley Drying Barns, Norfolk (Photo: John Saunders)
Scarce gulls were moving back to their breeding areas this month and a surge in white-wingers being recorded reflected this. Iceland Gull tipped the balance, ten patches being graced by the more elegant bird, while nine were visited by brutish Glaucous Gulls. There were single Little Gull and Caspian Gull for Steve Nuttall and Dave Craven respectively. The most notable gull movement was of Kittiwakes, with nine inland patches hosting roosting birds as they went cross-country after poor weather.
Early spring is a great time to catch up with Lesser Spotted Woodpeckers and three patches had birds advertising their whereabouts, Tony Swann, Adrian Platt and Martin Wood pocketing the points. Both Black Redstart and Firecrest are typical March migrants and this year reflected this as 12 patchers added the latter and nine the former. There were four patches hosting Water Pipits this month, with birds present at Collingham and Besthorpe, Tramore Backstrand, Hesketh Out Marsh and the Isle of May. Andy Slade had a Siberian Chiffchaff at Berrow while a trio of Yellow-browed Warblers graced Loe Pool for Ilya Maclean.
The Comparative League is where we see who is having the best of it from the PWC universe. At this time of year it is the low-scoring, inland patches that dominate. While these are often supplanted later in the year by other patches, a good year at an inland site can be determined by just a few finds. David Franklin is top of this particular tree at this point and he is the first patcher to hit the 100% mark after a quarter of outstanding graft at Askern. Niall Keogh is in second place after a remarkable run on his Dublin Parks but his relocation to Galway and spending extended periods in the mid-Atlantic won't help maintain this elevated position. Stephanie Brown is in third place after a fast start at Twyford and is already on 91%.
Mick Turton submits his first score of the year and he immediately finds himself at the top of the points minileague. Just a point back and flying the flag for the estuarine minileague is Dave Craven at Hale and Pickering pastures. James Brown at North Lowestoft is in joint second place, also on 164 points. Ross Ahmed drops to fourth place but is only two points off top spot after another profitable month on the south bank of the Tyne.
Content continues after advertisements
Rutland Water continues to dominate the Inland minileague as Erik Ansell opens up a nine-point lead over fellow Rutlander Rod Baker. John Hopper sticks close after a duo of Cranes gave him six points at Hoveringham.
The Top 20 species table highlights the diversity of some patches, and Hale and Pickering pastures dominates at this point with 135 species already recorded. James Brown's Lowestoft patch is in second place and Mick Turton at Easington in third spot. Before the main spring movements there are a diversity of locations, but expect the more noted locations to rise to the top as scarce migrants top up totals.
Green birding is true local patching, as folks see what they can from their front door without using motorised transport. Chris Rodger uses his location to maximum advantage at Musselburgh to top the table. The inland sea that is Rutland Water is a huge advantage for Erik Ansell but he is making the most of it to sit just a single point behind Chris. Nige Lound at Gibraltar Point is in third position joint with Mark Harper at Whitburn, both on 135 species.
While the species table heralds those whose patches are most diverse, the points per bird table celebrates those that deliver quality over quantity. John Bowler has consistently delivered quality throughout his time in the competition and despite spending most of the month out of the country continues to head the table with a 1.55 ppb. Rob Hall, on the Suffolk coast, is in second spot with 1.49 and David Wood on the Oa, Islay, is level with Ilya Maclean on the Lizard in third position with 1.41.
Amy Robjohns tops the Under 25 table at Titchfield Haven after securing 145 points already. She leads Jonathan Farooqi and Joe Stockwell who are level in joint second place on 143 at Druridge Bay and Weymouth respectively.
Alastair Flannagan's endeavours at Swansea Vale mean that he has been the most prolific BirdTracker, with 219 complete lists in just three months. Also from the principality, Ceri Jones is the only other patcher to have registered over 200 complete lists, with 208 by month end. Third place is David Franklin with 192 complete lists, 44 ahead of fourth position. This triumvirate have all averaged over two complete lists per day for the first quarter of 2016.