March is when the birding year really starts to warm up as the first migrants begin to pour into the country, adding a touch of spring to the lingering suite of winter visitors. The Patchwork Challenge scores and highlights reflect this mixture nicely, with March delivering some great quality among a wide variety of spring and winter birds.
The early migrants are predictable: many patchers noted species such as Little Ringed Plover, Sand Martin, Ring Ouzel, Wheatear, and Chiffchaff among their highlights, although Sandwich Tern was a notable omission — perhaps they just aren't exciting enough for people to report! There were a few other species reported as being early, with Peter Hazlewood's Common Tern at Oldbury, the earliest record for Avon, being particularly noteworthy. Scarcer early migrants also showed up in small numbers — Hoopoes were at both Portland and Climping. There's nothing like a Black Redstart to brighten up a dull, early spring day and at least seven were were well received late in the month, six of them on the east coast.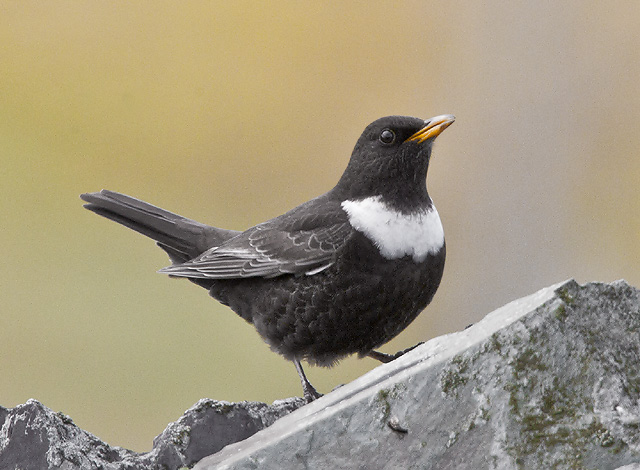 Ring Ouzel: a classic early spring migrant (Photo: Bob Garrett)
With more than just spring passerines on the move there were other trends apparent on our scoresheet. Crossbills seem to have been on the move, being reported from several coastal and inland patches, and Red Kites showed a similar pattern, with nine patches scoring this species, some well away from the more traditional areas. Iceland Gulls (including Kumlien's) were enjoyed by at least 14 patchers, and no doubt provided the odd 'north meets south' moment for those lucky enough to pick up one of these Arctic beauties.
As well as offering a few bonus points for Kumlien's, gulls were also prominent among the three-pointers, with Caspian and Yellow-legged Gulls popping up among other expected winter goodies like Green-winged Teal, Great White Egret and Black Brant; many of the bonus points for these species went to inland patchers. Other inland goodies included a few Kittiwakes and perhaps the best of the lot (apart from an inland Glossy Ibis), a Snow Bunting at Paxton Pits in Cambridgeshire — not too far short of 70km from the nearest stretch of coast!
Of course the biggest scorers are the proper rarities. Balranald seems to have been the place to be in March, the wintering Marsh Sandpiper showing up there again, alongside the long-staying Pied-billed Grebe! I wonder if these two species have ever been available together anywhere on this side of the Atlantic before? Multiple Glossy Ibis were around, including one at South Lough Neagh, a site that also hosted an American Wigeon. Also in Ireland, a Todd's Canada Goose graced a patch at Lurgan Green (Louth). The Bonaparte's Gull was again in Cardiff Bay, and a Dusky Warbler was added at North Lowestoft. All in all, a slightly better turnout than last March.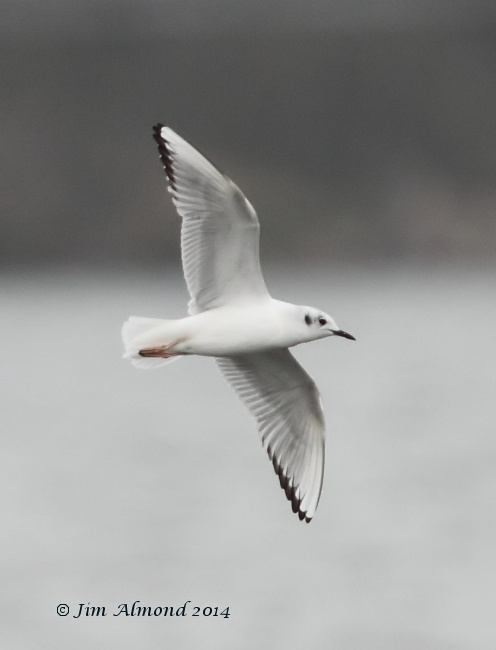 Cardiff's regularly returning Bonaparte's Gull was seen again during March (Photo: Jim Almond)
One bird almost added to that list was Iberian Chiffchaff — a mixed singer, thought possibly to be a hybrid with Chiffchaff, was found at Sandy Point (Hants) by Andy Johnson. No 'half points' for it I'm afraid, but an interesting record, and one that Andy hopefully got to enjoy through his Bresser and Forest Optic best find binoculars.
Away from the rarities and back to the stuff that patching is all about, there was some excellent patch gold on offer in March. Key to raising the blood pressure were partridges (not a sentence we've used very often with PWC), with Seamus Eaves recording Fleetwood's first Grey Partridge for 24 years, and Bill Aspin scoring Brockholes' first Red-legged Partridge in 16 years! A Pochard at Alnmouth (Northumberland) was enough to make Tom Cadwallender need to sit down, and special mention must go to our own Ryan Irvine's huge Red-throated Diver counts: he amassed over 1000 birds on two successive days at Hemsby (Norfolk). Luckily for Ryan he was almost certainly already sitting down, being in the lucky position to be able to partake in what is known as 'sofa seawatching'!
Finally, in terms of patch gold, Chris Pendlebury must have been very happy to look up and see a Shelduck flying over Stirling. Unfortunately for the Stirling patch, this did not prove to be enough to elevate it from the bottom of the 'Pendlebury league', as it fell well short of Chris's three other patches, Kinneil, Dunblane, and Blairdrummond. Interest in the 'Pendlebury league' might be limited, so here's a rundown of some more popular ones.
The top 20s for both species and points have a very similar look about them! Tim Hodge leads the way and both leagues see James Brown in second place and Kev Rylands in third. Special mention goes to Ian Cowgill and Darren Starkey — in fourth and fifth place in terms of species, an excellent showing from two inland patches. These two guys are fighting it out in the inland league — With Darren's Fairburn patch nudging ahead on points. Darren is also in third place at St Aidan's. It'll be great to see how this popular and hotly contested league (on Twitter at least!) develops — and hopefully the winner will enjoy their prize, a BirdGuides Platinum bird news subscription.
In the comparative league, we already have some very high scores but Mark Nowers at Sutton is the clear leader. What's interesting here is the prevalence of inland patches at this stage — although it makes sense that those patches with potentially lower numbers of species, and lower rates of turnover might be ahead at this stage in terms of comparative scores. Don't expect to see the coastal patches fight back until November. The winner of this league will win both a £50 voucher from NHBS and a year's BirdGuides Platinum bird news subscription. Plenty to play for!
Also up for winning a BirdGuides Platinum bird news subscription is the winner in the points-per-bird league. As per usual, the far north and west dominate this league. Dave Suddaby's PPB score is an admirable 1.6 — which at this stage looks very promising indeed. With spring rares on the horizon, will Dave, or Mike Pennington in second or Bryan Rabbitts close behind in third be able to break the 2 PPB barrier that Rob Fray came so close to last year?
Those taking part in the BirdTrack Birdrace are playing for a copy of the BTO's monumental Bird Atlas. The winner of the Atlas will be the patcher who submits the most patch records to BirdTrack over the course of the year — and it looks like that might be Andy Bunting. Andy's near 5,000 records comprise almost 8.5% of the over 60,000 records submitted to BirdTrack so far this year by PWC contestants — great work from Andy and well done to all who submitted their data.
Taking part in PWC without using a car makes you eligible for the non-motorised prize, or the green league as we like to call it. The winner of this league will win a copy of The Sound Approach's Catching the Bug, a beautiful ode to a patch, with climate-change-driven trends woven through the story — a most appropriate prize. Andy Johnson is out in front here, with Gary White very close behind, and then some guy called Ryan in third.
The next league is that contested by Next Generation Birders. This band of under-25s are playing for the Cameron Bespolka Prize — a year's subscription to British Birds magazine — but they're also playing for (and please excuse the abundance of TLAs — three letter acronyms) the NGB MVP, i.e. the NGB contestant whose overall contribution (taking all leagues into account) is deemed to be best. This is being judged by ourselves and Steve Stansfield, Bardsey warden, as he has kindly donated the prize for this, a week-long stay on the island at a time of the winner's choice! An excellent prize, but possibly also a cunning plan from Steve to get a high-flying youngster off their patch during a productive spring or autumn week.
Last but absolutely not least, of course, we should remind all concerned that all PWCers are playing for the Bresser and Forest Optic best find prize. This year's prize will no doubt go to a great bird, but we've not had anything yet that would have matched last year's biggest contenders for this — namely Semipalmated Plover and Mourning Dove — but there is of course still plenty of time to get out there and find that mega. Maybe this will be your spring?
Happy patching!