May, with its selection of rarities and numbers of scarce migrants, was always going to be a difficult month to follow. Each month we ask Patchwork Challenge contestants to report their scores, and alongside this, note any interesting species they might have seen, and their best finds. A recurring theme this month was the frustration that patchers reported: a combination of plenty of effort with little reward. Where last month we were inundated with Red-backed Shrikes and the like, this month's highlights column reads like a bad school report in places. Here are some choice comments:
"Dire month — only one new species."
"Many visits for nothing new."
"Only one added all month."
Fingers crossed for a more productive July for these guys!
It wasn't all doom and gloom, though. Some contestants fared reasonably well, reporting a selection of rarities, migrants and 'patch gold' that made this write-up a lot easier than we thought it might be! Typical scarce spring migrants were recorded again, with the Northern Isles faring well for Red-backed Shrikes, and an honourable mention for Ryan's patch (Hemsby, Norfolk) gaining its first 'six-pointer' of the year for this species. Marsh Warbler also turned up at a few spots, after a conspicuous absence from the glut of May goodies. There were also records of Temminck's Stint and Long-tailed Skua, again both species that did well last month. There were rarer birds too, and perhaps a couple that might make it onto the shortlist for the Meopta and Forest Optics best find competition. Bonaparte's Gulls have been seen on a couple of patches this year, but John Bowler on Tiree is the first to find one on patch and claim the bonus points. Other great finds for June included Marc Hughes's female Subalpine Warbler on the Great Orme, and Dave Suddaby's wayward Black Kite at Blacksod (Mayo). Unfortunately for our two Bardsey-based contestants, the best bird of the month was found by a visiting birder — a Paddyfield Warbler! Still, a valuable four points for anyone's total.
Let us move from the thrill of big rarities to the slightly more modest excitement that only a dedicated patch birder understands — the "patch gold". Perhaps the brightest nugget was the Great Tit reported by Tristan in Stornoway, but other notable records include a Linnet at UEA, Conwy's second-ever record of Razorbill, and a Canada Goose at Sumburgh.
As well as sponsoring our best find competition, those good people at Meopta and Forest optic have also offered to sponsor the BTO's Out of Africa appeal to the generous tune of £1 per species seen during the whole competition. Earlier in the year, we predicted that the total number of species seen could number in the region of 300 and, at the end of May, we were looking at a list of 262 with a shortlist of 32 further species that we thought there was a good chance of being added. June has seen just three species added from the shortlist (Marsh Warbler, Surf Scoter and Quail), with unexpected additions in the form of Black Kite and Paddyfield Warbler taking us up to 267. With wader and seabird passage about to kick off and autumn not too far over the horizon, there will be plenty of chances to accrue 'pounds for Cuckoos' in the next few months, and edge our total ever closer to the big 300.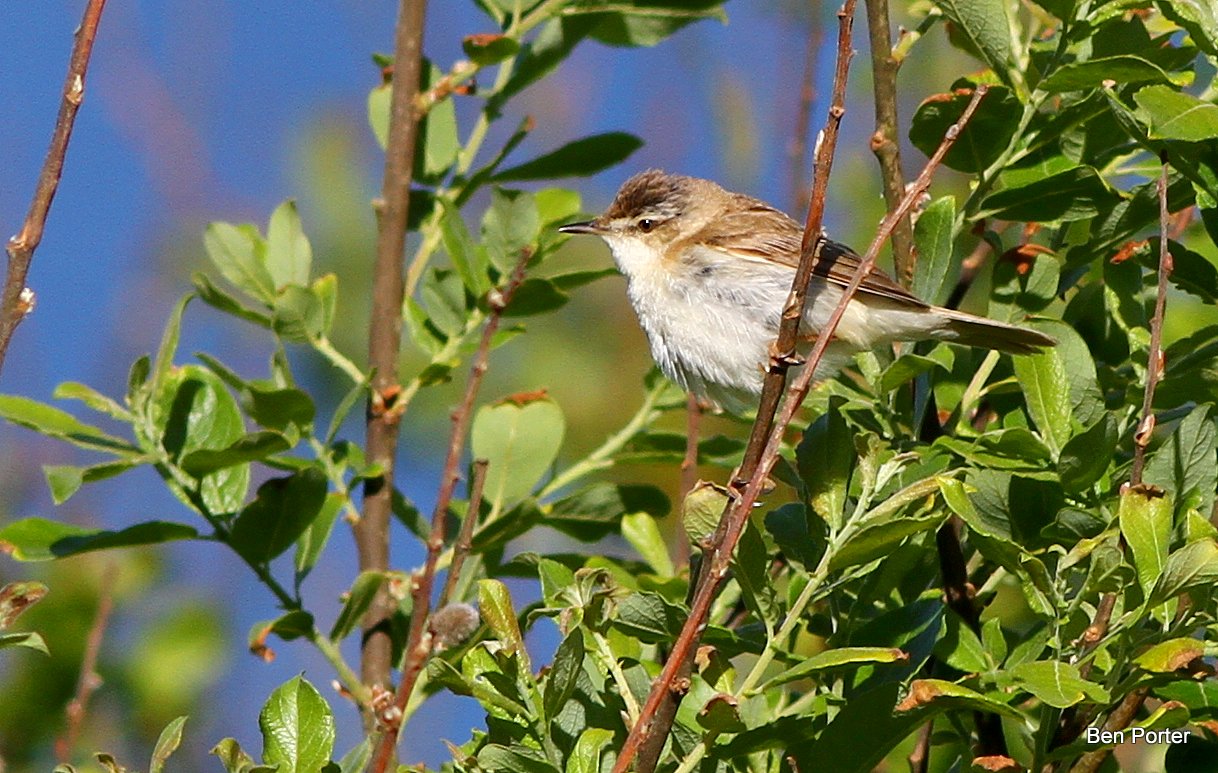 Paddyfield Warbler, Bardsey Island, Gwynedd (Photo: Ben Porter)
And while we're on about supporting the good work of the BTO, whether you're involved in the Patchwork Challenge or not, please consider making your birding count by submitting your sightings to BirdTrack.
Finally, let's have a look at what alterations June's differing fortunes have made to the league tables. Top of the tree in terms of the number of species seen is Jonathan Gibbs, at Minsmere. Note how the top three in this league are all East Anglian patches, and from the top ten, all but one is from England. Congratulations to Jonathan who has been there or thereabouts since the very beginning of the competition.
Content continues after advertisements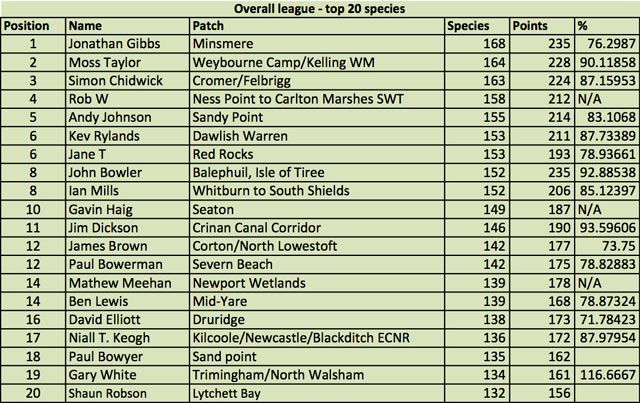 There are some familiar faces in the overall points league too, with East Anglian patches doing well, but the top 20 now being infiltrated by the high bonus point scoring patches of the Northern and Western Isles. John Bowler sits level on points with Jonathon Gibbs at the top of this league, because of his higher points per bird score.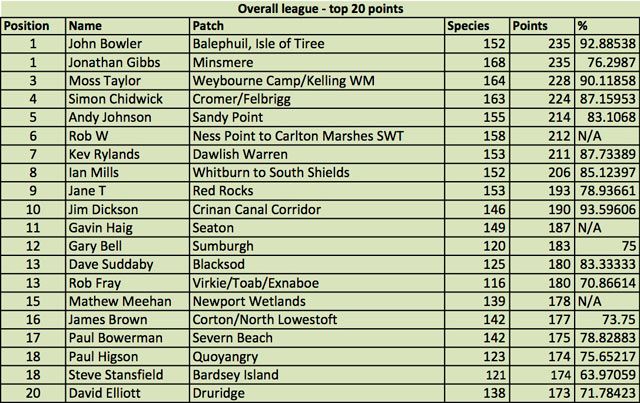 The comparative score top 20 seems to have no such geographical bias — and why would it? Some big scores here, with each of the top ten achieving over 100% already — no doubt in some part due to the added incentive to get out and do a bit of patch birding. Sean Morris tops this pile, but it's very close up there. The non-comparative league is topped by Rob W, who is now quite a long way ahead of Gavin Haig in second place.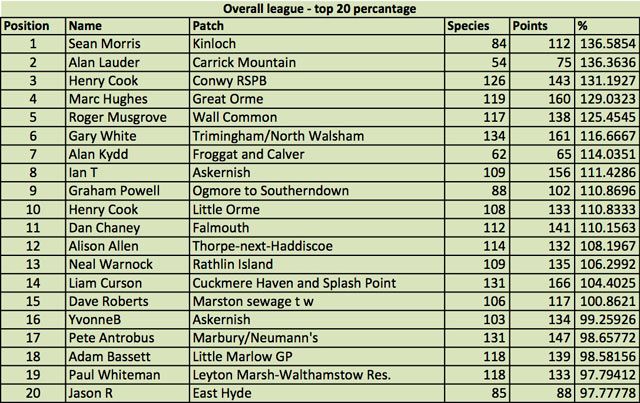 Overall top 20: comparative scores.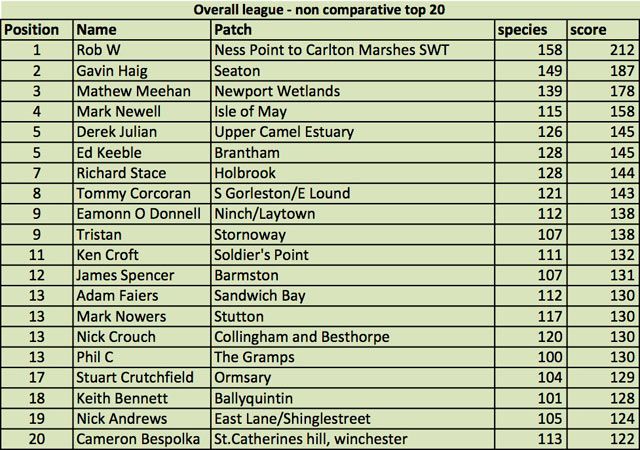 Overall top 20: non-comparative scores.
Last but not least, our favourite league, the points per bird table. No surprises here: the top five are all places with good rarity track records, with our two Shetland patches in the top three. While there is definitely a northern and western bias here, it's good to see a couple of English patches making it into the top ten.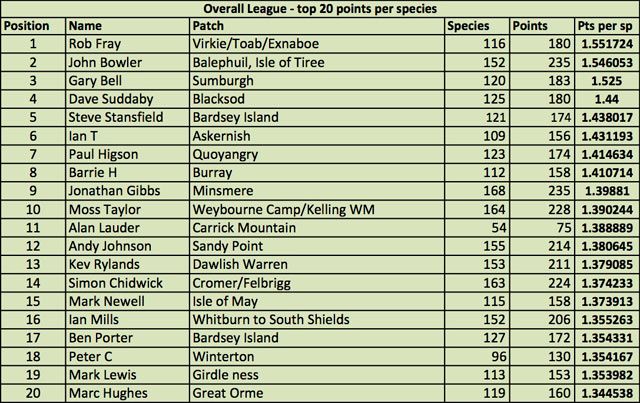 July has already seen attention turn to seabirds, and no doubt many others will be looking at the sea, or focusing on returning waders. Wherever your patch is, good luck for the rest of the summer. As ever, you can follow the latest updates on the Patchwork Challenge blog.