Patchwork Challenge 2016 is here and this year, the competition looks set to be bigger, better and more competitive than ever. Carrying on from a fantastic 2015, 2016 looks set to be the challenge's most popular year to date, some 600 people now signed up to take part, championing patches the length and breadth of the UK and Ireland.
As is often the case in winter, wildfowl featured heavily as highlights for many competitors this month. Species from across the pond were well represented, Lesser Scaup and Surf Scoter cropping up and both American Wigeon and Green-winged Teal observed at numerous sites. Joe Cockram alone notching both the aformentioned yanks at WWT Steart Marshes. Elsewhere Smew, as ever, proved popular while both Whooper and Bewick's Swans brought in welcome points for many diligent patchers. Likewise, scouring goose flocks yielded similarly good results, Black Brant and Bean Goose worth a mention alongside a notable influx of White-fronted Geese on the east coast.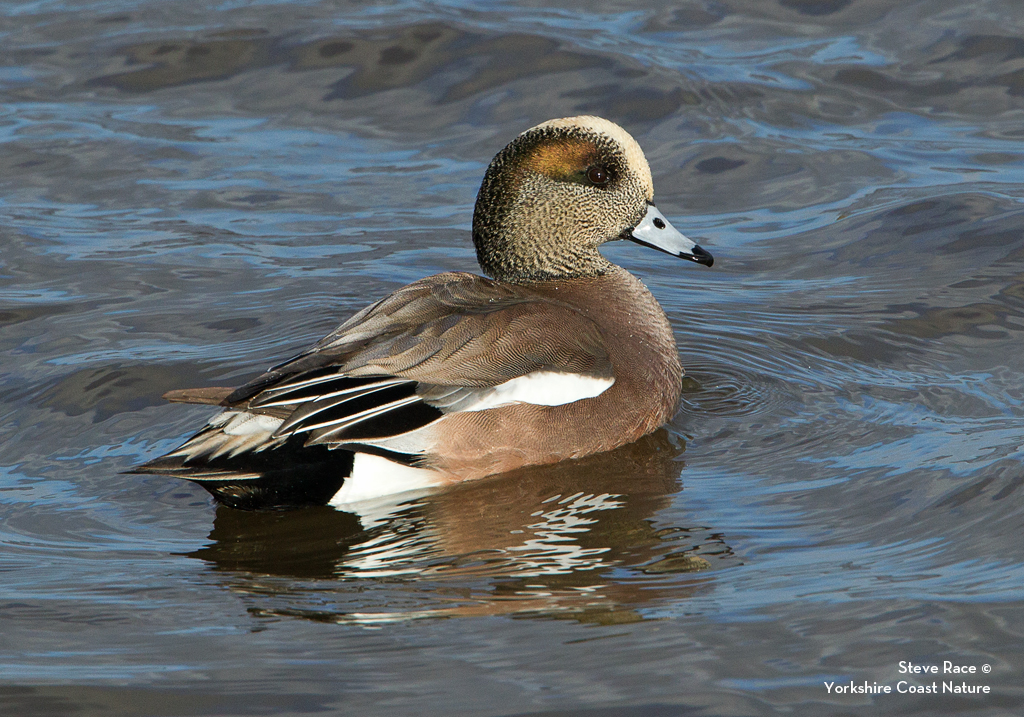 American Wigeon, Scalby Mills, North Yorkshire (Photo: Steve Race)
Moving on to another typical winter spectacle, gulls! Perseverance paid off for many competitors this month with white-wingers noted in good numbers alongside a healthy dose of Caspian, Little and Yellow-legged Gulls. Ring-billed Gulls featured prominently in Ireland while on a scarcer note, two Bonaparte's Gulls were also unearthed. One of these comprising Hertfordshire's first record of the species and bringing in welcome points for Ian Bennell at Tring Reservoirs with the other the returning bird at Dawlish Warren. Upping the ante once again, a wandering Ross's Gull provided a pleasant surprise for Ilya Maclean at Lizard Point, Cornwall, while Andrew Whitehouse connected with the possible Thayer's Gull on his North Aberdeen patch.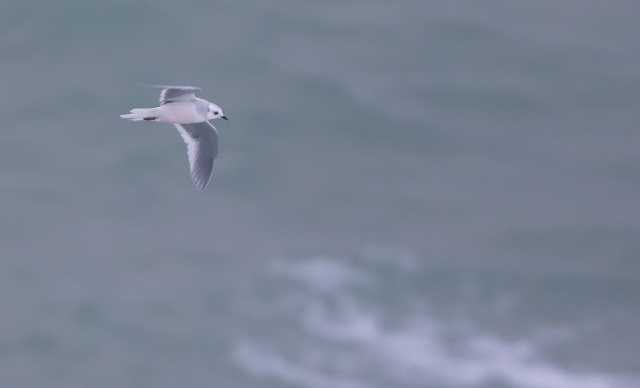 Ross's Gull, Bass Point, Cornwall (Photo: Tony Blunden)
Rare waders were few and far between in January, quality taking precedence over quantity on this occasion. Lesser Yellowlegs and Long-billed Dowitcher for Tommy Corcoran and Jonathan Farooqi respectively provided noteworthy additions this month, preceded by a generous scattering of Jack Snipe, Grey Phalarope and Spotted Redshank. Finally, an honorable mention goes to Arlo Jacques with an impressive flock of 20 Glossy Ibis at Tramore, Ireland.
January is far from the best month for seawatching though for those brazen enough to brave this month's turbulent weather it paid dividends. Little Auks were a highlight for many here, occurring on numerous coastal patches alongside a few wintering Sandwich Terns. Three species of skua were also noted this month alongside a smorgasbord of grebes, divers, seaducks and auks, Red-necked Grebe, Black Guillemot and Black-throated Diver featuring prominently in the January highlights of many competitors.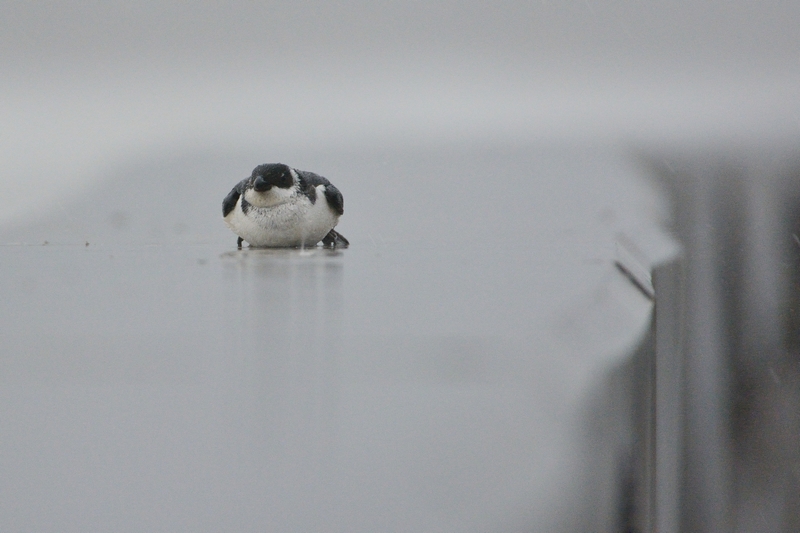 Little Auk, Arbroath, Angus & Dundee (Photo: Barry Farquharson)
Moving on to a few unseasonable visitors, and Logan Johnson's Shetland Mourning Dove remained in evidence during the start of month while overwintering Yellow-browed Warblers delighted a number of patchers in the south. Perhaps more notable was a Dusky Warbler for Tom Raven in the Inland South mini-league while elsewhere on the passerine front, pickings were far from slim. Rose-coloured Starling and four Siberian Chiffchaff, again for Ilya Maclean, added to his already impressive tally while European Serins featured for Ben Rackstraw at Downham Market and Luke Wake at Fen Drayton RSPB. Elsewhere other highlights included both Coues's Arctic and Mealy Redpoll in Northumberland, Penduline Tits at Titchfield Haven and a scattering of Waxwing, Water Pipits, Great Grey Shrikes and Lapland Buntings.
Now for the tables and first up, the bread and butter of PWC that is the comparative league. With the current top seven competitors surpassing the 75 per cent marker, 2016 is certainly shaping up to be a good year for PWC regulars. Indeed, the entirety of the top twenty have far surpassed 50 per cent of their previous year's scores, no mean feat in the first month of the year. A clear testament to the dedication of those taking part in the competition.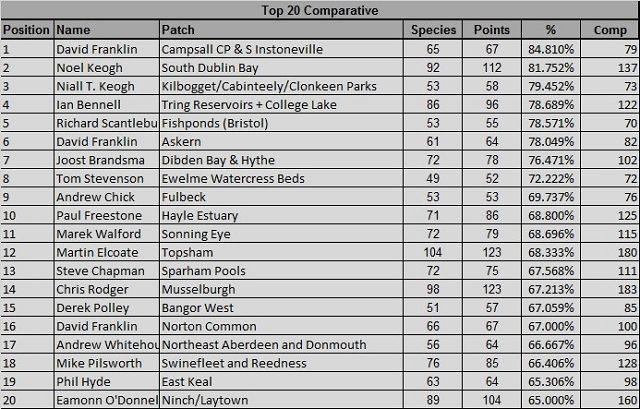 On to the points league now and droves of competitors have already surpassed the coveted 100 points milestone. James Brown heads things up with a truly impressive 147 points at North Lowestroft, followed closely by PWC newcomer Ross Ahmed in second and Dave Craven in third. With so many high scores submitted already this year, perhaps 2016 could see a new all-time highest score. Only time will tell.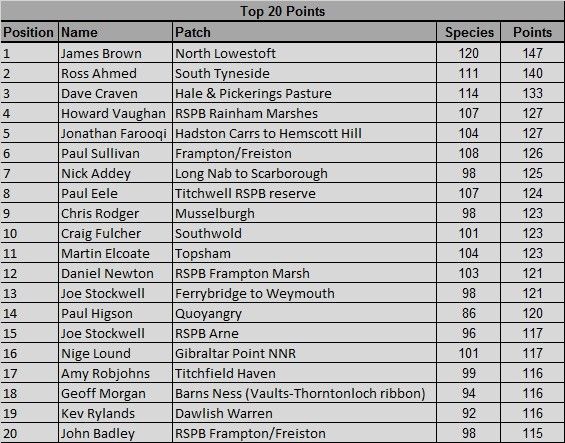 Content continues after advertisements
There are three centurions in the January Inland Top 20 with perennial high scorer Ben Lewis leading the way on 108 points. If Rutland entered the competition it was always likely to be a contender and so it proves as Rod Baker takes second place just a single point back. Rounding off the top three is another high scorer and Midlands points champion from 2014 and 2015, John Hopper. With such competition from the off it could be a tight race to finish top by the year end.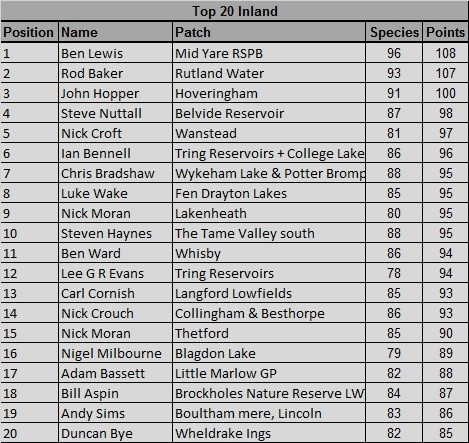 Onwards to 'quality' league and Rob Hall sits in poll position with a mighty 1.564 points per bird at Halesworth to Dunwich. A truly impressive score when you consider the fact that most multi-point scoring species are usually notched during spring and autumn. If Rob's luck continues PWC may well see yet another record broken during 2016. Further down the table things appear to be shaping up rather well for a number of other competitors.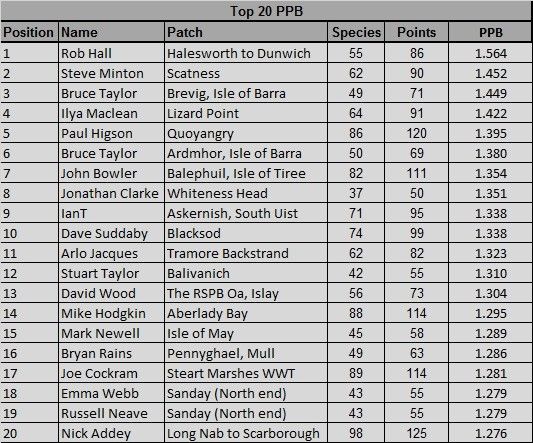 Moving on to the 'green' league for the healthy or eco-conscious birders among our ranks and Martin Elocate walks his way into first place with a high score of 123 points at Topsham. This could all change in February, however, and with more and more patchers abandoning their vehicles and opting to bird on foot this league looks set to be more competitive than ever during 2016.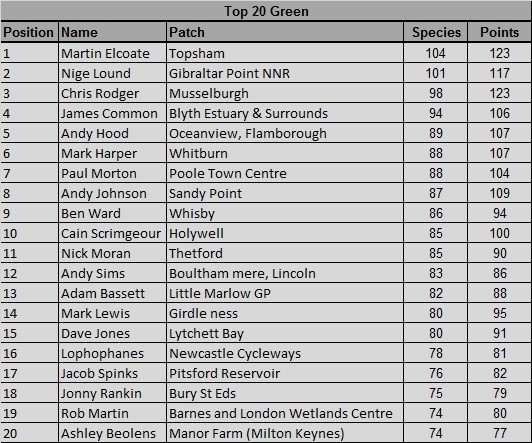 Now to the newly re-christened 'under 25's' league that recently opened its doors to competitors from both NGB and A Focus on Nature, as well as any other birders that fit within the demographic. With more people taking part than ever before, this league too appears to be going from strength to strength. Jonathan Farooqi claimed the top spot this month following an impressive run at Hadston to Hemscott Hill while Joe Stockwell claims second and third place at Ferrybridge and Arne respectively. It is great to see so many young birders taking part this year and equally exciting to see so many contributing to BirdTrack. Keep up the good work guys!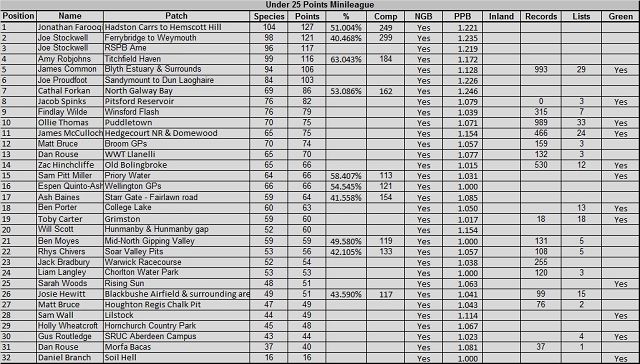 Finally we come to the BirdTrack league, with complete lists once again the main focus this year. January finds Phil Townsend leading the way with a cracking total of 85 lists followed closely by David Franklin in second. It is promising to see so many people contributing to Birdtrack this year and I am sure the BTO will be grateful for the effort.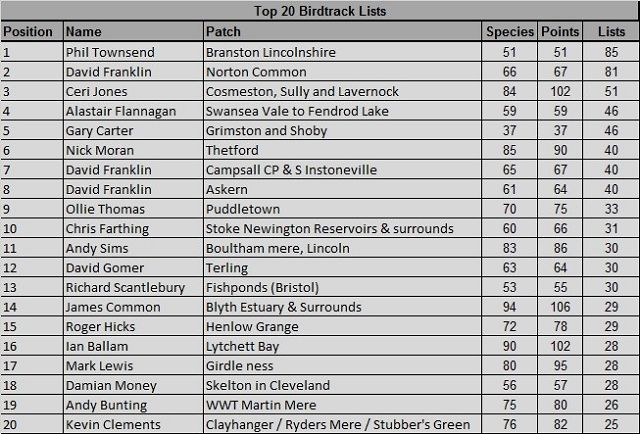 If you want to take part in Patchwork Challenge 2016 there is still time, just visit our blog (patchworkchallenge.blogspot.com) and register. We have just released a podcast which will take a look at the monthly goings on in PWC and also the wider birding world; it's available on iTunes and also below via SoundCloud.