It's the end of year update and, contrary to custom, it's the all-important tables first and the December update second — after all, it is the final standings that we're all interested in!
Before the final results, however, there's time for a quick celebration of the year. PWC2016 has been bigger and better than ever. A hugely impressive 465 birders took part, covering more than 1,000 square kilometres of Britain and Ireland. They contributed more than half a million records to BirdTrack during the course of the year and the blog received its 375,000th hit. Some mouth-watering birds were found on patch including Siberian Accentor, Eastern Black Redstart, Black-browed Albatross and Caspian Stonechat plus many more besides, and our social media was alive with #PWC2016 and #patchgold Tweets — it seems coastal Coot were particularly popular this year!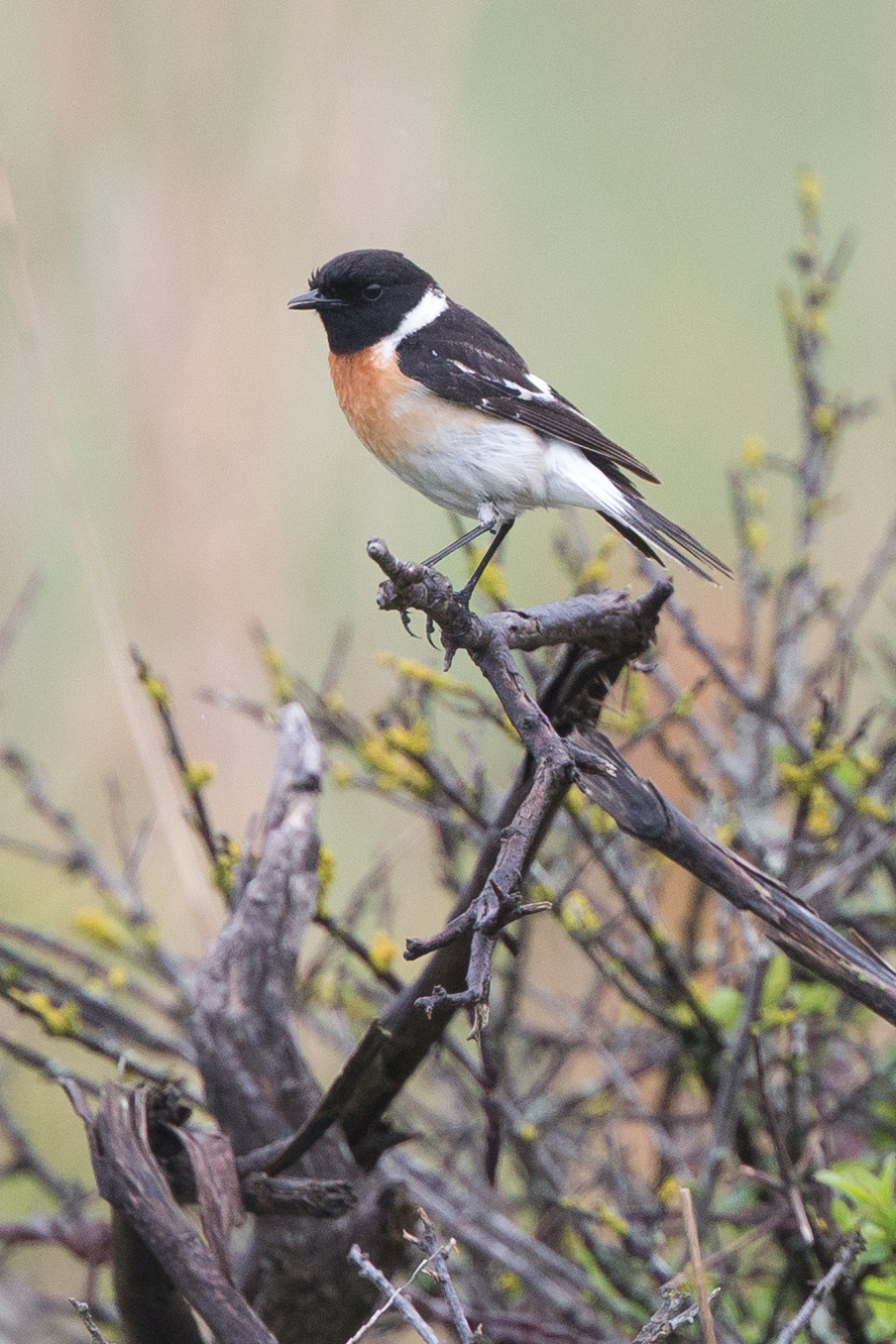 The Caspian Stonechat at Titchfield Haven was among the rarest birds found 'on patch' in 2016 (Photo: Simon Colenutt)
We would also like to mention two great supporters and stalwarts of Patchwork Challenge who sadly left us this year: Martin Garner and Pete Antrobus. Both were very well known and popular in birding circles and contributed a great deal to the challenge. They will both be sadly missed.
We would also like to thank James Spencer. He has been the heartbeat of Patchwork Challenge for the last couple of years in particular and has been a driving force in getting PWC to where it is today. James is stepping down from his role to pursue new projects including spending more time on his new patch at Flamborough. Best of luck James; everyone really appreciates your hard work in keeping this show on the road.
In the Comparative mini-league it really did go down to the wire. At the end of October Mike Cram held a slender lead but Adam Nicholls has pipped him at the post. Adam added two species in the final two months, which was enough to clinch top spot. Amy Robjohns kept us entertained on social media throughout the year with 'ground-breaking' record shots of great birds and takes third place. In total, 123 contestants beat their comparative score this year; well done to all who hit the ultimate PWC target.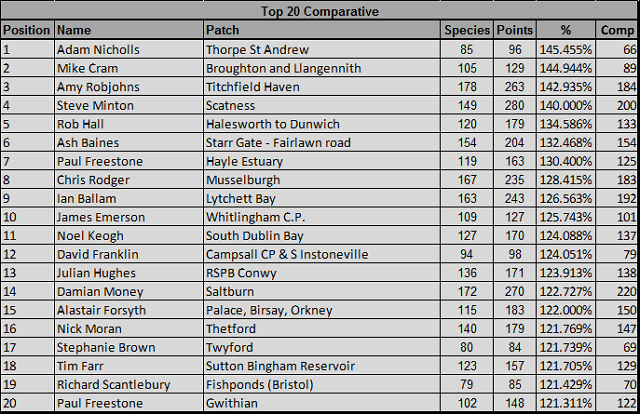 This autumn, Spurn reaped the benefits of an incredible run of easterlies that brought in a string of fine rarities. The top of the Points mini-league table reflects this, with the top three all from the same area. Tim Jones takes the title with a monster total of 421 points even outdoing his score from last year. Mick Turton comes in second, also breaking the 400-point barrier with exactly the same number of species, 231. Finally, Paul French takes third spot on 392. A further six patches went past the 300-point mark, Steve Stansfield's excellent year on Bardsey putting him in fourth and John Bowler in fifth on Tiree breaking up the east coast's domination this year.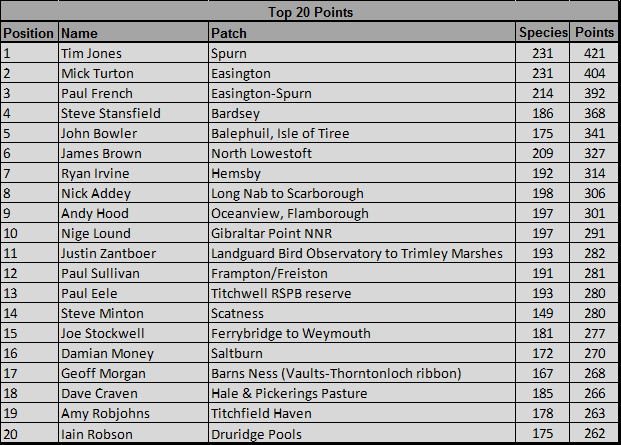 As you would expect from the points league, Spurn/Easington also dominates the top spots in the species league, but this time we have joint winners on a magnificent 231 species. Tim and Mick can celebrate this victory together and I'm sure they will invite Paul along too to the Crown and Anchor as he makes it a 1–2–3 for the east-coast hot-spot. One of the great barriers in PWC is the 200 species mark and James Brown at North Lowestoft joins the above trio on achieving this landmark. Congratulations to all.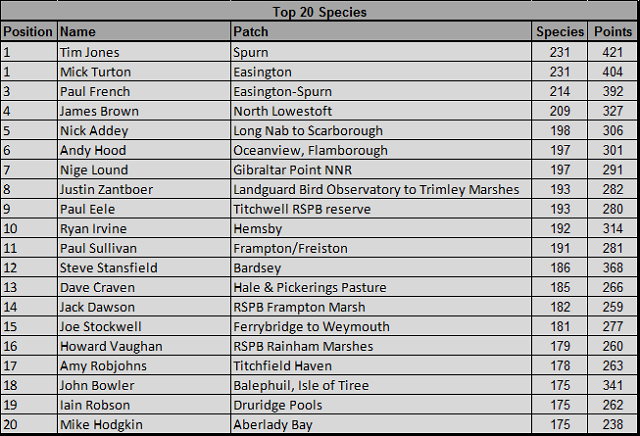 The Top 20 Points Per Bird mini-league is the one for those finding excellent birds on their patch. The more bonus points you can reap the better your PPB, and islands always dominate. John Bowler on Tiree has always been a contender in this league but he was beaten into second this year by Steve Stansfield, who had a superb year with a fine run of rarities on Bardsey. Steve Minton finishes third at Scatness, with his garden supplying a number of scarcities and his highlight for the year a superb Eastern Olivaceous Warbler.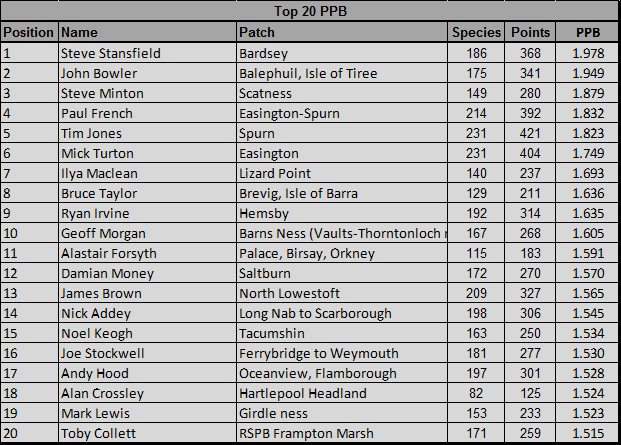 Just four points separate the top four places in the Inland mini-league! Ben Lewis steals in at the last though to take top spot by a point at his East Anglian patch, a Mealy Redpoll in December making all the difference. Steve Nuttall caps off a superb year just one point adrift, putting the Rutland duo into third and fourth, an amazing achievement and a real advert for Belvide. Nigel Milbourne's awesome Blyth's Pipit in December lifted him to a fine fifth-place finish.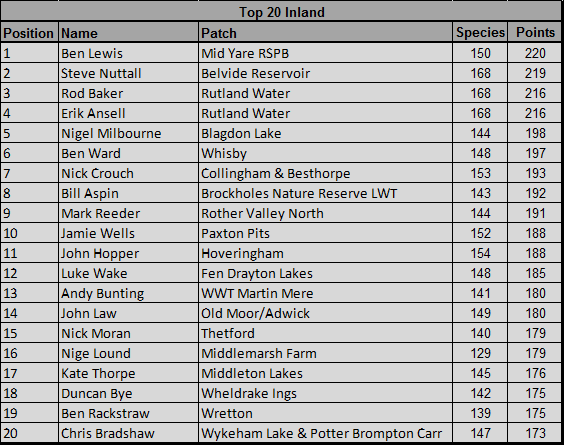 Content continues after advertisements
Tim Jones wins the Under 25 mini-league at a canter and has had it in the bag since the early autumn. The battle has been all about the south-coast showdown between Joe Stockwell and Amy Robjohns. They have been matching each other rare for rare but Joe has won out in the end taking second with Amy third. Excellent efforts all round.
In the Top 20 Green mini-league, Steve Stansfield takes victory. Like the Under 25 league, the winner was perhaps decided earlier in the autumn, but the runner-up spots have been quite a battle. PWC's own Ryan Irvine takes second place, however, and Andy Hood third, all three scoring over 300 points without using any motorised transport — quite an achievement. Nige Lound and Steve Minton finish in fourth and fifth after flirting with the top places all year.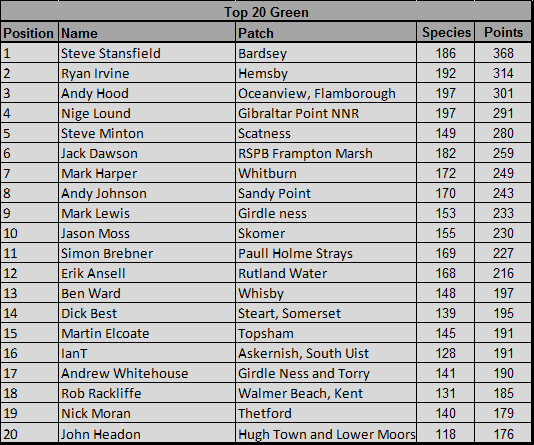 Half a million records and more than 15,000 complete lists were submitted to BirdTrack by PWC contestants in 2016, a superb contribution to citizen science! BirdTrack has become easier to use and the smartphone app has gone from strength to strength and we will continue to promote its use in 2017 too. The Welsh duo have racked up huge totals of records demonstrating amazing patch dedication. Ceri Jones and Alastair Flannigan are first and second, with James McCullough making up the top three. Well done to all contributors this year.
December is always one of the hardest months to add points and it really can make a difference to your mini-league position. This month there were some excellent birds recorded on patches across the country. Without question the bird of the month was the Blyth's Pipit found by Nigel Milbourne at Blagdon Lake. A superb find at this inland site, which Nigel has been patching for 24 years. There have been a number of Eastern Black Redstarts this autumn, and a bird at Barns Ness for Geoff Morgan was certainly his highlight for the year and scores the maximum 15 points.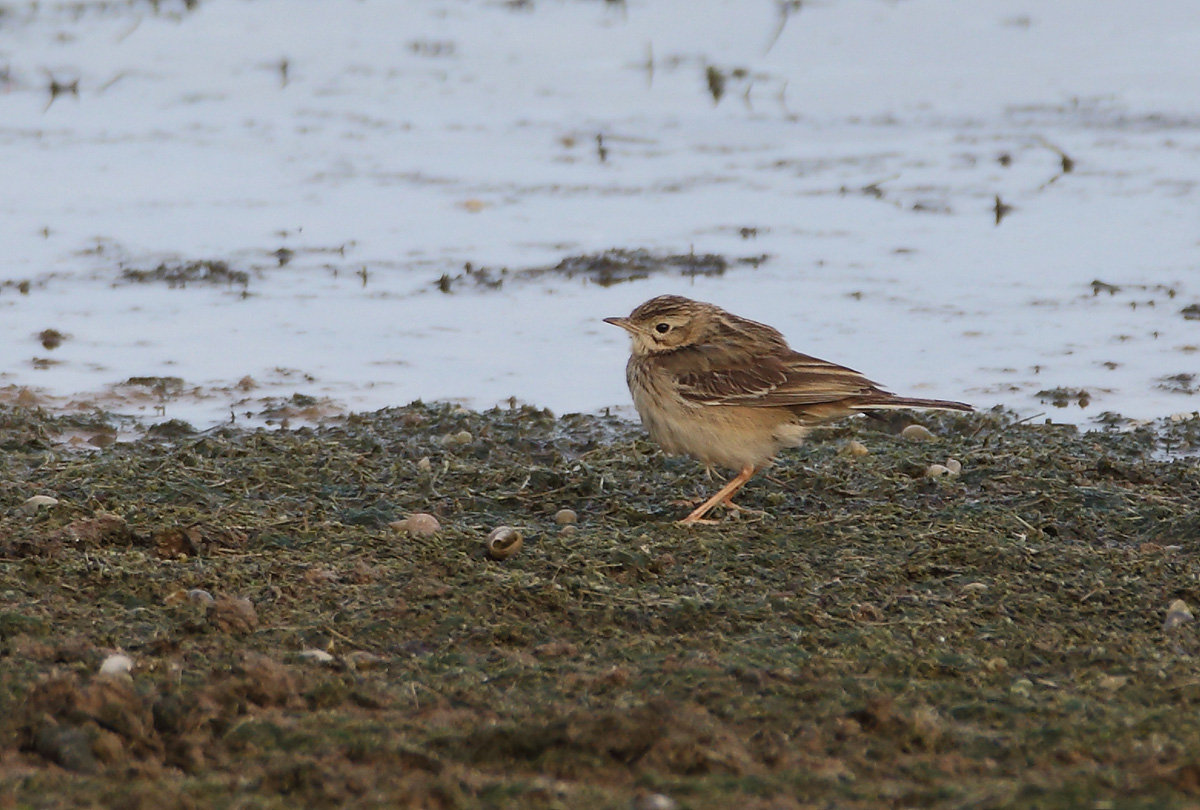 The Blyth's Pipit atBlagdon Lake was a brilliant find for Nigel Milbourne (Photo: Chris Cook)
A potential Brown Shrike which appeared in Adam Moan's garden at RSPB Geltsdale stirred much debate. Unexpected to say the least, some believe it showed features of Red-backed and possibly hybrid origins. Perhaps more expected was the Great Grey Shrike that was present at Crinan Canal Corridor.
Nearctic ducks are often a feature of the winter and December was no exception, with a number of patches recording Green-winged Teal and single patches American Wigeon and Lesser Scaup. While less seasonable, wintering warblers are becoming more regular, and there were a Hume's Leaf Warbler for Sean Foote at Portland, a handful of Yellow-broweds and Siberian Chiffchaffs at a number of sites.
Finally, a Cattle Egret invasion in the south brought a dose of continental excitement to the end of the year for a number of patchers, particularly in the south, including nine together at Loe Pool.
So many thanks for everyone who has contributed to a fantastic PWC2016. We are already into PWC2017 and, with our new website having just launched, there are exciting times ahead for birding on your patch. The new site allows you to input your sightings online at any time rather than via a form on the blog and the table will update in real time. So get registered at www.patchworkchallenge.com
All the best for the new birding year from everyone at PWC.