So Patchwork Challenge 2014 has drawn to a close. It has been another fantastic year with more birders than ever putting their patch to the test. Congratulations from the PWC team to all who took part in 2014! It is the diversity of patches that are turning this competition into a rich fabric of birding that spreads right across the UK and Ireland, representing a social forum for everyone who enjoys getting out on their patch to watch birds.
For much of the year, the overall points league was a battle of the heavyweight birding sites with hefty points totals and some superb finds. The early leader, Tim Hodge in Horsey, finished a creditable 5th while Martin Garner, helped by a Brünnich's Guillemot at Flamborough, finished 4th with a total of 373. Scotland was well represented at the top, with Peter Donnelly's North Ronaldsay patch finally edging out John Bowler at Balephuil by a mere two points. All of this means that Tim Jones at Spurn takes the win with a titanic 220 species and 415 points. As the leading non-comparative score he wins a year's BirdGuides news subscription. Tim was also the leading Next Generation Birder so he also wins the inaugural Cameron Bespolka prize, which is a year's subscription to British Birds. He opened up a gap after a superb autumn and never looked back, with a patch list that reads like a wish list. Our heartiest congratulations go out to Tim.
One of the cornerstones of Patchwork Challenge is the comparative score league which allows every patch to compete on an equal basis. A substantial number of competitors managed to beat their score from 2013, so congratulations to all who passed the 100% mark. Creditable performances from Alistair Forsyth and Steve Swinney saw them fill the runner-up spots but none could catch Adam Faiers at Sandwich Bay who hit a hefty 236 points at 159% comparative — that is some score to try and beat in 2015! Congratulations to Adam, who will be receiving a £50 NHBS voucher and a BirdGuides subscription.
Once again our patchers have produced some cracking finds, many in line for the the 2014 best find competition. Congratulations to all those who have been mentioned in the monthly best find posts on the blog during the year. Collared Flycatcher, Blyth's Pipit and Eastern Bonelli's Warbler give just a flavour of the birds on the shortlist; the full list can be found on the Patchwork Challenge blog where the result will come down to the public vote — a pair of Bresser Montana 8.5x45 binoculars await the winner courtesy of Bresser & Forest Optics.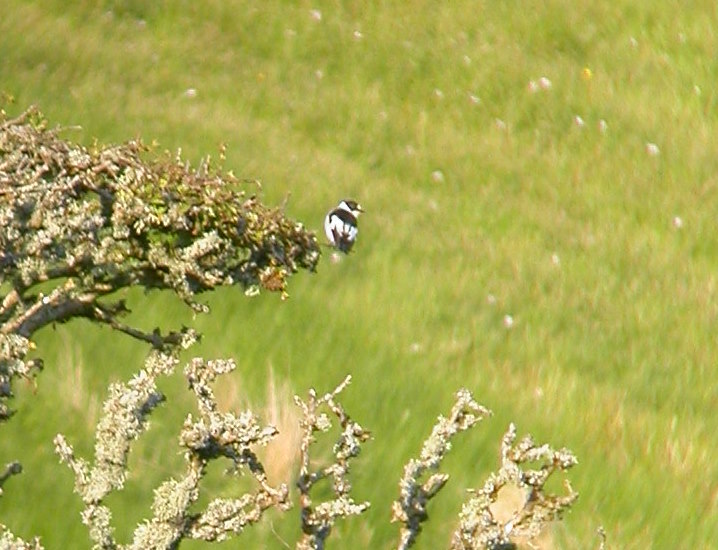 John's Collared Flycatcher, positively glowing in the late spring sunshine on Tiree (Photo: John Bowler)

Jonny Holliday's Blyth's Pipit was one of the star finds of 2014 (Photo: Darren Chapman)
Before the remaining prizes are announced there is the small matter of December! Traditionally it is a month to try to squeeze out the last few points from winter visitors and to chase down the glaring omissions from year lists. Many birders added points for wintering gulls, wildfowl or geese. Martin Elcoate had the fortune to catch up with the three Penduline Tits when they relocated to his Topsham patch while also in the south-west, Dan Cheney scored bonus points when he found a wintering Yellow-browed Warbler in Falmouth.
One of the highlights in the month was an Ivory Gull dropping in at Balivanich for Stuart Taylor following the 'weather bomb'. The Bresser and Forest Optics best find competition was to be hit by a bomb of its own however when Jonny Holliday scored maximum points with a Blyth's Pipit. What made this even more special was the location, the inland site of Pugney's Country Park in West Yorkshire. Unbelievably this county first was then joined by a potential second on the same patch: when the Mirfield Thayer's Gull came in to roost there — a real case of patch gold!
Three patchers topped the 200 species mark in 2014, Tim Jones topping the table with a staggering 220. Congratulations to Tim Hodge and Martin Garner who both put in commendable performances for the year.
A superb December for Jonny Holliday took him into the top 10 inland sites, but it is long-time leader Wayne Gillatt who takes the title. His site at Alkborough Flats tied on species with Jamie Wells at Paxton Pits, but his points-per-bird, including a self-found Broad-billed Sandpiper, helped him to take the title. A BirdGuides news subscription will be heading Wayne's way, who had this to say about his year:
Content continues after advertisements
"Thank you for hosting this challenge. It has been a most enjoyable year with many exciting moments. It gave me a new angle to birding, breaking up the boredom that occasionally creeps in when things are quiet rarity-wise. Happy New Year to you all and I hope that the Patchwork Challenge continues and goes from strength to strength."
Some of the countries prime birding territory features in the non-comparative league, this being their first year in the competition. As mentioned earlier Tim Jones at Spurn takes the title in a league that reads like a Where to watch... publication!
Always an interesting competition, this is the quality not quantity table. The battle of the Scots continued here with John Bowler reversing the result in the overall points competition by pushing Peter Donnelly into second to win a BirdGuides subscription. His Balephuil patch scored over two points-per-bird, a result which reflects John's regular appearances in the best find article on the PWC blog!
Thanks to everyone who submitted records to BirdTrack during the year. It is a key area for Patchwork Challenge and we encourage everyone to use BirdTrack in 2015. Five patchers submitted over 10,000 records during the year which is a magnificent effort, but the winner of the BirdTrack Race was Tim Hodge at Horsey. Honourable mention also goes to Zac Hinchcliffe, who submitted the most lists in the year. A copy of the BTO Bird Atlas will be dropping onto Tim's doormat in the near future.
The league for those patching without use of a car, the Bardsey duo have dominated this year with Steve Stansfield taking advantage of Ben's absence from the island to pull away for a victory. A copy of the Sound Approach's Catching the Bug will be shipped to the island soon.
Tim Jones at Spurn takes the Cameron Bespolka prize from Joe Stockwell and Ben Porter. The bigger prize here however is for the 'Most Valuable Player'. A shortlist of James Common, Zac Hinchcliffe and Espen Quinto-Ashman was drawn up by the PWC team with Steve Stansfield from Bardsey Bird Observatory selecting Espen as the winner. Bardsey Bird Observatory have been very generous in putting forward the prize of a week's accommodation on the island. It was Espen's commitment to his inland patch that clinched the prize. His dedication paid off with Herefordshire's first Bluethroat which perhaps exemplifies what patch birding is all about.
So all that is left is to say is a massive thank you to all patchers and supporters of PWC in 2014 and happy birding for 2015. PWC2015 already has over 400 patchers taking part with registration still open until the end of February. There are exciting developments ahead for the competition and we encourage all patchers to get out and enjoy their birding, get involved in the action on social media and BirdTrack their records. Happy New Year!