East London is one of Britain's best places to observe, study and photograph gulls, offering plenty of opportunities to see both common and less familiar species alike in a suburban setting. In the capital, where birding can be slow for long periods throughout the year, gulls offer a rare year-round source of entertainment, which only enhances their attraction to local birders.
The lower reaches of the River Thames act as a focal point, for it is here that the number and variety of gulls is at its greatest. The river itself offers plenty of natural feeding opportunities, while an assortment of anthropogenic food sources (e.g. landfill sites, recycling centres and outfalls) line its banks, meaning that large numbers are present throughout the year.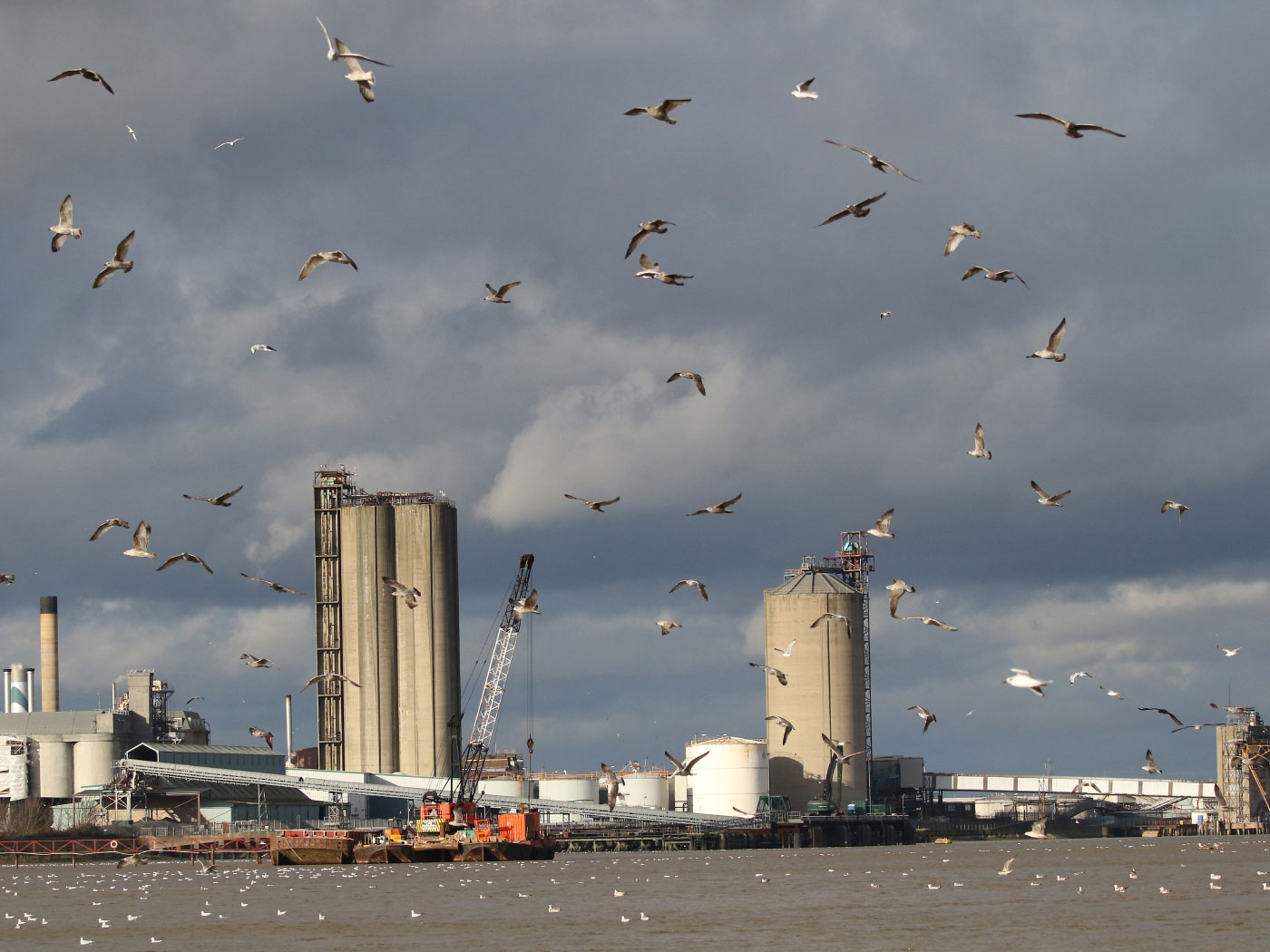 Don't expect stunning landscapes when gull-watching in London, but at least there are plenty of birds set against 'characterful' backdrops (Jamie Partridge).
The five common species of gull may be found year-round, although each fluctuates based on the seasons. Resident breeding populations of Herring and Lesser Black-backed Gulls are ever-present and are augmented by the arrival of Black-headed, Common and Great Black-backed Gulls outside the breeding season (although immatures of these species can be found in every month); many Lesser Black-backs are breeding migrants and they are vastly depleted in number during the mid-winter, with concentrations building from late winter onward and then falling away again in autumn.
The Thames Estuary is without doubt the best place in Britain for Yellow-legged Gull. The species can be seen throughout the year, with numbers peaking in July and August as post-breeding dispersal – particularly of juveniles – sees hundreds arrive in the area. Numbers fall away in autumn, but some do winter in the capital.
It is also one of the most reliable places in the country for Caspian Gull – birds can be encountered in any month, but we tend to get the highest counts in November and notice another push in reorienting birds in February – and in 2019, intensive coverage in late July and August suggested that it's as good a place as any to see the first arriving juveniles.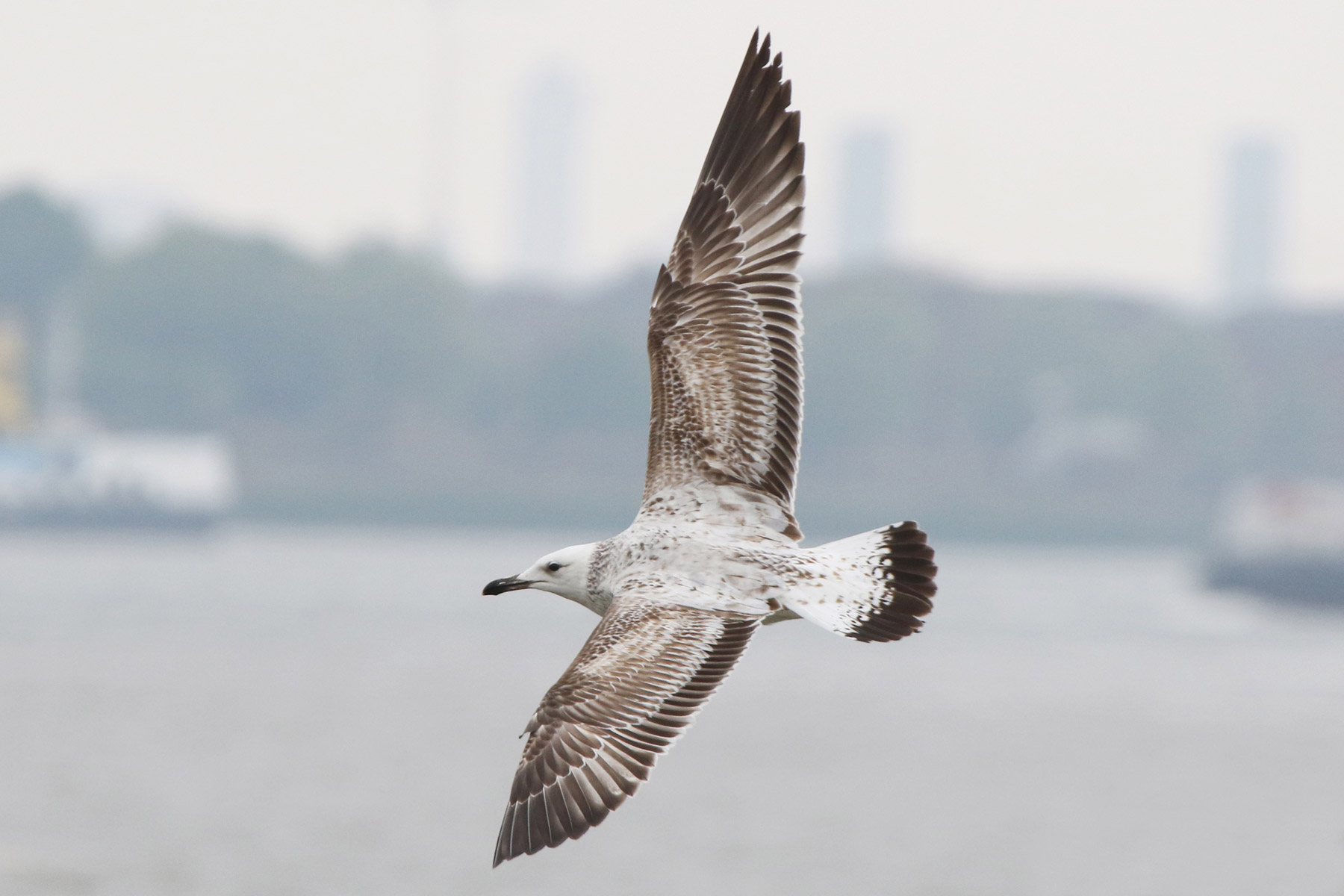 Caspian Gull is a realistic (if not guaranteed) prospect for a day's winter gulling on the Thames. Sometimes, during influxes, double figures of this popular bird might be seen in a single session (Jamie Partridge).
The nature of East London means that the birds are transient, moving around the area where feeding opportunities arise. For example, the landfill site at Rainham holds huge numbers of birds during the working week, but its closure on Saturday afternoons and Sundays means that these birds move out along the river in search of food – meaning other, 'lesser' sites along the river often prosper on these days.
That said, one way to concentrate gulls at any site is to feed them, with bread (ideally wholemeal) being the most efficient tool. Although not necessarily needed, it enables very close views of birds, holds their attention (thus any interesting bird may be more inclined to hang around) and, crucially, draws in new birds from a wider area. It's always exciting when you've created a large feeding melee of gulls and more are coming in from all directions, some seeming to drop right out of the sky from nowhere. A site seemingly devoid of gulls can quickly become a hive of activity with just a few slices dispatched into the river …


A melee of gulls is a visual and aural overload – you are often just as likely to pick up more interesting species by call as by sight (Josh Jones).
No two days are rarely the same along the Thames, and the turnover of birds we get to look through is impressive. While that may mean that any interesting bird may be frustratingly short staying (especially for the twitcher), it does at least keep things fresh and means you can never quite be sure what you might see. However, some birds are more habitual – based on ringing recoveries, we know we do see some individuals time and time again, while others return to the capital winter after winter.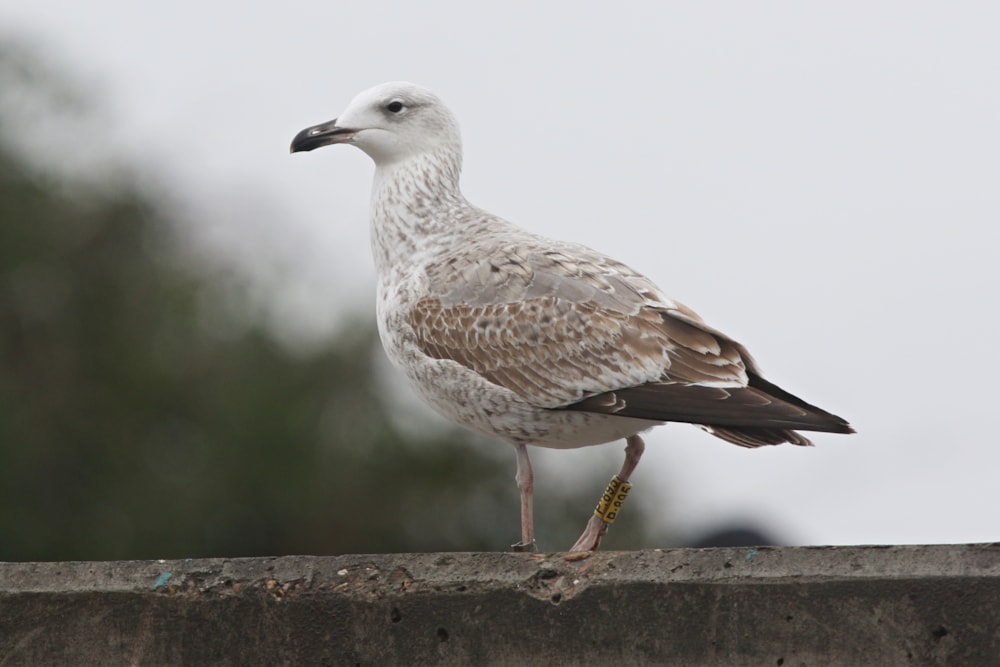 While birds tend to move in and out of London, some are more site faithful. For example Caspian Gull 'P:895', ringed as a chick in Poland and here pictured at Crayford in December 2018, has now returned to this area of London for two winters running (Richard Bonser).
The ebbs and flows of the seasons, plus the ever-present scope for finding something unusual, make it an enjoyable (but time consuming!) pastime, and a group of birders dedicated to gulls has emerged in this part of the world – of which we have become heavily involved with over the past four years. It's rare for there to be a week in the year where at least one of us hasn't been out and between us there's a real drive and appetite that can never be sated.
The account that follows will take a look at some of the better sites to focus attention on gulls in East London, working from west to east along the River Thames. It aims to provide some useful insight and background information on each hot-spot, while also giving a taste for the experience and perhaps encouraging others to make an attempt, too.
The sites
Before commencing with a walk-through to East London's gull-watching hot-spots, we include an interactive map that will help visualise where each site sits in relation to each other. For prospective visitors, it provides GPS positions that can be used to generate directions.
To view and explore the map in a separate window, click here.
Rotherhithe
Just half an hour's walk from Tower Bridge, Rotherhithe is the most central of the locations addressed in this article. There are several spots where gulls can be seen in Rotherhithe, the most productive is a beach to the north of the Double Tree Hilton hotel. This 'beach' is only exposed two to three hours either side of low tide, but will often hold up to 50 large gulls, which can give superb views and photo opportunities with care taken not to flush them.
An understanding of the tides is important with gulling on the Thames – low tide is essential for sites where foreshore is needed to concentrate loafing birds, with high tide better for feeding sites (and general photographic opportunities, too).

First-winter Caspian Gull against a typical suburban backdrop in Rotherhithe (Rich Bonser).
Continuing south along the Thames footpath, Greenland Pier also produces regular Yellow-legged Gulls, especially in summer, but Caspian Gull tends to be rarer here (they become scarcer the further in to central London you go).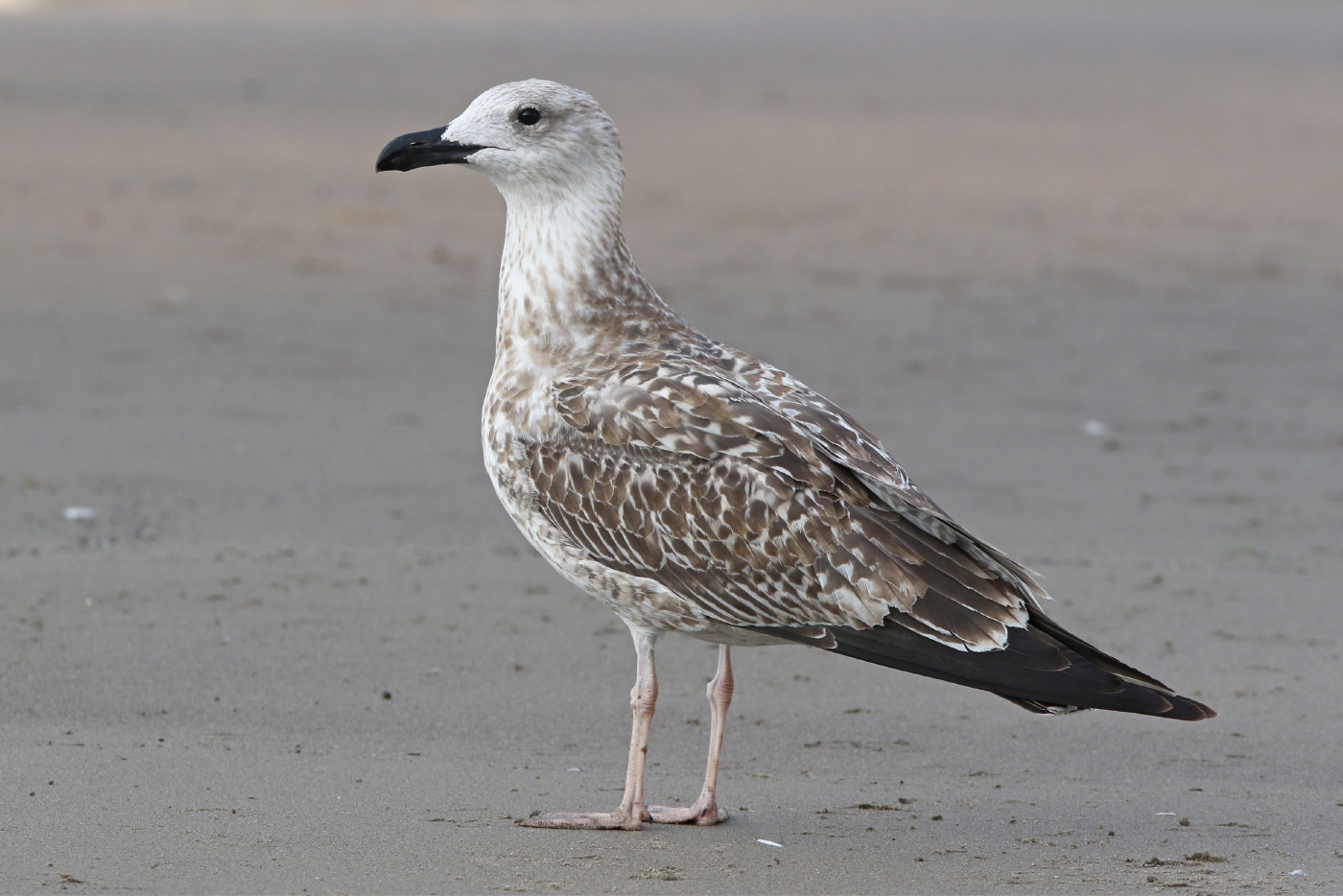 The beach at Rotherhithe is perhaps the best place to take frame-filling photos of Yellow-legged Gulls, such as this juvenile, in Britain (Rich Bonser).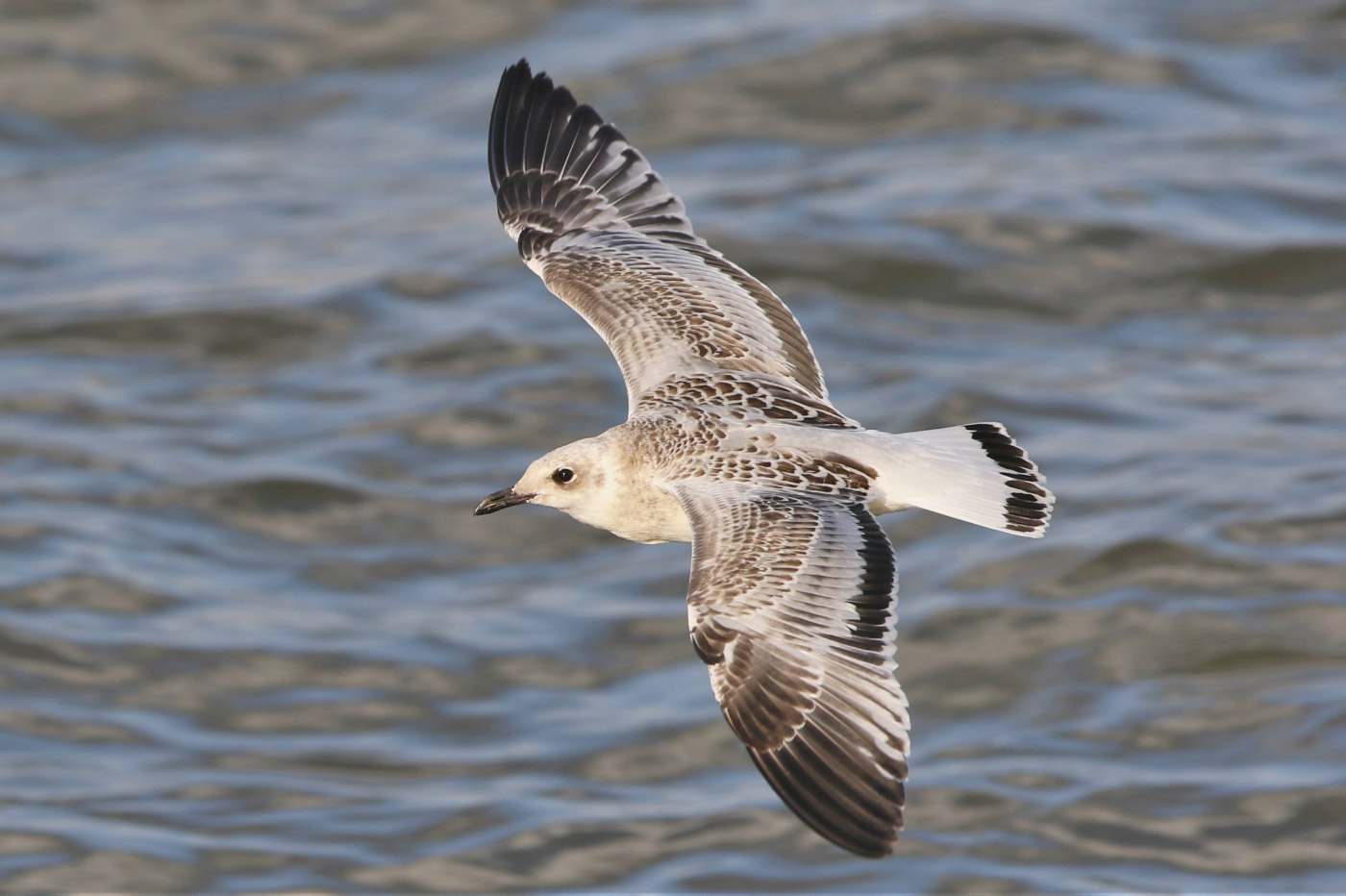 Juvenile Mediterranean Gulls are seen annually in July and August on the Thames at Rotherhithe (Rich Bonser).
Greenwich Peninsula
To the north of the O2 Arena is a tidal beach which holds mostly large gulls around low tide, with up to 400 birds sometimes present. However, sightings of Caspian Gulls are strangely sporadic here, although it can be reliable for both Yellow-legged and Mediterranean Gulls from June-September.
Continuing downriver along the Thames footpath, the Anchor & Hope pub offers a chance for refreshment while checking the gulls. Set just upriver of the Thames Barrier, this spot is situated opposite Thames Barrier Park (see Silvertown section below) and often gets a glance when birders are passing. While no Caspian Gull has been seen here, it's not a regularly watched site and they must occur fairly often.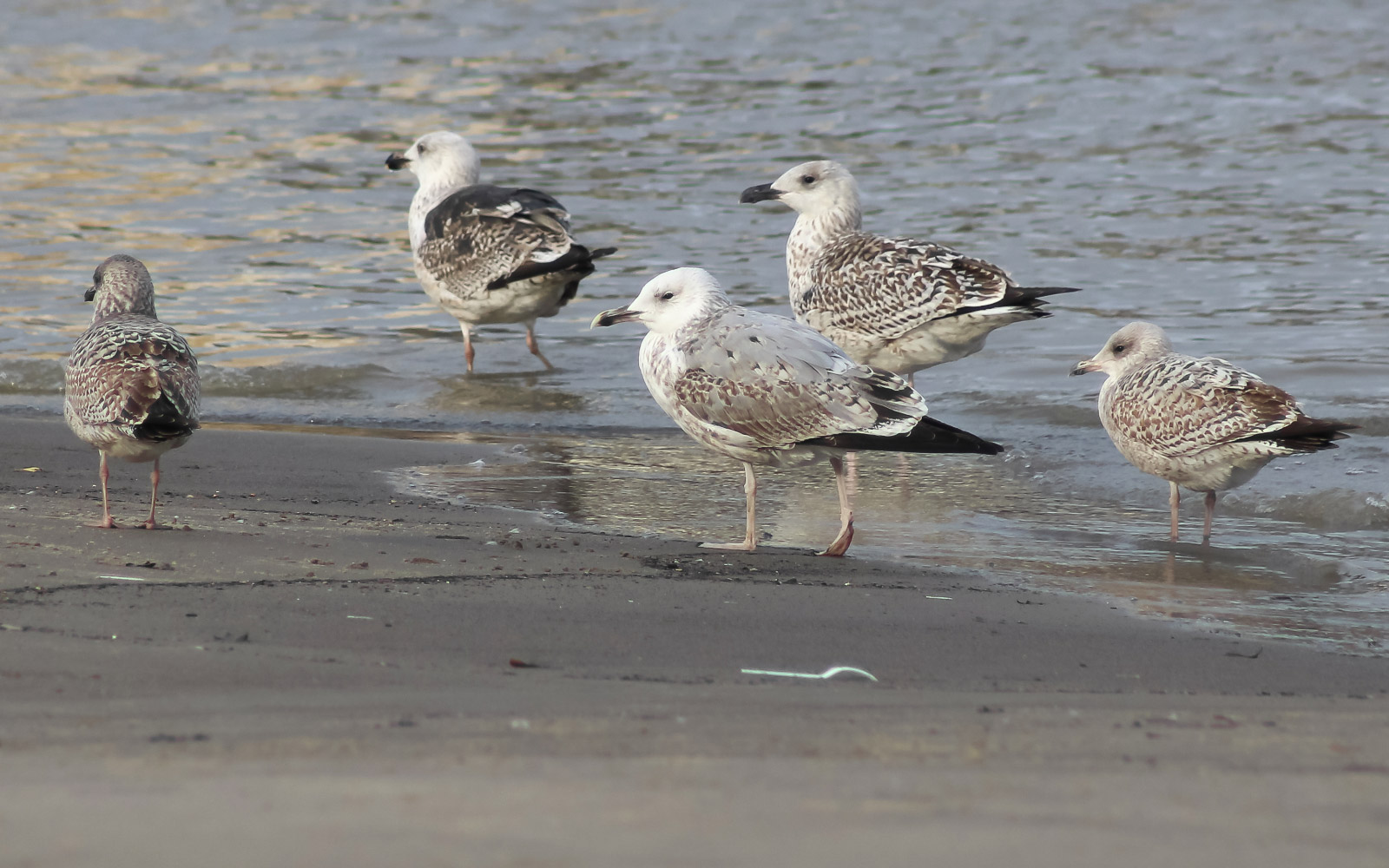 Second-winter Caspian Gull (front centre) among immature Great Black-backed and Herring Gulls (Dante Shepherd).
Silvertown
The winter of 2016-17 was particularly good for gull numbers between the O2 Arena and Thames Barrier Park at Silvertown, due to a food source becoming available at a factory adjacent to Lyle Park. This in turn attracted more than 20 Caspian Gulls to the area between November and March, with several ever-present, making it perhaps the most reliable locality to see this species in the entire country that winter.
Alas, the factory closed down in 2017 and this stretch of the river has not been the same since, both in terms of overall numbers and quality sightings – and as a result, coverage of this area has decreased. This is a good example of the ever-changing London gulling 'scene', with sites finding – and losing – form as local conditions change through the years.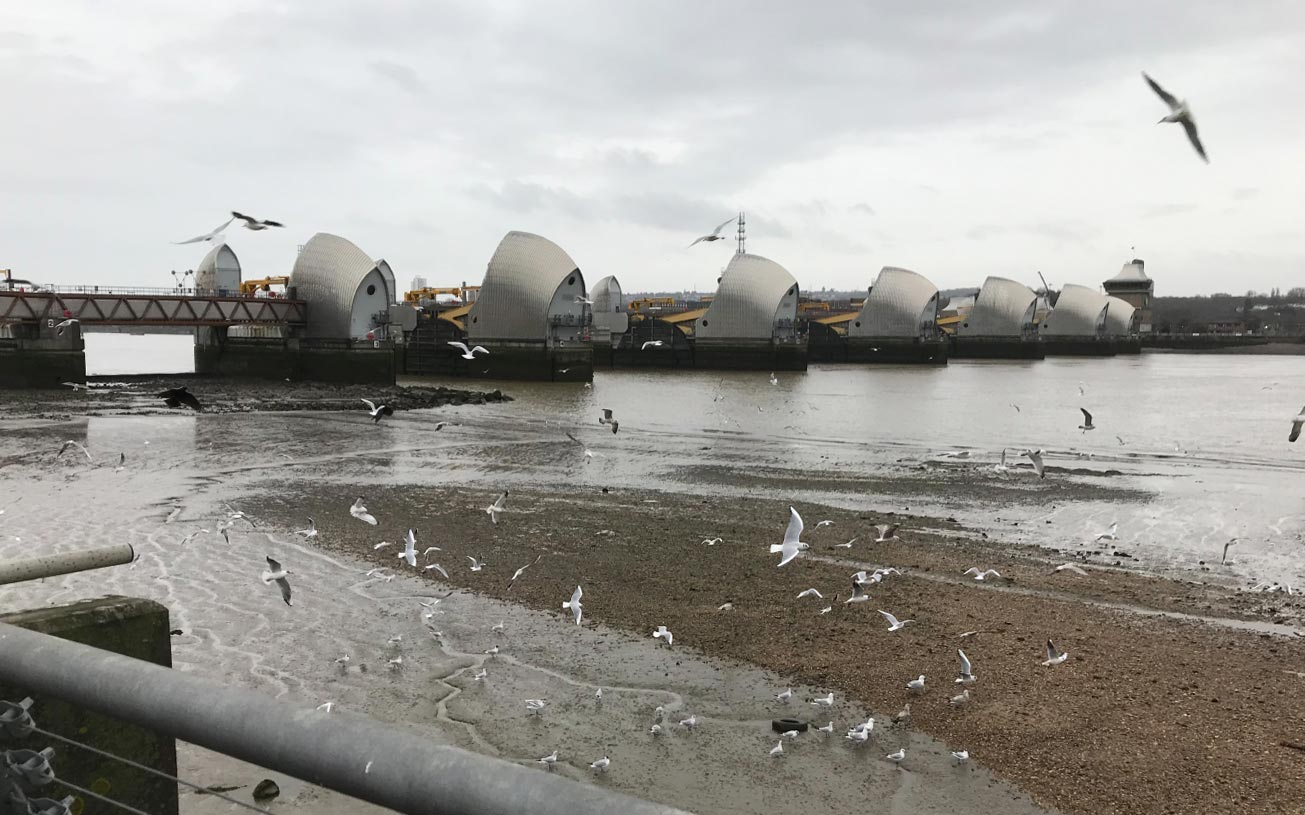 Against the iconic backdrop of the Thames Barrier itself, gulling can be productive at low tide from the adjacent park (Dante Shepherd).
There's no doubt it still pulls in the birds, though – in February 2018, we were fortunate enough to come across an adult Ring-billed Gull here. The occasional Caspian Gull is still seen, plus other notable non-gull sightings have included Sandwich Tern and Common Eider, making it a worthwhile stop if passing. However, a cloudy day is best – as with all sites on the north side of the river – as looking into the sun can make identifying and photographing gulls very frustrating.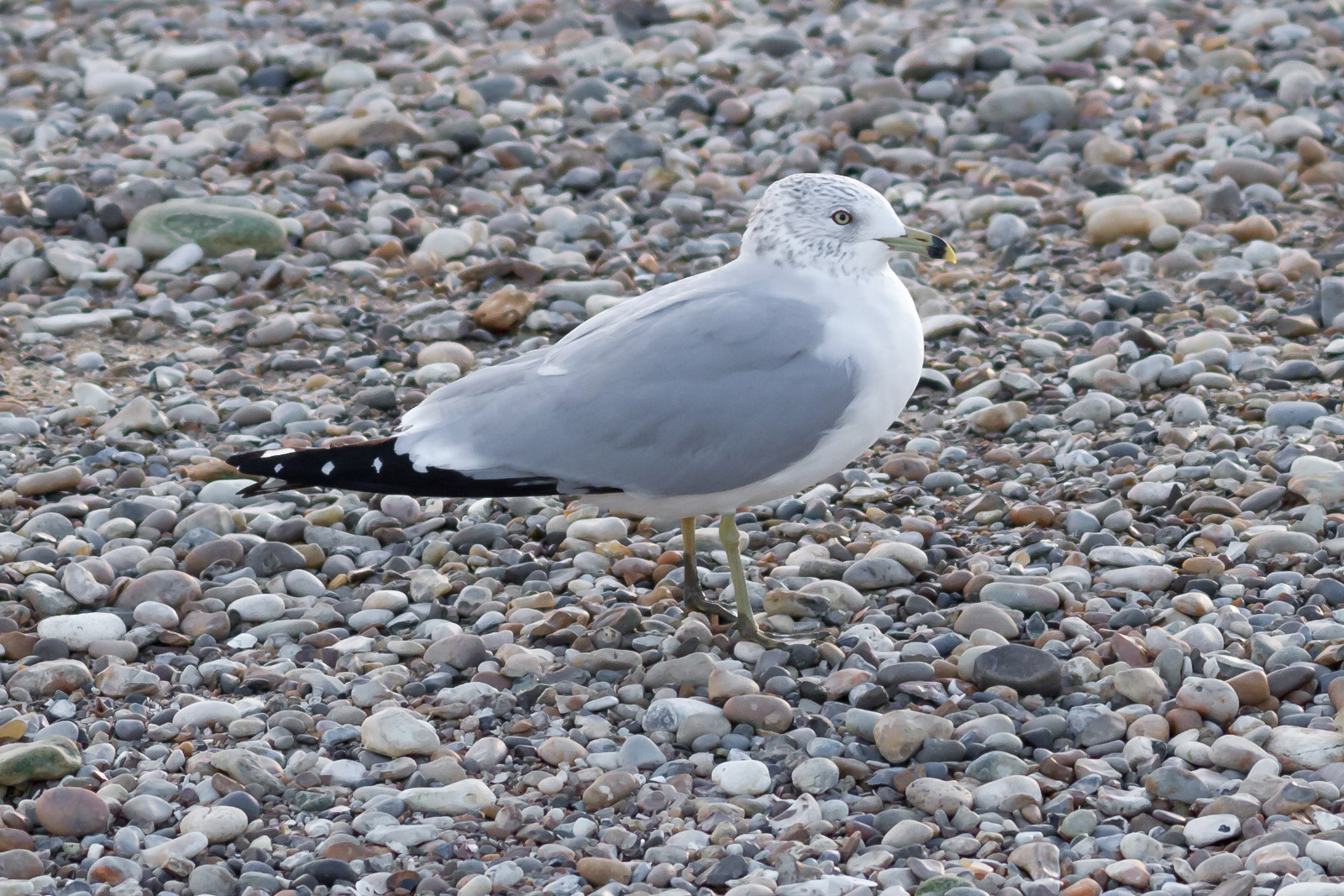 This adult Ring-billed Gull called in at Thames Barrier Park in February 2018 (Dante Shepherd).
Woolwich
Between the Thames Barrier and the Woolwich Ferry is King Henry's Wharf. With free car parking right by the river, it is one of many sites that can be checked with minimal effort – and King Henry's gives an easy vantage point and resultantly good views of the birds.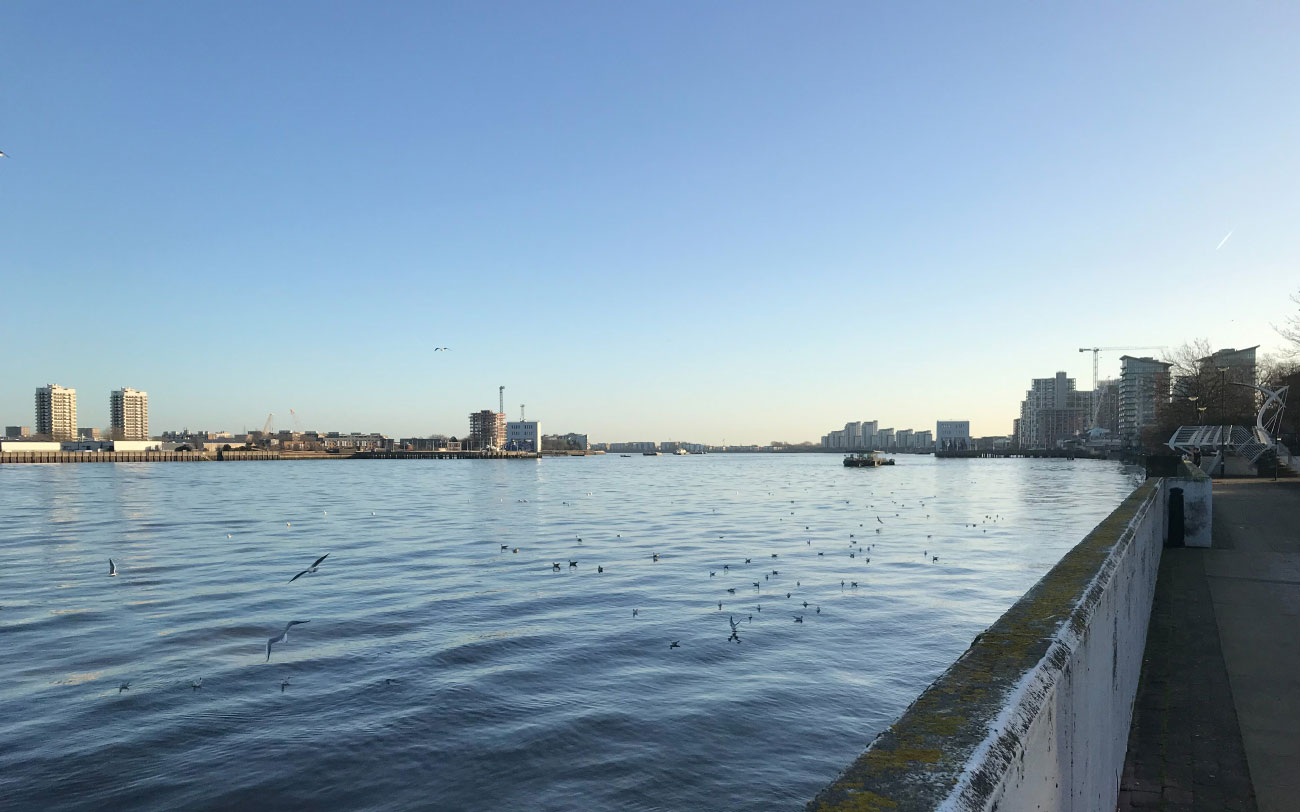 A crisp winter morning along the River Thames at Woolwich – the colder it is, the hungrier the gulls tend to be! (Dante Shepherd).
That said, you can feed the gulls anywhere along the Thames footpath in East London and soon start a melee of birds. We will often walk a long section path with several loaves in a bag and just throw a few slices wherever activity seems promising.
Don't be surprised to see just a handful of birds at this locality, or at many of the other 'inner' East London sites – but a lack of quantity is often made up for by the quality, with Woolwich and Thamesmead (see below) often having a relatively high proportion of Yellow-legged Gulls, even in the winter months, as well as attracting regular Caspian, even if just 10-20 large gulls are around.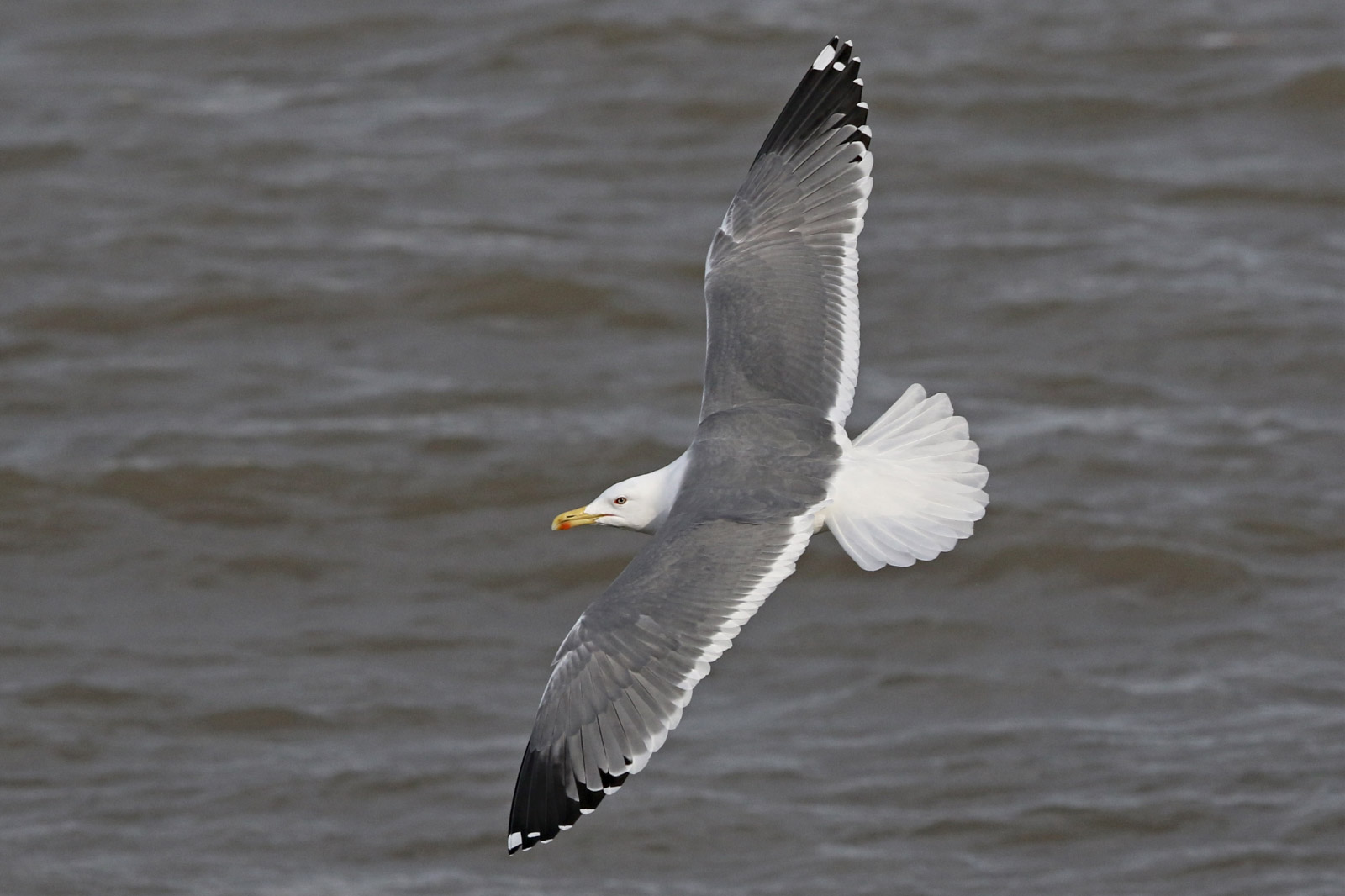 Don't be put off if just a handful of gulls are present along the Thames Path between the O2 and Thamesmead, as Yellow-legged Gulls are still seen quite easily. This adult appears to be a regularly returning bird in the Woolwich area (Rich Bonser).
Thamesmead
There are two easily accessible riverside sites in Thamesmead: Princess Alice Way and Greenhaven Drive.
These are among the best places to take photos of gulls, with clean backgrounds and a good angle on the birds, as well as the light behind you – at many of the Thames sites you are looking down on the birds most of the time when they are perched, which isn't ideal for images. Both sites are optimally visited over high tide.
Another example of how Thames gulling is evolving, Greenhaven Drive was only 'discovered' as a site in winter 2019-20, but has quickly become a hot-spot for seeing both Caspian and Yellow-legged Gulls at point-blank range. Quite why this stretch of the river is so attractive to both species is a mystery, but it produced consistent sightings of Caspian and some of the highest counts of Yellow-legged (up to 20 birds) during the winter, even when numbers of European Herring Gulls sometimes do not reach three figures – although on some weekends a few hundred can be present, with good turnover as birds move up and down the river, searching for food.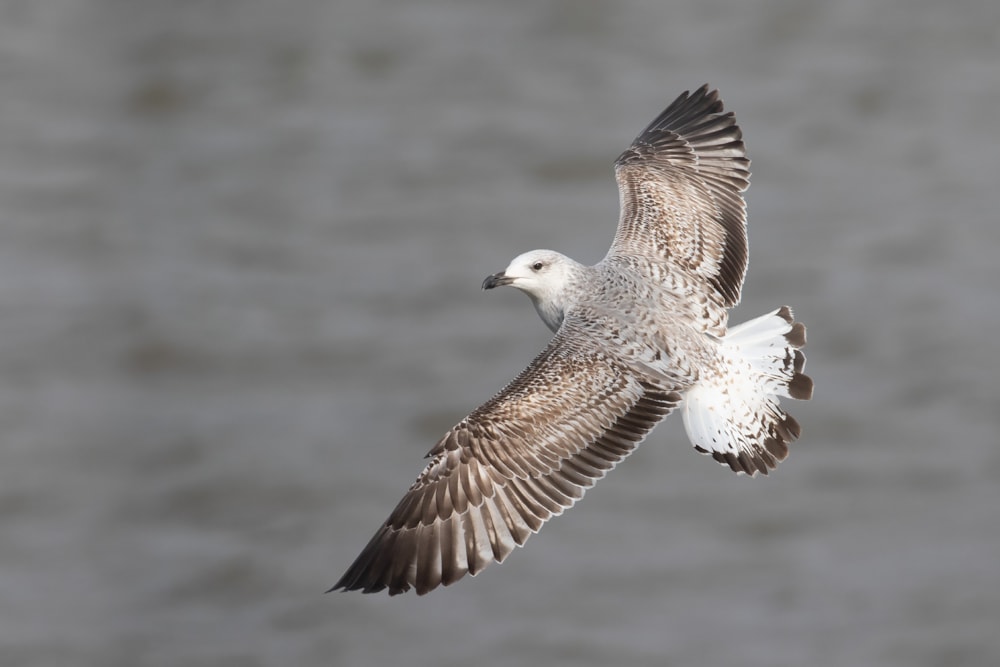 Yellow-legged Gull can be seen at either Thamesmead site in all seasons, with mainly first- and second-year birds present (Josh Jones).
As with other sites along the Thames, do not be put off if you arrive to find a gull-less river. Patiently 'baiting' the area with offerings will slowly but surely concentrate birds here – this process may take 15 minutes or more, but when birds arrive, there's every chance that there'll be something good among them. Keep up the efforts to ensure a steady trickle of new birds over time.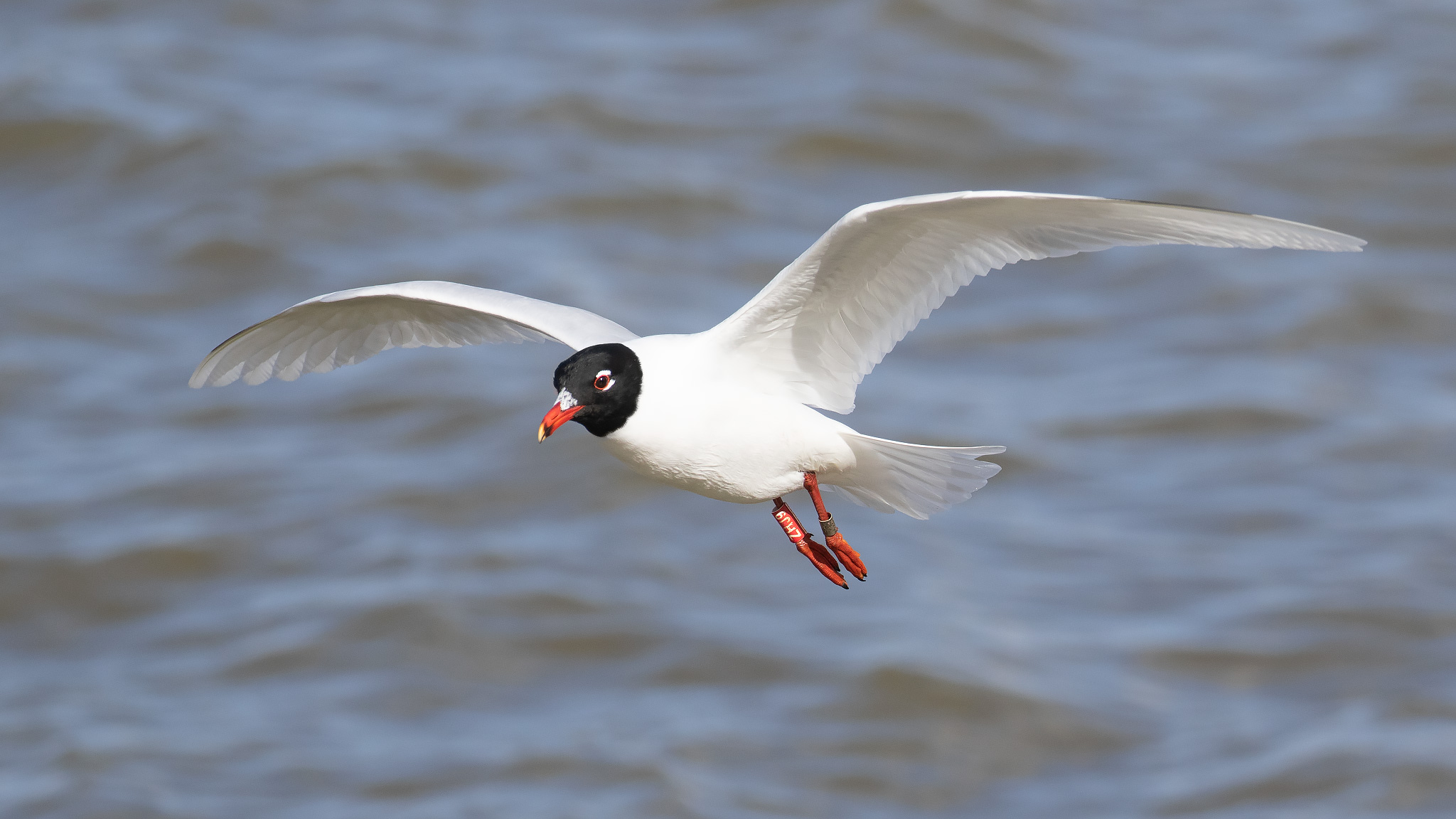 Mediterranean Gull is most numerous on the Thames in East London in spring (March-April) and late summer (July-August). This red-ringed Czech bird was at Thamesmead in March 2020 (Josh Jones).
Creekmouth
Situated on the north side of the river opposite Thamesmead is Creekmouth, where the River Roding flows into the Thames. The site is recognisable by a huge flood defence barrier that can be seen from a few kilometres away. Gulls are attracted here thanks to several food sources: a recycling centre on one side of the Roding, Beckton sewage works on the other and, thirdly, an outfall on the Thames.
This is a fantastic site for small gulls, with many hundreds of Black-headed Gulls present outside the breeding season, usually feeding at the outfall, and it must be the likely spot for a Franklin's or Laughing Gull to appear (it's already had a Bonaparte's in recent years). It also attracts large gulls, too, albeit generally small numbers – Caspian is occasional and it has had multiple Iceland Gulls in the past.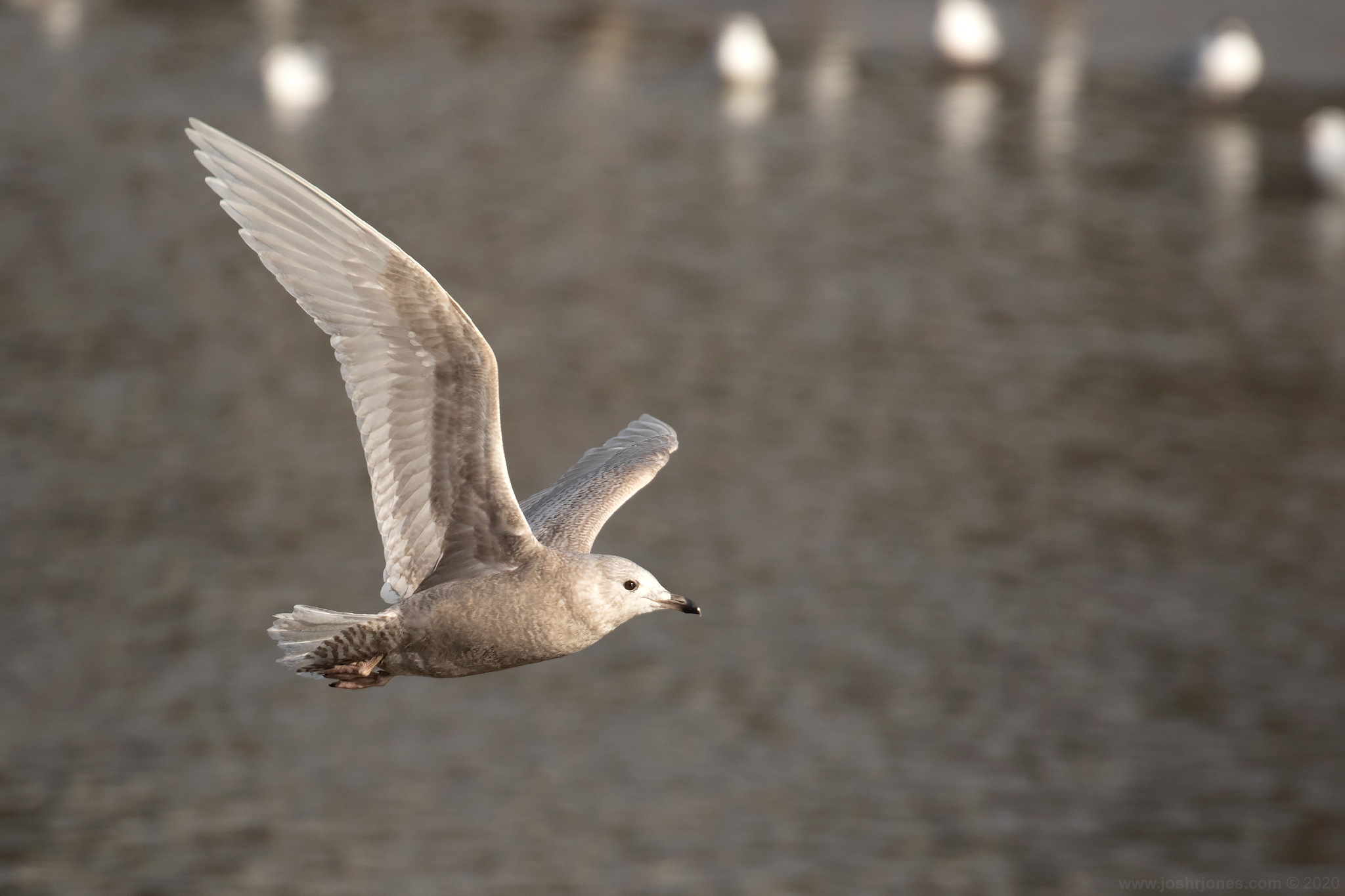 One of several Iceland Gulls to be seen at Creekmouth in recent years, this bird frequented the waterworks and adjacent River Roding in January 2020 (Josh Jones).
However, it's quite a frustrating site to visit – it's not easy to reach on public transport, and involves a long walk from the nearest bus stop or car park. Furthermore, you're looking in to the sun on bright days, and much of the site involves viewing through fences or trying to peer onto rooftops. All that said, the walk to the river is at least through decent habitat – Siberian Chiffchaff appears to be an annual visitor among the many Common Chiffchaffs in winter and it must produce passerine migrants.
Crossness
As with Creekmouth, there is a sewage outfall at Crossness which is particularly popular with Black-headed Gulls. This site has now produced no fewer than five Bonaparte's Gulls since the first in 2012, and there is also a Franklin's Gull record from April 2000. Most of the Bonaparte's have occurred in May and June, arriving among an annual late-spring push of immature Black-headed Gulls, and this certainly seems to be the best time to visit – although the winter months typically produce small numbers of large gulls along the foreshore.
Access to the outfall is via the Thames Path eastwards from Lytham Close, Thamesmead, or via the adjacent nature reserve (itself accessed from Norman Road, Belvedere).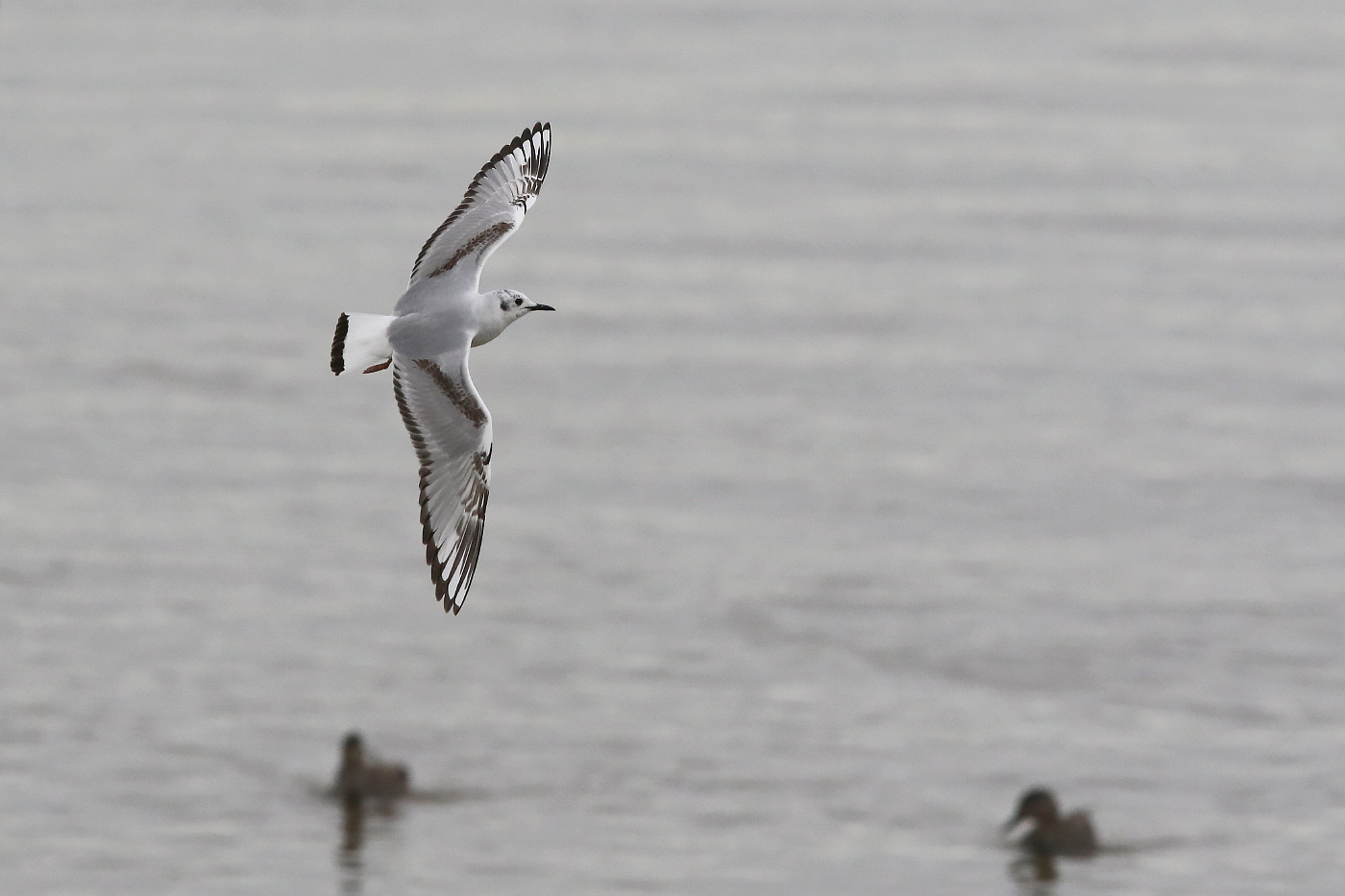 This first-summer Bonaparte's Gull, photographed at Crossness outflow in May 2017, is one of five seen there since 2012 (Rich Bonser).
Erith
Jutting out into the Thames and usually adorned with empty beer cans and a faint smell of urine is Erith Pier. The pier is situated directly opposite Rainham landfill and thus plenty of birds are usually present, irrespective of tide state – although Sundays can be disappointingly quiet. Optimal time to visit is a Saturday lunchtime, when the tip closes and gulls start dispersing on to the river – their attention is easy to attract by throwing bread out at this time, quickly causing three-figure melees to build up.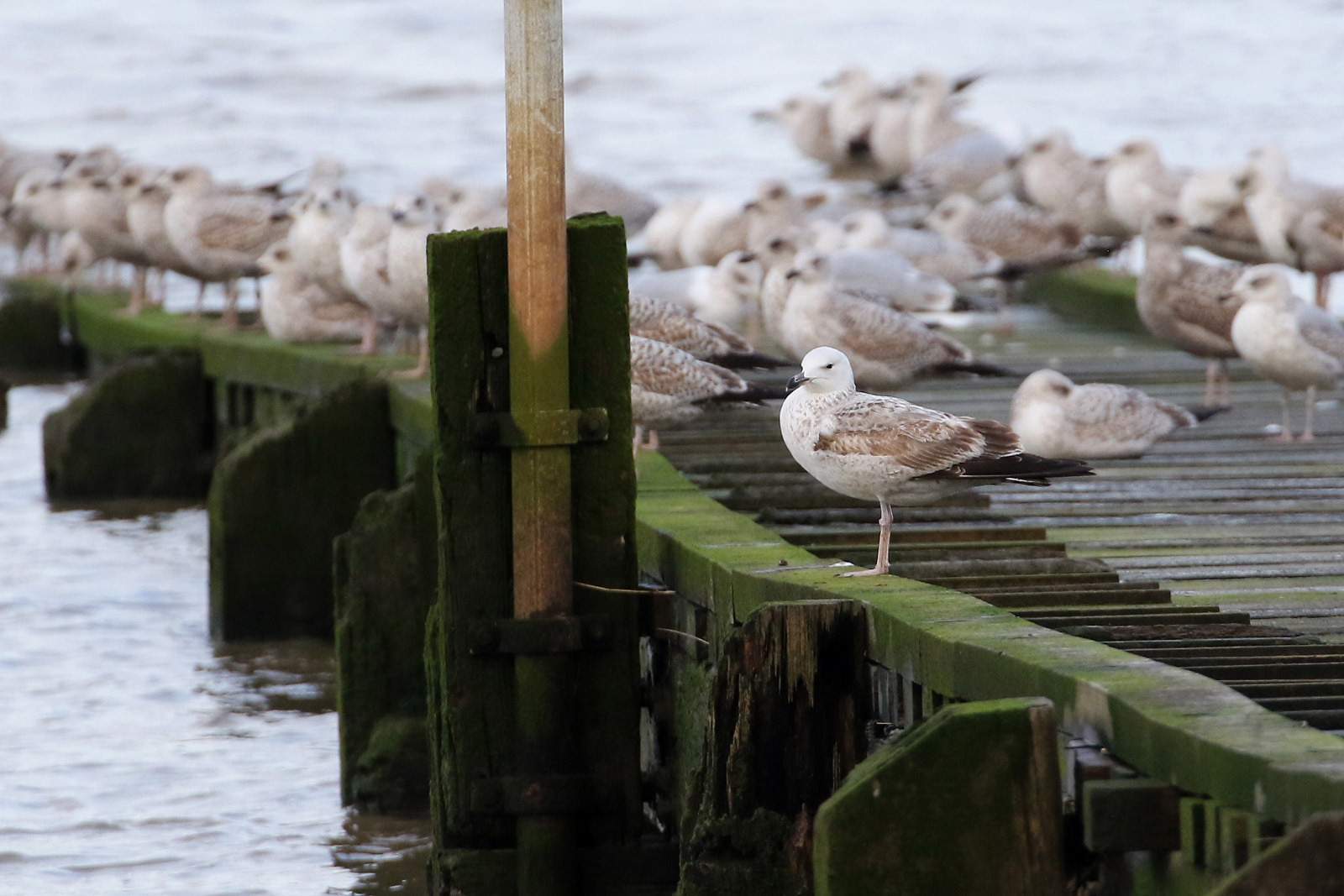 The jetty immediately upstream of Erith Pier usually has loafing gulls, assuming they haven't been flushed off by mischievious local youths. Look for Caspian Gulls standing proudly among the mainly Herring Gulls (Jamie Partridge).
It seems a particularly productive site in late summer, when it must rate as the best place to study juvenile Yellow-legged Gulls at close range in Britain. It also attracts juvenile Caspian Gulls from late July onward. However, for some reason, the site seems more hit and miss during the winter months, both in terms of number of birds and variety. That said, it was visited by a Bonaparte's Gull in January 2019, which often came within to within feet of the pier.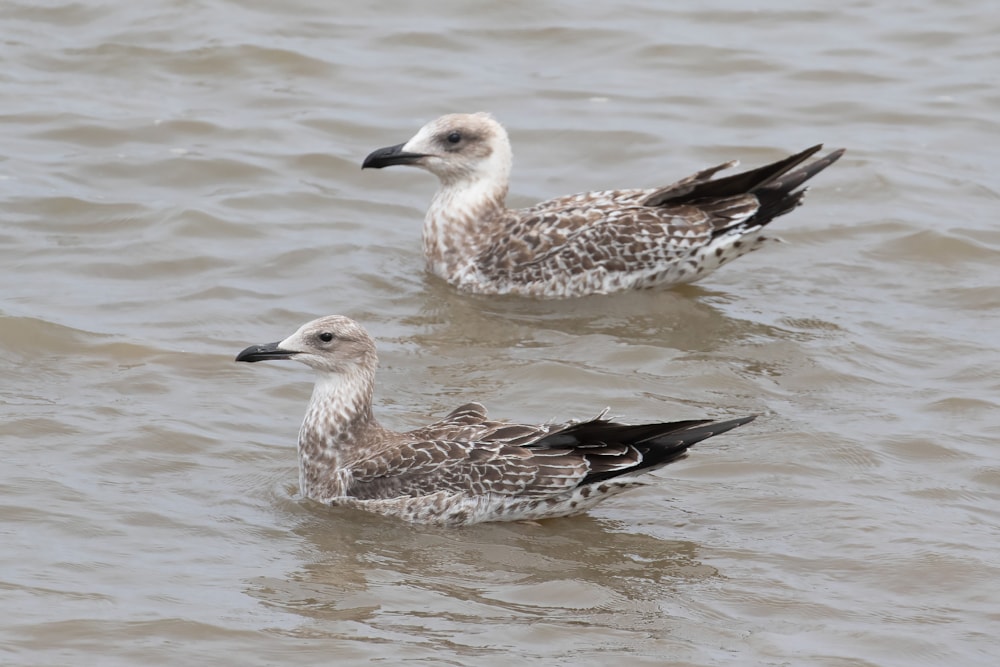 In late summer, Erith Pier is a terrific location to study juvenile Caspian and Yellow-legged Gulls – sometimes even side by side, as in this image from early August 2019 (Josh Jones).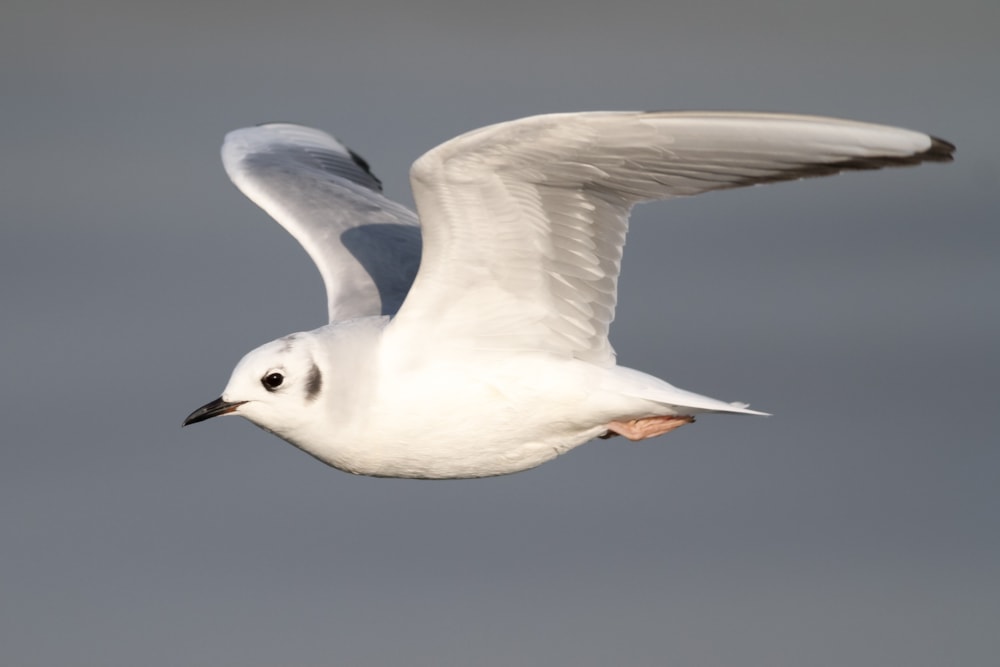 Adult Bonaparte's Gull at Erith Pier, January 2019 (Dante Shepherd).
Interestingly, the Bonaparte's was picked up initially on call – which might seem unusual, but vocalisations can actually be very useful tools when faced with lots of active birds and it pays to learn the calls of the five commoner species, in order to recognize anything unusual. A feeding melee can be quite overloading for the eyes and, for example, Caspian Gulls are often heard first as they come flying in, uttering the distinctive deep, nasal call.

Above: a sound recording of the 2019 Bonaparte's Gull at Erith Pier.

Above: it's worth getting your ears tuned in to the calls of Caspian Gull before a visit to the River Thames in East London.
Crayford
Two recycling centres at Bob Dunn Way, on the edge of Crayford Marshes, can be very productive for gulls. This area probably wins the prize for the least pleasant spot to watch gulls in East London, with its Rottweilers and Harris's Hawks.
Birds will often congregate on the waste ground known as Jolly Farmers (TQ527756), which can only be viewed through a metal fence, but they will also be present on the adjacent warehouse roofs – as well as the sand piles at Serco (TQ52937553), which are best viewed from the footpath on the north side of the River Cray.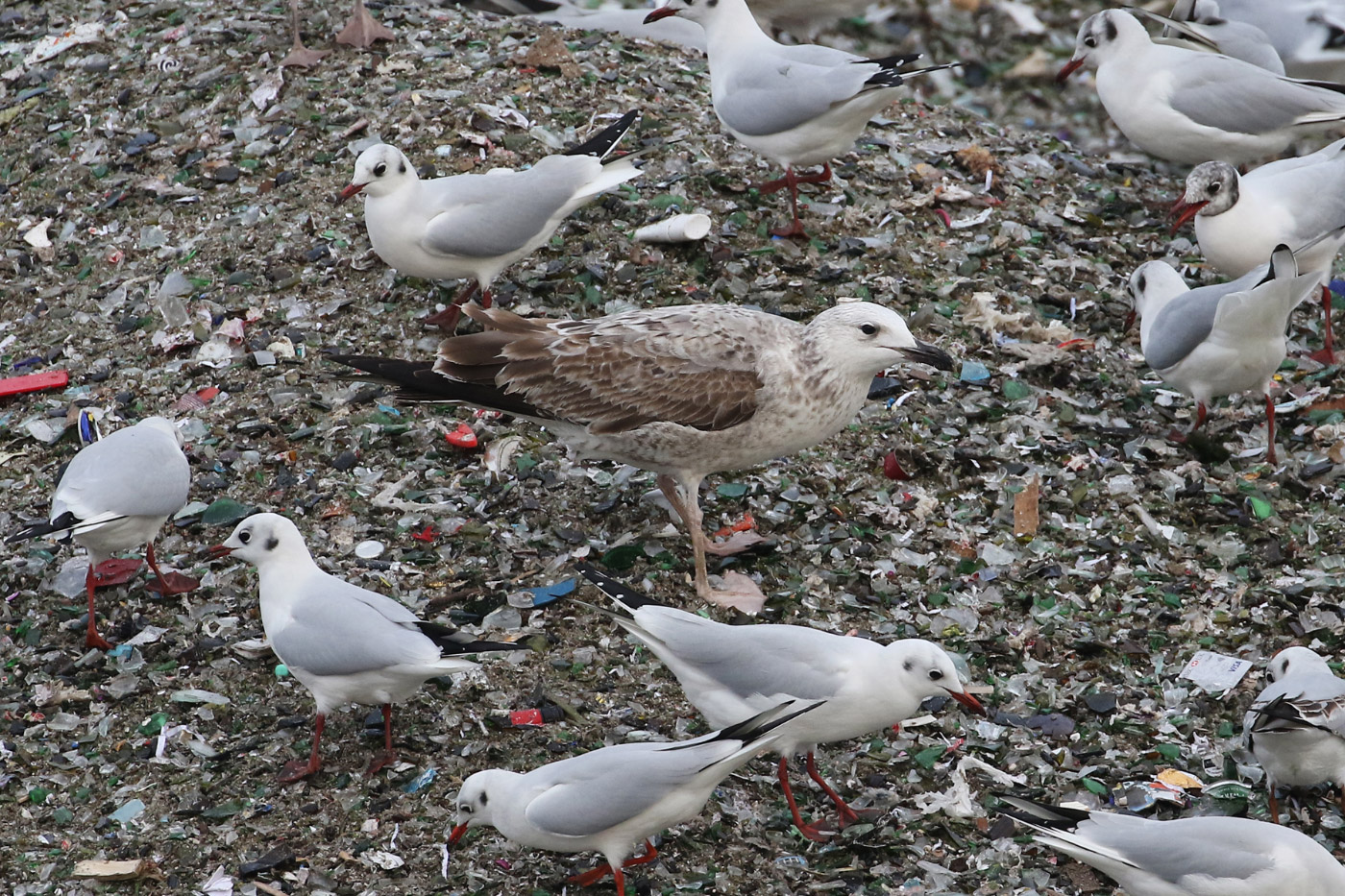 First-winter Caspian Gull with Black-headed Gulls at Viridor Recycling Centre, Crayford. What they are feeding on always mystifies us (Jamie Partridge).
The site is intermittent in its form; sometimes there are hundreds of birds present, while often there can be none. It is best at weekends, particularly in the afternoons, with this presumably linked to the fact that Rainham landfill is closed.
Even though up to 11 Caspian Gulls have been recorded in a single day, it does not get the same ratio of this species or Yellow-legged Gull as the other sites – something we suspect because it isn't by the river (both species seem to be very loyal to the Thames). However, it's one of the better sites for white-winged gulls, producing multiple Iceland and Glaucous Gulls in recent years – and even an adult Kumlien's Gull in March 2018.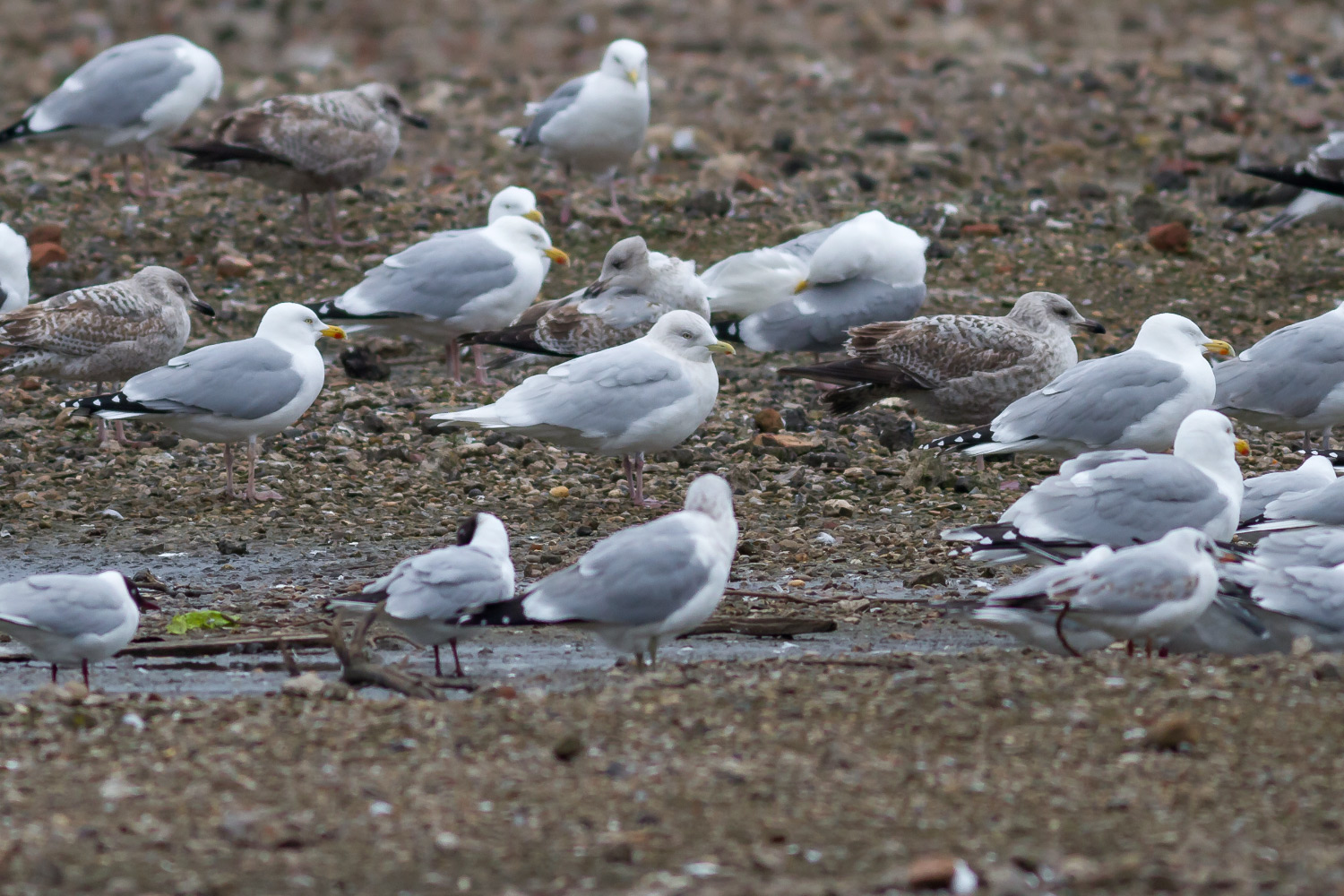 Adult Kumlien's Gull on waste ground at Jolly Farmers, Crayford, March 2018 (Dante Shepherd).
Rainham
The large landfill site at Rainham is integral to watching gulls in east London. Throughout the working week and on Saturday mornings, the open tip face attracts thousands of large gulls. The tip itself is closed to public access, but loafing birds can be viewed from various points – turnover is high and birds spread out over a large area when they are not feeding, often frequenting Wennington Marsh (viewed from the footpath at TQ532796) or the river itself. In the case of the latter, the foreshore between Aveley Bay and Coldharbour Point often holds plenty of birds at low tide, while the rocks immediately west of Coldharbour can also be productive. At high tide, birds will often loaf mid-river and a telescope is essential.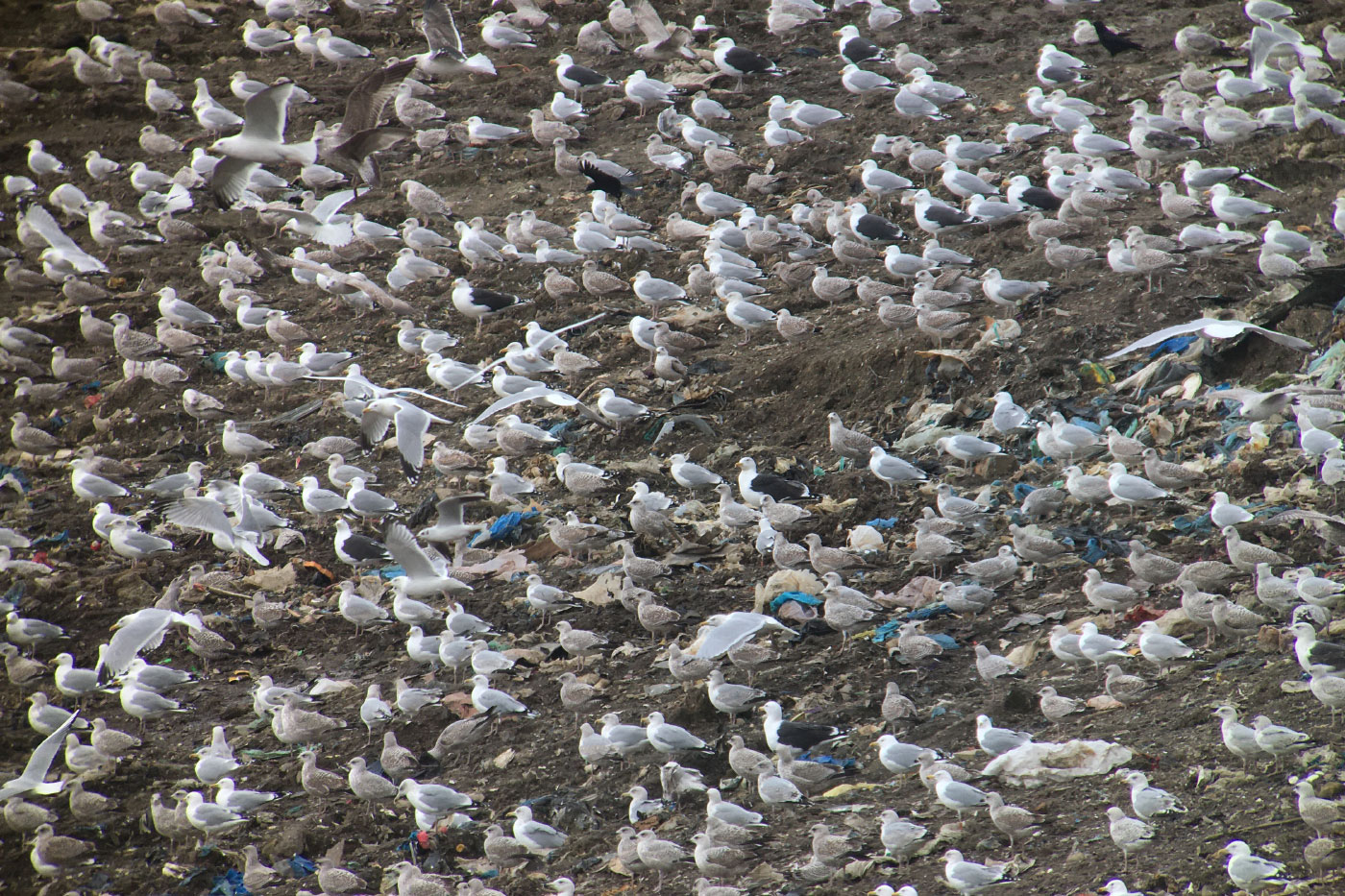 There are usually vast numbers of gulls in the vicinity of Rainham landfill site (Josh Jones).
Caspian Gull can usually be found with patience – the species is seen in every month of the year, but between August and March is best. On a single day in November 2019, we counted 19 different individuals on the river – which we believe to be a record day count for a single site. Yellow-legged Gulls can also be found year-round, but numbers peak between July and September, when counts may approach 200 birds – this rapidly drops off as the autumn progresses, but a handful can usually be seen on a winter visit. One or two white-winged gulls usually appear each winter, with Iceland more regular, although this is probably the best place in the area to see Glaucous Gull.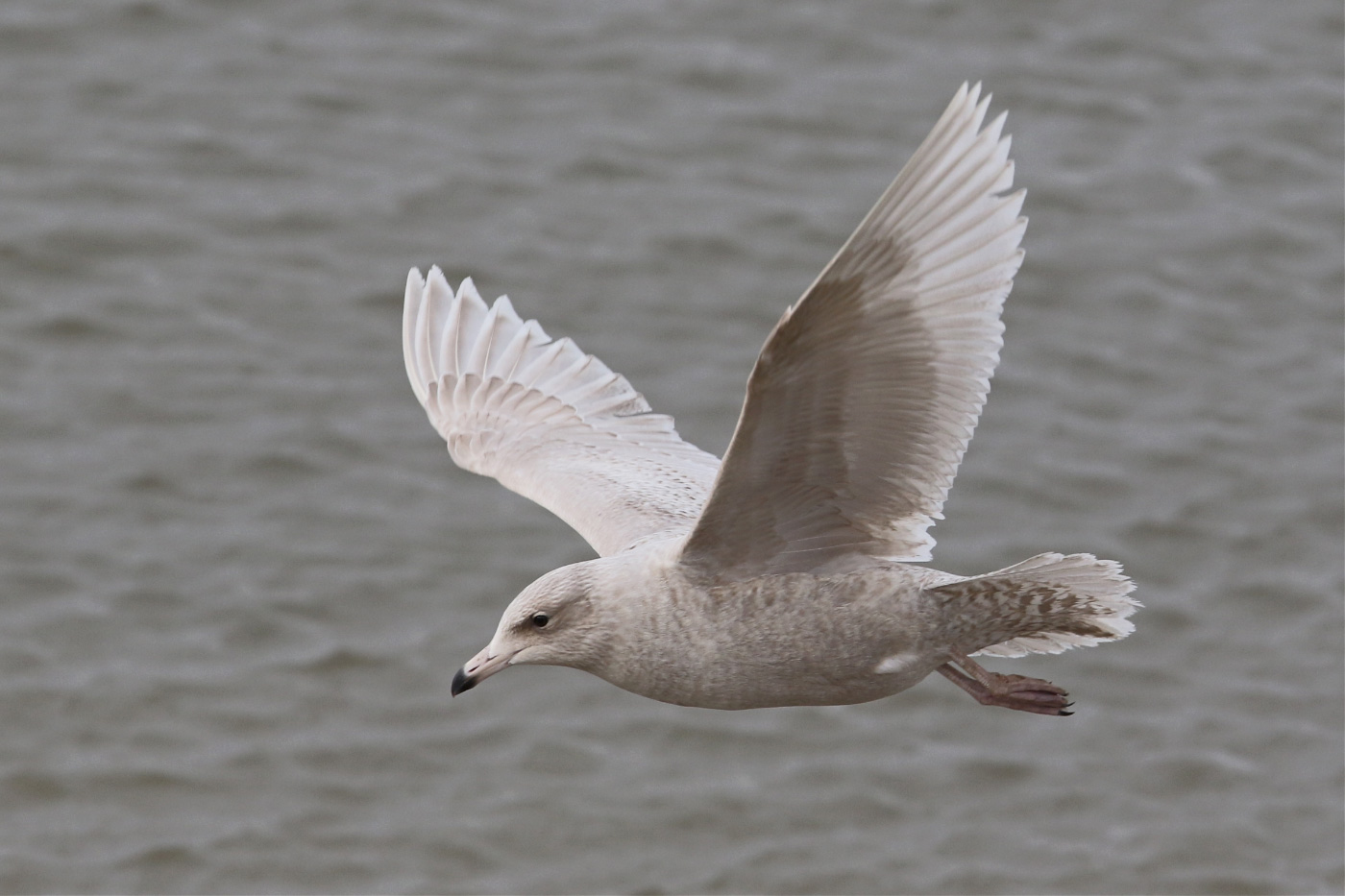 This, one of three Glaucous Gulls in the East London area in winter 2018-19, spent most of its time at Rainham landfill site – but is pictured here on a brief fly-by at Erith Pier (Rich Bonser).
Notably, the tip also hosted Britain's first Slaty-backed Gull in February 2011, and it no doubt has scope for plenty more rares – perhaps Britain's first Vega or Kelp Gull will be found here, while the foreshore is perhaps as good a shout as anywhere for another Pallas's Gull.
Like all landfills, Rainham's lifespan is finite – however, it is expected to be active for several years yet. When it does finally close, there's no doubt that nature of East London gulling will change forever.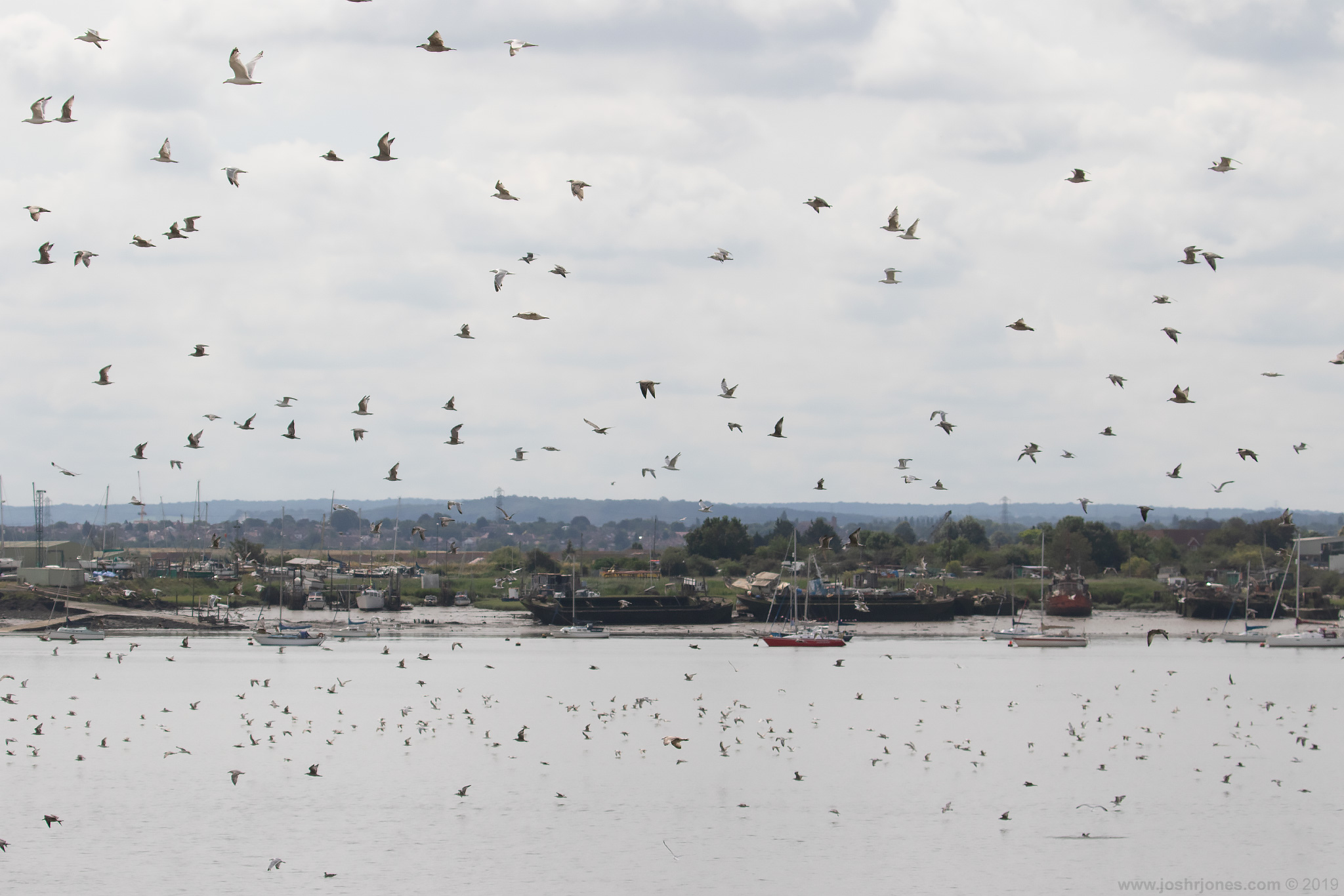 When Rainham landfill site finally closes, what impact will this have on the birds that use it and the adjacent River Thames? (Josh Jones).
Watching gulls in East London is an ever-changing, year-round source of entertainment for those who put in the effort. Gulls are not for everyone and can seem daunting, even off-putting, at first, but – in the capital at least – they provide one of the most interesting and rewarding aspects of urban birding. Even the unlikeliest of sites have the ability to attract these resourceful and intelligent birds, and they undoubtedly play a huge part in many city-based birders' routines. We hope that this summary offers some inspiration to visit some of the less-known London sites that we regularly frequent – or, alternatively, to find your own local hot-spots and dedicate time to sifting through the vast flocks of urban gulls that can be found across our isles. You may be surprised at just how gratifying it can be.