Arguably one of Hampshire's finest reserves, my local patch of Titchfield Haven encompasses the southernmost section of the Meon Valley. To date, it has recorded 302 species of bird, and I've personally seen 213 species since 2014.
Titchfield was once a tidal estuary with a port at Titchfield village, but that changed in 1611 when the Earl of Southampton built a shingle bank across the mouth of the River Meon, altering the site considerably. A concrete seawall appeared 300 years later in 1911.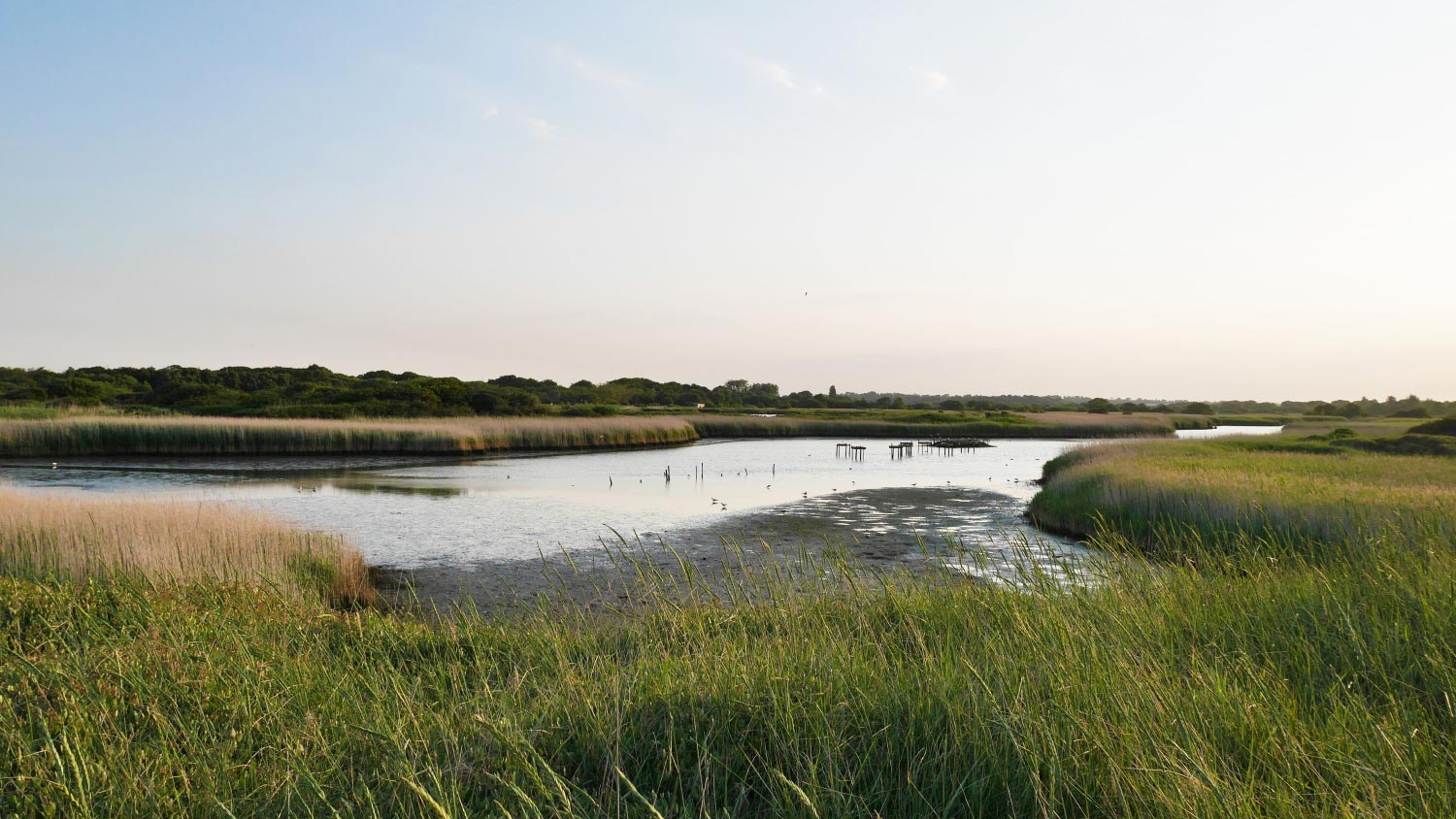 Titchfield Haven NNR, within Amy's patch, covers 369 acres of the Meon Valley, encompassing a mosaic of natural habitats including fen, pools, reedbed and meadow (Amy Robjohns).
Much of the area was designated as a Site of Special Scientific Interest (SSSI) in 1959, with more added in 1978. Titchfield Haven became a Local Nature Reserve in 1973 and a National Nature Reserve in 1995. The site is also included within the Solent and Southampton Water Special Protection Area and RAMSAR.
More of the SSSI was purchased by the County Council in the 1980s, while a small section of Titchfield Haven SSSI is owned by the Hampshire and Isle of Wight Wildlife Trust. Scrapes were dug out and hides built, along with other careful management and improvements that created the Titchfield Haven we know today. Gradually, over the past 45 years the reserve has increased access with seven-day opening since 2012.
My local patch recording area extends beyond the reserve. I decided to include the seafront between Hill Head sailing club, west to Meonshore chalets, Meon Marsh and the base of Brownwich Cliffs. Meon Marsh and the chalets are a particularly favourite spot of mine. It's the only part of the seafront away from the road, and the scrub certainly has potential. Finally, I include the Titchfield Canal path from the seafront to Bridge Street in Titchfield village.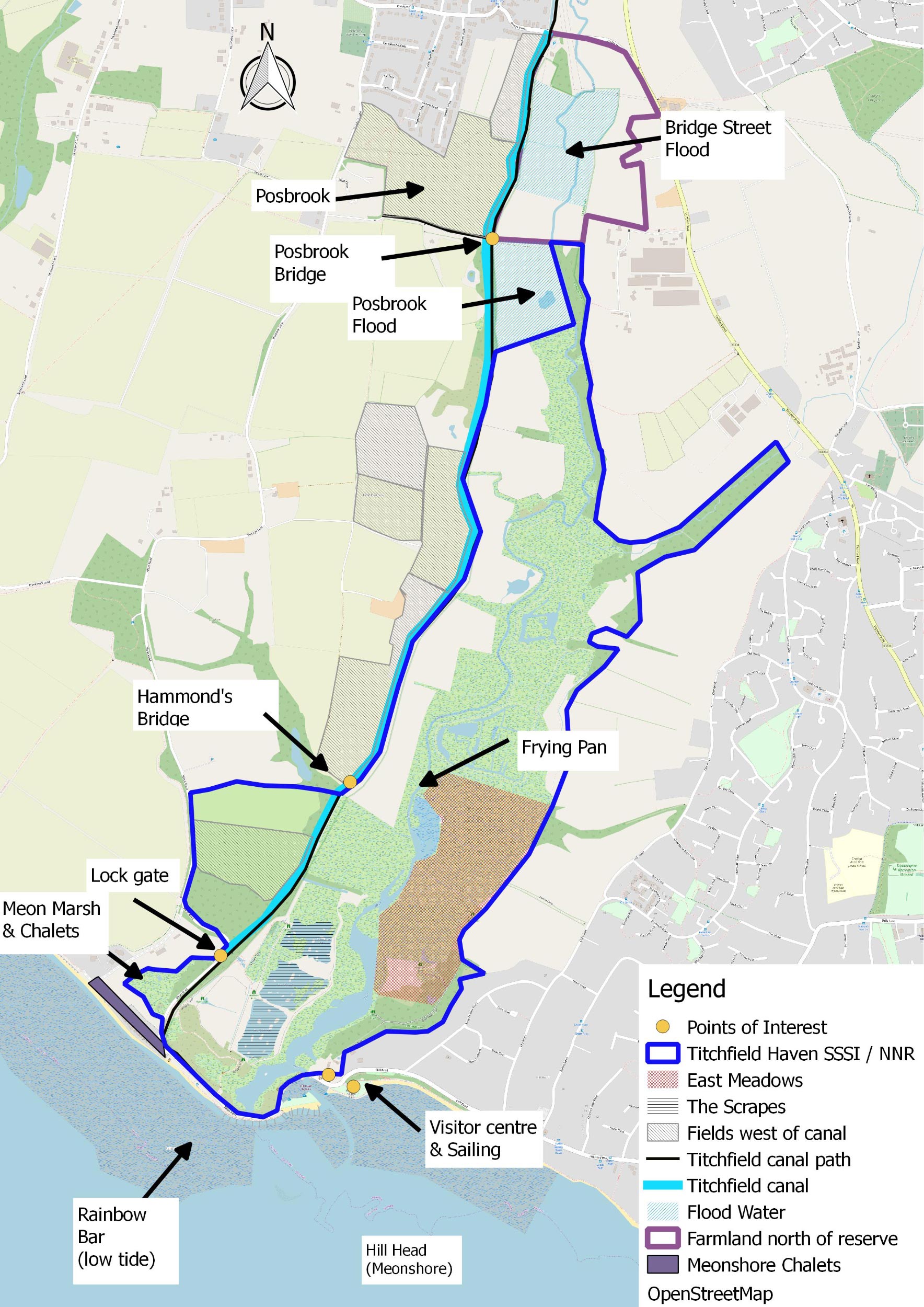 A map of Amy's recording area shows the important areas that are included beyond the reseve (A Robjohns).
The canal and some of the fields are Sites of Importance for Nature Conservation. I include all the fields, reedbeds, marsh, fen, rush pasture and so on that can be seen from this footpath – some of those are part of Titchfield Haven, while the rest is farmland.
I feel it would be foolish to ignore areas outside of the reserve as they're all part of the same important network for wildlife. Added to that, there's a lovely amount of scrub running alongside the canal; perfect for both breeding warblers and passage migrants alike. It's this scrub which I find is the best place to see Cetti's Warbler.
Posbrook is another area I rather enjoy: Posbrook Flood and, to the west, on the other side of the footpath, is a large pony field adjacent to Great Posbrook Farm. Most years the flood is seasonal, attracting a good variety of gulls, wildfowl and waders in winter.
The other field is also well used by Black-tailed Godwits and gulls, plus other species including migrant chats, warblers and pipits. Sadly, however, It's under threat from development. Fareham Borough Council did successfully turn down a proposal for over 100 houses and defended their decision at the public enquiry that followed, but I fear it will prove to be just the first of many battles.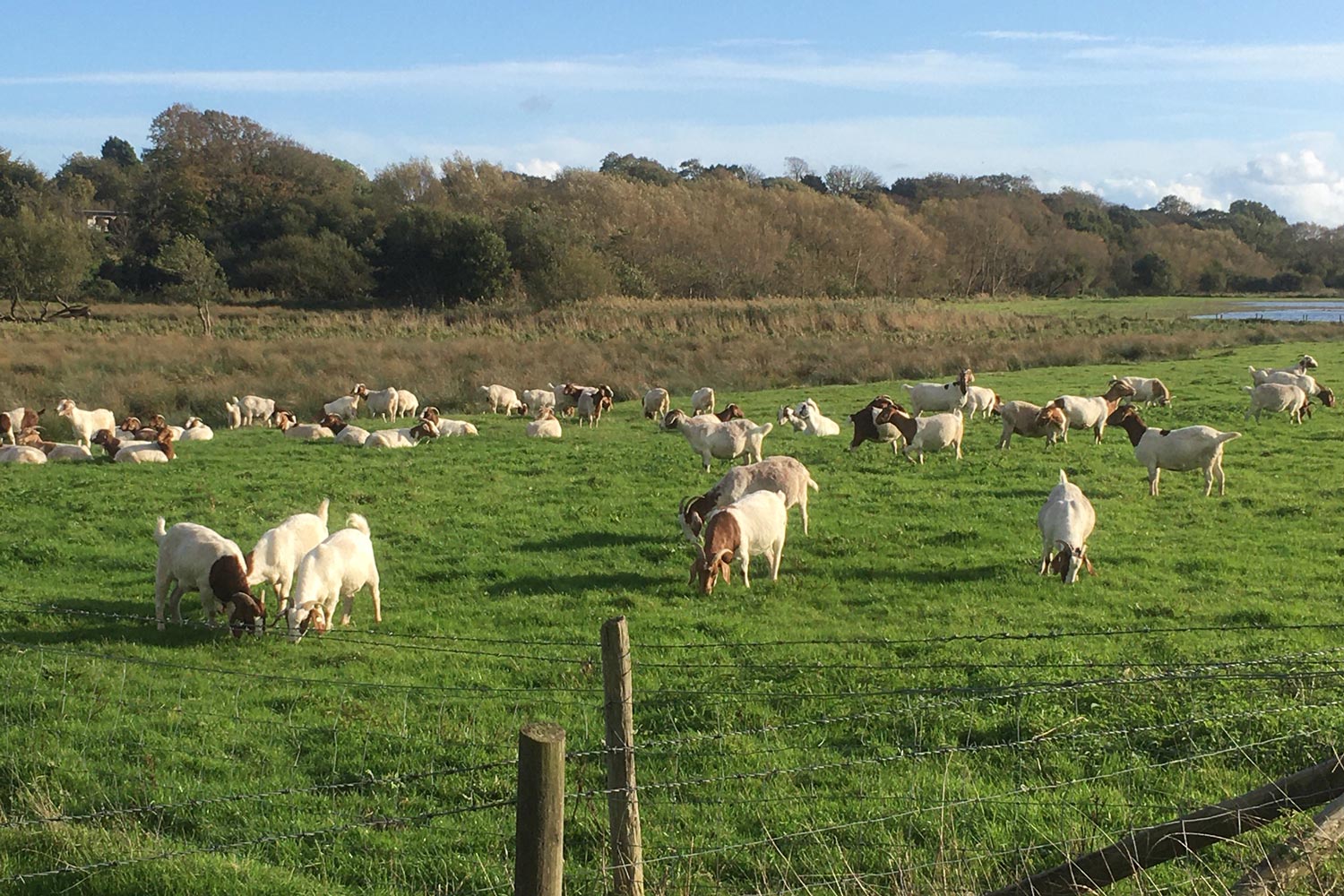 Posbrook, popular with Black-tailed Godwits, is sadly under threat from development (Amy Robjohns).
I do of course love visiting the reserve too, but when limited for time, waiting for the reserve to open, or birding before or after work, one must opt for other areas!
So, what to look out for?
Winter
At the time of writing (early November), wildfowl numbers build up on the reserve and floods to the north: Canada Goose, Eurasian Wigeon, Eurasian Teal, Mallard and Gadwall make up the bulk, with smaller numbers of Northern Shoveler, Common Pochard and Tufted Duck and Northern Pintail. The latter are usually either on the Floods or the Frying Pan.
Offshore, Dark-bellied Brent Geese numbers increase – my maximum count so far this autumn is 650 – with the chance of a Pale-bellied, Black Brant or other goose species among them. Another species to look out for at the southern end of the reserve is Bearded Tit, which breeds deeper in the reserve but tends to be more visible in winter.
It's always worth scanning the sea for ducks, auks, grebes and divers. In previous years a lovely raft of Common Scoter and Common Eider have appeared, attracting Velvet Scoter, Greater Scaup and Long-tailed Duck, but recently numbers have dropped again. Those species are all possible, though. All three commoner divers and, in theory, all five grebes could appear, but Red-necked Grebe is rare – it was a joy to find one last year after missing many previously.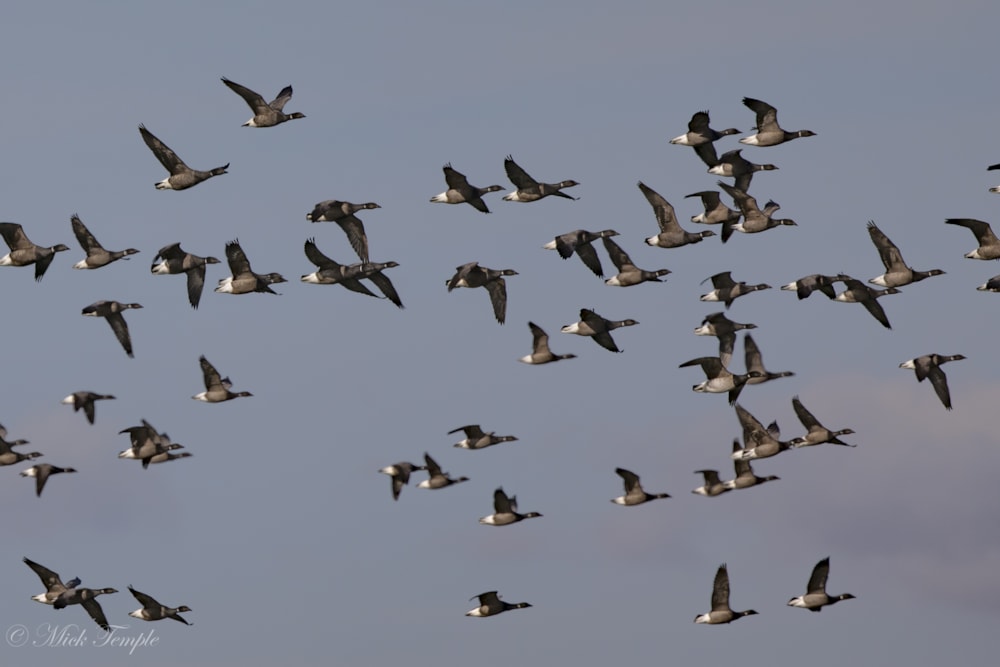 The occasional Pale-bellied Brent Goose can sometimes be found in the large flocks of wintering Dark-bellied Brent Geese, as in this photo (Mick Temple).
Sanderling, Ruddy Turnstone and Ringed Plover are among the winter waders, favouring the shore at high and low tide, while other species such as Northern Lapwing, Common Snipe and Black-tailed Godwit tend to prefer the valley. From time to time, European Golden Plover drop down on the scrapes as well, but are more often found along Brownwich or the fields off Ranvilles Lane.
Eyes to the skies are advised during winter for Western Marsh Harrier and, hopefully, Barn Owl, or maybe even Tawny Owl too. The owls are best looked for along the canal path, but the harrier could appear anywhere! Another real winter highlight of mine are the Water Pipits. Again, these are best seen along the canal path, though there are by no means easy. Last winter there were some 20 present – by far the most we've ever had here. Posbrook, or halfway along the path, seem to be the areas they favour.
Spring
For me, these days, spring is signalled by the first Sand Martin or Northern Wheatear, closely followed by Willow Warbler, House Martin, Garganey and Swallow. This year, late March was particularly enjoyable with easterlies aplenty combined with light rain and drizzle. It's the first time I've managed to see all the aforementioned species by 31 March.
April was slower, but traditionally during this month I expect the arrival of Common and Lesser Whitethroats, Common Cuckoo, Common Swift, Reed Warbler and Sedge Warbler, among others. It's a real joy when the area comes back to life again and is filled with the lovely orchestra of birdsong.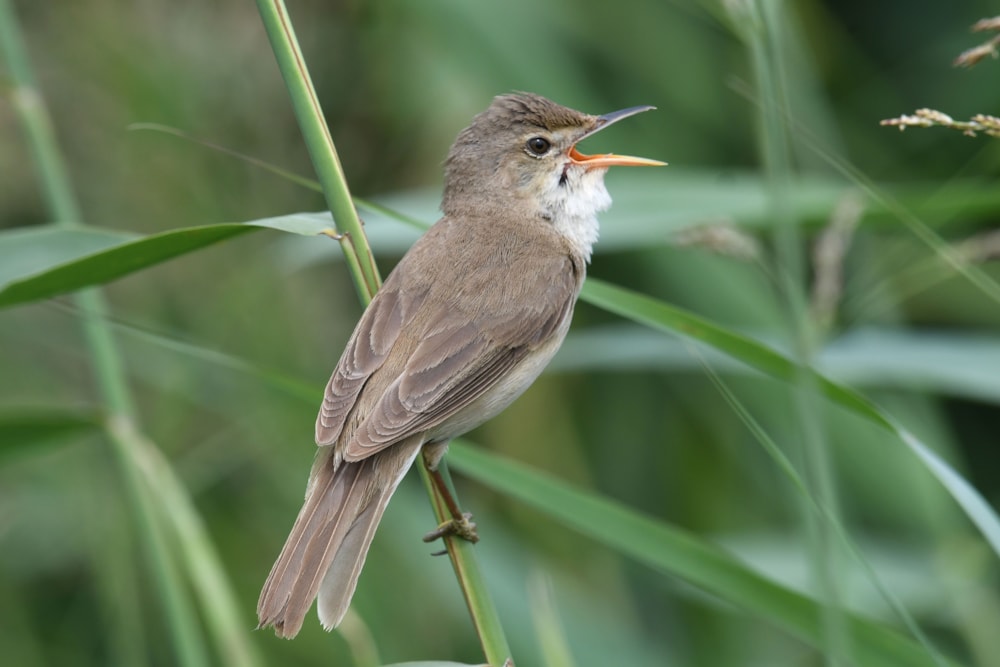 The chattery song of Reed Warbler is a familar spring and summer sound from the reedbeds (Nick Appleton).
Wader and seabird passage is well underway by April too. That (hopefully) means spring seawatching and, best of all, skuas! Of course, this relies on south-easterlies, which seem to be few and far between these days. However, in theory Arctic Skua should pass through the Solent, with smaller numbers of Great and Pomarine Skuas. Kittiwake, Little Gull and various terns should also appear, and, who knows, maybe something a little rarer?
In 2017, that something was a Long-tailed Skua, picked up by Rob Sawyer going through the Narrows by Hurst Spit. A tweet about a skua species with a 'very long tail' sparked curiosity so, as I was able to pop down that day, I did. We waited, and after the usual 30 minutes or so decided it had probably slipped through in the murk. Fast forward some 15 minutes, and a cracking Long-tailed Skua flew past, providing good scope views before it continued its journey through the Solent, past Selsey Bill and beyond.
In 2018, it happened again. Dave Wallace and I thought we'd give the strong south-westerlies a try one evening, hoping for a skua or two. Dan Houghton was already there so we joined him, and it wasn't long before he picked up two Manx Shearwaters heading west, fairly close in. Both species are rather rare here, and both records constituted the first in over a decade!
One sadder aspect of spring, or indeed birding generally, is becoming increasingly aware of declines and changes. Chatting to locals like Richard Levett, you really get a sense of how different it is – back in the 1960s and 70s, thousands of waders and terns would pass through, with eastery winds far more regular.

Pomarine Skua is possible from a seawatch in spring, though they are harder to connect with in Hampshire than in coastal counties further east (Dave Bywater).
On the plus side, though, Little Egret and Mediterranean Gull are much commoner now, as is Cetti's Warbler. As it happens, the first British record of the latter species occurred here in 1961. Great Egrets are increasingly frequent as well.
Summer
Like most places summer is quiet, but June can be good – I remember stumbling across a Marsh Warbler in mid-June in 2017. Sadly it didn't linger. Black-headed Gull and Common Tern, plus a few waders including Avocet, breed on the scrapes. However, some recent years haven't been good due to Red Fox predation, but with a new fence being installed hopefully fortunes will improve.
Autumn
Once the waders and warblers start to return (from June and July), the gulls and terns (and others) fledge and post-breeding flocks of them appear on the beach, it's autumn as far as I'm concerned. Yes, even in July or August! Is it ever really summer?
As in spring, I'm looking out for passage passerines, especially Spotted Flycatcher, Whinchat, Common Redstart, Garden Warbler and Grasshopper Warbler, Tree Pipit and so on. A good day for me would be a fall of birds along the canal path with good counts of those species – perhaps a 10-warbler day, which occasionally happens!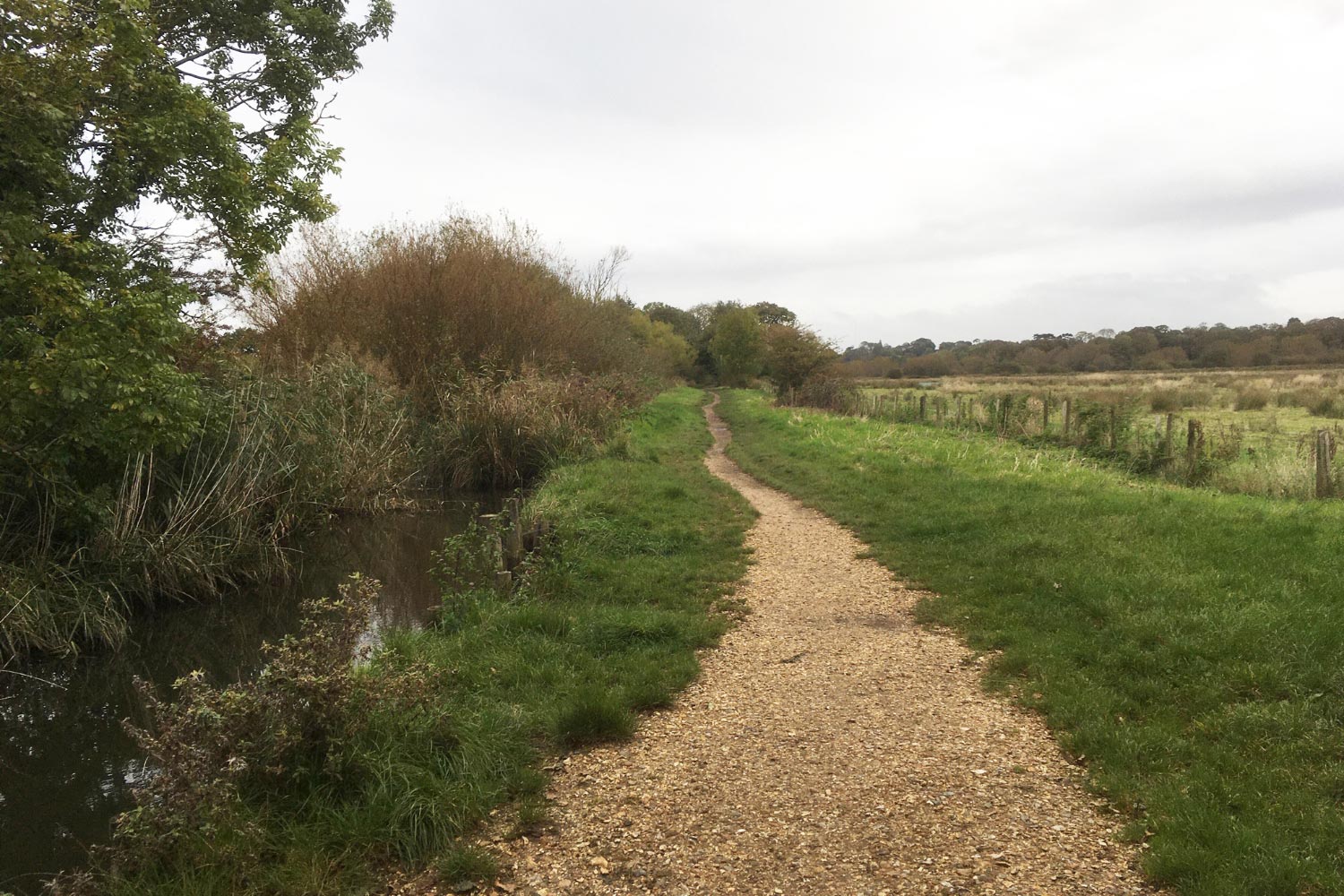 The canal path can be the best place to search through autumn falls for scarcer passerine migrants (Amy Robjohns).
There's also always the slight chance of finding a rarity or scarcity as well. I've been lucky enough to find a few on patch – I won't forget the smart Caspian Stonechat which appeared on a fence post a few metres away, albeit in spring, in May 2016.
In autumn, highlights have included the Pectoral Sandpiper that Ken Martin and I simultaneously found in September 2017. We'd been discussing this species moments earlier, then entered the hide and both trained our bins on the three waders close by: Little Stint, Common Sandpiper and then Pectoral Sandpiper.
This autumn, the Aquatic Warbler was both great and frustrating. Frustrating because it was never seen again, but lovely to have finally seen one. A Wryneck that dropped down metres from me just before sunrise is another memory that'll stick with me for a while. Thankfully it hung around so others could enjoy it, too. There's always the few that get away too, alas, but I try not to think about those ...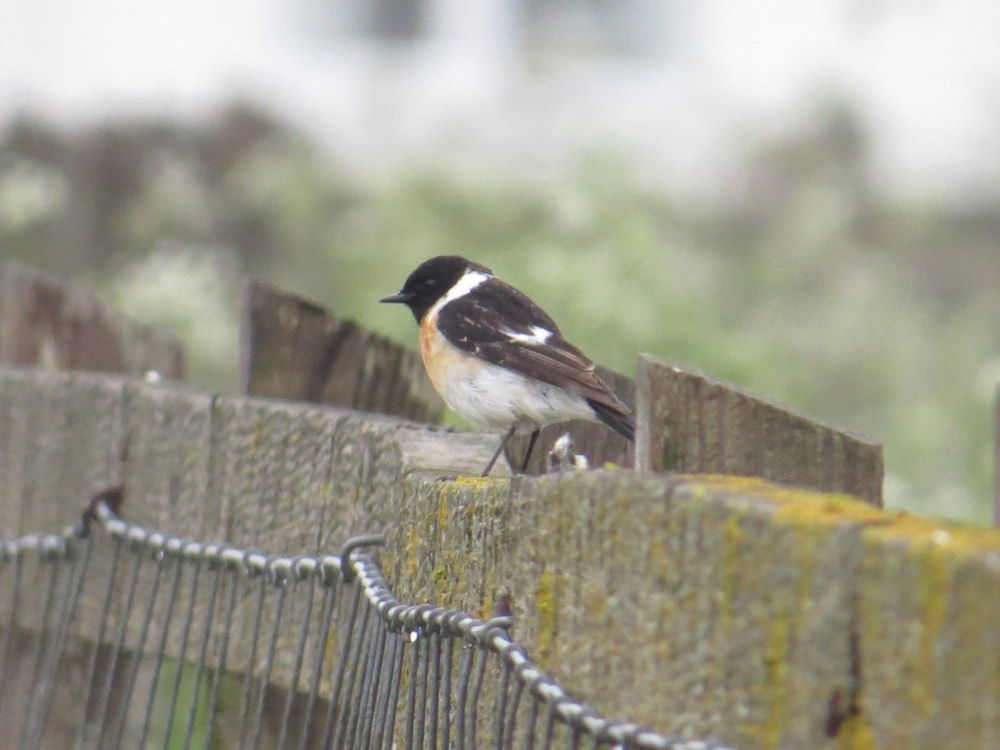 This dapper male Caspian Stonechat was a mega find and real crowd puller after Amy found it sat upon this fence post in May 2016 (Amy Robjohns).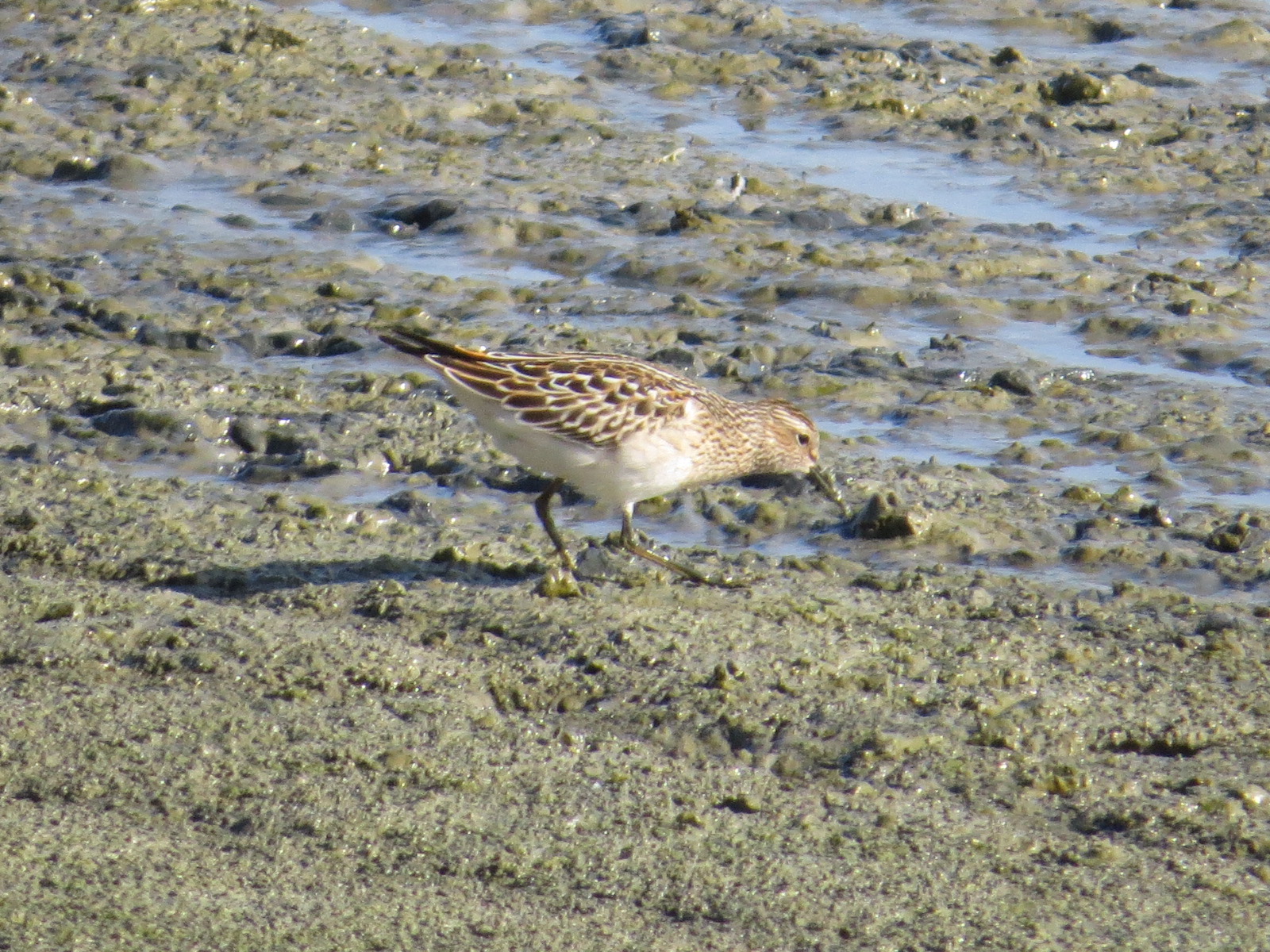 Autumn is great for waders, with this Pectoral Sandpiper from September 2017 a particular highlight (Amy Robjohns).
The scrapes and beach are always worth checking for waders. Common, Green and Wood Sandpiper should all appear at some point, plus Red Knot and Ruff, among others. This year, for some reason, no Curlew Sandpiper or Little Stint appeared, but in most years they do.
One of my favourites during autumn are the roosting terns. It's great fun counting and scanning the flocks. They are mostly Common and Sandwich Terns, but Roseate, Little, Black and Arctic Tern all drop in from time to time. Sadly, tern numbers have plummeted during my lifetime. I remember Richard Levett telling me how a count of 1,000 or more terns was normal not so long ago, but something has happened, though what exactly is unclear. In recent years, 600 or 700 have been the largest flock size. This year, I don't recall a count of over 300. I hope future years will be better as it would be a terrible loss for an SPA.
Bird disturbance doesn't help. Bird Aware Solent are doing what they can to educate people and try to reduce disturbance, but Hill Head is bad. I find it rather sad that we live in a world where internationally important intertidal areas suffer like this. In an ideal world, such areas would be purely for wildlife, leaving the undesignated beaches for people and dogs.
Finally, as autumn progresses visible migration becomes the main theme with Tree Pipits and Yellow Wagtails first through. The latter hang around on the reserve and provide a good spectacle when they come to roost in the evenings. European Stonechat start reappearing in September, with a mix of passage and returning birds. This year a record count of 31 was logged. Then, overhead, it's Meadow Pipits and finches, Eurasian Skylarks and Woodpigeons, while not forgetting winter thrushes.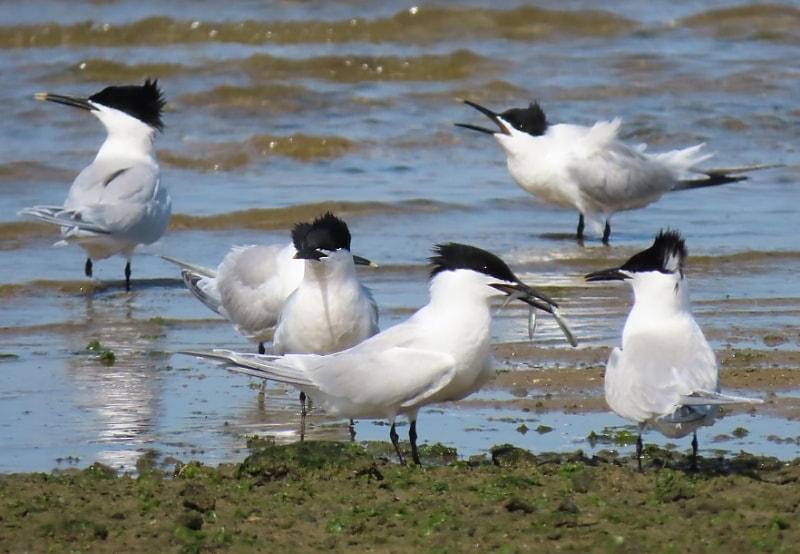 Autumn tern counting is an annual highlight and as many as six species possible, with Sandwich Tern one of the two commonest (Clinton Whale).
Who knows what the future may hold? I hope the reserve and surrounding area can survive, allowing wildlife to thrive for decades to come. It's a pleasure to have the reserve almost on my doorstep, with many good memories, lots of great records and friendly local birders to share it with. Long may it continue!
Acknowledgments
My thanks go to Dave Wallace and Richard Carpenter for comments and suggestions on an earlier draft of this article; to Barry Duffin, Richard Dickson et al for their detailed natural history publications about Titchfield Haven, and the staff, volunteers and fellow regular birder and naturalists of Titchfield Haven.