I was in a tense state as I drove south through the Patagonian Desert in the darkness, for I knew I had only twelve hours to find my top target, the critically endangered and stunning Hooded Grebe.
For nine months I had been preparing my trip up onto the Strobel Plateau, a vast expanse of land in the Patagonian Steppe in which a series of lakes are dotted, these the grebe's breeding grounds. Carefully studying Google Earth, I was able to match the lakes to those labelled on eBird.
The Strobel Plateau is an important breeding area for the grebe. The birds move up here in the summer months after wintering out to sea off the east coast of Patagonia. Encouragingly, the previous season had seen a high productivity rate among the breeding grebes.
However, the plateau does have its downfalls. Both Kelp Gulls and American Mink are known to predate both adults and juveniles. Not only this, the exceptionally dry environment up here means that suitable breeding lakes are getting sparse. Not that I knew it yet, but I was to spend the whole day without seeing a single human, but worryingly completely out of any mobile signal roughly thirty miles from any known habitants — and not speaking a word of Spanish was just another issue that could have arisen!
I had planned to start the climb in my rather unsuitable low-slung saloon just as it got light, and ascending onto the lower plateau, the sunrise over to the east was brilliant. It was going to be a calm and sunny day. I've heard horror stories of this landscape being swarmed by hurricane force winds, but thankfully I witnessed none of this and thus was already a step closer in my quest to finding one of the world's rarest birds.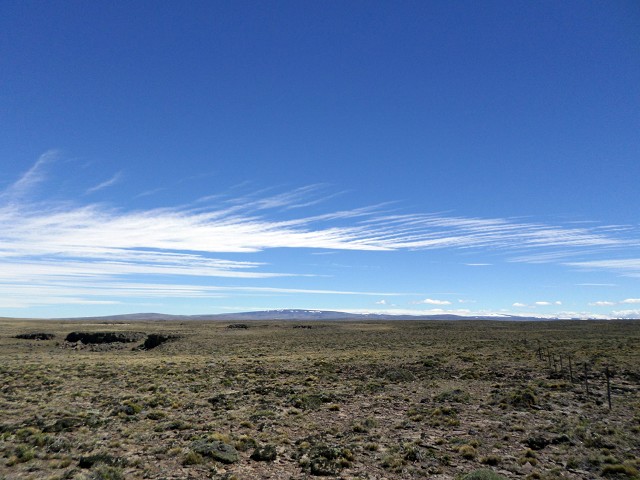 The Strobel Plateau — realm of Hooded Grebe! (Photo: Matt Eade)
There was plenty to see along the lower plateau with Tawny-throated Dotterels, Cordilleran Canasteros and many Common Miners making the most of the almost non-existent vegetation. Soon I reached the top plateau, where the true quest began. I knew there would be many lakes that would be dry, or if any held water would not be suitable for breeding grebes. I was somewhat taken aback by the vast expanse of land all around me and could only now appreciate how difficult my task was.
The first pool I checked held several Chilean Flamingos around a puddle of water, but no grebes. The next few pools held no water at all and my worst fears started to run through my mind. I knew I had to venture further from the road. One stop had me walking over tricky terrain to what looked like a pool in the distance, but this just turned out to be a ridge in the landscape. With the land being flat it's nigh on impossible to spot any pools at all, so walking out onto the plateau is the only option.

A small group of guanacos watches on (Photo: Matt Eade)
My frustration and desperation was becoming apparent, and it almost reached paranoia when I came across a fence line with a sign stating 'No further access'. This was completely unexpected and I was stuck at what to do. I knew I had to walk north-east to access the breeding lakes but I hadn't seen any fences on Google Earth. I was also expecting the track to end, from where I would start walking — however, it carried on for what looked like miles. The landscape was never-ending and in truth I hadn't a clue where I was on the plateau despite the months of planning.
By this point I was convinced I was to dip my most-wanted bird on this epic trip, and so set my sights on simply enjoying being in this remarkable place. This change of mindset was what I needed to gather up my supplies and head out into the wilderness in the direction I had originally intended. Within ten minutes of setting off, I reached a large deep pool and my mood suddenly changed. Despite no grebes, I was pleased to find two pairs of Magellanic Plovers, Two-banded Plovers and a couple of Baird's Sandpipers. I suddenly felt like the game was back on and I continued hiking north-east, finding further pools — though still unsuitable for breeding grebes, there were hundreds of flamingos and other waterfowl present.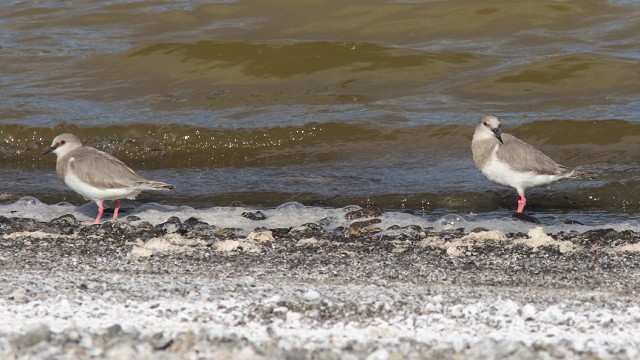 Pair of Magellanic Plovers (Photo: Matt Eade)
It was now midday and I had been walking over the tricky terrain for three hours. In the distant, murmuring heat haze I could see a large 'cliff' that would surely hold more water nearby, and what looked like a valley that should have further, smaller pools. I headed that way and it took a long hour to get there, the heat now exhausting my efforts as I tripped and fell my way towards what I honestly thought would be my last chance, mainly as I hadn't an idea where my car was. I eventually made it but the lake was a large waterbody surely too big for any grebes, and I was right. Again, a good number of species were present and a good opportunity for a lunch break.
I headed up the 'valley' and found another large body of water that held the same species, plus some very showy Flying Steamer Ducks. I could see the shape of the land change and my initial thinking was that more pools would be just around the corner. Just past the second large body of water a pool with small red vegetation relatively sheltered immediately caught my attention. "This is it" I mused, "this is the breeding habitat". I scanned the pool carefully but to my sheer disappointment there were no grebes present — in fact there were no birds at all! I was almost heart-broken; I had been walking for four to five hours, and had eventually found the habitat and to not find one here seemed like a huge bout of bad luck.
There was still hope with a couple more pools to check further along. These pools were low-lying and relatively sheltered but held no vegetation. Walking towards the first lake I had a quick scan towards the north end with nothing, but closer to me I noticed a single bird rolling the ripples off the crystal-clear lake: a small, pale grebe with an obvious golden forehead and black throat. I couldn't believe it — it was a stunning Hooded Grebe! My initial reaction was a huge gasp, followed by the most excitable victory dance (thankfully I saw no one all day) and a range of selective words yelled out into the vast wilderness.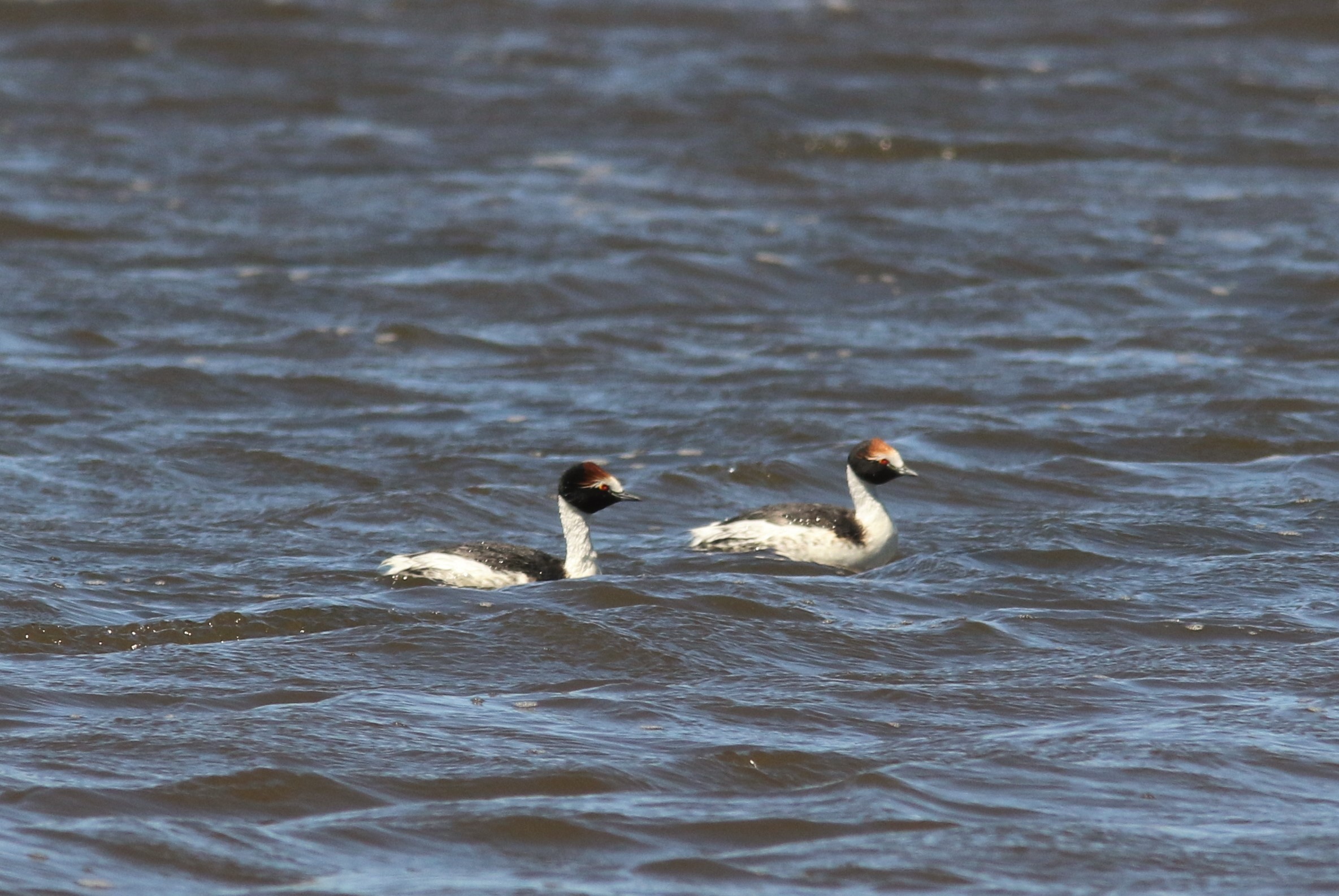 A pair of Hooded Grebes on the Strobel Plateau (Photo: Matt Eade)
I quickly calmed myself down the best I could and walked towards the ridge to get a better view of the lake and, unbelievably, there were more, totalling 12 individuals. I walked around to the edge of the lake for better light and sat and watched what can only be described as the most merited tick I've been fortunate enough to see. During the time watching the birds I witnessed them displaying, nest-building and a male was calling constantly, which echoed around the lake to create a surreal atmosphere.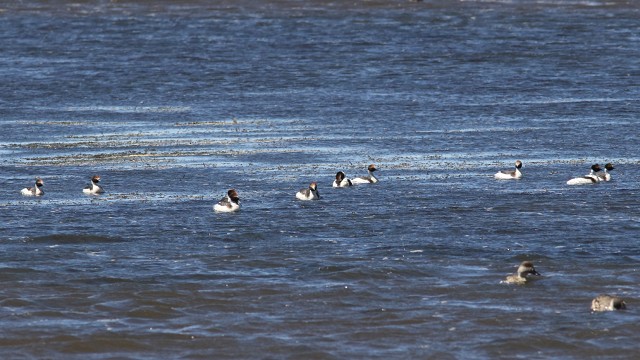 A flock of Hooded Grebes, no less! (Photo: Matt Eade)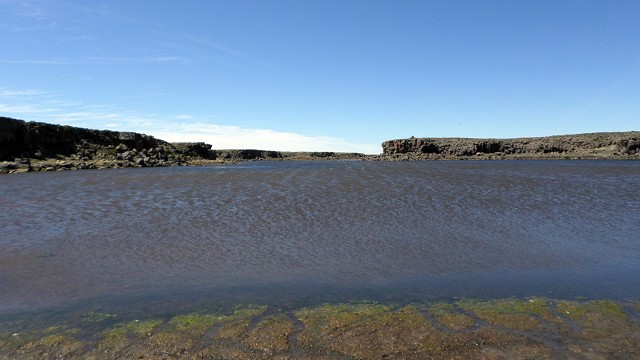 The lake where Matt finally struck gold (Photo: Matt Eade)
My mission was complete. The only problem was now I had no clue as the whereabouts of my car. To access this band of lakes I had crossed a fence line and, not knowing with confidence, I presumed my car would be along the fence at some point. Two hours later I found the vehicle (having also flushed two Patagonian Tinamous), but I genuinely think that if I hadn't found the fence line, I could still be up there today!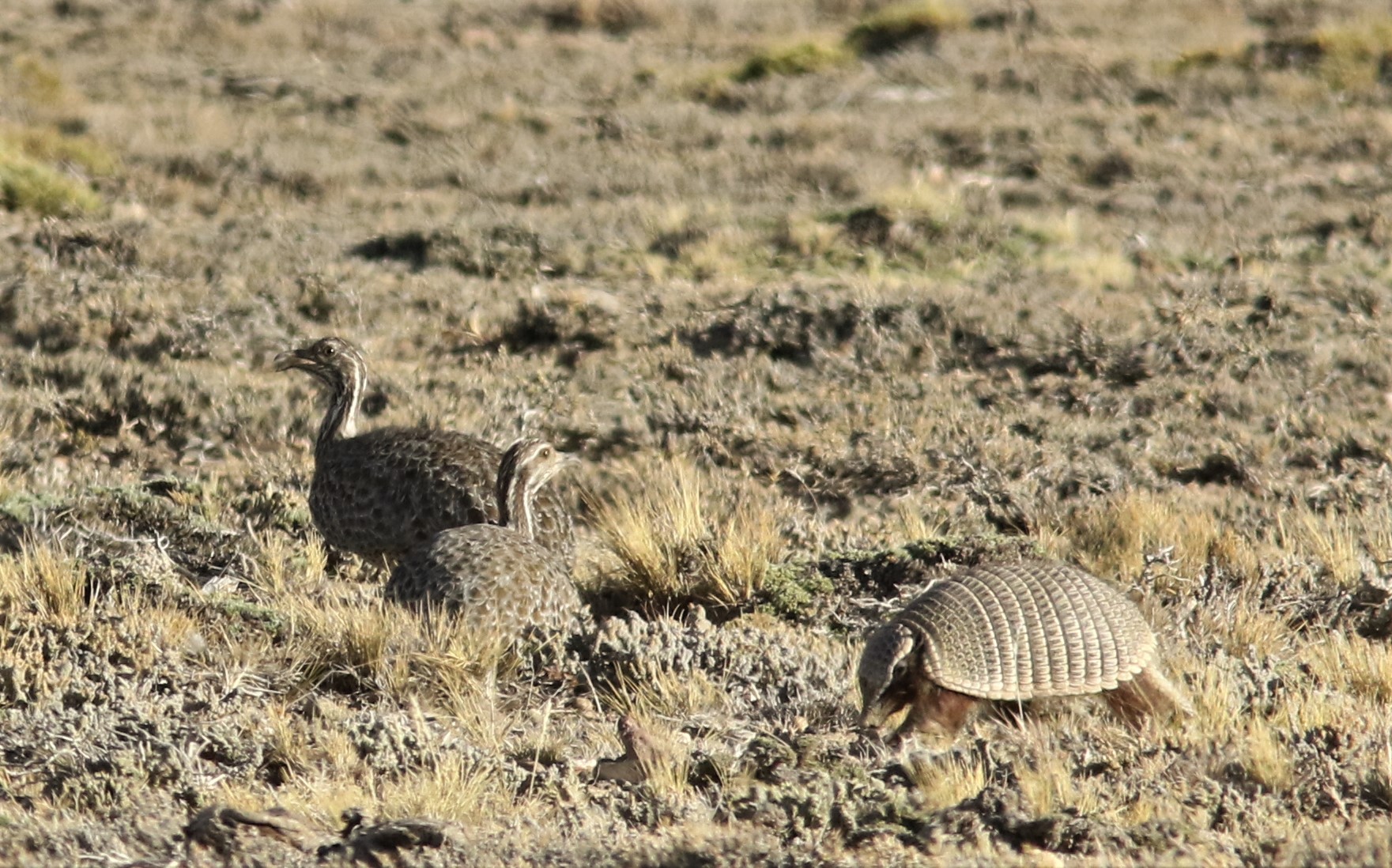 A pair of Patagonian Tinamous alongside an armadillo (Photo: Matt Eade)
It was a two-hour journey back to Estancia La Angostura for my first sighting of a human that day, but more importantly a well-deserved beer. To not only see the grebe, but to find them having planned everything by myself, was a very proud and rewarding moment.