While the first lockdown in March saw a spate of moth-trap and book purchases among UK nature lovers, our second, this November, was considerably quieter on the mothing front. Autumn favourites declined in number as the month wore on, leaving determined trappers with just a few winter specialists and the faint chance of a migrant on southerly airflows. The best period of the month for immigration was probably the period around 9th and 10th as the winds turned south-westerly and warm air funnelled up from the Canaries to the south and west. These conditions continued for some time afterwards, bringing a steady trickle of migrants after the initial flurry, before cold weather set in again on 24th.
Perhaps the most exciting moth of the month came towards the end of the period, a Marigold Shark to light in Seaford, East Sussex, on 23rd. This is just the third confirmed British and Irish record, following individuals near Hayle, Cornwall, in December 2016 and Tramore, Co Waterford, in December 2018. Both of these were confirmed by dissection, but another candidate in Cumbria from December 2018 never was, underscoring the need to be watchful of any late-season sharks for this species.
The same period was also notable for a good influx of Red-headed Chestnuts, with a minimum of 12 recorded between 8th and the end of the month. Although the south coast took the bulk of these (with two at Portland, Dorset, on both 8th and 20th) there were a couple further north including at Paston, Norfolk, Shottisham, Suffolk, and inland at Fordham, Cambridgeshire, on 9th. Otherwise, three were caught in Sussex and four in Kent, with the majority during the first pulse of migrants on 8-9th.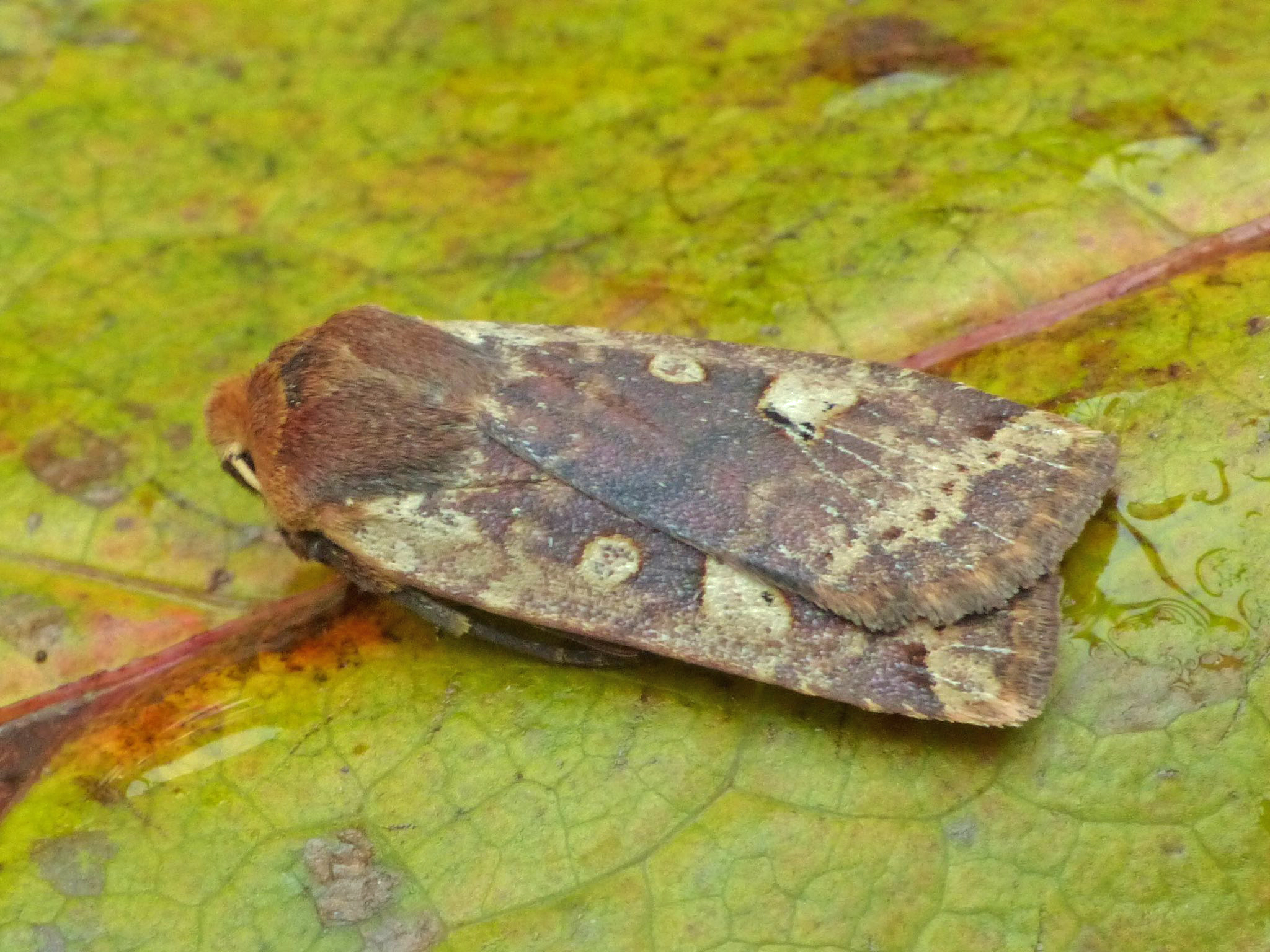 Red-headed Chestnut, Paston, Norfolk (Lynnette Nicholson).
The warm winds also brought good numbers of commoner migrants and was notable for some excellent counts of the gauzy pyralid Palpita vitrealis, including a minimum of 44 at Beachy Head and 14 at Ovingdean, East Sussex, on 9th. There was also an uptick in records of Radford's Flame Shoulder around 8th and 9th, including inland at Farley, Wiltshire (8th), Stone Allerton, Somerset (9th), and most impressively Bodenham, Herefordshire (8th). The latter was the first county record, in the same garden that had already claimed a remarkable inland county first of Spoladea recurvalis only a few weeks before. The species continued to be logged up to the end of the month, with the second for Essex at Colne Point on 18th.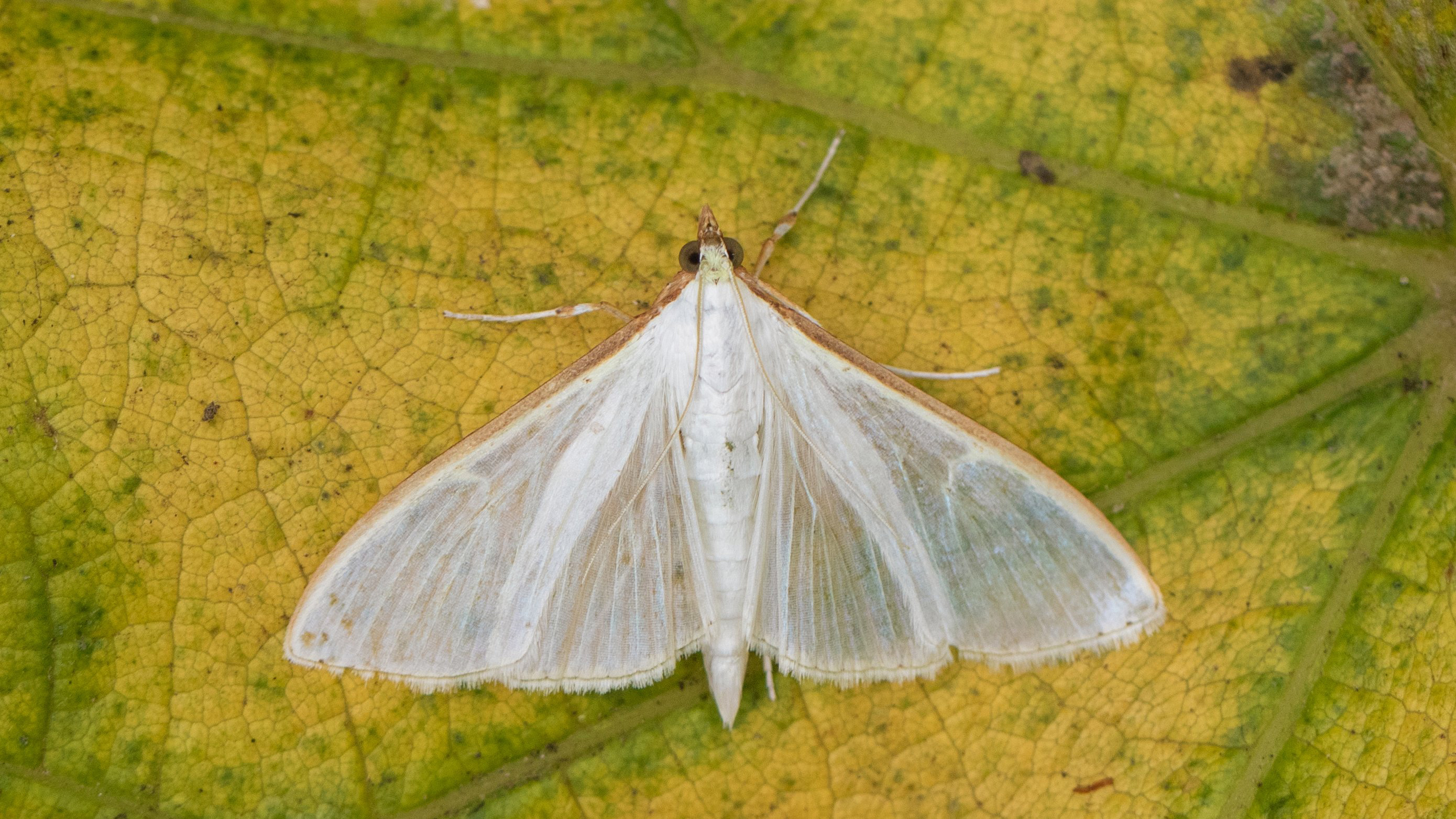 Palpita vitrealis, undisclosed site, Kent (Alex Perry).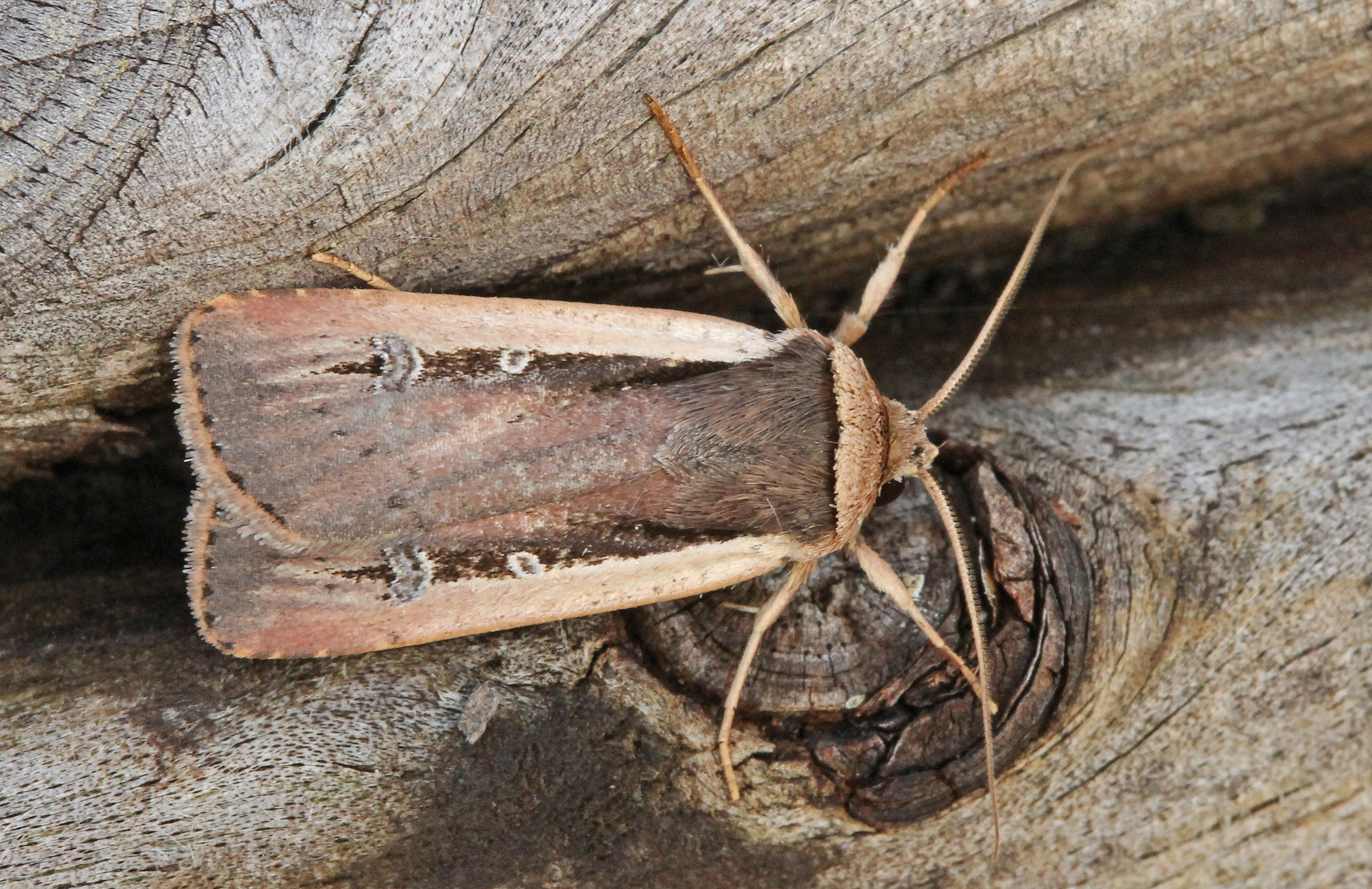 Radford's Flame Shoulder, Clevedon, Somerset (Paul Chapman).
Rarer migrants during November also included a late Blair's Mocha at Bridport, Dorset, on 8th, while Zelleria oleastrella arrived at Weymouth the next day, with Small Marbled nearby at Broadwey on 8-9th. Two Crimson Speckled were also reported, at Bride, Isle of Man, on 6th and on Scilly at Longstone, St Mary's, on 4th. The latter was the second record for Longstone this year, where a Slender Burnished Brass was also caught on 18th (the third there this year). Further plusia interest was provided by two Golden Twin-spots in Dorset – where the species is still a rare migrant – in Weymouth on 8th and at Bridport on 22nd. It was a quiet month for migrant hawk moths though, with a couple of Death's Head Hawk-moths at Ringstead Bay, Dorset, on 3rd and Weybourne, Norfolk, on 8th, while perhaps more remarkable was a Convolvulus Hawk-moth at Bracklesham, West Sussex, on 18th, the latest ever in the county. After a rather quiet year for the species, a Silver-striped Hawk Moth was photographed by day at Maidstone, Kent, at the start of the month, too.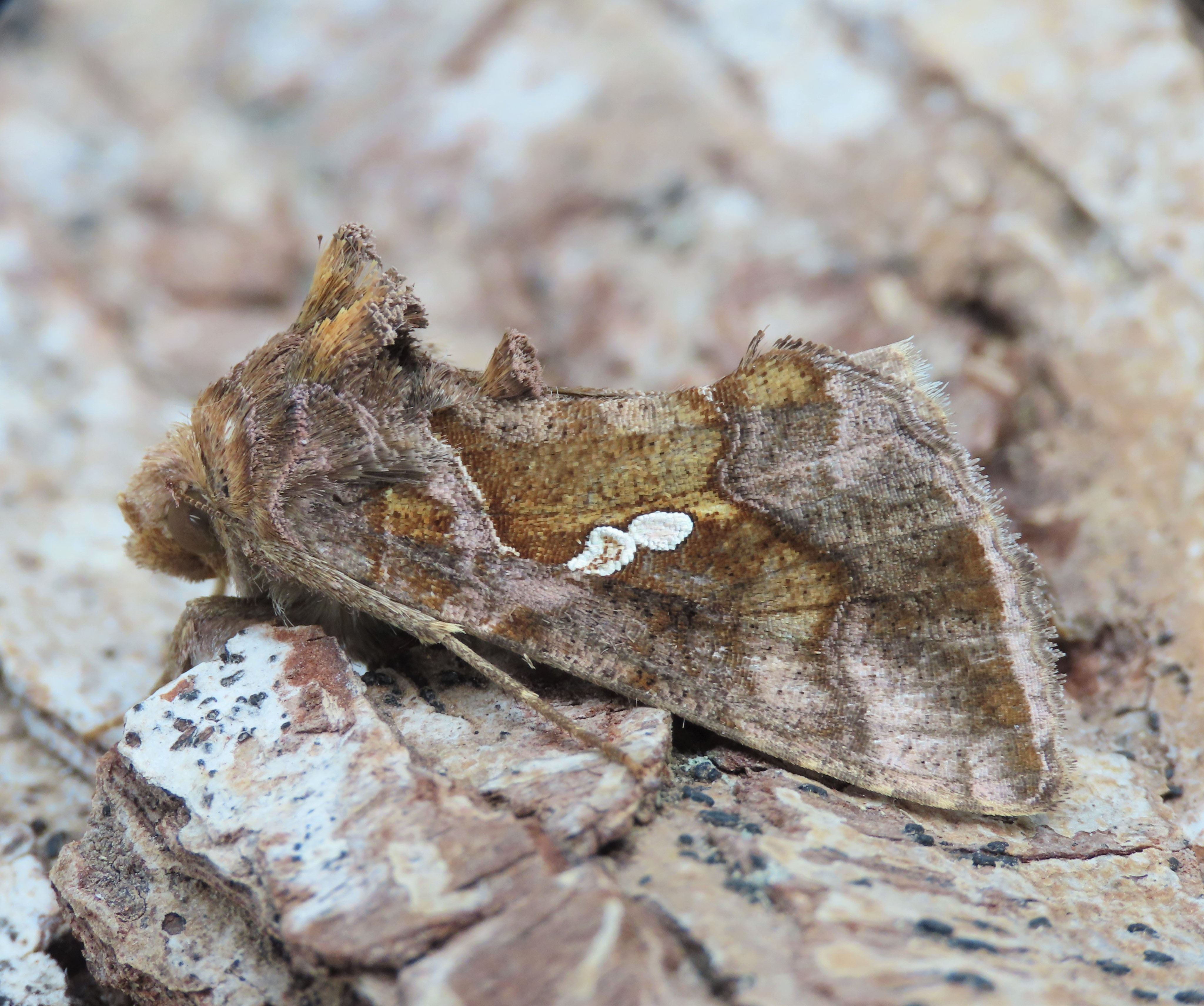 Golden Twin-spot, Weymouth, Dorset (Paul Harris).
If Red-headed Chestnut provided one of the main migrant headlines for November, its close relative, Black-spotted Chestnut was one of the main residents of interest. After the first records of the autumn at the end of last month, the new generation began to emerge in earnest in November, with records from all the moth's newly colonised territories in Kent, Bedfordshire, Hertfordshire, Cambridgeshire and Buckinghamshire. In some of these areas, though, it seems to have remained stubbornly local.
In Hertfordshire, for example, it doesn't appear to have spread outside the Bengeo area, having arrived there three years ago, and in Buckinghamshire it was recorded at Denham on 16th for the third winter running, with no records yet from anywhere else in the county. Still, it seems well-established in Bedfordshire, with a number of records from the area around Sandy and Biggleswade, while the second for Essex was recorded at Corringham on 22nd, after the county's first there in 2019, suggesting it is breeding there now, too. Essex also garnered its fourth Oak Rustic at Little Clacton on 3rd.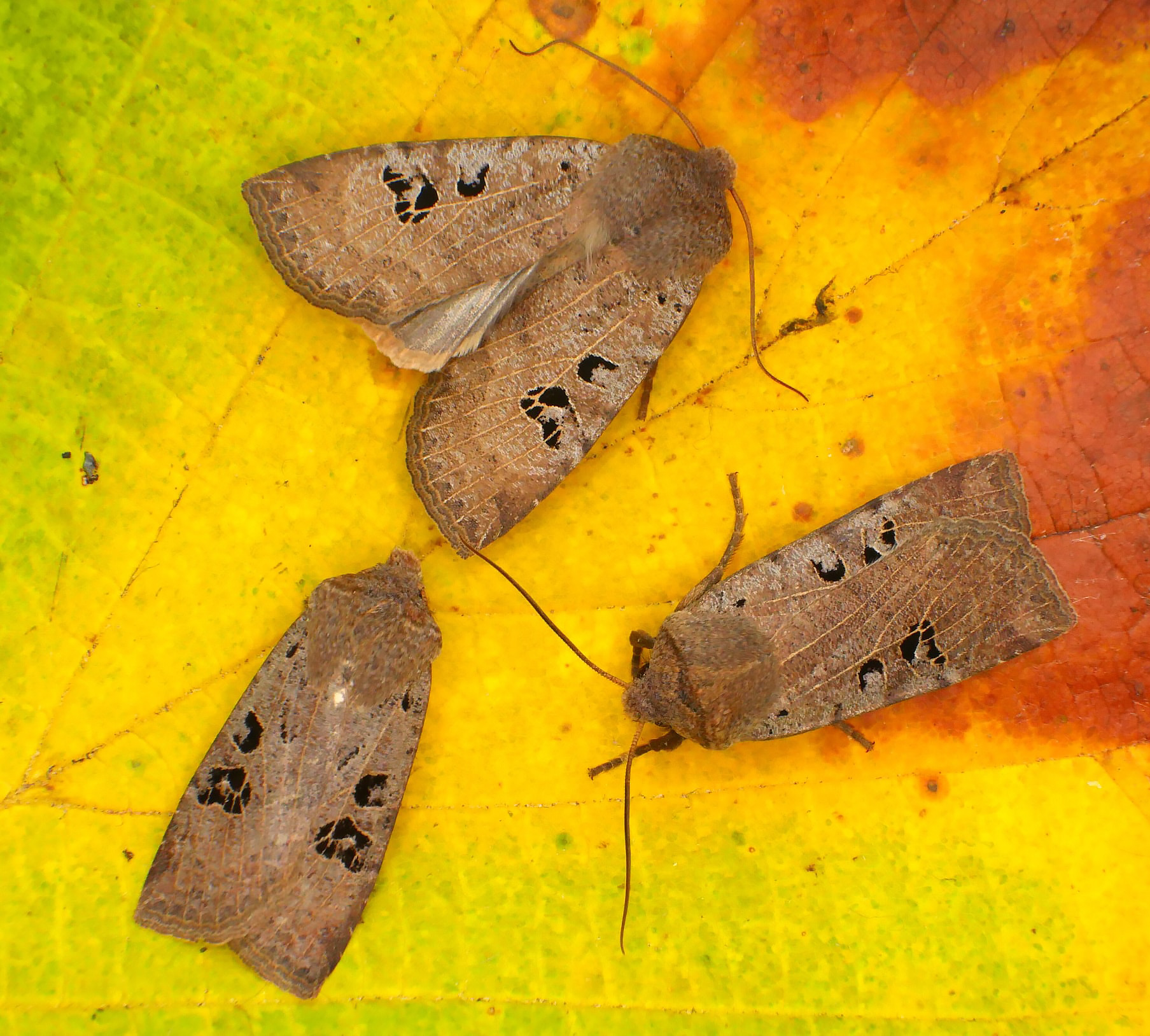 Black-spotted Chestnuts, Upper Caldecote, Bedfordshire (Matt Burgess).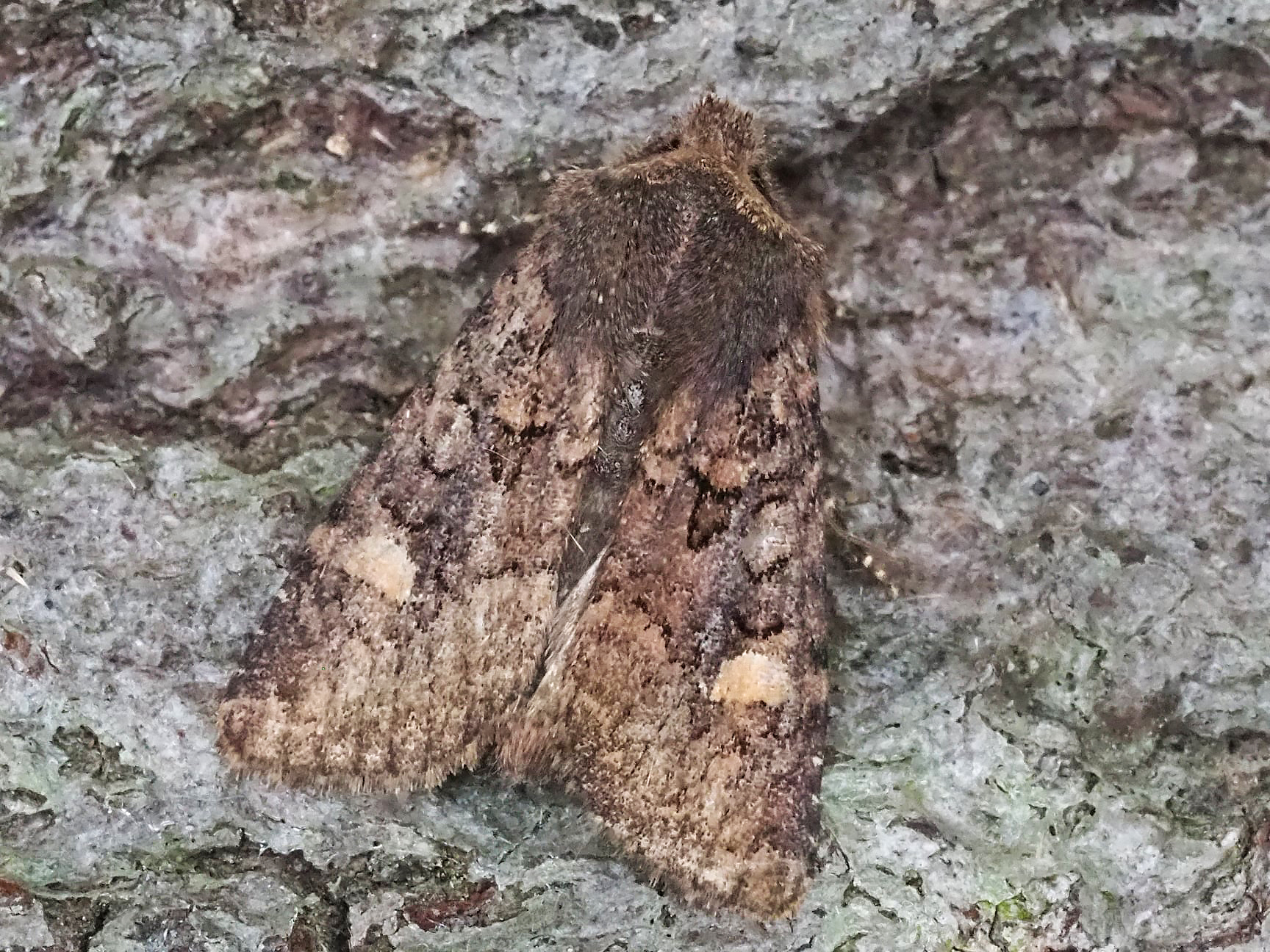 Oak Rustic, Little Clacton, Essex (Gavin Price).
On the micro front, Caloptilia honoratella also turned up in a few new places, with the second for Sussex at Newhaven at the start of the month, while un-dissected possibles were at Send, Surrey, on 18th and Leigh, Dorset, on 8th. As specimens from the summer went off for determination, two further records also came to light in November, from Woodford Green, Essex, on 7 August and West Runton, Norfolk, on 31 August, where it was new to both counties, taking it close to 10 British records.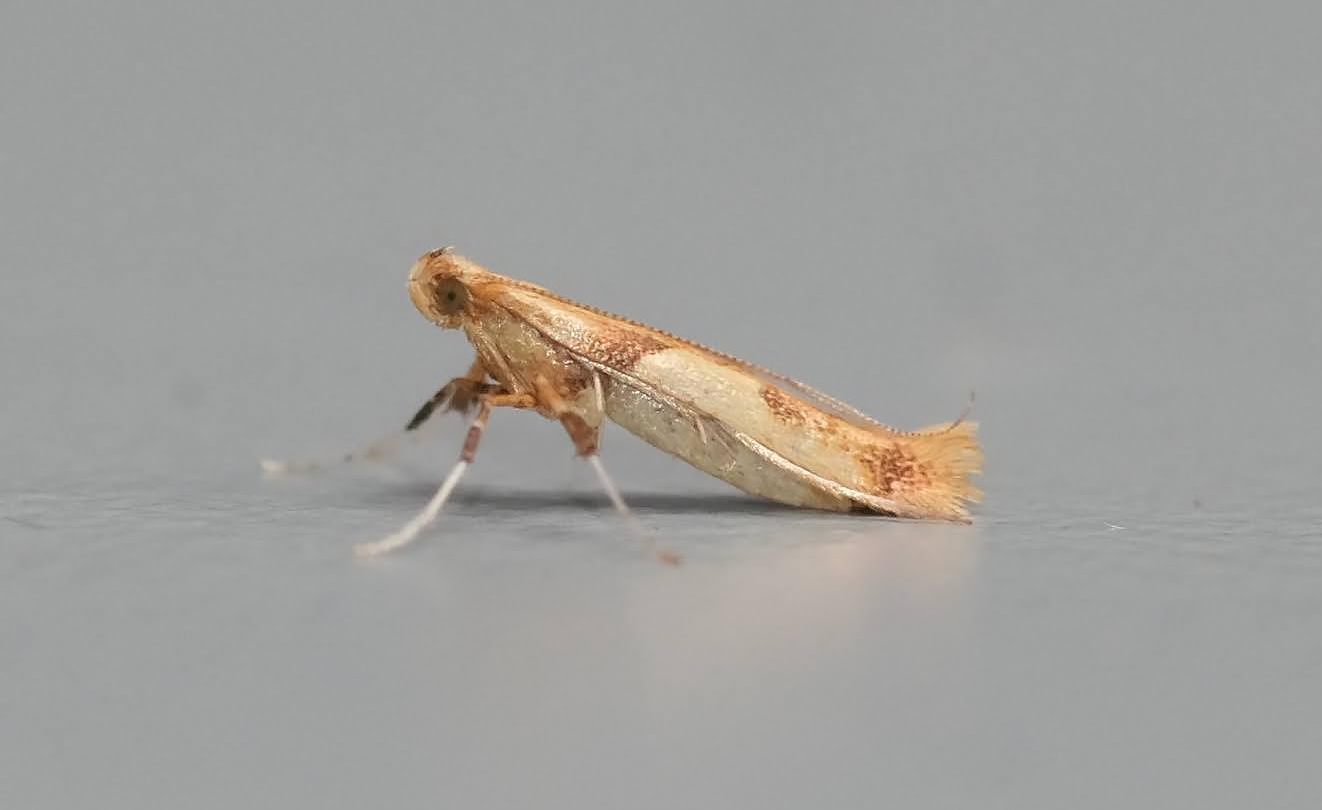 Caloptilia honoratella, West Runton, Norfolk (Louis Parkerson).
Other late-season micro interest was provided by the continued expansion of Musotima nitidalis, new to Berkshire at Windsor on 9th and Buckinghamshire the following night at Chorleywood. Another group of micros that can still be found as adults at this time of year are the Mompha species. These often enter buildings to overwinter and are worth checking for some of the rarer species such as Mompha jurassicella, which was recorded new to Suffolk at Micklemere on 1st, while Mompha bradleyi was recorded for the third time in VC64 (Mid-West Yorkshire) at Roecliffe on 9th. For some recorders, active searches for leaf-mines also continued into November, resulting in a number of good records. Ectoedemia arcuatella mining Wild Strawberry was recorded new to VC61 (South-East Yorkshire) on 7th, as was Ectoedemia heringi on Oak on 4th. Similarly, Stigmella viscerella (on Elm) was new to VC62 (North-East Yorkshire) near York on 14th, and Phyllonorycter ulicicolella (on gorse) was new to Oxfordshire at Sydlings Copse on 1st.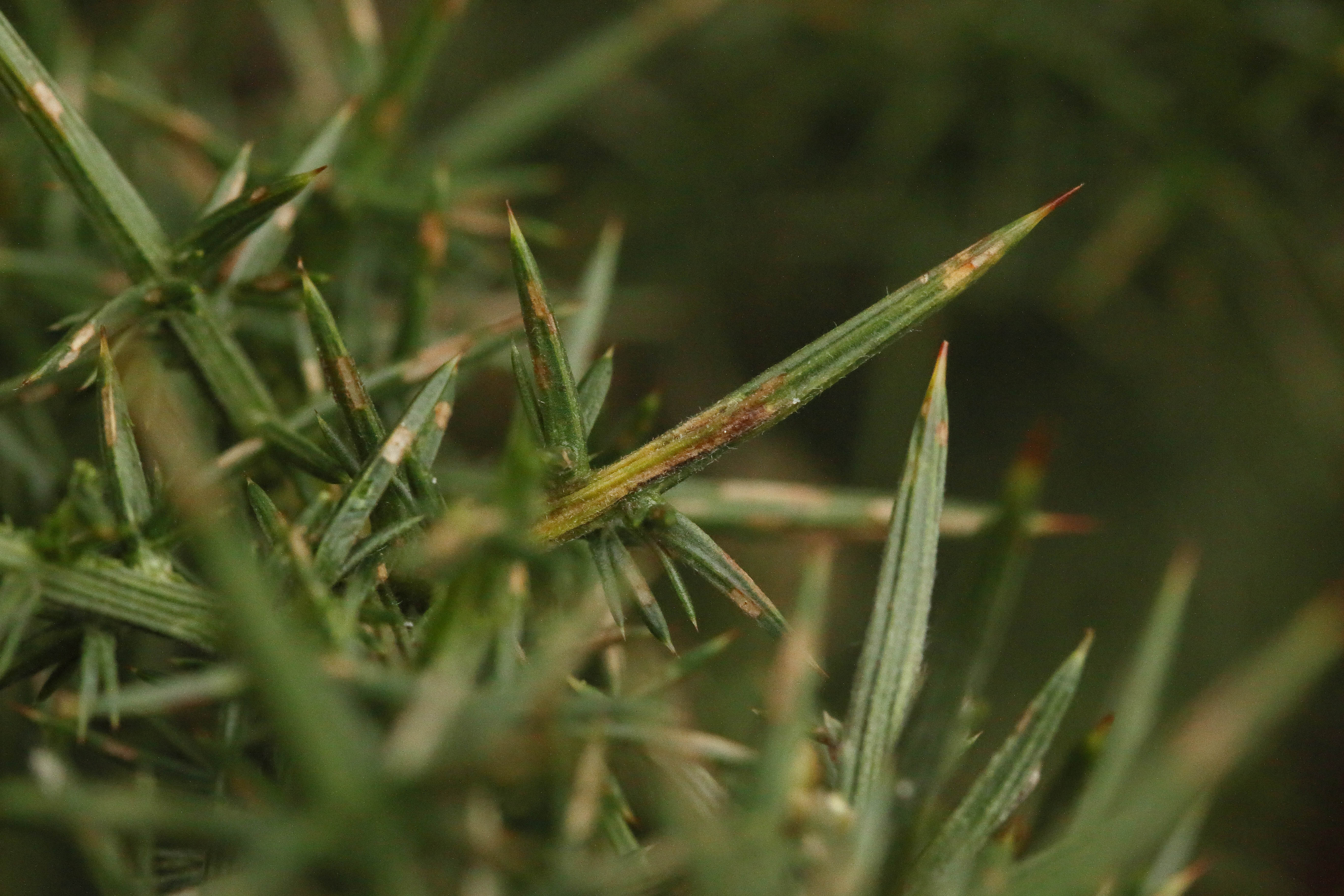 Phyllonorycter ulicicolella mine, Sydlings Copse, Oxfordshire (Will Langdon).
While searches for leafmines may prolong the mothing season right up to the end of the year, November is generally the time when many recorders begin to go over their records and start to look ahead to next season. So it seems did several spring moth species, with a number of early emergences of both Common Quaker and Pale Brindled Beauty during the month, and both species recorded in at least seven counties, as far north as Yorkshire. Many species were also caught unusually late during the month, with Orange Sallow, Brimstone, and Poplar Hawk-moth on the wing in Yorkshire on 10th, 17th, and 21st respectively all the latest county records, as were Gold Spot and Peppered Moth in Gloucestershire and Glamorgan on 10th and, amazingly, a Scarce Burnished Brass in Oxfordshire (or Berkshire for recording purposes) – the first November record for Britain, and caught some distance from breeding habitat at Wallingford on 8th.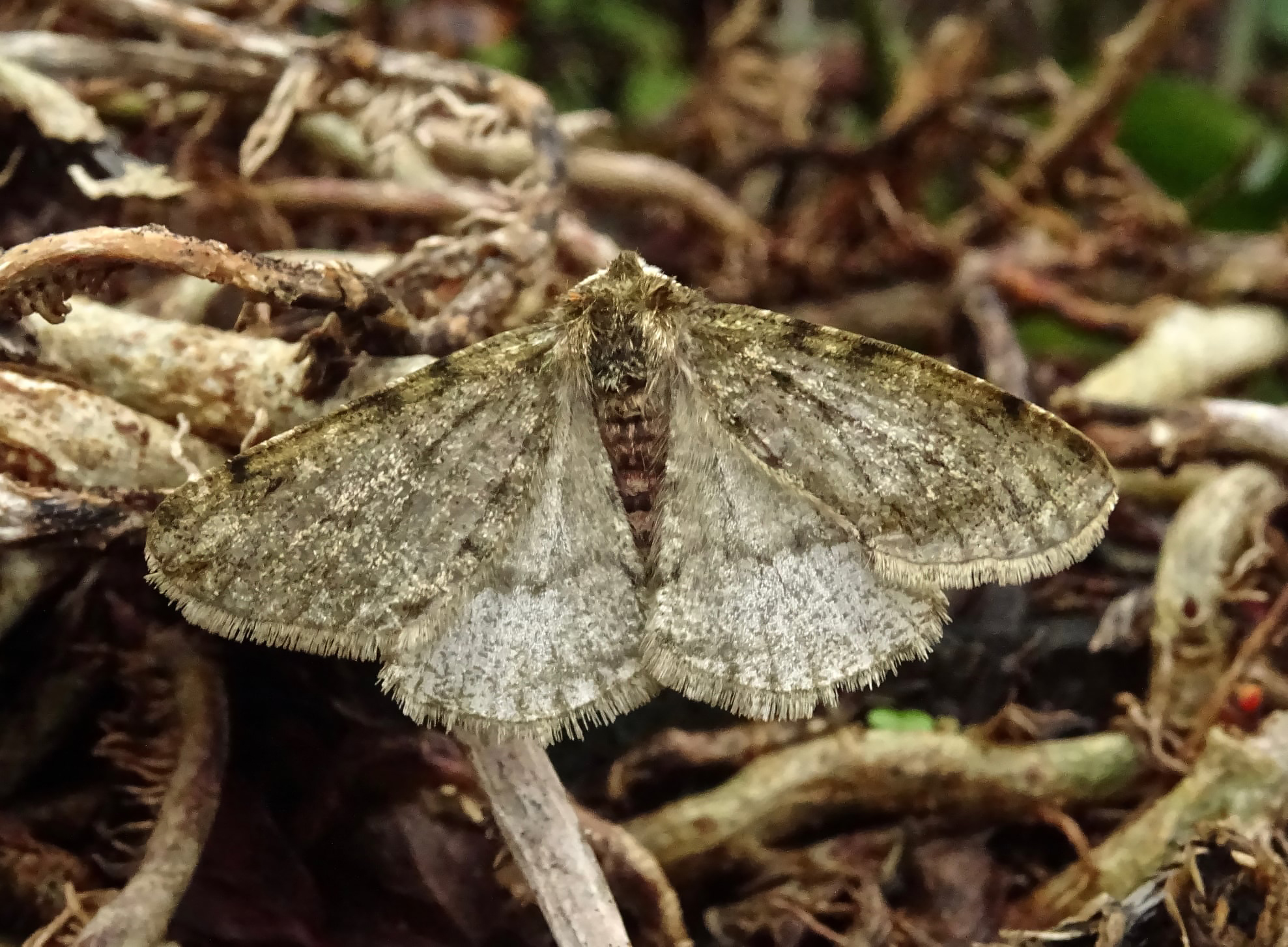 Pale Brindled Beauty, Staunton, Gloucestershire (Steve French).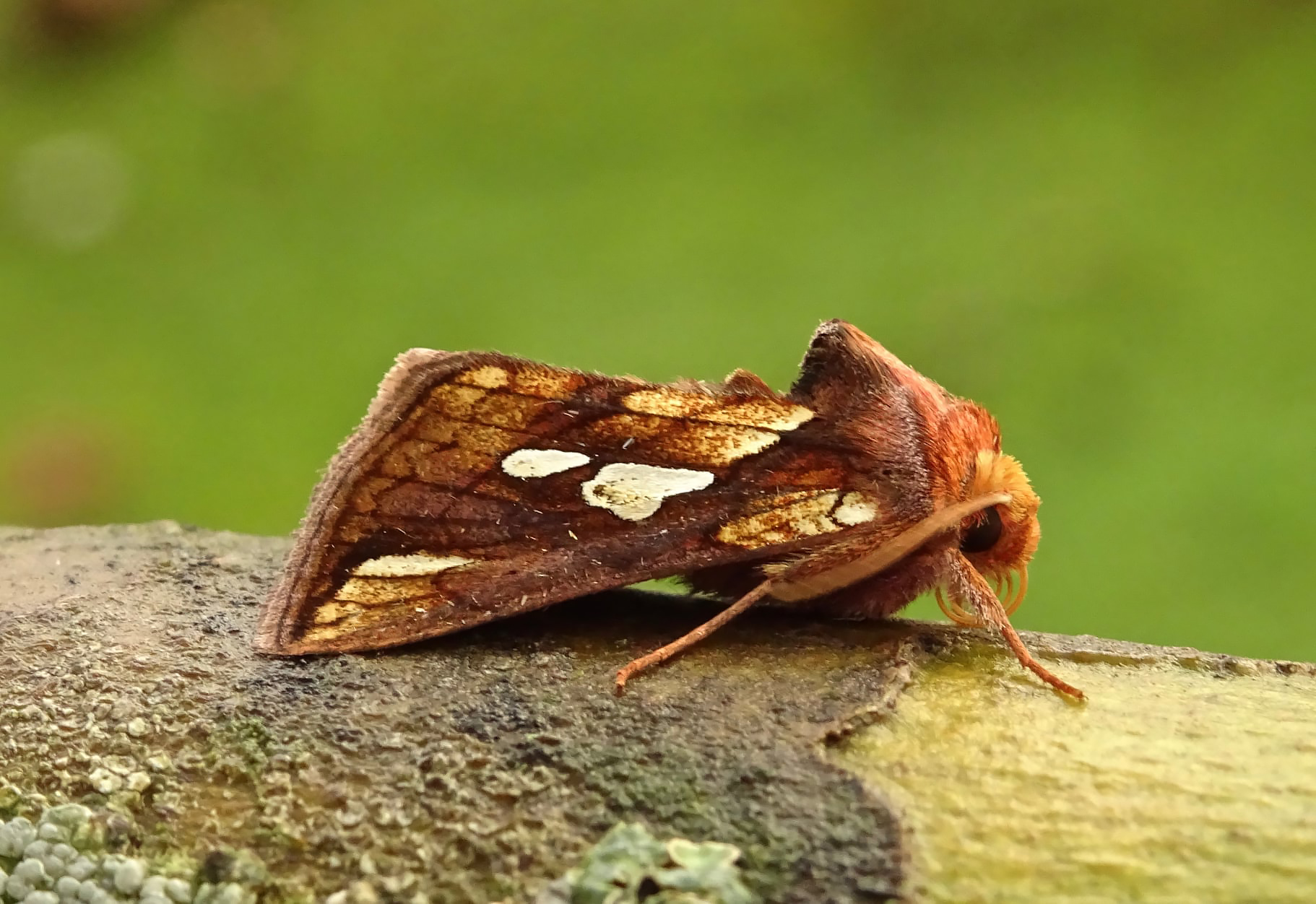 Gold Spot, Staunton, Gloucestershire (Steve French).
Butterflies
There were a number of records of extra butterfly broods in November, with late Walls in Norfolk on 11th and Cumbria on 7th, while there was a good third brood emergence of Holly Blues in Sussex in the Southwick area, where seven (including a mating pair) were recorded on 4th. Clouded Yellows also continued to fly in small numbers along the south coast, with good counts of four at Southborne, Dorset, on 10th, and on Thorney Island, West Sussex, on 4th.