The gloomy picture painted by Butterfly Conservation's report on The State of Britain's Larger Moths 2013 in February was of a massive overall decline of moths over the past 40 years. The reasons for this are probably complex, but are presumably similar to those responsible for similar declines noted in many British breeding birds, other invertebrate groups and indeed among some flowering plants. More recently, added effects of climate change appear to be like two sides of a coin. On the positive side, higher average annual temperatures have allowed more than 20 southern species to colonise parts of Britain from Europe.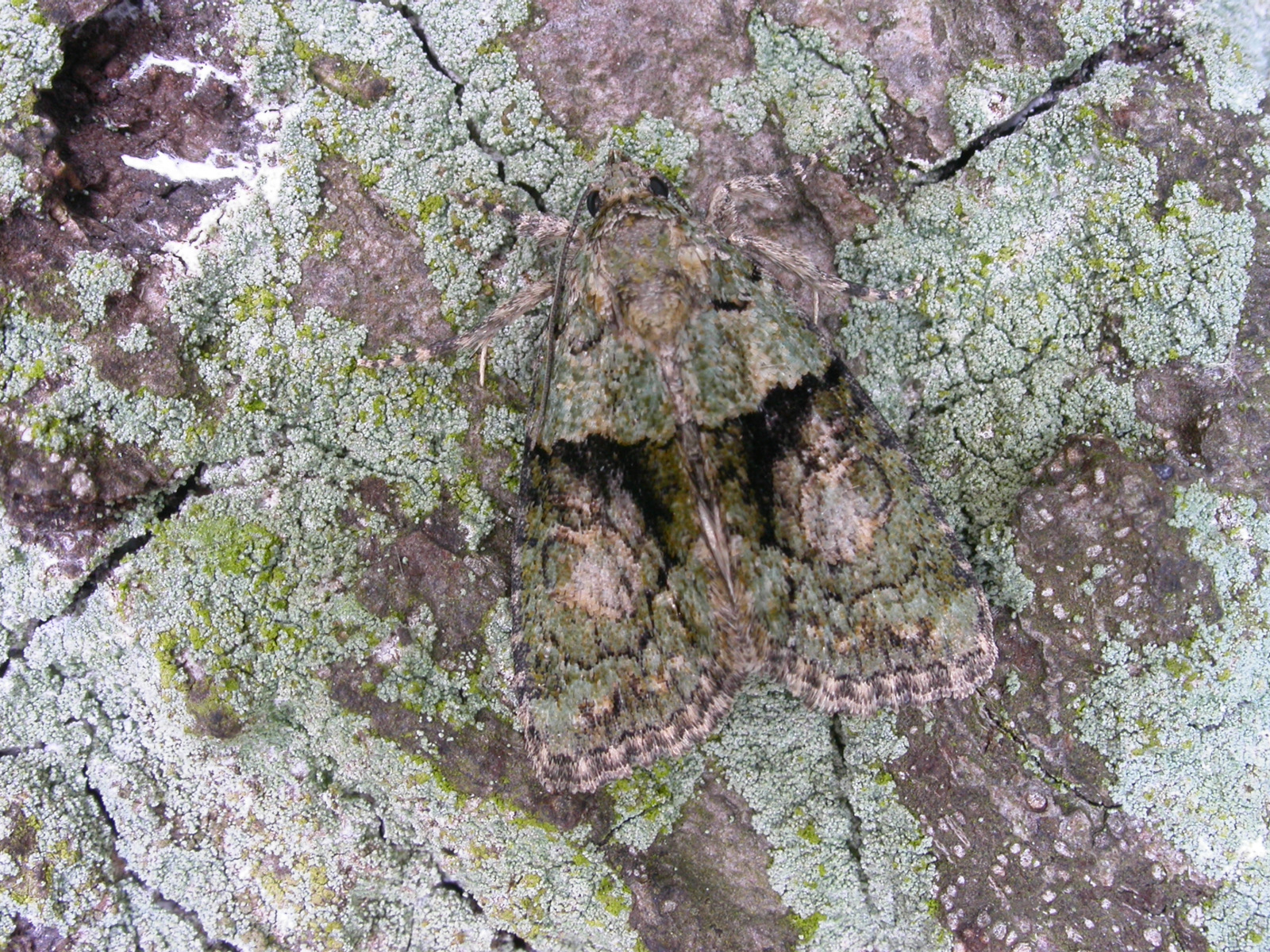 Tree-lichen Beauty — still spreading north after first arriving in 1991 (Photo: David Howdon)
On the downside, the UK is more frequently encountering extreme weather patterns, not only messing up the once stable seasons but potentially badly affecting resident populations. This year's very cold March, following last year's wet summer, seems to have had near-catastrophic effects on the numbers of garden moths seen this spring. Many recorders have already witnessed a minimum 70% reduction compared to the same period last year. Garden moths have been seen as one of the most important indicator yardsticks as to the health of our more general environment, and currently it looks like bad news. Nightmare visions still persist of last year's small larvae being washed off foliage by the constant deluges, with the ones that did reach full size being unable to pupate in the saturated ground.
It is probably too early to be pessimistic about moth numbers in the long term, as insects are quite resilient — given chance, they may bounce back within a few years. Those of us who have made the effort to get out into heathland, marshland and woodland habitats since mid-April may have seen some light at the end of the tunnel.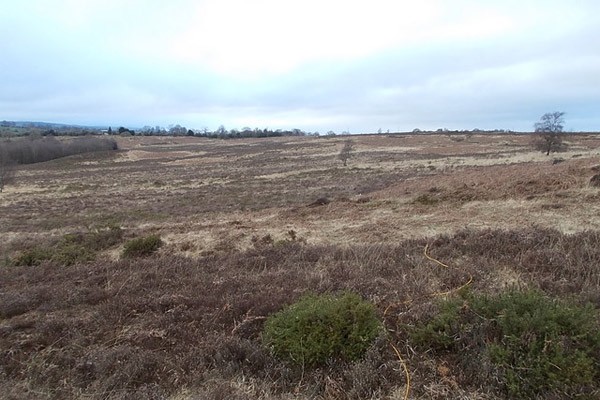 Heathland at Clee Hills (Shropshire), April 2013 (Photo: Steve Whitehouse).
The annual Northern Drab survey on the southeast Shropshire hills on 22nd April was successful, with several individuals recorded as well as good numbers of Mottled Grey but rather low numbers of other Orthosias and a few micromoths such as Eriocrania sangii (12) and Agonopterix umbellana (705).

Mottled Grey, Shropshire (Photo: Roger Wasley).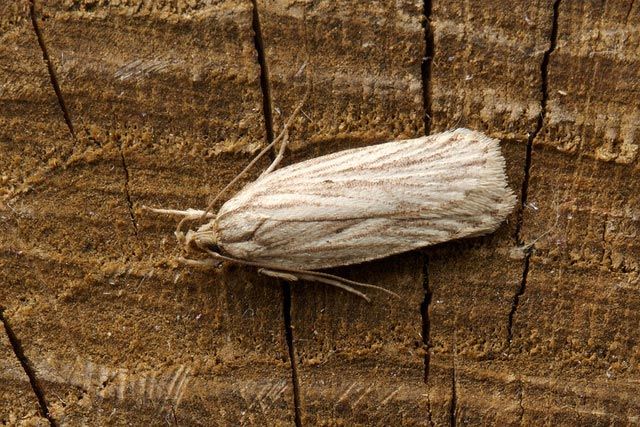 Agonopterix umbellana, Shropshire (Photo: Roger Wasley).
Dave Wilton's Buckinghamshire group also recorded Northern Drab on the Ashridge Estate on separate visits in April and May. The Gloucestershire Moth Group outing to Linear Park, Forest of Dean, on 5th May produced a fine Great Prominent — a first for that site — along with Water Carpet, Early Tooth-striped and Grey Birch.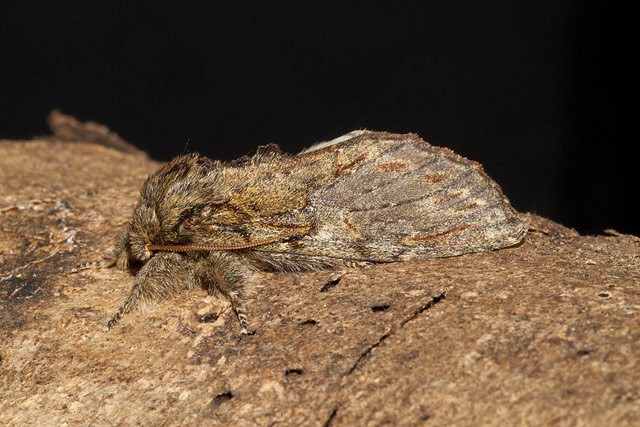 Great Prominent, Gloucestershire (Photo: Roger Wasley).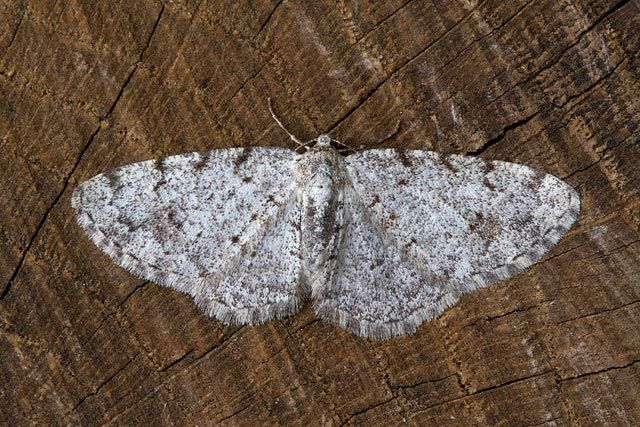 Grey Birch (Photo: Roger Wasley).
Spurred on by some requests to look for the Severn Valley speciality Silver Cloud, the author visited some east Worcestershire woodland on several dates between early and mid-May. Calm, relatively mild evenings were chosen and placing traps along rides, under the tree canopy and amongst the under-story, produced some encouraging results.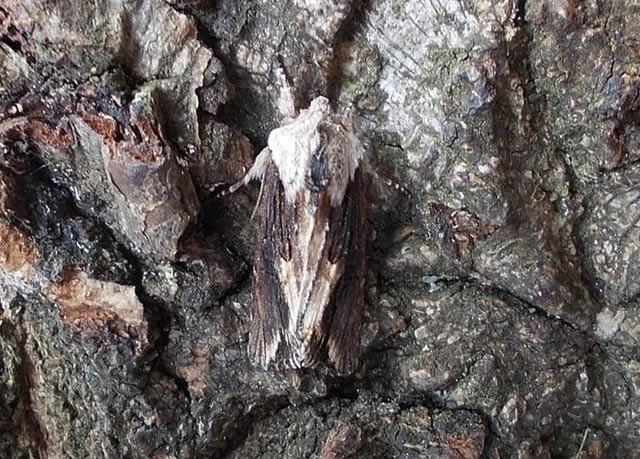 Silver Cloud, Worcestershire (Photo: Steve Whitehouse)
The first May visit saw small numbers of Frosted Green, Purple Thorn and Lunar Marbled Brown, plus single Silver Cloud and Chocolate-tip.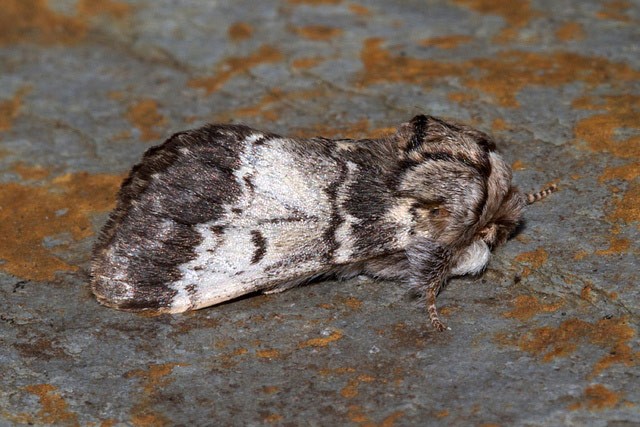 Extreme two-toned Lunar Marbled Brown, Worcestershire (Photo: Roger Wasley).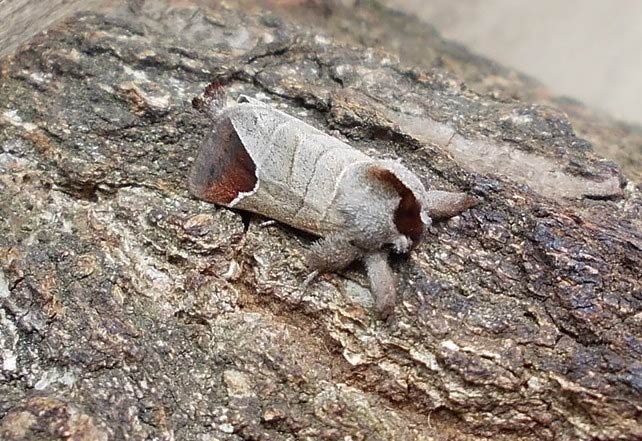 Chocolate-tip, Worcestershire (Photo: Steve Whitehouse)
A few more days of warmer weather saw a dramatic increase in the number of species recorded, and with an increased effort on the 7th up to an impressive 50 were seen. Extra notables included Seraphim, Yellow-barred Brindle, Scorched Carpet and Grey Birch, together with no fewer than six species of Prominent.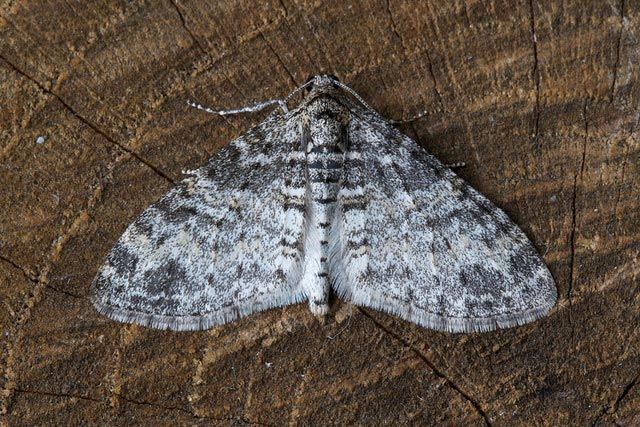 Seraphim, Worcestershire (Photo: Roger Wasley).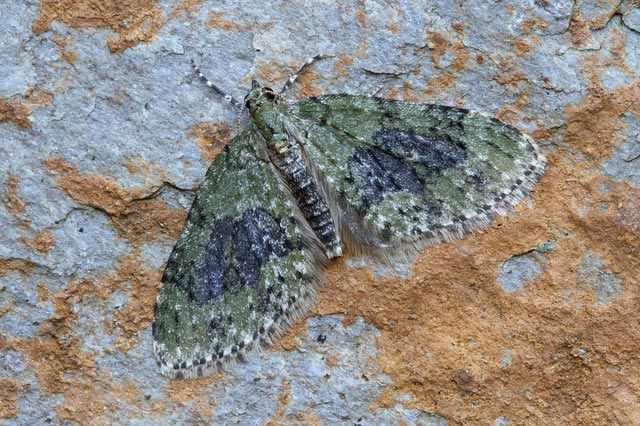 Yellow-barred Brindle, Worcestershire (Photo: Roger Wasley).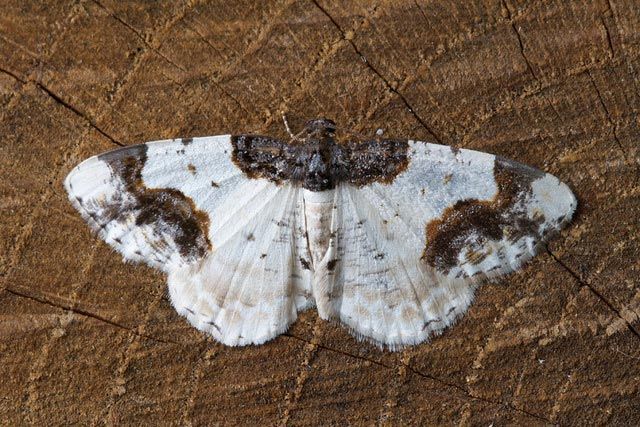 Scorched Carpet, Worcestershire (Photo: Roger Wasley).
Some attractive micros included Agonopterix ocellana (701) and Ancylis badiana (1126):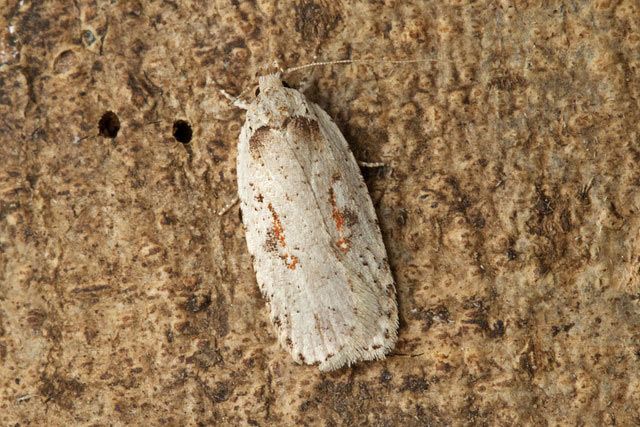 Agonopterix ocellana, Worcestershire, (Photo: Roger Wasley).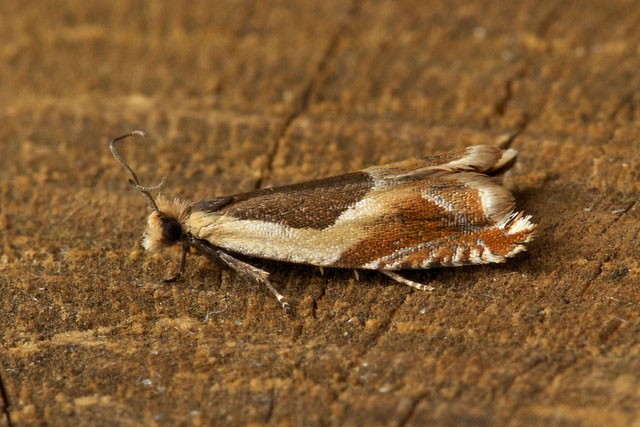 Ancylis badiana, Worcestershire (Photo: Roger Wasley).
The Suffolk Moth Group's first wetland event of the year was to Beccles Marsh on 10th May. Employing dusking nets, an MV lamp over a white sheet and eight traps, the calm conditions allowed 35 species to be identified including Water Carpet, Waved Umber, Sallow Kitten and Reed Dagger.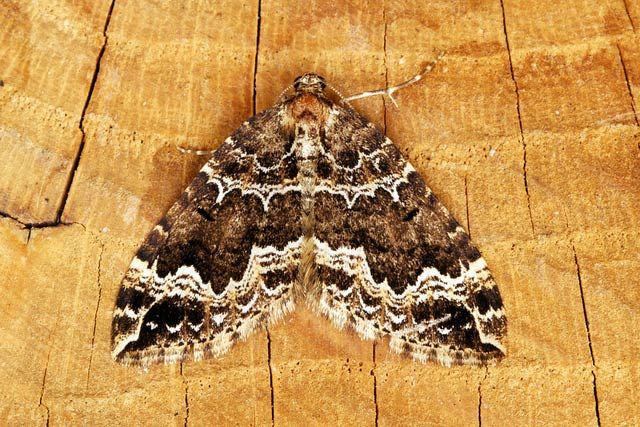 Water Carpet (Photo: Roger Wasley).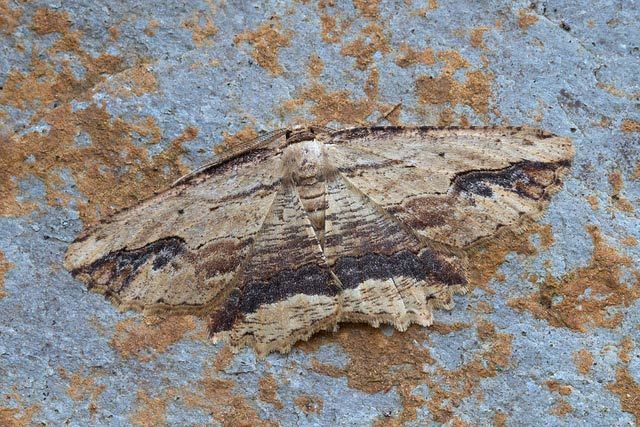 Waved Umber (Photo: Roger Wasley).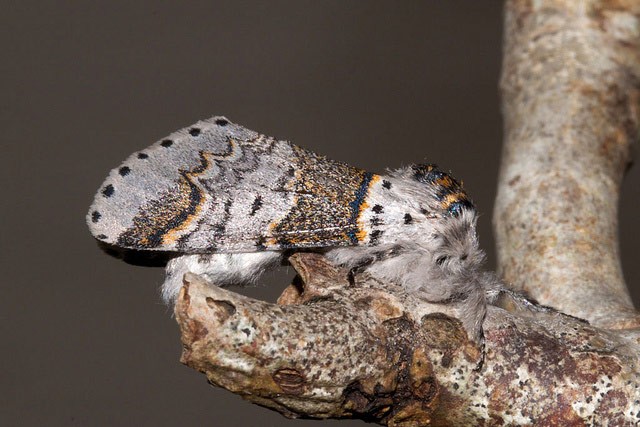 Sallow Kitten (Photo: Roger Wasley).
Moth events are organised by the Friends of the Camel Trail to highlight the diversity of species along the 18-mile trail that runs alongside the River Camel and its estuary in Cornwall. Derek Julian was among those present on 11th May and 15 species were recorded. Highlights were Square Spot, Least Black Arches, Nut-tree Tussock, and Great and Swallow Prominent.

Square Spot, Polbrock (Cornwall), May 2013 (Photo: Derek Julian).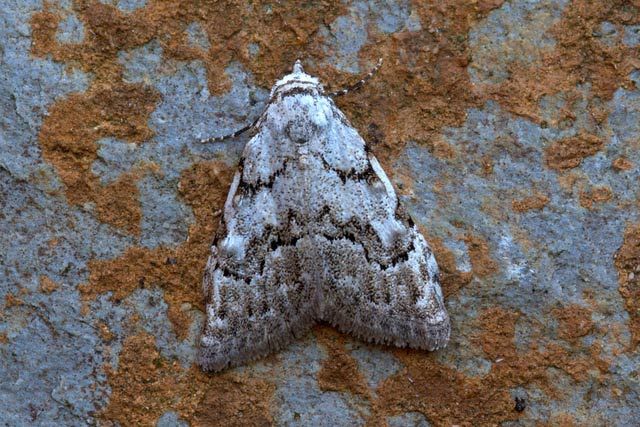 Least Black Arches, Worcestershire (Photo: Roger Wasley).
The message from this mere handful of field forays is that if we make an effort to visit our nature reserves, SSSIs and protected habitats this year we may see a much better selection of moth species than if we stay in our gardens, cursing the elements. Useful additional survey work at sites that may not normally be carried out is possible, and no doubt county recorders will warmly welcome the extra data produced — particularly if it helps to give a better overall impression of the state of some under-recorded rural areas. These major habitats remain an important 'reservoir' for most species and in time populations can recover from here and hopefully move back into our gardens. Indeed by the end of the third week of May, reported catches just started to pick up a little — perhaps the spring famine is nearing its end.
References
Townsend and Lewington. Field Guide to the Moths of Great Britain and Ireland. Revised edition, British Wildlife Publishing, 2009.
Sterling, Parsons and Lewington. Field Guide to the Micro Moths of Great Britain and Ireland. British Wildlife Publishing, 2012.
UK Moths online photographic guide
*The numbers stated after a number of micro moth species in the text are the British Checklist Species numbers as assigned by J. D. Bradley in the Log Book of British Lepidoptera (2000).