Early September can occupy a liminal space in the yearly mothing calendar, as summer species fade out and the first flush of autumn moths begin to decorate egg trays with the browns and oranges of the changing seasons. It is, though, a time of year when the potential for migrants is good, and this year was no different. Indeed, the month got off to a flying start, with strong winds from northern Spain and southern France bringing a good arrival of migrants to the far west. The best of these was a Boathouse Gem to light at Tramore, Co Wexford, on the night of 2nd, the first Irish record of this handsome Plusia. This follows one at Littlehampton, West Sussex, in July this year, and the first at Church Cove, Cornwall, in 2014. Impressively, the latter site also scored highly on 2nd, with an Oleander Hawkmoth relegating two Scar Bank Gems to also-rans. Scar Bank Gem was one of last month's headline moths, as was Slender Burnished Brass, which also arrived again at the start of September on Scilly at Porth Mellon, St Mary's, on 1st, alongside an impressive inland record at Stevenage, Hertfordshire, on 3rd.

Slender Burnished Brass, Stevenage, Hertfordshire (Ben Sale).
The next big period of migrant activity came in the days following the 14th, as warm air swept up from the south-west once more. Perhaps the most notable feature of this period were the large numbers of Vestal in the west, with many finding their way into light traps, and others flushed from coastal grassland by day. An impressive 82 came to light at Lizard, Cornwall, on 16th, with other good counts included 19 – an island record – on Skokholm, Pembs, on 15th, and 14 and 12 to light at Callestick, Cornwall, on 16th and 17th respectively. The impressive scale of this arrival meant Vestals penetrated north into new areas, being recorded new to Caithness in Scotland, and in the Irish counties of Galway, Laois and Sligo during this period.

Vestals, Callestick, Cornwall (Tony Wilson).
The warm air also bought rarer species, including Antigastra catalaunalis (Prawle Point, Devon, on 14th), Loxostege sticticalis (Polgigga, Cornwall, and Red Strand, Co Cork, on 15th), Slender Burnished Brass (St Erth, Cornwall, and Longstone, St Mary's, Scilly, on 15th, with another in Cornwall the following day), and Crimson Speckled (Bantry, Co Cork, on 16th). Perhaps the other notable migrant feature of this period was the stunning and rare pyralid Uresiphita gilvata, recorded on Scilly at Longstone, St Mary's, and Brownston Head, Co Waterford, on 15th, as well as Dunbeacon, Co Cork, and Lizard, Cornwall, on 17th.

Crimson Speckled, Bantry, Cork (Clare Heardman (NPWS)).
These two spells also brought a good scatter of commoner migrants, which continued to trickle in throughout the month. The offspring of the August flush of Death's-head Hawkmoth larvae began to appear from the start of the month, getting as far north as Doncaster, South Yorkshire, on 10th, while an unusual record was one found on a fishing boat leaving harbour at Looe, Cornwall, on 17th, which, thankfully, was safely returned to shore! Not to be outdone, several Convolvulus Hawkmoths pulled their now-famous trick of roosting among people's laundry, with records on social media on hanging washing from Suffolk (two), Leicestershire, Co Tipperary and Kent in a generally busy month for the species, which saw records from across the south and a number penetrating further north, including to Papa Westray, Orkney, on 20th. Several magnificent larvae were also found, including on Bryher, Scilly, on 19th and in Leicestershire on 23rd.

Death's-head Hawkmoth, Prawle Point, Devon (Jack Oughton).

Convolvulus Hawkmoth, Wrentham, Suffolk (Antony Wren).
As well as the expected trickle of commoner species – most notably Palpita vitrealis, Scarce Bordered Straw, Delicate and Dark Sword Grass (with a few Bordered Straw, Gem and Small Mottled Willow as well as Cosmopolitan and White-speck in the west), there was a nice selection of slightly rarer migrants throughout the month. After August's record numbers, a few Beautiful Marbled were recorded again, mainly along the south and east coasts, but also making it inland to Garsington, Oxfordshire, on 16th, and Steeple Langford, Wiltshire, on 22nd – the first and second county records respectively.
Other highlights included a Great Brocade at Lund, East Yorkshire, on 3rd, and another Crimson Speckled by day at Longstone, St Mary's, Scilly, on 6th, as well as a Small Marbled (Portland, Dorset, on 16th), Zelleria oleastrella (Whitstable, Kent, on 16th), and Tuta absoluta (Portland, Dorset, on 15th, and a likely introduction on the Isle of Wight on 20th). A Dotted Rustic at Penlee Point on 9th was new to Cornwall and probably came from the continent, as did a good scattering of the stunning green prasinaria form of Barred Red (recorded from Suffolk, Sussex (two) and Kent).

Barred Red (prasinaria form), Boyton, Suffolk (Gary Lowe).
Of less certain origin were three records of Duponchelia fovealis in September – at Clevedon, Somerset, on 5th, Banstead, Surrey, on 17th, and Bidford, Warks, on 15th, while other notable species usually considered adventives included Thaumatotibia leucotreta (trapped at Weston Super-Mare, Somerset, on 15th) and a Mung Moth in Cardiff on 3rd, which was new to Wales. The stunning Cydia interscindana was also thought to be an adventive when first caught in Surrey in 2016 but now seems well-established and expanding in the area, with the first for Berkshire in Reading on 14th and Essex on 28th, as well as another in Sunbury, Surrey, on 15th (the second at this location in 2020).

Duponchelia fovealis, Clevedon, Somerset (Paul Chapman).

Cydia interscindana, undisclosed site, Essex (Bill Crooks).
A few Sombre Brocades were also recorded in the south-west, likely a mixture of migrants (e.g. at Prawle Point, Devon, on 22nd and Longstone, St Mary's on 20th (a new species to Scilly), and locally bred specimens from some tenuous south coast colonies (at Abbotsbury, Portland, and Durlston CP, Dorset).
Radford's Flame Shoulder seems to have a foothold in a similar area, with seven in the observatory traps on Portland through the month, following six through the month of August. Otherwise, records were scattered along the south coast, with the third for Somerset caught in Clevedon on 14th, during a week that also featured Dark Crimson Underwing and Clifden Nonpareil at the same site. The latter continued to push north throughout the month, with the first for North Wales at Pensychnant, Conwy, on 7th, and records also coming from Yorkshire, Staffordshire, Derbyshire and Shropshire. Particularly impressive were five to light at Bagley Woods, Oxfordshire, on 3rd, while with pleasing circularity, the moth also returned to its namesake – Cliveden, Buckinghamshire, on 26th, when an adult was found resting on a Beech trunk, nearly 300 years since the first UK record there that gave the moth its name.

Clifden Nonpareil, Helpston, Cambridgeshire (Josh Jones).
Catocala species are long-lived moths, and so small numbers of increasingly worn Dark Crimson Underwings continued to feature across the south, following the flush of colonists in July and August. Similarly, Rosy Underwing was again recorded in Dorset (near Corfe Castle on 6th) and at St German's, Cornwall, on 7th, where it was new to VC2.
Content continues after advertisements

Rosy Underwing, St German's, Cornwall (Leon Truscott).
Other moths on the march in September included L-album Wainscot (including a Buckinghamshire first at Hawridge on 22nd and a second for Yorkshire at Easington on 23rd), Devon Carpet (new to Fife and West Perthshire), Clancy's Rustic (now well-established in parts of the south and east, but the month brought the second for Bedfordshire as well as a Berkshire record), and Oak Rustic (new to Hertfordshire at Ware on 22nd).
Ancylosis oblitella also made it inland to Hertfordshire on 16th (at Hexton Chalk Pit) and Kempston, Bedfordshire, on the same night. This variable pyralid seems to be doing well in its coastal strongholds, and turning up more frequently inland. Similarly, Scrobipalpa ocellatella, typically thought of as a saltmarsh species, showed signs of expansion (or indeed immigration) and turned up in good numbers well away from the coast in Suffolk and Essex mid-month, including two in Bedfordshire (new to the county, but awaiting dissection).

Ancylosis oblitella, Hexton Chalk Pit, Hertfordshire (Ben Sale).
Away from the excitement of migrants and colonists, many recorders reported generally poor returns from trapping in September, with some cool nights and small catches. Nevertheless, some resident species appeared to have a good year. Heath Rustic, although prone to wandering normally, seemed to turn up in many gardens away from heather. Particularly lost were ones at Longstone, St Mary's (new to Scilly), and Garsington, Oxfordshire, on 19th, as well as Abbotsbury and Portland, Dorset, on 15th and 20th. There were also some impressive counts – for example of 112 at Ravenscar Moor, North Yorks, on 15th. Other species mentioned in dispatches for a good September included Dusky Thorn, Centre-barred Sallow, Feathered Brindle (with some good catches in Dorset), and Autumnal Rustic (seemingly having a better year in Essex and Hertfordshire).

Autumnal Rustic, Maesteg, Glamorgan (Paul Parsons).
Of our rarer residents, it seems to have been a good year for Fisher's Estuarine Moth, with licensed surveys finding excellent numbers at established sites in Essex (for example a record 42 at Beaumont Quay on 19th, and an impressive 129 at Skipper Island on 29th). Encouragingly, it also seems to have colonised some new sites in the county where Hog's Fennel has been specially planted, and its wanderings also brought it well inland to several sites during the month. Other good discoveries of rare breeders included a new Gloucestershire site for Campanula Pug at Lineover Woods (with larvae found on 14th), and confirmation that Blair's Wainscot is holding on at Afton Marsh, Isle of Wight, with one caught there on 28th.

Fisher's Estuarine Moth, undisclosed site, Kent (Josie Hewitt).
By September, the leaf-mining season is really hitting its stride, and several species expanding their range turned up in new areas. Phyllonorycter pastorella was a county first in Bedford at the start of the month, as was Phyllocnistis saligna in Whitegate, Cheshire, on 19th – having been new to Yorkshire last year. Similarly, the continued expansion of Lyonetia prunifoliella was charted by its mines, found at new sites in Buckinghamshire, Norfolk and Bedfordshire during the month. The same was true for Phyllonorycter sagitella whose distinctive mines on Aspen were also found in new areas in Cambridgeshire, Gloucestershire and Kent.
Perhaps unsurprisingly, after a year of very variable weather, there were also several records of moths displaying weird phenology in September. What was presumably a second-brood Blotched Emerald was caught at Axmansford, Hampshire, on 23rd, while there were two intriguingly late clearwing records – a Red-tipped Clearwing photographed at Bedfont Lakes, London, on 18th, and two Yellow-legged Clearwings to a lure in Essex on 15th. At the other end of the spectrum, a ridiculously early Spring Usher was caught at Mirams Copse, Berkshire, on 12th, alongside an early Mottled Umber (which was also noted at Cheadle Hulme, Cheshire, on 11th, and in Gloucestershire on 26th).

Yellow-legged Clearwings, undisclosed site, Essex (Bill Crooks).
Butterflies
Like the moths, butterflies also showed some unusual extra broods in September, most notably a second-brood Pearl-bordered Fritillary at Abbot's Wood, East Sussex, on 29th, while last month's Heath Fritillaries in the Blean Woods complex continued, with fresh adults still appearing mid-month. A couple of second-brood White Admirals were also noted, including at Hazeleigh Wood, Essex, on 15th and Liss Forest, Hampshire, on 11th, while perhaps more expected were the now-usual third-brood showings of the common lycaenids, with Common Blue seemingly enjoying a particularly good end to the season, with many hundreds of the species reported at some sites in the south.
The headline butterfly in September, though, was another species of blue – Long-tailed Blues drew large crowds to Whitehawk Hill in Brighton, East Sussex, for much of the month. The first fresh Sussex-born specimens were noted rather early, at the end of the first week of the month, with at least one flying alongside five more worn primary immigrants on 6th. Emergence continued in the ensuing hot spell, ceasing when temperatures began to fall around 22nd, with adults continuing to be seen right up to the end of the month.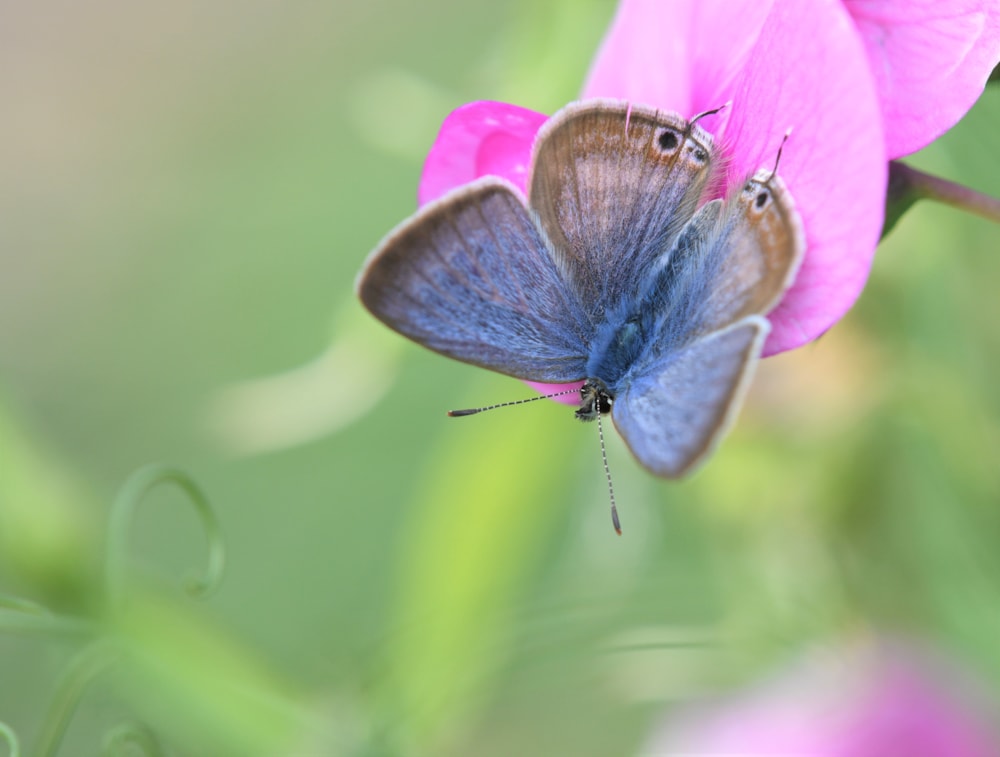 Long-tailed Blue, Brighton, East Sussex (Tim Squire).
At their peak, numbers on site exceeded 20 individuals, with several pairings seen, but no subsequent egg-laying as females were instead seen nectaring frantically and then disappearing from the site, usually before midday (likely heading back south), leaving just a diminishing number of increasingly worn and sexually-frustrated males on territory. The full story of this fantastic emergence can be seen and beautifully illustrated on Neil Hulme's UK Butterflies blog here.

Long-tailed Blues, Brighton, East Sussex (Neil Hulme).
Away from Whitehawk Hill, there were plenty of other Long-tailed Blue sightings, with fresh adults also emerging at Kingsdown Leas, Kent, and seemingly at Seaton, Devon – both sites that hosted primary immigrants last year, and did so again this year. Sussex took the bulk of the rest of the sightings (with records from at least nine sites, several with repeats and multiples), but others were in Suffolk (at Trimley St Martin on 4th), and in Kent away from Kingsdown at Minnis Bay on 10th.
Other notable immigrants during the month included a couple of Queen of Spain Fritillaries in Kent – near St Margaret's at Cliffe on 19th, and at South Foreland on 22nd. Although Southern Small White remained stubbornly absent from the scorecard, it did demonstrate its ocean-crossing credentials when one was sighted in the Wadden Islands, 25 km north of the Dutch mainland, giving fresh hope that a new British species might well appear in the not-too-distant future.

Queen of Spain Fritillary, St Margaret's at Cliffe, Kent (Ian Hadingham).