While a large number British and Irish birders were revelling in one of the best birding autumns of all time in October 2016, I endured what can only be described as an absolute nightmare on St Agnes. It was certainly the October I've been dreading for a long time. From being first in line at the Loop Head Canada Warbler in 2006 to landing on Fair Isle the day before a Magnolia Warbler arrived in 2012; leaving Fair Isle in time to see the Cape May Warbler in 2013; to living on Scilly during the magnificent autumn of 2011 and so on, I've been fortunate enough to have been in the right place at the right time to have enjoyed a magnificent run of headline birds most Octobers since I first started writing for BirdGuides back in 2003.
However, since I told you about the Cliff Swallow on St Mary's in early September I've experienced one of the darkest, most miserable periods of my entire birding career.
Everyone knows that Scilly isn't what it used to be in October. I shan't try to dissect the reasons why here — all I can say is I have tried to keep my faith in the place for a number of reasons, not all necessarily bird-related. The archipelago has had some pretty poor autumns over the past ten years — except for that extraordinarily satisfying autumn of 2011 — and I'm sure it will shine again. But not in 2016 — and I probably suffered more than most.
Now this is going to seem really petty to anyone who longs to find their own birds and would gladly swap places with me on St Agnes, but the trouble is I set myself up to become a victim of my own 'success' (for want of a better word). I mentioned at the end of my Cliff Swallow account that I'd set my sights on finding a 'less than ten' for Britain and Ireland, so, although I stumbled across Short-toed Lark, Citrine Wagtail and Lesser Yellowlegs on my patch over the course of the following two or three weeks, I wasn't as satisfied as I ought to have been. It was, after all, the fourth Lesser Yellowlegs I've come across here and, as beautiful as it was, they have become something of an annual event for me here on Scilly. Similarly, the lark and wagtail are expected passage migrants here rather than genuinely rare birds.
Besides, this early to mid-September period is always just an appetizer in my mind — a build-up to the real essence of the autumn that begins, as I see it, around 21 September. As we approached that magical period, the weather synopsis on the charts this year looked very, very promising for St Agnes. Thought to be related to La Niña, the North Atlantic was witnessing the beginning of some very active storm systems whipping across the ocean. Though not yet able to pierce the protective carapace that the typical late-summer Azores High exerts over north-west Europe, the repeated jabs of these fast-moving low pressure systems seemed destined to bring the high to its knees and to return Scilly to the halcyon days of the 1980s.
By the last week of September, everything was set up perfectly. Low pressures and their associated sweeping cold and warm fronts were dominating the charts. One morning I found myself standing in a narrow, secluded footpath at Covean, wondering how we'd fit a thousand birders in to see a Chestnut-sided Warbler and at the same time, I started making loud noises online, beating the war drums for Scilly and making bold public predictions about the mouth-watering delicacies to blow our way this forthcoming season. Mind you, I was also having to remind myself that westerly winds bring few common migrants; and I was having to prepare mentally for some long, birdless hours in between the expected megas. I was ready to sell my soul to the devil and make a Faustian pact in return for one gigantic, once-in-a-lifetime, self-find and two absolute monsters to be found by others, either here or on St Mary's. Three 'great' birds. Yes, that would do nicely ...
The Lesser Yellowlegs had been stationed on the Big Pool for a fortnight and at the start of the last week of September a mate of mine, Rob Stonehouse, came over from St Mary's to see it. The first cold front from the west had passed over us in the wee small hours. Having spent some time with the 'legs, we were standing just around the corner from Mike Young-Powell when he texted us to say he'd just this second found a Red-eyed Vireo at the Parsonage. 'Wow, that was quick,' I thought; the front had passed barely half a dozen hours ago!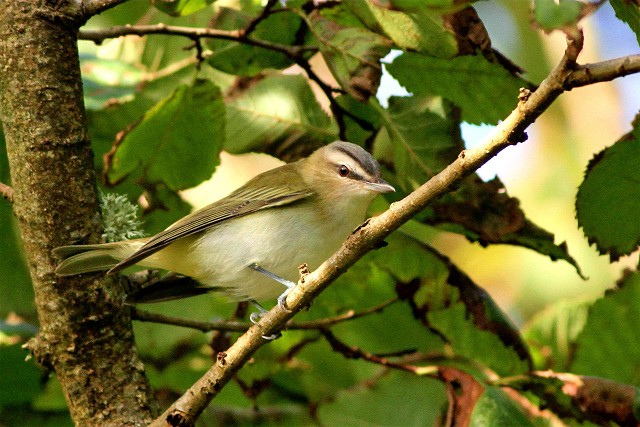 Mike Young-Powell's early Red-eyed Vireo gave false promise that it was to be a 'Yank year' (Photo: Rob Stonehouse)
Within a minute Rob and I were standing next to Mike and his wife Kathy. I gave a quick pish and, instantaneously, a fabulous Red-eyed Vireo jumped into view and examined us quizzically for twenty seconds or so. As it flew off to the back of the Parsonage we were almost certain an identical bird had flown with it and I (at least) searched in the afternoon pretty convinced there were two vireos in the area. It took until the following morning to confirm the fact, eliciting the question where and when had they met. What a moment, and what a start to what was surely all set to become one of the all-time great years on Scilly ...
... or so it seemed at the time. How could it not be after all those wavy patterns stretching across the Atlantic, all the way to Newfoundland? Another front, a warm one this time, was due in 48 hours, and even though nothing new appeared immediately in its wake, that was okay: surely the weather would have more in store for us. Let's have another look ....
I stared in disbelief at the screen. One minute, isobars all over the Atlantic, next minute it looks as flat as an ironing board. Where had the winds gone for the first of October? Suddenly, ominously, the realization dawned that the prospects were adjusting to winds from the east. Now, I've always been telling visiting friends in October that I'd sooner have easterlies on Scilly any day of the year since grounded migrants from the mainland and the Continent are guaranteed much more numerous and easier to find than in westerlies. But now I wasn't so sure. My experience the previous autumn had been that a fortnight of easterly winds and blue skies had delivered practically nothing to Scilly, little more than a handful of Yellow-broweds, and the odd Black Redstart and Firecrest at best.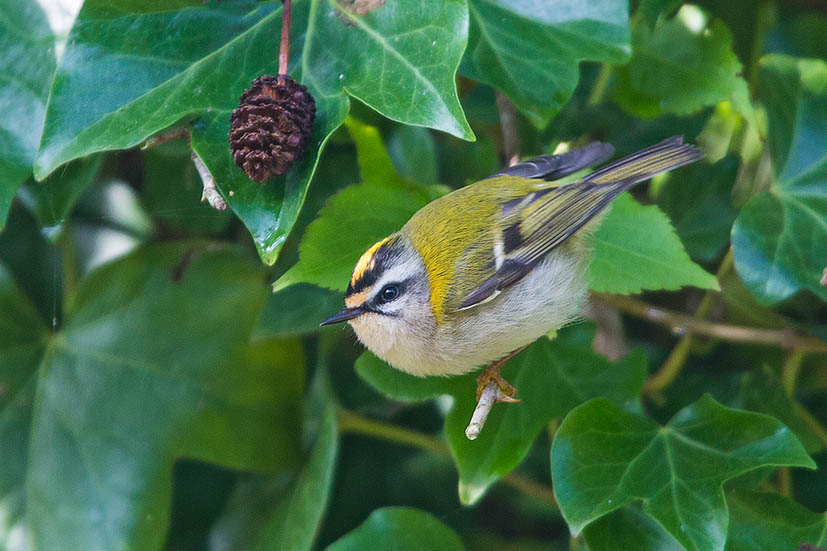 As beautiful as they are, Firecrests nonetheless leave the Scilly rarity finder unsatisfied (Photo: Ron Marshall)
Over the coming days, the winds did indeed shift gradually to the east, right across the country. Rare birds duly arrived on the east coast and in the Northern Isles, just as expected. I wasn't too worried at first. I'm genuinely glad when others are seeing good birds; it has to be accepted one can't be everywhere and have all the luck all of the time. I could vicariously enjoy — at least in the early stages of the 'fall' — some of the outstanding rarities. It's common knowledge (is it not?) that Scilly and the South-West will always receive some of these grounded east-coast migrants three or four days later. For now I could look at some of the photographs and listen to the tales from elsewhere.
But it was starting to get a little worrying. Memories of recent years (not just last year's) Indian summers on Scilly loomed as déjà vu. "Lovely day for birdwatching," the islanders would say and you'd try to somehow keep a smile through gritted teeth.
Unlike 2015, in 2016 there was the occasional shift of wind from north-east to south-east, then due east, and there were hints of a little cloud cover, but crucially, no rain! As the first Siberian Accentors began to be picked up in Western Europe, I began to peep at the BirdGuides website tentatively through gaps in my fingers covering my face. 'They'll NEVER get here,' I predicted.
But then they did.
Day after day passed on Scilly with nothing of any interest happening for me. OK, there was the first Caspian Tern and the first Caspian Gull for Scilly within a couple of days of each other but these were not October events in my book. They did nothing to dispel the creeping misery of living under high pressure and clear skies for two weeks that were in danger of turning into three weeks. At another time of year, I might have been happy to have received them, but not in October. If anything, they just added to the misery. A definitive Eastern Yellow Wagtail on St Mary's gave me something to look at for an hour or so, but it was nothing compared to the headlines coming in from elsewhere. Three, four, five Siberian Accentors, one of them within five miles of where I was brought up in north-east England, Pine and Black-faced Buntings, Eastern Crowned and Two-barred Greenish Warblers, Siberian and White's Thrushes etc. 'PLEASE, WORLD, GIVE ME SOMETHING TO LOOK AT. Something to alleviate this pain,' I mused.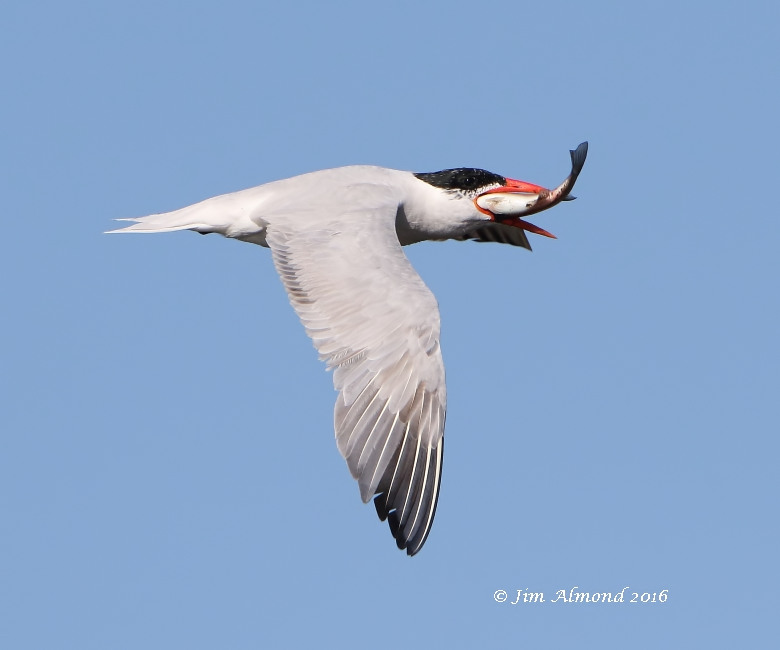 Scilly's first Caspian Tern was a pleasant surprise, albeit not a species birders travel to the islands for in autumn (Photo: Jim Almond)
There was no question of me leaving Scilly to chase accentors — I don't go that far for birds any more. I'd chosen to nail my flag to Scilly's mast and here was where I was staying. Some optimists were still saying "we'll get one soon"... but the longer it went on, the more days that passed, the less likely it began to seem. I was aware that not only was there a high pressure across the middle of the UK, but there was also a light north-westerly airflow across the central part of the country — a tail wind that I was sure was taking birds away from the south-west corner.
I was digging myself deeper and deeper into a hole, becoming more and more churlish and sulky as the days went on. At times like this I don't know whether to feel sorrier for the visitors who come for a fortnight, or for myself who has to put up with it for a whole month. I had set my sights so high this year I could find no solace in anything as mundane as a Yellow-browed Warbler or Red-breasted Flycatcher. There was no active visible migration at all: no Meadow Pipits; no Skylarks. The Cliff Swallow seemed a million years ago.
And then came the absolute nadir — the breaking point, a shattering moment that I still haven't recovered from, and presumably never will.
It is extremely hard to keep birding in a small place when there have been barely any changes in three weeks. It's a condition Albert Einstein might have been talking about when he stated that "the definition of madness is to keep doing the same thing over and over expecting different results." Nevertheless I still can't stop myself waking up at five o'clock in the morning in October, often mostly to catch up on Internet bird news from elsewhere. On this particular morning I woke and looked out at the pre-dawn sky, illuminated like a floodlit football pitch by a million shiny bright stars. In another time and place and in a different mood, it might have been a magical sight. "Another October day with no birds coming up," I growled to myself. I'd been pretty much right every single day for the past three weeks so why should today be any different? I took no pleasure whatsoever in being right all the time. I had become a bore to myself let alone anyone else. In the half-light, I walked down the hill past the school and the lighthouse, feeling the slight chill of the easterly breeze that had now become my enemy where once it had been my friend. A cursory stomp round the island barely lifting my binoculars then followed for an hour or so, before I returned indoors to sulk. I hadn't even noticed that a male Mandarin Duck had arrived among the half-dozen domestic ducks on the Big Pool, nor would I have cared if I had. "Looks like there might be a couple more Goldcrests in this morning," said one fellow, as I dragged myself out for another excruciating hour in the field, receiving a shrug of indifference in return for his observation.
Around mid-morning I got a text from St Mary's asking whether the Mandarin was still present. Someone's really grasping at straws, I thought. I headed back indoors and switched off my phone before I was tempted to offer up something rudely sarcastic in reply. I lay down on the couch with the curtains closed and the door firmly shut for an hour and tried to switch off my thoughts too. The phone needed charging anyway so I left it to itself for another half-hour. When I switched it back on again the first thirty seconds were filled with the sound of multiple messages tumbling over each other to grab my attention ... "ring me NOW" texted Laurence Pitcher ... "WHERE ARE YOU, I think there's a dead Arctic Warbler on the table outside our house" ... "Lee's just found a Bluetail ... "SERIOUSLY GRAHAM, RING ME ASAP, dead ARCTIC WARBLER" ... "What's this about probable PLLW?".
My head was swimming. I barely had time to contemplate this dump of information when the phone rang and Dave Grundy confirmed that the 'dead Arctic Warbler' had been identified as a probable Pale-legged Leaf Warbler! I stumbled out into the bright sunshine to be confronted by a crowd of 40 birders looking for the Bluetail next to my garden. A Red-flanked Bluetail, found by one of my best friends, a wonderful moment, but I had other things on my mind ....
Some contextual information here as a digression before I go any further, just to give some background as to why I took what was happening so personally. I first encountered Pale-legged Leaf Warbler 30 years ago, on my very first overseas trip to Thailand with Pete Morris and Alan Lewis. It was my first taste of forest birding and it had proven to be a challenging experience. At times, hours could pass without seeing a single bird of note, or in fact any birds at all. Since a big chunk of the trip had been for me to familiarize myself with Eastern Phylloscopus warblers, I have particularly fond memories of at least three or four occasions when a Pale-legged Leaf would entertain me, low down in the forest litter, after maybe an hour or two of not seeing a single bird. As I recall, they were not illustrated in Ben King's Birds of South East Asia (or if they were they were perhaps in black-and-white) so I guess I was there at that early stage when what they actually looked like was not terribly well known. I still have the original fieldnotes at my disposal.
On my second visit to Thailand, in 1991, I encountered them in more secondary habitat at Khao Sam Roi Yot — in dappled sunlight, I felt some initial confusion when I realized they were green-olive birds above, not the brownish, rather Dusky Warbler-coloured birds I had first seen deep inside the dark forest of Khao Yai. It's possible these latter birds were the recently described Sakhalin Leaf Warbler but, since the two are to all intents indistinguishable in the field, I'm not going to dwell on that. In 2011 I took a trip down memory lane and revisited Khao Yai National Park. As I was walking along the entrance road, despite the twenty-year gap and despite the sound of passing traffic, I was pretty sure I recognized the distinctive, high-pitched 'tink' call note of Pale-legged Leaf Warbler coming from just inside the forest. There, after a few minutes' investigation, I was delighted to find my old friend hopping about in the leaf litter, just as I remembered from my first visit.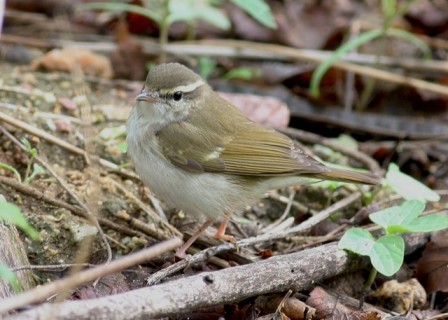 Pale-legged Leaf Warbler, China (Photo: R Mcintyre)
With such an ardent, deeply entrenched fascination with Eastern Phylloscs, news of the Pale-legged/Sakhalin Leaf Warbler at Portland Bill in 2012 fired my imagination like very few other 'firsts' for Britain in the past 20–25 years. In summer 2016 I'd had occasion to revisit this amazing record, and I stared again for another hour with something akin to dreamy disbelief at the photos on my computer screen. Not content with that mesmerizing focus, I'd copied them, and used one of them as a screensaver for the best part of a month so I could be reminded of the bird every time I opened up my laptop.
Bearing this in mind, and all the foregoing state of birding numbness I had sunken into, I ask you to try to imagine how I felt when I came around the corner of my friends' holiday cottage and first clapped eyes on what for me was immediately apparent was a dead Pale-legged Leaf Warbler, lying on the table outside. Of course, the name had already been put into my head, yet any lingering possibility that someone could have mistaken it was soon dispelled when I saw the dark crown above the supercilium (contrasting with a beautiful olive-green mantle), one off-white and one slight rusty-tinged wing-bar on either side, silky white underparts, and spindly little pale pinkish legs. I didn't need to see the wing formula — though Andy Holden was on hand to point out the long first primary that eliminated Arctic Warbler at a stroke. I sank to my knees and banged my head on the table deliberately a few times for good measure. A howl of anguish exited my throat and tears welled in the back of my eyes. What an injustice for this to have happened. The bird had been found two hours earlier, freshly dead, having flown into the conservatory window at the Lighthouse and been picked up by the lady of the house, Carol Hicks. I'm as certain as certain can be that the bird had arrived that morning, or at least overnight. Three bluetails had arrived on Scilly the same day. My friends thought back to a ground-feeding Phyllosc they'd seen briefly feeding amongst the runner beans in the Lighthouse garden the previous evening (though I hope I've re-assured them I'd seen a Siberian Chiffchaff doing the same thing in the same locality the day before).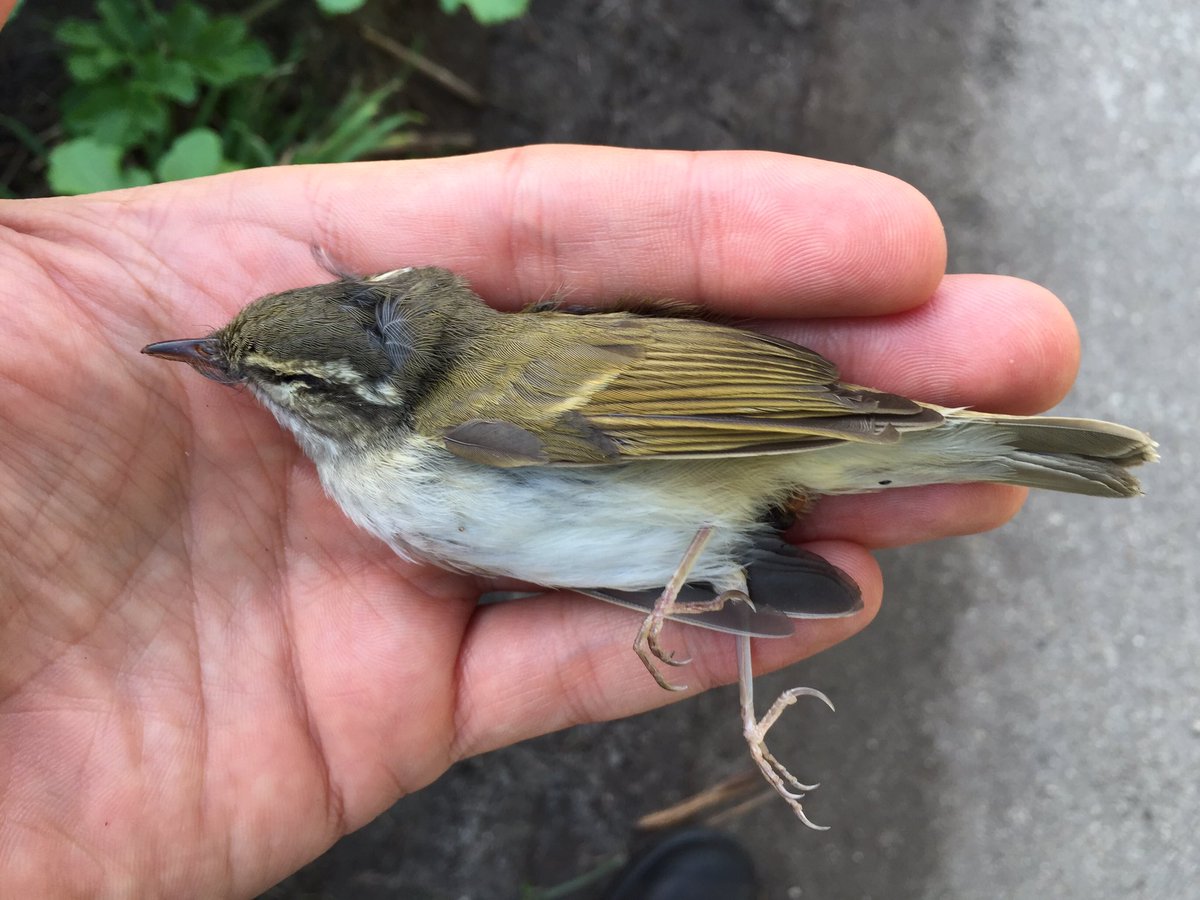 The St Agnes Pale-legged Leaf Warbler (Photo: Laurence Pitcher)
So how close had I been to a living, breathing Pale-legged Leaf Warbler as I'd walked down past the school in the semi-darkness under that ever so bright, star-spangled sky just a few hours before? What impression would it have given in the field? How quickly would its identity have dawned on me and how would the island have coped with a thousand twitchers? Would I have recognized the call had I heard it before seeing the bird, as I'd done subconsciously in Thailand five years before? The place where it was picked up was only a hundred yards away from where I'd come across Scilly's first White-throated Sparrow in 2010 — a bird I'd picked up on call very much in the back of my mind while not out actively birding.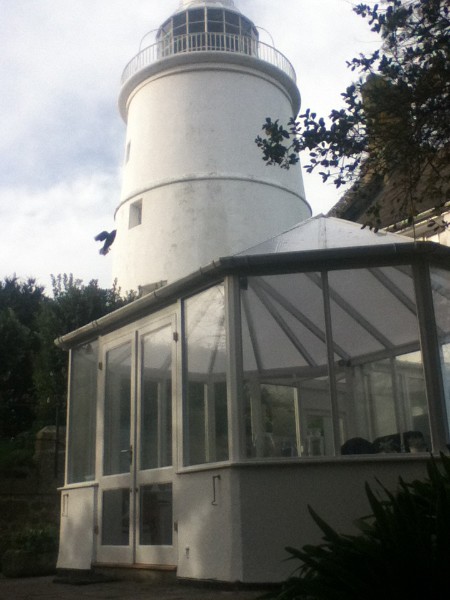 The conservatory where the Pale-legged Leaf Warbler met its end (Photo: Graham Gordon)
So many recriminations, so much speculation. It could have been one of the most outstanding moments of my entire birding 'career' if I had. I'll never know ... and that was one of the hardest things of all to accept, let alone that it would have helped in a massive way to assuage all that Siberian Accentor hysteria taking place 500 miles away.
On the other hand, there was still some modicum of black humour to be gained from the occurrence. We kept the bird in our fridge that night, showing interested parties its frail corpse periodically throughout the day. We even went to the trouble of holding a short funeral service for it, and I was asked to say a few token words before we held a minute's silence. Lee Amery had had the exhilaration of finding a bluetail on our patch just minutes before first hearing about the warbler and though it was quickly overshadowed by proceeding events, I managed to shift my depression to enjoy a moment's celebration and congratulation on seeing this, the sixth bluetail for Scilly since the first in 2008.
There was some renewed purpose to the birding next day as the thought that anything could happen was restored in our minds, although it didn't last long. While seeing folk off on the boat a ringtail harrier flew across the sound between us and Tresco — too distant to be a certain it was a Pallid but two chaps had seen it at point blank range and confirmed the ID. More bad luck, I guess, not that it really mattered after yesterday's crippling blow. A trip to St Mary's to see a couple of Olive-backed Pipits the following day was briefly brought to life by Mark Telfer finding a Dusky Thrush on Peninnis Head. Was this to be the moment of redemption in this despicable autumn? No. It had promptly disappeared after photos were taken. Another kick in the teeth while lying on the canvas, bloodied and beaten and scarred for life.
Days and days of easterly winds and sunshine persisted to the end of the month and I went through the motions, knowing in my heart of hearts it was never going to get any better. More Siberian Accentors turned up in north-east Scotland. We had a day with five, six or even seven OBPs across Scilly and a couple of Dusky Warblers, virtually impossible to see, turned up under broody grey skies. In any other year they might have been gratefully received but not in this. I felt so bad and so out of sync that even the Red-eyed Vireo I came across at the Parsonage on my way to the Post Office on the first day of November was little more than a footnote — a bird I've longed to self-find on other occasions but it was wasted on me at this moment right now. My apologies, what an ungrateful ass I am, it was lovely, it really was — the best thing being that of the seven of us who remained on St Agnes to see it, it was a new bird for three Scottish lads whose three-week holiday ended on a high — but it wasn't an Eastern Crowned Warbler and it wasn't a Pale-leg... well, you know the score by now.
There now, do I feel any better having got all that lot off my chest?
No. I can't say that I do.