Living on a small island off the south-west coast of Britain is, in general, a good thing, but there are certainly times when I crave a change of scene. August is a particularly difficult month for an island resident since one's home is visited by hundreds of holidaymaking tourists and, as a birder, the enjoyment of my hobby is frequently compromised by the disturbance that extra people pressure entails. So after four month's continuous residence on St Agnes without even a visit to St Mary's, the first weekend in September I planned to visit the Cornish mainland.
Seawatching off St Agnes in the summertime is a slow and often pointless affair. Horse Point, it seems, requires a very specific set of conditions involving wind direction and speed, sometimes as well as a swell created by a rising tide. On the rare occasions these conditions are satisfied, we can get some very close exciting moments with Cory's Shearwater, but deviate a few degrees from a south-westerly wind direction and seabird movement grinds to a stop. My visit to Cornwall was aimed to coincide with an approaching low pressure that was due to bring good wet south-westerlies on the Saturday and drier, blustery north-west on the Sunday. I hoped this would give me a chance to experience the thrill of seawatching for longer than St Agnes allowed, and to give me the chance to see things like petrels and skuas that we rarely encounter from the islands.
Porthgwarra on the Saturday morning wasn't bad — the high-cliff setting for one thing was dramatic for someone whose vision had become used to the gentle low-lying curves of Scilly. A few Cory's flew by, occasionally producing oohs and aahs from folk when they passed what was considered to be 'reasonably close'. I realised, not for the first time in recent years, how St Agnes completely fails to prepare me for the challenge of mainland seawatching. At Horse Point I lie back in the heather and scan the sea with bins, keeping my scope handy by my side to pick up the occasional more distant bird passing. More often than not the scope lies dormant. It's not uncommon to head out seawatching there in reasonably promising conditions and not see a single bird in the first 20 minutes, pack up and go home. On the mainland you're constantly on your scope (and mine's not good enough) and you have to get used to actually having some birds to identify — some, because of the higher vantage point giving you a more extended view of the sea, being rather distant. After a while I began to hanker for close Cory's off the Point and I got bored and suggested to my companion Andre Robinson that we go. A few hours later the Cory's got closer, so we heard, and a Fea's Petrel went past. I was still kicking myself a bit about that when I woke up the next morning.
Sunday wasn't much better. It was pretty disappointing, in fact. The change to more westerly winds (the strong northerly element the original forecast had indicated failed to appear) meant a change to Pendeen. But here the birds were just as distant as Porthgwarra and it was left to my imagination to think about what it might be like here on a really good day. In between our attempts at seawatching and dodging some pretty torrential rain, Andre and I managed to discover the Buff-breasted Sandpiper on Marazion Beach that became a popular attraction over the weekend. This happened on the Friday night and we sensed it would be the forerunner to a number of exciting birds found in Cornwall in the coming days, but in the end it proved to be the only one (Fea's apart). Meanwhile a Lesser Yellowlegs and a Buff-breasted Sandpiper had turned up on St Mary's and by the Sunday lunchtime I could already hear them calling me back home.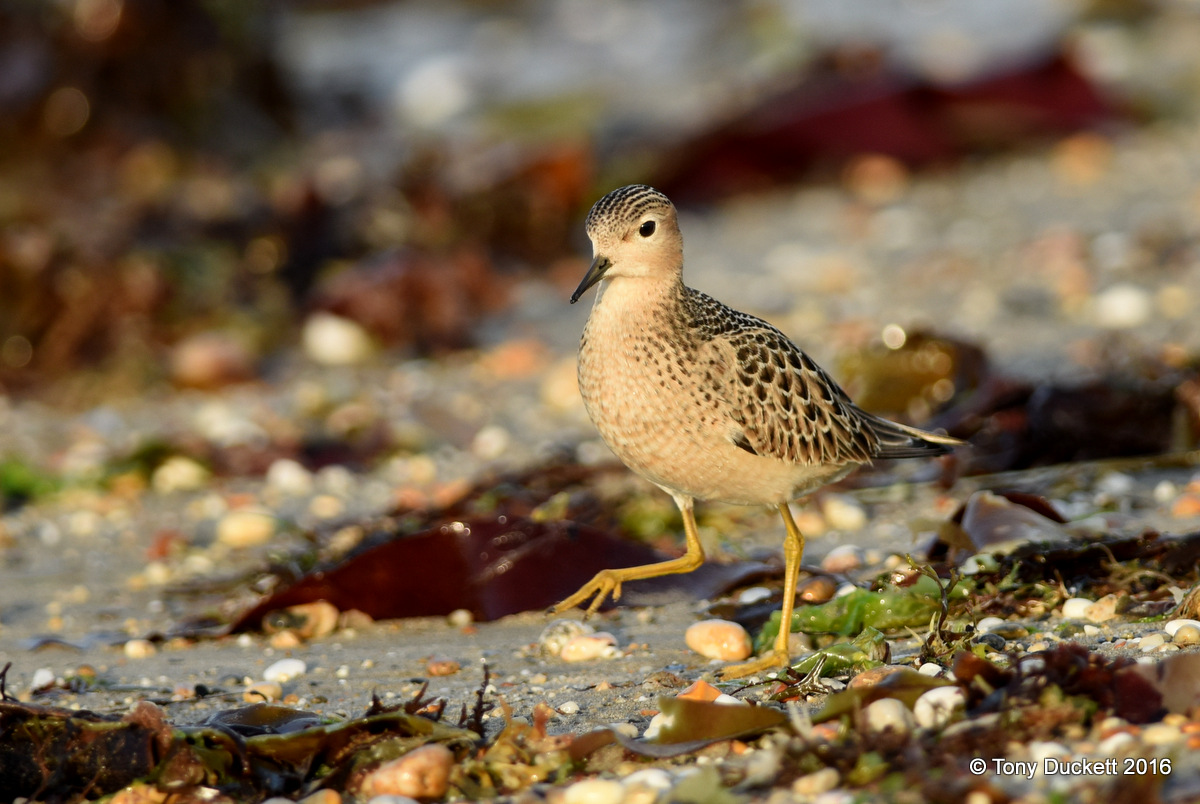 Graham and Andre enjoyed this confiding Buff-breasted Sandpiper at Marazion on 4 September (Photo: Tony Duckett)
I wasn't completely done with the sea yet, however. The Monday morning Scillonian crossing and a Sapphire pelagic back on St Mary's in the evening with Joe Pender represented two further very good chances of me enjoying an exciting seabird or two. But these didn't really satisfy the craving either. The boat crossing was especially quiet considering a few hundred Cory's had been seen in the area just 48 hours previously. The St Mary's pelagic was spoiled by mist, which meant the half-dozen Great Shearwaters that glanced by and the all-too-brief Wilson's Storm-petrel were seen poorly through foggy bins and no Sabine's Gulls or Fea's Petrels flew by to go ahead and make my day.
As birdwatching experiences go, watching American waders at close range in the UK is one of the best thrills I can imagine. I especially like Buff-breasted Sandpipers and Lesser Yellowlegs and it was great to go back to St Mary's and see another two of the former at close range on the Golf Course before setting up my tent on Porth Hellick Beach in the hope of connecting with the latter first thing on Tuesday morning.
I awoke much too early the following morning. I had an hour before the light came up and I spent it moving around uncomfortably, trying to keep warm and get the circulation going. Before it was feasibly possible to do so, I entered the first hide to try to spot the yellowlegs on silhouette, but failed. The juvenile Temminck's Stint that had been around for a week, and had even spent time on St Agnes, materialised in front of the hide half an hour after sunrise, and the Lesser Yellowlegs appeared out of nowhere another 30 minutes after that. Although it was still not much past 07:30, returning to St Agnes and picking up where I left off at work six days earlier was very much on my mind. I had a backpack with all my weekend camping gear that had to be lugged back to town, although this was temporarily stashed behind a pine on the Porth Hellick Loop Trail while I contemplated my next move.
I'd been aware that the charge on my phone had been running out the previous afternoon, and with nowhere to plug into at Porth Hellick I knew I was cutting it fine if any emergencies should ensue. I risked switching on my phone to see what the charge level was and suddenly it rang in my hand — Kris 'Spider' Webb wanting to know if I needed a lift into town before he started work. I tried to prolong the conversation a few minutes while I dithered in my decision. Was I about to give up too early? Because I'm a birder — and a former 80s twitcher — I know St Mary's much better than most lifelong St Agnes inhabitants, but I'm usually found chasing other people's birds on the big island because I never really know where to start looking for my own. I decided I might as well take the ride into town and just potter about on The Garrison till the midday boat took me home.
Content continues after advertisements
All of a sudden, I flung my phone to the floor, the better to grip my binoculars with both hands because subliminally: "I think I've just found a Cliff Swallow!"
The 'think' was redundant: I had just seen a Cliff Swallow's orange rump and square tail fly past me ten yards away with the naked eye, but the circumstances had given me no chance to take stock and let sink in the gravitas of what had just happened. By the time I'd had several confirmatory close fly-by views through binoculars, Kris was already down from the airport and was firing off his camera as the Cliff Swallow passed low over his head. The joy of having a second person see the bird within minutes of my announcing it was immeasurable.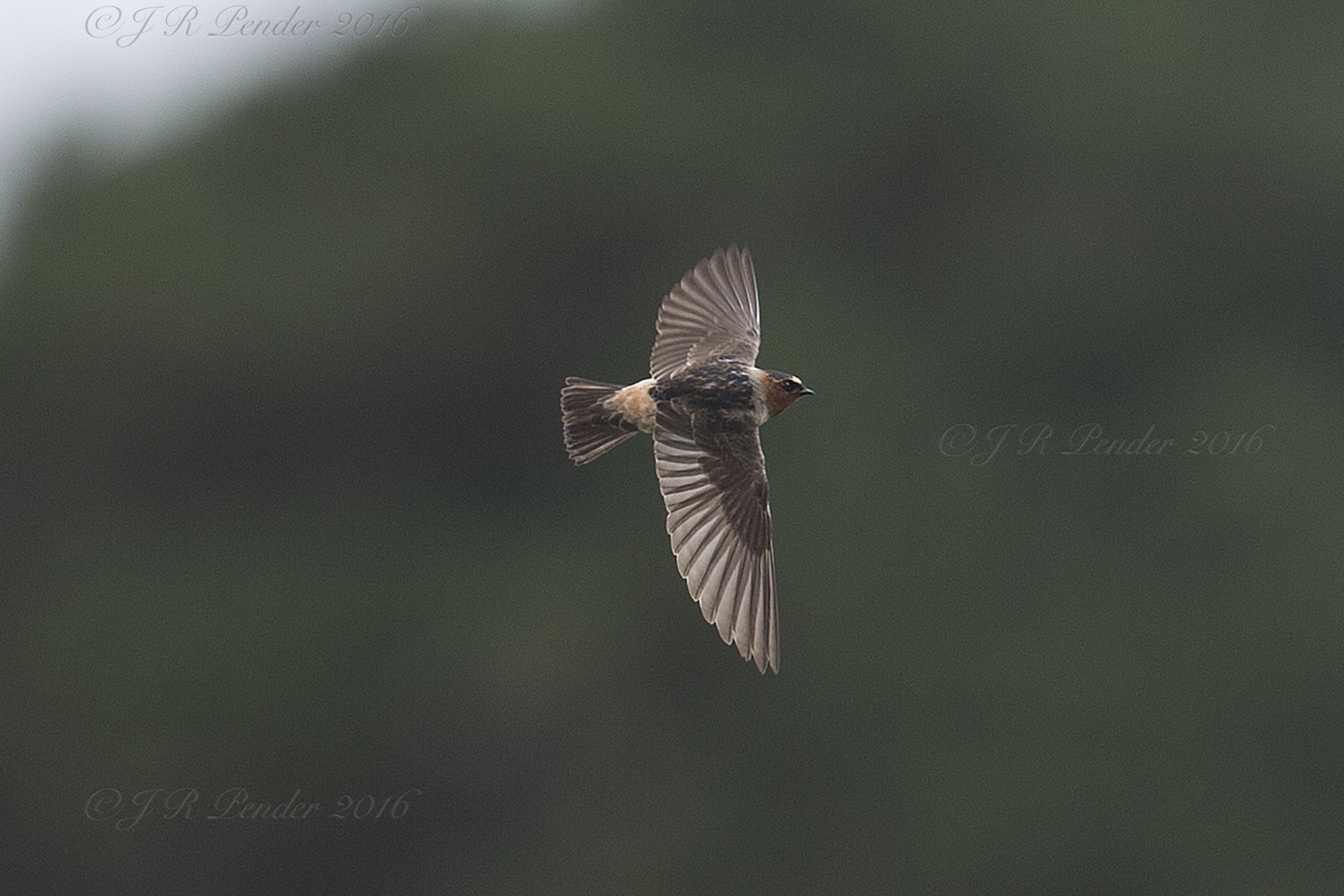 Graham needed just a momentary glance to register Cliff Swallow's orange rump and square tail as it flew past (Photo: Joe Pender)
As others arrived on their way to work, looking desperate for a sighting, my heart lurched at the possibility they were going to fail. There was no sign for the ten minutes Bob Dawson and Joe Pender had to spare, though by the time Martin Goodey arrived a few minutes later, I'd picked it up again sailing around the fields at Salakee with a small group of House Martins looking for all the world that it belonged here as much as they did. Thanks to Spider's desire to spread news as quickly as possible, there were already fifteen or so happy birders crammed into the Lane by the time I looked up from five minutes' continuous viewing. Joe and Bob saw it on their lunch breaks — though not at the first attempt — and by 13:00 the first twitcher was already there from the mainland: Mike McKee, who'd got the news early enough in Penzance to be able to jump on board the departing Scillonian and taxi straight to Porth Hellick. Another five managed to make it later the first evening before up to a hundred made it from the mainland the next day. Because I had to get back to work, some of them may have watched it for much longer than me.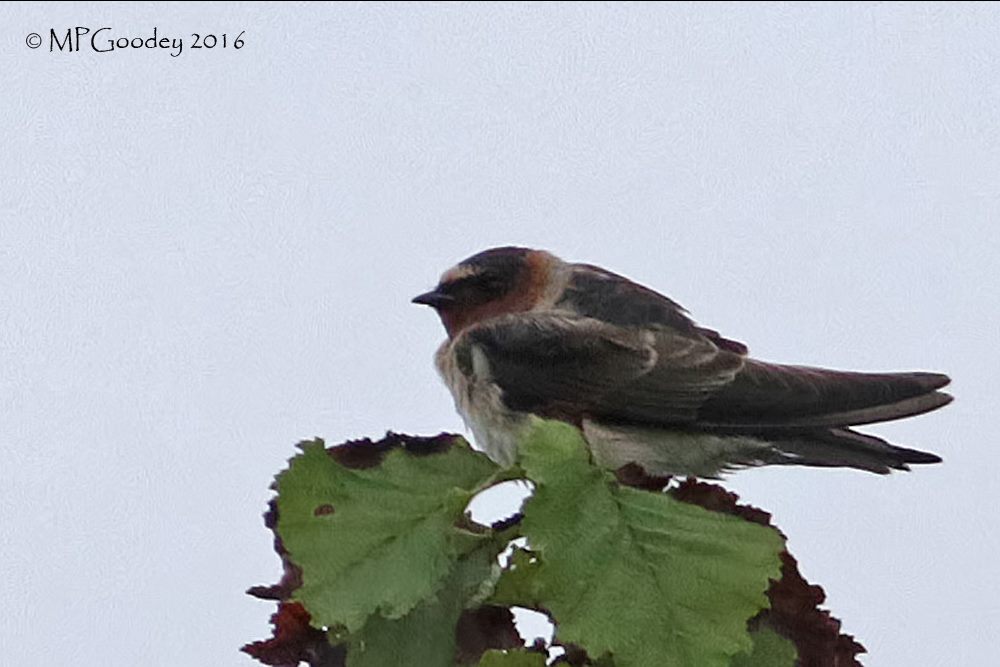 Cliff Swallow, St Mary's, Scilly, 6 September 2016 (Photo: Martin Goodey)
So that's pretty much the chain of events leading up to how I came across a Cliff Swallow on St Mary's. It might have been nice to say I'd been checking hirundine flocks diligently for the previous month and that this find was the result of some dedicated birding, but clearly it wasn't. Like a lot of these American passerines seem to be on Scilly, at least for me, it was a complete accident. Turning up as it did, three weeks earlier than the previous earliest British record, it was certainly not on my radar for the time of year and the excitement created by the fast-moving low-pressure system 72 hours earlier seemed largely to have dissipated. I noticed how warm it was the Monday afternoon I'd got back to St Mary's and this, I later discovered, was the result of an Atlantic warm front pushing across the South-Western Approaches. This has long been postulated as one of the prime reasons American landbirds turn up in the UK and Ireland (Elkins in British Birds 72.9, 417–133) and they often occur peripheral to the centre of the associated low, perhaps even delivering birds more consistently since they are less vulnerable to buffeting during an Atlantic low than they would be if they were caught up in the circulating air.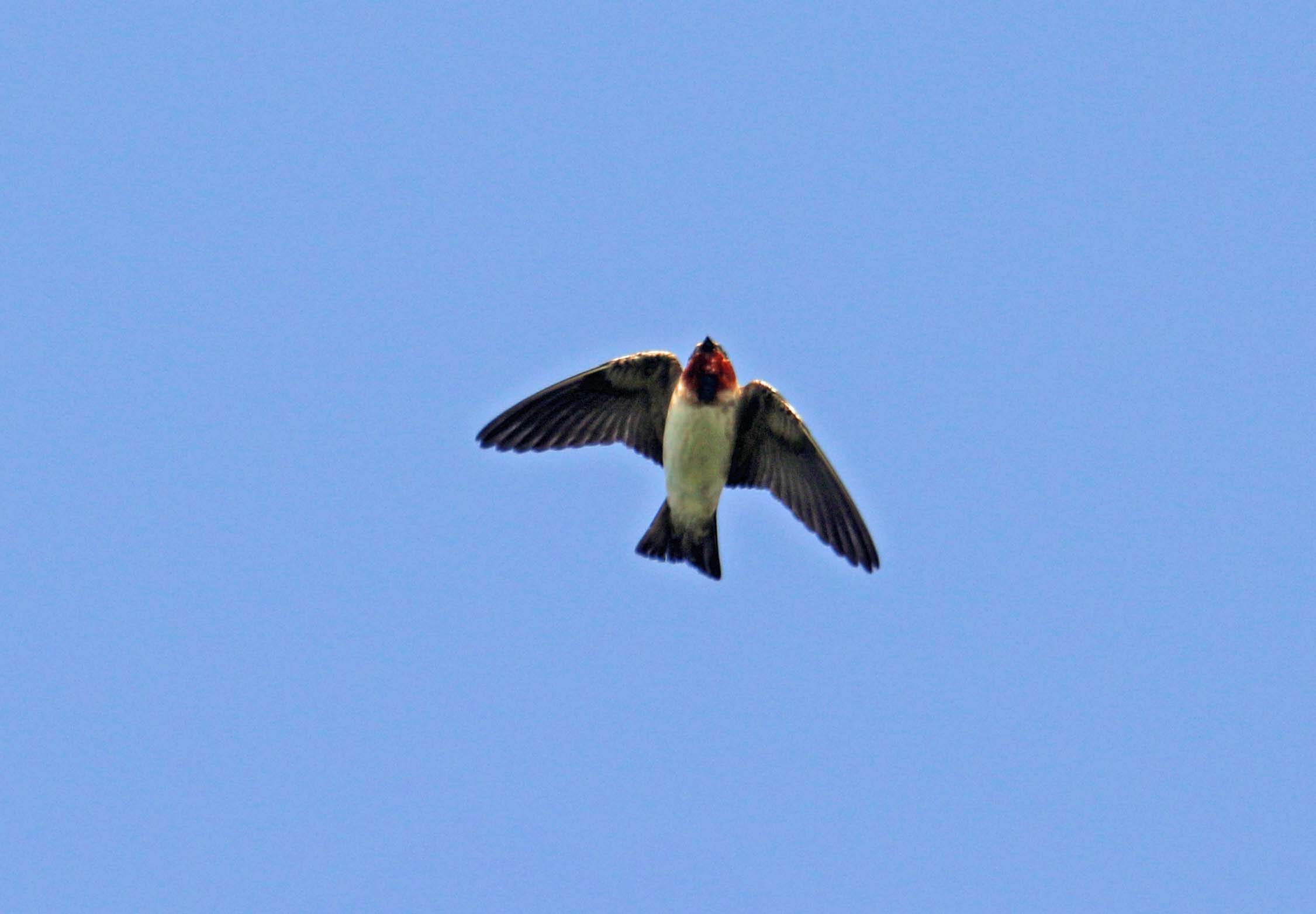 Cliff Swallow, St Mary's, Scilly, 7 September 2016 (Photo: Mark Leitch)
I'd spoken out loud on the Sapphire pelagic on the Monday evening of my target to find a 'fewer than 10 occurrences' bird on Scilly this autumn. By early afternoon on Tuesday, BBRC secretary Nigel Hudson had kindly informed me that this Cliff Swallow was the tenth for Britain — so on the surface it looked like my desire had already been fulfilled. However, I lived in Cork City for five years — and because I continue to count Ireland (with its single additional record of Cliff Swallow) as part of my 'list' that still leaves me falling one short. The way the weather forecast is shaping at the time of writing, there's optimism that the Cliff Swallow is just the start of something big and I may yet have the opportunity to realise my ambition.
Rock on, Scilly!