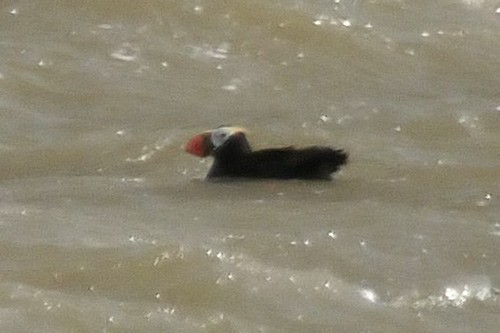 Tufted Puffin, Oare Marshes NR, Kent (Murray Wright)
There are days in the field when you feel as though you are just going through the motions — the weather's rather average, there's no hint of any migrants and it all feels a little bit samey. There are other days though (they are rather few and far between) when the rarity-finding "sixth sense" kicks in and something feels right: the thought of a discovering a good bird for the local patch, for the county perhaps, or even further afield, begins to gnaw away at you. "This could be a good day" you think, as one or two tell-tale signs suggest that you should stick at the grind of your "in the field" patchwork a while longer.
For Murray Wright, a pack of half a dozen Arctic Skuas was his omen for what would prove to be a truly momentous day. Working his local patch at Oare Marshes reserve, alongside the Swale Estuary, on 16th September, an eight-hour session in the field was enveloped by the discovery of a bird that would leave the country's birding and twitching communities gasping in shock and awe.
Murray takes up the story....
September 16th

(06:40–15:00) Sunshine and squally showers with a very strong N–NE wind. A quiet start with little of note on the East Flood. A Pied Flycatcher (probably the same as first seen last Thursday) was found in the copse and hedge west of the cottages, plus a couple of Chiffchaffs.

Walking back past the cottages I heard Sandwich Terns calling and there were eight circling high overhead, plus 6 Arctic Skuas which flew back east and out along the Swale — an encouraging start and a good omen for the seawatch to come. At the Sea Wall hide, I was joined by Eddie Denson and Francis Tusa, and later by John Boyd, Tony Sayers, Martin Hadleigh and Stephen Gateley. A few skuas were on the move and we got some good views — totals up until 10:50 were 4 adult Poms, 3 Bonxies and 17 Arctics, plus 3 Little Gulls, 16 Sandwich Terns, a few Common Terns, the first 4 Brent Geese I've seen this autumn, 10 Pintail and circa 75 Wigeon, plus a probable Leach's Petrel flying out of the Swale that was frustratingly just too far out to be 100% certain. Myself, Francis and John were watching from outside the hide, and the others were inside.

At around 10:50 we were following 3 Arctic Skuas which were circling into the mouth of Faversham Creek, when a bird flew in the opposite direction through my binoculars' field of view — a rear-end view and it appeared all black and at first I thought it was going to be a scoter, but a glimpse of orangey-red towards the front (i.e. the bill) had me thinking of a summer-plumage Puffin, which would nearly be an Oare MEGA! Luckily it dropped onto the water at circa 75 yards range and then it was all too obvious (if still too incredible to believe!) that it was an adult Tufted Puffin in summer plumage — an alcid from the north Pacific!

I've seen the species in the wild in Siberia so the ID wasn't a problem. The guys in the hide were already all on the bird too. Panic then ensued, but I managed to take a few record shots (despite shaking uncontrollably — I still am!), and phoned Geoff Burton to get the news out to the wider world. The bird looked settled, but at around 11:05 it flew up and headed west (when its bright red feet were visible). It landed just west of the slipway for a few minutes, but at around 11:10 it flew strongly west and disappeared around the bend looking towards Uplees. Oh my God — what had we just witnessed! We were all stunned, elated, etc. However, thinking we'd better try and relocate it, myself and Francis headed back towards the car park where we were joined by Geoff and Andy Taylor. We walked west along the Swale, being joined by various other birders on the way, and eventually got as far as Fowley Island near Conyer Creek, but there was no sign. We made our way back slowly to the car park, where some of the many gathered birders had a look at my record shots on the camera. I eventually left for home at 15:00 and a chance to try and take it all in! After I left a Fulmar (the second record this year) was seen flying into Faversham Creek (per Chris Gibbard, Geoff) — damn I needed that one too!"
As soon as news of Murray's astonishing discovery hit the BirdGuides website and other news services, chaos ensued in numerous workplaces and homes across Britain, including mine! It was a no-brainer. Despite the 20-minute performance and westerly departure, this was a bird that had to be twitched. The chances of rediscovery around the vast waterways of the Swale, Medway and Thames were always going to be erring towards the slender side of slim; but it was better to heading towards, or be around, the site at three in the afternoon when someone chanced upon it again, than to be sitting at Cley wondering what I should do.
As it turns out, the Tufted Puffin didn't reappear. A Peregrine, Black Tern and another Arctic Skua were the compensation at Oare, and searches a little further away (on Sheppey) produced Little Egrets galore and a neat second-winter Mediterranean Gull. Almost as soon as we left north Norfolk, there was a feeling that Murray's bird was already lost, but that didn't matter. That sense of "having to be there" was overwhelming, and if the gamble had paid off the euphoria would have been almost akin to that experienced by the seven founder members of the ultimate rarity group: Murray et al. — welcome to the Tufty Club!
There's no doubt that the Oare Marshes Tufted Puffin has to be one of the outstanding finds of the decade so far, perhaps even topping the Long-billed Murrelet in Devon in November 2006. Where it lies within the pantheon of new birds to Britain and Ireland is hard to say. Some have already heralded it as the greatest ever, although former BBRC man and vagrancy guru Keith Vinicombe had predicted Tufted Puffin as a potential British bird. It is most certainly able to hold its place alongside the aforementioned Murrelet and, of course, Devon's other Pacific alcid, the Ancient Murrelet on Lundy at the start of the 1990s. Does it leap above the Farne Islands Aleutian Tern? Well, y'know, maybe it does. The debate starts here! The only species that could possibly begin to come near it are perhaps more of those Pacific cliff-dwellers — both Parakeet Auklet and Crested Auklet are on the Western Palearctic list (as is Tufted Puffin, one seen in Sweden in June 1994). And, as we learn of global warming and cargo vessels steaming through the once iced-over and impenetrable Northwest Passage, the feeling seems to be that as a new shipping lane is opened up, so is a new migration route. With Murrelets, extraordinary Puffins, Pacific Divers and Glaucous-winged Gulls reaching us within the last five years, this seems to be where the ultimate megas (the "giga rarities"?) will continue to come from.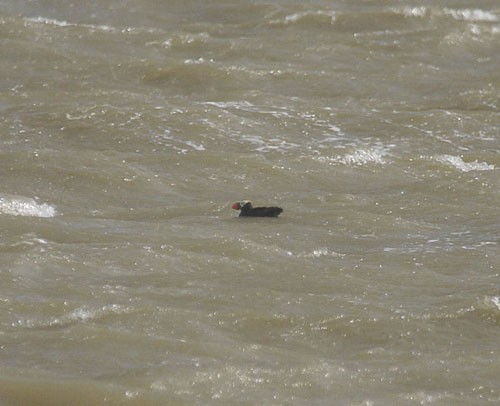 Tufted Puffin, Oare Marshes NR, Kent (Murray Wright)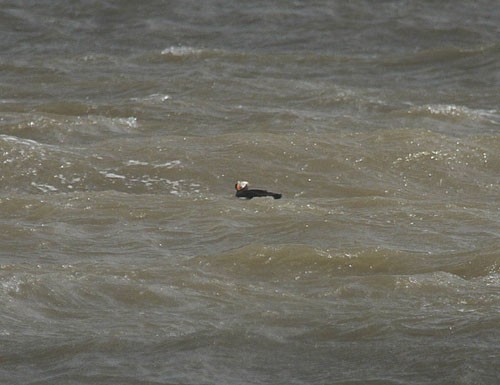 Tufted Puffin, Oare Marshes NR, Kent (Murray Wright)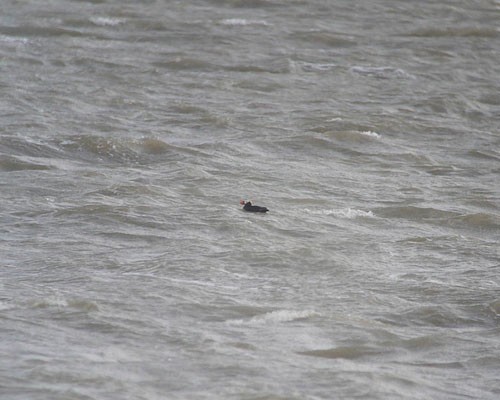 Tufted Puffin, Oare Marshes NR, Kent (Murray Wright)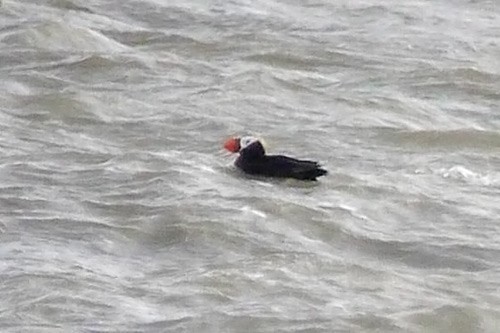 Tufted Puffin, Oare Marshes NR, Kent (Murray Wright).

Tufted Puffin, Oare Marshes NR, Kent (Murray Wright).
Many thanks to Murray Wright for allowing us to use not only his startling images of the Tufted Puffin, but also his amazing story, which initially appeared on
the Kent Ornithological Society website
.