Chris Mills, Gary Prescott, Simon Woolley — what do these names have in common? They've all set new standards for green listing. Chris and Simon went head to head in a Norfolk-versus-Hampshire zero-carbon year-list competition in 2005 (Chris setting the then UK record of 251 species in the process), and Gary raised the bar even further with his epic biking birding journey in 2010, during which he notched up 253 species.
Previous non-motorised day listing efforts in Norfolk had netted Chris and various team-mates more than 120 species each time, with 2005 yielding the highest total, an impressive 132 species in a 24-hour period. When Chris put the idea of a record-attempt to me a few weeks ago, there was simply no way I could refuse. The date was set and the plans began to take shape, not without a few anxious glances at the weather forecast as strong northerlies and northeasterlies seemed to be putting the mockers on migration in the preceding week. Chris nobly took the Friday off work to recce some sites, whilst I pulled out all the stops to ready a roadworthy bike (not helped by having one stolen on Wednesday!).
Getting up to go birding three hours after going to bed is never easy. Add to that the sleep-stopping adrenalin produced in anticipation of a meticulously planned assault on a formidable target, and you can imagine the state I was in when my alarm sounded at 12:40am. Little over an hour later, I pulled into the car park at Titchwell to see a Lycra-clad Chris glistening in the glow from his car's interior light. Not a sight that helped my state of mind. Minutes later, though, listening to a booming Bittern and a 'singing' Water Rail somewhere out in the blackness, everything seemed right again. And so it began: bikes unpacked, metal carbon boxes locked and abandoned for the day, the race was on. From Titchwell it was straight into a leg-tingling climb in the general direction of Ringstead (if anyone tells you Norfolk is flat, get them to drop us a line), where Little Owl smoothly slotted into place, thanks to a tip-off from a guy Chris met during his recce the day before! Some sustained pedalling followed and soon after 4am we hit the Sandringham area, chalking up our first real jam of the day as a Woodcock clicked its way overhead. Despite a surprise conversation with two (initially suspicious, latterly just bemused/amused) boys in blue, we were being treated to a fantastic display from at least two Nightjars before dawn, the backing track provided by a reeling Grasshopper Warbler! Listening to Nightjars churring and wing-clapping in the half-light was an unforgettable experience, whilst the seamless changeover from nocturnal to diurnal songsters was equally as enthralling.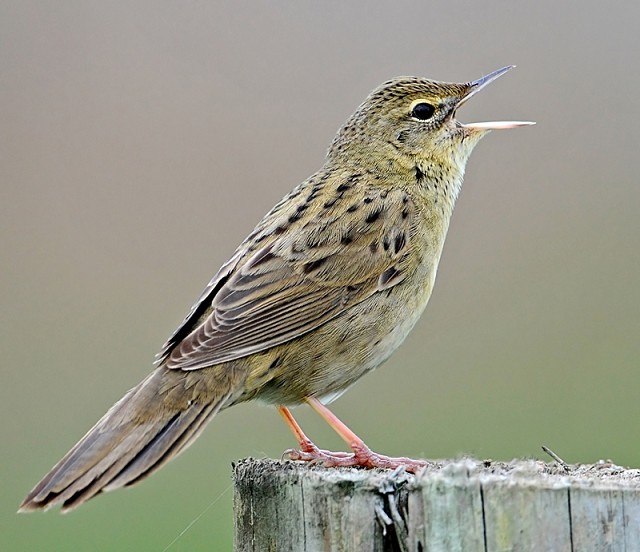 Grasshopper Warbler, Attenborough NR, Nottinghamshire (Photo: Kev Joynes)
The list already looking healthy, Chris suggested trying to knock off Barn Owl before it got much lighter. A move that was owl-like in its wisdom, as it turned out: the impromptu check of a likely-looking barn and subsequent sighting was our only encounter with a Barn Owl all day. We weren't quite out of the woods yet though (sorry!), with several woodland specialities still to track down. A Marsh Tit nest Chris had located the day before ensured that one potentially tricky customer was dispatched quickly, though Nuthatch, seemingly in local decline, took rather more effort. Siskin eluded us altogether but four real gems more than compensated: a Firecrest that nearly caused a pile-up when it squeaked into song as we cycled by, three or four guttural 'grates' from a Golden Pheasant, several displaying Tree Pipits and a waterfalling Wood Lark.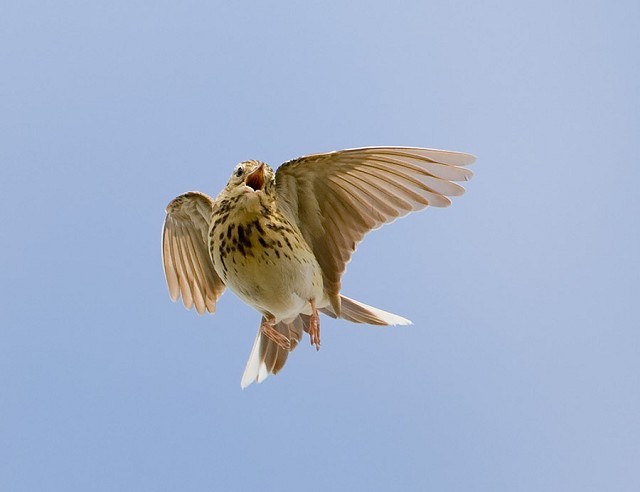 Tree Pipit, Laughton, Lincolnshire (Photo: Graham Catley)
With a start like that, we were just waiting for the wheels to come off. Sure enough they did, thanks to a puncture on Chris's otherwise far superior bike, though not before a glorious Black Tern had sailed over our heads at Snettisham. Credit where credit is due — the unplanned pit stop was Formula-One-like in its execution, Chris's experiences from the Non-motorised Year List (including one trip in which he had seven punctures!) preparing him well. The next hiccup was a dip; soon after fluking a fly-over Redpoll at Snettisham Coastal Park, local ringer (and soon to become Collared Flycatcher hero!) David Roche told us he'd just had a call from his dad, Ray, who was watching a Short-eared Owl from the bank overlooking Ken Hill Marsh. A quick and rather bumpy dash followed, only to find that whilst still almost certainly there, the bird was no longer visible, having landed and quickly disappeared from sight in a patch of ominously long grass. On big days there isn't the time to wait it out, so 15 minutes, a Whinchat, a Wigeon, several Whimbrel and our only Buzzard of the day later, we had to move on.
Content continues after advertisements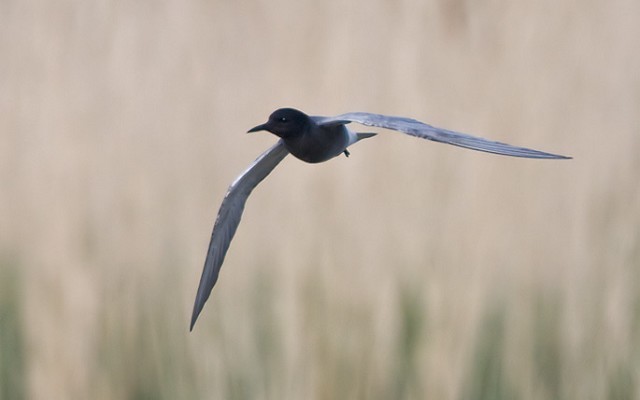 Black Tern, Cley Marshes NWT, Norfolk (Photo: Robert Askew)
Quite how it was 1:30pm by the time we reached Holme Dunes was something of a mystery. Thanks to the sleep-deprived, dehydrated daze which had set in, another mystery I was wrestling with in my head was the question of what I madness I'd agreed to in the first place, and if there was any way I could quit there and then with my dignity intact. Fortunately our knight in shining armour, Chris's wife Jacky, arrived bearing sandwiches, water and much-needed sugar, and we were soon back up to full strength, all my dark thoughts of surrender firmly banished. Mid-afternoon migrant-hunting in blazing sunshine takes a special type of motivation but our efforts paid dividends in the form of a couple of Wheatears (no time for messing about with Greenland or otherwise), four Whinchats and a surprise Spotted Flycatcher. Although all seven Wood Sandpipers at the east end of Redwell Marsh NOA were absent in the morning, disappointment quickly turned to celebration when we decided to check anyway, to be greeted by one lonely-looking Wood Sandpiper! Other goodies included a late Red-breasted Merganser and a couple of Gannets, a Nightingale that had been holding territory for several days, a Grey Partridge and a sensibly retiring Ruddy Duck.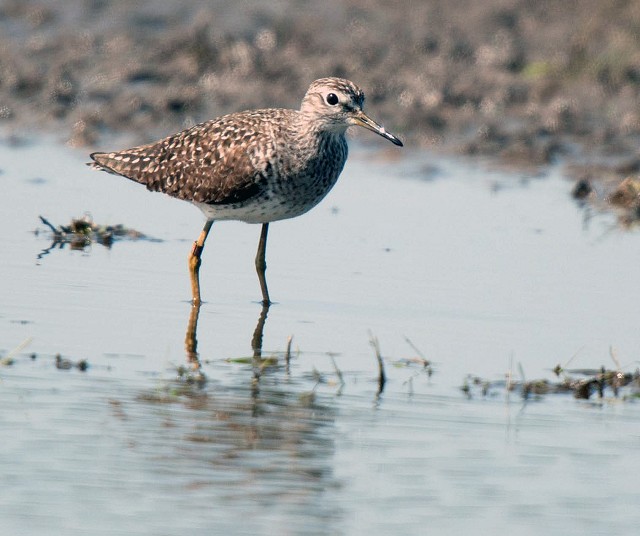 Wood Sandpiper, Holme NOA, Norfolk (Photo: Spider Webb)
For reasons of tiredness and incompetence, we then ended up taking the wrong road out of Thornham and added a couple of uphill miles en route to Choseley, where we dipped Tree Sparrow and Turtle Dove anyway. However, in spite of Chris's lack of faith (it was cool, grey and windy by this stage), two Corn Buntings were scratching away happily on the wires near the drying barns, and things were soon to get even better following a 34mph sprint down to Titchwell! In order of appearance, and in the last two hours of birding of the day, we added: Little Grebe, Sand Martin (!), Mute Swan (!!), Bearded Tit, Red-crested Pochard, Little Stint, point-blank Garganey, two dapper Spotted Redshanks in full breeding attire, the only Great Crested Grebe of the day (on the sea!), four extremely late Long-tailed Ducks, a raft of shoddy-looking Eiders, Snipe, Little Ringed Plover, a near-surprise Temminck's Stint (there's not much point in pagers when you're on a bike, and we only knew about this thanks to a couple we met on the walk out) and finally, in the fading light, a partly obscured, roosting drake Pintail!
Sitting in the Parrinder hide we counted and recounted the score, not quite believing our eyes: we'd somehow succeeded in recording 144 species seen or heard...a totally gross day out, man! Apologies are due to the friendly birder from Kent who had to endure our childish gibbering, high-fiving and generally antisocial celebrations, but this really felt worth making a fuss about. 50 miles on Chris's bike computer, plus at least another five on foot, the sweat, saddle sores and sleep deprivation suddenly all seemed worth it. To put our haul into context, a carbon-twitching* RSPB team who had visited the Nene Washes, Lakenheath and the Brecks, most of the key sites on the North Norfolk coast and Minsmere (has the All-seeing Avocet redrawn the Norfolk county boundary then, lads?!) on the same day managed 151.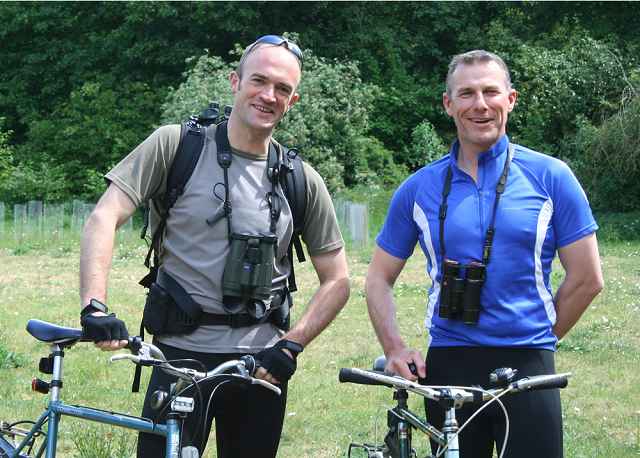 Nick (l) and Chris (r) (BTO).
The popularity of non-motorised listing is on the up, so much so that a US birder set up a Green Big Day competition this year. Although this event was international, it appears to have slipped under the radar here in Britain, with only a handful of teams from this side of the pond represented. On the positive side, one of those teams (Sue Rowe and Tina Perry, Herts) showed just what can be achieved by leaving the car at home — on foot, they took on a carbon-powered Lee Evans and held him to a draw! And with the gauntlet of 144 laid down, surely something to put in your diary for next year?
So what is the only real downside to Green Big Days, you ask? It is impossible to keep BirdTrack complete lists for every site when you're birding at this pace!