It's 1.30 am and pitch black. I'm stood shin-deep in rain-soaked grass in the Lower Derwent Valley, near York, straining my ears for the nasal rattle of a drake Garganey. I know this handsome duck is here somewhere – I saw him several hours earlier – but he's done a bunk and I feel gutted, though I don't let on to my team mates. Suddenly, an unexpected call pierces the darkness: "Common Sandpiper!" exclaims Mark instantly. Game on: a good bird and one we knew we couldn't expect to see later (as it turned out, we didn't!). Our collective spirit lifted, our soggy trousers and wet feet were soon forgotten as we piled back into the car and headed off on our Yorkshire Big Day.
We had spent a long time planning our Big Day. Back in September, team captain Duncan Poyser had proposed to the rest of us (Rich Baines, Mark Hawkes and I) that we should have a go at a Yorkshire Big Day, and try to beat the existing record. This presented two challenges. Firstly, Yorkshire is huge, so the logistical challenge is considerable; secondly, we didn't actually know what the record was!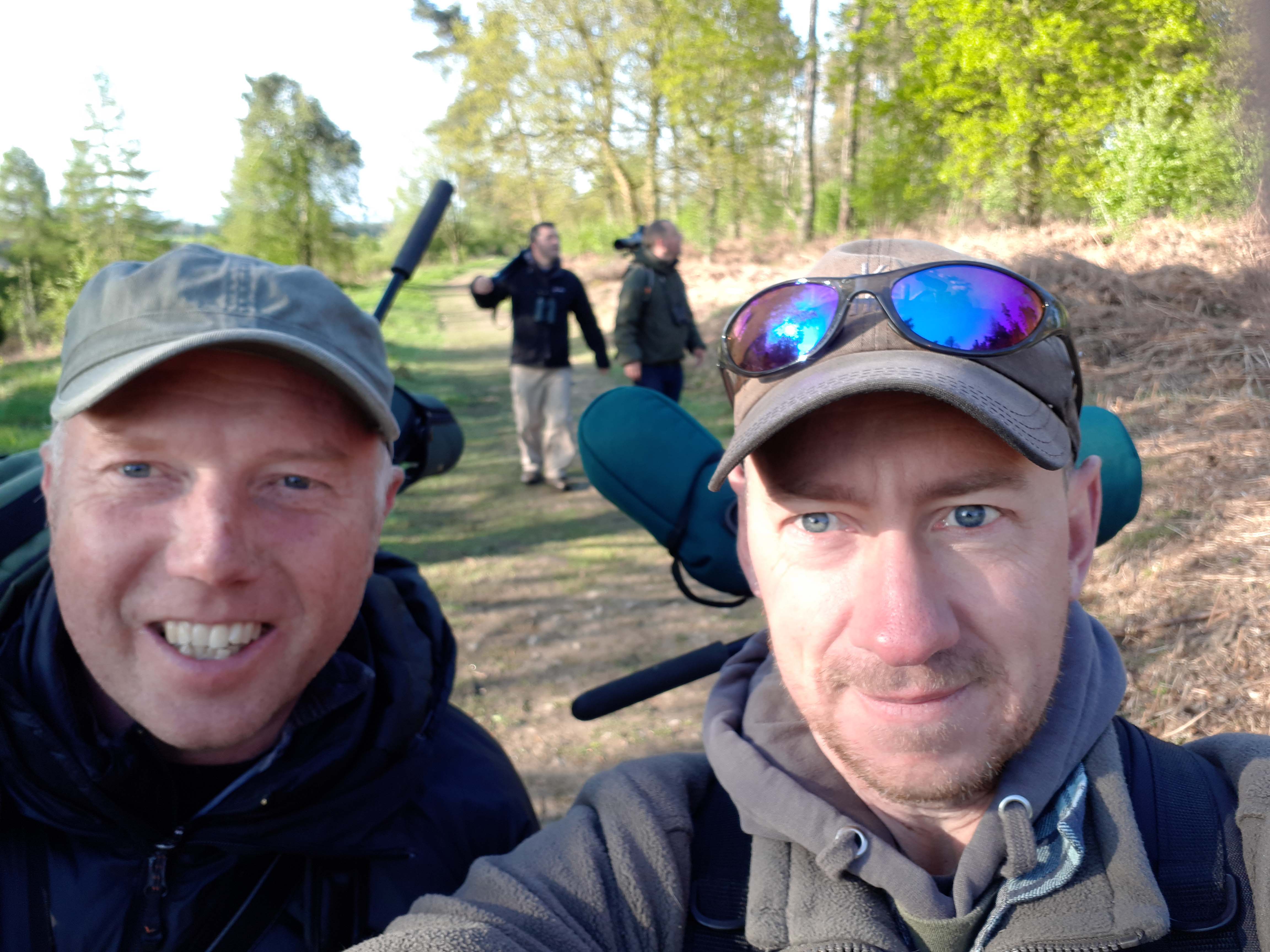 Team 'Dirty Habicht' were out to break a long-standing Yorkshire record (Jono Leadley).
After a bit of searching I tracked down an article in a copy of Yorkshire Birding from 1999, about a team smashing a previous Yorkshire record with an impressive total of 155. We realised this figure would be a huge challenge but was within reach. I read and re-read the write-up – it was clear the playing field had changed in the intervening period. Common Nightingale has disappeared from Yorkshire as a breeding species, as has Ruddy Duck, while species such as European Turtle Dove have become much rarer. On the upside, Yorkshire birders have welcomed the arrival of several new species and there are many fantastic new birding sites, too.
Duncan put together Team 'Dirty Habicht' (a play on the German word for Northern Goshawk) and, over the winter period, our Big Day route began to take shape. It wouldn't be too different from the famous 1999 itinerary, being a clockwise loop through Yorkshire. We split our birds into categories: those we practically couldn't miss were scored one, those that we would need to work at would be two and those that were possible but unlikely would be three. We picked the date of 11 May, probably too early for some summer migrants, but also giving us a chance of lingering winter visitors. One thing we could do nothing about would be the weather – we would have to keep our fingers crossed.
As 11 May approached, our focus shifted to reconnaissance – an essential part of Big Day planning – down chiefly to Rich and myself as we're based here in God's Own County. Our task was to check out as many of our 'twos' and trickier 'ones' as possible. Things really started to hot up in early May. A bit of easterly and rain brought some drift migrants to the coast and terns to our wetlands. Even better, the weather seemed to be calming down significantly by Saturday.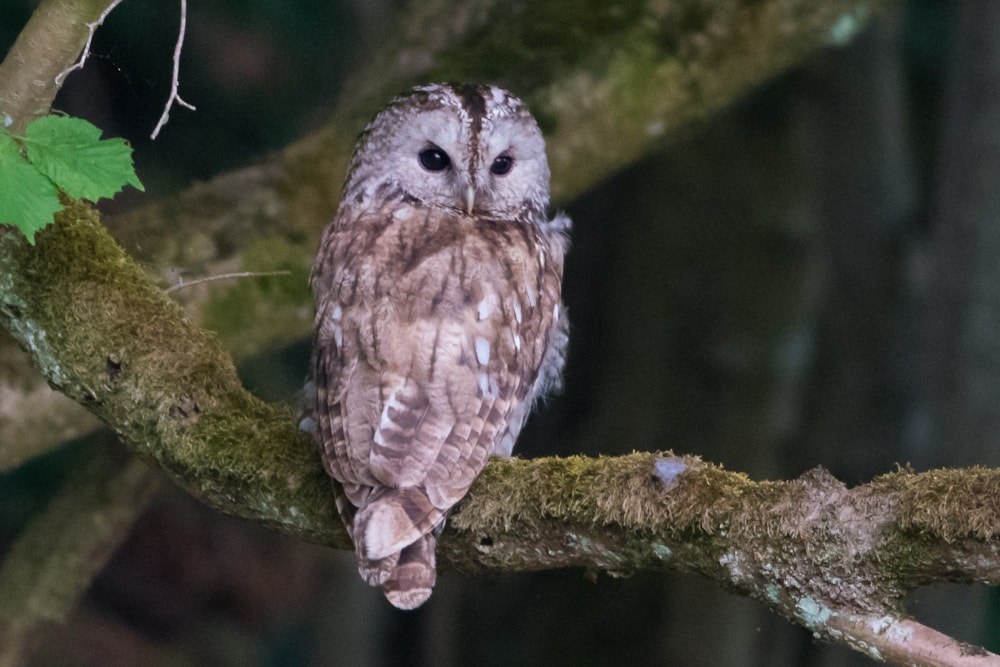 As is often the case for bird race teams, Tawny Owl was the first species logged (Jim Mountain).
Craig Ralston, site manager for the Lower Derwent Valley National Nature Reserve (and one of the team that held the 1999 record), generously agreed to take us round his patch in the first part of our Big Day. The team assembled at my house near York, before heading over to meet Craig at 11.30 pm. Rain dappled the windscreen – this wasn't meant to happen! A little while later, the rain had stopped and we arrived at our first site, to begin counting down the minutes before our Big Day was officially off the blocks. Midnight arrived and we all took deep breaths as our quest began.
A Tawny Owl promptly hooted loudly in the still air. We waited a while longer hoping for a Eurasian Woodcock or a Woodlark, but not a peep was heard. Our tour of the Lower Derwent Valley was amazing on one hand, disappointing on the other. To be standing in this world-class wetland in the darkness, surrounded by the heart-melting cries of Eurasian Curlews and Northern Lapwings was humbling, but we failed to add on any of our key targets. Indeed, Common Sandpiper was the only bonus bird.
We headed north, contemplating our target which seemed far away and out of reach. Craig's team had picked up Common Nightingale, European Nightjar, Spotted Crake and Grasshopper Warbler in the early hours, four species we failed to find. I took driving duties and chauffeured our team to our next stake out. Despite the slow start and wet feet, we were still feeling upbeat. I was secretly anxious as our next target was Long-eared Owl, which I'd located the previous week. Would the bird call? If it started to rain again, would it remain silent?
Reaching the spot, I called for quiet and eight ears all tuned in. Right on cue, the nasal call of a female Long-eared Owl penetrated the night, relieving my anxiety in a split second, prompting a round of high fives from the team. Excellent. Then, to add a cherry on top of the cake, the beautiful song of a Woodlark drifted out of the darkness. Fantastic: two quality birds firmly on the list.
It was 3 am and we had our first decent drive to get to the North York Moors for dawn. Arriving in a wooded valley, a Common Redstart sang from a nearby tree before the a roding Eurasian Woodcock flew straight over our heads. A quick coffee and a few crisps fuelled our decision to head further north to our Ring Ouzel site. Stopping on the moorland in the twilight was exhilarating. The first light of dawn greeted us in the east as unseen Red Grouse, European Golden Plover and Common Snipe called all around us.


'Dirty Habicht' were delighted to score Ring Ouzel early on (Brian Anderson).
One by one, other birds added their voices to the chorus. Out of the dark blue, a Lesser Redpoll flew over calling, a very decent bird, as they are scarce at this time of year. I then caught the aural equivalent of a glimpse of song that could just be our target species and soon whistled the team who came running: a male Ring Ouzel was in fine voice across the heather – splendid!
We enjoyed the moment but pressed on, back down the slope to the woods. We were hoping for a cascade of woodland birds and the site didn't disappoint, with Tree Pipit, Marsh Tit and Eurasian Nuthatch quickly added to the growing list, along with some potentially tricky Big Day species such as Eurasian Sparrowhawk and Eurasian Bullfinch.
Next up, the pressure was on Rich. One of Rich's jobs is running a European Turtle Dove project hosted by the North York Moors National Park. Birds had been back in Lockton for a little while and we hoped we were not too late to hear them purring. Parking up, Rich's practised ears immediately heard the characteristic sound of an advertising male. We walked round to the main street and found this stunning singer atop a spruce in a garden, purring his head off. What a treat! We added Tree Sparrow and Common Swift before realising it was time to go.
We headed to the Great Yorkshire Forest where it was time for 'Team Habicht' to get its Northern Goshawk on. As we pulled into the car park, we were relieved to see a Jay appear, another tricky Big Day bird, especially in mid-May. A gang of chipping Crossbills appeared right on cue, followed by another Tree Pipit, Garden Warblers and Eurasian Siskins. This was going well. We scanned the edge of a clear-fell where Rich had recently seen Northern Goshawks perched, like grey ghosts, surveying their territory.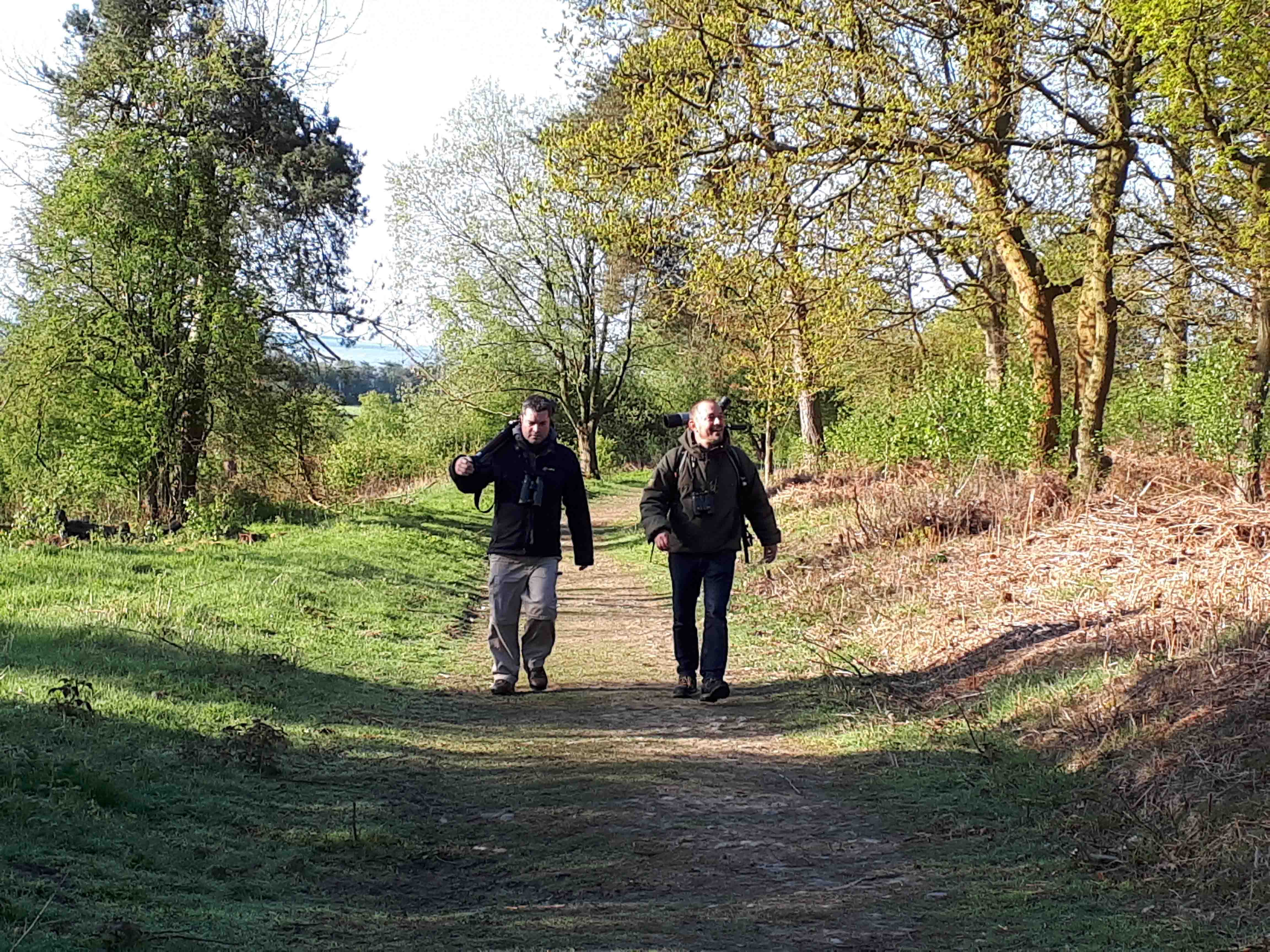 A visit to the Great Yorkshire Forest was productive, with Northern Goshawk a top target (Jono Leadley).
Today it looked like we would draw a blank until suddenly, Rich spotted the cruciform shape of a Northern Goshawk gliding over the top of a nearby plantation. I got on the bird immediately as it circled round, as did Mark, but Dunc didn't manage to connect. Following standard rules, we could still count this as three out of four members of the team had seen it and that meant we could add it to the list. Our namesake species under the belt, we soon added Dipper (but missed Mandarin Duck and Common Kingfisher) and another Gos.
We popped into Wykeham South Lakes, adding Egyptian Goose and a few other common species. Our next big list boost would come from the coast and that was where we planned to head next. Our birding mate Mark Pearson had supplied us with gen about a Great Northern Diver in Filey Bay plus Common Scoters off the Brigg, so this reconfirmed our plan to head there.
Parking at the top of Filey North Cliff Country Park, we started birding with military efficiency, splitting our duties: Dunc scanning the north cliffs for Peregrine Falcon (success), Mark seawatching and Rich and I scanning the bay. Soon, we located a Red-throated Diver, a good bird for the list, eclipsed a little later when I spotted a more distant diver with a distinctive profile and clear bulk: a first-summer Great Northern Diver. Result. A tight pack of Common Scoters was actively feeding off the Brigg and Arctic and Sandwich Terns added themselves on to the growing list.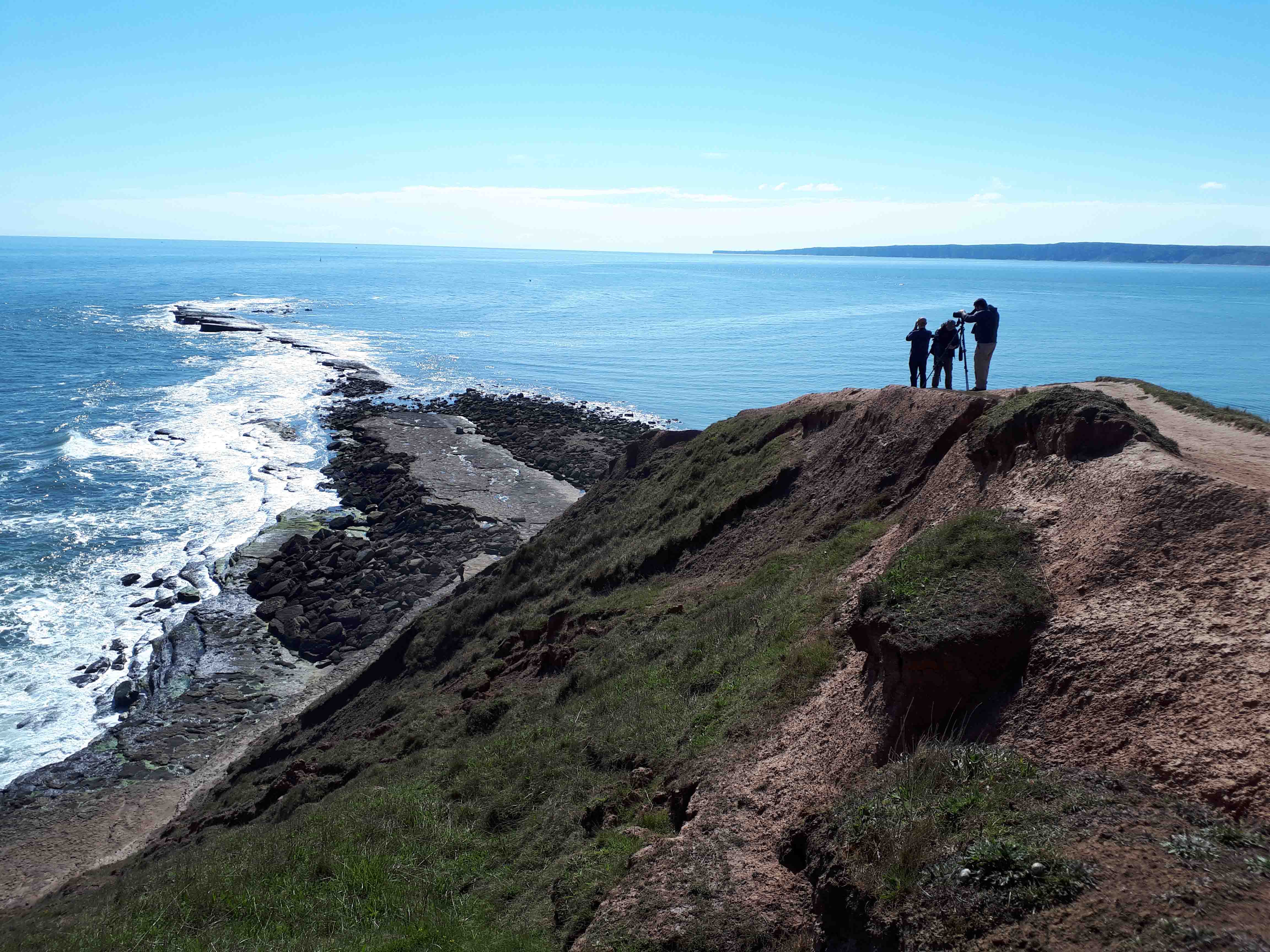 Filey Brigg produced no fewer than three species of diver (Jono Leadley).
We headed for the end of Carr Naze to scour Filey Brigg, which was largely covered by the tide. Here we found Ruddy Turnstones and a real bonus in the shape of two Purple Sandpipers. Shortly, Mark shouted: "Get on this diver!". We all swung our scopes round to see a Black-throated Diver flapping north. Wow! All three common divers in 15 minutes, none of which we thought we'd see. Mark then did it again, picking up a Great Skua heading north.
It was 11 am and in blazing sunshine we headed south to Hornsea Mere. Sadly, the trio of Eurasian White-fronted Geese had departed mid-week, so we drove to Kirkholme Point which would at least be time-efficient. In a few minutes we had added Common Tern and Reed Warbler plus a superb Eurasian Hobby that was skilfully hunting dragonflies in front of the reedbed, but neither of our target species was visible.
Spurn was next on the itinerary. As we commenced our journey, news of a possible female Collared Flycatcher at Easington came through. Fatigue and weariness disappeared as we hastily tweaked our plans and contemplated our luck. After what seemed like an age, we pulled onto the verge by Easington cemetery. About 20 birders were gathered and soon we enjoyed a few glimpses before the bird dropped onto the ground next to a puddle, giving incredible views. A fantastic bonus!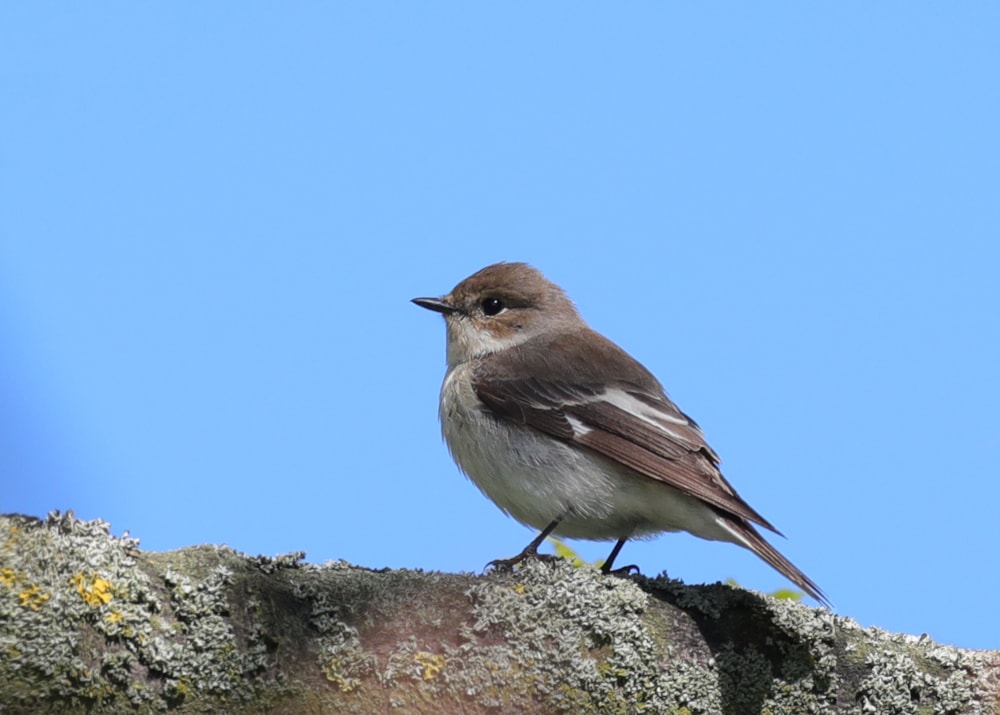 The Collared Flycatcher at Easington was a totally unexpected bonus (Graham Jepson).
We had to move on alas, and at Sammy's Point we scanned the vast mudflats of the Humber, which seemed birdless, save a few Little Egrets and a solitary Whimbrel. Not much stirred in the bushes. It was early afternoon and hot, not the best time to look for migrant passerines. Nevertheless, Steve Webb, who had earlier found the Collared Fly, was clearly on a roll and put us on to a handsome male Pied Flycatcher. This was a treat as it was one of the upland species we had missed earlier in the day.
Next up was Kilnsea Wetlands. We soon scored Avocet, Black-tailed Godwit, Little Tern and Mediterranean Gull. I noticed a small bird on a fencepost – Whinchat – another bird we'd missed on the moors. We knew a Wood Sandpiper was about and a fellow birder, sensibly equipped with a bike, offered to pedal round to the far side of the field to see if it was still present, to save us wasting time. A little later he signalled that it was still showing, so we hurried round to see the elegant wader.
The tide was well out by the time we reached the Warren at Spurn. We scanned the mudflats but apart from some obliging Red Knot and Grey Plovers, the rest of the waders were far away in the heat haze. This made picking up Bar-tailed Godwit and Sanderling nigh on impossible. After the Collared Flycatcher high, fatigue crept back in, as had anxiety as the hours were slipping by. Before heading west, we called in at Easington cemetery again, as we had heard that a late Redwing and a Spotted Flycatcher were present. Sadly, nobody knew about either bird.
Worse was to come. Passing through Patrington on the way west, my phone rang. It was Tony Martin with news of another fantastic Yorkshire rarity: a singing male Brown Shrike at nearby Cowden. As Tony gave directions, it occurred to me that it would be half an hour to Cowden, a little while there watching the bird and half an hour back – at least – time we couldn't afford to spend on one bird at this stage of the race. There was no contest, we couldn't turn back now; the race must go on!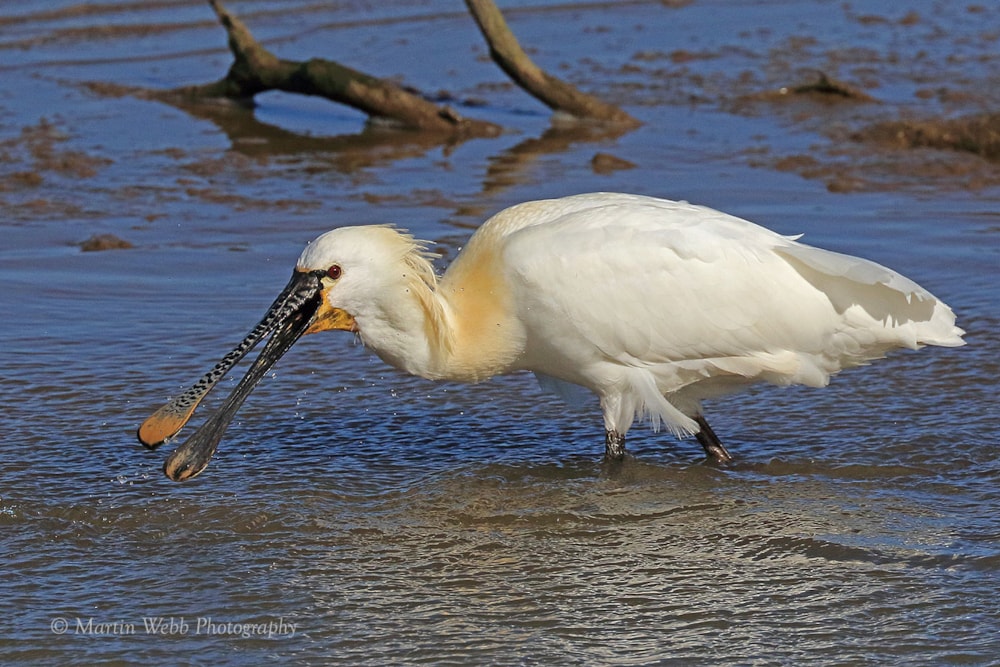 Eurasian Spoonbill would have been unheard of on a Yorkshire bird race a couple of decades ago, but in 2019 the species is fairly straightforward (Martin Webb).
Over the next couple of hours, we put a lot of miles under our belts and added Corn Bunting, Western Marsh Harrier, Spotted Flycatcher, Northern Pintail and Little Ringed Plover, followed by Northern Raven and Red Kite. As we arrived at Fairburn Ings, we were in the mid-140s, our target now clearly in sight, though we were rapidly running low on time. We notched up Eurasian Spoonbill with ease – who'd have thought that would have been possible in Yorkshire back in the 1990s?
Then it was on to our final daylight site, St Aidan's. The team was keen that I did a proper list check as we were desperate to know precisely how many species we now needed. The answer was 143, so we needed 12 to equal the record, 13 to beat it. Could we do it? There was some almost-guaranteed species here and we soon added those on. Mark picked up the lingering drake Common Goldeneye before, even better perhaps, Dunc picked up a Pink-footed Goose with the Greylags.
Dunc then did it again, when he said: "Jono, could you check if that is a female Goosander on the lake over there?" I swung my scope round and sure enough, the large sawbill was loafing contentedly on the water, oblivious to our stresses. Nice one Dunc! This took us to 151. The sun was beginning to set and we were running out of time. We knew there were a couple of birds we could locate on call once it was dark, but we really needed to add more during the last remnants of daylight.
Remarkably, we hadn't seen a Common Kingfisher or Green Woodpecker. We knew Little Owl was likely, too. We needed some luck. A small, dark shape scuttled across the track in front of Rich and me: "That was a partridge", Rich exclaimed, and suggested it could have been a Grey. I suggested we wait for the other two to catch us up as we needed at least three of us to see it. We proceeded cautiously. I asked Rich where he thought it had gone when two angry Grey Partridges erupted out of the grass and flew past us all shouting their heads off – 152; excellent.
Rich, on a high, hung back to have one last scan for Garganey. He pulled it out the bag – we repositioned ourselves up the slope a little and scoured the area before seeing it asleep near some Eurasian Teal. Next up, Little Owl. This was the only remaining species we were likely to add here, now that it was virtually dark. Common Kingfisher and Green Woodpecker would have gone to roost by now, and were added to the list of birds that got away, together with Rock Pipit, Bar-tailed Godwit and Sanderling.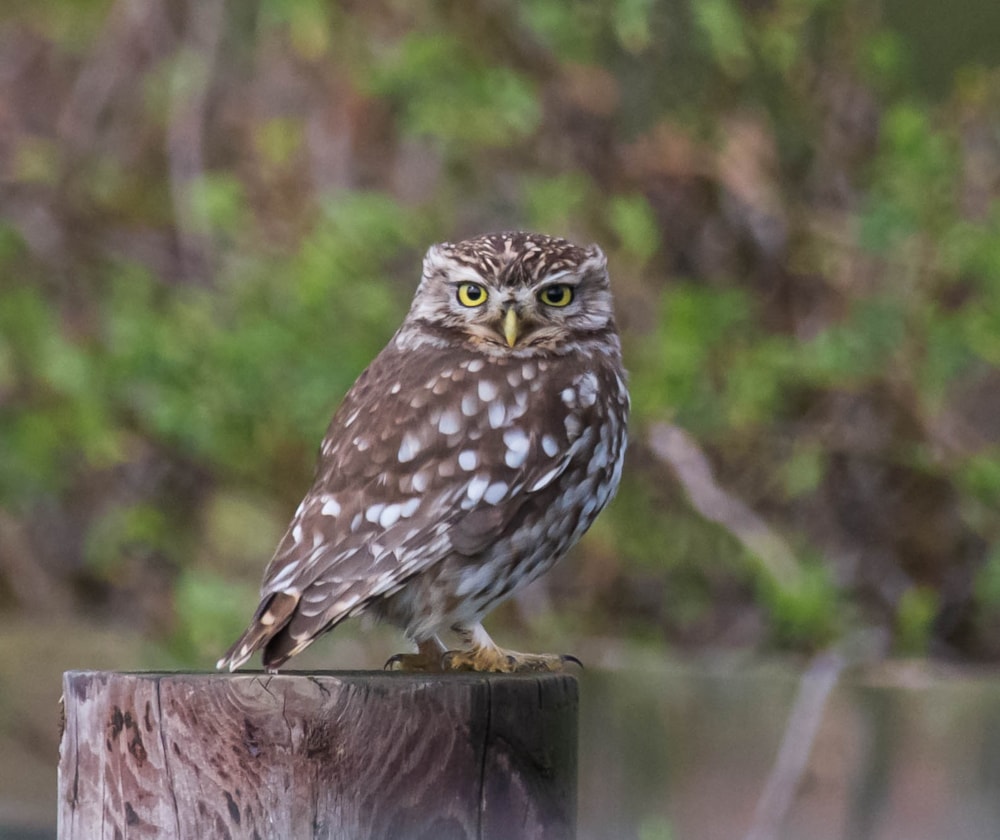 Little Owl was the final species recorded and, significantly, the bird that broke the previous record of 155 (Brian Howes).
A Blackbird was calling angrily from the compound fence. I followed his stare and there was a sleepy looking Little Owl atop a concrete post. I had seen this bird yesterday, so was pleased he had decided to show up – 154. So close! We were now faced with possibly the biggest decision of the day (except perhaps the Brown Shrike!): where to go next. We felt Water Rail was guaranteed if we visited a decent wetland. That would bring us level with the record, but we still needed one more. What we needed was a Grasshopper Warbler. There had been a decent arrival in Yorkshire a week or two ago, so surely there must be one around somewhere. I suggested Staveley, where I was aware they had been seen recently.
Having become list-keeper during the day, I was acutely aware that if I had made a mistake in my counting I could be in a lot of trouble with the team. With this in mind, I asked Rich to double-check for me. I didn't want us to think we'd beaten the record only for us to realise I'd accidentally ticked something we hadn't seen. A few minutes later, Rich laughed and said casually: "You didn't tick Northern Pintail". What? I immediately knew that that could mean I'd also forgotten to tick Little Ringed Plover, which we'd seen at Bank Island at the same time. I had missed it too. That meant that if my original count was right, we had already beaten the record, with Rich's late Garganey drawing us level and my Little Owl being the record-breaker! We gave the list to Dunc, as captain, to check the count. 156. We'd done it!
We reached Staveley. Mist hung over the reedbeds and overhead, a clear sky was studded with stars. We drank a beer in the deserted car park, before walking round to where I thought the Grasshopper Warbler had been reeling. We didn't hear it, nor did we hear a squeal from a Water Rail. But we didn't care, we were elated, shattered and smiling like Cheshire, or rather Yorkshire cats. We had recorded 156 fantastic birds, experienced some of Yorkshire's most breathtaking scenery and achieved something, together as friends, that would be treasured forever.
I don't think this new county record will stand for 20 years like the previous one did; I hope our adventure will inspire some more teams to have a go at beating it next year with their own Big Day. A score of 160 is definitely possible in Yorkshire with good weather, planning, tenacity and a bit of luck. Many thanks to all the birders who helped us with our Big Day and our massive gratitude to the organisations, large and small, who look after the amazing places we visited during our quest.